We were recently invited to participate in a Cupcake Wars-style play date, and as I'm always looking for an excuse to try out a new cupcake recipe, I accepted.
The theme was "camping"...and fearing there would be at least one s'mores cupcake, I opted for peach cobbler cupcakes (hello, Dutch oven yumminess), another dish reminiscent of food cooked over (or under) hot coals.
We could have gone with a tin foil dinner theme but I wasn't sure how to work ground beef, potatoes, onions and carrots into a cupcake....and win.
George chose our team name, the Grizzly Bears, and I let them bake those cupcakes from start to finish. Other than getting out the ingredients and helping them measure, they mixed, whisked, cored, filled, frosted and sprinkled.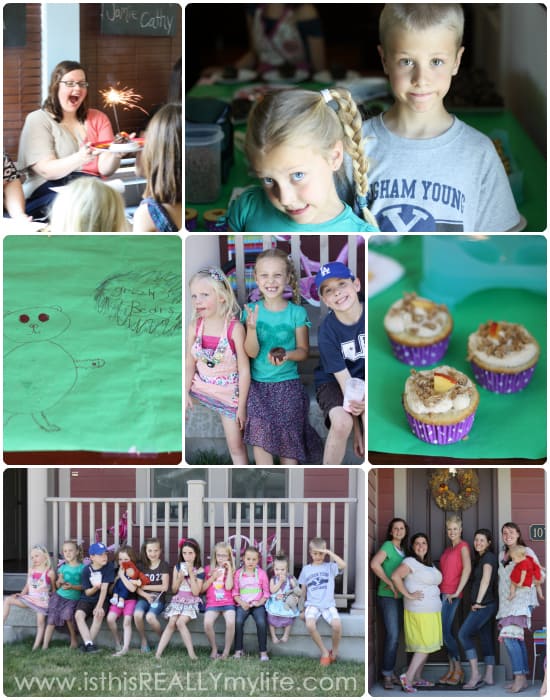 Though we didn't win (how can you beat sparklers?!?), these peach cobbler cupcakes immediately became my new favorite cupcake recipe.
The cupcake has the slightest hint of peach flavor due to a homemade peach puree and the center is filled with peach preserves. The brown sugar cream cheese frosting from Smitten Kitchen is to DIE for, and the oatmeal crumb topping seals the deal.
I'm not usually an inhaler of cupcakes but inhale I did. Multiple times.
Printable recipe for peach cobbler cupcakes below.
Peach Cobbler Cupcakes
These peach cobbler cupcakes are reminiscent of summer days and Dutch oven peach cobbler. The brown sugar cream cheese frosting is like candy and the crumb topping seals the deal.
Author:
Emily ~ isthisREALLYmylife.com
Ingredients
Cupcake
2⅔ cups all-purpose flour
1 tsp baking powder
1 tsp baking soda
½ tsp salt
2 cup sugar
½ cup unsalted butter at room temperature
2 eggs
2 tsp vanilla extract
1 tsp peach extract (or ¼ tsp peach flavoring)
1½ cups buttermilk
½ cup peach puree
1 jar peach preserves
Frosting
1¼ cups light brown sugar
¼ cup cornstarch
½ cup confectioner's sugar
2 (8-oz) packages reduced fat cream cheese, softened
½ cup unsalted butter, at room temperature
½ teaspoon vanilla extract
Topping
½ cup salted butter
1 cup brown sugar
¾ cup all-purpose flour
¾ cup rolled oats (not instant)
½ tsp cinnamon
¼ tsp salt
Instructions
Cupcakes
Preheat oven to 350 degrees. Line cupcake pan with liners.
In a medium bowl, whisk together flour, baking powder, baking soda and salt.
In a large bowl, beat the sugar and butter together using an electric mixer until creamy. Beat in the eggs, vanilla extract and peach extract until smooth.
Add half of the flour mixture to the butter mixture and stir until almost combined. Add the buttermilk and peach puree and stir again until almost combined. Add the rest of the flour and stir until all the ingredients are combined. Do not overmix.
Fill the cupcake liners about ⅔ full. Bake for 18 to 20 minutes or until a toothpick inserted into the center comes out clean.
Cool for at least 5 minutes before removing to a wire rack to cool completely.
Once cooled, fill cupcakes with about 1 T of peach preserves.
Frosting
In a small bowl, whisk together brown sugar, cornstarch and confectioner's sugar.
In a large bowl, beat cream cheese and butter until fluffy. Add the sugar-cornstarch mixture and vanilla and beat until frosting is smooth and light.
Chill the bowl in the refrigerator until it thickens a bit (about 30 minutes) before frosting cupcakes.
Topping
Preheat oven to 350 degrees. Line a baking sheet with parchment paper.
In a large mixing bowl combine all ingredients except the butter.
Cut butter into the mixture with a pastry blender or fork until mixture resembles coarse bread crumbs.
Spread mixture evenly on cookie sheet and bake for 20 18 to 20 minutes until dark golden brown.
Remove from oven to cool. Crumble any larger pieces. Store leftovers in an airtight container in the fridge.
...
Today's peach cobbler cupcake recipe is part of a summer recipe roundup. You can check out all 20 summer recipes by clicking on the text links under the image.