This shrimp pasta salad is a super tasty way to switch up your favorite macaroni or pasta salad. It takes a few more steps than a typical mac salad but it's so worth it!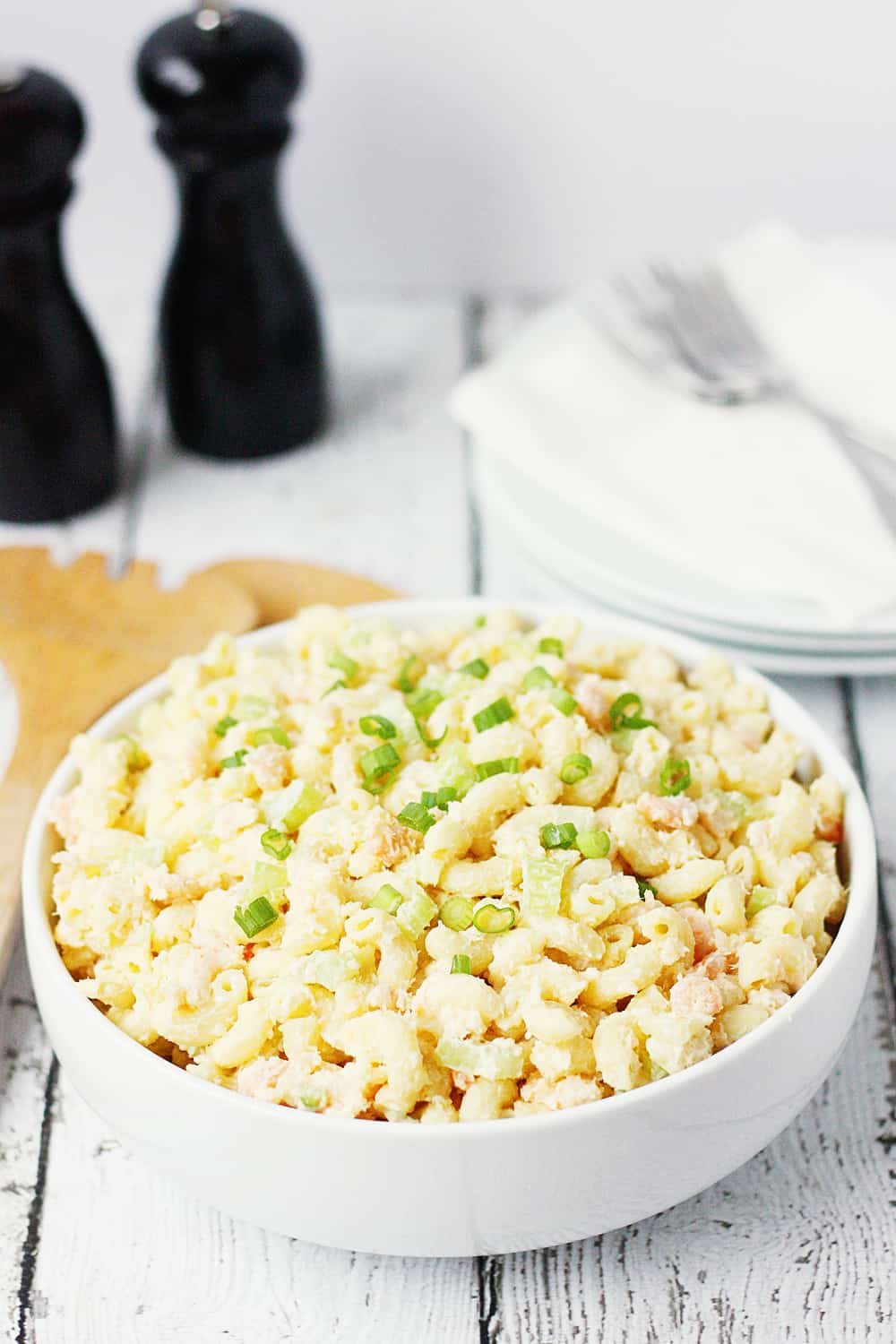 Let me start out by saying this shrimp pasta salad isn't difficult but it does take a few extra steps and an extra pan or two. It's not as easy as my best ever macaroni salad or homestyle macaroni salad and that's okay.
Sometimes variations on a theme require a little more effort. And the end result is totally worth it.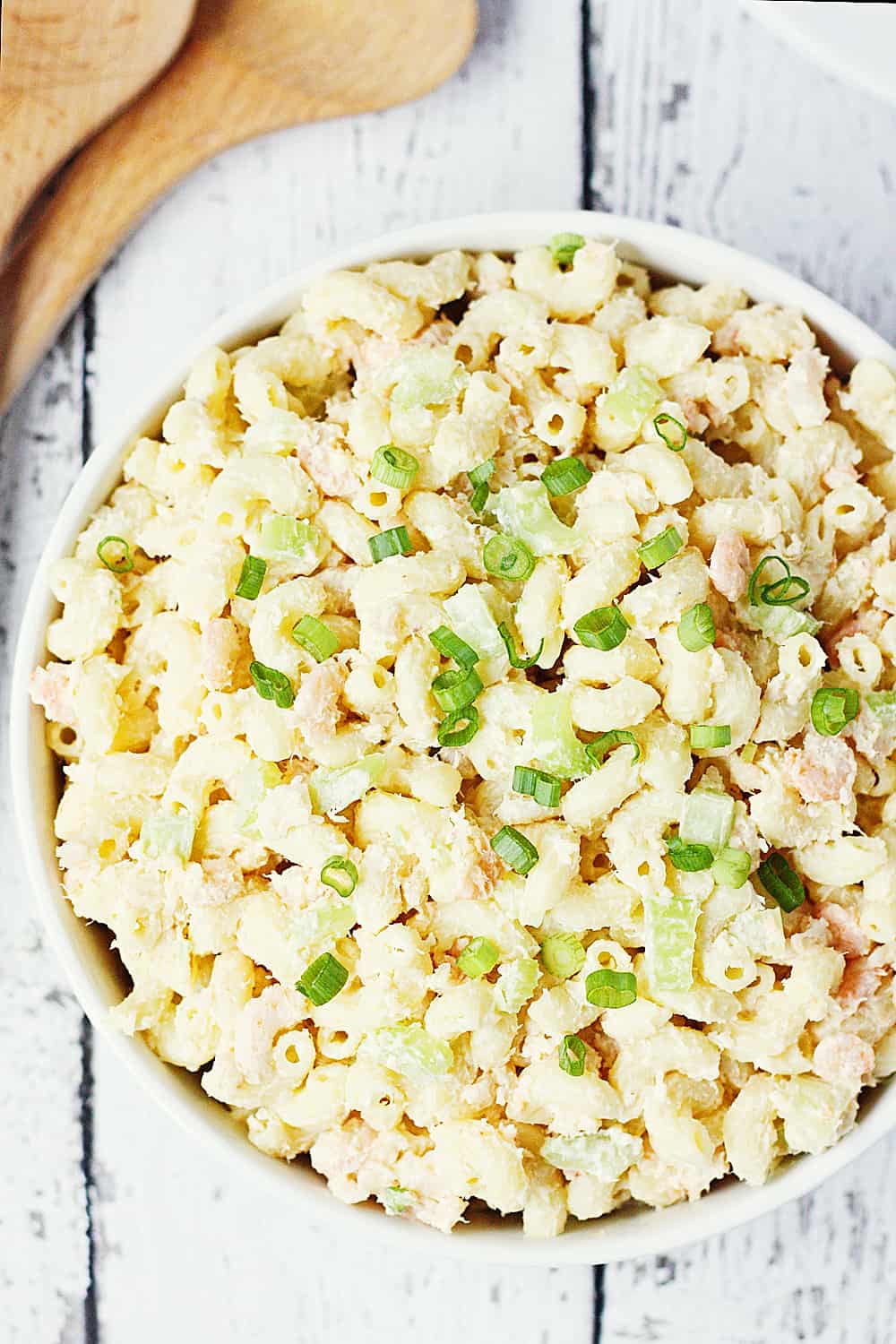 The recipe for this shrimp salad doesn't have any crazy ingredients except for the canned shrimp. That's not something I typically have in my pantry. But ingredients like elbow macaroni (Barilla twisty macaroni is my all-time fave for macaroni salad), vinegar, dry mustard (Colman's dry mustard is my fave), whipping cream—even celery and green onion—are usually on hand.
That means once I stock up on canned shrimp, I can easily make this shrimp pasta salad multiple times this summer!
The part that gets tricky with this shrimp pasta salad is making the dressing (for lack of a better word). It requires boiling water and vinegar and then adding a mixture of beaten eggs, sugar, dry mustard, and salt.
You have to really whisk in those eggs quickly and continuously or they'll scramble in that water/vinegar combo. The original recipe didn't specify turning down the heat after bringing the water and vinegar to a boil but I found it worked just as well on low and was less likely to scramble anything.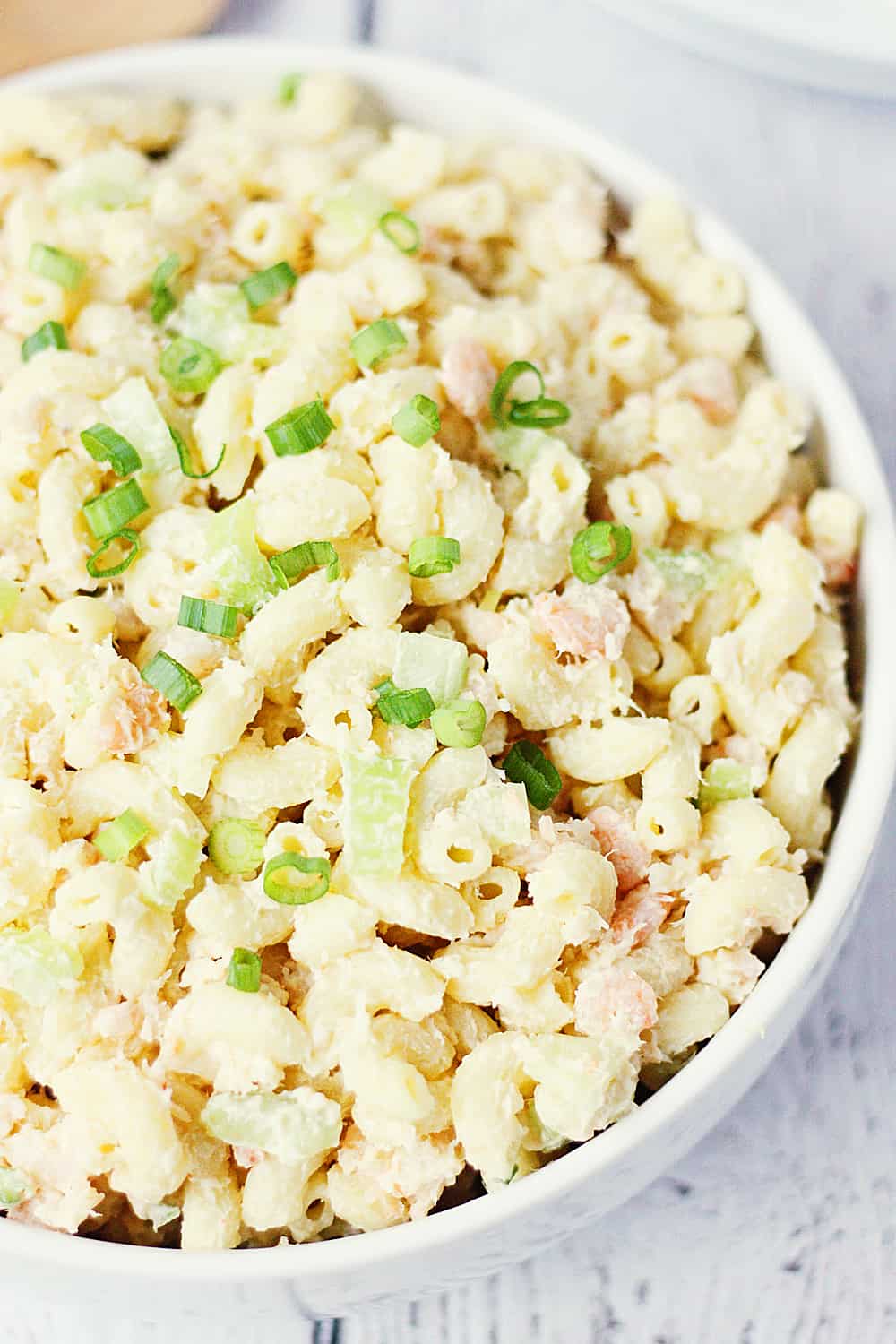 Other than that, you simply toss all the shrimp salad ingredients together and chill for at least an hour. I like to serve it topped with extra chopped green onion because let's be honest, you can rarely have too much green onion in a macaroni salad!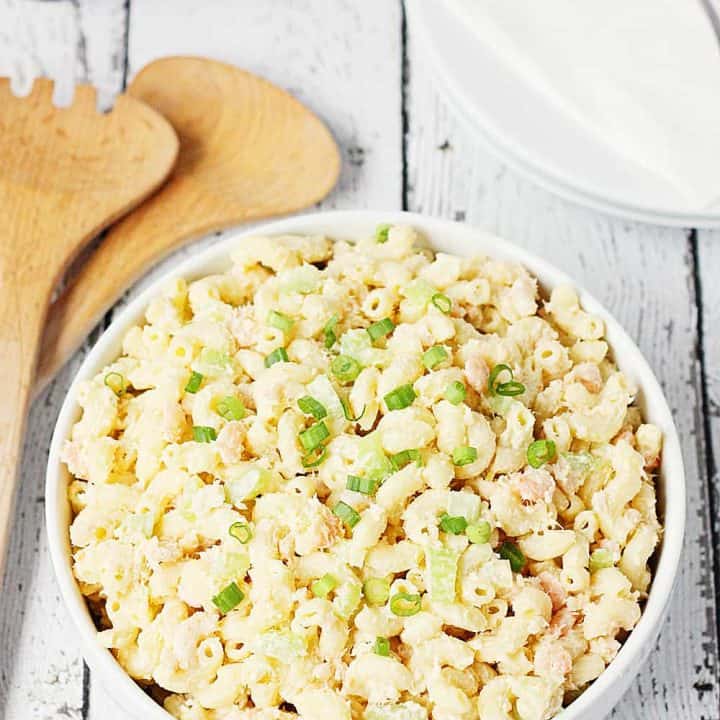 Shrimp Pasta Salad
Total Time:
1 hour
20 minutes
This shrimp pasta salad is a tasty way to switch up your typical macaroni or pasta salad. It takes a few more steps than your typical mac salad but it's so worth it!
Ingredients
16 ounces elbow macaroni, (1 box)
3 cans tiny shrimp, drained and rinsed
1 cup sliced celery
¼ cup chopped green onion (or more to taste)
4 tablespoons water
6 tablespoons white vinegar
½ cup sugar
1 teaspoon dry mustard
1 teaspoon sea salt
3 eggs, beaten
1 cup whipping cream
2 tablespoons light mayonnaise
Instructions
Cook pasta according to package directions; rinse, drain, and place in a large mixing bowl. Add shrimp, celery, and green onion; set aside.
Combine sugar, dry mustard, and sea salt in a medium bowl. Whisk in eggs; set aside.
Bring water and vinegar to a boil in a small saucepan. Reduce heat to medium-low and add egg mixture, whisking vigorously so egg doesn't scramble. Cook until thickened (about the consistency of condensed cream of chicken soup). Let cool.
Beat whipping cream on high speed until the consistency of whipped topping (about 4 to 5 minutes). Add mayonnaise and stir gently to combine. Fold in egg mixture.
Add dressing to pasta and stir until thoroughly combined. Refrigerate at least one hour before serving.
Nutrition Information:
Yield:

12
Serving Size:

1
Amount Per Serving:
Calories:

189
Total Fat:

9g
Saturated Fat:

5g
Trans Fat:

0g
Unsaturated Fat:

4g
Cholesterol:

72mg
Sodium:

257mg
Carbohydrates:

21g
Fiber:

1g
Sugar:

9g
Protein:

5g