Fresh corn is the star in this corn salad with tomato, basil and feta cheese that's been tossed with olive oil and red wine vinegar.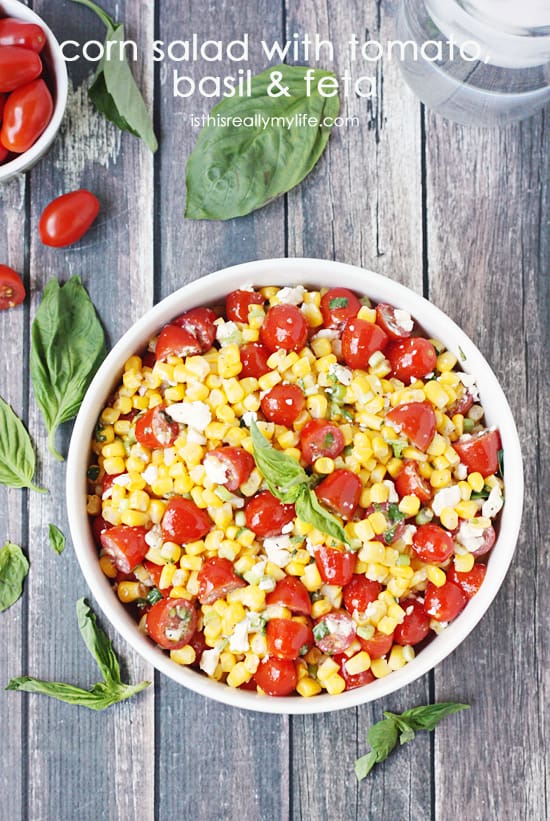 Summer is almost here and you know what that means...salad, salad and MORE salad! Granted, you can eat salad year round, but there's something about eating salad on a warm summer that makes it taste so much better. Take this corn salad with tomato, basil and feta—you can make it with frozen corn but it won't be nearly as divine as making it with fresh corn from the local farmers market.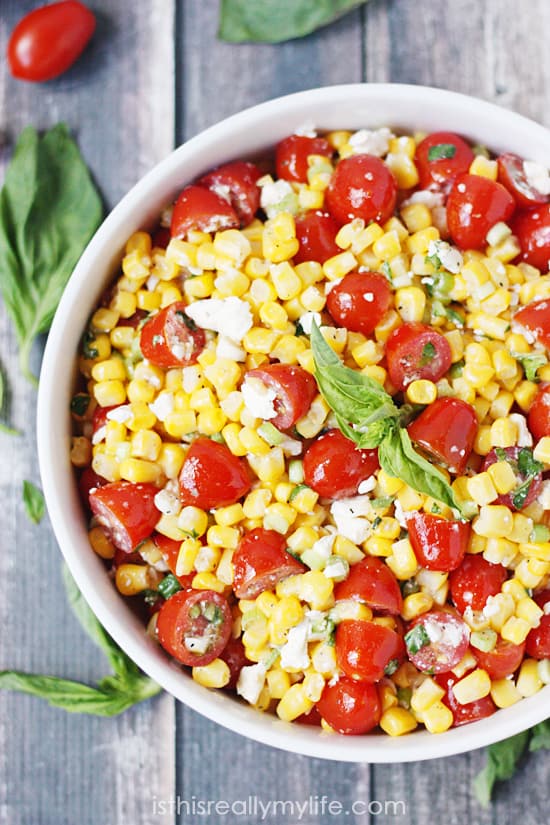 This corn salad combines farm fresh corn with cherry tomatoes, green onions, feta cheese, basil and garlic and then lightly coats all that goodness with olive oil and red wine vinegar. Add a bit of salt and pepper and you'll wonder why it took so long for you to introduce your taste buds to such delightfulness.
If funner is considered a real word, delightfulness should be as well. Just sayin'.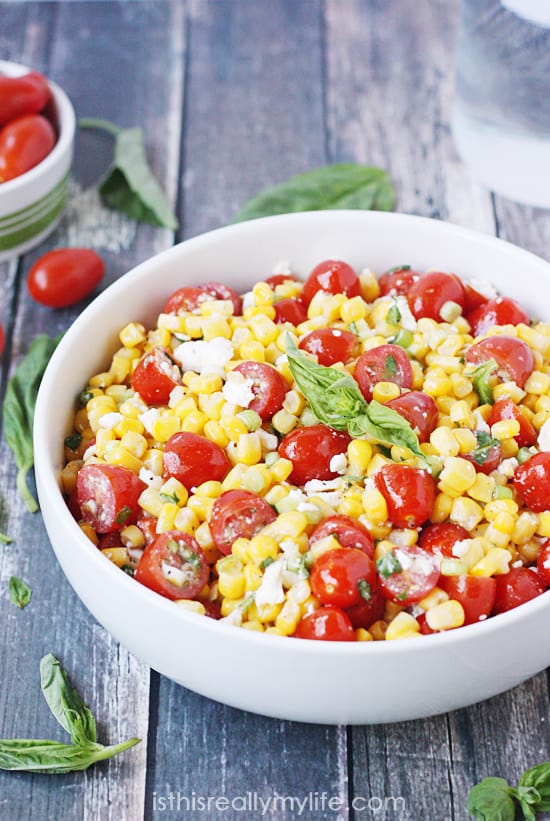 It's true. You can totally make this corn salad with frozen corn. I've tried it with sweet yellow corn, but I bet it would be even yummier with white shoepeg corn or a combination of both. Mmm...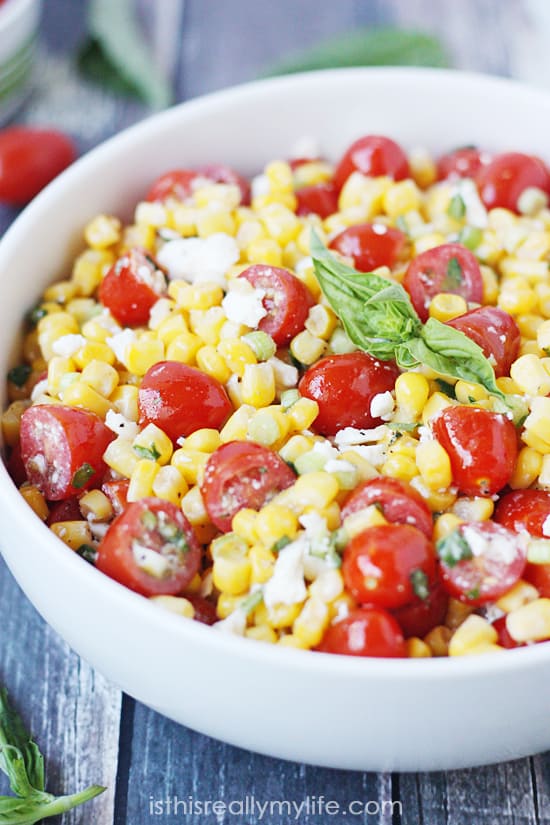 Want to know an easy way to chop herbs? I put mine in a small glass bowl or ramekin and take a pair of solid kitchen shears to 'em. Works like a charm!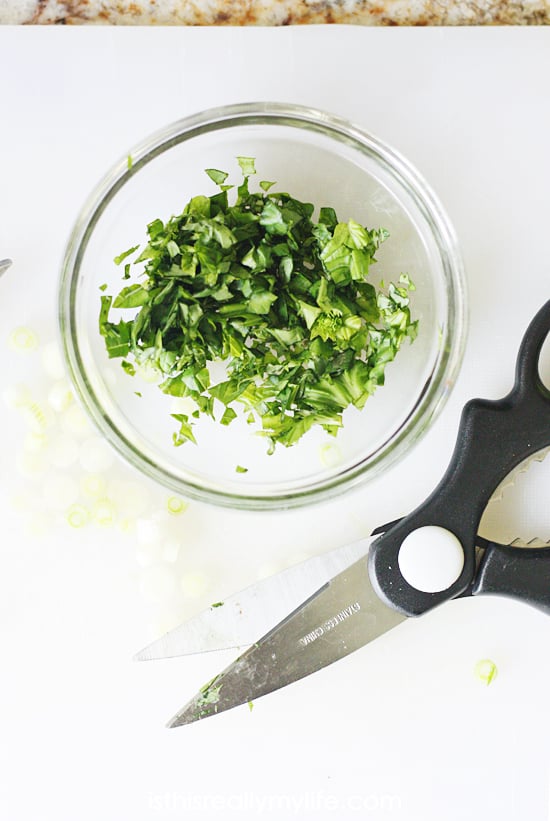 Printable recipe for corn salad with tomato, basil and feta below. Enjoy!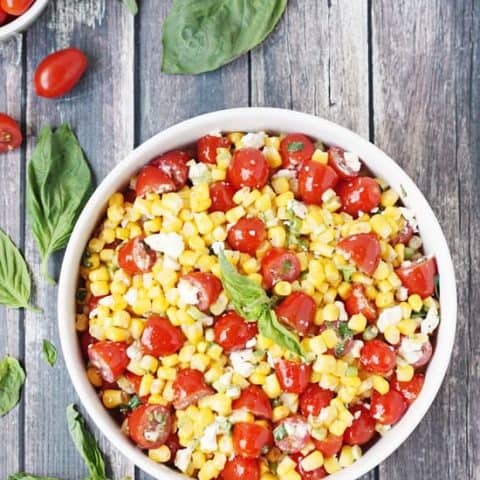 Corn Salad
Fresh corn, cherry tomatoes and feta cheese are tossed with olive oil and red wine vinegar for a delightful—and flavorful—seasonal summer salad.
Ingredients
4 ears fresh corn, husks & silks removed (or 3 cups frozen corn, thawed)
2 ½ cups cherry tomatoes, halved
¼ cup sliced green onions
¼ cup fresh basil, chopped
1 ¾ tablespoons extra virgin olive oil
2 ½ tablespoons red wine vinegar
¼ teaspoon minced garlic
½ teaspoon salt
½ teaspoon pepper
¾ cup feta cheese
Instructions
Boil fresh corn for 7 minutes or until tender. Submerge in ice water until corn has cooled.
Cut kernels off cobs and place in medium bowl. Add tomatoes, green onions and basil.
Add olive oil, vinegar, garlic, salt and pepper. Toss to coat.
Add feta and gently toss until evenly coated. Cover bowl and refrigerate at least 1 hour; for best results, chill 4 to 6 hours.
Nutrition Information:
Yield:

6
Serving Size:

1
Amount Per Serving:
Calories:

167
Total Fat:

10g
Saturated Fat:

4g
Trans Fat:

0g
Unsaturated Fat:

5g
Cholesterol:

17mg
Sodium:

391mg
Carbohydrates:

16g
Fiber:

2g
Sugar:

6g
Protein:

6g