Baked shrimp makes for a delicious seafood dinner that's full of flavor. Undercooked or overcooked shrimp, however, are both less than ideal in terms of texture – and, more importantly, food safety. So, how long do you bake shrimp in the oven at 350 F?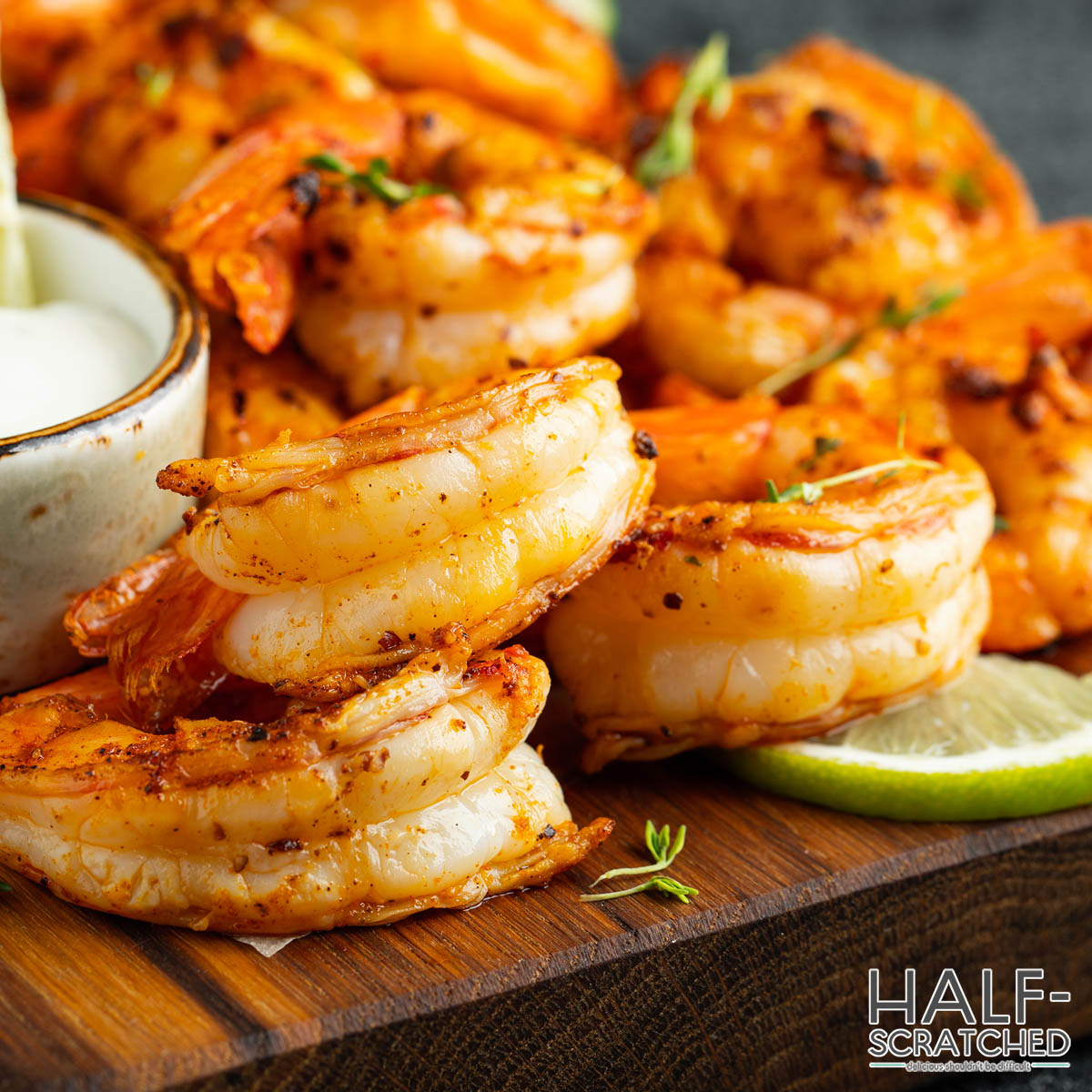 If your oven is preheated to 350 F, you should look to bake your shrimp for 9-13 minutes. Your oven and the size of the shrimp you're using will have an effect on cooking time.
If you're worried about overbaking your shrimp, making them get chewy or rubbery, you can use a meat thermometer to gauge the temperature.
Keep in mind that not all shrimp is created equal. Some shrimps are going to be larger than others. In this case, you'll need to allow them more time in the oven. For jumbo or extra large shrimp, up your cooking time to about 10-15 minutes.
At What Temperature Is Shrimp Done Baking
Undercooked shrimp can be dangerous to eat, to say nothing of the unappetizing texture. In an oven or an air fryer, shrimp is done and safe to eat at 165 degrees F.
Using a meat thermometer inserted into the thickest part of the shrimp, measure the internal temperature of the shrimp to determine if it's done and ready to eat yet.
Don't have a meat thermometer? You can usually tell just by looking if the shrimp is done yet. If they're not curled into a tight C shape, they're not done yet.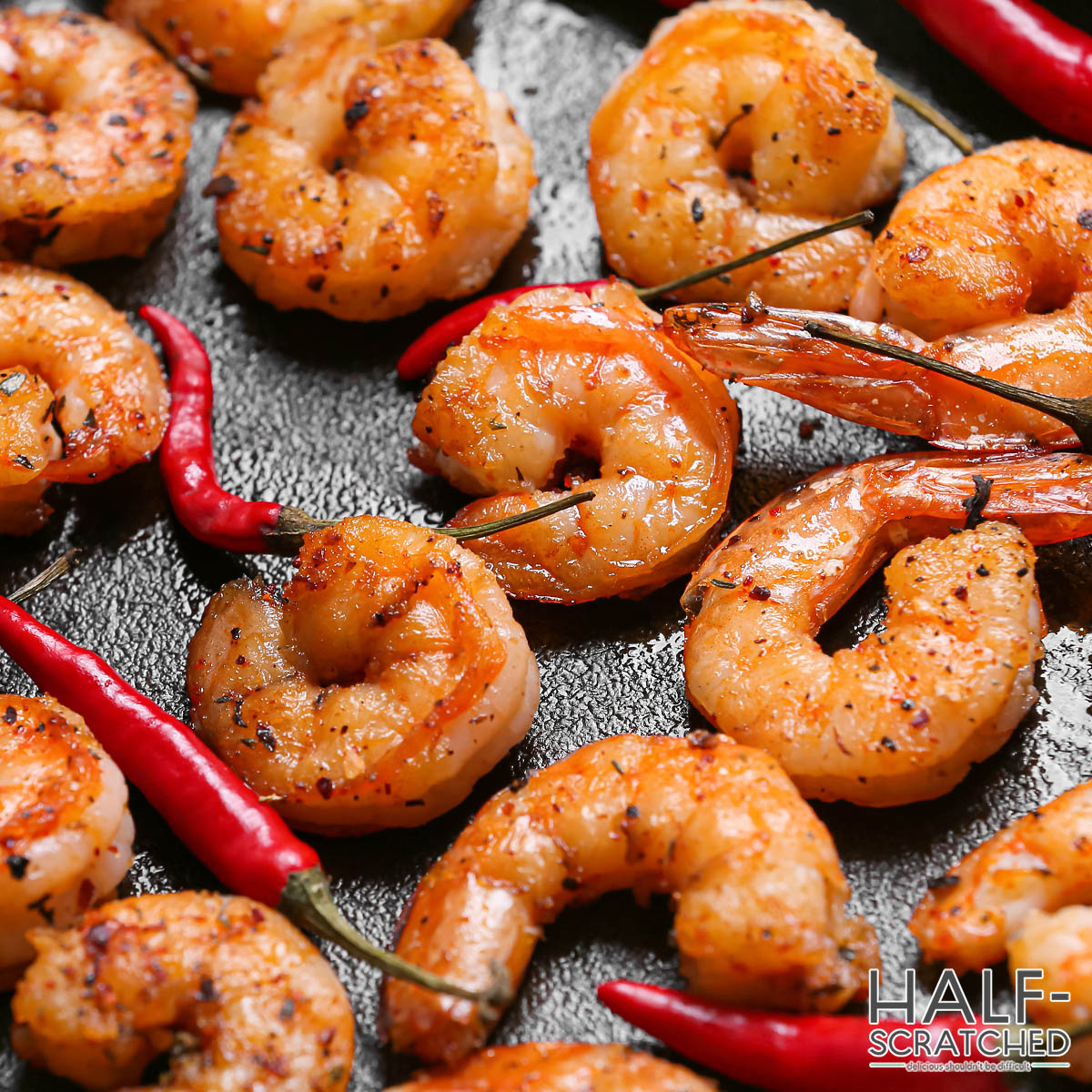 How Long to Bake Frozen Shrimp in the Oven
It's best to thaw your shrimp before you stick it in the oven to ensure that it cooks evenly.
However, if you really don't have time to wait or just want to bake shrimp from frozen, you can still bake it straight from the freezer. They will need longer in a 350-degree oven to come to temperature, usually 15-20 minutes. Just as with thawed shrimp, you'll need to ensure that they're cooked to 165 to avoid under or overbaking.
If you're in a hurry, though, it's actually recommended that you run your shrimp under a steady flow of cold water for a few minutes to allow it to thaw quickly. That way, you can help your shrimp cook evenly without needing to keep it in the fridge overnight.
Can You Over Bake Shrimp?
Anyone who has cooked shrimp slightly too long in an oven can confirm that you can definitely overcook shrimp. Baking shrimp for too long causes the muscle fibers to become too tough and rubbery to chew through. It's not a pleasant texture and definitely not what you want on your dinner table.
How Long to Cook Precooked Shrimp in the Oven at 350
Precooked shrimp will save you some time and ensure that your shrimp wont be underdone. At 350 F, you will need to bake precooked shrimp for 10-12 minutes until it is perfectly hot and delicious.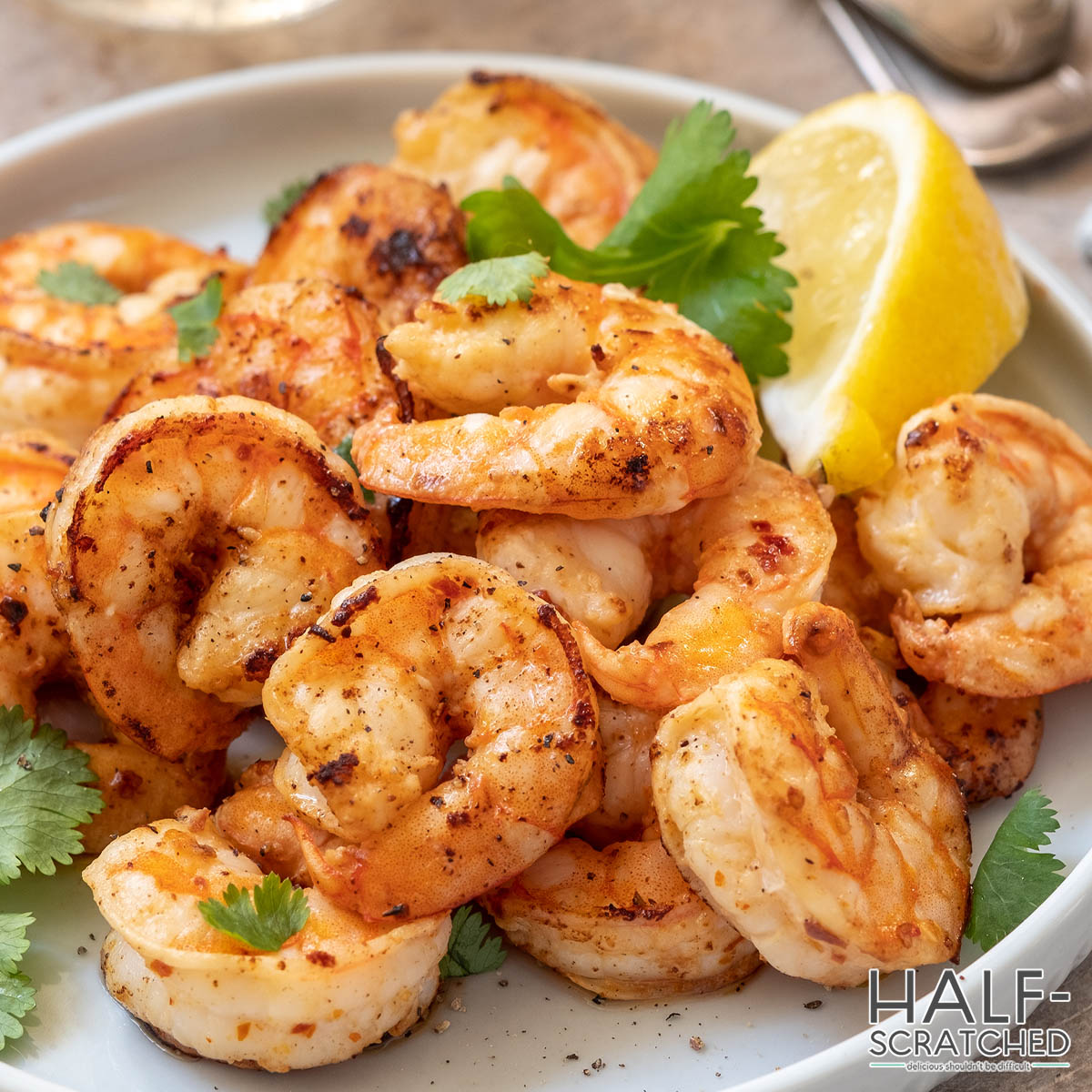 How Long to Bake Shrimp at 350 in the Air Fryer
Air-frying shrimp is a perfect, convenient, quick way to enjoy a delicious seafood lunch or dinner. It will even save you a little time when compared to the length of time it takes in the oven.
Shrimp will cook in 6-8 minutes in an air fryer preheated to 350. If the shrimp is still frozen, that time will increase to about 9-12 minutes.
Should You Wash Shrimp Before Baking
Shrimp needs to be cleaned before it is cooked. To rinse shrimp, you'll need to run it under cold water and scrub it gently with your fingers. Doing so will help wash away any leftover shell bits, debris, or miscellaneous gunk that might have hitched a ride on your shrimp.
Tips for Tender, Juicy Shrimp
The best way to cook up a batch of juicy shrimp that's not stringy or chewy is to cook it just enough. You want to check the temperature in the last few minutes of cooking time and take it out as soon as it reaches a safe eating temperature. If you leave it in too long, you'll be on a fast track to overcooking it.
Cooking your shrimp in some kind of sauce will help preserve some moisture, but it won't do any good if your shrimp is overcooked.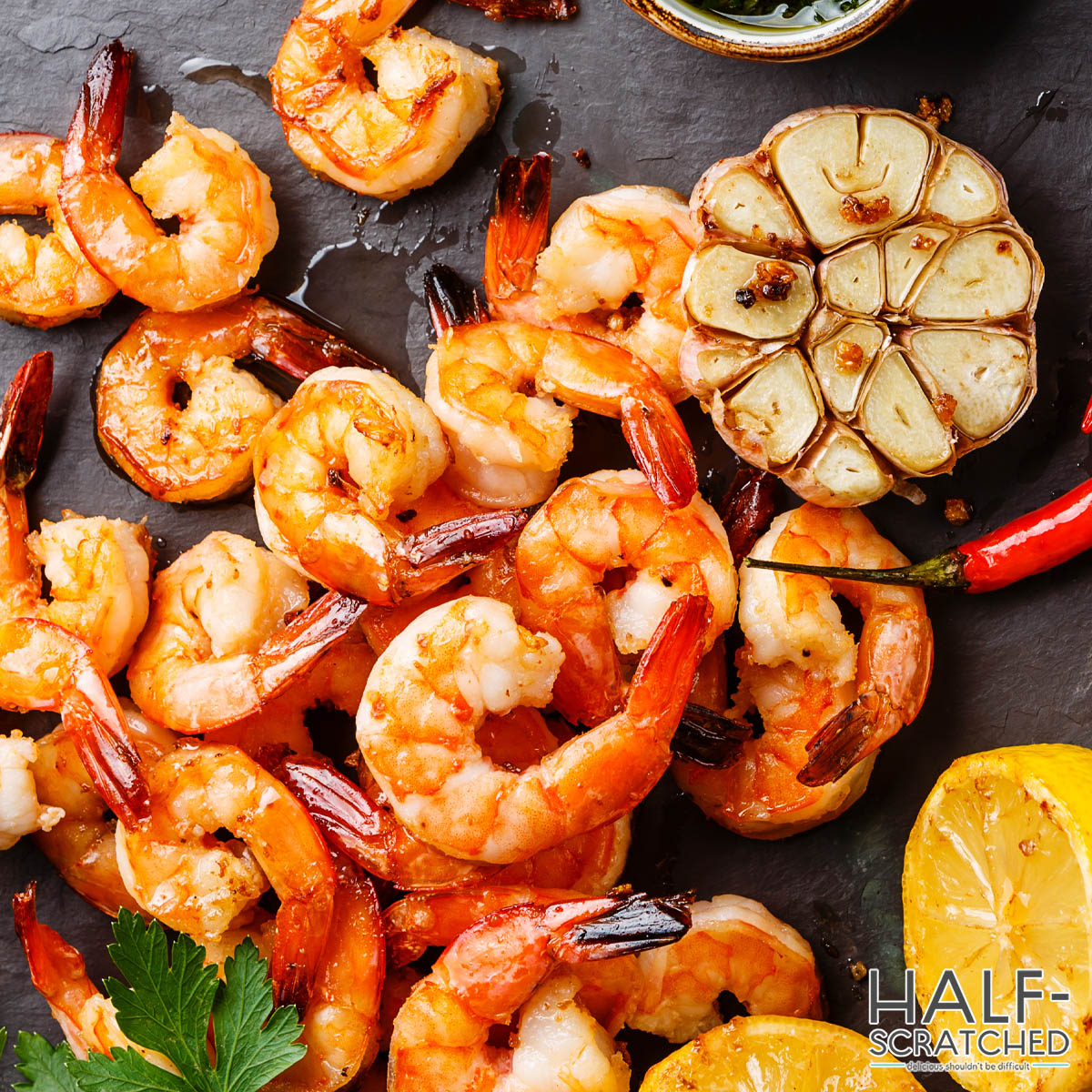 Should You Buy Fresh or Frozen Shrimp?
Buying frozen shrimp in the shell will provide you with plenty of flexibility when it comes time to cook. The shrimp you get at the seafood counter of your grocery store are likely frozen and thawed anyway – you'll save a few dollars by buying it frozen from the freezer aisle.
Cooking shrimp in the shell will help you get a better flavor and texture to your final baked shrimp.
When shopping for shrimp, you'll probably see a number on the bag. It may look like 21/25. That number on the bag will handily tell you how big the shrimp are since it provides a count of how many shrimp will be in that particular bag. The lower the number, the bigger the shrimp inside.
When you buy shelled shrimp, be sure to clean and devein it thoroughly first.
How to Reheat Baked Shrimp
Reheating baked shrimp can be a challenge. It's prone to becoming rubbery or tough when sent through the microwave. However, there are other ways you can revive your shrimp without sacrificing the taste and texture of last night's dinner.
To reheat shrimp in the oven, preheat your oven to 300. Wrap the shrimp in aluminum foil and place it on a baking sheet. Make sure your shrimp stays in a single layer.
Once the oven is heated up, insert your baking dish and allow it to bake for about 8 minutes. Be careful when you remove the packet of shrimp, as it will be hot to the touch.
That's not to say you absolutely cannot reheat shrimp in the microwave. Sprinkling your shrimp with a drizzle of water and microwaving it in a covered dish for about two minutes will keep it from getting too rubbery.
Super Simple Yet Delicious Baked Shrimp Recipe
Here's a recipe for a super simple baked shrimp dish. With lemon, butter, and some red pepper flakes, you can have a delicious seafood dish that's perfect over rice, noodles or eaten just as it is! Feel free to experiment with sauces and styles as you travel through the world of baked shrimp.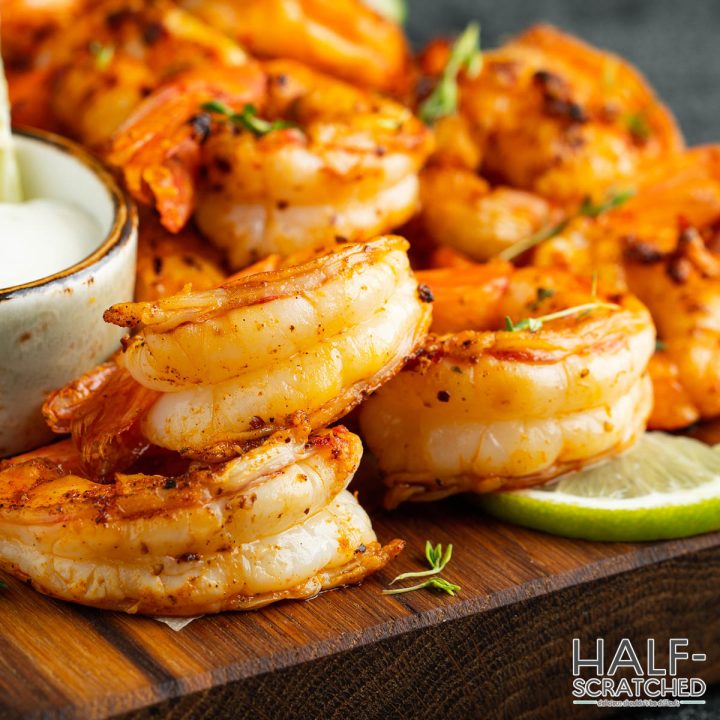 How Long to Bake Shrimp at 350 F
How long do you bake shrimp in the oven at 350? Read our intensive guide that covers everything you need to know about baking shrimp.
Ingredients
1 ¼ pounds large shrimp, deveined and free from shells. Some shrimp you buy from the grocery store might already have been deveined.
¼ cup butter. You can use olive oil if you prefer.
2 tablespoons of minced garlic – approximately three cloves
2 tablespoons freshly squeezed lemon juice 
A generous amount of salt and pepper 
½ teaspoon red pepper flakes, or more to taste.  
1 tablespoon parsley. You can use dried or fresh. 
Instructions
Preheat your oven to 350 degrees. Place your shrimp in an oven-safe baking dish.
Melt your butter in a saucepan over low heat, stirring occasionally.
Saute your garlic in the melted butter for about 30 seconds until fragrant. When the garlic is simmering, add your freshly squeezed lemon juice.
Once everything is combined, pour your butter mixture on top of the shrimp in the saucepan.
Season the shrimp generously with salt, pepper, and red pepper flakes. Toss the shrimp to make sure it's completely coated in the mixture.
Bake in the oven for 9-13 minutes or until your baked shrimp has just reached 165 degrees F.
When you take the shrimp out of the oven, sprinkle fresh minced parsley overtop. Serve warm, being sure to scoop some of the delicious leftover sauce on top of it.
Notes
When you're cooking the shrimp, it's important that you keep a very careful eye on the cooking time. Don't let it overcook, and take it out as soon as it hits that 165-degree F sweet spot of doneness.
You can also use skewers for this shrimp recipe. After you've coated the shrimp in your butter and seasonings, simply slide the pieces onto a skewer and cook for the same amount of time.
Nutrition Information:
Yield:

4
Serving Size:

1
Amount Per Serving:
Calories:

356
Total Fat:

18g
Saturated Fat:

9g
Trans Fat:

1g
Unsaturated Fat:

8g
Cholesterol:

332mg
Sodium:

1527mg
Carbohydrates:

13g
Fiber:

1g
Sugar:

0g
Protein:

35g