Who knew classic macaroni salad could be incredibly easy AND incredibly delicious? This easy macaroni salad is the BEST EVER macaroni salad with the perfect blend of veggies and creamy dressing.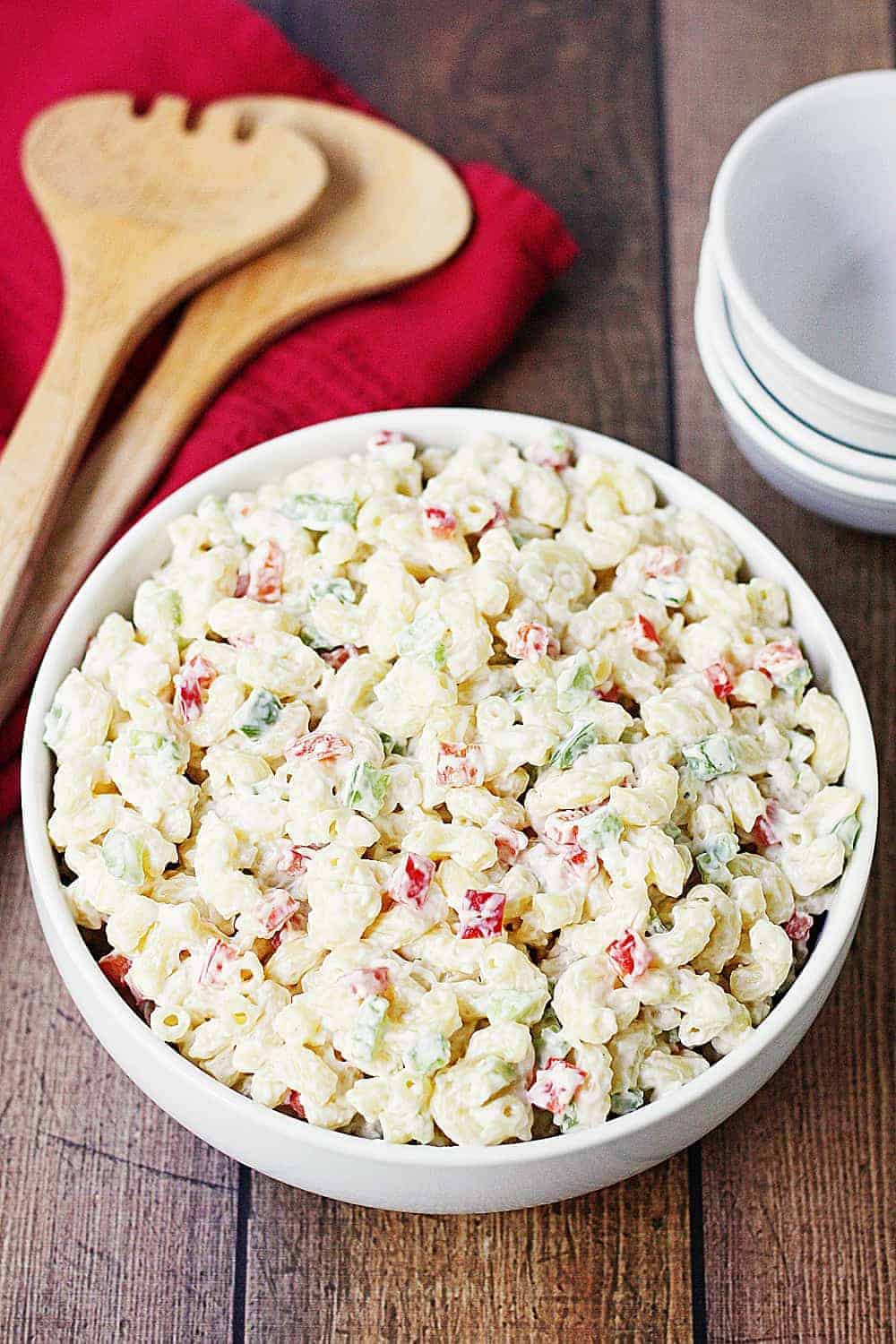 When I say this easy macaroni salad is the best ever macaroni salad, I'm not exaggerating. Of course, I guess that depends on your definition of "the best."
For me, the definition of "the best macaroni salad" is when a classic macaroni salad recipe is easy, requires "normal" ingredients, comes together quickly. and is a total hit... especially with your dad.
And that's saying a lot because my dad is kinda (super) picky.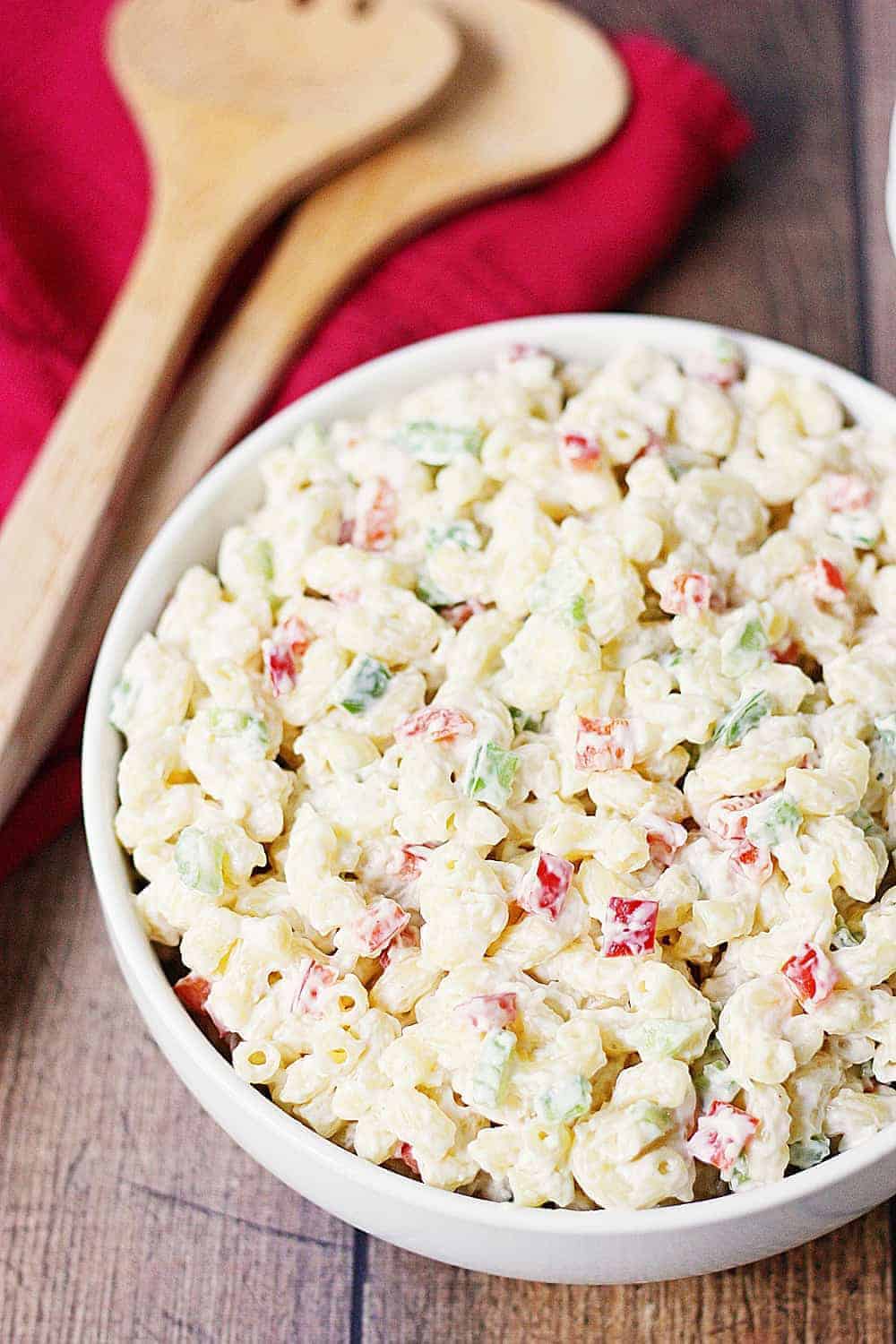 This creamy macaroni salad is all of the above. Although the recipe has 10 ingredients on the list, half of those ingredients are for the dressing.
Macaroni salad dressing ingredients so don't count.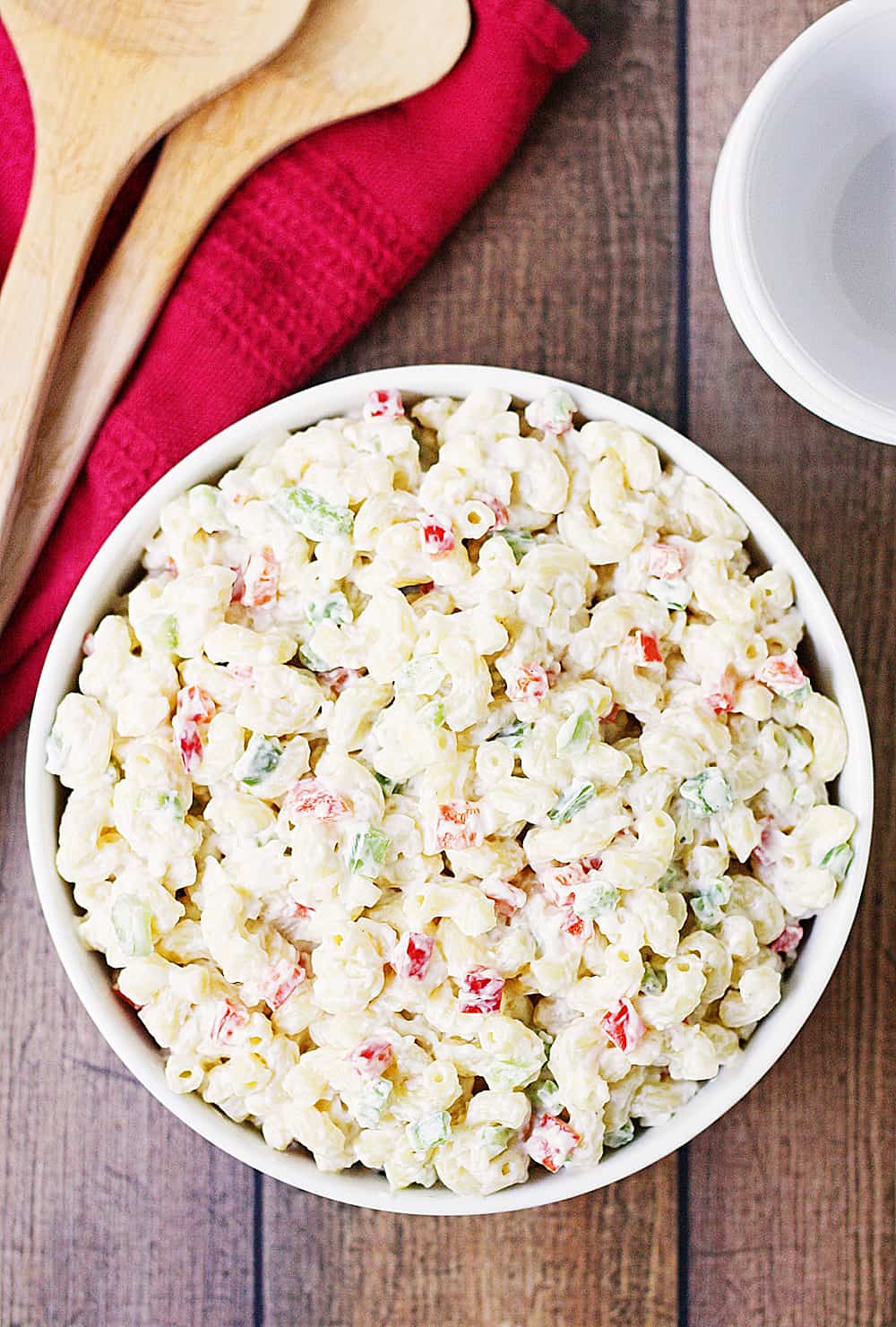 You won't find anything fancy in this creamy, easy macaroni salad although one of the dressing ingredients might surprise you. But then again, surprises often lead to super tasty dishes, which makes this the perfect dish for family picnics and backyard get-togethers.
Note: I like to use half Splenda in place of the sugar to cut down on calories while keeping all the taste in this classic macaroni salad. You could totally try using full Splenda; if you do, let me know how it goes!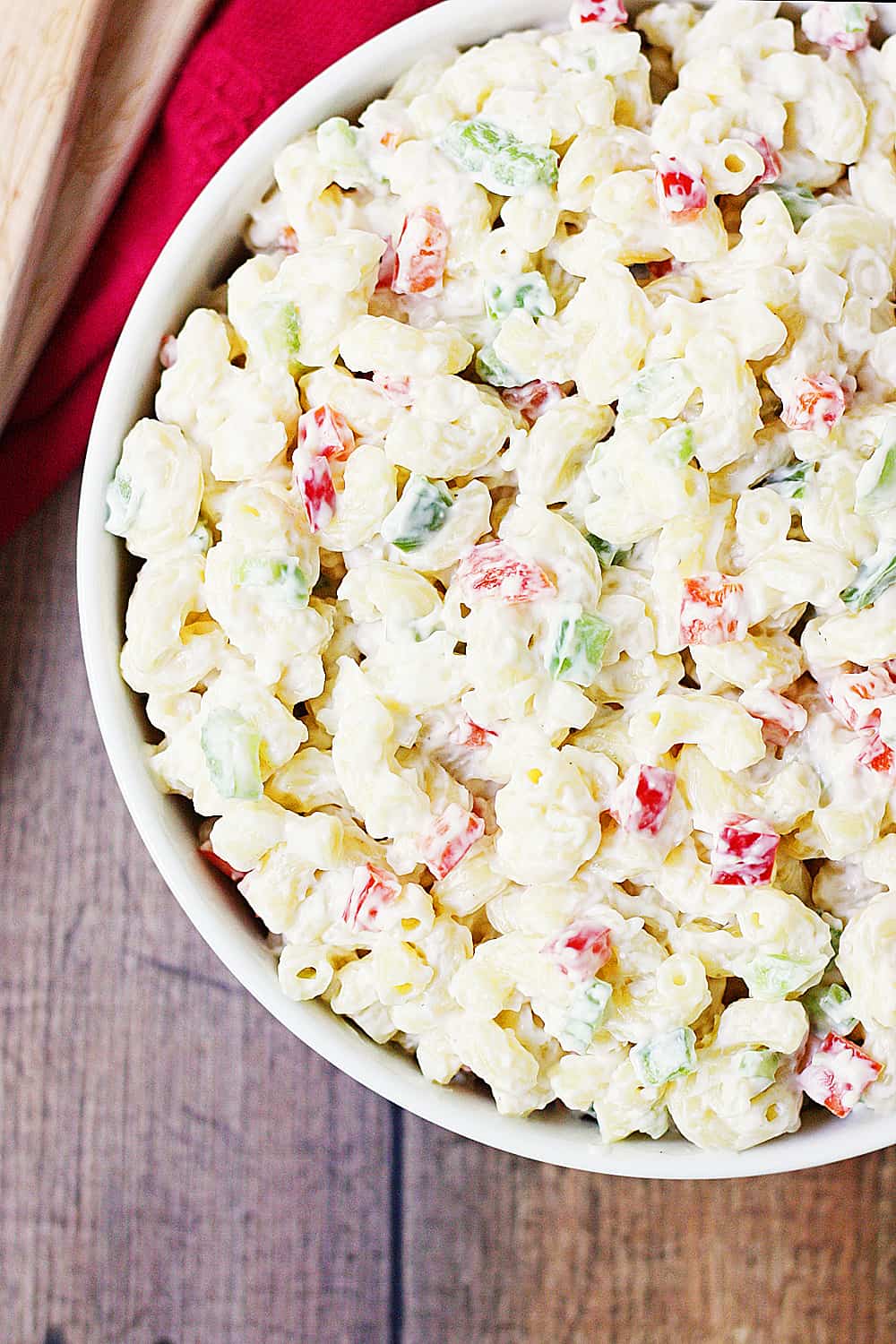 I made this classic macaroni salad for our Mother's Day dinner at my mom's and it was very well received (i.e., we all had seconds). I left my dad some leftovers and they were gone by the next day.
I consider that a winning recipe!
I don't know about you, but I find summer isn't complete without macaroni salads, pasta salads, and potato salads. That's in addition to grilled burgers, hot dogs, chicken, ribs...
This shrimp pasta salad is a pretty dang good option for backyard barbecues, and creamy bacon broccoli salad is always a hit!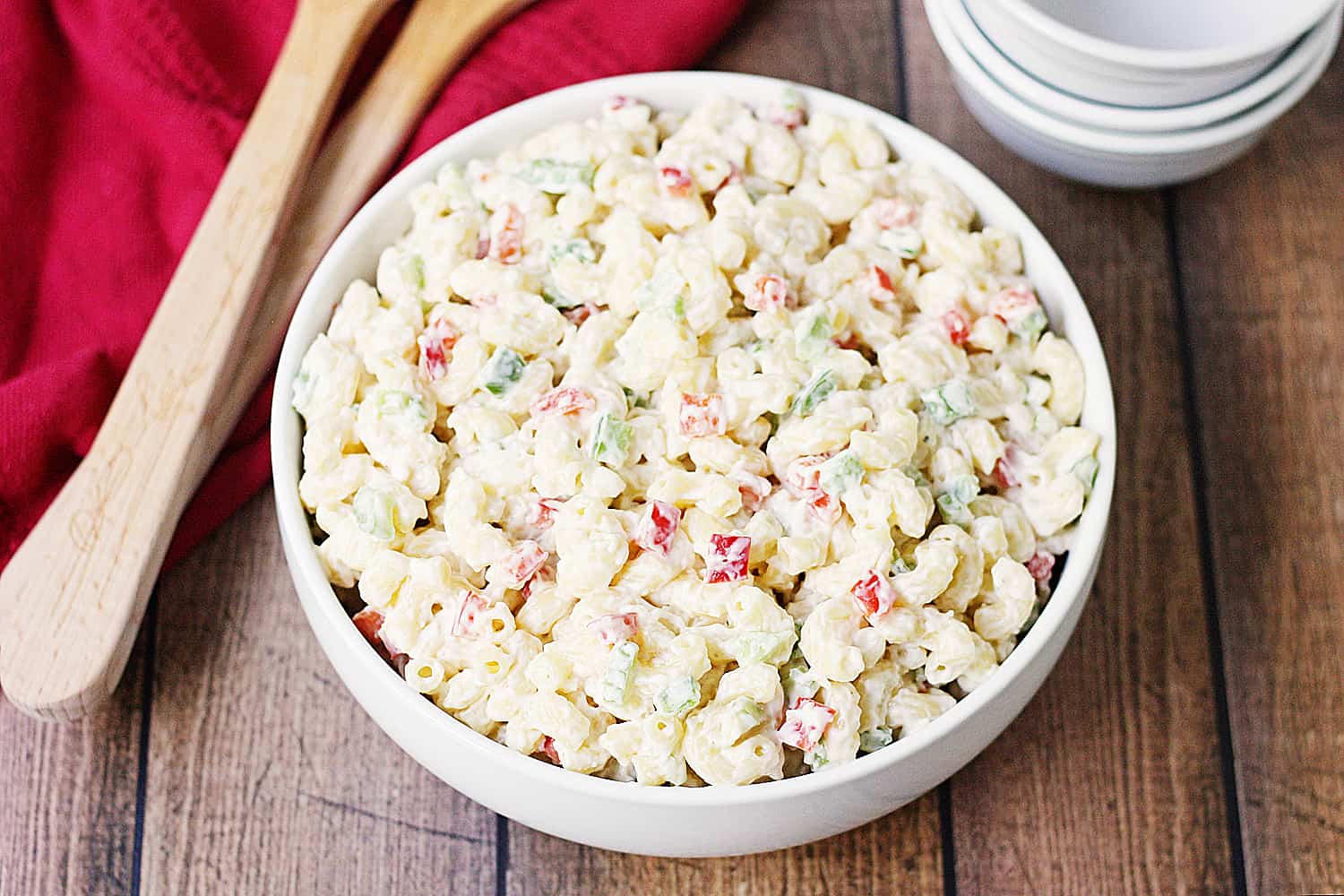 Did I mention you also need corn on the cob, chips, watermelon, and all kinds of desserts including this cherry pie salad my family always inhales?
This is why I love summer so very, very much. It's all about the food.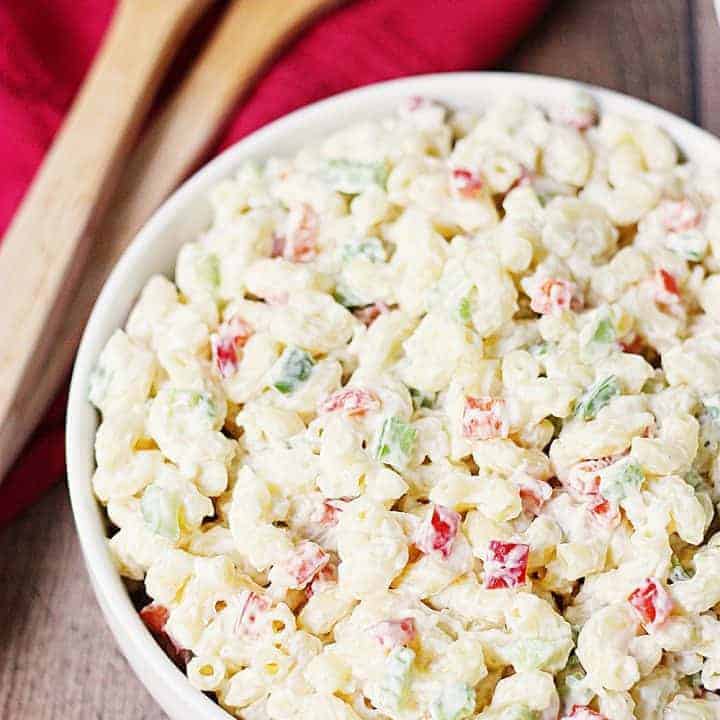 Best Ever Macaroni Salad
Total Time:
4 hours
10 minutes
Who knew macaroni salad could be incredibly easy AND incredibly delicious? This macaroni salad has the perfect blend of veggies and creamy dressing.
Ingredients
1 (16-ounces) box macaroni pasta
1 small yellow onion, diced
½ green bell pepper, seeded and diced
½ red bell pepper, seeded and diced
1 cup diced celery
2 cups mayonnaise
1 (14-ounces) can sweetened condensed milk
¼ cup sugar or Splenda
½ cup white vinegar
Salt and pepper to taste
Instructions
Cook pasta according to package directions for al dente pasta. Drain and rinse with cold water; set aside.
In a large bowl whisk together mayonnaise, sweetened condensed milk, sugar, and vinegar. Add pasta and toss to coat. Add onion, peppers, and celery and mix thoroughly. Dressing will look thin but will thicken as it refrigerates.
Refrigerate at least 4 hours before serving. (Refrigerating overnight is best!)
Notes
FOLLOW HALF-SCRATCHED ON INSTAGRAM (@half_scratched) and share the recipes you're whipping up in the kitchen. Don't forget the #HALFSCRATCHED hashtag so we can see what you've made!
Nutrition Information:
Yield:

12
Serving Size:

1
Amount Per Serving:
Calories:

321
Total Fat:

6g
Saturated Fat:

2g
Trans Fat:

0g
Unsaturated Fat:

1g
Cholesterol:

8mg
Sodium:

480mg
Carbohydrates:

59g
Fiber:

1g
Sugar:

30g
Protein:

8g