There's chicken Caesar salad and there's chicken Caesar pasta salad. Once you add bowtie pasta to Caesar salad, you won't want to eat it any other way!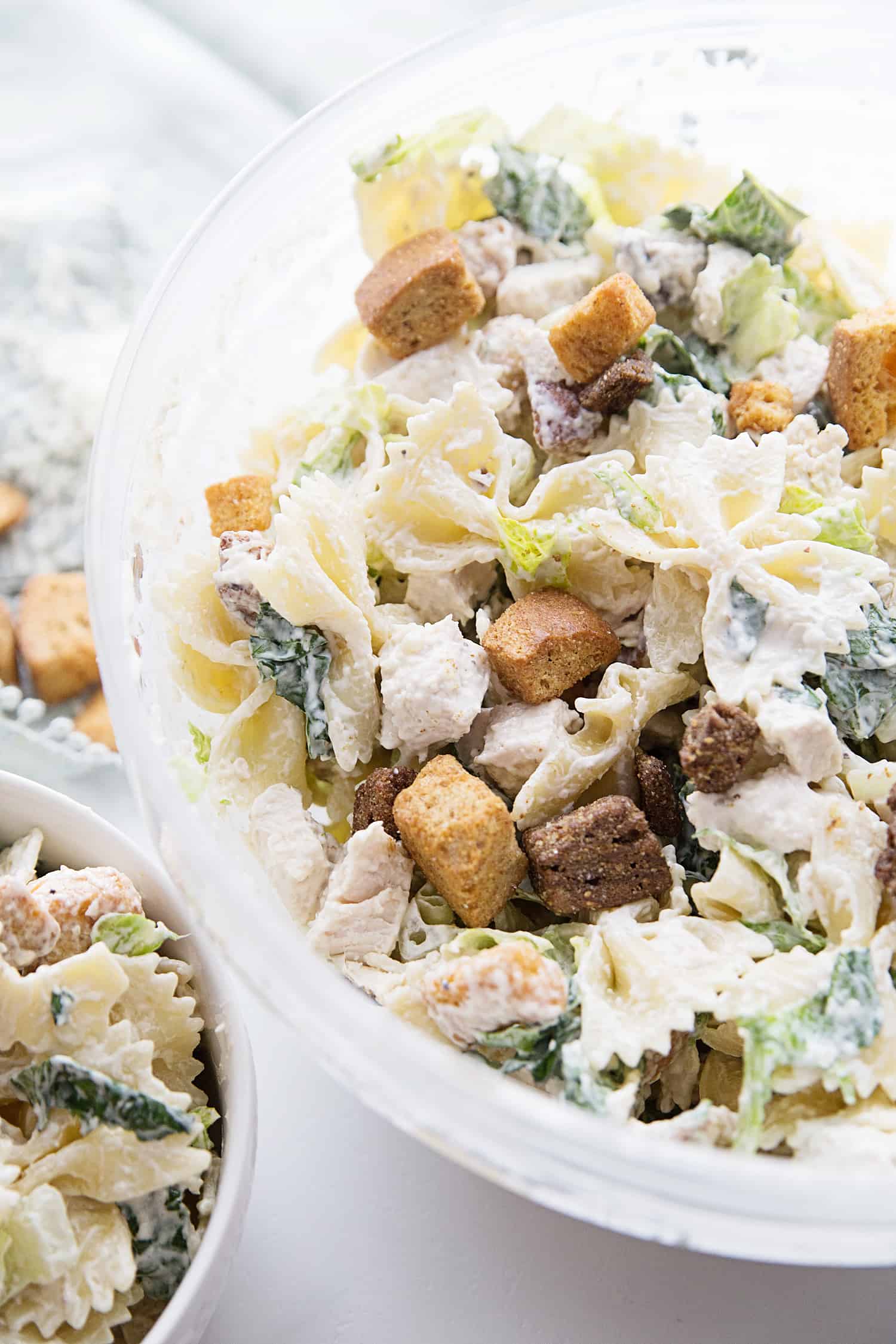 I kind of wish summer in Utah went from March to November. I'm all about summer salads like this bowtie chicken Caesar salad.
From main dish-style pasta salads like this chicken and bowtie pasta salad to fruit-infused green salads like this strawberry spinach salad with balsamic poppy seed dressing, I could eat salad every day—as long as my best ever macaroni salad is thrown in the rotation!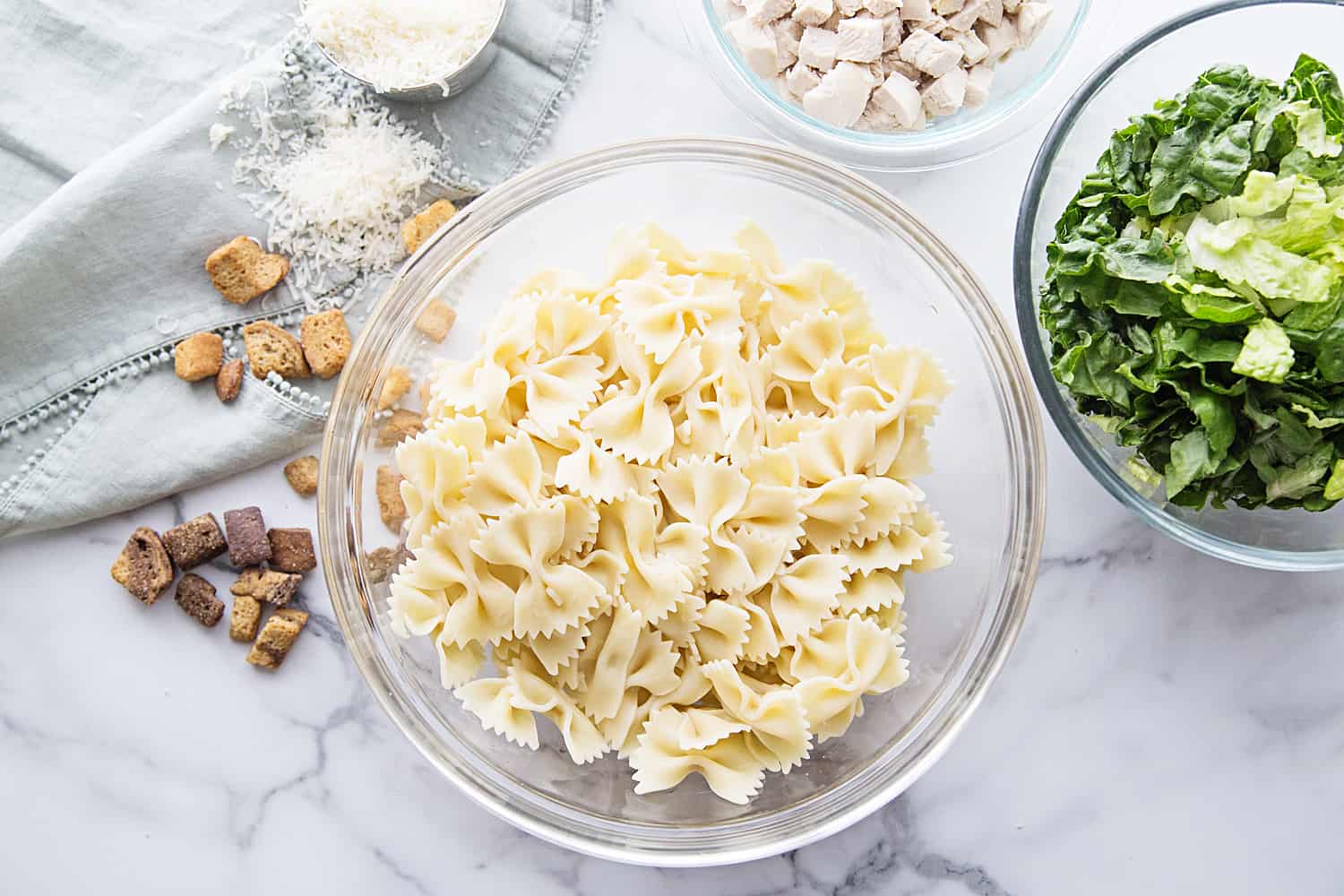 You can't beat a hearty salad that serves as both side dish and main dish. And chicken Caesar pasta salad is just that. You take chicken Caesar salad, which can be main dish or side dish depending on how hungry you are, and elevate it to for-sure main dish status by adding cooked farfalle—aka bowtie—pasta.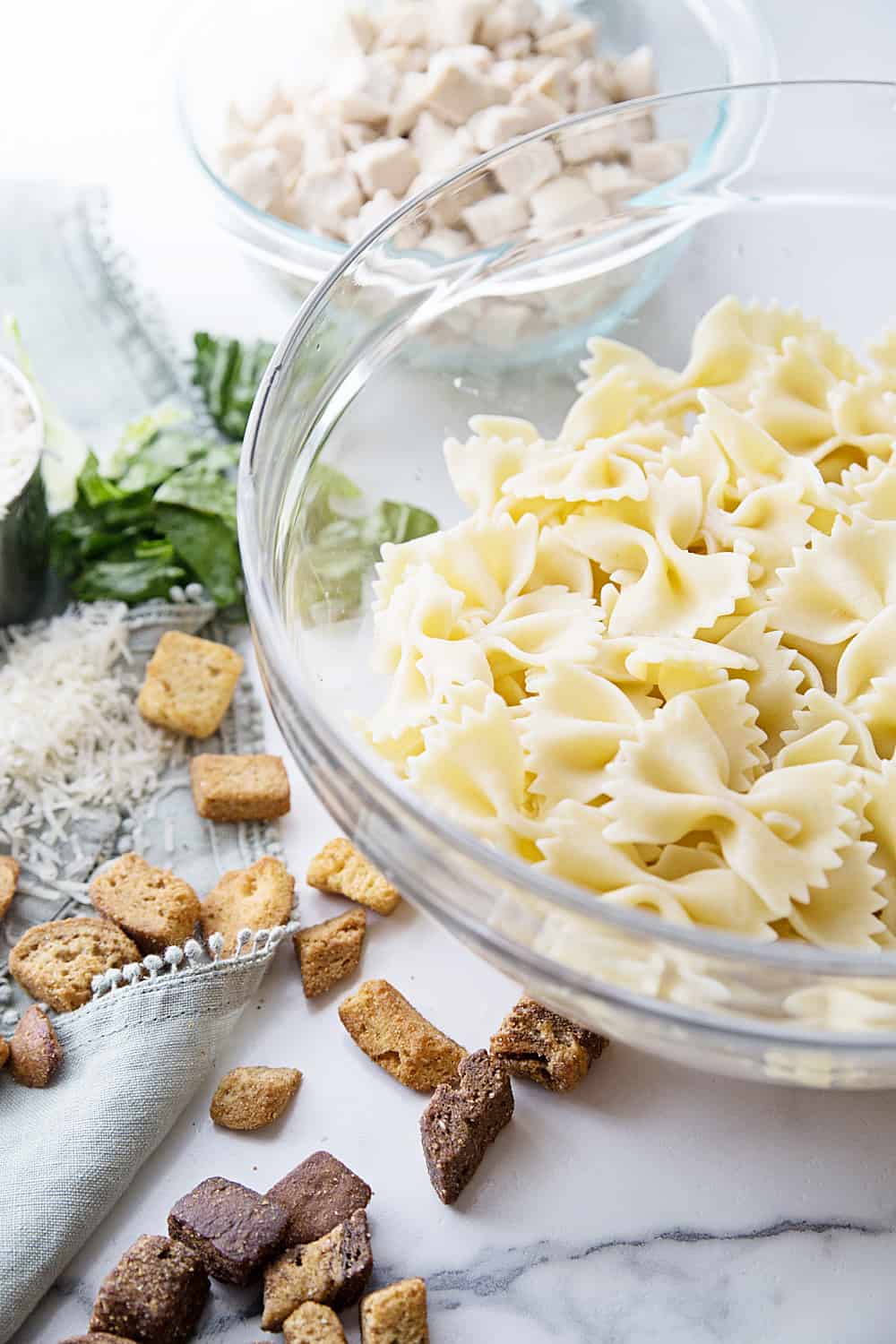 I love all the textures and flavors in bowtie chicken Caesar salad. Inside the bowl you'll find crisp Romaine lettuce, tender chicken, al dente pasta, crunchy croutons, aged Parmigiano-Reggiano cheese, and creamy Caesar dressing.
It's a cold pasta salad party in every bite!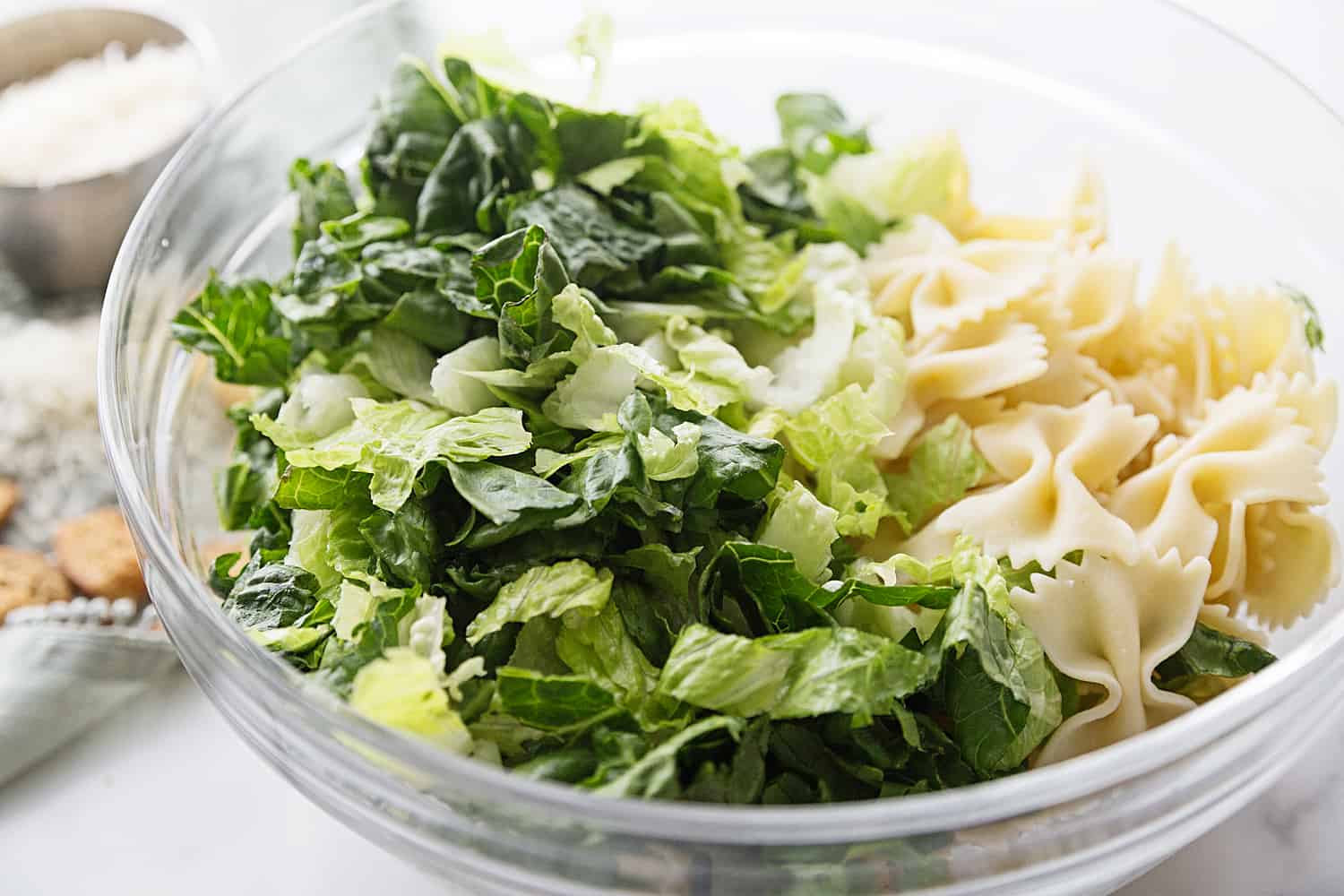 If you want a little more crunch, I've seen variations where they throw in roasted garlic Caesar almonds. I may have to try that next time I Make a batch of this chicken Caesar pasta salad!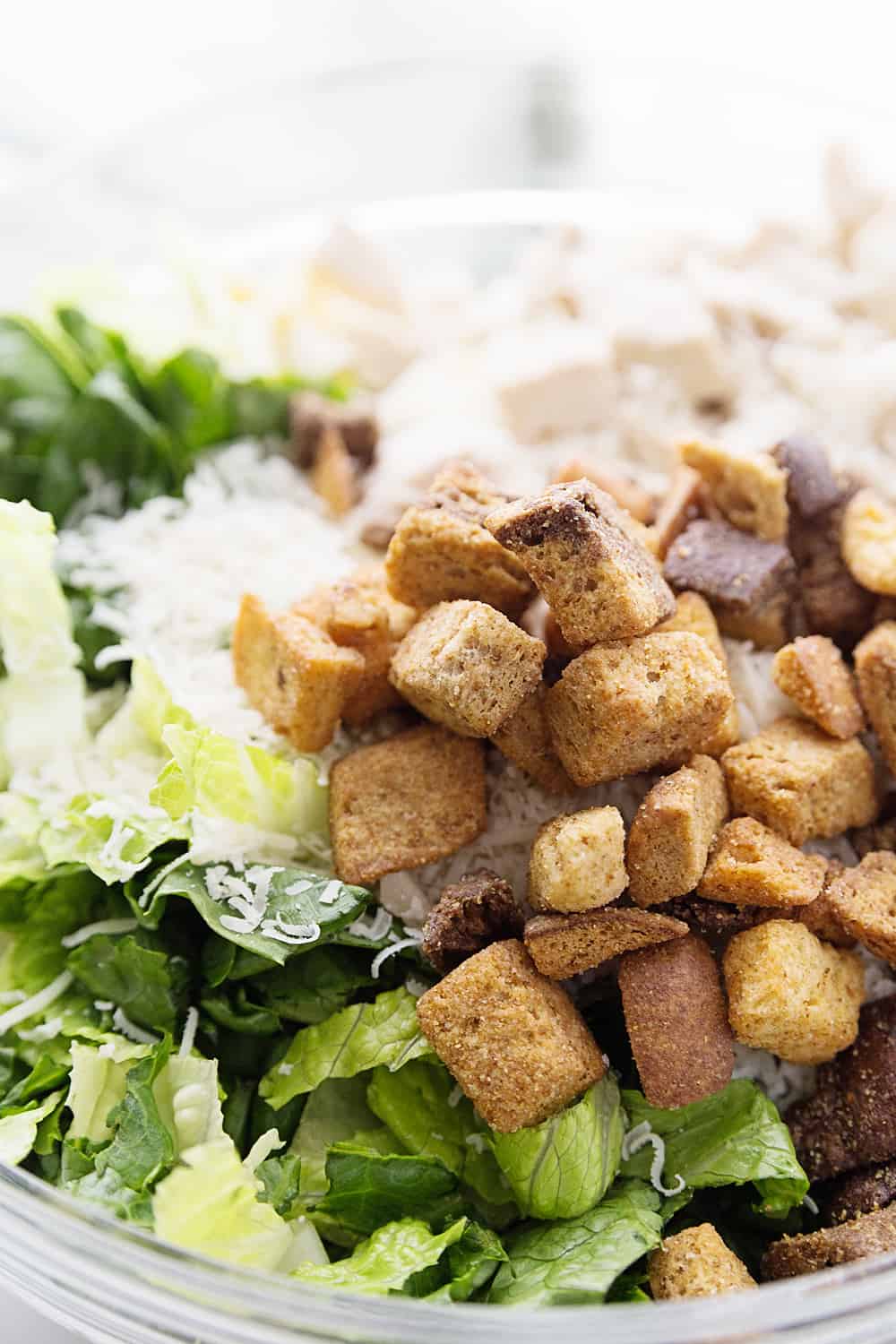 Have you ever wondered about the history of Caesar salad? I was sure it had roots in Italy but that's so not the case.
The Alleged History of the Caesar Salad
Legend attributes the creation of Ceasr salad to Italian-American restaurateur Caesar Cardini.
Cardini owned a restaurant, Caesar's, in Tijuana to attract those looking to avoid Prohibition.
On July 4, 1924, a holiday rush depleted the kitchen's supplies. Cardini threw together what ingredients he had and served it to guests.
Julia Child said that she had eaten a Caesar salad at Cardini's restaurant when she was a child in the 1920s.
According to Cardini's daughter, Rosa, the original Caesar salad recipe did not have anchovies. It did include whole lettuce leaves, which were meant to be lifted by the stem and eaten with the fingers. It also had boiled eggs and Italian olive oil.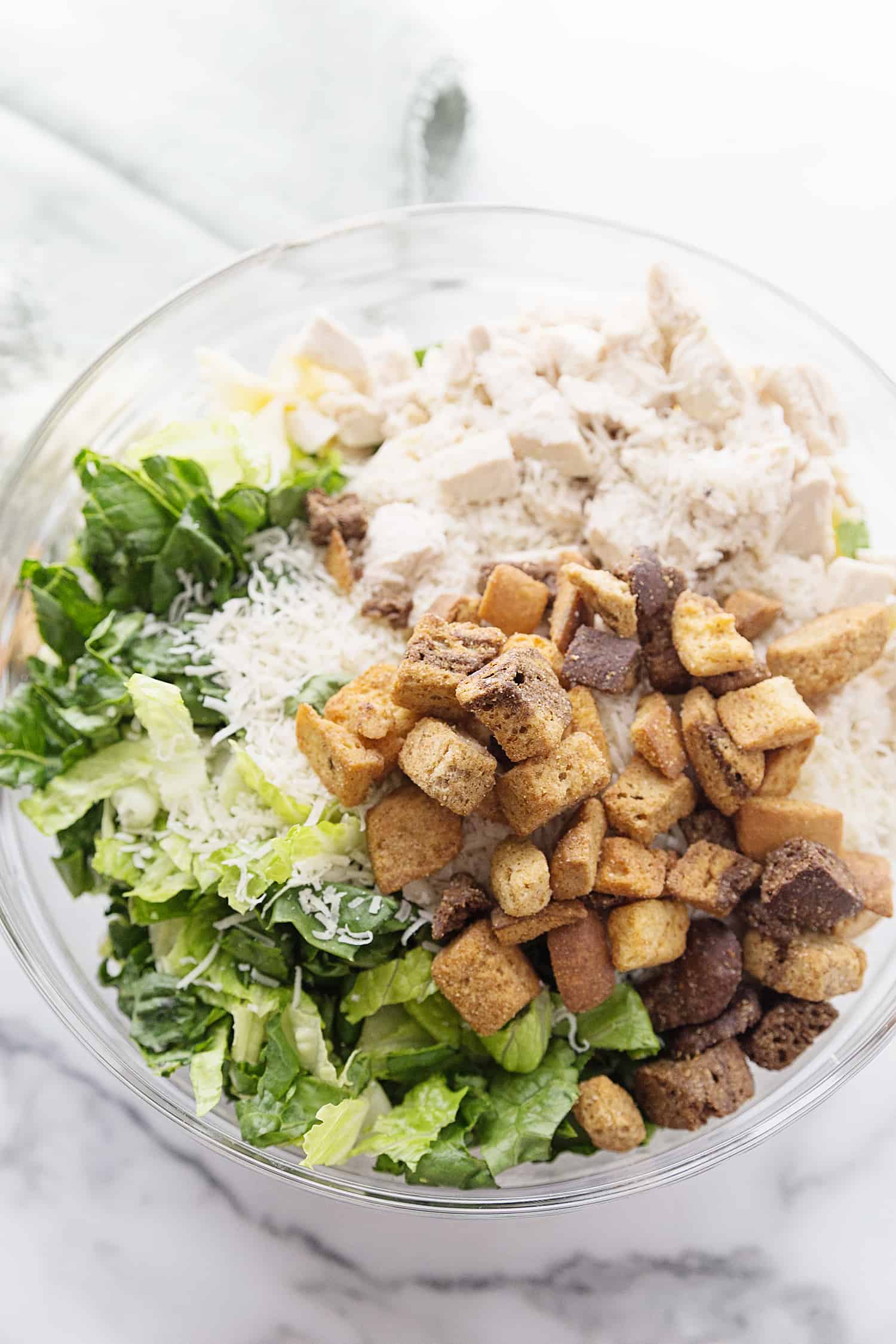 I'm glad Cardini didn't include anchovies in his recipes. He preferred that sort of briny flavor to come from Worcestershire sauce. And I'm way okay with that.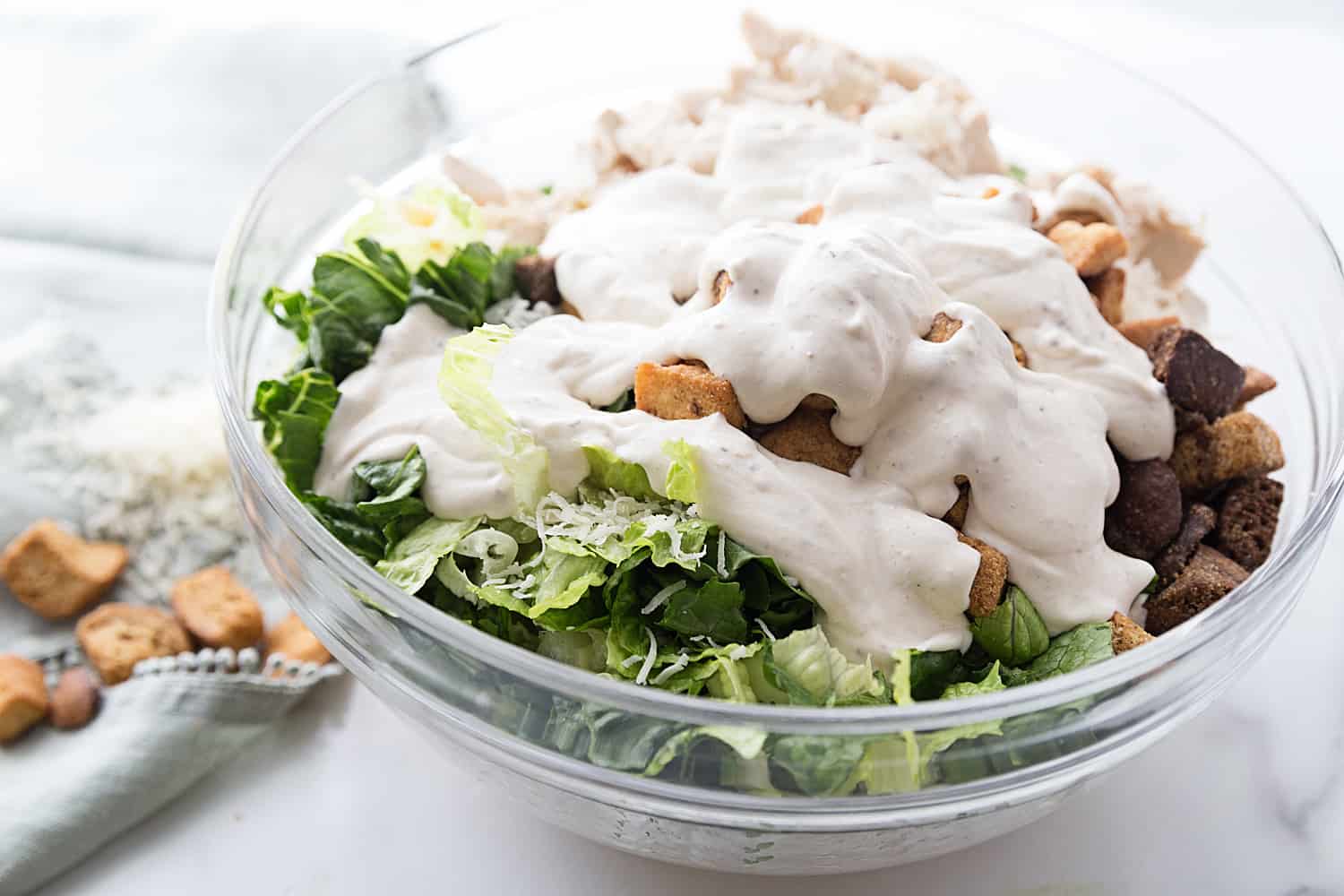 Why is this the best bowtie chicken Caesar salad? Because it's ridiculously easy. The hardest part is cooking up the bowtie pasta. I so don't make Caesar salad dressing from scratch, so that takes out half the work.
And if you buy pre-cut Romaine lettuce and cooked chicken, it makes it even quicker! I've made this chicken Caesar pasta salad using pre-cooked grilled and seasoned chicken from the deli section and it's absolutely delicious.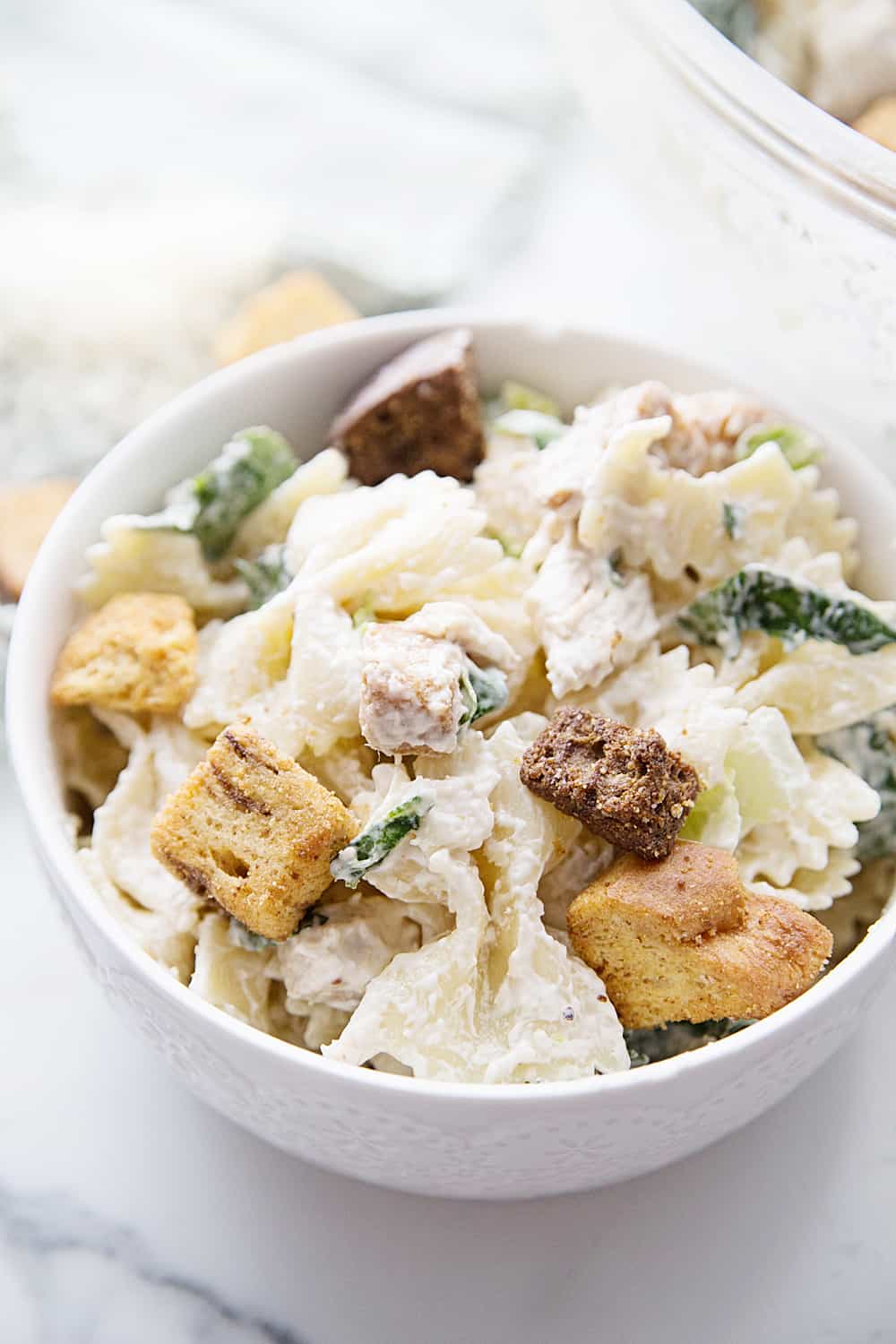 You could also totally use shredded rotisserie chicken—something I always like to have in my freezer just in case. It comes in handy when making Asian ramen salad or chicken tortilla soup.
The best part about bowtie chicken Caesar salad? It feeds a crowd. This is one of the best summer potluck dishes you can make. Not only does it double easily but you can make it a day ahead, sans dressing, and toss before serving.
Winner winner, chicken Caesar salad!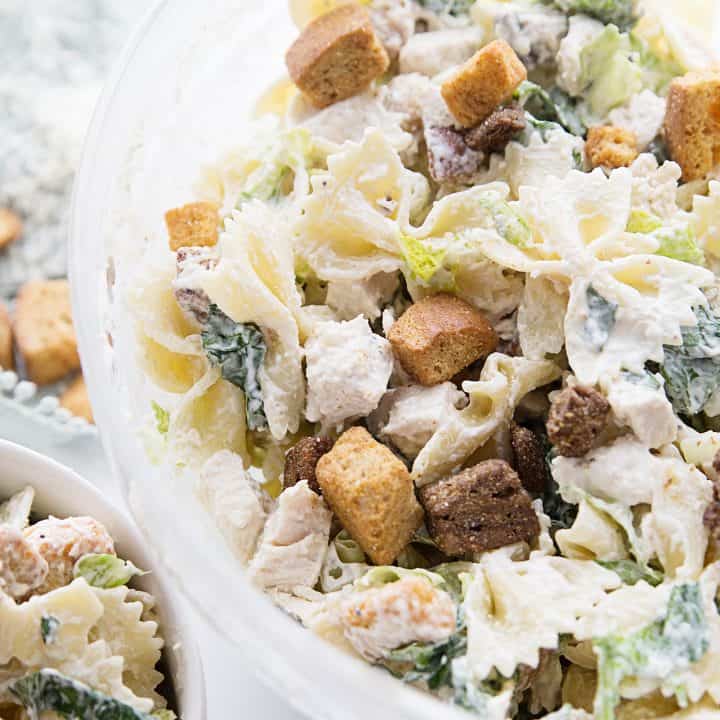 Best Bowtie Chicken Caesar Salad
There's chicken Caesar salad and there's chicken Caesar pasta salad. Once you add bowtie pasta to Caesar salad, you won't want to eat it any other way!
Ingredients
6 cups Romaine lettuce, chopped
1 (16-oz) box farfalle pasta, cooked and cooled
2 chicken breasts, cooked and diced
1 cup shredded Parmigiano-Reggiano
½ to 1 bottle Ken's Steakhouse Caesar dressing (or your favorite Caesar dressing)
1 cup Caesar croutons*
Instructions
In a large salad bowl, combine lettuce, pasta, chicken, cheese, and croutons.
Add the desired amount of salad dressing and toss. Serve immediately.
To make ahead, combine everything but the salad dressing and chill. When ready to serve, add the dressing and toss!
Nutrition Information:
Yield:

8
Serving Size:

1
Amount Per Serving:
Calories:

480
Total Fat:

25g
Saturated Fat:

5g
Trans Fat:

0g
Unsaturated Fat:

0g
Cholesterol:

42mg
Sodium:

465mg
Carbohydrates:

49g
Fiber:

3g
Sugar:

4g
Protein:

19g