These classic peanut butter cookies have been and always will be my favorite. Friends and family always rave about them! Soft, chewy, and oh, so good!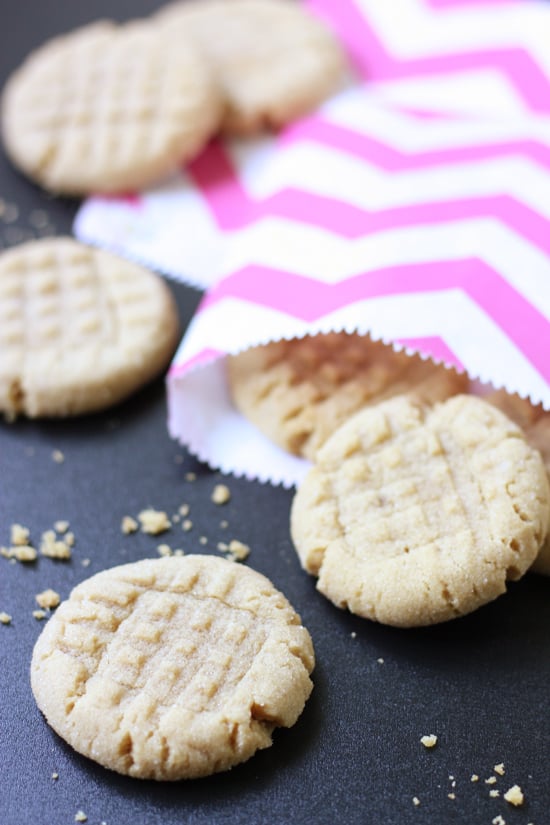 Post may include affiliate links, which means if you click on a link and purchase something, you won't pay anything extra but it will help support this blog.
I first posted the recipe for these classic peanut butter cookies over four years ago. They were famous then and are famous now thanks to friends and family who can't stop raving about them.
I'm not gonna lie—they really are the best peanut butter cookie out there. Every batch is super soft and super chewy with just the right amount of peanut butter flavor.
The secret? Rolling them in sugar before baking.
I'm genius like that.
The recipe makes about 3 dozen cookies. Take my advice and freeze half the batch as soon as possible. I don't want to be held responsible if you eat all 36 cookies.
Worried you'll eat them all? You could always pick up some cute paper treat bags and pass out your classic peanut butter cookies to neighbors!
If you're a peanut butter lover like me, you'll also want to try these healthy Reese's peanut butter cups, crunchy peanut butter no-bake cookies, and chewy peanut butter cup cookies.
Printable recipe for classic peanut butter cookies below.
Classic Peanut Butter Cookies
These peanut butter cookies have been and always will be my favorite. Super soft, super chewy and oh, so good!
Author:
Emily ~ HalfScratched.com
Ingredients
¾ cup butter, softened
¾ cup brown sugar, packed
½ cup sugar plus ¼ cup sugar, divided
1 cup peanut butter*
2 eggs at room temperature
1½ tsp vanilla
2 cups flour
½ tsp baking soda
½ tsp baking powder
¼ tsp salt
Instructions
Preheat oven to 350 degrees.
In a large bowl, beat the butter until creamy. Add the brown sugar and ½ cup sugar and cream together. Beat in the peanut butter. Add the eggs one at a time, mixing until thoroughly combined. Mix in vanilla.
In a small mixing bowl, whisk the flour, baking soda, baking powder and salt. Add dry ingredients to creamed mixture and combine well.
Pour the remaining ¼ cup sugar in a small bowl. Take a heaping tablespoon of dough and form into a ball. Coat the ball in sugar by rolling it around in the bowl. Place dough on an ungreased cookie sheet about 2 inches apart.
Press the tines of a fork into the cookie dough to gently flatten the dough and create the cross-cross pattern on the top. Bake for 10 to 12 minutes or until cookies are set. Let cool on cookie sheet 2 minutes before moving to a wire rack to cool completely.
Notes
* If using all natural peanut butter, increase the flour by another ¼ to ½ cup so the dough is easier to roll. Natural peanut butter tends to be a bit runnier.

NOTE: If dough is too soft, refrigerate for 30 minutes or more until set enough to gently roll.