These healthy Reese's peanut butter cups don't taste healthy (thank heavens!) but they're packed with protein, antioxidants and healthy fats.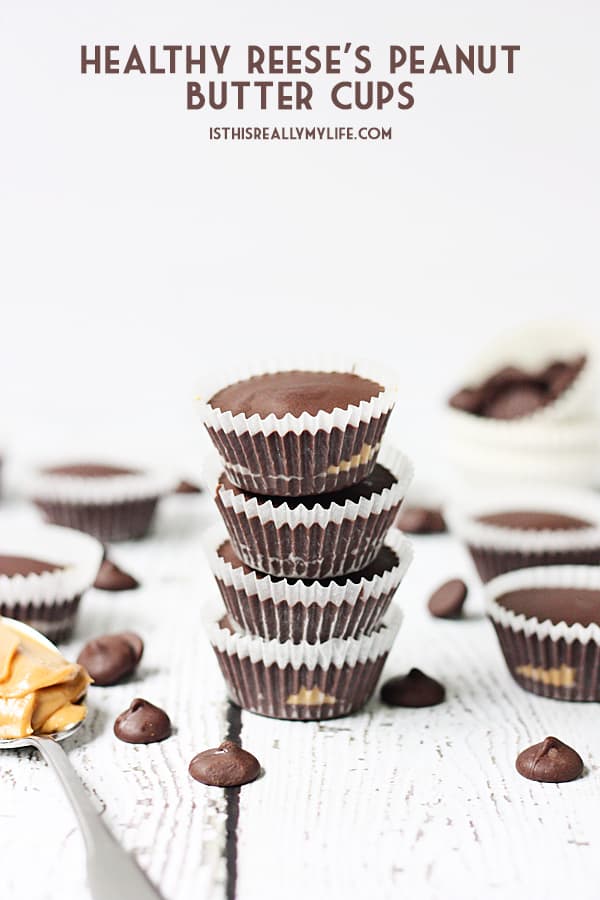 This is a sponsored post for Purely Inspired; all thoughts and opinions are mine. Post may include affiliate links, which means if you click on a link and purchase something, you won't pay anything extra but it will help support this blog.
All too often, healthy variations of popular foods taste way too healthy to be worth replacing them for the real thing. (My copycat peanut butter moo'd smoothie is one of the few exceptions.)
But this...THIS recipe for healthy Reese's peanut butter cups is totally worth replacing your two-pack of cups—or handful of mini cups—because they're THAT good.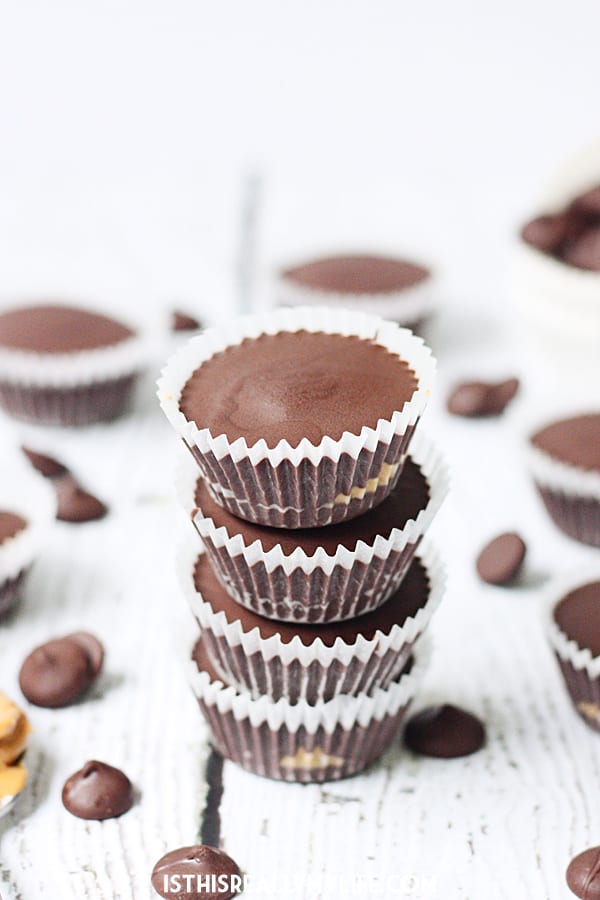 Of course, if you don't like dark chocolate, you could try milk chocolate but you'd be cutting out all those antioxidants. And those antioxidants give you an excuse to eat two at a time rather than one.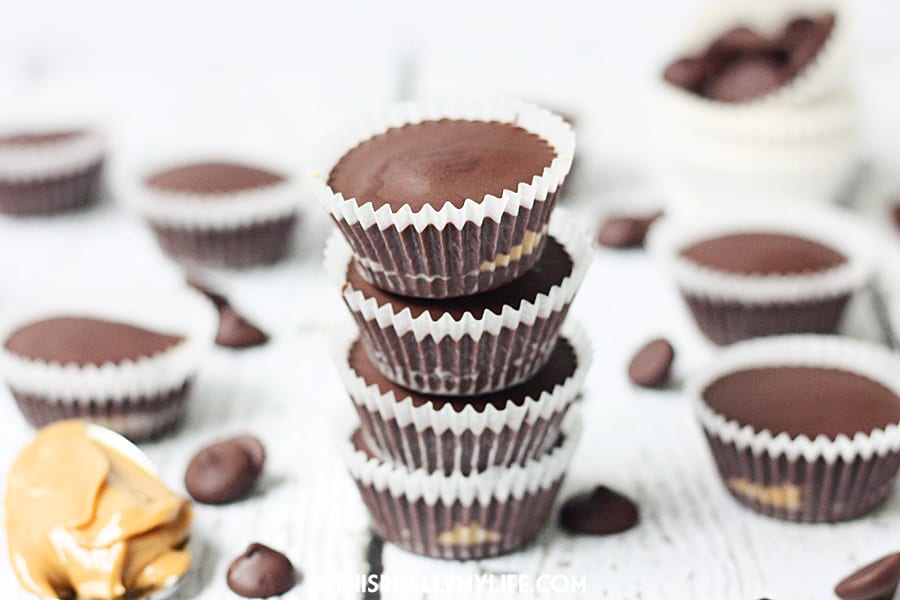 You won't believe how easy these healthy Reese's peanut butter cups are to make. They're so easy, I'd totally consider making them on a weekly basis. Unfortunately, my family likes them as much as I do so they don't last very long.
DANG IT.
What made them even easier was using a small scoop to shape the peanut butter balls before placing them in the muffin.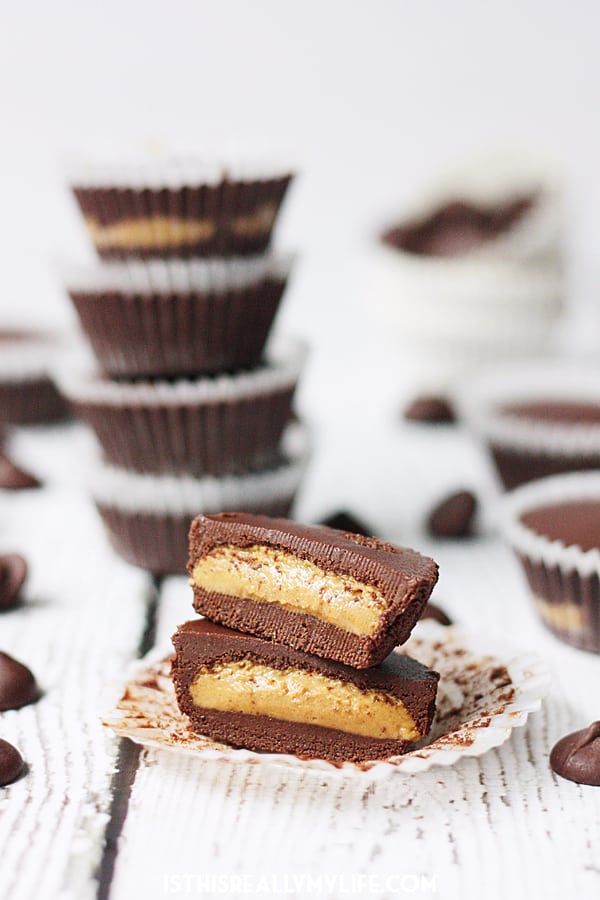 I did discover you have to keep these healthy peanut butter cups refrigerated at all times or you'll end up with a soft, gooey peanut butter cup. Not that that's a bad thing, but it does make them a bit harder to eat.
On the plus side, if they're harder to eat, you burn more calories while indulging. Total win.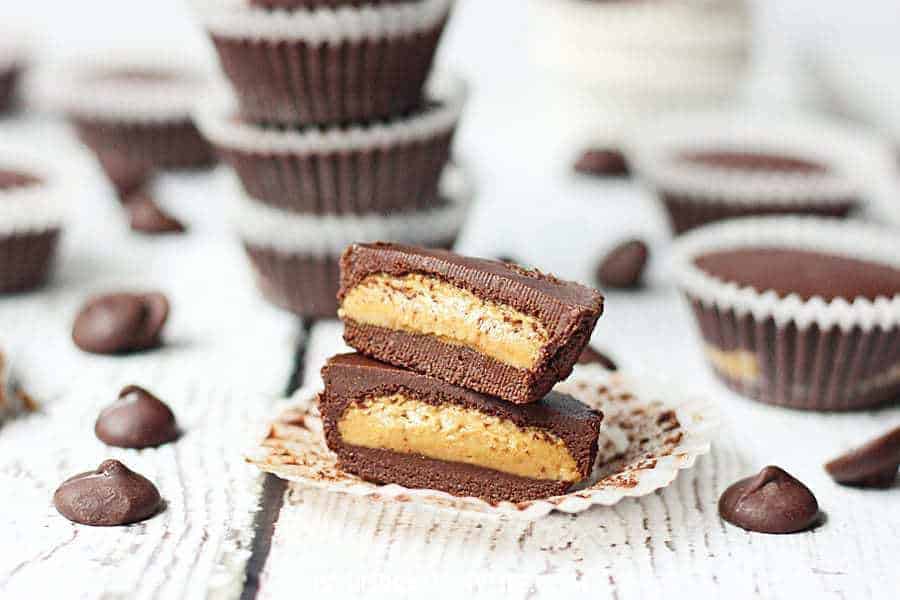 Printable recipe for healthy Reese's peanut butter cups below. Enjoy!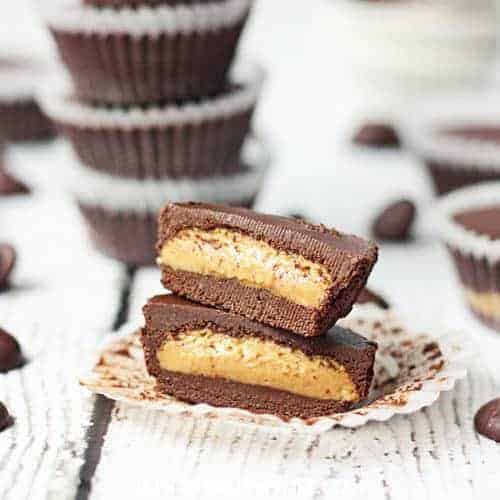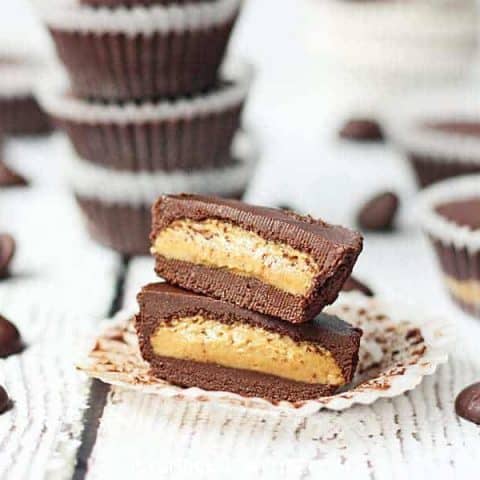 Healthy Reese's Peanut Butter Cups
These healthy Reese's peanut butter cups don't taste healthy (thank heavens!) but they're packed with protein, antioxidants, and healthy fats.
Ingredients
1/4 cup natural creamy peanut butter
2 to 4 T Purely Inspired French Vanilla protein powder (or your favorite vanilla protein powder)
1 cup dark chocolate chips
1 T organic coconut oil
Instructions
Fill mini muffin pan with mini muffin liners. Spray with coconut oil (or canola oil) baking spray; set aside.
Mix peanut butter and 2 tablespoons vanilla protein powder together in a small bowl . Add enough protein powder until mixture is just thick enough to form into balls.
Separate peanut butter mixture into 12 teaspoon-sized balls and place on parchment or waxed paper.
Melt dark chocolate chips and coconut oil in a small microwaveable bowl for 30 seconds. Stir. Continue microwaving at 15-second intervals until completely melted.
Scoop 1 teaspoon of melted dark chocolate into the bottom of each muffin liner. Place tin in freezer for 10 minutes or until chocolate hardens.
Remove from freezer and place one peanut butter ball on top of hardened chocolate and gently flatten with your finger.
Pour two teaspoons of melted chocolate over the top of each peanut butter ball and place tin in freezer for an additional 10 minutes or until chocolate is hardened. Store in an airtight container in the refrigerator.
Notes
FOLLOW HALF-SCRATCHED ON INSTAGRAM (@half_scratched) and share the recipes you're whipping up in the kitchen. Don't forget the #HALFSCRATCHED hashtag so we can see what you've made!
Nutrition Information:
Yield:

12
Serving Size:

1
Amount Per Serving:
Calories:

149
Total Fat:

10g
Saturated Fat:

6g
Trans Fat:

0g
Unsaturated Fat:

0g
Cholesterol:

1mg
Sodium:

52mg
Carbohydrates:

14g
Fiber:

2g
Sugar:

9g
Protein:

3g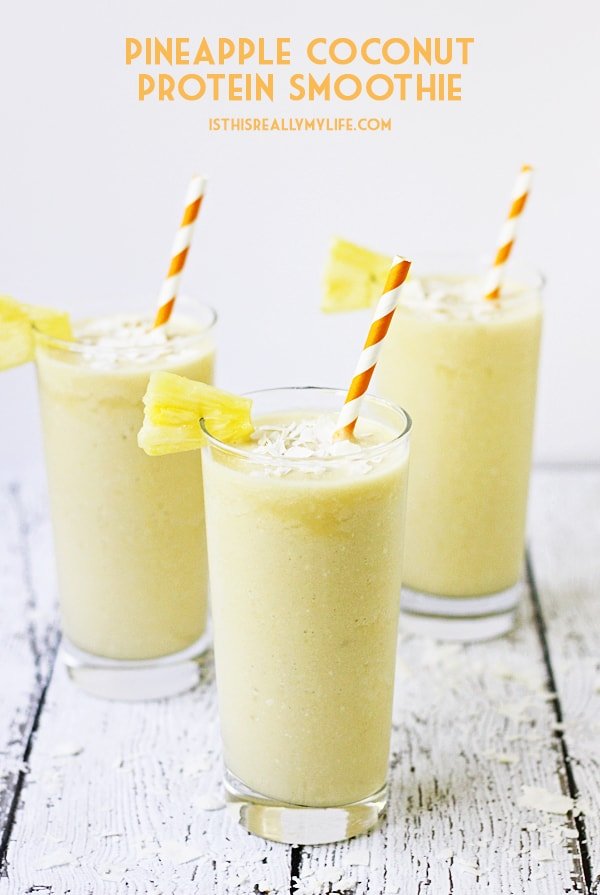 Pineapple coconut protein smoothie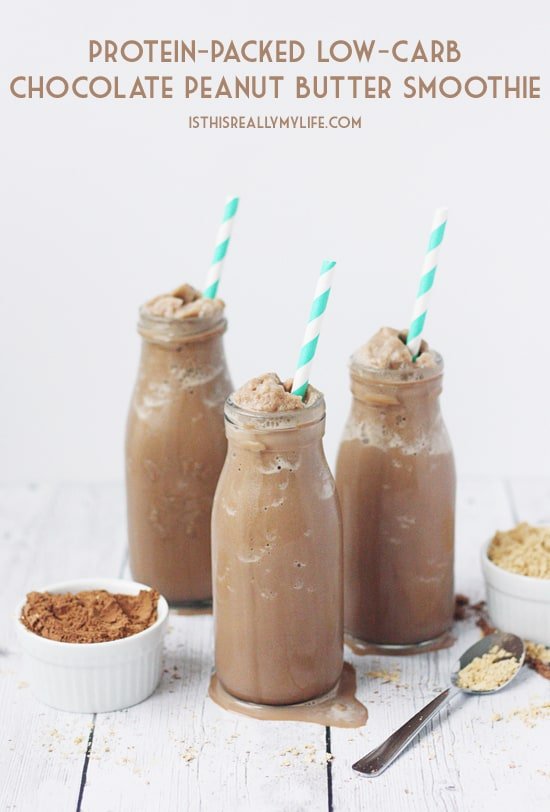 Protein-packed low-carb chocolate peanut butter smoothie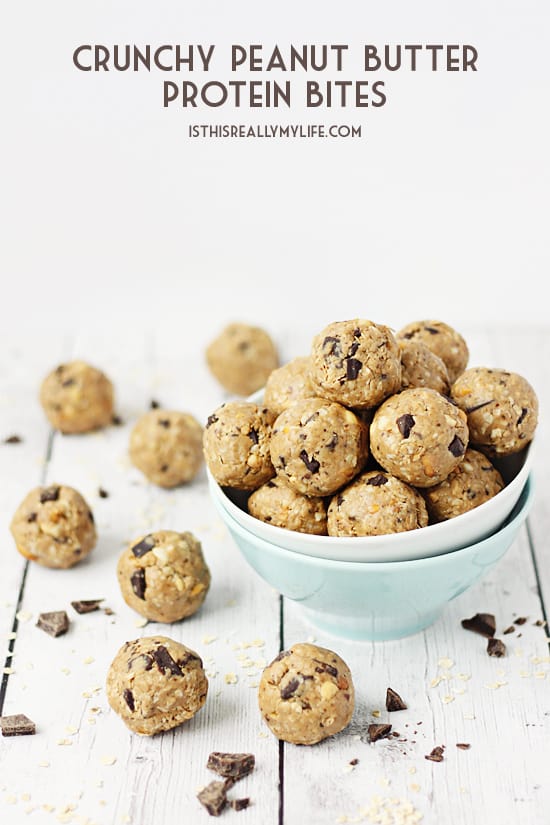 Crunchy peanut butter protein bites