My family LOVES this Asian ramen salad! An Asian salad kit + rotisserie chicken + a few simple ingredients equals the easiest Asian ramen noodle salad ever!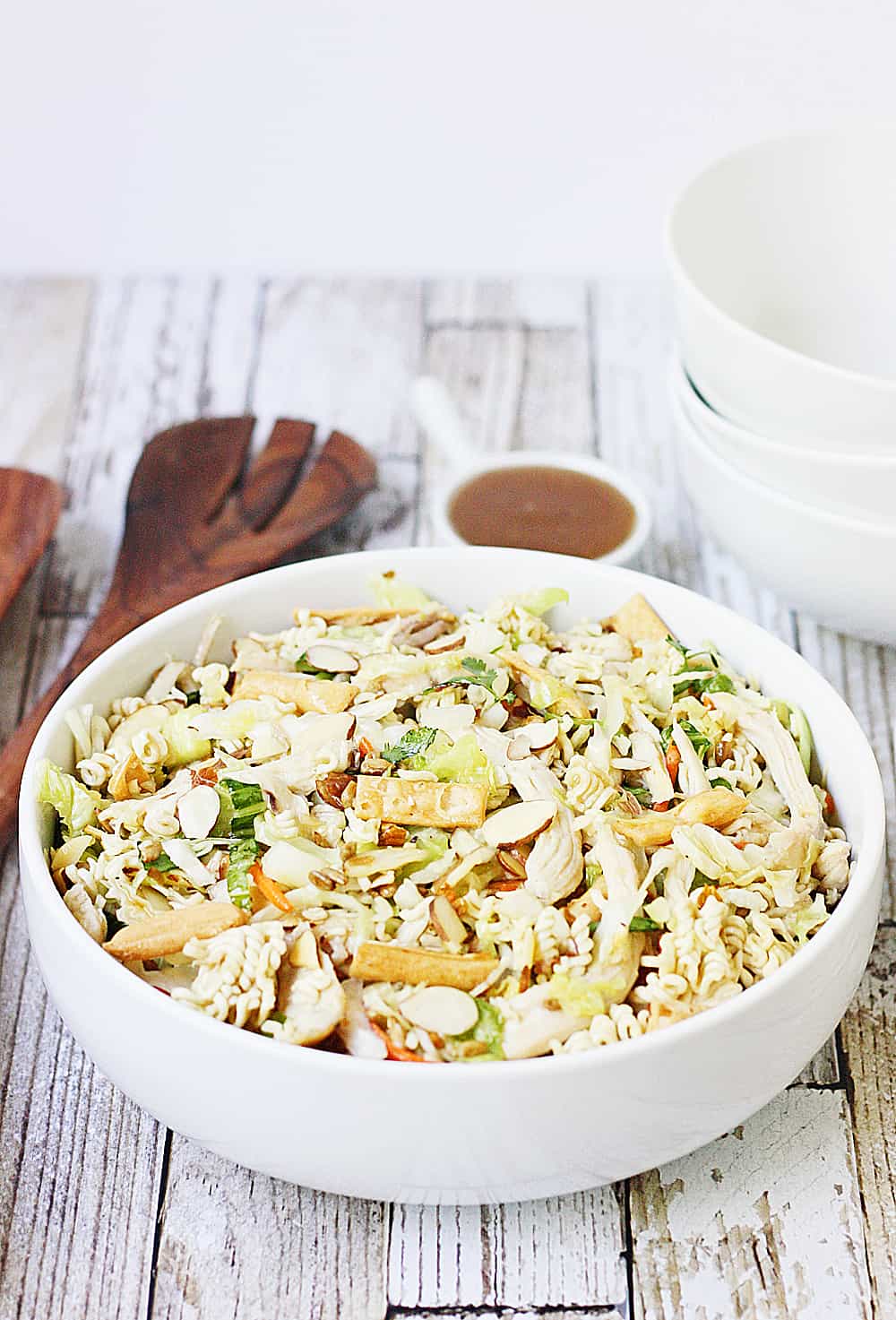 I kid you not, whenever I make Asian ramen salad, my family literally eats it up... in one day. And that's saying a lot because it makes a ton and two of my kids don't do seconds.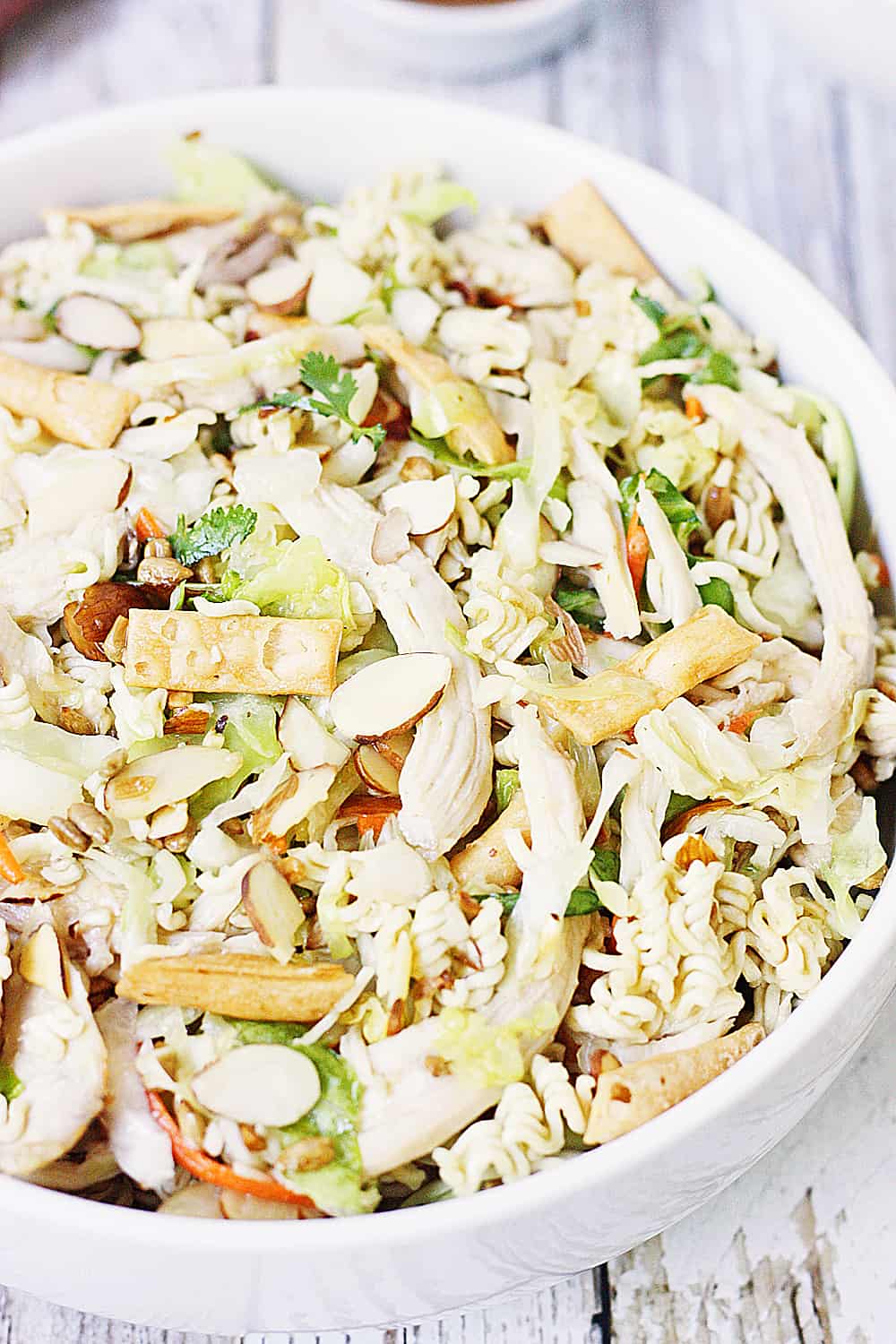 I'm not sure if it's the dressing or the crunchy sliced almonds and ramen noodles. Or maybe it's the salty sunflower seeds or shredded rotisserie chicken (optional but not really optional for our family).
Whatever the reason—or the ingredients—it's a total win every time.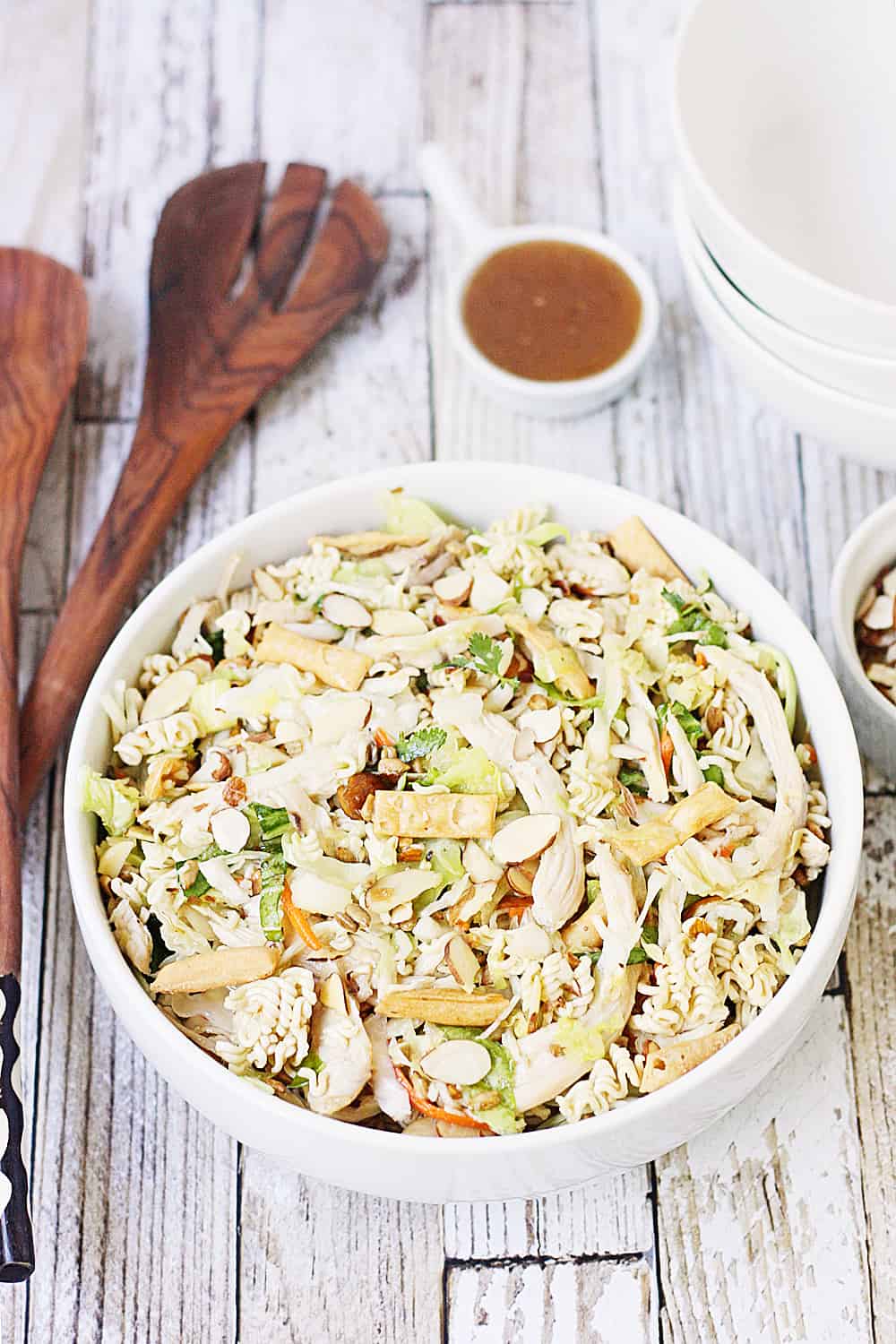 A couple years ago I shared a similar recipe, but I tell you what, today's easy Asian ramen salad is EVEN BETTER.
Why? Because the Taylor Farms Asian chopped salad kit I use in this one includes the sliced almonds and green onions, which cuts out one-third of the mix-ins!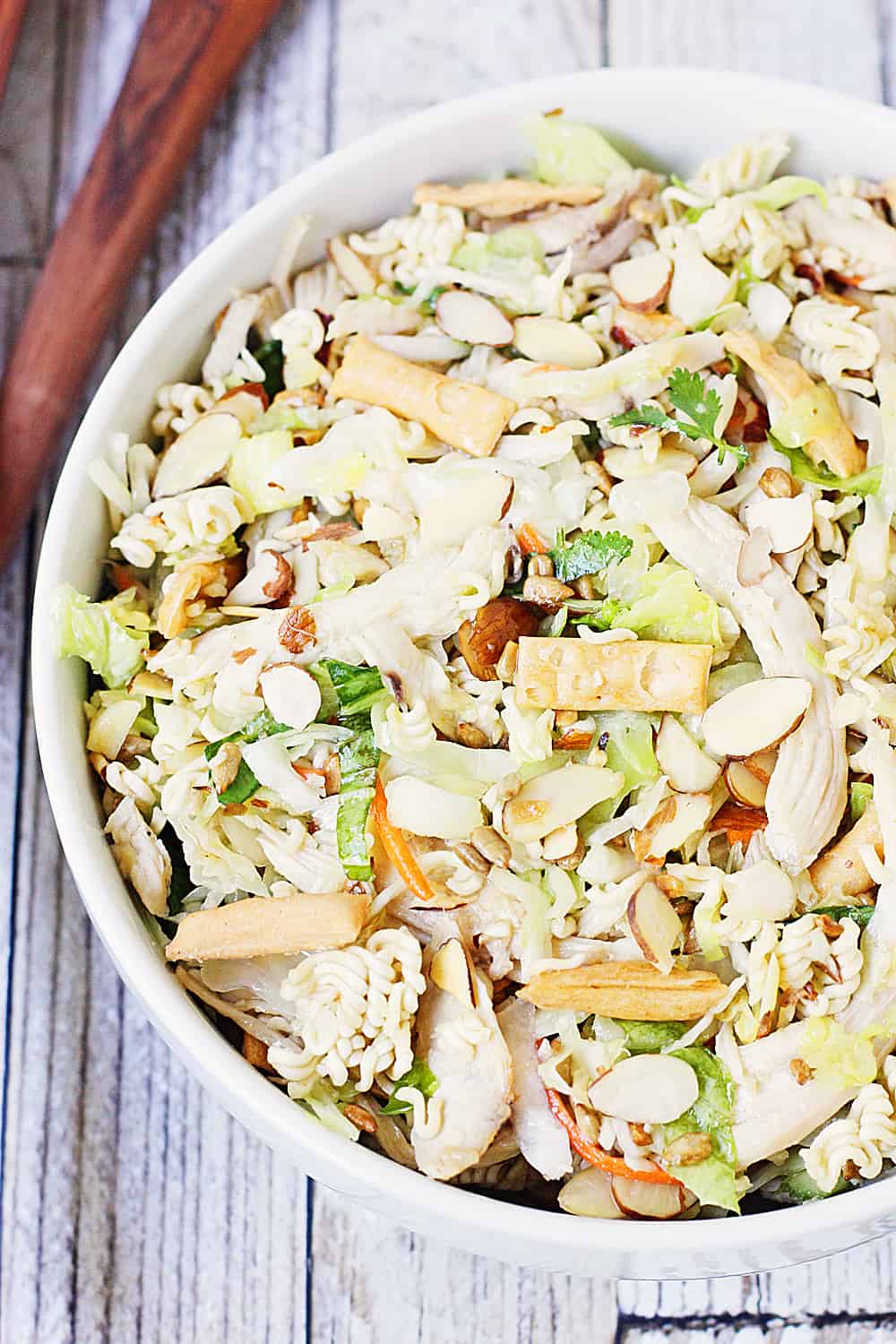 Plus, Taylor Farms includes wonton strips, which let's be honest, are a lot more fun than sesame sticks. Just sayin'.
Of course you can use whatever Asian chopped salad kit you like when making Asian salad with ramen noodles, but Taylor Farms gets my vote... and not simply because their avocado ranch chopped salad kit makes the dreamiest 5-minute southwest BLT chicken salad.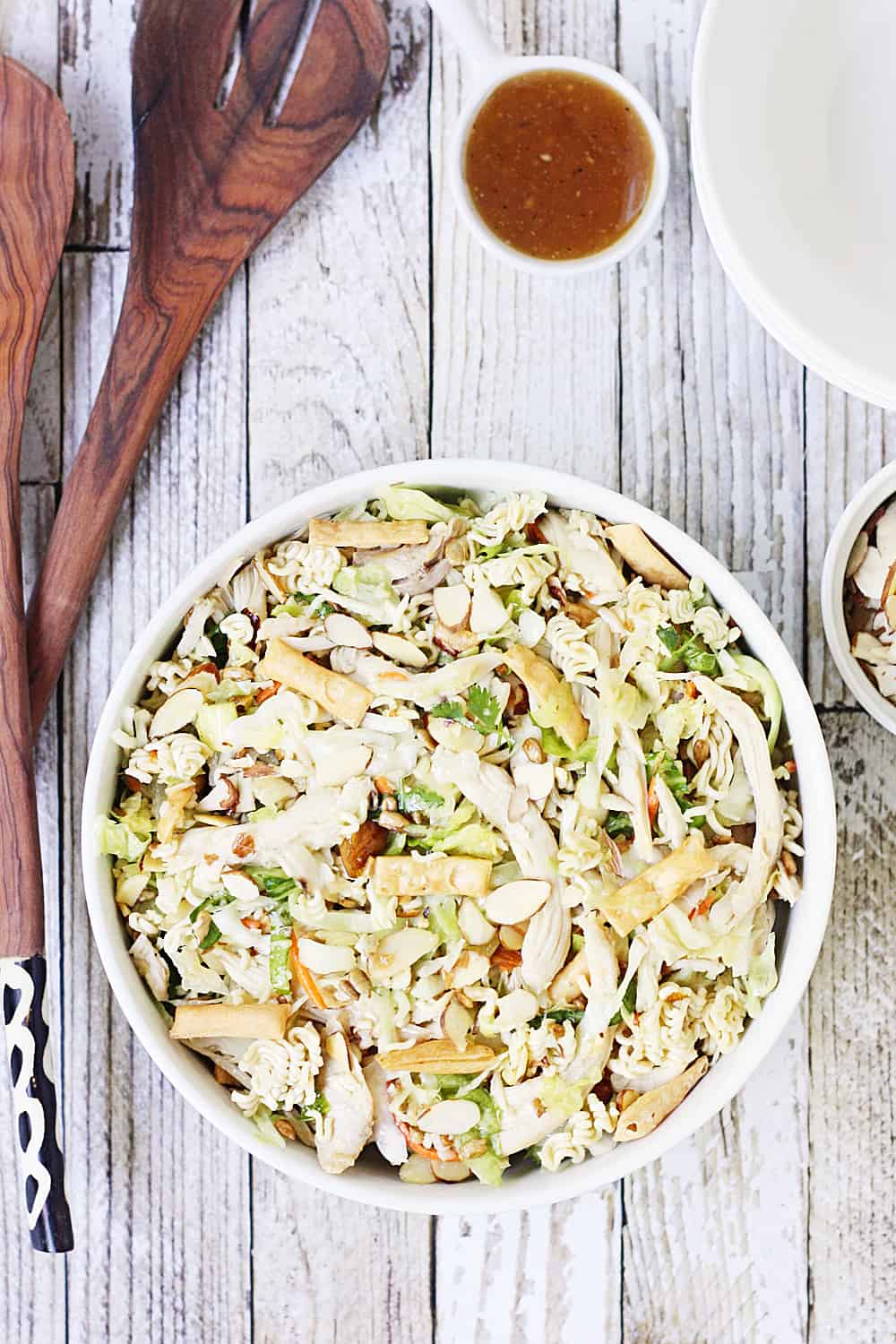 Most Asian ramen salad recipes don't include chicken, but I'm all about turning a side dish into a main dish whenever possible. And rotisserie chicken is the way to do that.
I use it in this Asian ramen noodle salad and I throw it in a ton of other things like easy chicken tortilla soup, buffalo chicken pinwheels, and my kids' favorite baked creamy chicken taquitos.
Man, I seriously need to redo those taquitos photos. They don't do those babies justice!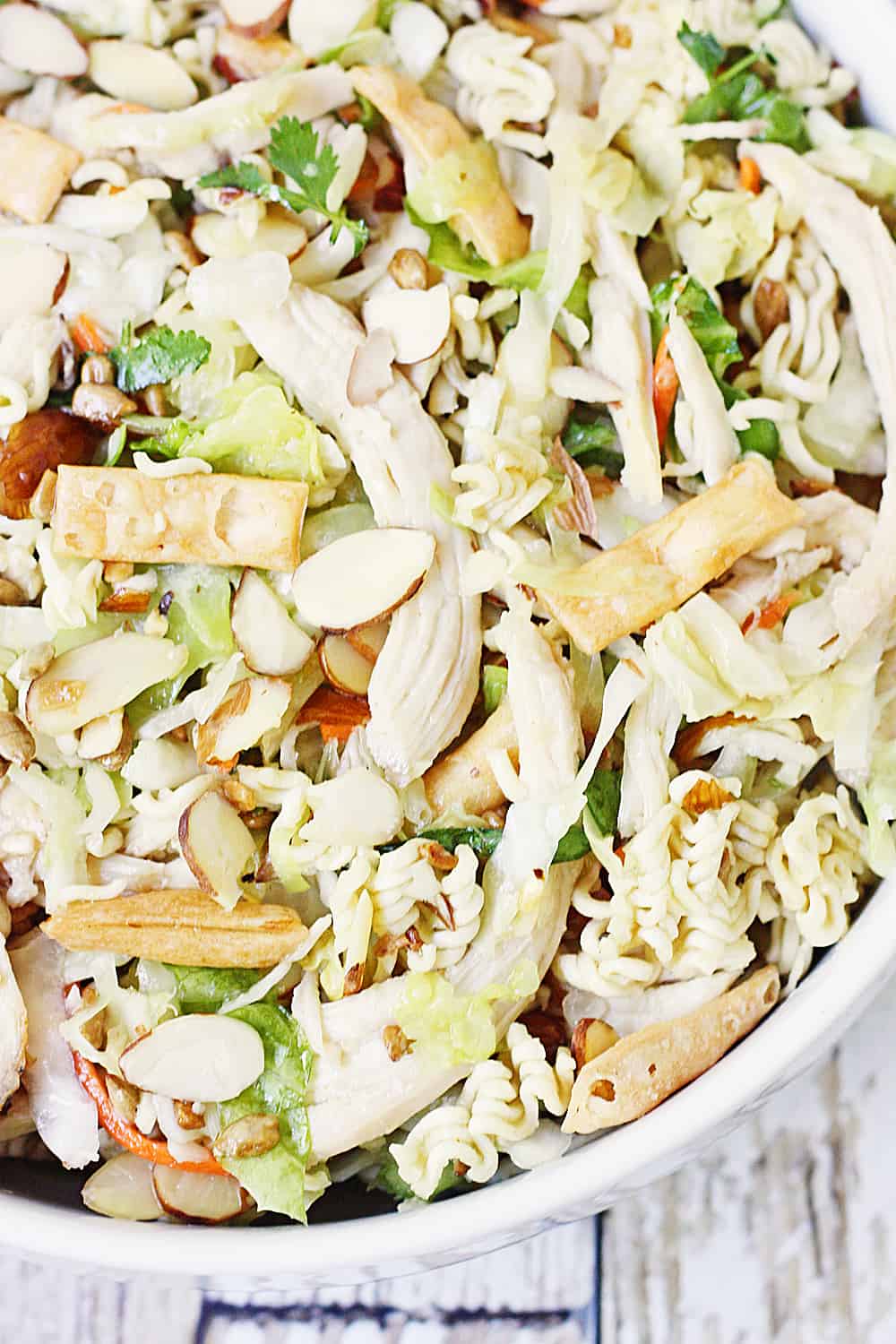 I love buying Costco rotisserie chicken because I can get at least six cups of shredded chicken out of each one. It's the best! If you go the rotisserie chicken route, here are some tips to remember:
Costco rotisserie chicken is the best deal around (at least around here). They cost less and are larger than most other grocery store birds. Plus you can pick up a yummy family-size Taylor Farms Mediterranean Crunch salad kit while you're there!
Shred the rotisserie chicken while still warm because it's so much easier! If you don't have time to do it as soon as you get home, refrigerate and then reheat.
Separate the shredded rotisserie chicken into 2-cup portions and freeze in quart-size Ziploc bags.
Defrost in the microwave or overnight in the refrigerator if throwing into salads, wraps, or soups. If using in a slow cooker recipe, you can usually throw it in frozen!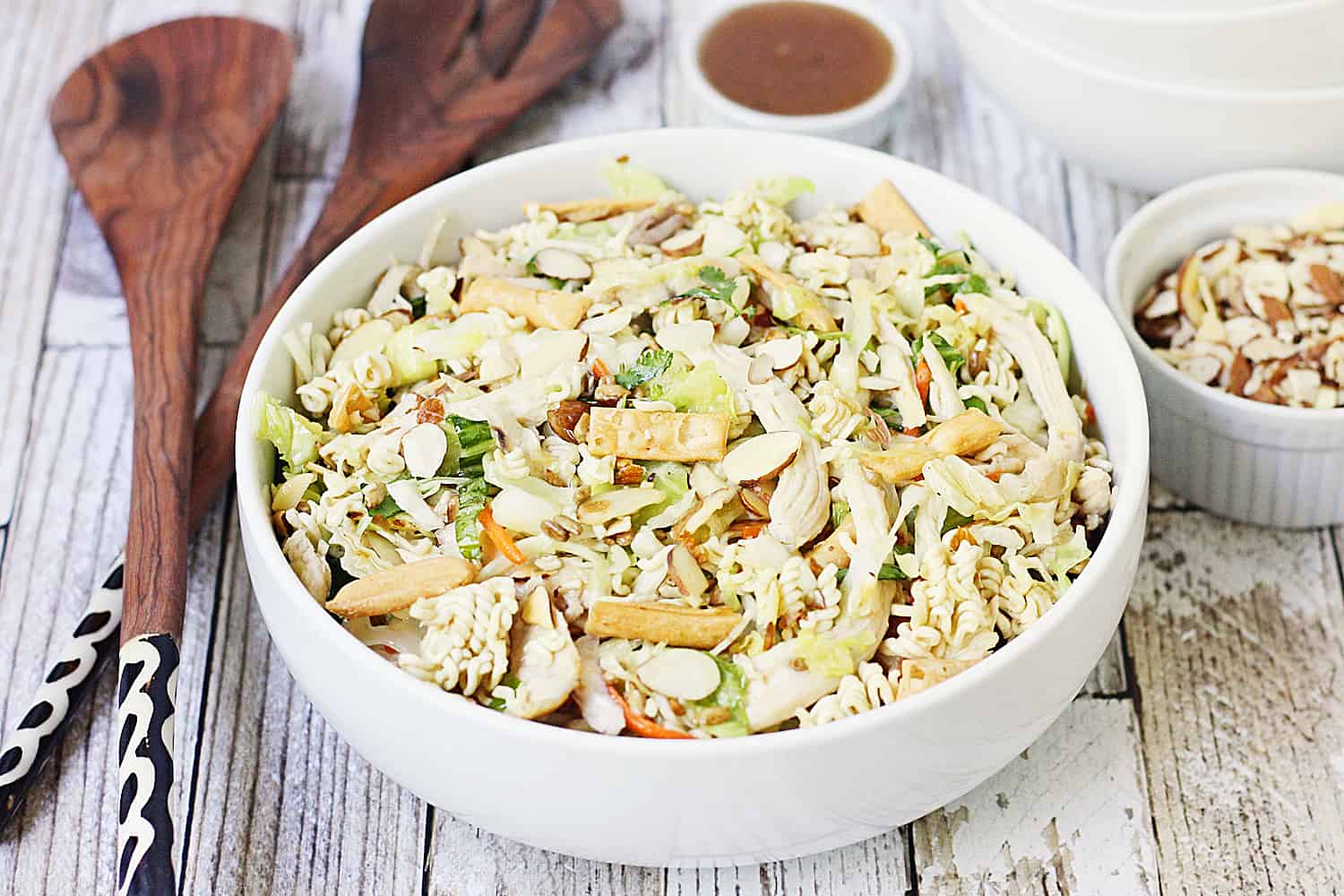 While you can make this easy Asian ramen salad year round, it is heavenly during the hot summer months. One recipe makes a huge bowl, so it's perfect for potlucks and backyard barbecues.
Or a family of six if your family ends up loving Asian salad with ramen noodles as much as mine does!
Oh! If you don't have a Blender Bottle, I highly recommend buying one. Sure, it's great for protein shakes but it's SUPER great for whisking together salad dressing ingredients. It will save you not only time but also a ton of energy.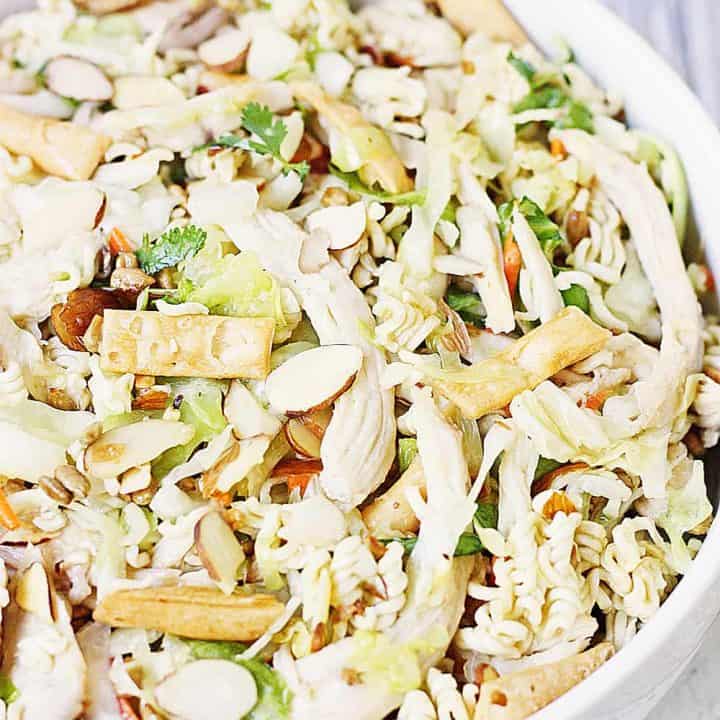 Easy Asian Ramen Salad
Easy Asian Ramen Salad -- My family LOVES this Asian ramen salad! An Asian salad kit + rotisserie chicken + a few simple ingredients equals the easiest Asian ramen noodle salad ever!
Ingredients
1 package Taylor Farms Asian Chopped Salad Kit
1 (8-ounces) package coleslaw mix
¾ cup salted sunflower seeds, shelled
¾ cup sliced almonds (if you prefer more than what's in the salad kit)
2 (3-ounces) packages ramen noodles, chicken flavor
2 cups shredded rotisserie (or regular) chicken
¾ cup canola oil
½ cup sugar
⅓ cup rice vinegar
Instructions
Open Taylor Farms Asian Chopped Salad Kit; set aside dressing and almonds/wonton strips packets. Open ramen; set aside flavor packets. Place noodles in Ziploc bag and gently crush with a rolling pin.
Place salad, coleslaw mix, sunflower seeds, sliced almonds, ramen noodles, and chicken in a large bowl.
Combine canola oil, sugar, rice vinegar, and one ramen flavor packet in a Blender Bottle or medium bowl. Shake (or whisk) until sugar is nearly dissolved. Pour oil mixture over salad and gently toss until evenly coated.
Cover with plastic wrap and chill for at least two hours. Toss salad with almonds/wonton strips packet and about half the dressing packet before serving.
NOTE: You can serve immediately but the flavors truly taste best after the salad has been refrigerated for an hour or two.
Notes
FOLLOW HALF-SCRATCHED ON INSTAGRAM (@half_scratched) and share the recipes you're whipping up in the kitchen. Don't forget the #HALFSCRATCHED hashtag so we can see what you've made!
Nutrition Information:
Yield:

12
Serving Size:

1
Amount Per Serving:
Calories:

379
Total Fat:

24g
Saturated Fat:

3g
Trans Fat:

0g
Unsaturated Fat:

16g
Cholesterol:

18mg
Sodium:

488mg
Carbohydrates:

25g
Fiber:

2g
Sugar:

11g
Protein:

12g