This strawberry spinach salad boasts baby spinach, fresh strawberries, candied pecans, feta cheese, and the most amazing balsamic poppy seed dressing!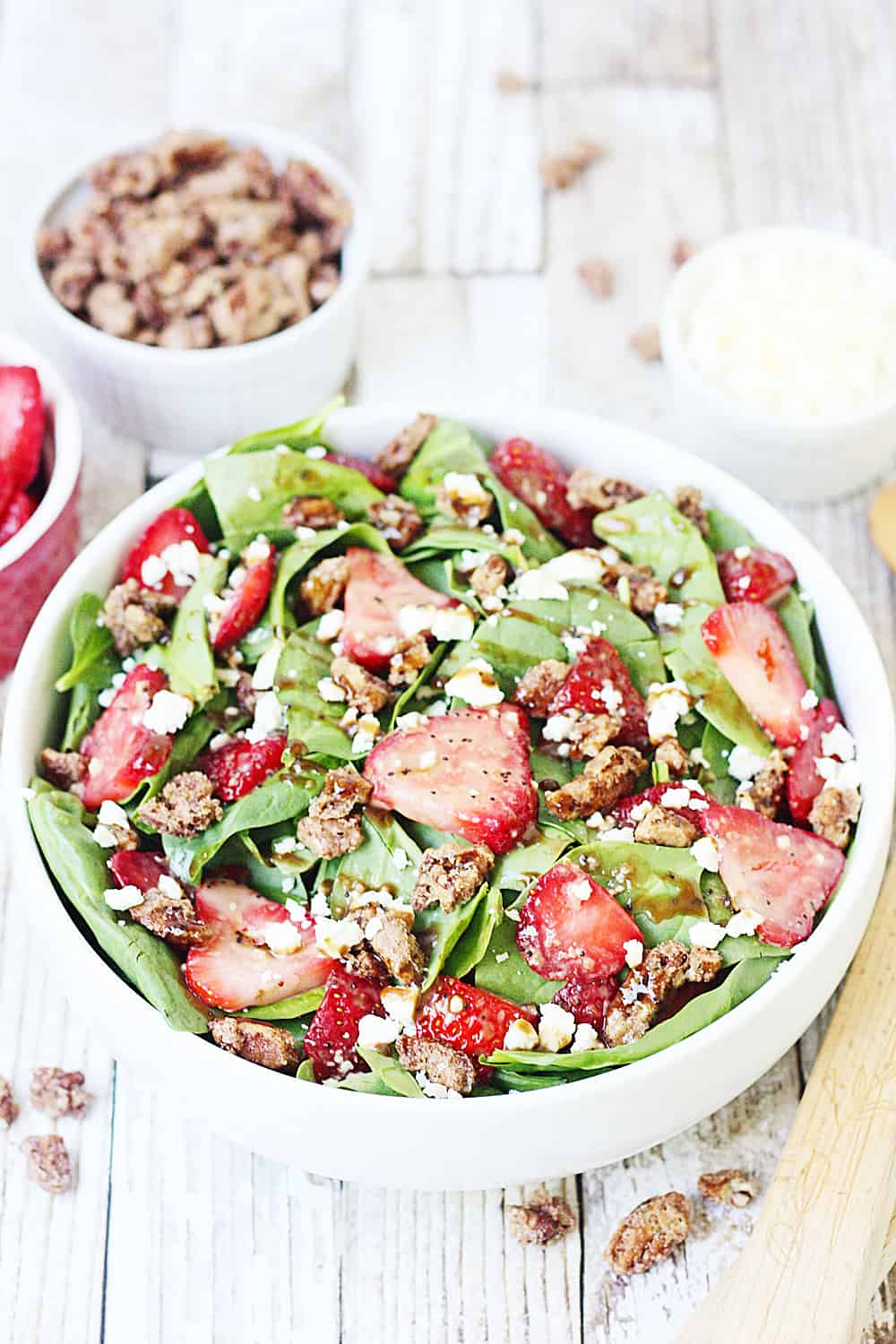 Post may include affiliate links, which means if you click on a link and purchase something, you won't pay anything extra but it will help support this blog.
Most nights our go-to salad is a Taylor Farms salad kit like I used in this
5-minute southwest BLT chicken salad
. Or even easier, I'll throw together a classic Caesar salad.Both are quick and both are salads my kids love.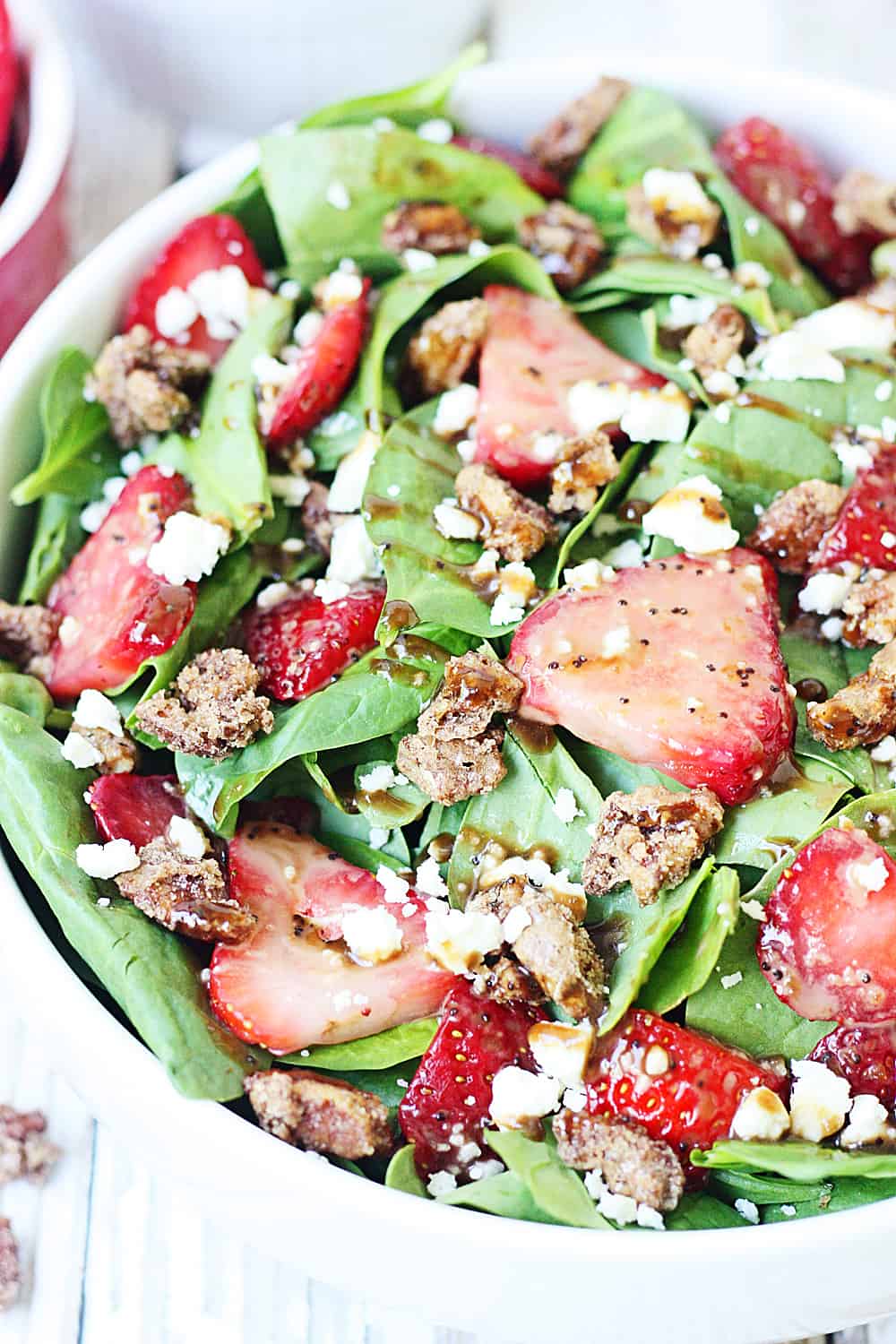 But sometimes I could care less what my kids love because I really want
strawberry spinach salad with balsamic poppy seed dressing
. And they don't love spinach salad with strawberries.I totally don't get it since said salad has candied pecans
and
feta cheese. And then more candied pecans.Did I mention how much I love candied pecans in strawberry spinach salad?Before you freak out over the ingredients list for this spinach salad with strawberries, you can totally use
Brianna's Rich Poppy Seed Dressing
. And you can totally use store-bought candied or glazed pecans. Easy peasy!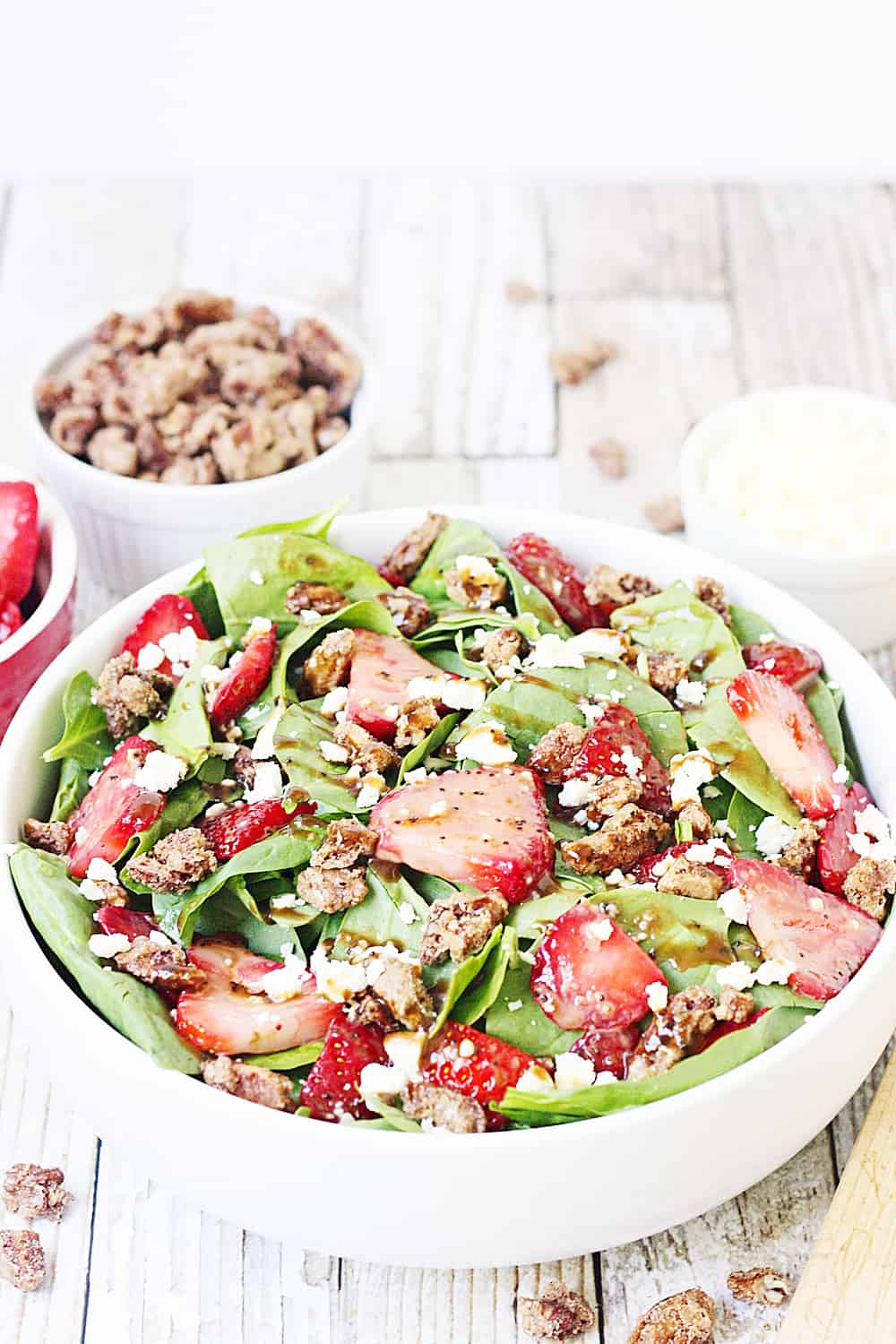 Even if you make this spinach strawberry salad totally from scratch, it's a fairly simple recipe. And I bet you have most of the ingredients for the balsamic poppy seed dressing already on hand.If not, you should because it's the best. dang. dressing. For reals. It's like candy.Granted, the candied pecans do take a little bit of time—easy but you've gotta bake 'em—but they're so worth it!The recipe makes enough for leftovers. And there's nothing like snacking on candied pecans after everyone's gone to bed…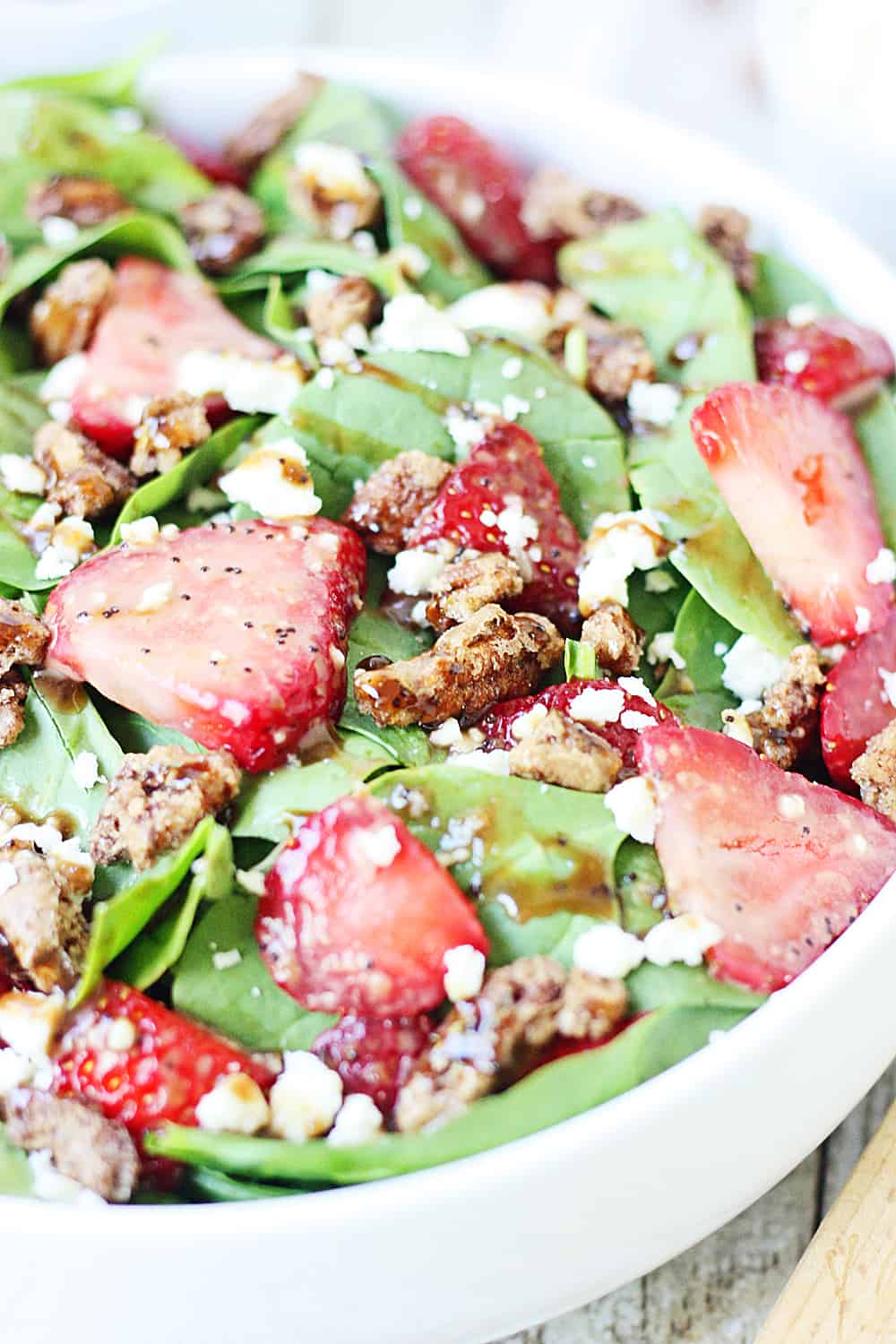 I find spinach salad with strawberries, feta, and candied pecans to be my favorite version of this popular salad. A lot of strawberry spinach salad recipes call for red onion, but I'm not a fan because it stays with me the next 24 hours. Gah.But I do love the strawberries! Know what else I love? This super cute
strawberry slicer
.Isn't it adorable?! And I bet it would totally cut down the prep time of this salad, too!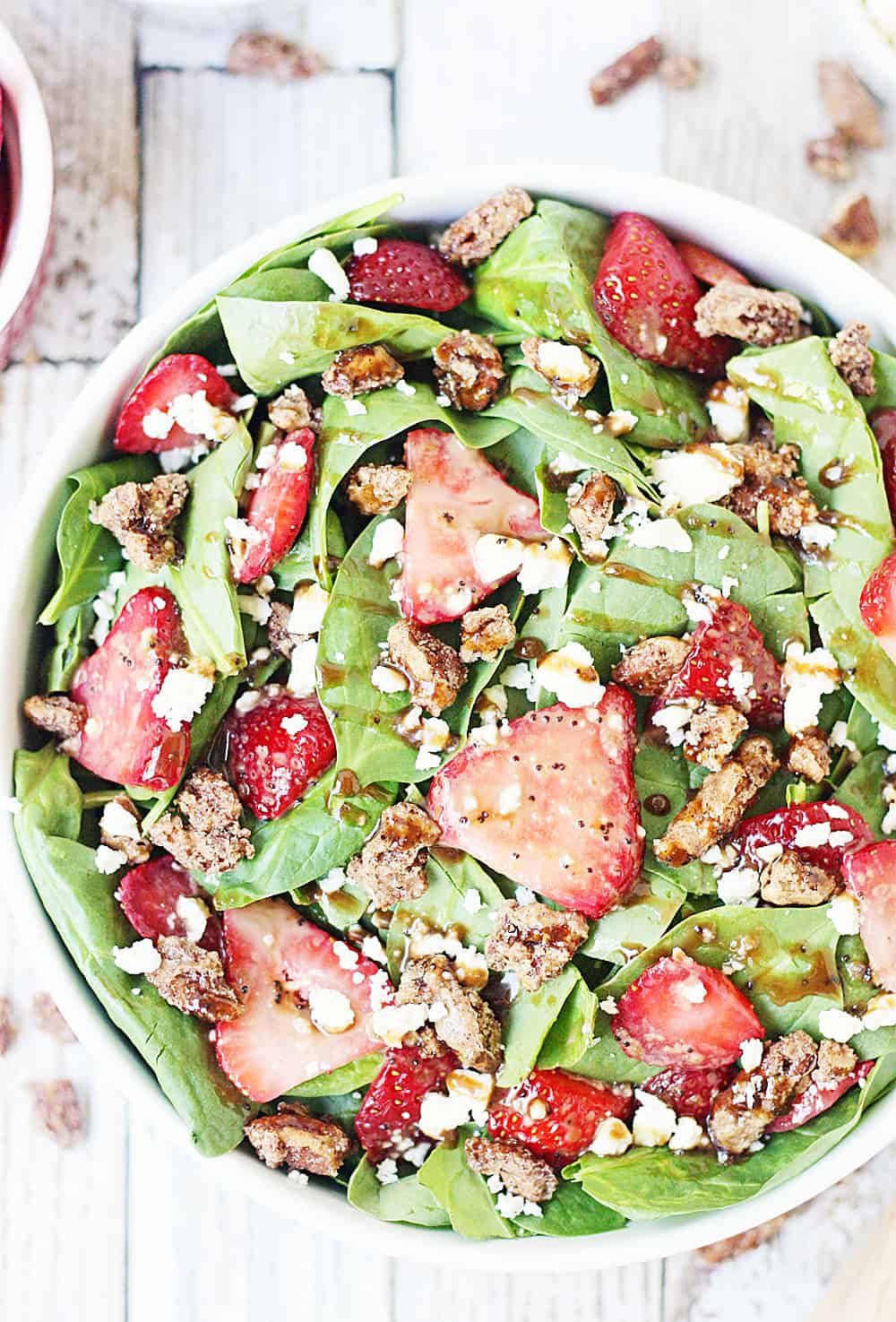 You'll also find versions of strawberry spinach salad with almonds or walnuts. In my opinion, you can't go wrong with pecans; they make so many recipes taste good like this
wild rice salad with avocado and toasted pecans
,
salted caramel pecan ice cream
, or
Grandma's chocolate chip pecan cookies
.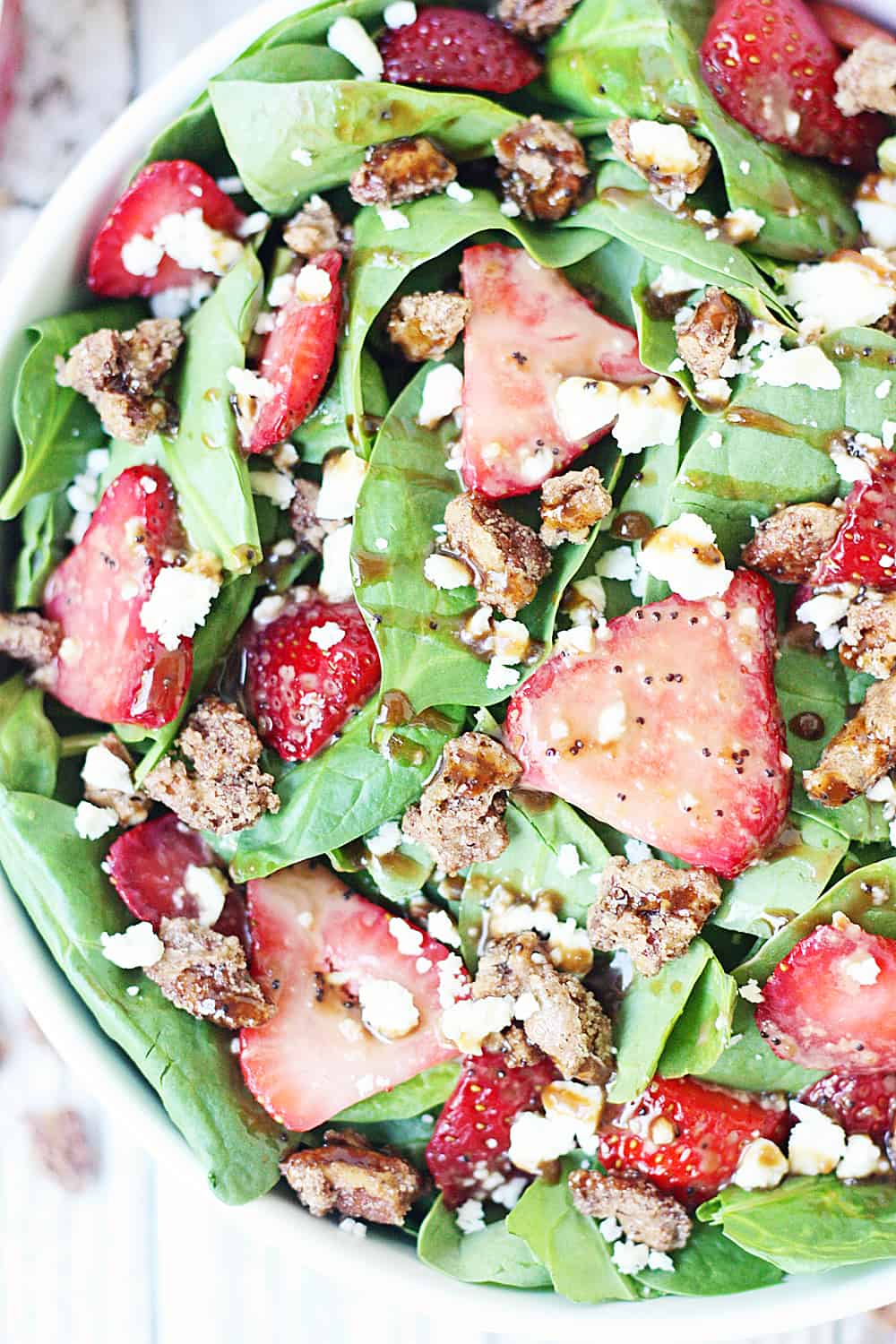 Candied pecans aside, what really makes this spinach strawberry salad is the
balsamic poppy seed dressing
. Sure, you can make your standard homemade poppy seed dressing, but why go standard when you can go stellar?Balsamic vinegar is the perfect compliment to the strawberries and feta. And when paired with the candied pecans, you've got sweet, savory, and a bit of balsamic kick in a single salad recipe.I guarantee you'll want to put this homemade balsamic poppy seed dressing on EVERYTHING.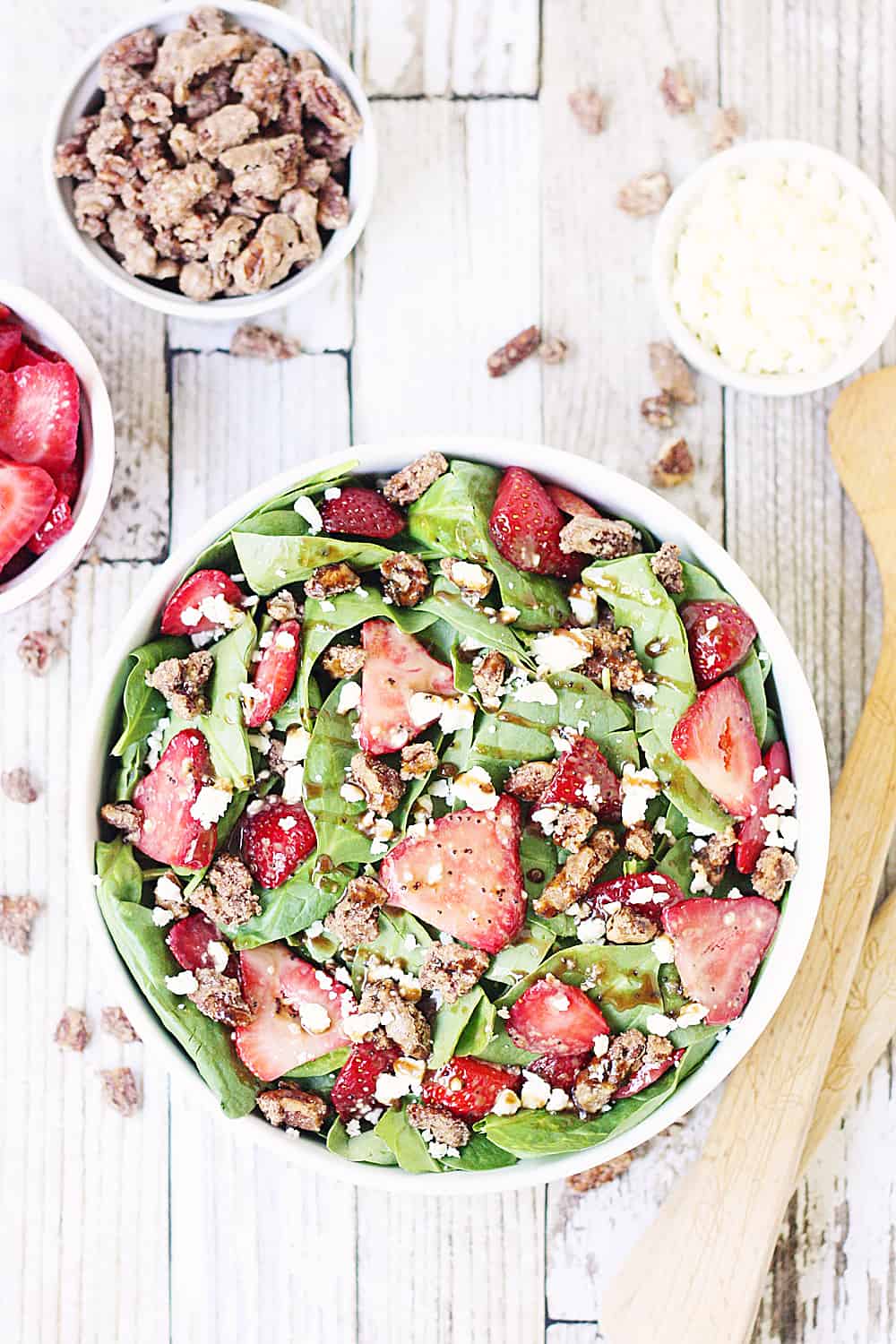 You could put the ingredients for the dressing in a
shaker bottle
like you do for my easy Asian ramen salad, but a blender is preferred for this recipe because of the chopped onion.You don't want onion chunks in your dressing! While I'm a fan of Blendtec, I'm kind of loving this
Ninja blender
. It packs a lot of power into a dang affordable appliance!I'm actually thinking I may drizzle some of this balsamic poppy seed dressing on these
sauteed brussel sprouts with bacon, craisins, and candied pecans
. Doesn't that sound absolutely divine? Mmm…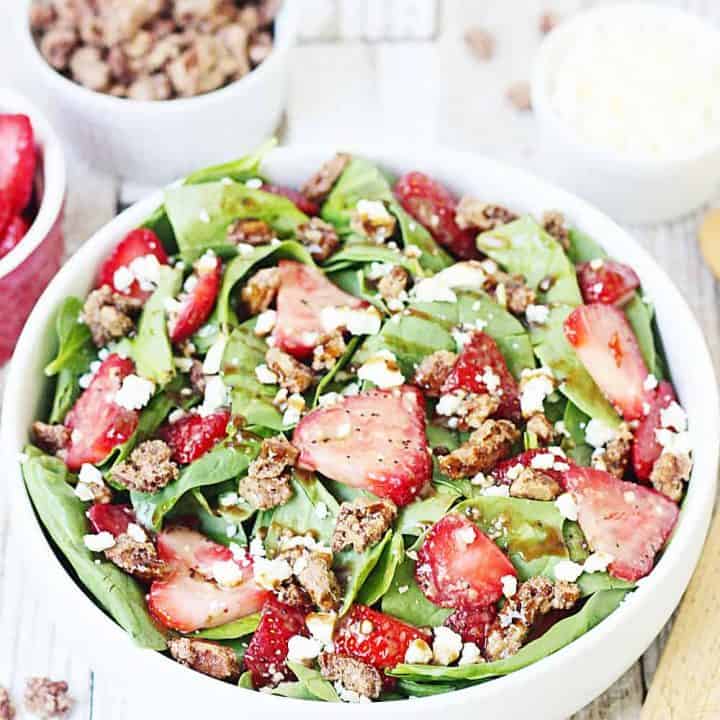 Strawberry Spinach Salad with Balsamic Poppy Seed Dressing
This strawberry spinach salad boasts baby spinach, fresh strawberries, candied pecans, feta cheese, and the most amazing balsamic poppy seed dressing!
Ingredients
Salad
1 lb baby spinach
3 cups sliced strawberries
1 cup crumbled feta
1/2 cup homemade candied pecans (or store-bought glazed or candied pecans)
1/2 cup homemade balsamic poppy seed dressing (or store-bought poppy seed dressing)
Balsamic Poppy Seed Dressing
1/2 cup balsamic vinegar
1 tsp dry mustard powder
1/4 cup chopped red onion
1/2 tsp sea salt
1 T poppy seeds
1/2 cup sugar
1/2 cup olive oil
1/2 cup canola oil
Candied Pecans
3 cups pecans pieces
1 egg white
2 tsp water
1/2 cup sugar
1/2 cup brown sugar
1 T cinnamon
1 pinch nutmeg
1 pinch salt
Instructions
Candied Pecans
Preheat oven to 300 degrees. Line a rimmed baking sheet with parchment paper.
Place pecans in a large bowl; set aside. Whisk together egg white and water in a small bowl until foamy. Stir into pecans. Add sugars, cinnamon, nutmeg and salt. Toss to coat evenly.
Spread coated pecans evenly on baking sheet. Bake 25 to 27 minutes. Remove from oven and cool completely before adding to salad. Store leftovers in an airtight container at room temperature for up to a week or refrigerated for up to four weeks.
Balsamic Poppy Seed Dressing
Add balsamic vinegar, mustard powder, red onion, sea salt, poppy seeds, sugar, and oils to a blender; blend until smooth. Refrigerate leftovers.
Salad
Toss spinach, sliced strawberries, and feta in a large bowl. Add dressing (as much or as little as desired) and candied pecans. Toss until thoroughly combined; serve immediately.
Notes
FOLLOW HALF-SCRATCHED ON INSTAGRAM (@half_scratched) and share the recipes you're whipping up in the kitchen. Don't forget the #HALFSCRATCHED hashtag so we can see what you've made!
Nutrition Information:
Yield:

8
Serving Size:

1
Amount Per Serving:
Calories:

213
Total Fat:

16g
Saturated Fat:

4g
Trans Fat:

0g
Unsaturated Fat:

1g
Cholesterol:

17mg
Sodium:

344mg
Carbohydrates:

13g
Fiber:

3g
Sugar:

8g
Protein:

5g