This baked asparagus casserole with canned asparagus is creamy and very delicious with earthy asparagus and nutty Parmesan cheese. Besides showing you how to make it, this article also tells you how to store it, freeze it, and reheat it.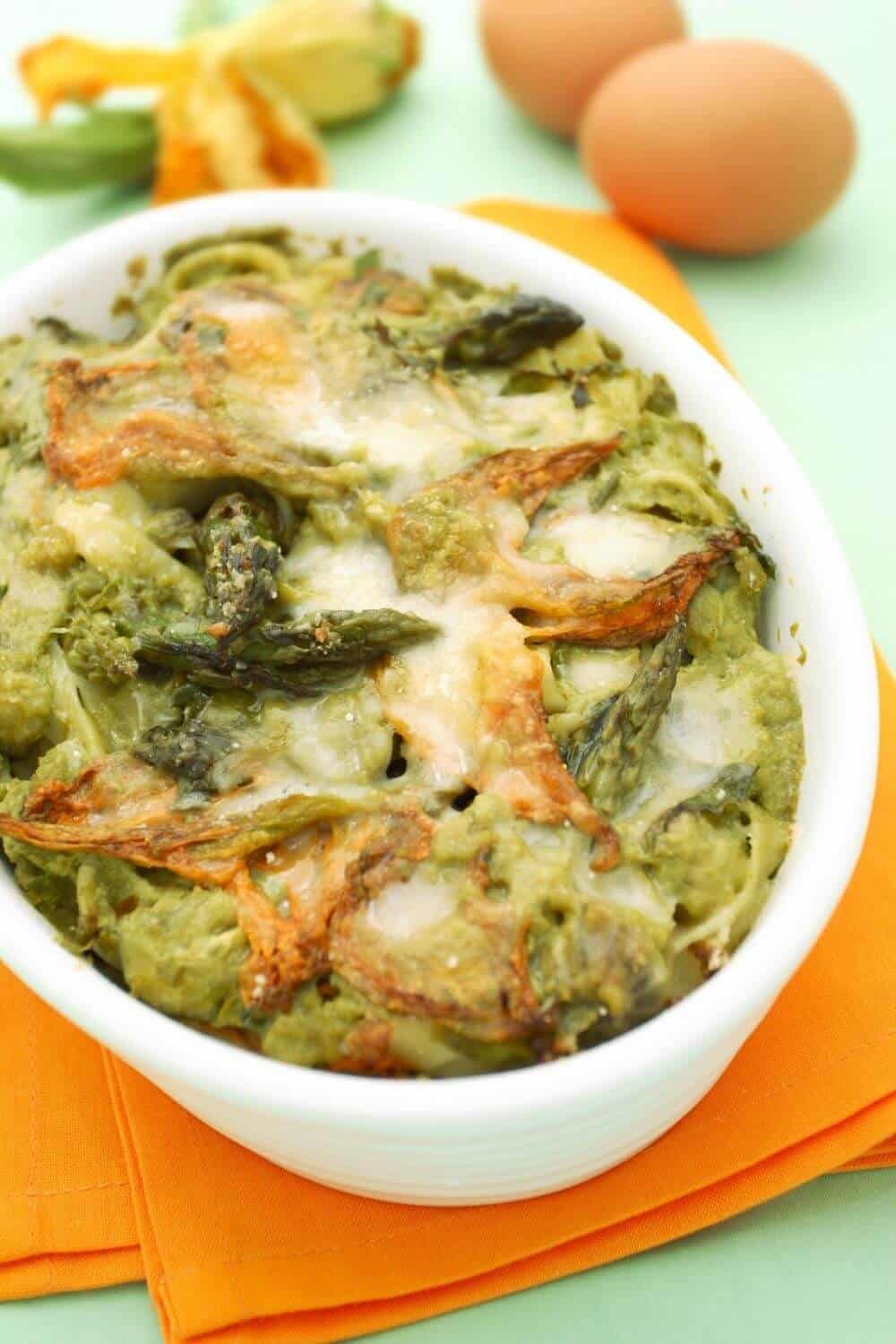 Baked Asparagus Casserole
This baked asparagus casserole is wonderful for when you can't get fresh asparagus, as it uses canned asparagus instead. While fresh asparagus is ideal rather than canned asparagus, you can easily use canned asparagus in many delicious recipes.
I suggest that you read about How to Cook Canned Asparagus.
Does Canned Asparagus Need To Be Cooked?
Since canned asparagus is already cooked, you do not need to cook it further. In this recipe, you only need to cook the cream mixture and the topping in the oven.
However, this baked asparagus casserole recipe can benefit from you microwaving the canned asparagus for a few minutes so that it dries out and doesn't become mushy when baked in the casserole.
Is it Good to Bake Canned Asparagus?
Canned asparagus is perfect for this type of recipe, as it is already soft and adds a pleasant texture to the casserole.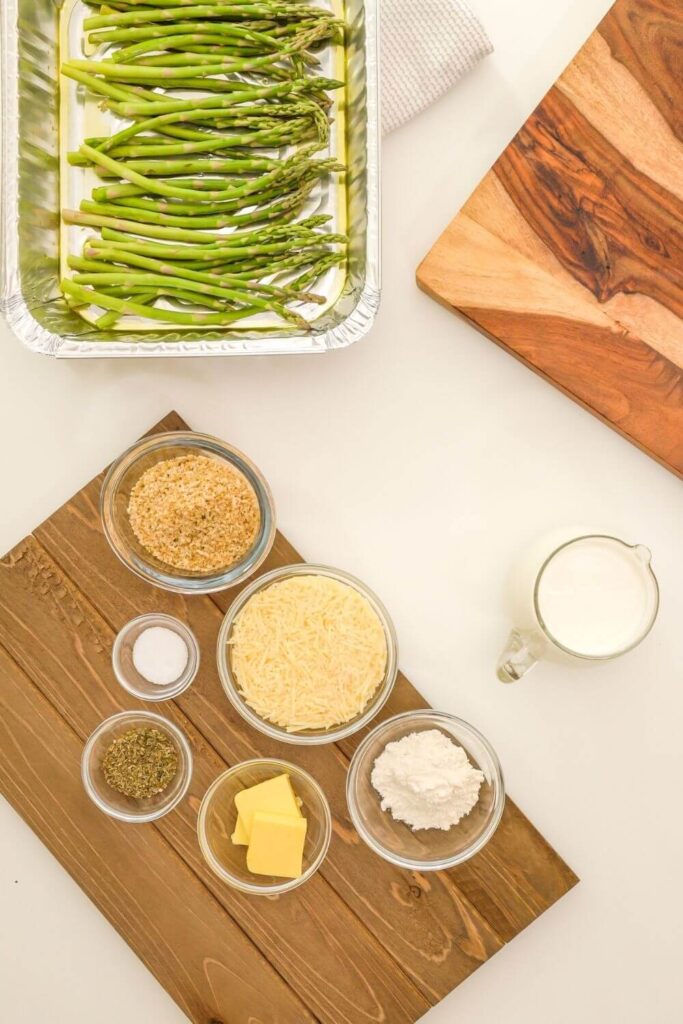 Tips for Perfect Baked Asparagus Casserole
Drain the canned asparagus well. Cover it with a paper towel and microwave it for 1 minute to help it dry out.
You can sprinkle bread crumbs or crushed chips on top instead of the French fried onions if you like.
Add more flavors to the cream mixture such as hot sauce and ketchup if desired.
Add mayonnaise to make a creamier sauce.
Add shredded chicken or bacon if you want to add more flavor to the casserole.
How Long Baked Asparagus Casserole Can Last in the Fridge
This asparagus casserole can last in the fridge for 3 to 4 days. Simply, let the casserole cool to room temperature before dividing it into portions and placing each one in an airtight container. I always recommend using glass containers since they keep food fresh for a longer period of time and help preserve the taste.
How Long Can Baked Asparagus Casserole be Frozen?
Properly stored asparagus casserole can last in the freezer for 2 months. To freeze your casserole:
Allow the asparagus casserole to cool.
Divide it into medium-sized portions or whatever sized portions you would like to reheat later.
Put each portion in a freezer bag and remove as much air as possible.
Write the freezing date on each freezer bag.
Place the freezer bags in the freezer.
Freezing this canned asparagus casserole in portions instead of whole, help make the thawing and reheating process faster.
How to Thaw Frozen Asparagus Casserole
Place it in the fridge for 24 hours.
Use a warm water bath to defrost it in 2 to 3 hours.
Place the freezer bag of casserole in a bowl of cold water overnight.
Place it at room temperature for about 6 to 8 hours.
If you freeze the casserole whole instead of in portions, it will take way longer to thaw.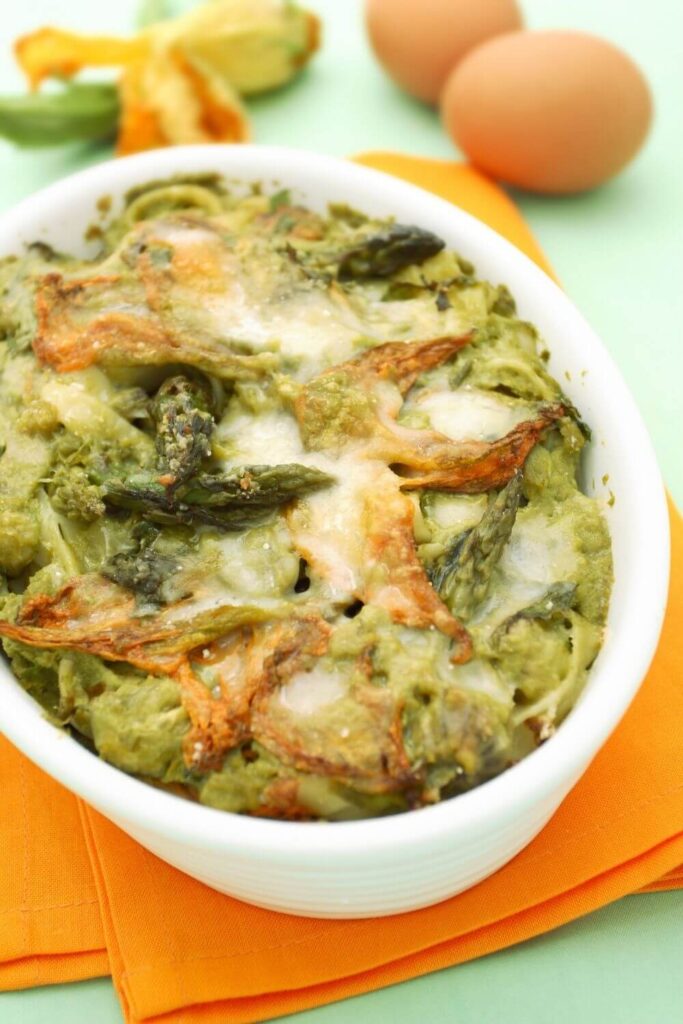 How to Reheat Baked Asparagus Casserole
Preheat the oven to 350 F.
Place the casserole in the oven and bake for 15 to 20 minutes.
Bake the casserole until the cheese is melted.
Serve and enjoy.
For frozen asparagus casserole, you should thaw it before baking it.
What to Serve with Baked Asparagus Casserole
This cheesy baked asparagus casserole can be served with roasted veggies such as potatoes and carrots or with fresh salad. You can also serve it with chicken piccata, White Chicken Chili, or Beef Noodle Skillet.
Here is a list of dishes to serve with this baked asparagus casserole:
Mushroom Barley Soup
Chicken Pot Pie
Fillet Steak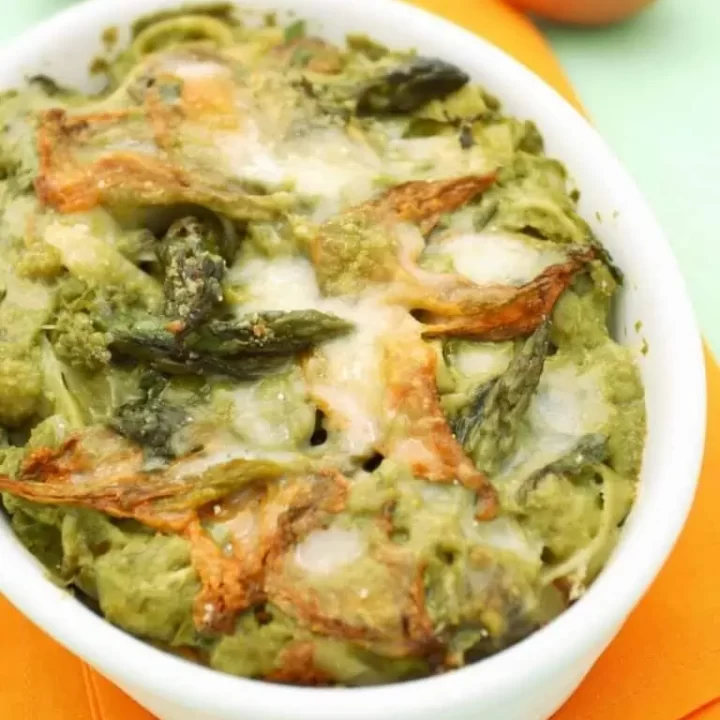 Baked Asparagus Casserole with Canned Asparagus
Additional Time:
5 minutes
This baked asparagus casserole with canned asparagus is creamy and very delicious with earthy asparagus and nutty Parmesan cheese. Besides showing you how to make it, this article also tells you how to store it, freeze it, and reheat it.
Ingredients
2 cans of asparagus, drained
1 cup heavy cream
1 cup grated Parmesan cheese, divided
½ teaspoon onion powder
4 cloves of garlic, minced
½ teaspoon salt
½ teaspoon black pepper
½ teaspoon red pepper flakes
2 cups grated mozzarella cheese
½ cup French fried onions
Instructions
Preheat the oven to 400 F.
Grease a 13-inch x 9-inch baking dish with cooking spray or melted butter.
Lay the canned asparagus in the bottom of the baking dish.
In a bowl, whisk the heavy cream with ½ cup grated Parmesan, onion powder, minced garlic, salt, pepper, and red pepper flakes.
Pour the cream mixture over the asparagus.
Top with remaining grated Parmesan and mozzarella cheese.
Bake for 20 minutes.
As soon as the 20 minutes are up, remove the dish from the oven, and top it with the French fried onions.
Bake for another 5 minutes or until bubbly. If you prefer more color on your casserole, bake it for an additional 5 minutes.
Let the casserole cool for 5 minutes.
Serve the casserole with roasted asparagus and carrots.
Nutrition Information:
Yield:

4
Serving Size:

1
Amount Per Serving:
Calories:

266
Total Fat:

22g
Saturated Fat:

13g
Trans Fat:

0g
Unsaturated Fat:

7g
Cholesterol:

66mg
Sodium:

602mg
Carbohydrates:

7g
Fiber:

1g
Sugar:

2g
Protein:

11g