These Pioneer Woman salmon patties are deliciously golden with a flaky texture. These patties get served with a briny sauce of capers, lemon, and mayonnaise. Here is how to make Pioneer Woman salmon patties and the delicious lemony caper sauce.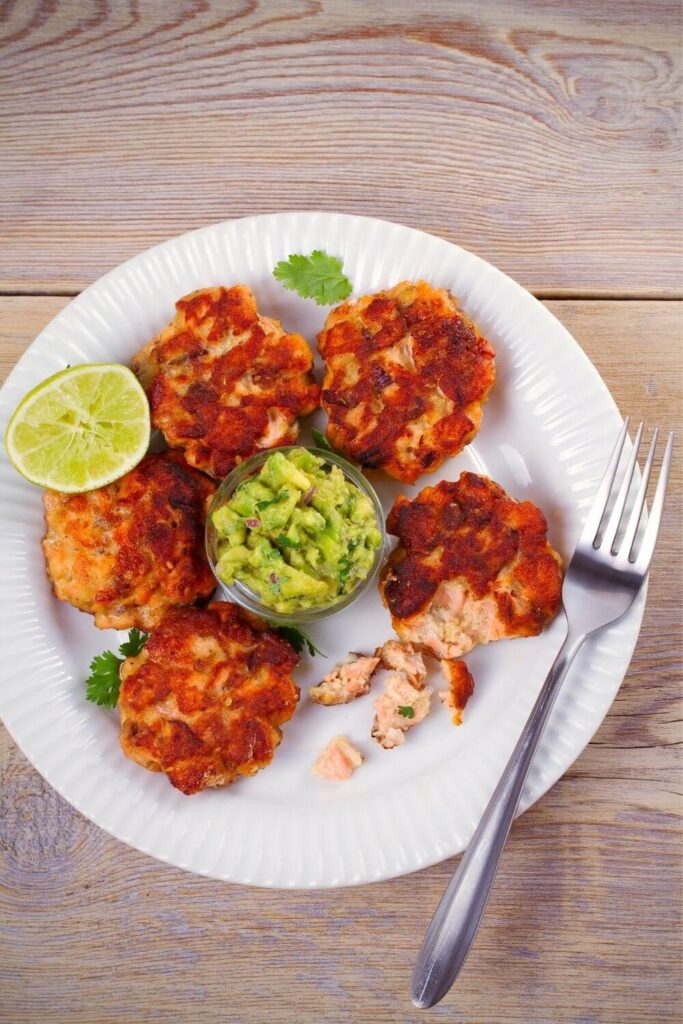 What Makes Pioneer Woman Salmon Patties Perfect?
Ree Drummond's recipe for salmon patties is specifically designed for burgers. She adds ingredients like mayonnaise, mustard, hot sauce, scallions, canned salmon (pink), Old Bay seasoning, lemon juice, olive oil, and salt and pepper to her salmon patties recipe. All these ingredients add wonderful flavor to the salmon patties that make them delicious on their own. However, Ree Drummond doesn't stop there; she also created a lemony sauce with mayonnaise and capers that you can serve with the salmon patties and toasted buns.
How Do You Add Flavor to Salmon Patties?
Herbs and seasoning will give your salmon patties more followers. Add dry herbs like rosemary, oregano, and old bay. You also add some sauce like honey, soy sauce, and orange juice can add more flavors to your salmon patties.
Here is a list of categories of flavors and ingredients that work well in salmon patties:
Salty: lower-sodium soy sauce, capers, miso, olives
Sweet: honey, brown sugar, maple syrup, orange juice or orange zest
Sour: fresh lemon, fresh lime, vinegar
Pungent: onion, shallot, garlic, ginger, horseradish, sesame
Creamy: cream cheese, yogurt, crème fraîche, butter
Smoky: chipotle chiles, smoked paprika, cumin
Green: fresh herbs (especially dill, chives, and mint), cucumber, asparagus
What Helps Salmon Patties Stay Together?
Breadcrumbs are the secret to helping salmon patties stick together so that don't fall apart while you are cooking them. You can also use neutral-flavored crushed cereal, oats, crushed chips, or nuts if you prefer.
How Long Does It Take To Cook Pioneer Woman Salmon Patties?
Salmon patties take about 2 to 4 minutes per side to fully heat through. You will know when your patties are done when their outsides are golden brown and their internal temperature reaches 165 F. If you like extra crispy salmon patties, you can add an extra minute to each side if you like.
Why Are My Salmon Patties Dry and How Can I Fix Them?
Your salmon patties might be dry because you added more breadcrumbs than the recipe called for. If that happens, you can attempt to correct it by adding 1 tablespoon of mayonnaise to the salmon patty mixture.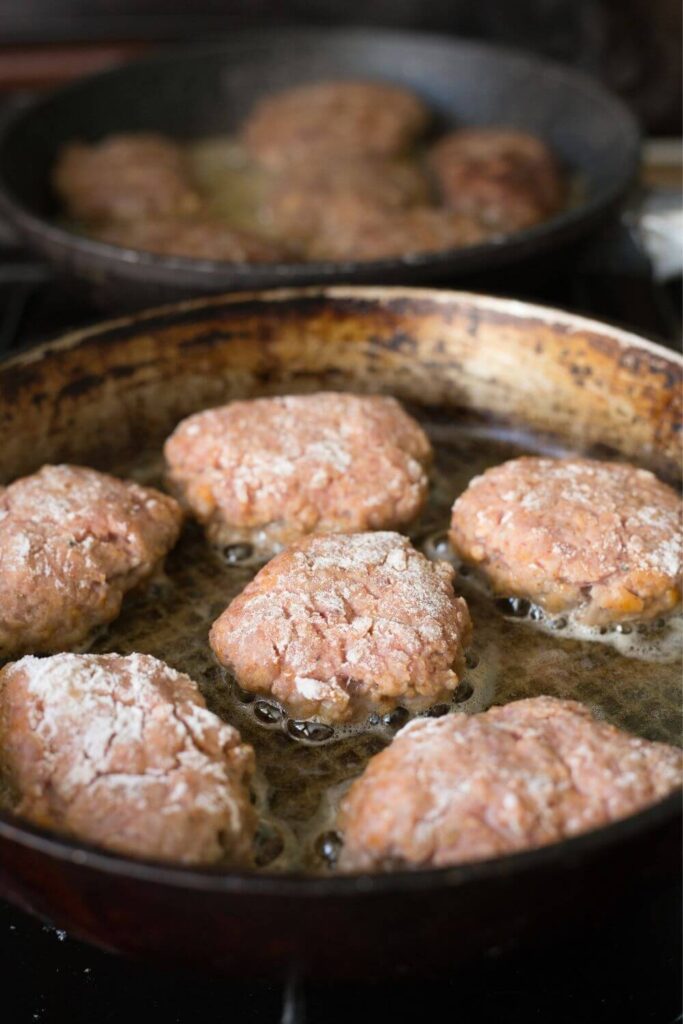 How Long Will Salmon Patties Last in the Fridge?
Fried or baked salmon patties can last in the fridge for 3 to 4 days if you properly store them. First, allow the patties to cool to room temperature and then place them in airtight glass containers before storing them in the fridge. Make sure to refrigerate the salmon patties without sauces or toppings to increase their shelf life.
How to Freeze Salmon Patties Before and After Frying
You can freeze raw salmon patties for up to 3 months and cooked salmon patties for up to 2 months. There is no significant difference between freezing salmon patties before or after cooking. Some people believe that freezing salmon raw will preserve the flavor better than if you had cooked it first, but this is simply not true. Even after cooking salmon, it will still be full of flavor. You just need to freeze the salmon correctly.
The best way to freeze salmon patties is to place each salmon patty in a freezer bag and remove as much air as you can. Do not freeze salmon patties with sauces or toppings. It is also a good idea to label the freezer bags with the freezing date.
How to Thaw Frozen Salmon Patties Quickly
The fastest way to thaw frozen salmon patties is to place them in warm water for 2 to 3 hours. Simply fill a large container with warm (not boiling) water and put your frozen patties in it.
You can also defrost frozen salmon patties in the fridge, but it will take longer, usually about 24 to 36 hours.
In my opinion, you should not thaw frozen patties in the oven or in the microwave, because this will affect the taste. Just let them thaw gradually.
Best Ways to Reheat Leftover Salmon Patties
In the Oven: Preheat your oven to 350 F. Place your salmon patties on a baking sheet and cover them with foil. Reheat them for 15 to 20 minutes or until they reach 165 F.
In the Air Fryer: Set up the air fryer at 350 F. Place the salmon patties in the air fryer basket and cover them with foil; reheat them for 7 minutes. Remove the foil and reheat them again for 3 minutes. Give it 2 minutes more if you want crispy salmon patties.
In the Microwave: If you are reheating salmon patties in the microwave, it will take about 2 minutes. Simply place them on a microwave-safe plate and heat them for 2 minutes until they are heated through.
In the Skillet: In order to make salmon patties crispy, reheating them in a skillet is a good idea. To do so, heat some oil in a large skillet and fry your patties for approximately 1 to 2 minutes on each side. Once the salmon patties are golden, they will be ready.
In order to reheat salmon patties from frozen, I recommend you thaw them first.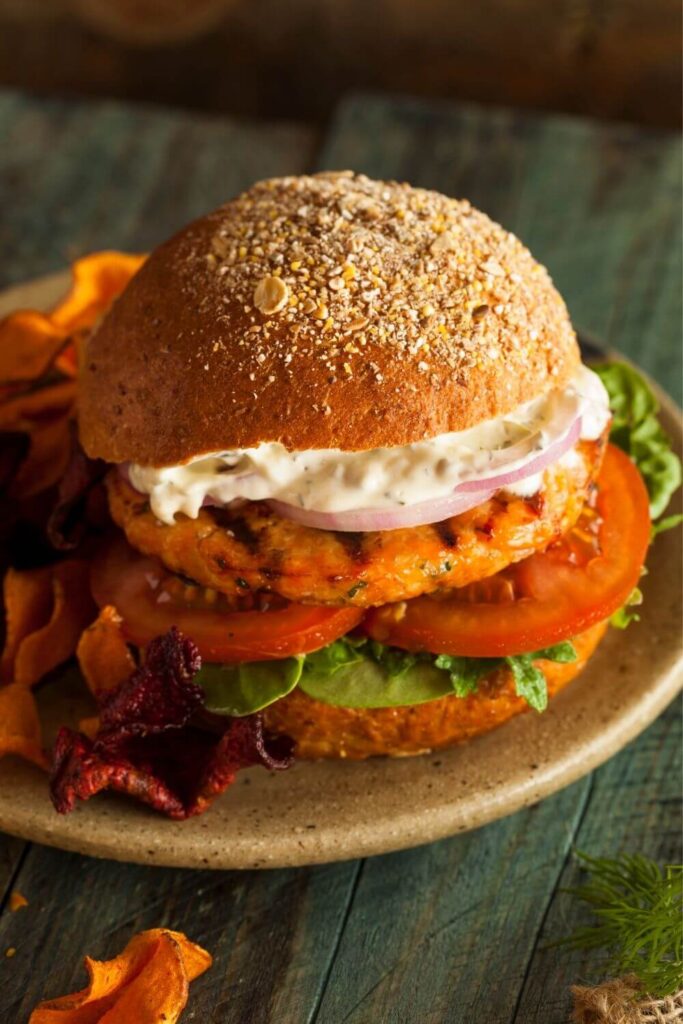 How to Serve Pioneer Woman Salmon Patties
Salmon patties go very well with toasted bread, dipping sauces, fresh lettuce, tomatoes, and of course, pickles. However, you can also serve these salmon patties without the bun with a bunch of dishes on the side such as rice, Julienne Salad, cooked pasta with gravy, mashed potatoes, and roasted veggies such as asparagus or carrots.
Here is a list of dishes that are delicious sides with salmon patties:
Potato Salad
Chicken Pot Pie
These breads are also wonderful to serve with salmon patties:
Pioneer Woman Salmon Patties Nutrition Facts
Serving Size: 1 patty (170g)
Calories from Fat 210
Calories 422
Total Fat 23g
Saturated Fat 4.3g
Trans Fat 0g
Polyunsaturated Fat 6.7g
Monounsaturated Fat 11g
Cholesterol 76mg
Sodium 653mg
Potassium 548mg
Total Carbohydrates 20g
Dietary Fiber 1.7g
Sugars 1.9g
Protein 31g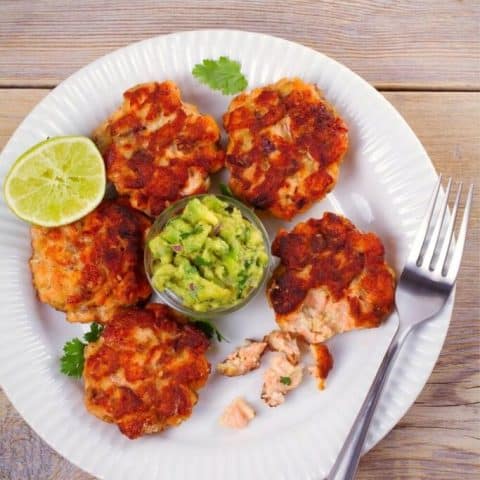 Pioneer Woman Salmon Patties
Additional Time:
5 minutes
Total Time:
1 hour
5 minutes
These Pioneer Woman salmon patties are deliciously golden with a flaky texture. These patties get served with a briny sauce of capers, lemon, and mayonnaise. Here is how to make Pioneer Woman salmon patties and the
delicious lemony caper sauce.
Ingredients
For the Patties:
1 large egg
2 tablespoon mayonnaise
1 tablespoon whole-grain mustard
1 teaspoon seafood seasoning, preferably Old Bay seasoning
½ lemon, juiced
Hot sauce, to taste
2 6-ounce cans of pink salmon in oil or spring water, drained
4 scallions, thinly sliced
½ cup panko breadcrumbs
¼ cup olive oil
For The Caper Mayo:
½ cup mayonnaise
½ lemon, juiced
2 teaspoon chopped capers
Hot sauce, to taste
Kosher salt and freshly ground black pepper
To Assemble:
Whole-wheat buns, toasted
¼ head green leaf lettuce
4 slices tomato
½ cup pickle slices
Instructions
How to Make Salmon Patties:

Stir the egg with the mayonnaise, mustard, seafood seasoning, lemon juice, and hot sauce in a bowl.
Fold in the salmon, scallions, and panko.
Shape into 4 patties and set them aside.
Heat the oil in a large skillet set over medium heat.
Cook the salmon patties in the hot oil for 4 to 5 minutes on each side, or until golden and crisp.
Drain on paper towels and set them aside.

How to Prepare the Caper Mayo:

In a bowl, whisk the mayonnaise with the lemon juice, capers, hot sauce, salt, and pepper.
Feel free to add mustard or dry herbs if you wish.

How to Assemble Salmon Patties:

Spread some of the caper mayo sauce on the bottom of a toasted bun.
Top with a salmon patty, fresh lettuce, a tomato slice, and a quarter of the pickles.
Top with more caper mayo sauce and sandwich with the other half of the bun.
Repeat this process to make another four burgers. You can also make double burger salmon patties if you like.
Serve the salmon patties on buns with fries and roasted veggies.
Nutrition Information:
Yield:

4
Serving Size:

1
Amount Per Serving:
Calories:

690
Total Fat:

56g
Saturated Fat:

9g
Trans Fat:

0g
Unsaturated Fat:

45g
Cholesterol:

115mg
Sodium:

952mg
Carbohydrates:

21g
Fiber:

3g
Sugar:

4g
Protein:

25g