Health-minded people know that vegetables are a must for a healthy diet. Broccoli and kale are all important, but one vegetable is often forgotten: the humble asparagus. One of the easiest ways to prepare asparagus is to bake it.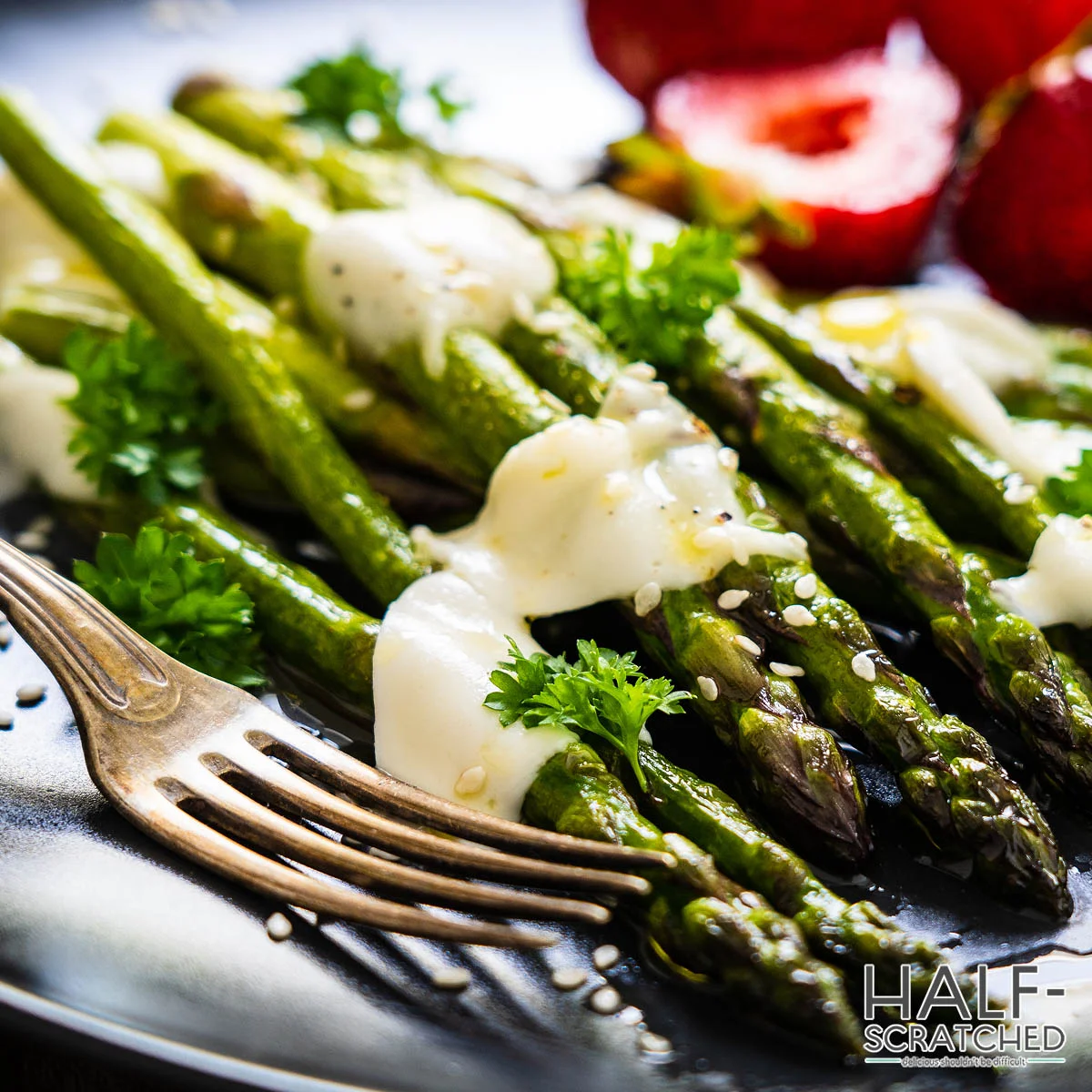 Asparagus is easy to prepare. For example, asparagus is best baked at 375 degrees Fahrenheit for 20-25 minutes. It'll develop a nice crispy exterior and should be served shortly afterward.
This guide will walk you through some tips and tricks for baking asparagus, such as ideal temperatures, the best things to bake asparagus with, and a delicious baked asparagus dish.
Know What Kind of Asparagus You Want
Did you know there are several different kinds of asparagus? There are some that are thin, which are tender and sweet, whereas the thicker stemmed ones are sturdier and have a stronger asparagus taste.
There are also special white asparagus, which is popular in Germany and grown underground, so there's no chlorophyll, hence the white color. Local farms can also have specialized asparagus that are unique to the area.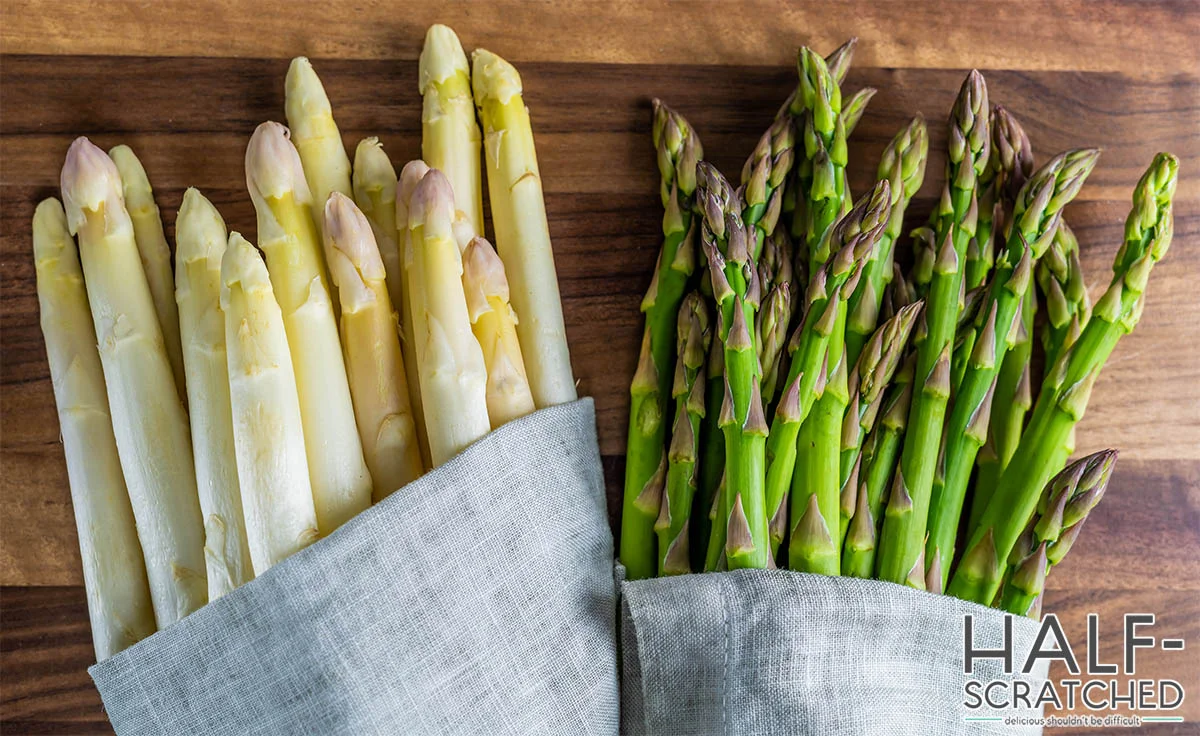 Try to Buy the Freshest Asparagus
Fresher is always better when it comes to vegetables, and asparagus is no different. Try to buy from a local farm or the farmers' market, as it's less likely it has been sitting in storage. Fresh asparagus will have closed and compact tips and rich green color. The green should slowly fade to white at the bottom.
If the asparagus stems are limp or soggy, you should pass. In addition, the tips should not be spread open or soft. Bad asparagus will often have mold and might even smell a little funky.
How to Prepare Asparagus for Baking
Before baking asparagus, it's important to remember to cut off the bottom parts. These sections are usually white or purple in color, and while they're pretty, they are nice to eat. They are tough and will not get softer even after baking.
The easiest thing to do is to cut the bottoms off, but instead of throwing them away, you can save them and use them to create a rich veggie stock.
Another thing that's important to do is to wash the asparagus. Sometimes traces of harmful bacteria or sand can remain on the surface of asparagus, so washing them will help you rid the risk of getting sick. Instead of running the stems under water, soak them in a bowl of cold water for a few minutes and then rinse them off.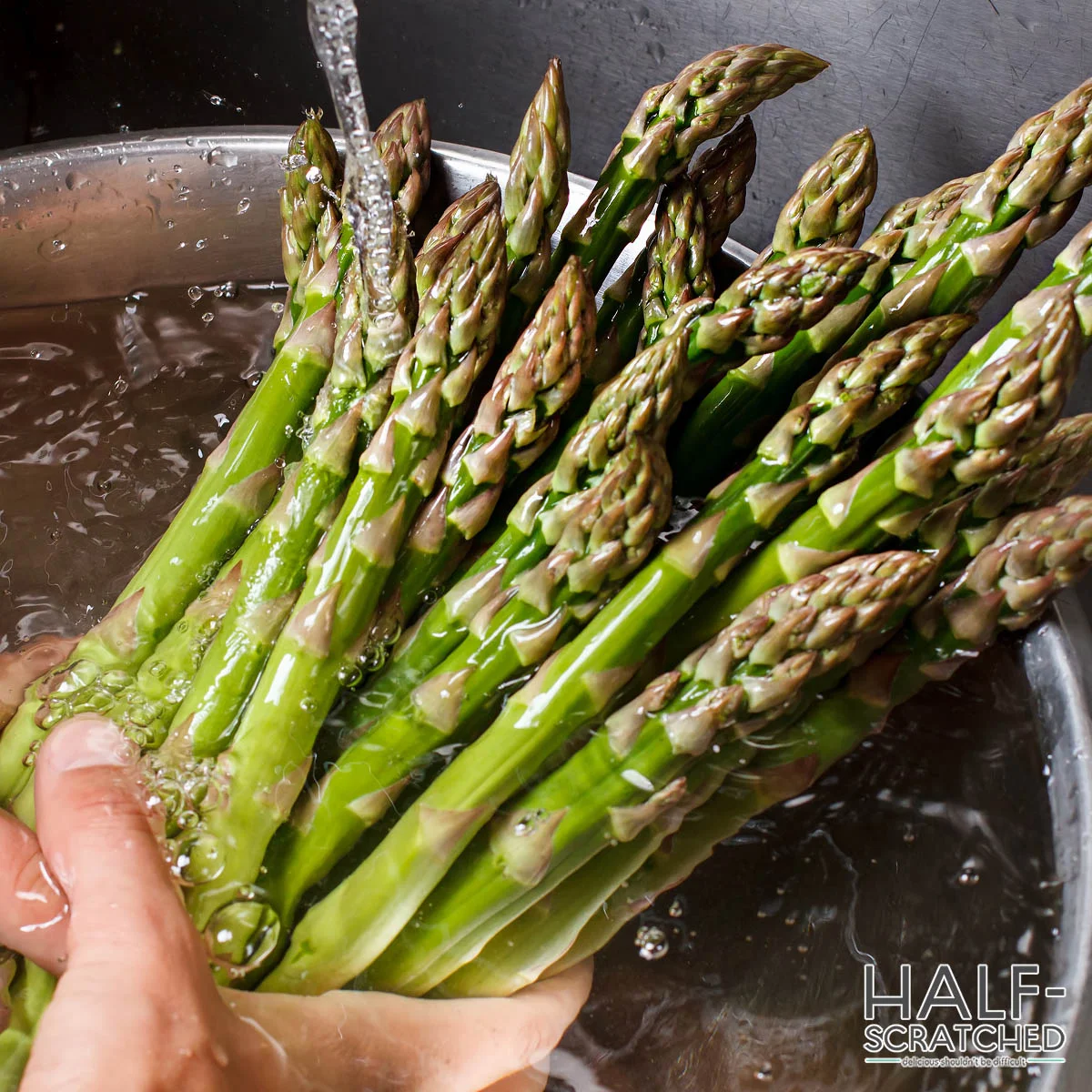 Different Methods for Baking Asparagus
Asparagus is prepared and now it's time to choose a baking method! The most common method of baking is the oven, but you can also use a toaster oven or an air fryer. Any of these ways will require you to sprinkle the asparagus with some kind of oil.
Oil is important when baking asparagus because it prevents the vegetables from sticking to the pan. It also encourages browning, which creates a nice toasty flavor. This is also important when air frying because even though you're not deep frying things, the food can burn more quickly if there's no oil.
Is Foil Good for Baking Asparagus?
Aluminum foil was invented as a way to provide a barrier against moisture and bacteria. It's also used as an insulating cover, meaning that it keeps heat in. Using aluminum foil when baking asparagus can be a game changer, especially if you're using a lot of spices or additional ingredients. The foil keeps the flavor in and makes them stronger.
A good rule of thumb when using aluminum foil is to make sure the asparagus is covered and "tucked in," as this keeps all the flavors from escaping out.
Toppings and Spices for Baked Asparagus
While baked asparagus is delicious on its own, there are some spices and toppings that can elevate this dish:
Bread crumbs: breading your asparagus is a delicious way to add a little extra crunch to the asparagus.
Cheese: cheese paired with anything is great, but when it tops asparagus, then it elevates the vegetable to a whole new level.
Fresh lemon: squeezing lemon on top of asparagus is a perfect way to bring out the flavor while adding a new depth of flavor.
Red pepper flakes: like subtle spice? Adding red pepper flakes to asparagus gives them a nice kick that is sure to please your tongue.
Garlic: garlic is a go-to for many chefs because of it's delicious and often sweet flavor when it's baked, and using it on top of asparagus is no different.
Salt and pepper: these basic spices can really elevate your asparagus, and they're best added after the asparagus has been baked.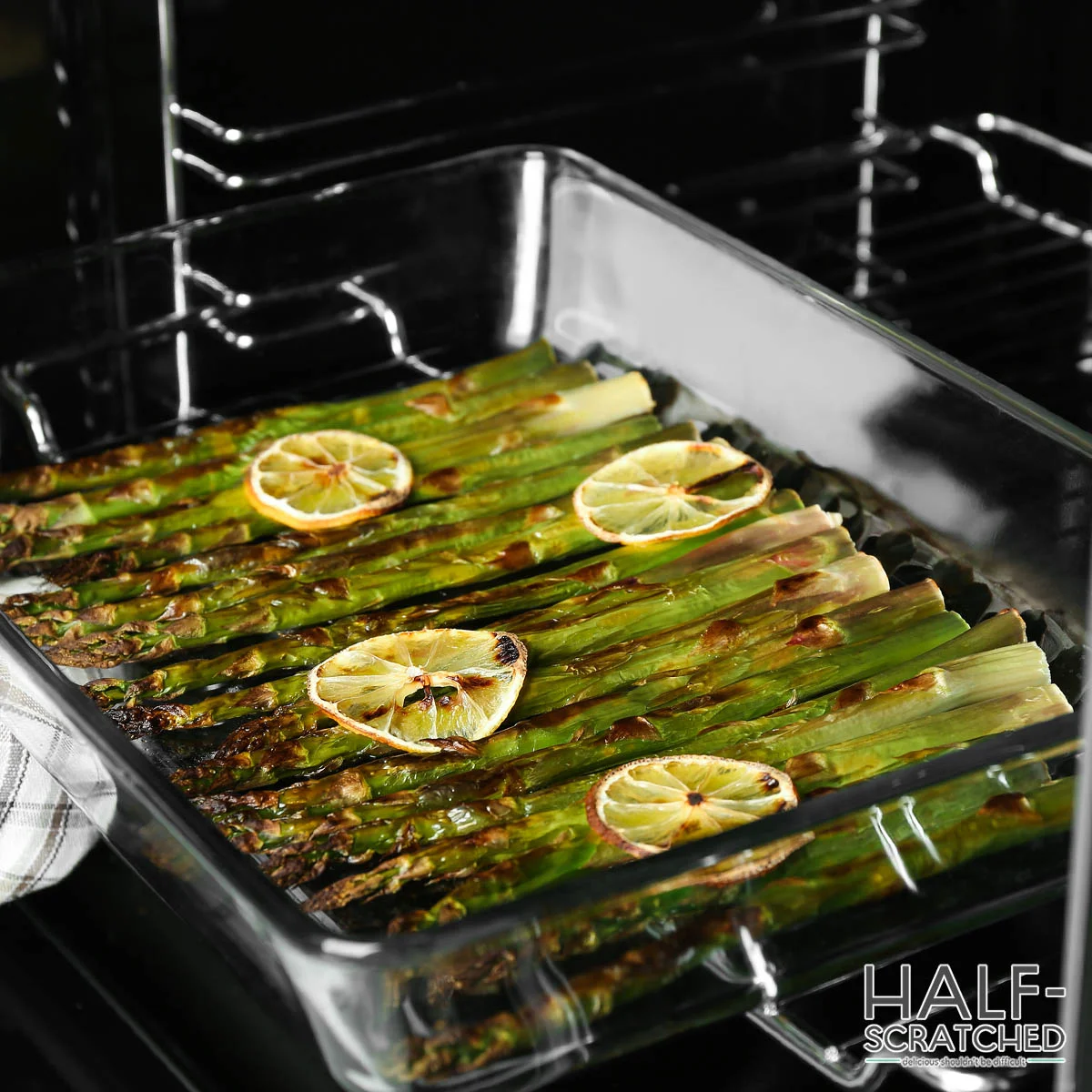 General Tips for Baking Asparagus
Baking asparagus is an easy way to create a delicious dish, even if you're a novice chef. Here are some general tips to think about before starting to bake asparagus:
Understand How to Store Asparagus
One of the worst things is when you buy asparagus, only to have it go bad before you can bake it. The number one tip? Snip off the rubber band that is holding the stems together! Keeping the rubber band on can bruise the asparagus and leave a rubbery taste. Keep the asparagus loose in a produce bag to keep it as fresh as possible. A plastic tupperware also works.
Also, leave the asparagus in the refrigerator. The coldness keeps asparagus from turning brown and becoming moldy.
Peel Fatter Stems
If the asparagus has especially thick stems, you should peel them, which helps to avoid a stringy texture. You can easily use a potato peeler or a knife, although there's some risk with using a knife as it can slip.
You can get rid of most of the tougher stems by cutting them off or bending them until it breaks off. Whatever is remaining can then be peeled.
Some Commonly Asked Questions About Asparagus
While you might feel like you're an expert in baking asparagus now, there are always ways to improve! Here are some common questions and answers for baking asparagus.
How do I reheat baked asparagus?
You can reheat asparagus in the microwave, but you should do it in intervals. Overheating asparagus often results in it being dried out and chewy, so wrap the stems in a damp paper towel, heat it up for 20 seconds first and then continue in ten-second intervals until it's the desired temperature.

Conversely, you can also heat leftover asparagus up in the oven. Preheat the oven to 375 degrees Fahrenheit and spread the stems across a baking sheet. Toss it with oil and bake until they're fully heated through.
Will asparagus last in the fridge?
Great news for people that like leftovers: baked asparagus is good in the fridge for three to five days. To ensure that it lasts, wrap the leftover asparagus in aluminum foil or plastic wrap before trying to reheat it. The wrapping will keep bacteria out.

You can also freeze asparagus, and it'll last for two to three months. Put the cooked asparagus in a freezer-safe bag and squeeze all the air out, making sure that there's no remaining moisture. Reheating the asparagus will be the same as if it was in the fridge.
What other ways can asparagus be prepared?
This article focused exclusively on baking asparagus, but this versatile vegetable can also be sauteed, grilled, boiled, or eaten raw. Each way brings out a different flavor of the vegetable and can be paired with a variety of sauces, spices, or toppings.

Sauteeing asparagus is often done with butter and garlic; grilled asparagus provides a smokey flavor, boiled is fast (about three minutes) and makes for a great asparagus soup, and raw asparagus can add excitement to a salad.
What kind of nutrients does asparagus provide?
Asparagus is rich in vitamins A and C, as well as folic acid. Because it's fibrous, it helps with bowel movements and is considered a great prebiotic gut vegetable. Studies have also found that asparagus may lower blood pressure and lower inflammation.

Five asparagus, or about 3 ounces (85 grams), count as one portion of vegetables. Health experts recommend at least two to three portions of vegetables a day.

When is asparagus available?
Asparagus is known as a spring vegetable, meaning that its peak months are April and May, although thanks to greenhouses and human intervention, asparagus can be eaten all year long. The season for asparagus usually starts in February and ends in June.
Cheesy Garlic Roasted Asparagus Recipe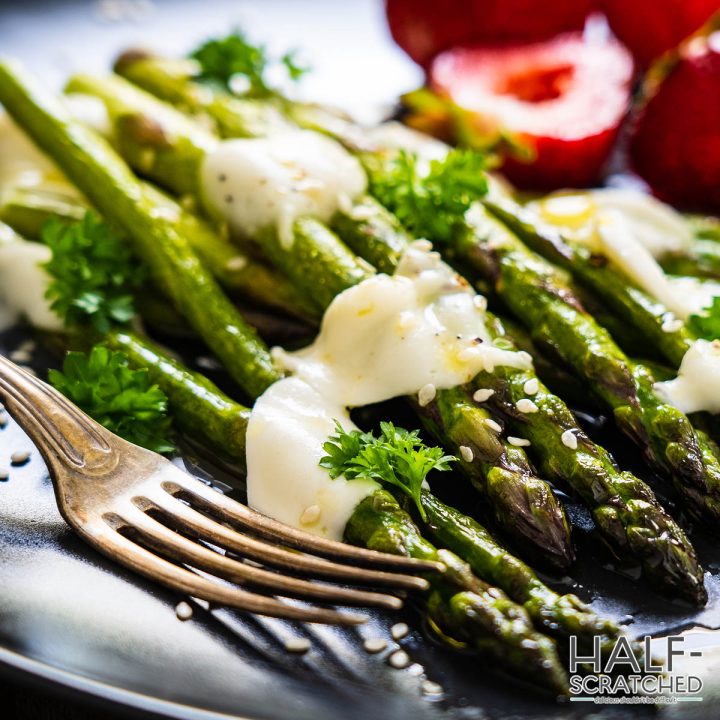 How Long to Bake Asparagus at 375 F
Asparagus is one of the most versatile vegetables and there are a variety of tips and tricks on how to bake them for a delicious meal. Learn to cook delicious cheesy garlic roasted asparagus.
Ingredients
1 pound asparagus spears
3 tablespoons olive oil
4 cloves minced garlic
¾ teaspoon kosher salt
¼ teaspoon black pepper
1 ¼ cup shredded mozzarella cheese 
Instructions
Preheat oven to 375 degrees Fahrenheit and lightly grease a baking sheet with oil. Lay asparagus spears on top.
Mix everything except the asparagus and cheese together. Pour the mixture over the spears.
Bake for 18 minutes until tender.
Sprinkle mozzarella cheese on top. Return to the oven and broil until the cheese melts and becomes golden (about 4 minutes).
Add salt and pepper, then serve immediately.
Nutrition Information:
Yield:

4
Serving Size:

1
Amount Per Serving:
Calories:

201
Total Fat:

16g
Saturated Fat:

5g
Trans Fat:

0g
Unsaturated Fat:

10g
Cholesterol:

17mg
Sodium:

436mg
Carbohydrates:

8g
Fiber:

2g
Sugar:

2g
Protein:

9g