Asparagus is a fantastic side dish that is healthy, tasty, and a perfect vehicle for being drizzled with sauces or wrapped in cured meats. If you're looking to bake a few spears of this veggie in the oven, how long should you let it cook at 350?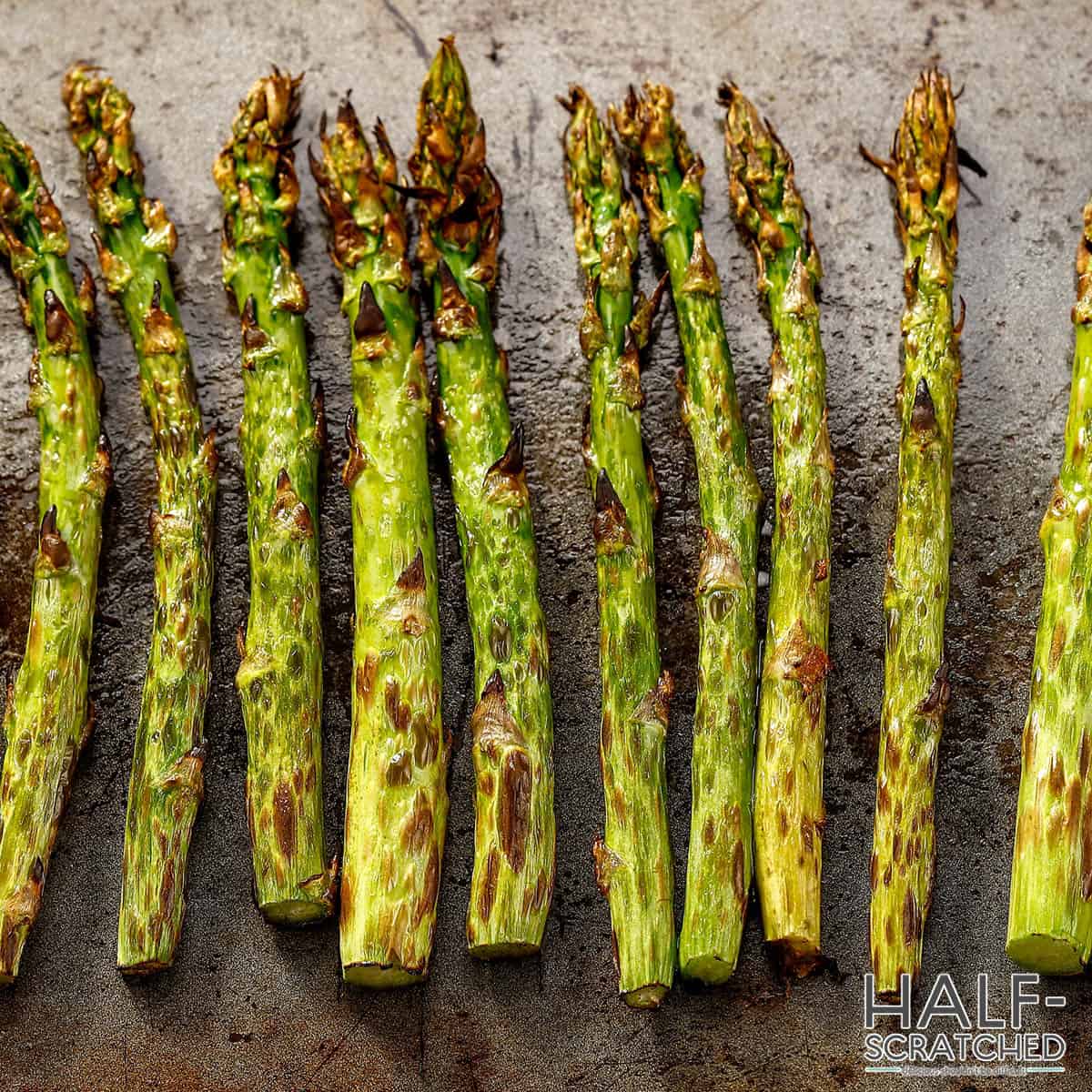 For your average-sized spear of asparagus, you will need 25-30 minutes in a 350-degree oven until they're tender and ready to eat. Thicker pieces may need more time - add 3-5 minutes if you're working with a very thick asparagus. Use a fork to gauge its doneness.
How thick a stalk of asparagus is is indicative of the age of the plant; older ones are always thicker. If you're dealing with an older, thicker stalk of asparagus, you may need to bump the cooking time up just a touch.
Thicker stalks of asparagus will need closer to 28-35 minutes at 350 to reach a crispy state of doneness. If you want to speed the process up, you can carefully peel the veggies with a paring knife.
How to Tell When Asparagus Is Fully Cooked
Asparagus is at its best when it is a little crunchy yet still tenderly crisp. That vibrant green you saw before it went into the oven should emerge muted and mellowed down to an olivine tone.
When you use a fork to test how done the asparagus is, bear in mind that undercooked spears will be too hard to stab with a fork, and overcooked ones will begin to fall apart.
Should You Cover Asparagus While It Bakes?
Whether or not you cover the asparagus depends on how you are going to use it. If you're looking for lightly browned, faintly crisp asparagus, then leave the foil off as you bake it at 350.
If you're planning to eat the asparagus when it's more tender and soft, wrap it in foil to trap the emerging steam.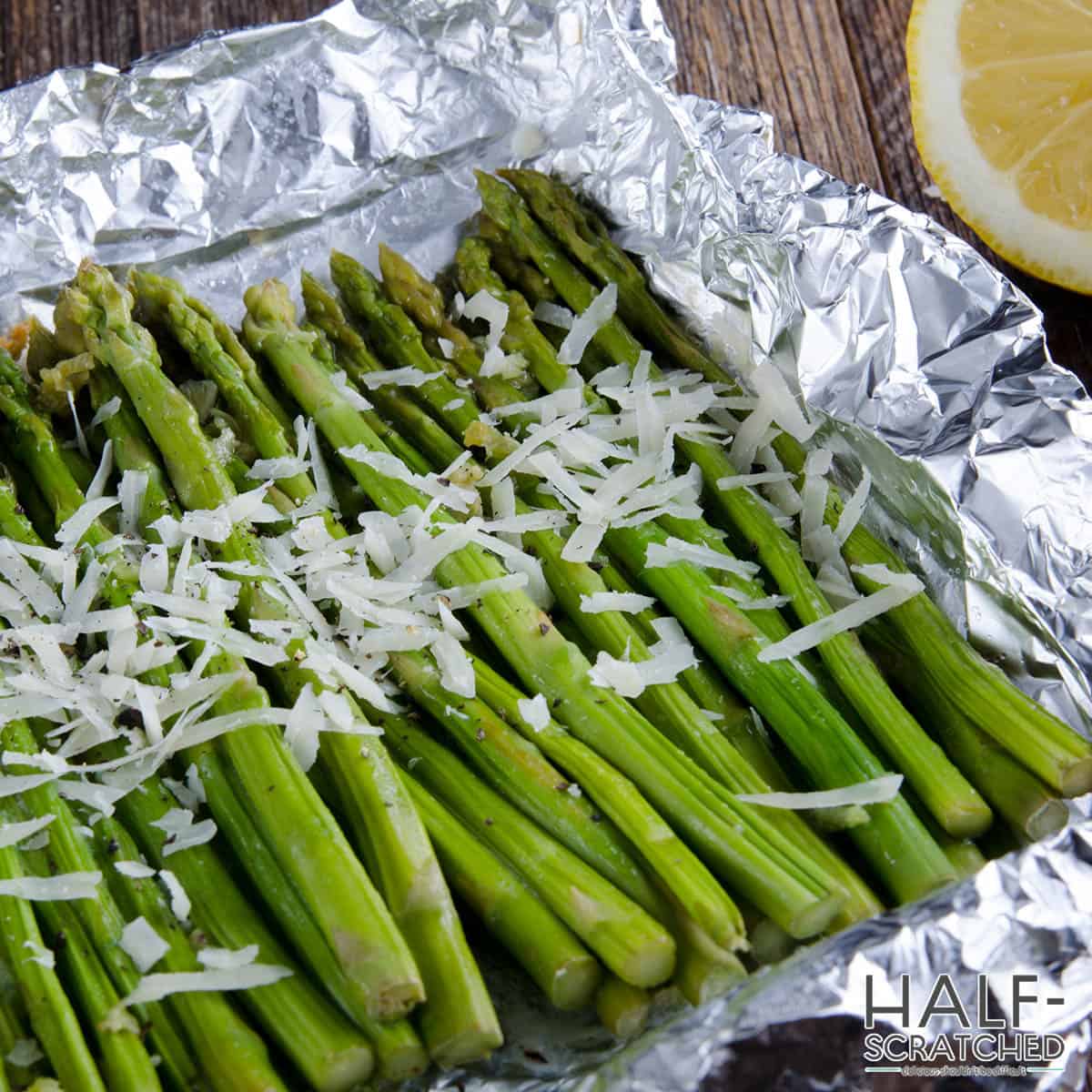 Does Asparagus Soften as You Cook It?
The longer you cook asparagus in a 350-degree oven while wrapped in foil, the softer and more pliable it will become. This is because the foil will trap the water and steam inside the vegetable and allow it to soften. If you want to mash the asparagus or use it in a stew, wrapping it in foil is the way to go.
Unwrapped, however, will take the foil in the opposite direction. The longer it bakes, the crunchier and harder it will become. When baked in a 350-degree oven, the water inside each spear will evaporate, almost dehydrating them. If you overcook it without the foil, your asparagus will fall apart.
Should You Blanch Asparagus Before You Bake It at 350?
Blanching is the process of boiling something and then transferring it to a bowl of icy water. If you want to get crispier asparagus that is still vibrant in color, you'll definitely want to blanch it first.
To blanch asparagus, bring a pot of salted water to a boil. The salt will help season the asparagus, making it even more delectable. Allow the asparagus to boil for about 2-3 minutes. Then, using tongs or a slotted spoon, transfer the asparagus to a bowl of icy water.
The ice water will stop the cooking process – for now. When you stick it in the oven, it will be done a little faster.
How Do You Bake Asparagus So It Isn't Chewy
A downfall of asparagus - and the reason some think they don't like it - is that it can come out chewy or mushy if not done right. Paying attention to your cooking time and method will keep the asparagus from losing its ideal crisp texture.
To bake asparagus so that it doesn't come out chewy, cook it on a baking sheet uncovered in a 350-degree oven for 25-30 minutes. In the last 5 minutes, check on the stalks; if they seem crispy when prodded with a fork, they're perfectly done.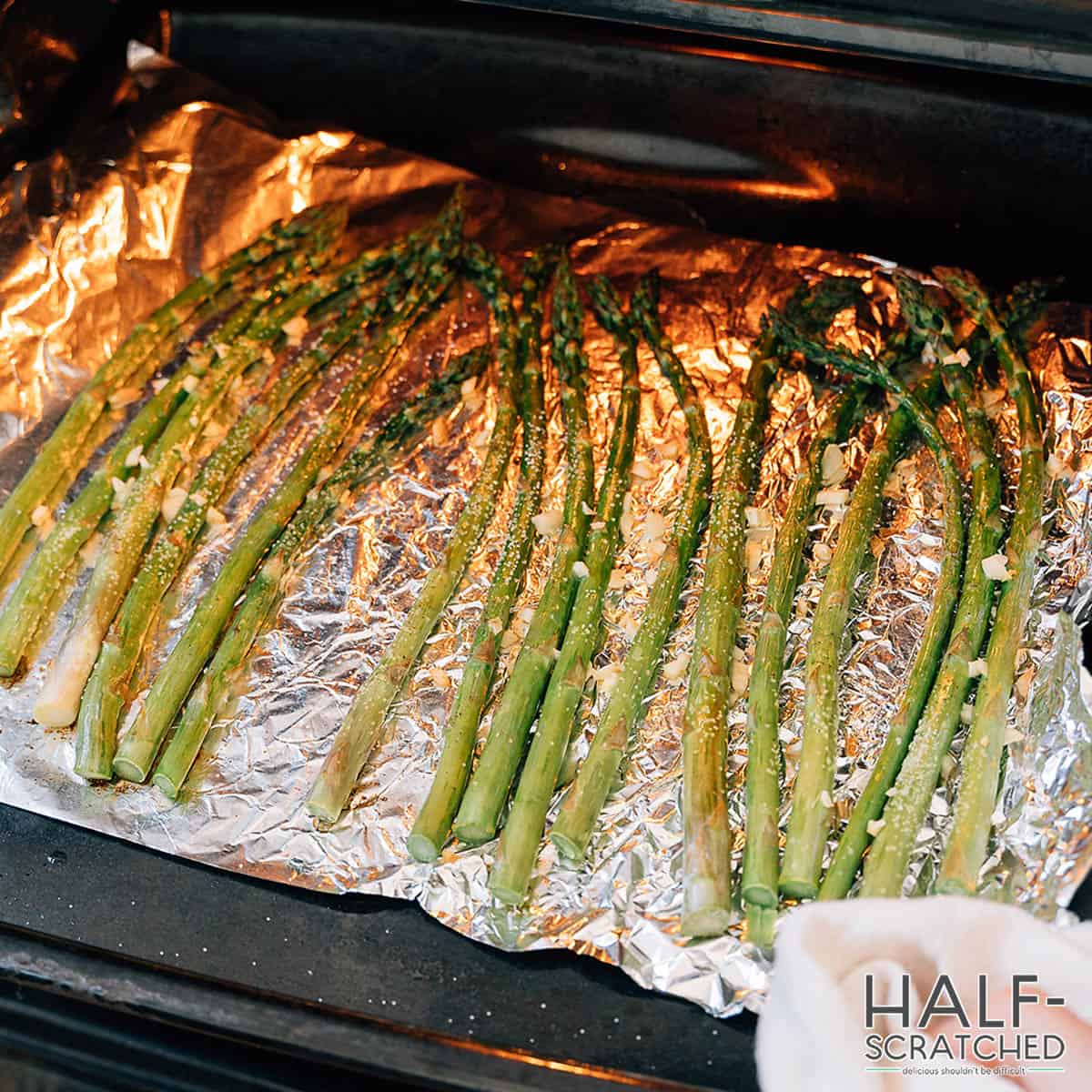 Can You Overcook Asparagus?
Just like anything else, you can overcook asparagus. If you're baking it uncovered, overcooked asparagus will be brittle and dry.
If you want it soft, though, in the case that you're trying to make a soup, mash, or puree with it, then cooking it covered will keep it from overcooking too easily.
How Long Does It Take to Bake Asparagus at 350 From Frozen
If you're cooking average-sized asparagus spears in a 350-degree oven, fresh from the freezer, they'll need extra time to bake. Keep frozen asparagus baking away in the oven for 30-35 minutes.
Once again, a thicker stalk will need more attention and time. Add 3-5 minutes of cook time when you're baking asparagus in a 350-degree oven from frozen.
Trimming Asparagus Before Cooking It
Trimming the hard, fibrous end off of a piece of asparagus you're about to bake will save you the trouble of trying to chew through it later. Usually, you can tell which part you need to clip away by the color. The hard, tough ends are usually white in color, at odds with the vibrant green at the top.
It's easy to trim off the hard ends of asparagus– you can use a sharp knife or even snap the end away with your hands.
Washing Asparagus Before Baking
Just as with any vegetable, a quick wash before it's headed into the oven will get rid of extra dirt or debris that might have hitched a ride with it. All you'll need to do is lightly scrub the spears in your hands and run them under cold water.
Don't wash it too early, though; you should cook your asparagus right as you're about to cook it. Washing it too early will make the color begin to dull more and will also make it harder to get nice and crispy.
You should also take care to dry your spears off before popping them in the oven, as they will get crunchy faster when there is less moisture to cook off.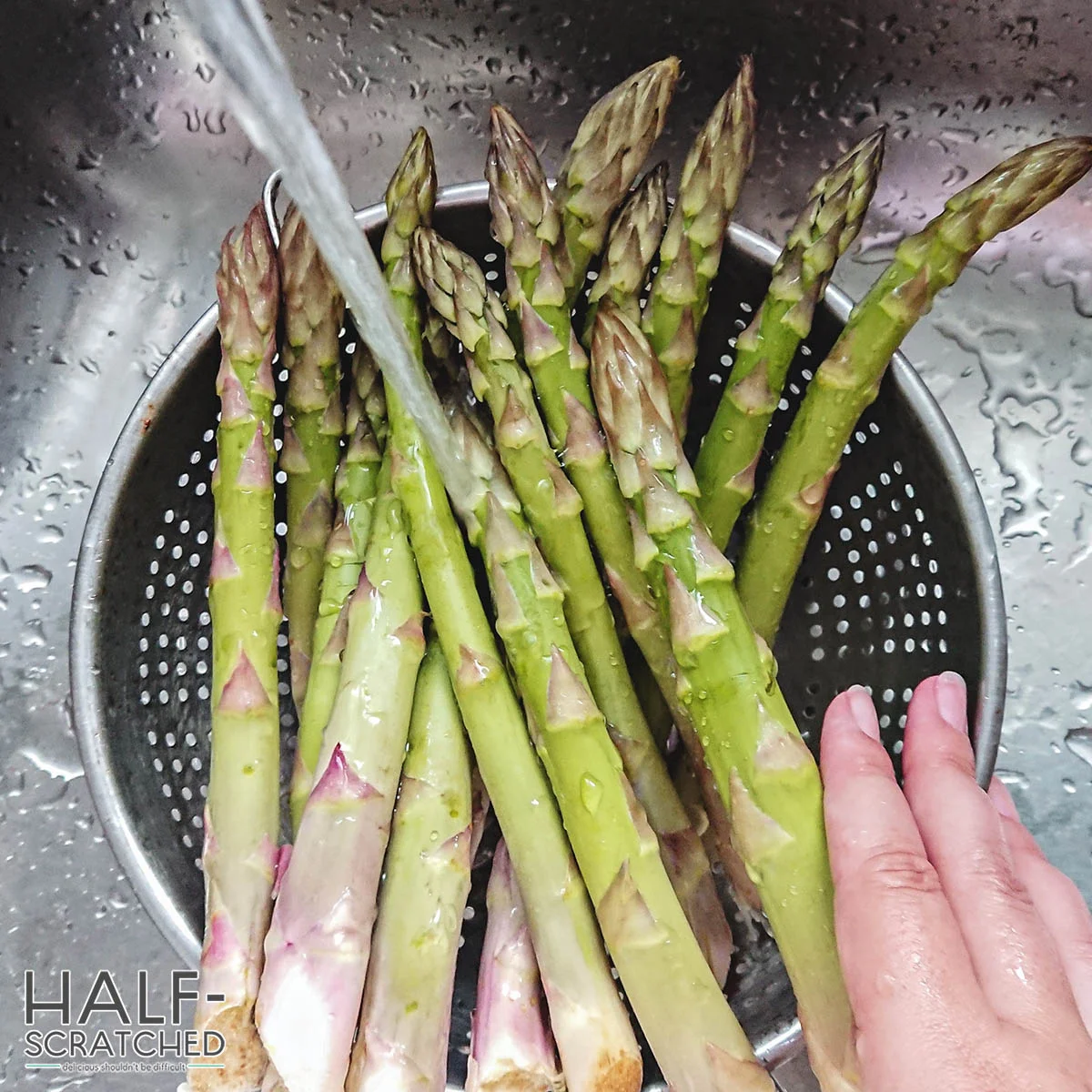 How Long Should You Bake Asparagus in the Air Fryer at 350
If you want to use your air fryer to get deliciously roasted asparagus, it's going to take approximately 22-27 minutes to complete the process in a 350-degree air fryer.
Because of the way an air fryer cooks, you'll need to make sure that heat is accessing all sides of your asparagus. Take care to flip the spears halfway through roasting to let hot air touch every part of the spear.
If you're baking asparagus from frozen, bump the cooking time up to 31-35 minutes at 350 degrees in the air fryer. By the time it's done, the asparagus will be perfectly crispy and warm.
Do You Have to Peel Asparagus Prior to Baking It?
Whether or not you peel your asparagus is a matter of opinion. You don't really need to do it, but some chefs swear by this method.
If you're using a thicker stalk of asparagus, the exterior may be woody. Peeling your asparagus can remove this outer layer and make the stalk easier to poach or bake.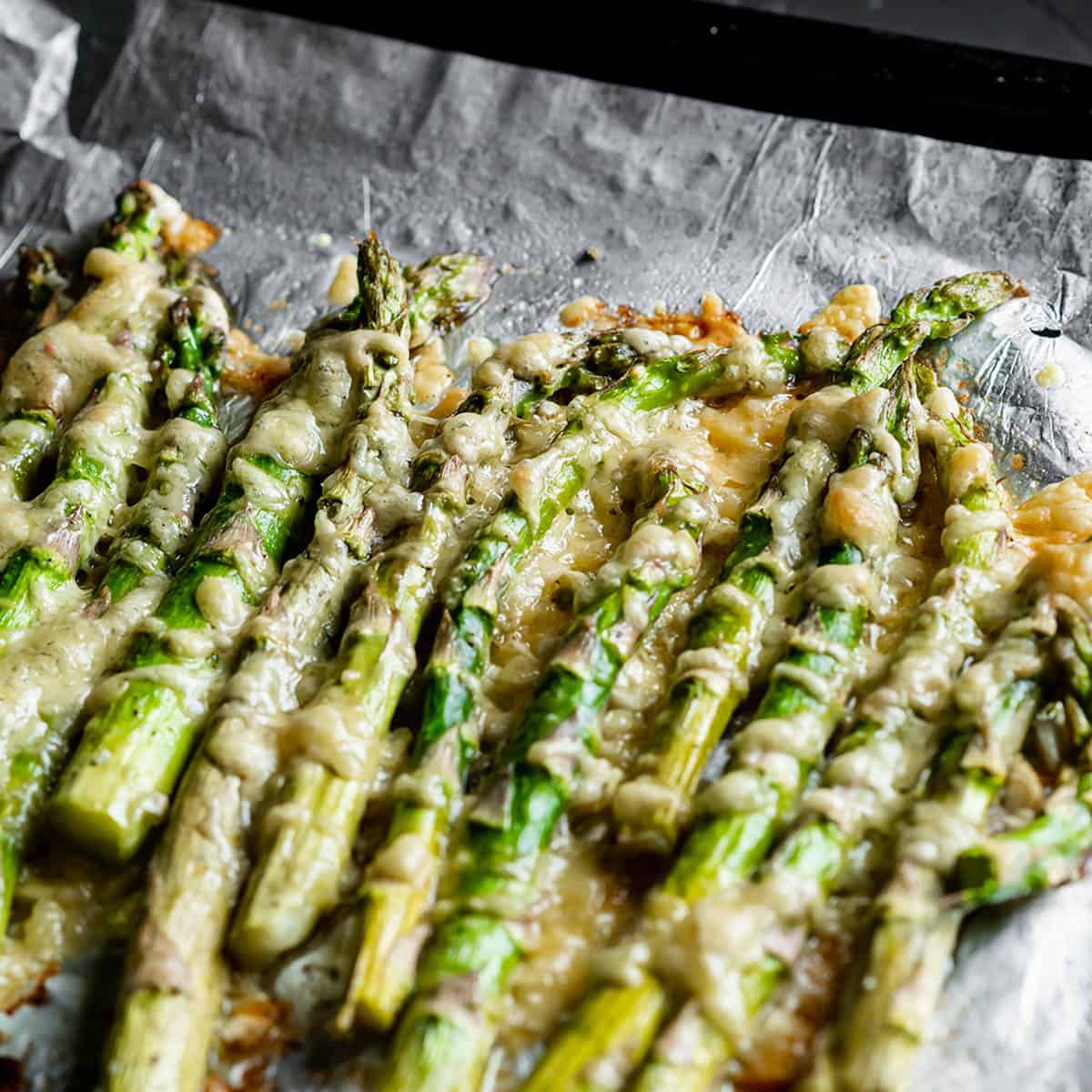 Questions and answers
Can You Freeze Asparagus That Has Been Baked at 350?
If you're a fan of meal prep, storing asparagus in the freezer is a clever way to have a side dish or ingredient ready to go. You can store baked asparagus in the freezer for up to 2 months, after which time it will drastically lose color and flavor profiles.
Be sure that you allow the asparagus to fully cool before you wrap it up for freezing. If you put it in while it's still warm, you'll allow condensation to settle and make the asparagus soggy.
When you put it into a freezer, wrap it tightly in a freezer bag or put it into an airtight container.
How Do You Store Baked Asparagus in the Fridge?
If you've just cooked too much asparagus, you can keep it in the fridge to enjoy the leftovers at a later date. After you allow the asparagus to cool down, wrap it up in a freezer bag and use a straw to suck the air out.
You can also store it in an airtight container, however, you should press plastic wrap over the surface of the veggies to minimize the amount of air that is touching them.
How Do You Reheat Asparagus?
You can reheat baked asparagus a few ways, usually only in a few minutes.
To reheat cooked asparagus in the oven, place it on a baking sheet for 5 minutes at 350. The more times you reheat asparagus, the softer it will get after the first cooking. Therefore, you shouldn't reheat asparagus more than once.
If you prefer the microwave, you can wrap the spears in a damp paper towel. The water level on this paper towel is important; you don't want it too wet, as this will create an excess of moisture that won't cook away.
Heat the wrapped asparagus in 10-second intervals until it's as hot as you'd like it.
How Do You Thaw Frozen Asparagus Prior to Baking at 350?
All told, you don't actually need to thaw asparagus before you bake it. It will cook up just fine in a 350-degree oven even after you've taken it right from the freezer.
However, if you'd prefer to thaw it out first, you can let it sit in the fridge overnight. By the next day, it will be perfect for roasting at 350.
In a hurry to get your asparagus on the table? Sit the frozen stalks in a bowl of warm water. This will take a maximum of an hour.
Perfect Asparagus Recipe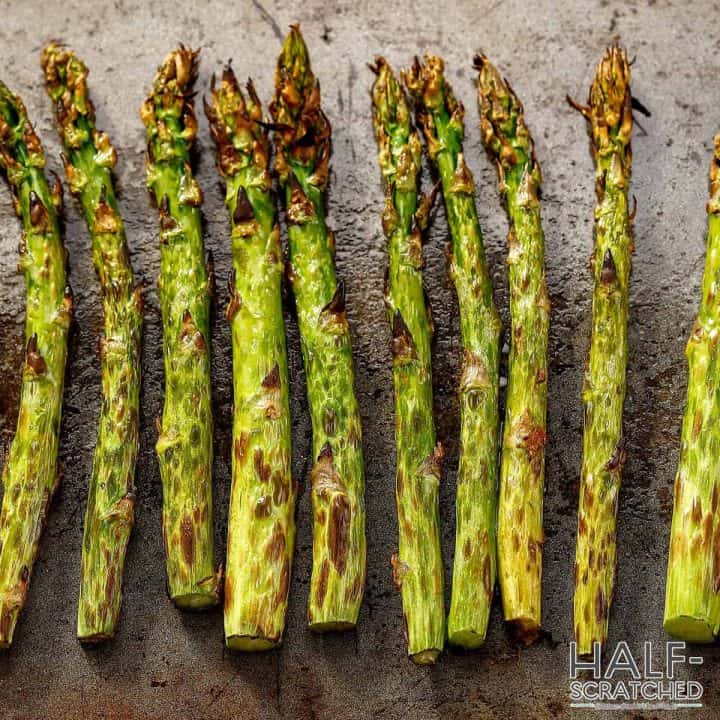 How Long to Bake Asparagus at 350 F
Ready to cook your asparagus to crispy, roasted perfection? This recipe will help you achieve the perfect level of doneness – creating the ideal side dish to accompany any meal.
Ingredients
1 lb of asparagus.
A drizzle of olive oil.
Garlic powder to taste.
Salt and pepper to taste.
Instructions
Preheat your oven to 350 and line a baking sheet with parchment paper if desired.
Trim the white ends from the asparagus spears before rinsing them with cold water. Pat the asparagus dry with a paper towel.
Arrange your asparagus on the baking sheet. Drizzle olive oil over the top, lightly tossing the spears to make sure they're coated on all sides.
Sprinkle garlic powder, salt, and pepper generously over the spears and toss them once more for full coverage.
Bake uncovered for 25-30 minutes until the asparagus has reached your preferred level of doneness.
Serve warm.
Notes
Ise asparagus with firm spears that have closed tips. The best, tastiest asparagus is in season in the spring, and it's best to buy it then. However, it is available year-round and will still taste great in any season. This recipe calls for a pound. That's the common amount you'll find a single bunch of asparagus being sold in.
Nutrition Information:
Yield:

4
Serving Size:

1
Amount Per Serving:
Calories:

58
Total Fat:

4g
Saturated Fat:

1g
Trans Fat:

0g
Unsaturated Fat:

3g
Cholesterol:

0mg
Sodium:

90mg
Carbohydrates:

5g
Fiber:

2g
Sugar:

1g
Protein:

3g