Cherry pie salad requires six simple ingredients and less than six minutes to make. The best part? It receives rave reviews whenever I serve it!
.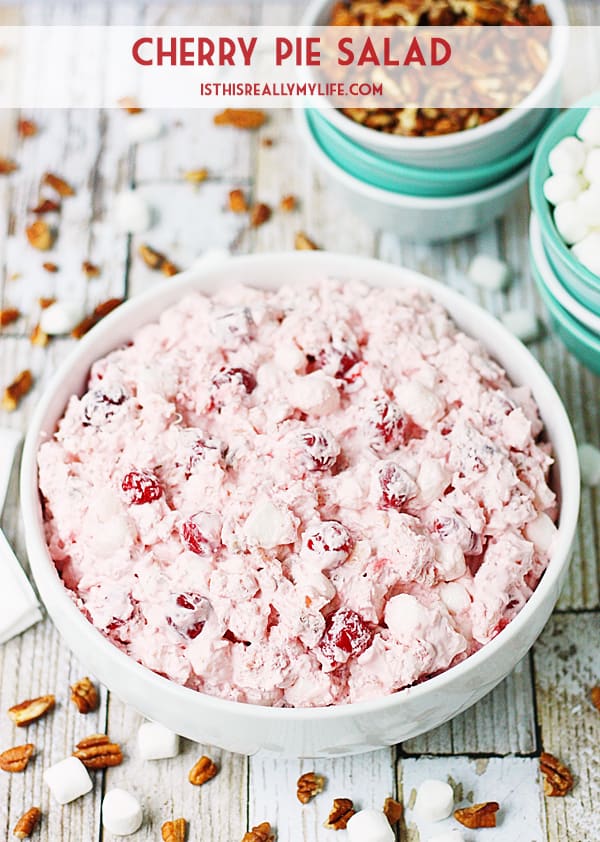 .
Post may include affiliate links, which means if you click on a link and purchase something, you won't pay anything extra but it will help support this blog.
.
I'm going to be completely honest with you. Using the word salad in this cherry pie salad is totally deceiving. I mean, I serve it like I would any other summer salad—next to whatever we've grilled (usually burgers) along with watermelon, chips and an icy beverage. But this salad is on par with my mom's pistachio pudding salad in that it tastes like more like dessert than something I can count as my daily recommended serving of veggies.
.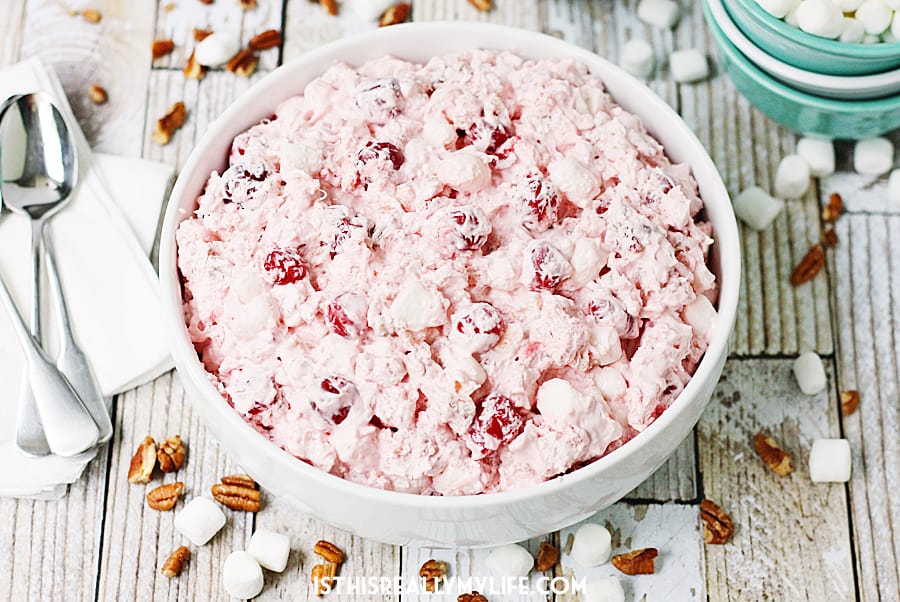 .
I love any dish that comes together quickly and easily and can be made with ingredients stored in my pantry. Cherry pie salad totally fits those requirements thanks to six canned/containered/packaged ingredients you toss together and refrigerate.
And yes, I used the word containered.
.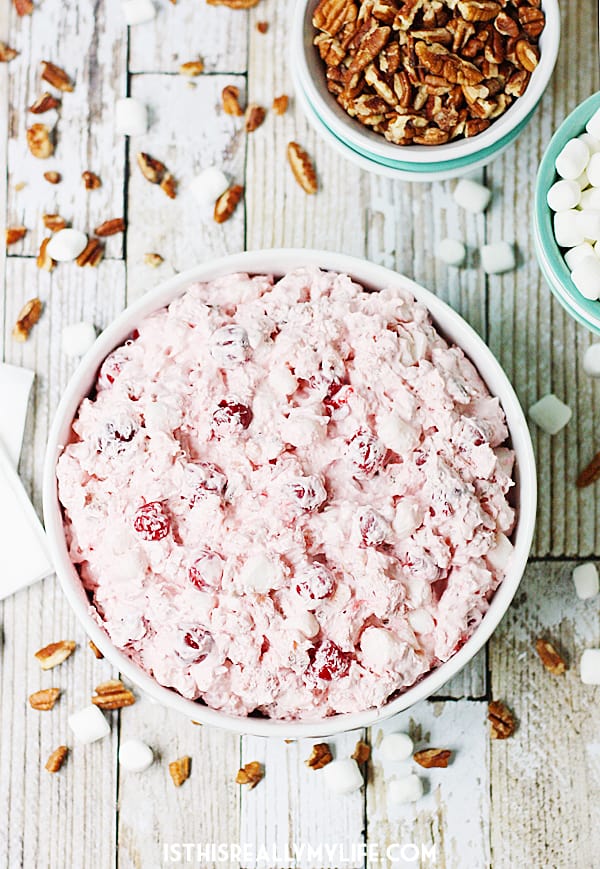 .
I know for a fact you can make cherry pie salad a couple days ahead of time and it still tastes great. Yay for make-ahead recipes that cut down on prep time the day you hosting your family party!
.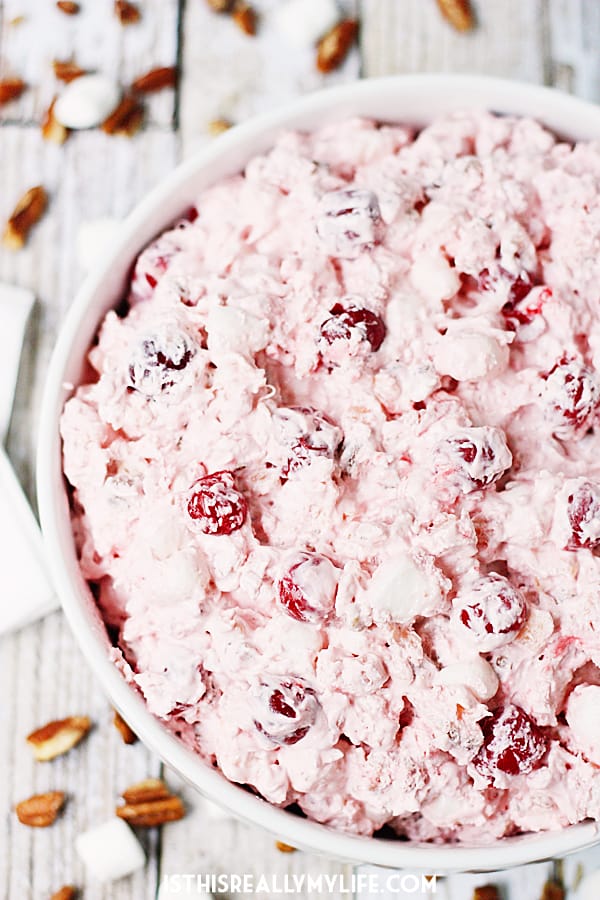 .
Everyone raved about this summer salad except George and Livi, but I think that's due to the pecans. Neither one is a fan of nuts in their salads. Or desserts. Fortunately the rest of our partygoers were happy to polish off their servings. I think it had something to do with that cherry pie filling.
Go with Comstock Country Cherry Pie Filling & Topping. It's the best, trust me.
.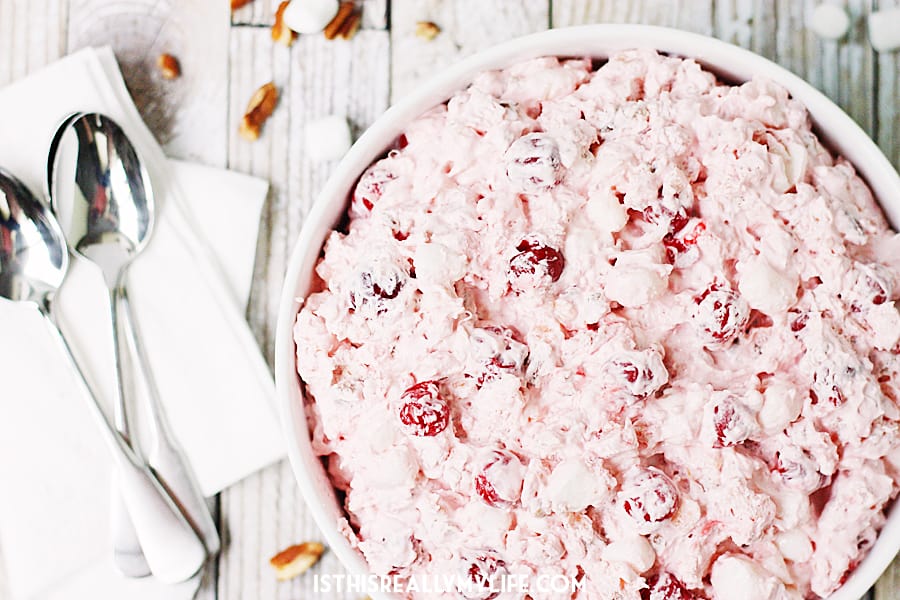 .
Printable recipe for cherry pie salad below. Enjoy!
.

Cherry Pie Salad
Cherry pie salad requires six simple ingredients and less than six minutes to make and receives rave reviews whenever I serve it! Serves approx. 8 to 10.
Author:
Emily ~ isthisREALLYmylife.com
Ingredients
1 (14-oz) can sweetened condensed milk
1 (20-oz) can crushed pineapple, drained
1 (20-oz) can cherry pie filling
3 cups mini marshmallows
1 (8-oz) container Cool Whip, defrosted
1 cup chopped pecans
Instructions
Combine sweetened condensed milk, pineapple and cherry pie filling in a large bowl. Mix until combined.
Fold in marshmallows, Cool Whip and pecans. Chill several hours or overnight before serving.
.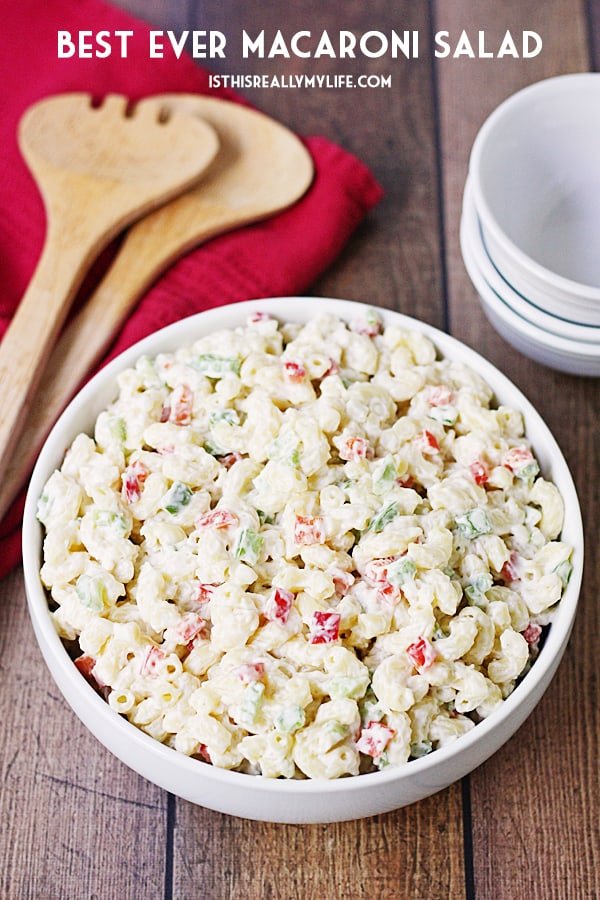 .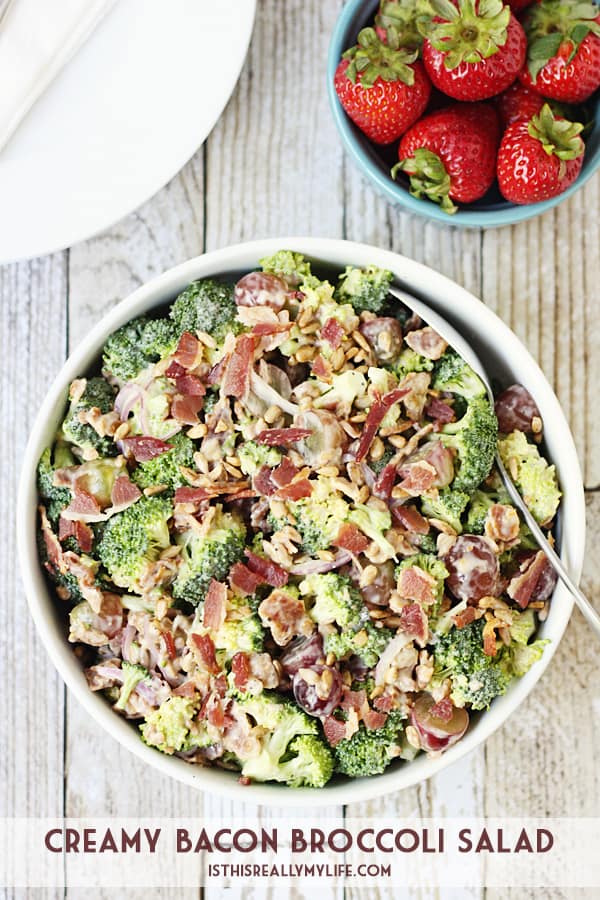 .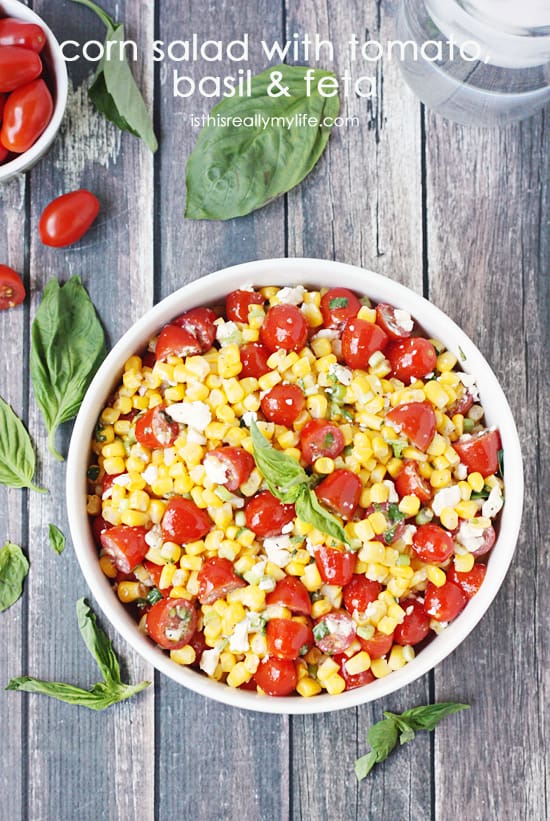 Corn salad with tomato, basil & feta
.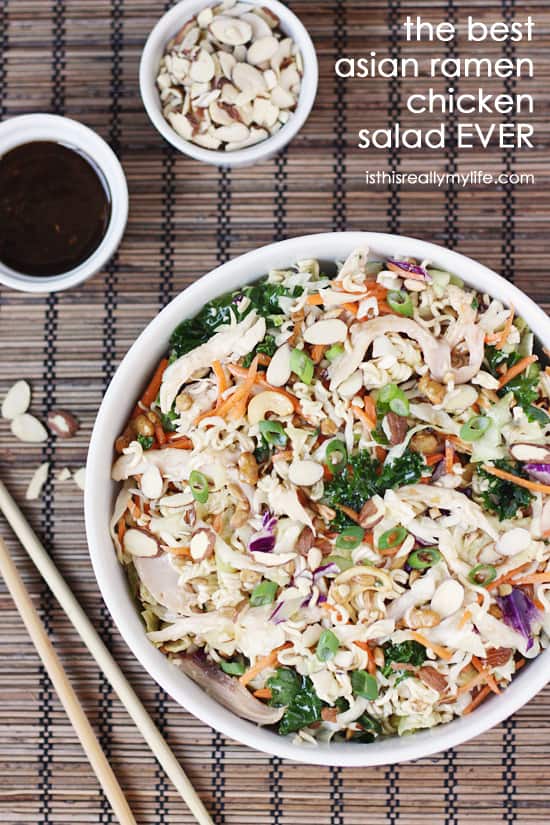 .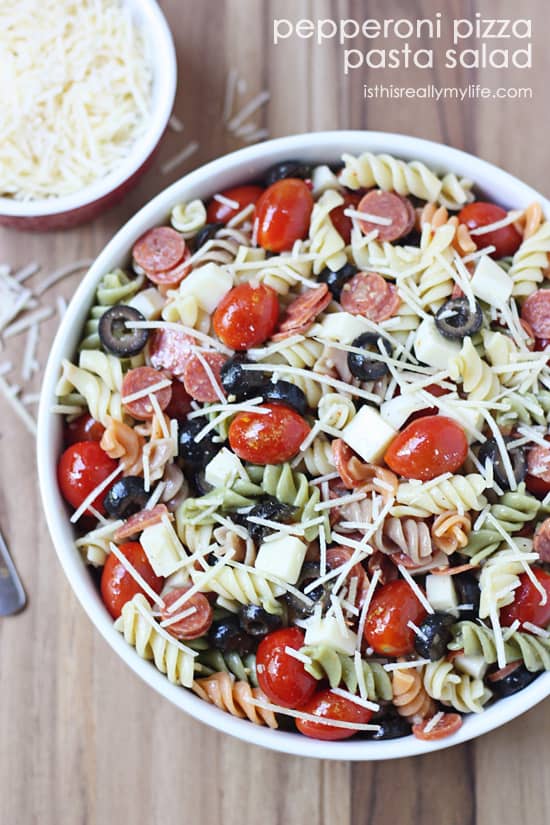 .

.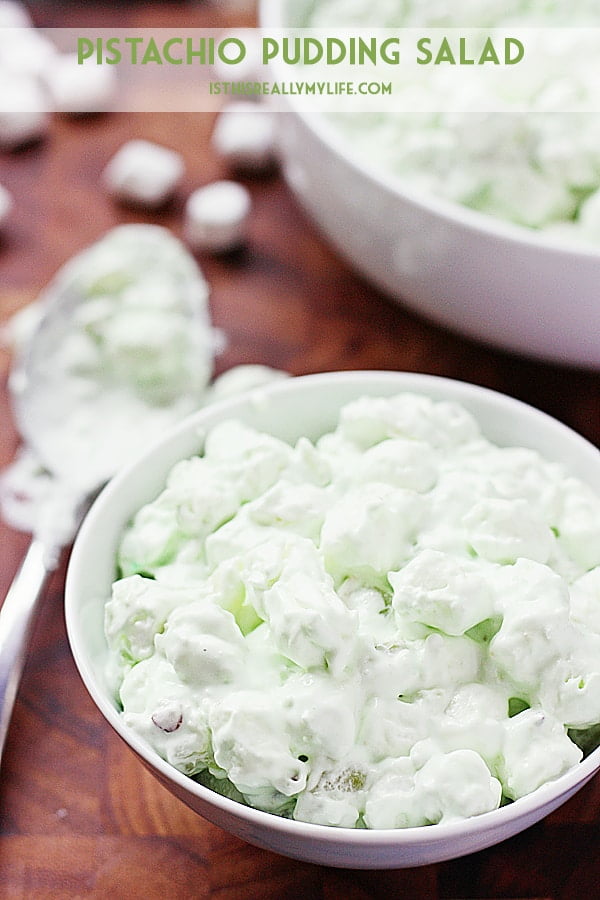 Pistachio pudding salad (my mom's specialty)
.
.
If you're looking for more yummy recipes, you should browse my "best of" Pinterest board.
.
.

Feel free to "like" Is This Really My Life on Facebook. It won't earn you an extra entry in a giveaway but it will give you warm fuzzies.
Don't forget to sign up for free Is This Really My Life updates via RSS or email so you don't miss a single awesome post.
.