Cowboy caviar (a.k.a. cowboy salsa) is perfect for feeding a large crowd on Cinco de Mayo, Taco Tuesday or any day calling for amazing chips and salsa!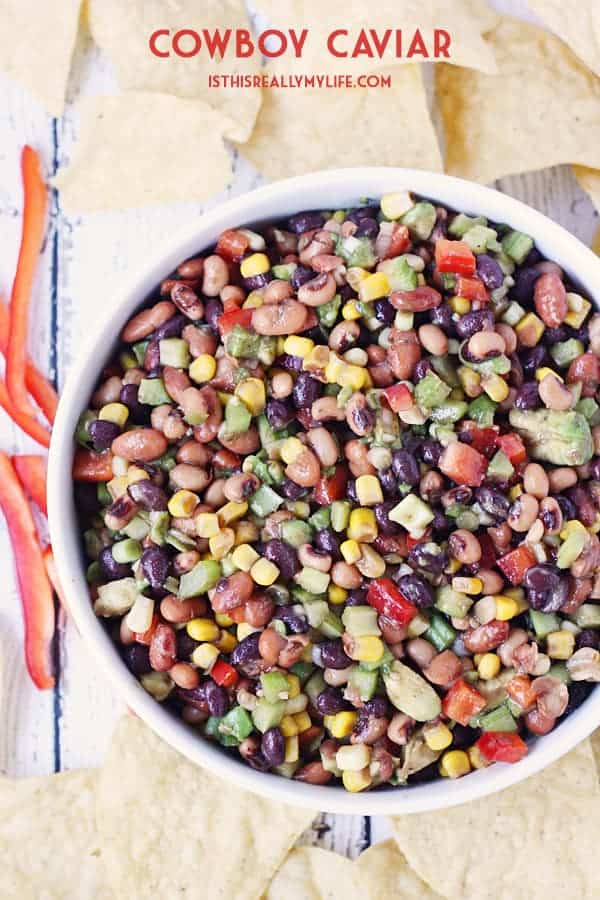 Cowboy caviar—or cowboy salsa if you're less fancy—should probably be called cowboy crack. Except cowboy crack sounds a lot like plumber's crack so maybe not. The problem is the name cowboy caviar doesn't prepare you for how much of this salsa you're going to inhale. Because as much as I love this fire roasted salsa and copycat Chili's salsa, there's something highly addictive about the variety of tastes and textures in cowboy caviar.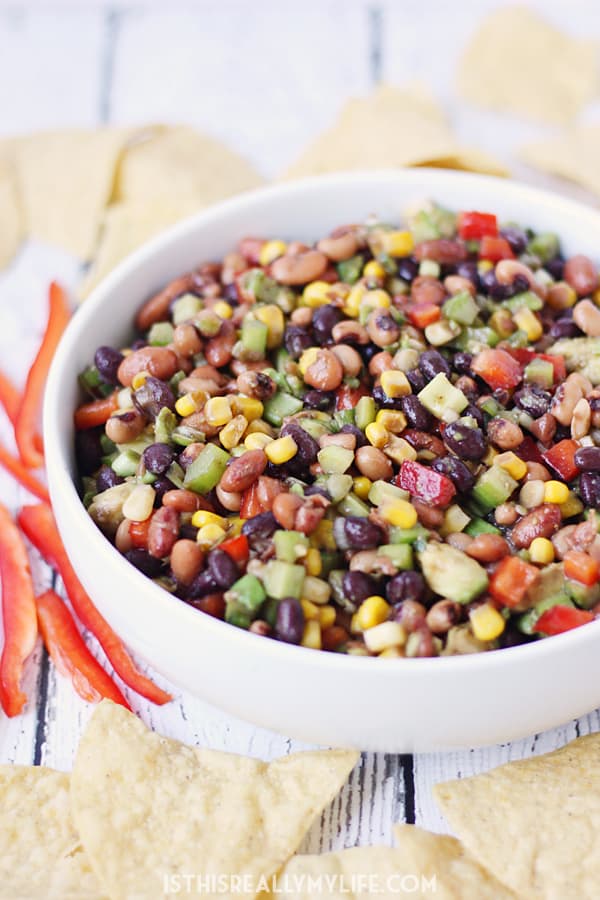 Maybe it's the sweet yellow & white corn combined with three different types of beans. Or perhaps it's the freshly chopped celery, green onion and red bell pepper. My guess is it's all of the above tossed in a sweet balsamic vinegar dressing. How can that not taste completely delicious?
Suggestion: Use a quality balsamic vinegar and apple cider vinegar to ensure the best flavor.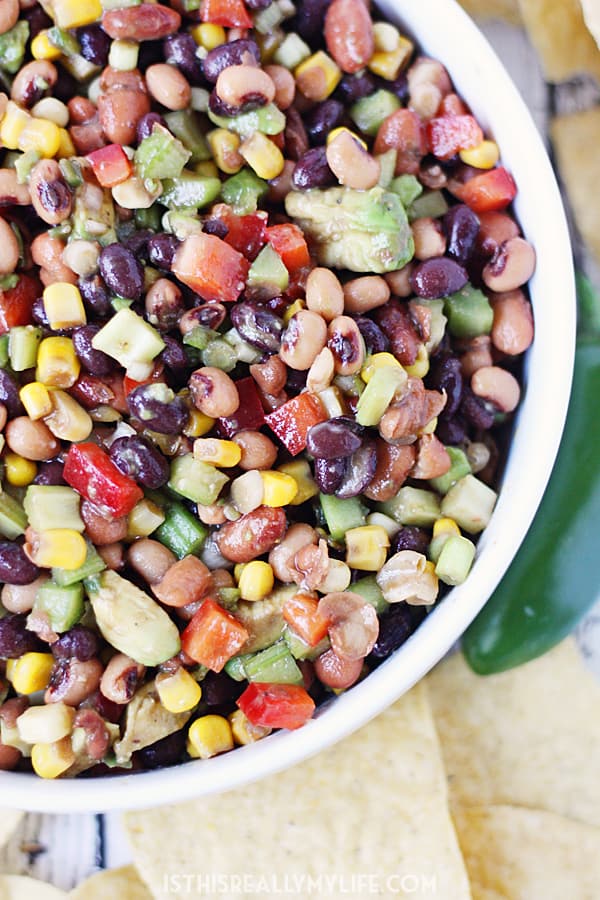 Sure, cowboy caviar is amazing on the taste buds but it's also super easy to throw together and perfect for feeding a large crowd. My family inhaled chips and salsa and even we can't get through an entire batch. Fortunately my neighbors don't seem to mind the leftovers!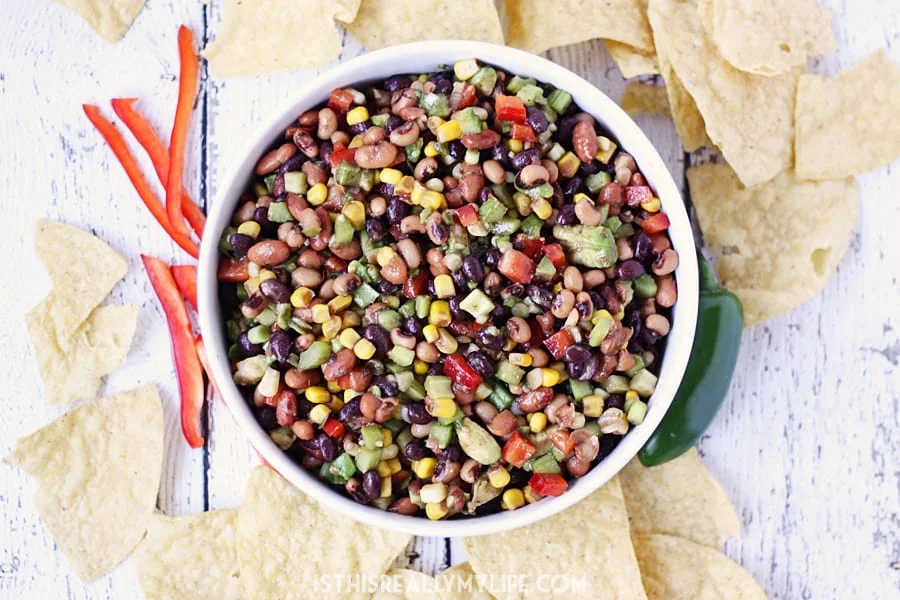 You'll want to refrigerate your cowboy caviar overnight, which does require planning but means less prep work and mess the day of your Cinco de Mayo party. Yay for more time to eat all that delicious Mexican food!
Printable recipe for cowboy caviar below. Enjoy!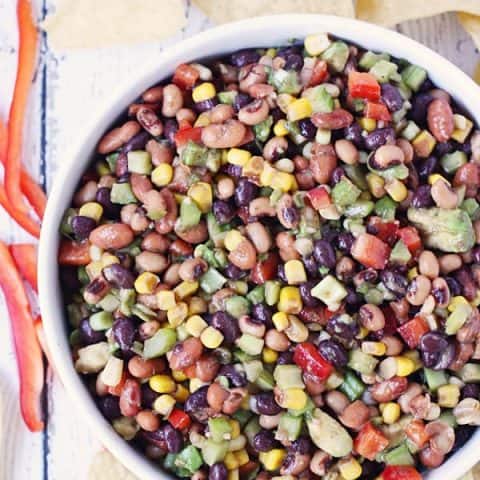 Cowboy Caviar (Cowboy Salsa)
Cowboy caviar (cowboy salsa) is perfect for feeding a large crowd on Cinco de Mayo, Taco Tuesday or any day calling for amazing chips and salsa!
Ingredients
1 can pinto beans, drained and rinsed
1 can black-eyed peas, drained and rinsed
1 can black beans, drained and rinsed
1 can sweet yellow & white corn, drained and rinsed
1 cup chopped celery
1 cup chopped red bell pepper
½ to 1 cup chopped green onion
Diced jalapeno pepper to taste
¼ cup apple cider vinegar
¼ cup balsamic vinegar
¼ cup granulated sugar
¼ cup canola oil
½ teaspoon salt
½ teaspoon pepper
1 avocado, diced (optional; folded in just before serving)
Instructions
Combine pinto beans, black-eyed peas, black beans, corn, celery, red bell pepper, green onion and jalapeno pepper in a large bowl. (Don't add avocado until ready to serve.)
Combine apple cider vinegar, balsamic vinegar, sugar, oil, salt and pepper in a small saucepan. Bring to a boil; boil until sugar dissolves. Let cool.
Pour balsamic dressing over ingredients in bowl and toss to coat. Refrigerate overnight.
Add avocado just before serving and toss to coat evenly (optional). Refrigerate leftovers in an airtight container.
Notes
FOLLOW HALF-SCRATCHED ON INSTAGRAM (@half_scratched) and share the recipes you're whipping up in the kitchen. Don't forget the #HALFSCRATCHED hashtag so we can see what you've made!
Nutrition Information:
Yield:

12
Serving Size:

1
Amount Per Serving:
Calories:

190
Total Fat:

8g
Saturated Fat:

1g
Trans Fat:

0g
Unsaturated Fat:

6g
Cholesterol:

0mg
Sodium:

293mg
Carbohydrates:

26g
Fiber:

6g
Sugar:

7g
Protein:

7g

Here are a few more amazing Mexican appetizers for you to enjoy!