Looking for a game day appetizer that will have family, friends, and fans cheering? Serve a slow cooker full of this cheesy hot corn dip!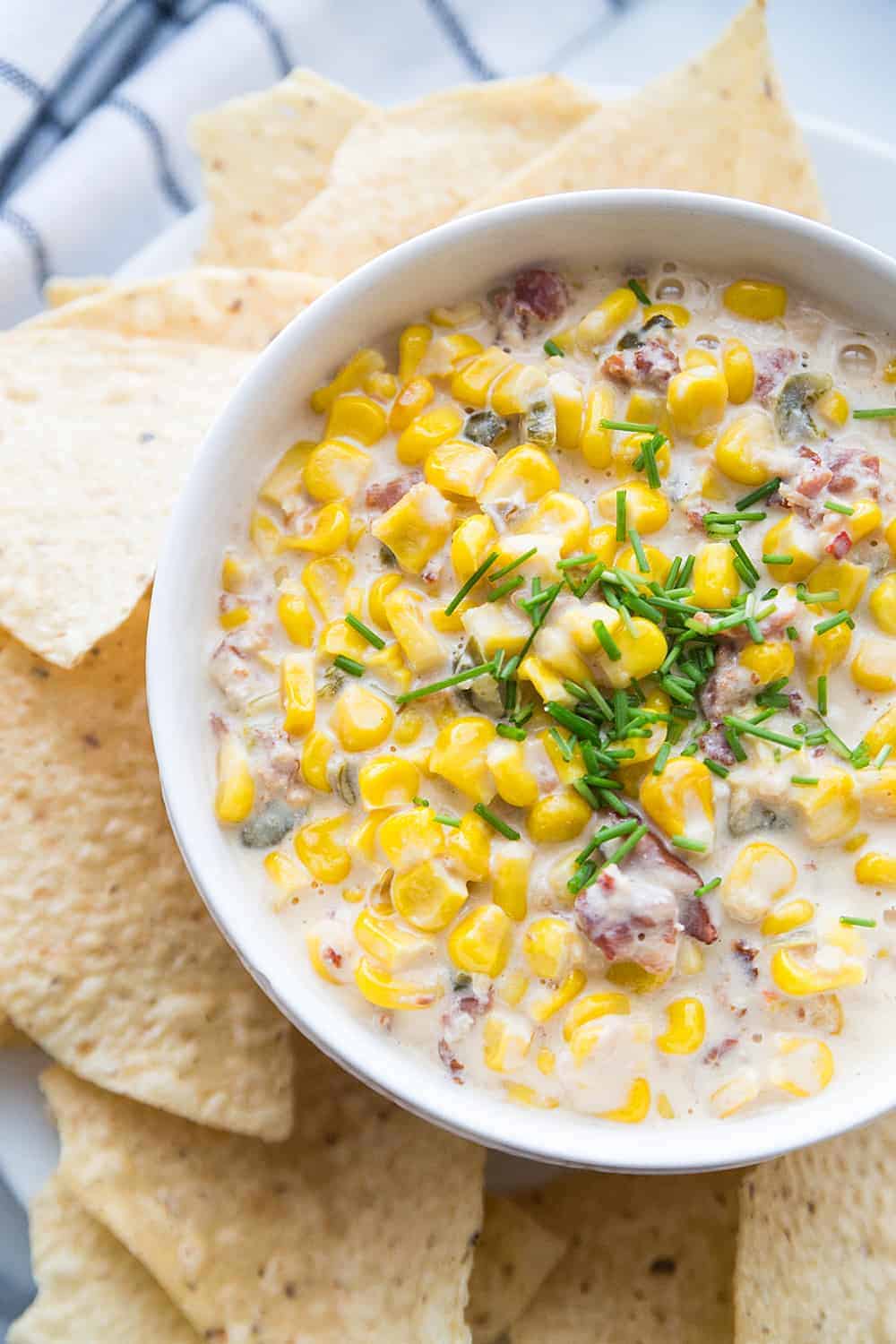 As much as I love that version with its oven-roasted corn (roasting corn in the oven is easier than you think!), this slow cooker cheesy hot corn dip is my new fave.
What makes this slow cooker recipe for hot corn dip so amazing? I'm going to chalk it up to four kinds of cheese.
Plus bacon, sour cream, and diced jalapenos.
It's no wonder corn appetizer recipes like this one are so dang popular!
I heart recipes with corn
Speaking of corn recipes, my littlest one asks for this slow cooker creamed corn every family gathering, and I can't ever resist a bowl of slow cooker corn chowder.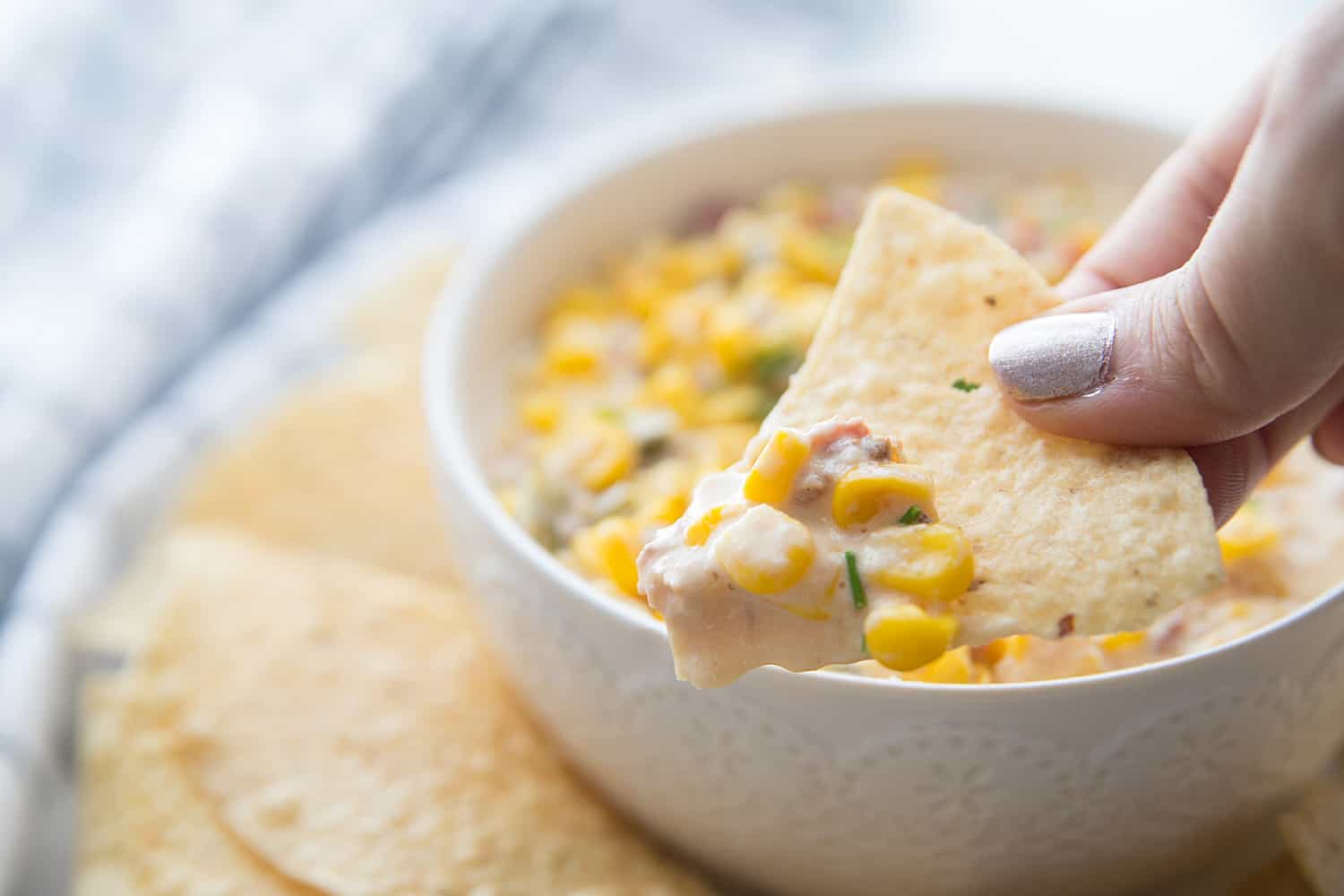 Wait! Let's not forget the oh-so-crisp-and-delicious corn salad with tomato, basil, and feta! Can you tell I absolutely adore corn? Mmm...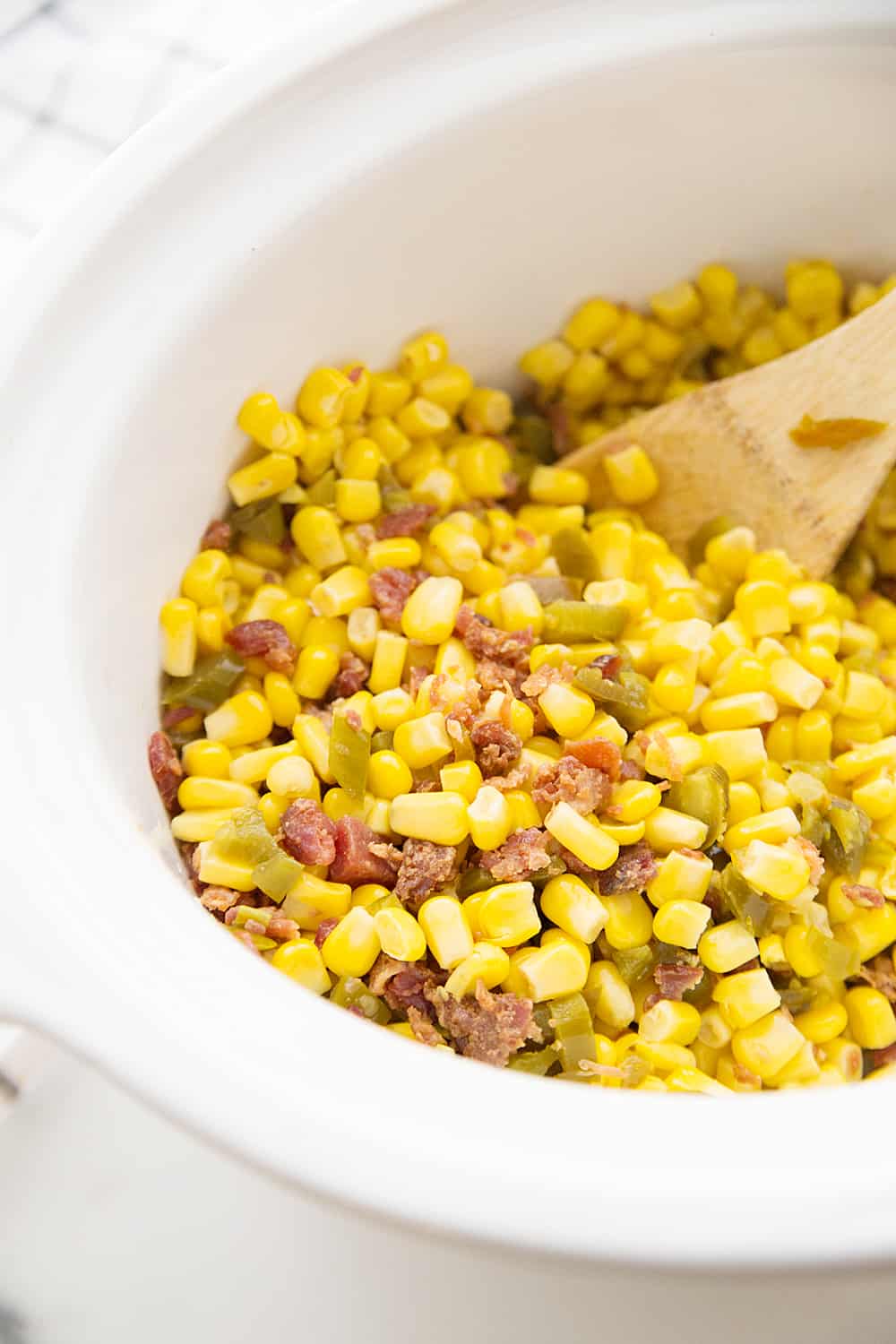 But back to hot corn dip recipes like this super cheesy slow cooker hot corn dip...
Don't be intimidated by the ingredients list. It's a little lengthy but it's all normal stuff, most of which you probably already have on hand. Making a game-winning appetizer has never been easier. You literally throw all the ingredients in a slow cooker and cook, stirring once before serving.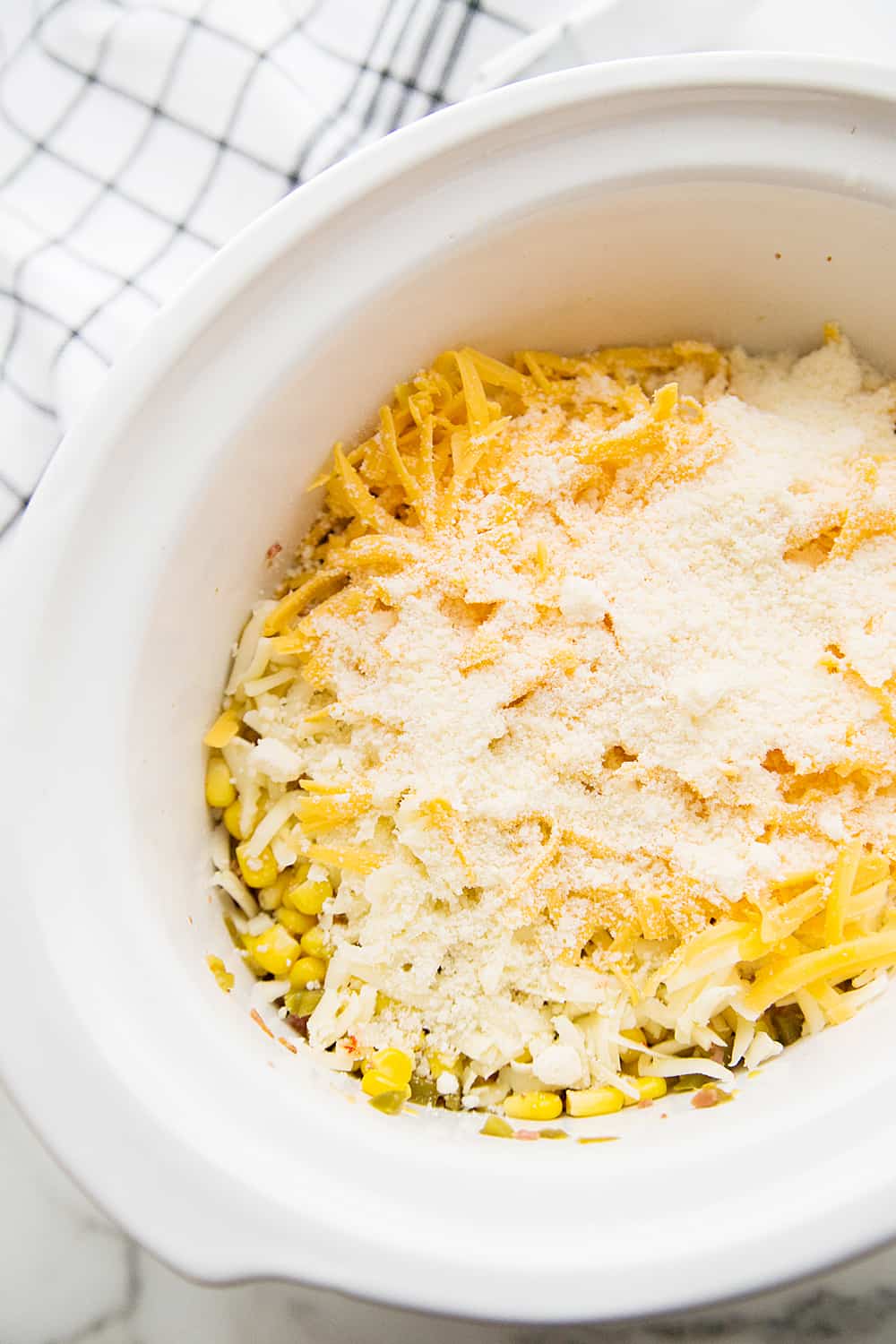 Grate your own cheese, please!
As far as the cheeses, I've been completely converted to shredding my own cheese. It definitely melts better and has a nicer consistency than the pre-shredded stuff. I save the pre-shredded stuff for last-minute quesadillas.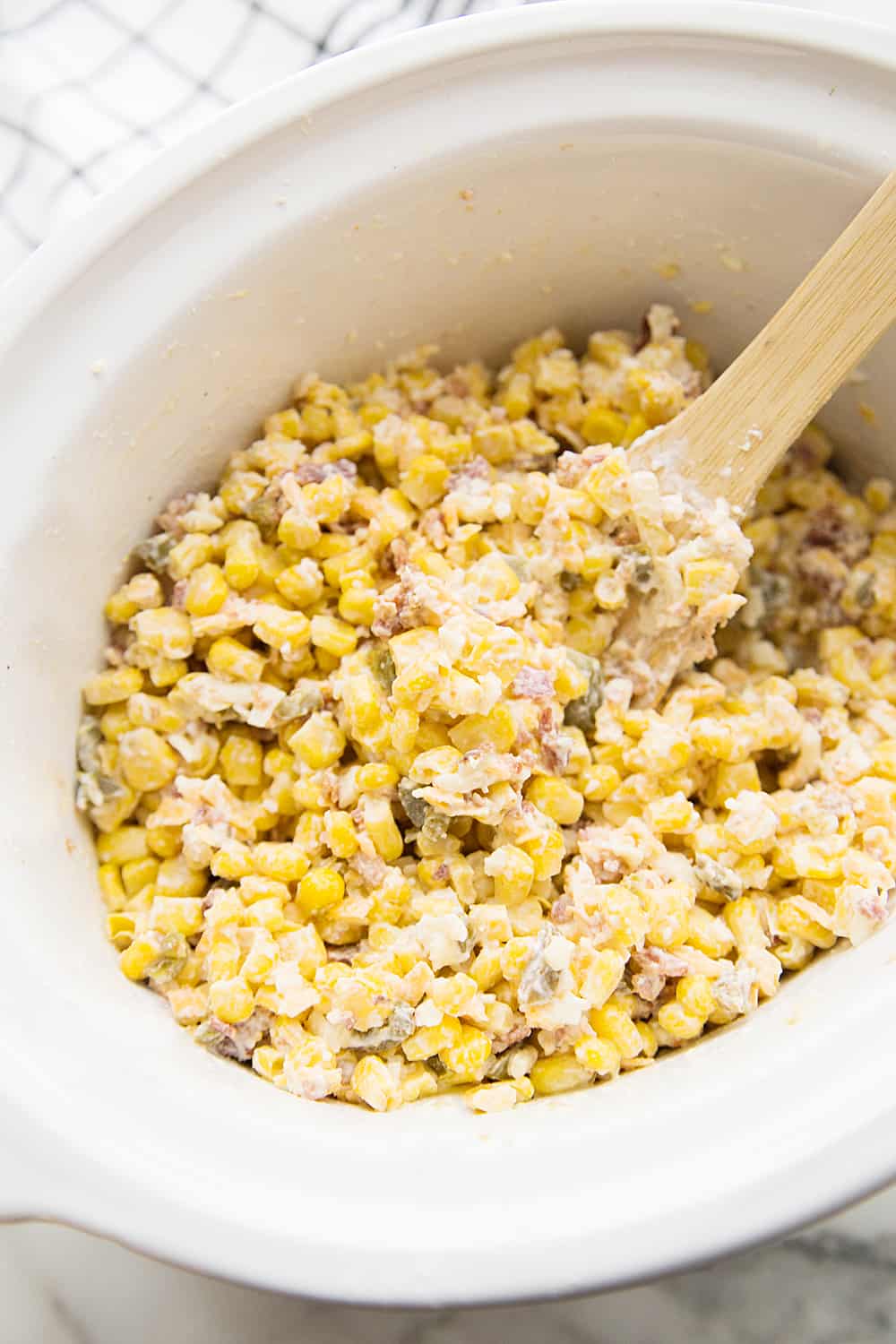 I highly recommend a solid cheese grater like my Kitchen-Aid cheese grater. It powers through even the hardest wedge of Parmesan cheese! I think I've had mine for over 10 years and it still rocks!
One thing I didn't put on my Christmas wish list that I wish I had is a new slow cooker with programmable settings.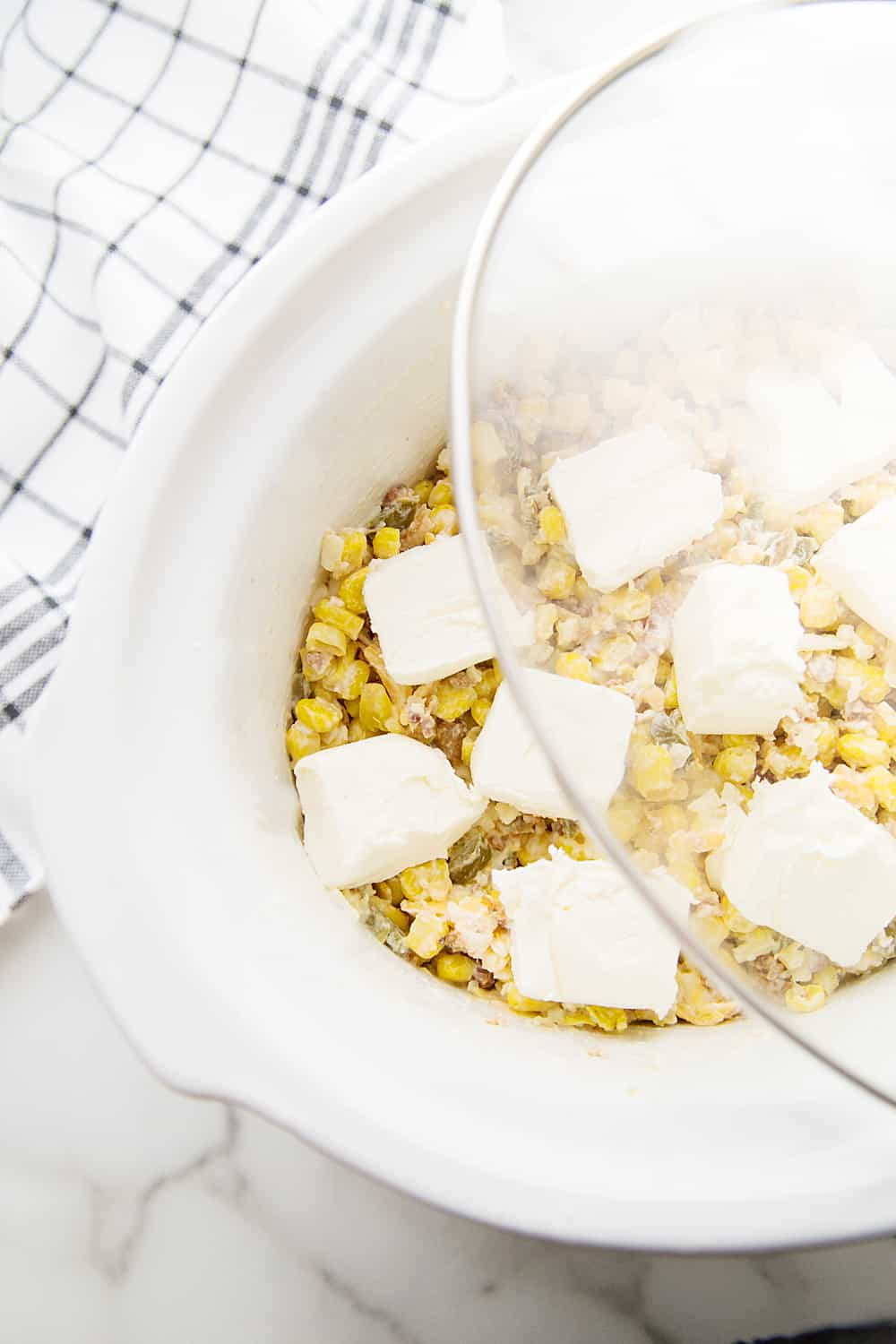 Working full time makes it tricky to start some slow cooker recipes and it would be so nice to set it and forget it—at the right time!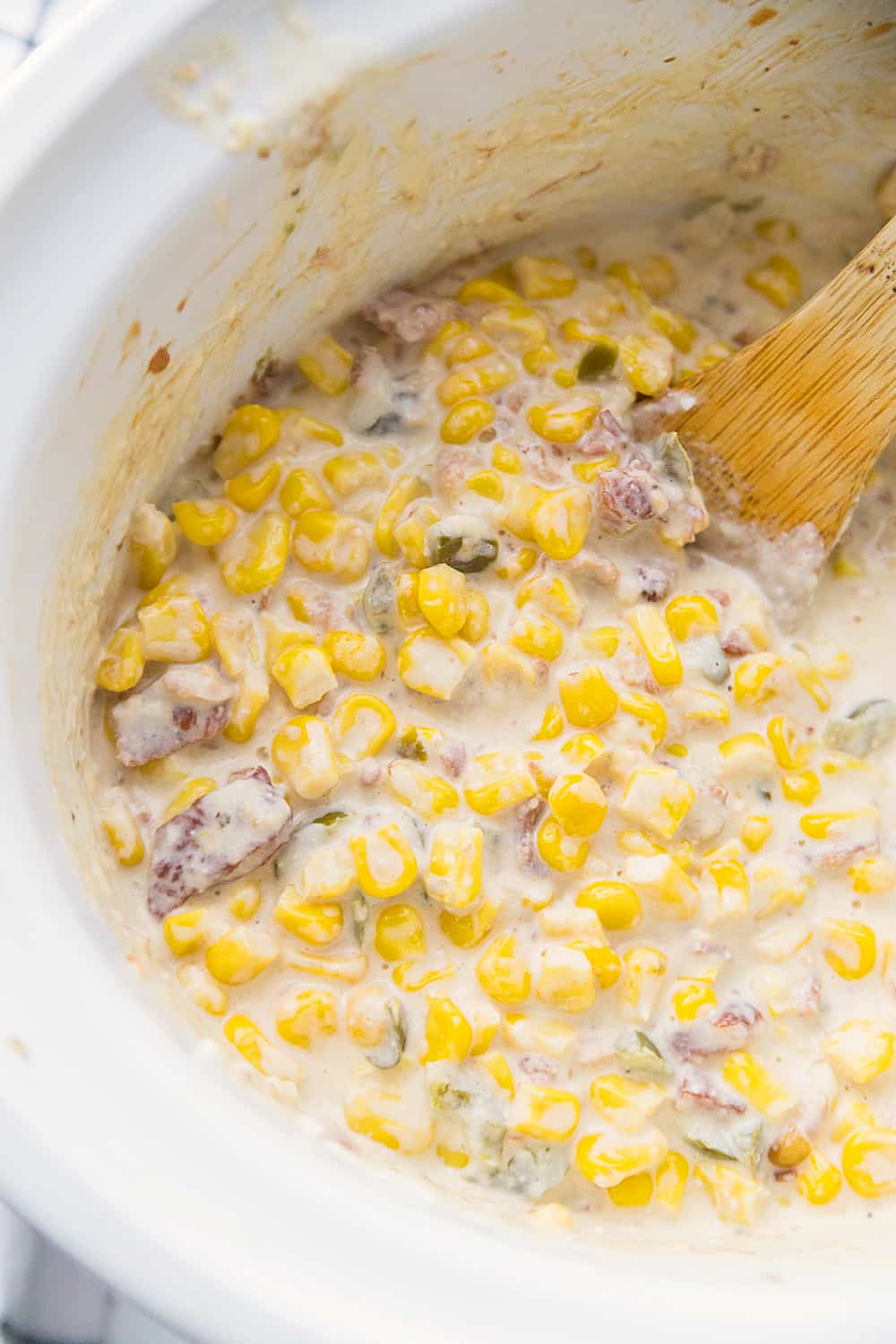 Whip up a batch of slow cooker cheesy hot corn dip this week and see if your guests don't fall absolutely in love with it. I mean, if there were a bowl game for appetizers, this hot corn dip recipe would win for sure!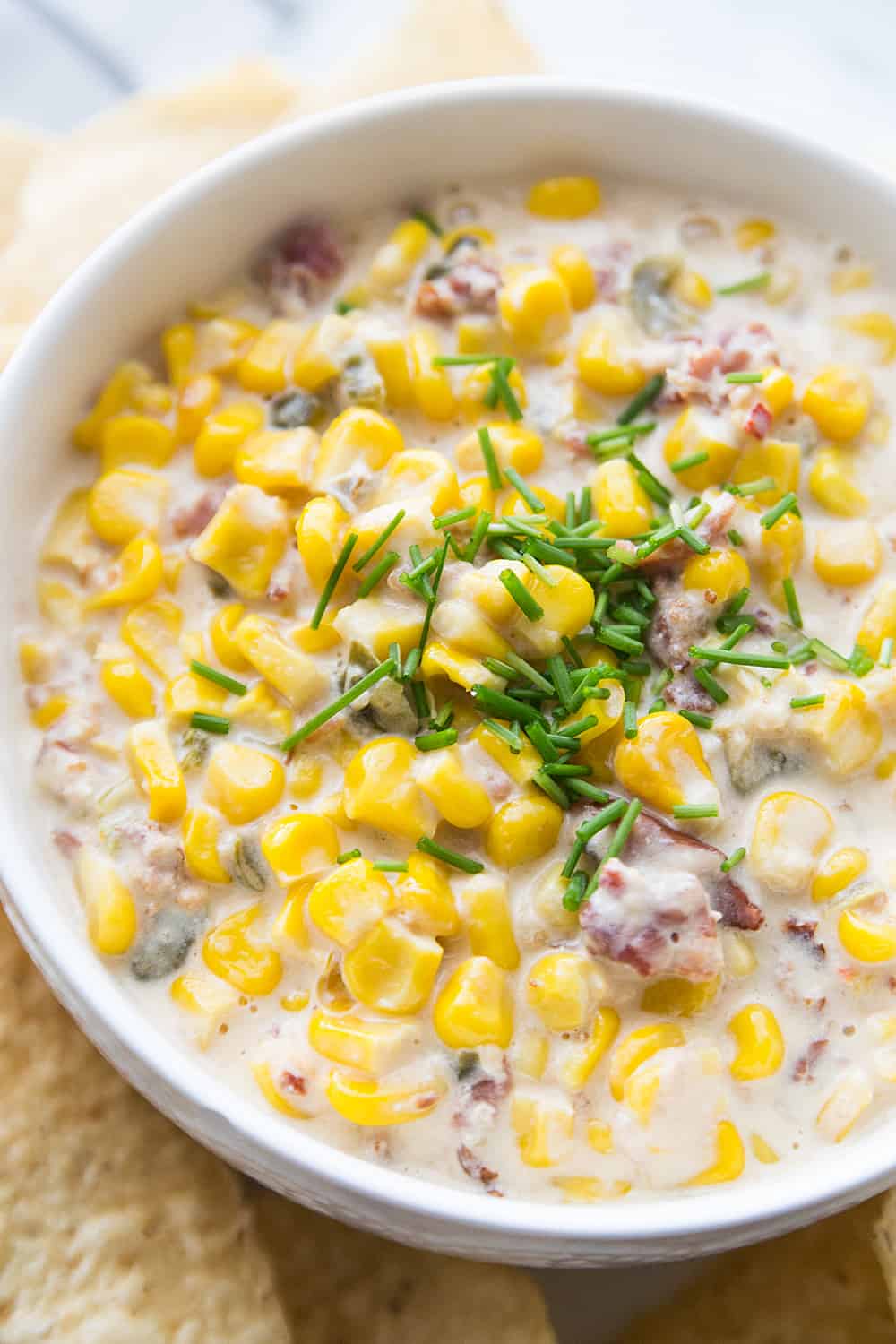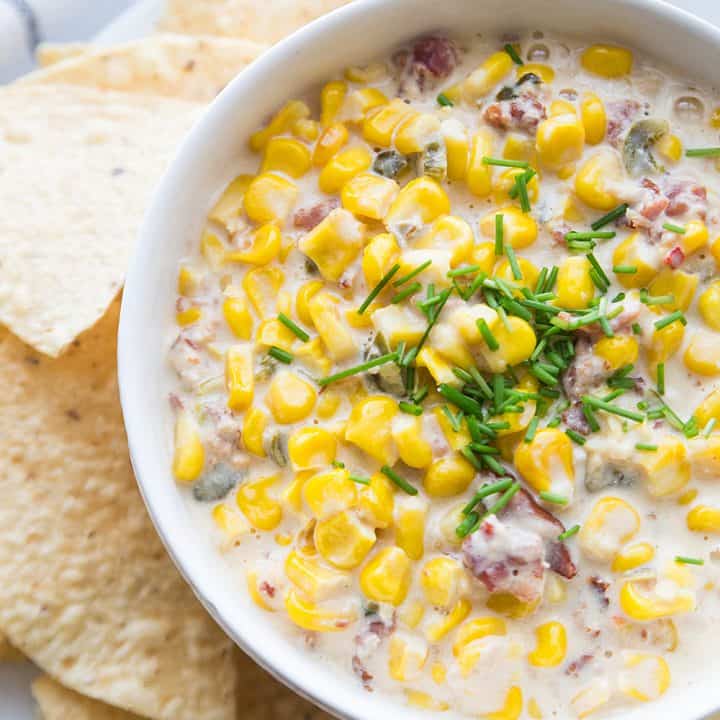 Slow Cooker Cheesy Hot Corn Dip
Cook Time:
2 hours
15 minutes
Total Time:
2 hours
20 minutes
Looking for a game day appetizer that will have family, friends, and fans cheering? Serve a slow cooker full of this cheesy hot corn dip!
Ingredients
1 (4.3-oz) package Hormel Real Crumbled Bacon (or 1 ¼ cup chopped cooked bacon)
3 (15.25-oz) cans whole kernel corn, drained
1 (4-oz can) diced jalapenos, drained
½ cup sour cream
1 cup shredded Pepper Jack cheese
1 cup shredded cheddar cheese
¼ cup grated Parmesan cheese
Salt and pepper
1 (8-oz) package cream cheese, cubed
Chopped fresh chives (optional)
Instructions
Place bacon, corn, jalapenos, sour cream, Pepper Jack cheese, cheddar cheese, and Parmesan into a slow cooker; season with salt and pepper, to taste. Stir until well combined. Top with cream cheese.
Cover and cook on low heat for 2 hours. Uncover and stir until cream cheese is well combined.
Cover and cook on high heat for an additional 15 minutes. Serve immediately, garnished with bacon and chives (optional).
Notes: For extra heat, add chili powder a ½ teaspoon at a time. To mix things up, use a can of white corn. Also, freshly grated cheese melts better than pre-shredded.
Notes
FOLLOW HALF-SCRATCHED ON INSTAGRAM (@half_scratched) and share the recipes you're whipping up in the kitchen. Don't forget the #halfscratched hashtag so we can see what you've made!
Nutrition Information:
Yield:

12
Serving Size:

1
Amount Per Serving:
Calories:

319
Total Fat:

19g
Saturated Fat:

10g
Trans Fat:

0g
Unsaturated Fat:

3g
Cholesterol:

56mg
Sodium:

944mg
Carbohydrates:

27g
Fiber:

3g
Sugar:

7g
Protein:

13g