Salted caramel bars have become one of our most requested recipes since we first made them three years ago. Warning: they're as addictive as crack.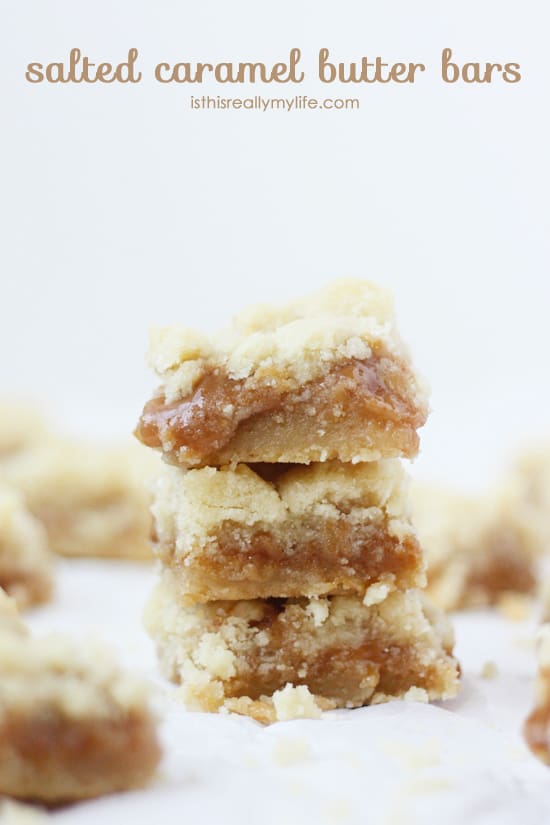 I first baked these salted caramel bars nearly three years ago and they have become one of the most requested recipes by friends in family.
In fact, these salted caramel bars are so amazing, my friend requested them for her son's wedding reception. They're perfect when cut into 1-inch squares.
You can use a metal pastry scraper for easy, even cutting or do the DIY thing and clean off the joint knife sitting in your garage.
We've made these enough, I feel like we've perfected the recipe. But you are free to adjust the ratio of dough on the top and bottom of the bars and/or the amount of salt.
We like to sprinkle the salt on top because it makes the caramel bars a little more sparkly, but you're more than welcome to sprinkle it right on top of the caramel.
FYI, my favorite coarse salt is the Real Salt Coarse Sea Salt. Not only do I love the flavor but it's also pretty on salted caramel bars.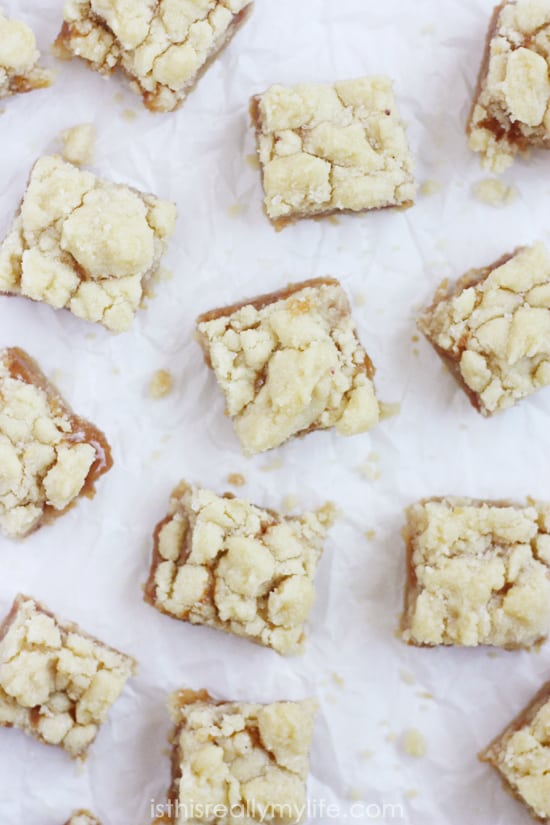 I'm not kidding when I say these salted caramel bars are as addictive as crack. We try to make them only when we'll be giving away at least half the pan.
It's all about the portion control, trust me.
Printable recipe for salted caramel butter bars below. Enjoy!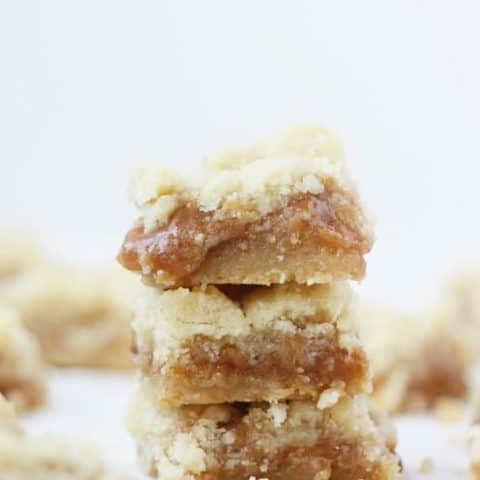 Salted Caramel Bars
Total Time:
1 hour
20 minutes
These salted caramel bars should be called crack bars. In fact, they may be even more addictive. Try eating just one ooey, gooey, salted caramel bar--it's impossible!
Ingredients
Dough
1 pound salted butter, softened
1 cup sugar
1 ½ cups powdered sugar
2 tablespoons vanilla
4 cups flour
Filling
1 bag (14-oz) caramel squares, unwrapped
⅓ cup heavy whipping cream
½ teaspoon vanilla
2 teaspoons coarse sea salt
Instructions
Preheat the oven to 325 degrees; butter a 9x13-inch baking pan.
Using a mixer, beat the butter and sugars for at least 3 minutes until light and fluffy. Add the vanilla and mix until combined.
Sift the flour and add to the butter mixture. Mix on low speed until a soft dough forms.
Press half the dough evenly into the pan; refrigerate remaining dough.
Bake for 18 to 20 minutes or until firm and the edges are just barely turning a light golden brown. While dough is baking, start on the filling.
Place the unwrapped caramels, heavy whipping cream and vanilla in a small saucepan. Heat over medium/low heat until completely melted
Pour the caramel filling evenly over the crust. Remove the chilled dough from the refrigerator and crumble evenly over the caramel.
Sprinkle dough with sea salt.
Bake for another 25-30 minutes or until the shortbread topping is firm and starting to turn a light golden brown on the edges.
Cool completely before cutting into squares.
Notes
FOLLOW HALF-SCRATCHED ON INSTAGRAM (@half_scratched) and share the recipes you're whipping up in the kitchen. Don't forget the #HALFSCRATCHED hashtag so we can see what you've made!
Nutrition Information:
Yield:

24
Serving Size:

1
Amount Per Serving:
Calories:

292
Total Fat:

18g
Saturated Fat:

11g
Trans Fat:

0g
Unsaturated Fat:

6g
Cholesterol:

46mg
Sodium:

335mg
Carbohydrates:

32g
Fiber:

0g
Sugar:

31g
Protein:

1g