Smoked salmon has long been a part of our family's traditions, harkening back to the joys of New Year's morning and Easter Sunday. Outside of the holidays, though, I also love a bit of smoked salmon first thing in the morning with some bagels and cream cheese. It's comforting, rich, and nourishing, plus I can make it myself in the smoker.
If you're preparing a whole filet of salmon, smoke the meat at 225° Fahrenheit for 3 to 4 hours or until it reaches an internal temperature of 145° Fahrenheit. The USDA considers this warm enough to eat so you can dig and enjoy the soft, tender, and umami-rich punch of smoked salmon.
It may seem like a fancy meal for special occasions, but smoked salmon is far easier than you might assume. In this recipe guide, I'll explain what you'll need to know to make perfectly smoky fish that melts in your mouth from the comfort of your home. I'll then share my own personal recipe and offer a few added tips.
What Makes Smoked Salmon Any Different?
Salmon may seem like a simple fish, but something magical happens to it when it's exposed to smoke. Unlike baked salmon, which turns firm and pink in the heat of an oven, smoked salmon softens into an almost gel-like consistency and retains a rich, glossy orange color. When you bite into the meat, you'll find that the balance of smoke and ocean-water umami has blended into perfection.
The key to making this magic happen is to cook the salmon at a very low temperature for an extended period. Fish is quite delicate in general, so by baking it, you cause the proteins to tighten, whereas by smoking the meat, you allow the collagen and fats to gently dissolve and diffuse throughout the meat. This makes for a real treat, as the texture is almost smooth enough to be spread on bread.
Size and Weight Will Affect the Smoking Time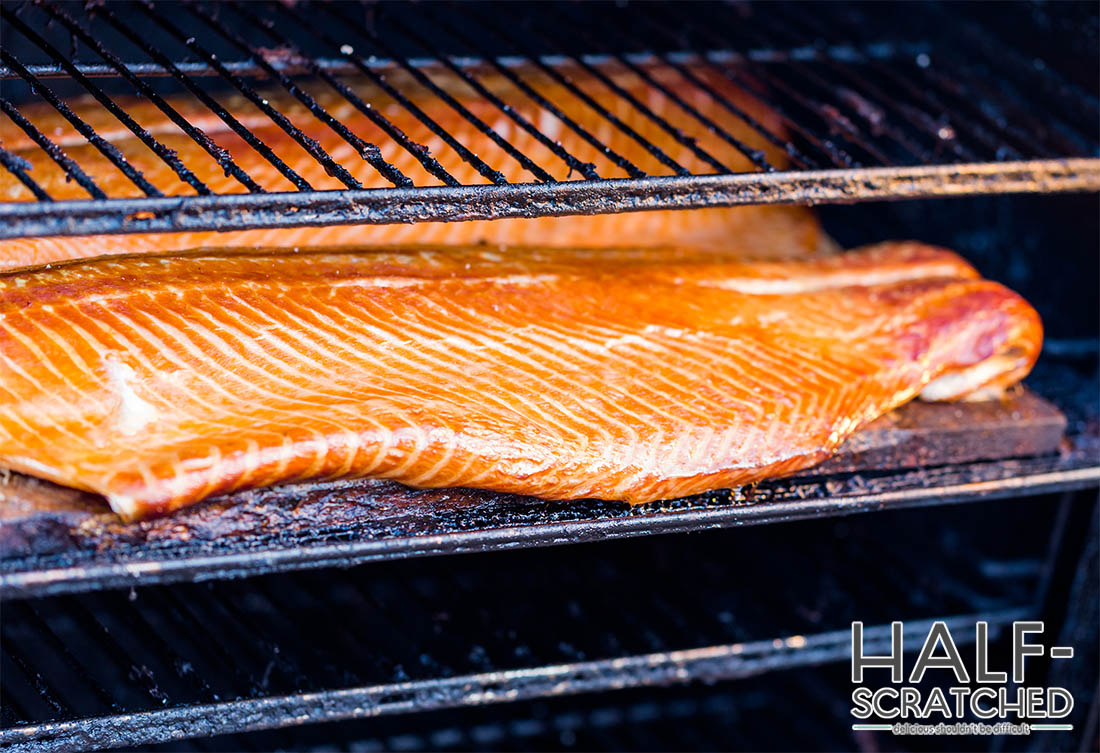 When smoking salmon, it's best to use a full filet of fish rather than individually sliced filets. This is more economical and also ensures that the entire filet comes out evenly smoked rather than dealing with slight variations across cuts. The size, thickness, and weight of the filet will affect the total smoking time, though.
Thicker cuts of salmon will need more time in the smoker because heat will take longer to transfer through the meat. This obviously means that heavier filets will also need more time. On average, I like to let the meat smoke for roughly 80 minutes per pound, but to be safe, I also use an internal meat thermometer to gauge the internal temperature.
Once the salmon reaches 145° Fahrenheit, I know it's safe to eat and I'll remove it from the smoker. This usually takes about 3 hours, give or take another 15 minutes or so. Additionally, I've found that the fat content of the meat can also affect how long it takes to smoke. This is more of an observation though, as it's harder to adjust for fat. Instead, simply use a meat thermometer to stay safe.
Curing the Salmon
To make high-quality deli-style smoked salmon, you'll have to cure the fish for a few hours before smoking it. This locks in salt and flavor while also ensuring that the fish doesn't dry out in the smoker. It's also key to capturing the gel-like texture and rich umami flavor. Be prepared, though, as curing salmon does take some time.
You can cure salmon using one of two different methods:
Brining: Brining is the more modern method and it involves soaking the fish in a solution of salt, water, and sugar. The salt helps to denature the proteins in the fish, creating that silky-smooth texture while also amping up the natural flavor of the salmon. Brining the fish will also help to inhibit bacteria, meaning you can store it far longer than a non-cured cut of smoked salmon.
Dry Curing: If you're really trying to extend the life of your smoked salmon, I recommend dry curing it. This is the most traditional method and it involves caking the salmon in sugar and salt to create a sort of crust. After 8 to 12 hours, the salmon should be perfectly cured and you can move it to the smoker so it can finish cooking.
It is also possible to brine salmon in a mixture of salt and vodka, though this is a more expensive option with only minimal differences. Whichever method you choose, I recommend letting the fish cure for at least 8 hours before you smoke it.
How to Use Aluminum Foil
Unlike a full brisket or a rack of ribs, a filet of salmon will not take as long to smoke. For this reason, I don't recommend covering the fish with aluminum foil. You want to capture the rich flavor of the wood smoke and, by covering the fish, you'll lose out on some of that experience. That being said, though, I don't recommend placing the fish directly onto the grill either.
Instead, what you should do is create a small tray for the fish using aluminum foil. Simply pull out a long sheet of foil, fold it in half to create a double layer, place the fish in the middle, and then fold the edges up to create a sort of boundary. This will keep the smoke from penetrating both sides and allow the meat to cook rather than the underlayer of the skin.
Smoking Salmon in the Oven?
Believe it or not, there was a time when I craved smoked salmon but we didn't yet have a smoker. My workaround? Do it in the oven! Surprisingly, you can make impressively good smoked salmon without a smoker by covering the fish and leaving it to slowly cook at medium temperature (275° Fahrenheit) for about 1 hour.
It's never quite as good as truly smoked salmon but it captures the same texture and flavor as long as you were careful to cure the meat.
Tips for Seasoning and Serving Smoked Salmon
Salmon doesn't need much to make it any better. The fish is already packed with natural Omega-3 fatty acids and umami flavors, but by gently seasoning the meat with a few simple spices, you can heighten and improve the fish's natural qualities. Use these tips as you see fit and try out your own if you're feeling adventurous.
Freshly Cracked Black Pepper
Black pepper is about as simple as you can get but that's really all you need for smoked salmon. The bright spicy tinge of pepper balances the depth of smoke and umami to elevate the meat to a heavenly status. If you're feeling particularly spicy, though, you can also add some pickling spices to the brine while the fish cures.
Serve with Capers
After smoking the salmon and allowing it cool, I love to serve the meat top with capers and watercress. The briny tart flavor of the capers pops with the salmon while the fresh green flavor of the watercress keeps everything light and balanced. Put all of this on a bagel with some cream cheese and you have my personal favorite breakfast.
Add a Splash of Lemon
If you've read through any of my other fish recipes, you know that I'm a sucker for a slice of lemon with fish. I'm a staunch proponent that the citrusy acid of lemon helps to bring the brighter qualities of fish to the surface where they can shine above the otherwise heavy umami notes. With smoked fish, this is almost necessary since it's such a rich flavor.
Enjoy Smoked Salmon for Dinner
Smoked salmon doesn't have to be a breakfast food. It pairs nicely with some spinach and mushroom risotto, a side salad, and a baked sweet potato. For something a little hardier, pair the fish with a medley of roasted vegetables and some freshly baked bread.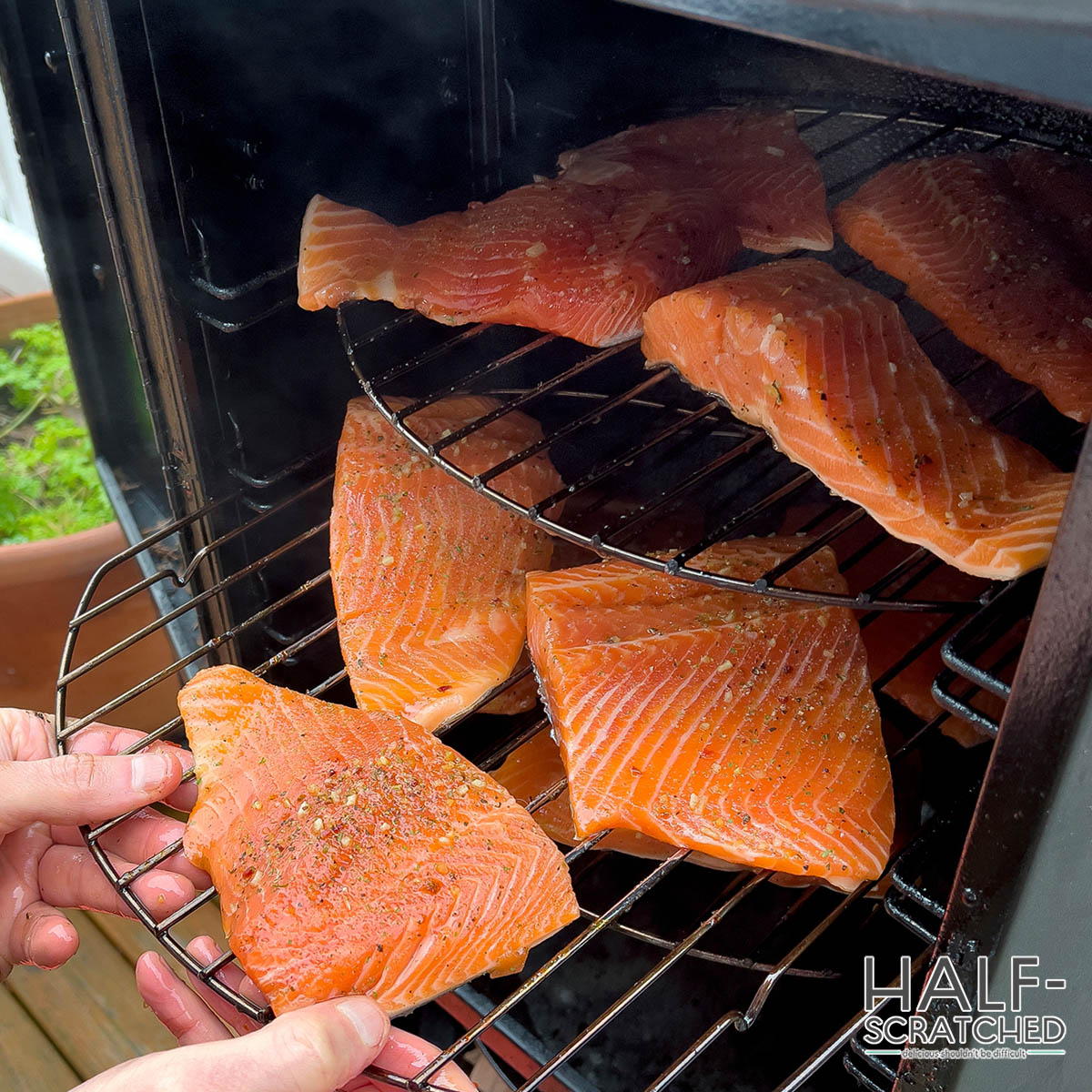 Frequently Asked Questions About Smoked Salmon
Is smoked salmon the same as lox?
Smoked salmon and lox are quite similar in flavor and texture but they're made using completely different methods. Smoked salmon is partially cured and then smoked, whereas lox are left to cure for a long time. This makes them more shelf-stable, although they're quite a bit saltier than smoked salmon.
Should smoked salmon look raw?
It's normal for smoked salmon to look raw compared to baked salmon. Rather than developing a bright pink color, smoked salmon generally remains orange and slightly glossy. As long as the meat reaches 145° Fahrenheit, it's safe to eat.
Is smoked salmon healthy?
Salmon is one of the best sources of natural Omega-3 fatty acids and it's also packed full of vitamins and essential minerals. The only downside is that it's quite salty due to the brining process. If you have high blood pressure, I recommend limiting how much smoked fish you consume.
Can you smoke individual filets of salmon?
If you cannot find a full, unbutchered filet of salmon, you can smoke smaller individual cuts. Just be sure to watch them carefully to ensure that they each smoke evenly and reach a safe internal temperature.
My Recipe for Home-Smoked Salmon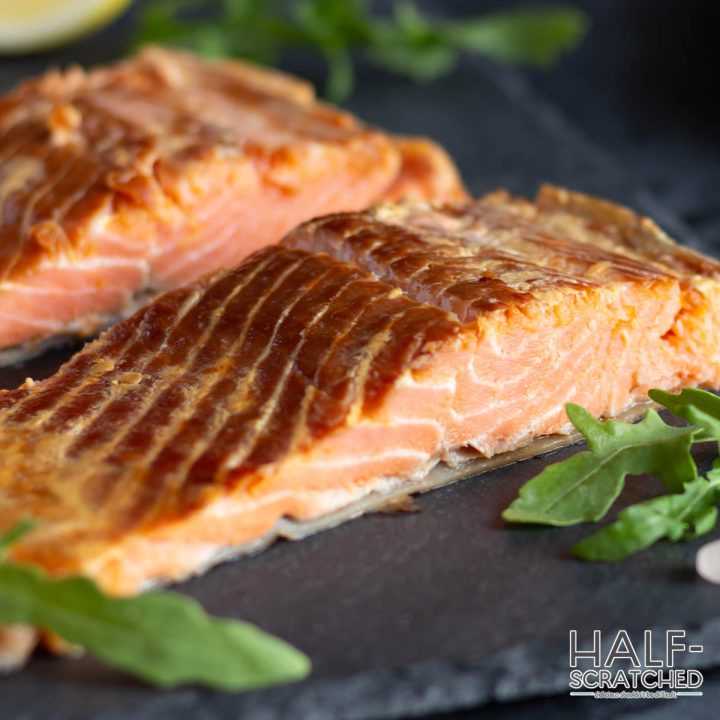 How Long to Smoke Salmon at 225 F
Cook Time:
3 hours
10 minutes
Total Time:
11 hours
10 minutes
Smoked salmon has long been a part of our family's traditions. Learn how to smoke perfect salmon at 225 Fahrenheit.
Ingredients
Brine
1 gallon of water
1 cup of salt
1 cup of sugar
Main
1 large filet of salmon (2-3lbs.)
Freshly cracked black pepper
Instructions
After removing the fish from its packing, carefully wash it under warm water.
Fill a large food container with 1 gallon of water to make the brine. Add the salt and sugar and stir until it's completely combined.
Place the fish in the brine and let it rest for 8 hours or overnight.
Fire up your smoker and adjust the vents until it reaches 225° Fahrenheit.
Once the fish has fully cured, remove it from the brine and pat it dry with some paper towels.
Create a double-lined tray for the salmon using aluminum foil and then place the salmon on top. Fold the edges up to keep the fish from sliding away.
Smoke the salmon for 3 hours and 10 minutes or until it reaches an internal temperature of 145° Fahrenheit.
Remove the salmon from the smoker and let it cool completely. Slice the meat into thin flakes and serve immediately.
Nutrition Information:
Yield:

4
Serving Size:

1
Amount Per Serving:
Calories:

369
Total Fat:

11g
Saturated Fat:

3g
Trans Fat:

0g
Unsaturated Fat:

7g
Cholesterol:

56mg
Sodium:

28378mg
Carbohydrates:

50g
Fiber:

0g
Sugar:

50g
Protein:

18g