Thank you Idahoan® Steakhouse® Soups for sponsoring this post. Stay warm with this winter with a cozy bowl of soup!
One-hour dinner rolls are the perfect addition to your weeknight meal. They're light, fluffy and take about ⅓ the time of traditional rolls!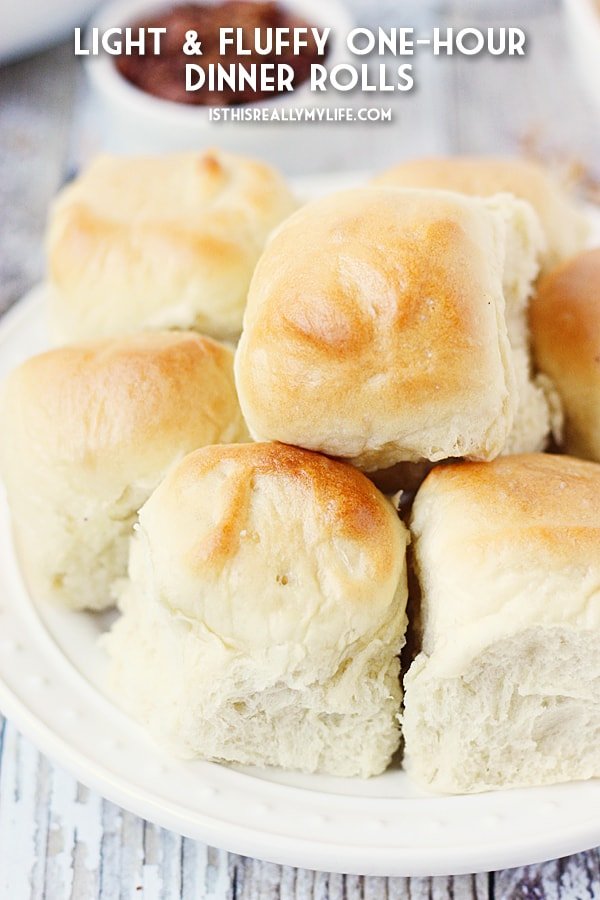 I don't know about you but I love nothing better than pairing soup and salad with homemade rolls. But while soup and salad can come together pretty quickly (we'll talk about super quick soups in a moment), homemade rolls can take a solid three hours.
Plus, with crazy afternoons like ours, rolls are tricky when you're running all over town due to carpools and music lessons.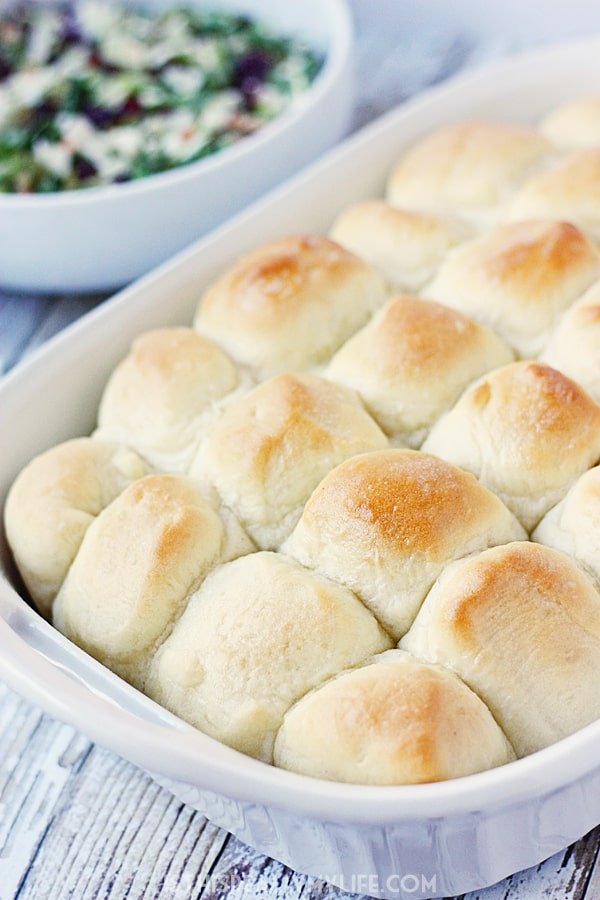 These one-hour dinner rolls come together easily and have the best flavor, not to mention they're all kinds of light and fluffy. They're so light and fluffy, I had a hard time not completely destroying them when pulling them from the pan!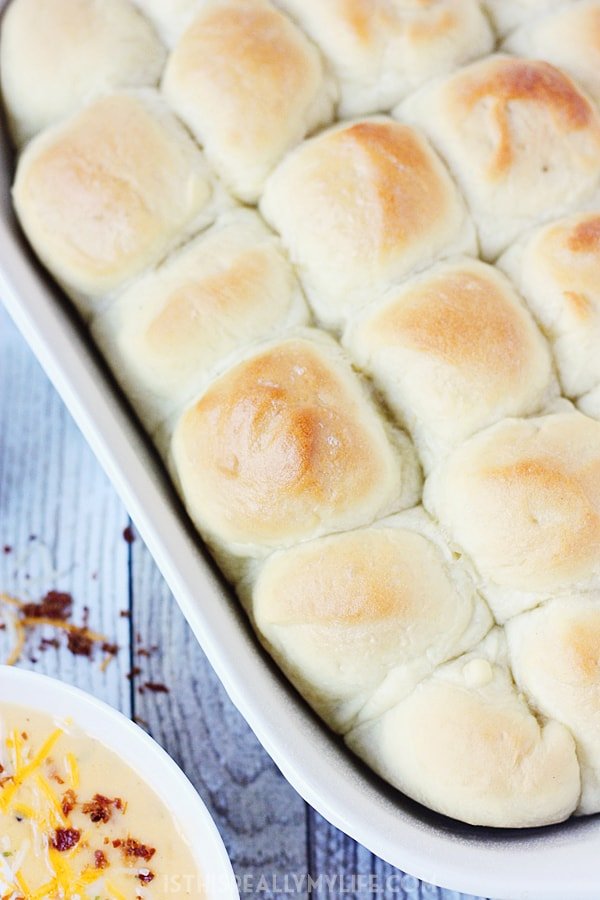 I found my dough required closer to 4 ½ cups of flour but yours might take as little as just under 4. It all depends on the weather and the phase of the moon.
Okay, it doesn't really depend on the phase of the moon but I swear bread dough has a mind of its own!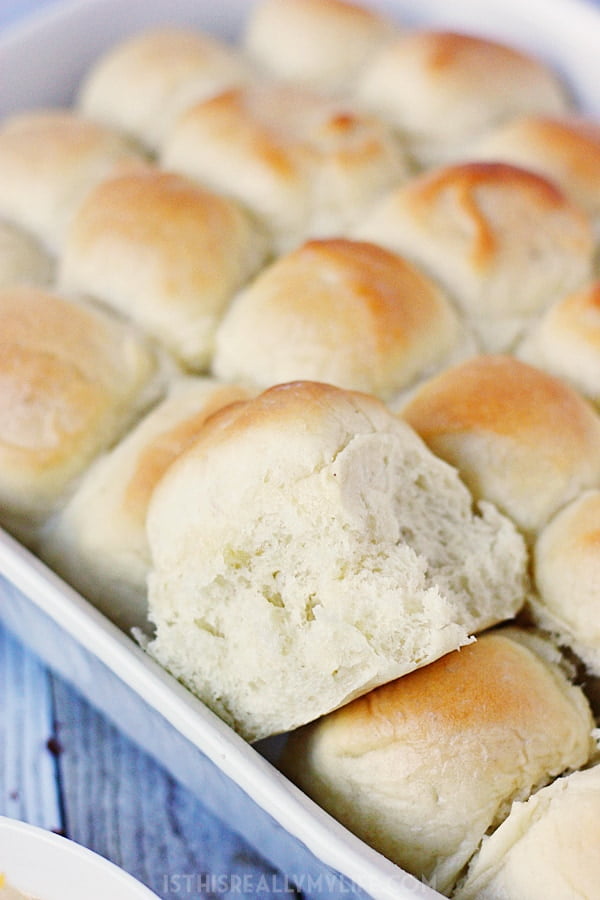 Remember how I talked about pairing these one-hour dinner rolls with salad and soup? While I love a good homemade soup (creamy chicken & rice is my family's favorite!), winter weeknights call for a hot meal that comes together quickly.
That's where Idahoan® Steakhouse® Soups come in...and on the table.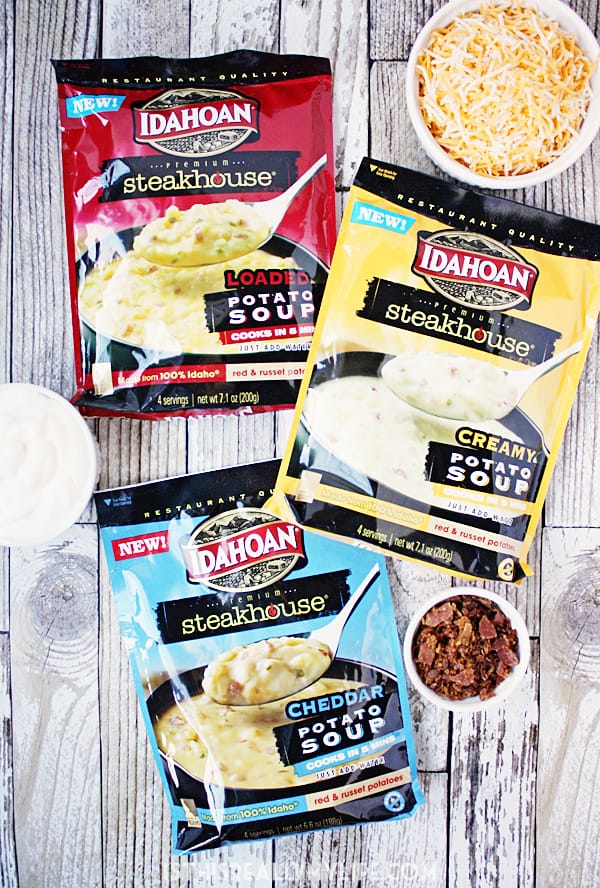 Idahoan Steakhouse Soups, which are available in four delicious flavors, give you the flavorful, slow-cooked taste of restaurant-quality soup at home, in just five minutes. That means your family can enjoy Loaded Potato, Creamy Potato, Cheddar Broccoli or Cheddar Potato soup in the same time it takes to toss that side salad.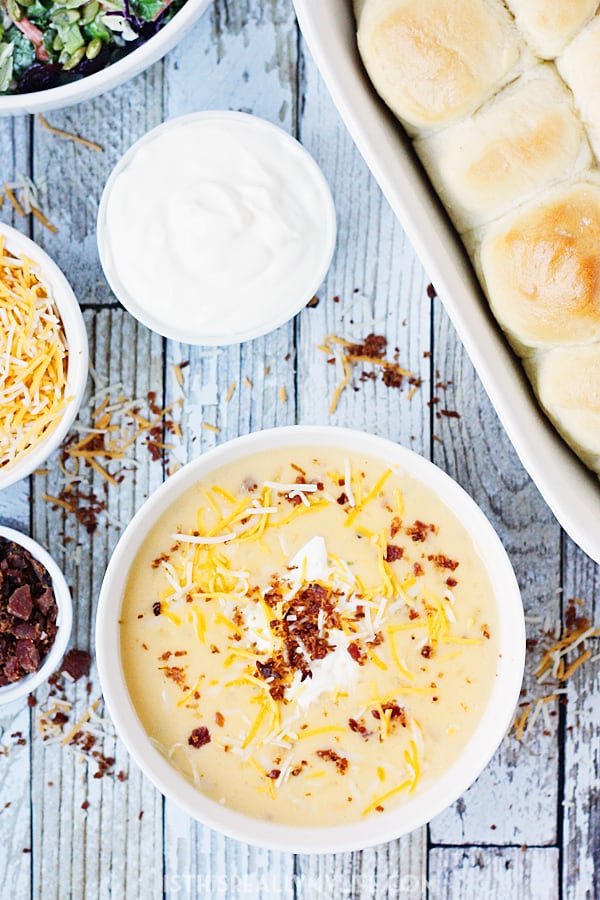 Idahoan Steakhouse Soups combine real, red Idaho® potatoes with flavorful seasonings and rich cheeses for a bowl of soup that features creamy, hearty taste in every spoonful. And guess what? All you have to do is add water.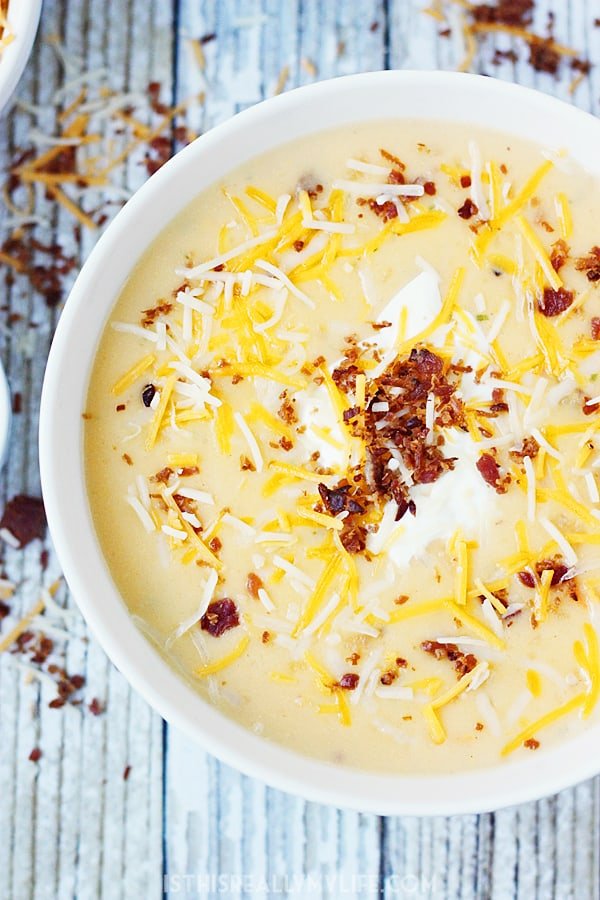 I enjoyed whipping up a batch of Loaded Potato...and then loading it even more thanks to sour cream, shredded cheese and bacon pieces. I'd even have thrown in chives but, sadly, my veggie drawer lacked this important baked potato topping. *sigh*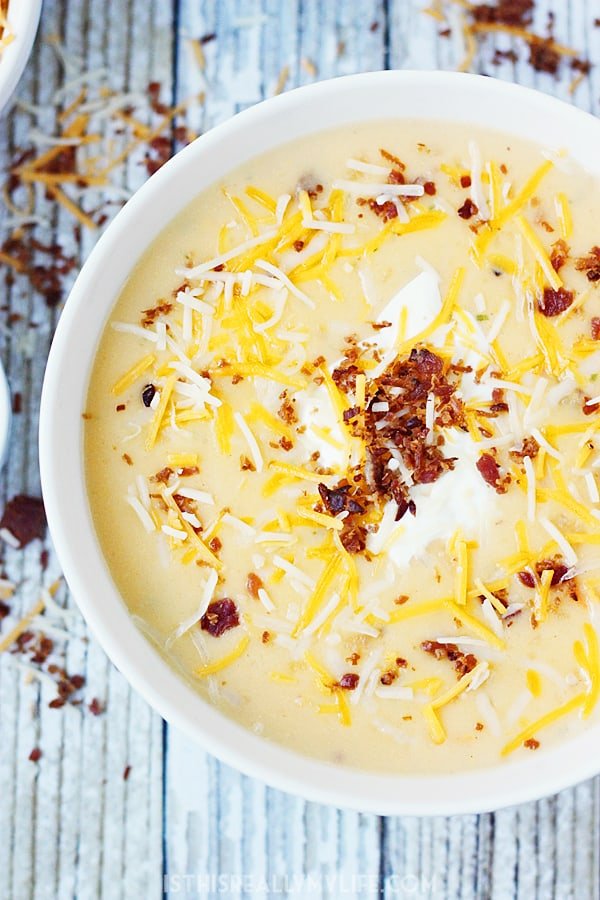 Printable recipe for light and fluffy one-hour dinner rolls below. Enjoy!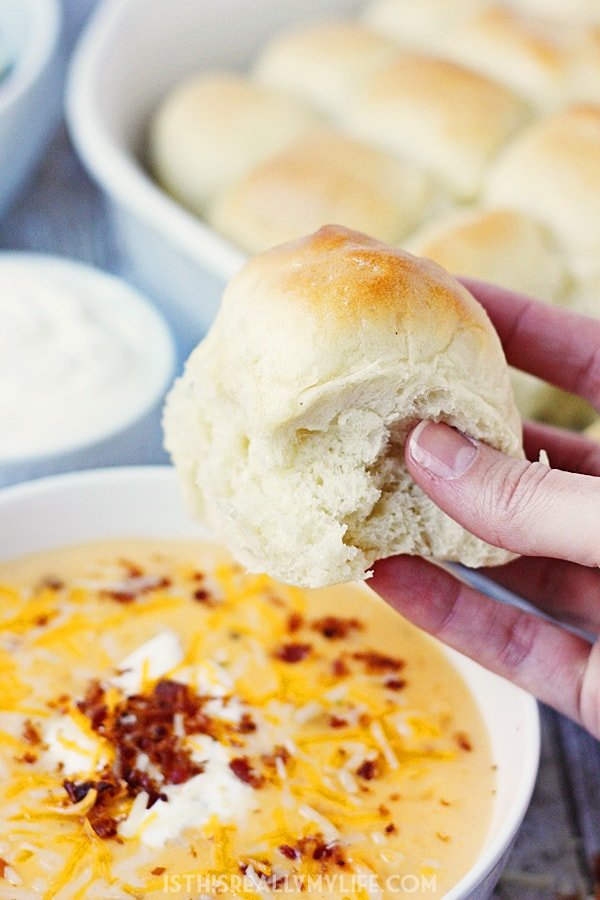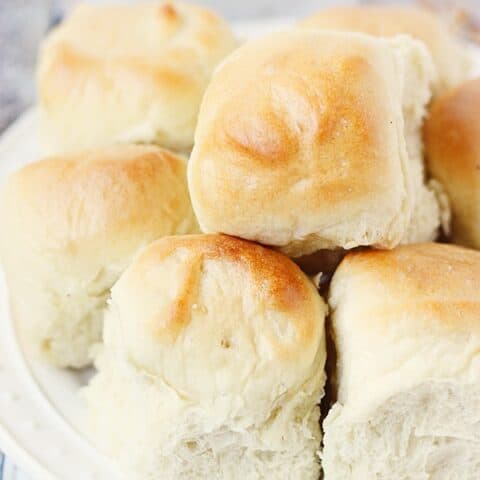 Light and Fluffy One-Hour Dinner Rolls
One-hour dinner rolls are the perfect addition to your weeknight meal. They're light, fluffy and take about ⅓ the time of traditional rolls! Makes approx. 24 rolls in a 9x13-inch pan.
Ingredients
1 ½ cups warm water
1 tablespoon instant yeast
3 tablespoons sugar
2 tablespoons canola oil
1 teaspoon sea salt
4 to 4 ½ cups all-purpose flour
Instructions
Stir together warm water, yeast, and sugar in bowl of stand mixer. Let stand about 3 minutes until creamy.
Add oil, salt and 2 cups flour; mix on low speed with paddle attachment until you have a wet, sticky mixture. Add 1 cup of flour and continue to mix on low speed.
Switch to the dough hook and add remaining 1 cup flour. Mix dough on low speed and gradually increase to medium-low, kneading 3 to 4 minutes until smooth and elastic, adding additional flour 1 T at a time as necessary. (Dough should be slightly sticky but manageable.)
Cover bowl with plastic wrap; let rise in a warm place until doubled, about 20 to 30 minutes.
Drop dough onto lightly floured surface and gently shape into an evenly level rectangle.
Cut in half vertically, then each half vertically again into thirds so you have 6 equal strips. Cut each strip of dough horizontally into fourths to make 24 squares of dough.
Take each square and gently roll between your hands to form a ball. Place rolls into a lightly greased 9x13-inch baking pan in 4 rows of 6 rolls. Cover with a lightly greased piece of plastic wrap and let rise while you preheat the oven to 400 degrees (about 20 minutes).
Bake for 13-15 minutes or until golden brown. Run the top of a stick of butter along tops of rolls. Store leftovers (if there are any) in an airtight container. Rewarm in microwave for best results.
Notes
FOLLOW HALF-SCRATCHED ON INSTAGRAM (@half_scratched) and share the recipes you're whipping up in the kitchen. Don't forget the #halfscratched hashtag so we can see what you've made!
Nutrition Information:
Yield:

12
Serving Size:

2
Amount Per Serving:
Calories:

183
Total Fat:

3g
Saturated Fat:

0g
Trans Fat:

0g
Unsaturated Fat:

2g
Sodium:

178mg
Carbohydrates:

33g
Fiber:

2g
Sugar:

3g
Protein:

4g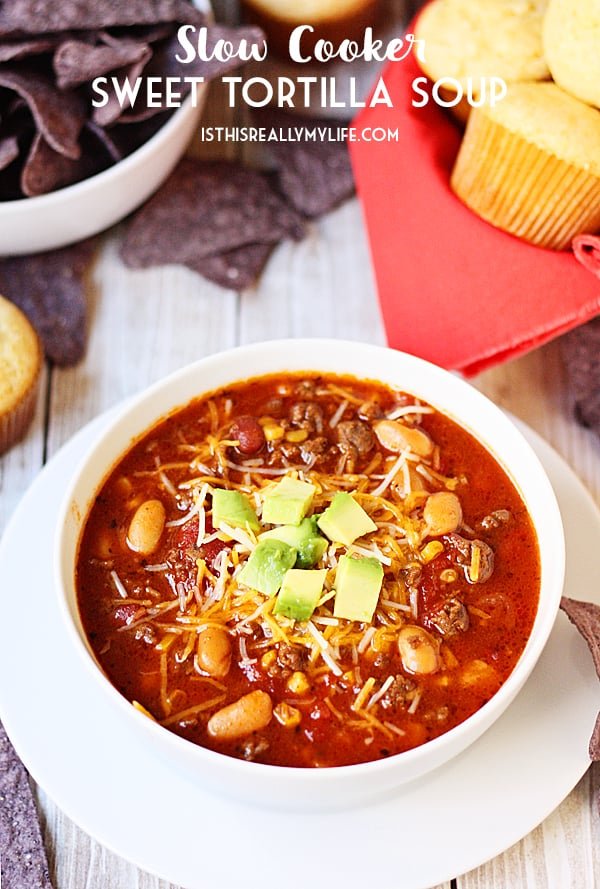 Slow cooker sweet tortilla soup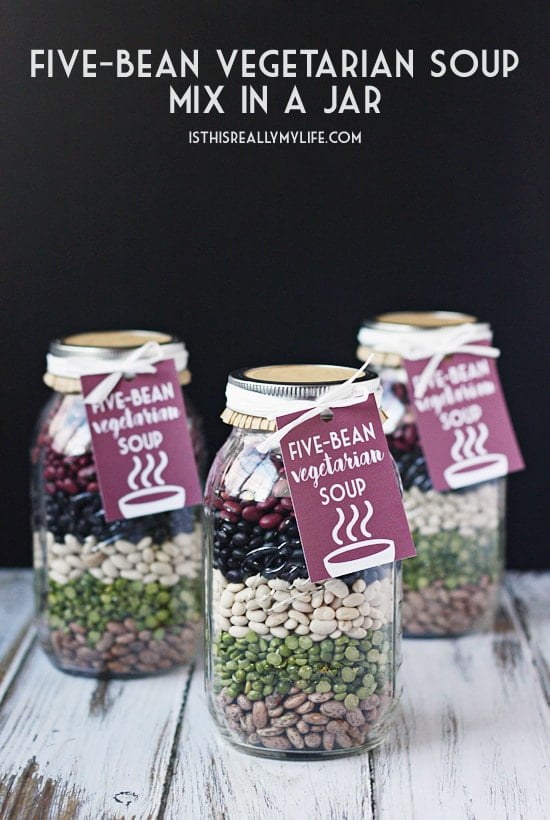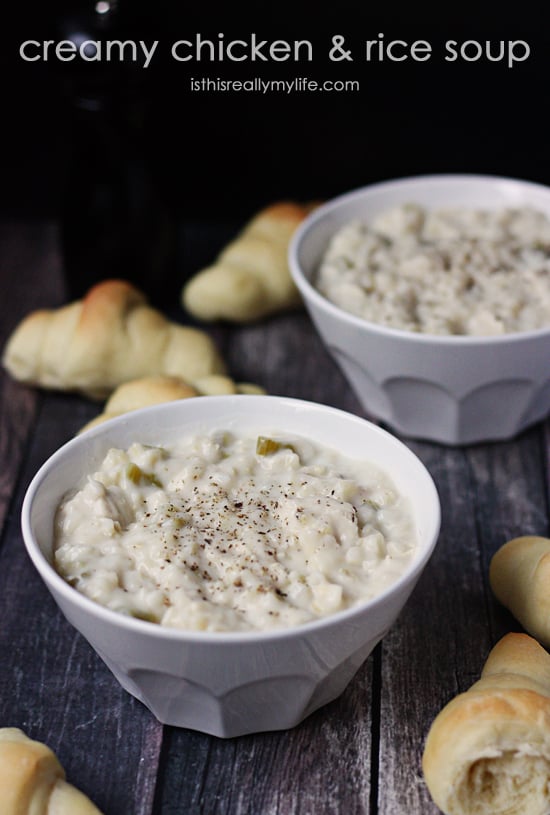 Creamy chicken & rice soup (my family's favorite!)