Gifting friends and neighbors this five-bean soup mix in a jar is just one way to help #LIGHTtheWORLD this holiday season.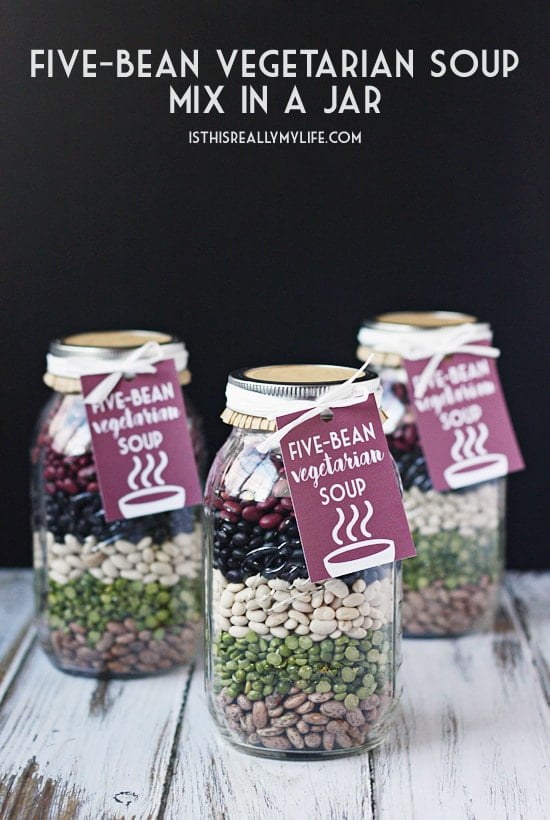 This is a sponsored post as part of the #LIGHTtheWORLD campaign.
On December 1st, the #LIGHTtheWORLD campaign will kick off with a worldwide day of service. The campaign, which celebrates a Christ-centered Christmas, focuses on a different Christ-like behavior every day through December 25th.
I personally love December 7th's attribute: Jesus Fed the Hungry and So Can You. While donating canned food or helping in a local food bank or soup kitchen is a fantastic way to feed the hungry, I'm fairly certain you can think of at least one friend or neighbor who is struggling to make ends meet. And if you don't know from where your next meal will come, there's very little "merry" in the Merry Christmas season. Fortunately there's an easy and affordable (for you and them) way to help your neighbors in need. The best part? It helps feed the body and the soul.
Hot soup is magical that way.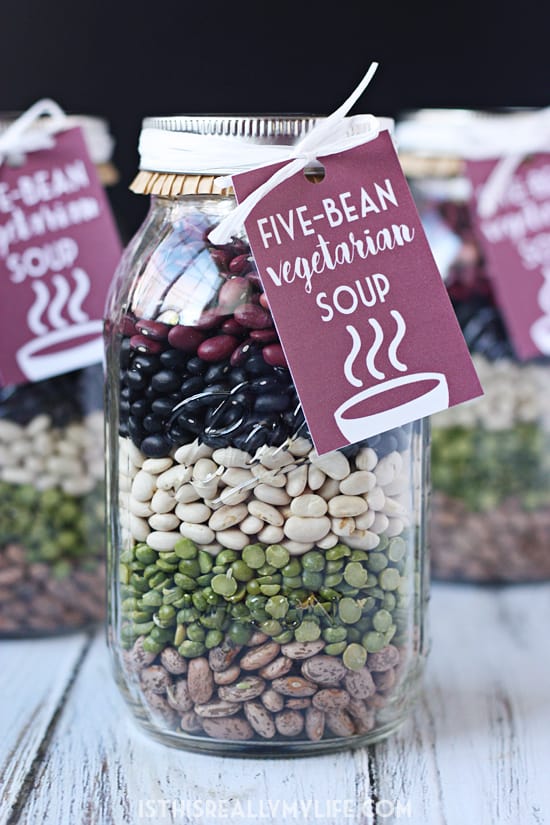 This five-bean vegetarian soup is basically love in a jar. It's made with love, given in love and eaten while feeling the love. Five-bean soup has a short list of ingredients and requires the addition of only diced tomatoes and water. In fact, you could include a can of diced tomatoes when gifting to make it all the easier.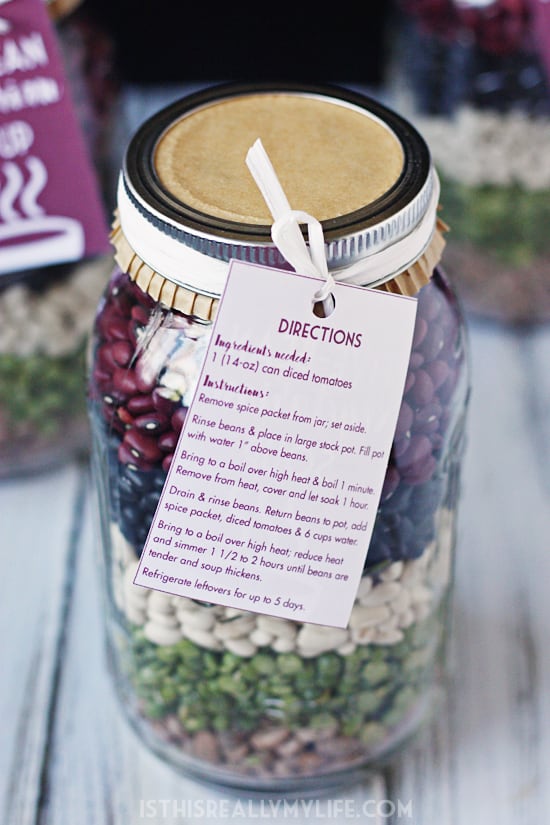 Because I had all the spices and jars on hand, I only purchased the beans and vegetarian bouillon cubes. I think the total was less than $12 and the recipe made three jars. This five-bean vegetarian soup mix in a jar is seriously one of the best gifts ever.
I did the math: Minimal Cost + Minimal Effort + Yummy Soup = Best Gift Ever.
To assemble this five-bean vegetarian soup mix, follow the recipe below and then attach the printable gift tag (or create your own). You can also make the jar extra cute (totally optional) by placing a cupcake liner or fabric between the lid and ring. I love the combination of parchment cupcake liner and raffia ribbon!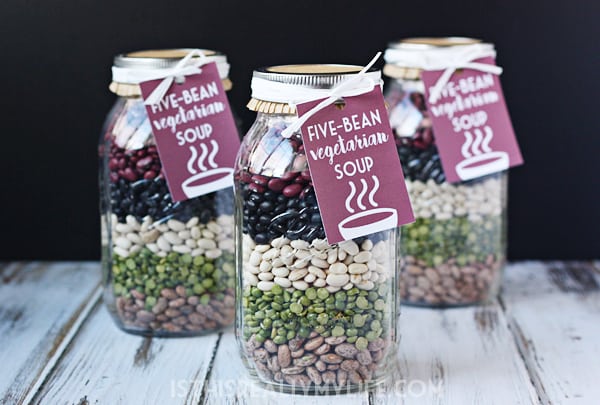 Printable recipe for five-bean soup mix below and printable gift tag just below that. Enjoy!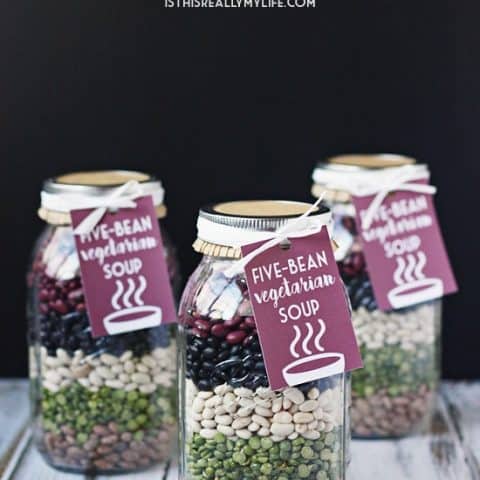 Five-Bean Soup Mix in a Jar
This five-bean soup mix in a jar requires minimal effort and minimal cost and is absolutely delicious, which basically makes it the perfect gift! Don't forget the printable gift tag--it has the directions for making the soup! Makes 3 quart-size mason jar soup mixes.
Ingredients
1 (16-ounces) package pinto beans
1 (16-ounces) package split green peas
1 (16-ounces) package great northern beans
1 (16-ounces) package black beans
1 (16-ounces) package red beans or red lentils
1 tablespoon black pepper
1 tablespoon paprika
1 tablespoon dry mustard
2 tablespoons dried minced onion
2 tablespoons sea salt
2 tablespoons garlic powder
2 tablespoons dried oregano
1 teaspoon dried rosemary
1 teaspoon dried basil
6 bay leaves
3 vegetable bouillon cubes
3 quart-size mason jars with lids
Printable gift tag with directions
Instructions
Layer ¾ cup pinto beans in jars; shake gently to level beans. Repeat with ¾ cup of peas, northern beans, black beans and red beans. Set jars aside.
Combine pepper, paprika, dry mustard, minced onion, salt, garlic powder, oregano, rosemary and basil in a small bowl.
Place 3 T of spice mix in a snack-size ziploc bag. Add 2 bay leaves and 1 bouillon cube. Gently shake contents to one side of bag and close. Fold bag around spices and place in top of each jar.
Place lids on jars, sealing tightly. Tie with ribbon and attach printable gift tag with instructions.
Nutrition Information:
Yield:

3
Serving Size:

1
Amount Per Serving:
Calories:

542
Total Fat:

3g
Saturated Fat:

1g
Trans Fat:

0g
Unsaturated Fat:

2g
Cholesterol:

0mg
Sodium:

5011mg
Carbohydrates:

99g
Fiber:

34g
Sugar:

9g
Protein:

34g
To download the five-bean vegetarian soup mix printable gift tag, CLICK HERE or on the image below and save the file to your desktop. But before you do, please read the following rules:
Is This Really My Life printables are for personal use only.
If you decide to re-post or use the image, you MUST cite the source and include a link to this post.
Personalization and other customizations are not available on free printables; they're offered "as-is."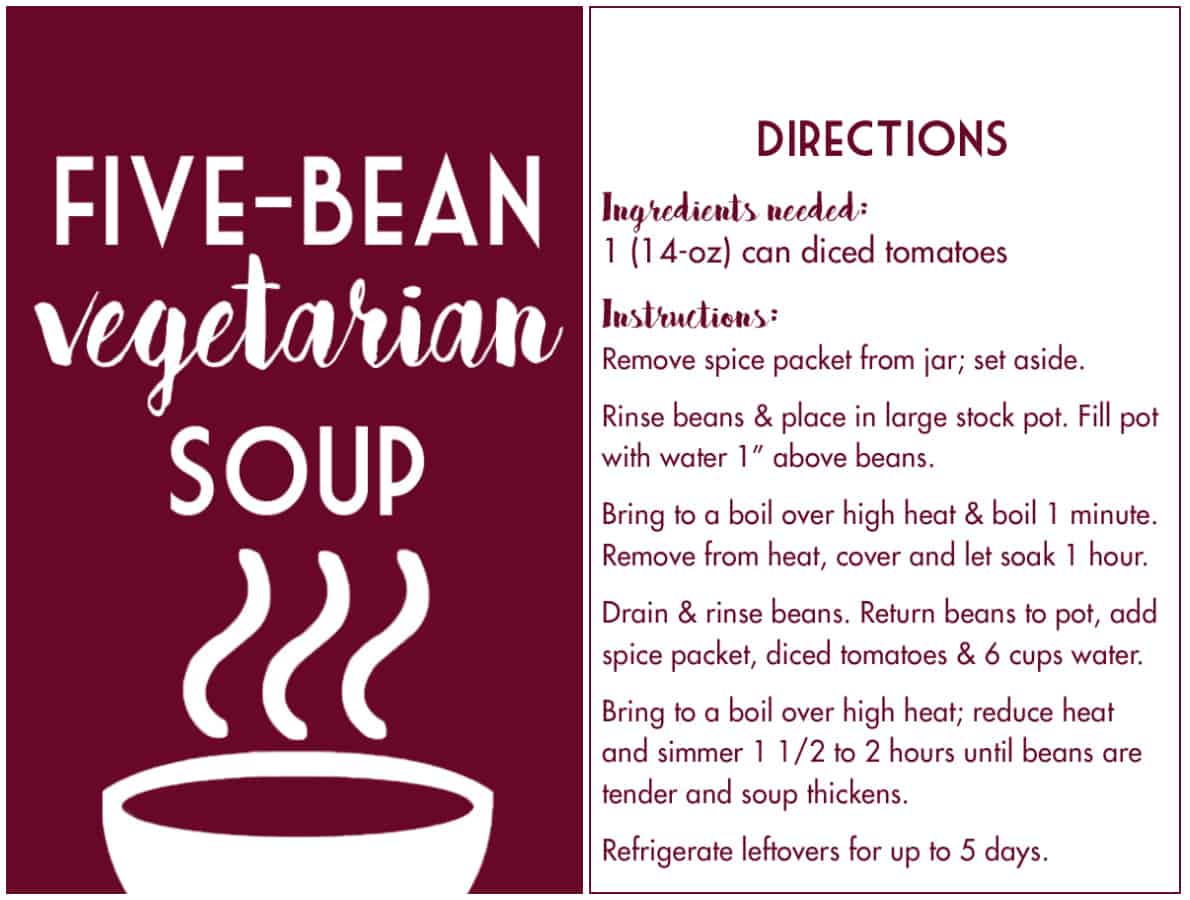 Here are a few of our other favorite soup recipes!