This layered pesto dip has only four ingredients and is ready in 15 minutes! Pair with your favorite crackers for the perfect hot dip!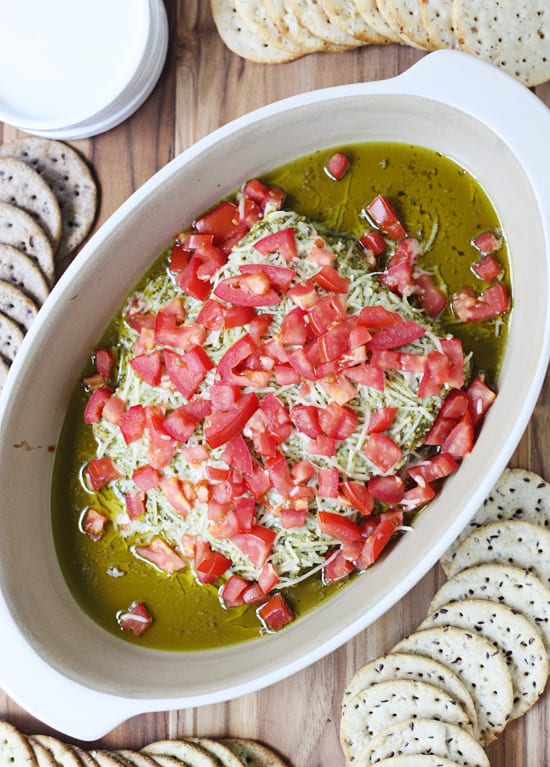 I love lightly salted, crunchy things—you know, all the chips and crackers you can find on the grocery store shelves. The fancier the crunchy thing, the more of the bag or box I'm going to eat, which is why Breton crackers are so dangerous.
Their round, thin shape makes them a kinda fancy cracker and their lightly salted flavors make them highly addictive. Throw in a new line of gluten-free crackers and now you have an entirely new segment of the population in trouble... especially if you pair Breton gluten-free crackers with something savory like this layered pesto dip.
I'm not kidding when I say the new crackers pair perfectly with this oven-baked pesto dip. I tried every flavor just to be sure.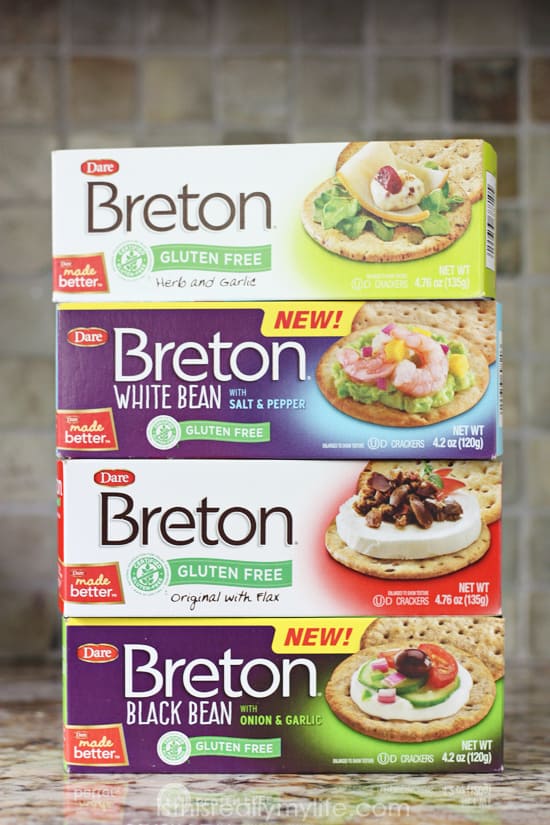 Gluten-Free Herb & Garlic: Loved the hint of herb and garlic. This would pair well with a spinach artichoke dip.
White Bean with Salt & Pepper: This was one of my two favorites as far as the cracker of choice for the pesto dip. I'd love to try this flavor with my favorite sweet onion crack dip.
Gluten-Free Original with Flax: Made with arrowroot flour and green lentil flour, the flax gives this cracker a healthier flavor. I slathered on more dip to cover that up.
Black bean with Onion & Garlic: My other favorite as far as flavor combo with the layered pesto dip. Not the prettiest color but man, so yummy.
Those two bean-based Breton gluten-free crackers were super tasty. It's hard to believe beans are the main ingredients and each serving contains two grams of fiber and two grams of protein.
Even better, this new line of Breton crackers are low in saturated fat, contain no artificial colors, flavors or cholesterol and are trans-fat free.
But back to the layered pesto dip. This appetizer has only four ingredients and takes about 5 minutes to prepare and only 10 minutes (or so) to bake. It's right up there with that pepper-jelly-over-cream-cheese appetizer I love throwing together.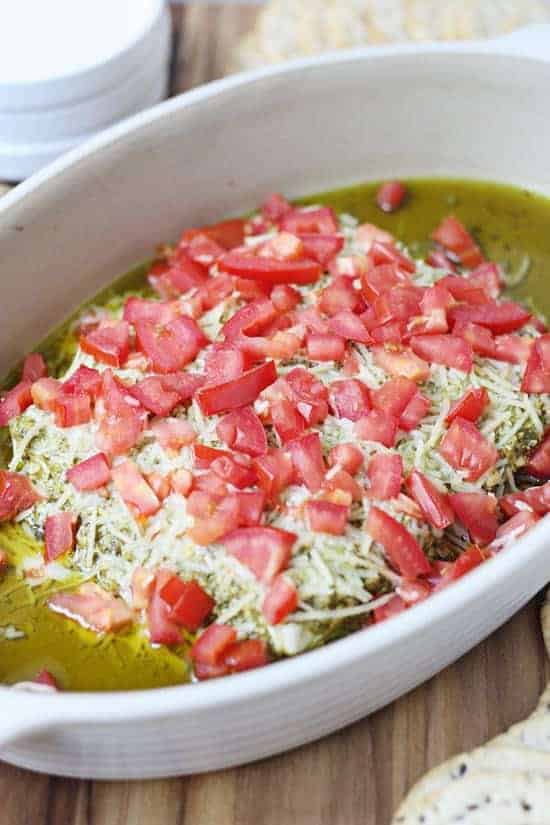 When making this dish, you need to slice the cream cheese in half through the middle like this: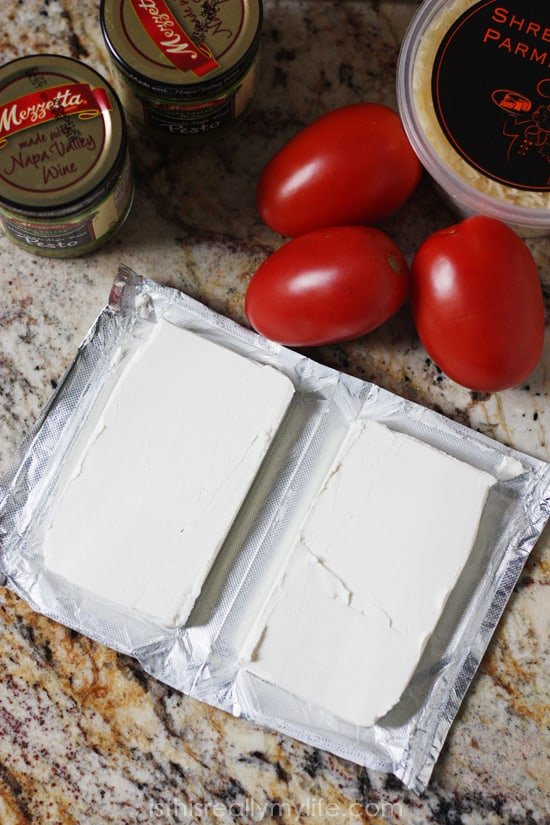 Throw on a layer of pesto, Parmesan cheese and roma tomatoes and you're good to go! Here's what it looks like before popping it into the oven. (I used to have a smaller baking dish but it was MIA).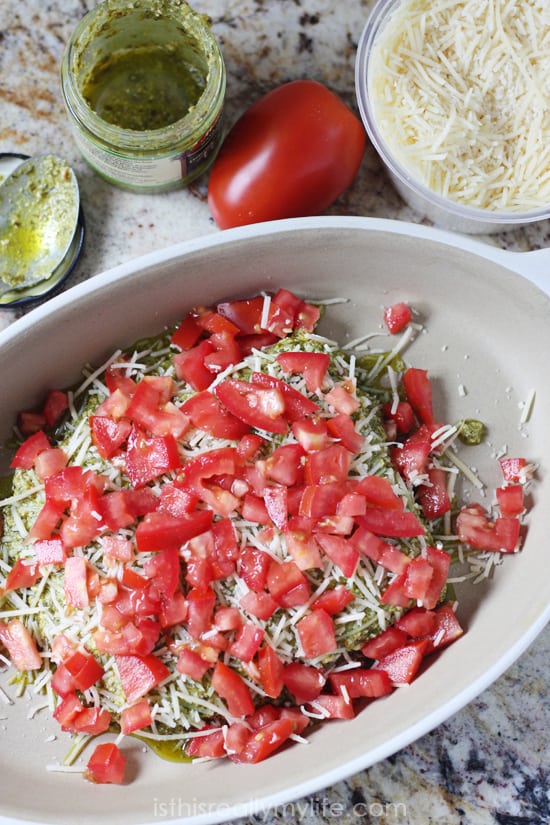 A few minutes in the oven at 350 and you have a piping hot, creamy, savory, cheesy, pesto-y appetizer perfect for a grown-up party.
You don't want to waste this layered pesto dip on the kids, trust me.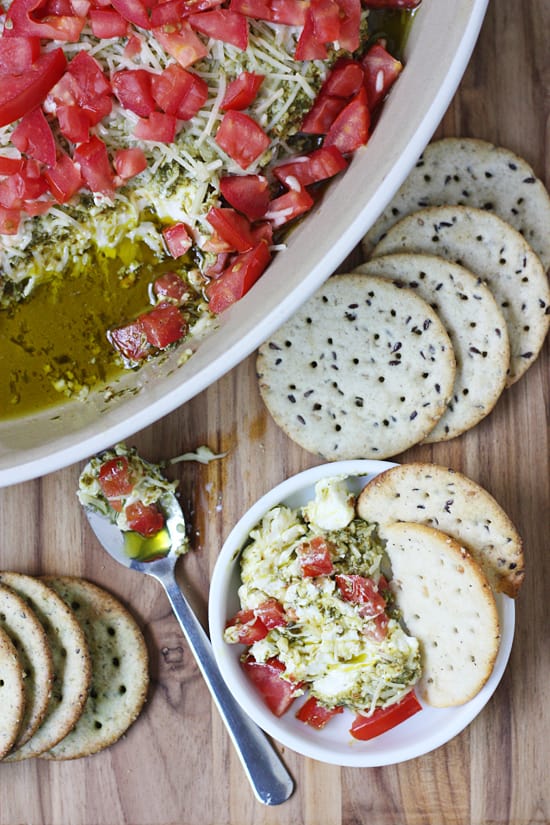 And because it bakes for only 10 to 15 minutes, it's a great hot appetizer for summer entertaining. Think book club, a brunch with girlfriends or evening mix & mingle with friends.
Don't forget to (gently) throw in a couple flavors of Breton> gluten-free crackers!
You may want to double the recipe—I could easily eat half the dip all by myself.
Printable recipe for layered pesto dip below. Enjoy!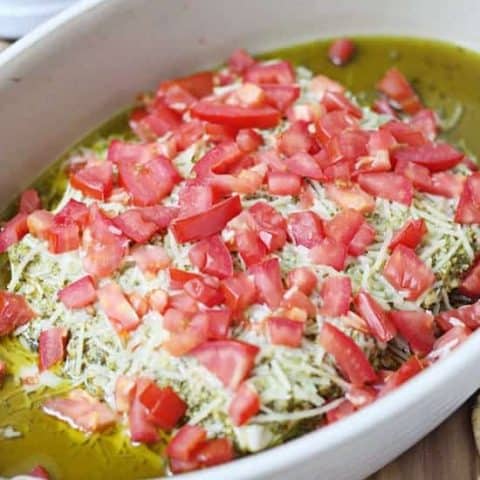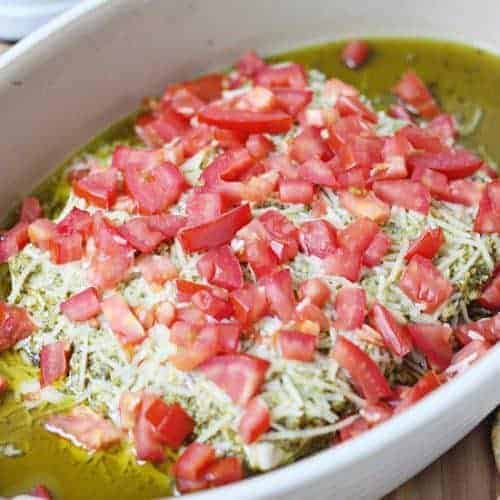 Layered Pesto Dip
This layered pesto dip uses only four ingredients and is ready in about 15 minutes. So easy and so yummy, it will become your new favorite appetizer!
Ingredients
1 (8-ounces) block cream cheese
2 roma tomatoes, diced
1 (6.25-ounces) jar pesto
½ cup fresh Parmesan cheese (I use shredded but you can use grated)
Instructions
Preheat oven to 350 degrees.
Cut cream cheese in half through the middle (see photo). Lay both pieces next to each other in a baking dish.
Spread pesto on top of cream cheese. Sprinkled Parmesan evenly over pesto and top with roma tomatoes.
Bake for 10 to 15 minutes until hot and bubbly. Serve immediately with your favorite crackers.
Notes
FOLLOW HALF-SCRATCHED ON INSTAGRAM (@half_scratched) and share the recipes you're whipping up in the kitchen. Don't forget the #HALFSCRATCHED hashtag so we can see what you've made!
Nutrition Information:
Yield:

6
Serving Size:

1
Amount Per Serving:
Calories:

280
Total Fat:

23g
Saturated Fat:

9g
Trans Fat:

0g
Unsaturated Fat:

1g
Cholesterol:

48mg
Sodium:

461mg
Carbohydrates:

7g
Fiber:

1g
Sugar:

4g
Protein:

10g