Turkey is a must-have during the Thanksgiving holiday but it's actually a great meat option to have all year round. It doesn't have to be a long, involved dinner to enjoy turkey, and we're going to show you how easy it is to cook turkey.
A whole turkey can be cooked at 325 degrees Fahrenheit in the oven for three and a half to four hours. Note that this is for an average-sized turkey of 13 to 14 pounds. If your turkey is smaller or larger, then the cooking time will vary. If you're only cooking part of the turkey, then typically, it only needs to cook for an hour or so.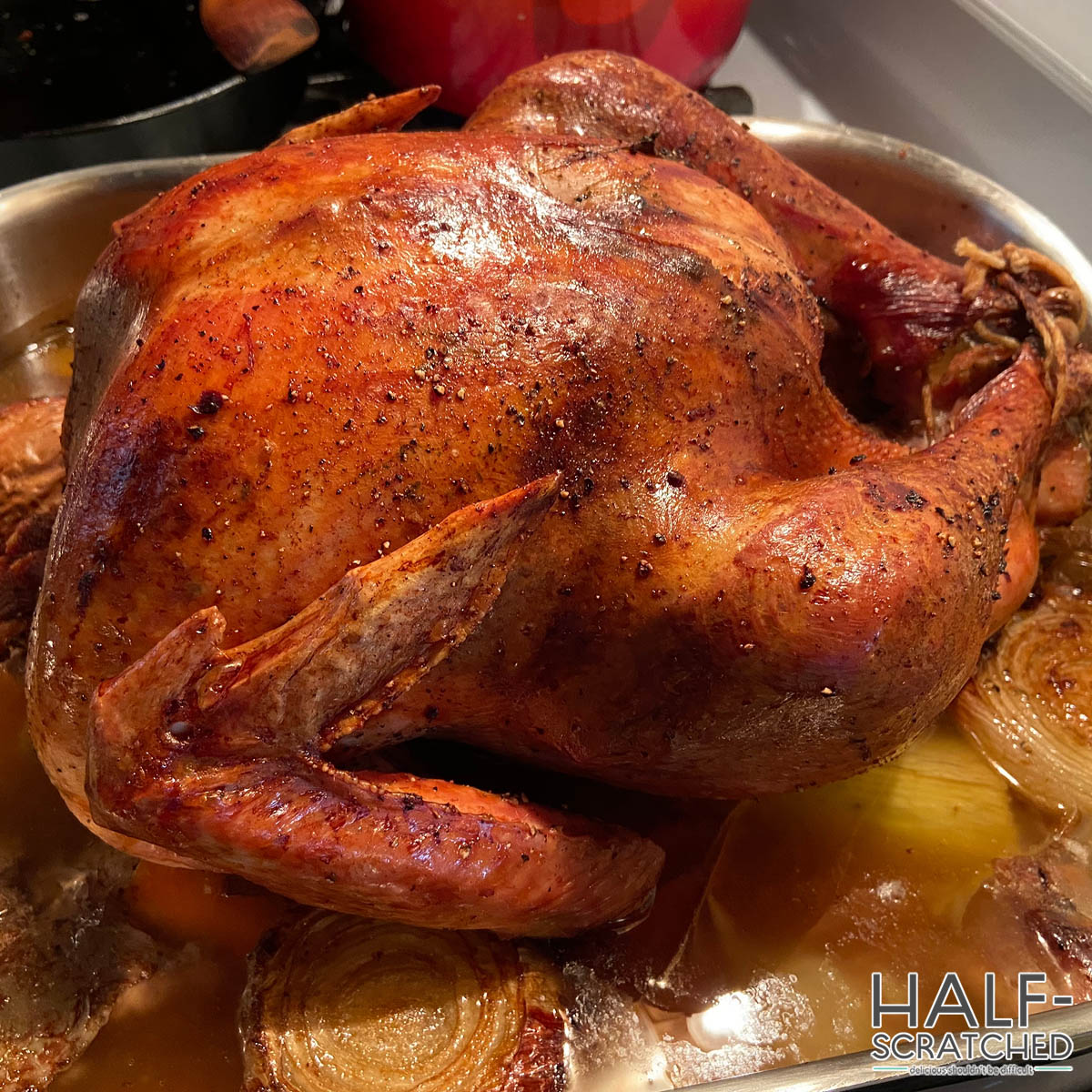 This article will look at tips and tricks to cook turkey, the differences in cooking a whole turkey versus parts of a turkey, and a delicious turkey recipe that you can eat any time of the year, not just for Thanksgiving.
Whole Turkey Versus Parts of Turkey
When you think of turkey, it's often the whole bird, but you can also cook certain parts of the turkey. Much like chicken, people will eat turkey breasts, wings, or drumsticks. How do you know which one is right for you though?
How many people are you feeding?
For a big meal at Thanksgiving, it makes sense to have a whole turkey prepared, but for a smaller gathering, it might be too much food. Having parts of the turkey means less food is wasted or turned into leftovers.
How much time do you have?
Let's be honest: cooking a whole turkey takes a lot of time. The average Thanksgiving turkey will take almost four hours because the general rule of thumb is 13 minutes of cooking for every pound. With parts of the turkey, cooking times will be much less.
Why Cook the Turkey in Parts?
Cooking the turkey in parts has a lot of benefits, such as:
Shorter cooking times
Less defrosting needed
Convenience
Some grocery stores will sell just turkey breasts or thighs, but other times, you'll have to buy the whole turkey and cut it up yourself. You can always freeze the parts that you aren't going to cook right away.
A Note on Defrosting
A common complaint about cooking a whole turkey is that it often defrosts unevenly because the breast area is so big and thick. When the turkey is cut into pieces, it'll be easier to defrost.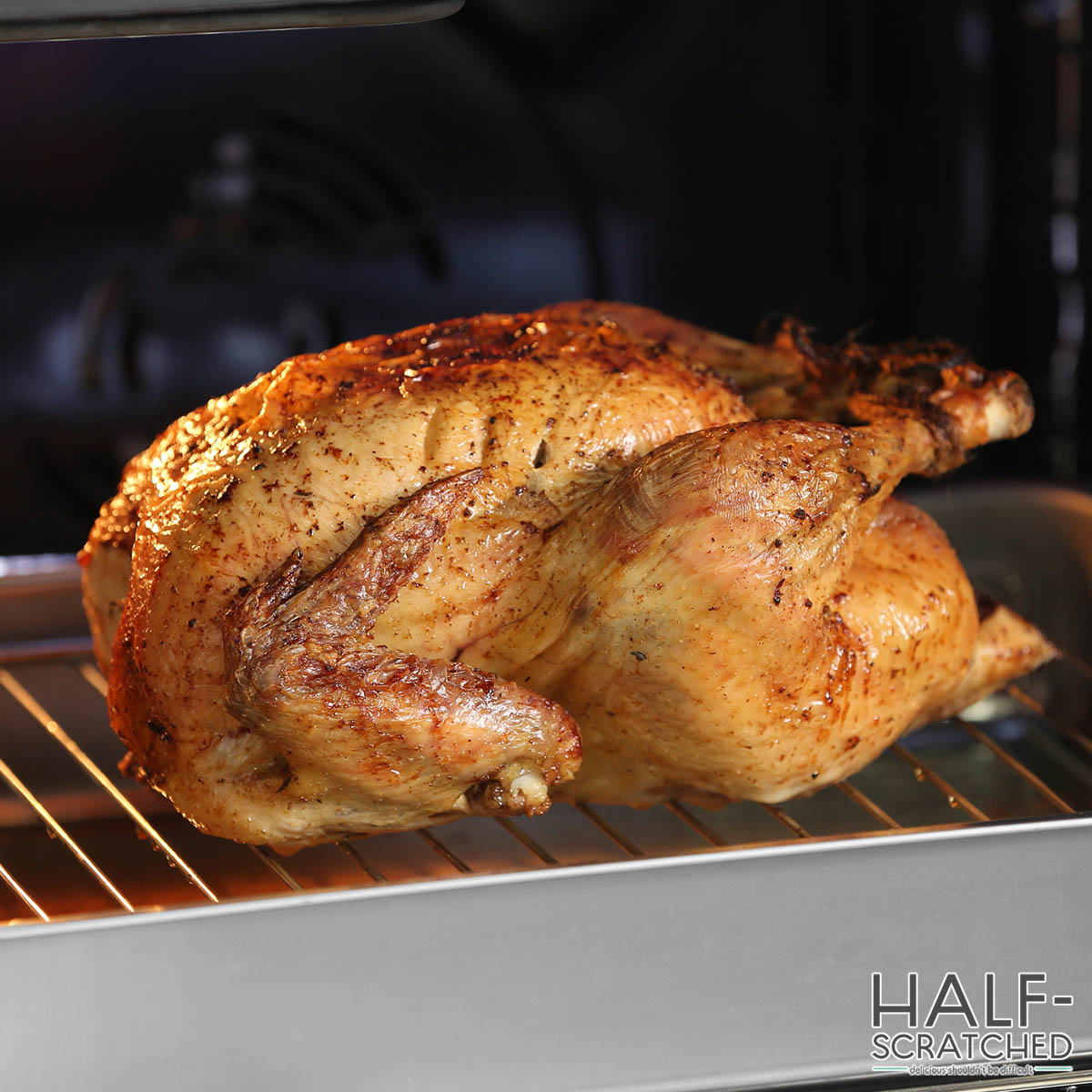 Preparing Turkey for Baking
Whether you're preparing an entire turkey or parts of a turkey, you should always do these things to ensure that you'll end up with delicious meat!
Try a Brine
Brining is letting meat soak in a salt solution, and it results in much more tender meat. It's also an easy way to add flavor to your turkey. You can add other herbs or flavors to the brine so it'll soak in better overnight.
Pat the Skin Dry With a Paper Towel
Patting the turkey skin dry helps the skin crisp up. You can do this after removing the turkey from the brine and rinsing it off.
Season the Meat
It doesn't matter whether you have a whole turkey or specific parts of a turkey; seasoning is vital to a flavorful bird. Most people just use salt and pepper but any additional spices or herbs can also elevate your turkey.
If it's a whole turkey, be sure to sprinkle a generous amount of salt and pepper in the cavity since this will add flavor throughout the entire turkey.
Brush the Turkey With Butter
Turkeys tend to dry out more than other birds, so a lot of people like to brush melted butter on the outside. Your turkey can have skin or not, but a layer of butter on the outside will add additional moisture and flavor.
How Do I Keep Turkey Moist and Tender?
Eating moist turkey meat is the goal of chefs everywhere, but often, cooked turkey ends up tough or dry. How can you make sure that your turkey is moist enough to gain everyone's approval?
Use Salt to Tenderize the Meat
Tenderizing meat uses specific ingredients (such as salt) to break down the muscle fibers, making it more tender to eat. You can use salt by covering the entire turkey in kosher salt, rubbing it in, and letting it sit for about 15 minutes.
Use an Oven Roasting Bag
Using a bag to bake your turkey in is a secret that many people use to make moist and tender meat. Note that you must buy a specialized bag that's specifically for roasting in the oven. Usually, you can find these at grocery stores or butcher shops.
The roasting bag keeps moisture and heat within a contained space so the turkey meat can soak it all up. When using a bag, keep these cooking times in mind:
Bake for 1.5-2 hours for 8-12 pound turkey
Bake 2-2.5 hours for 12-16 pound turkey
Bake 2.5-3 hours for 16-20 pound turkey
Bake 3-3.5 hours for 20-24 pound turkey
Invest in a Meat Thermometer
You don't want to undercook or overcook your turkey, so you need to make sure that you take it out at exactly the right moment. Undercooked turkey is dangerous and overcooked turkey will be dry. The internal temperature should be 180 degrees Fahrenheit in the thigh and 170 degrees in the breast.
A meat thermometer will let you know when you reach that perfect internal temperature. Be sure to stick it in the thickest part of the cut since that will take the longest to cook.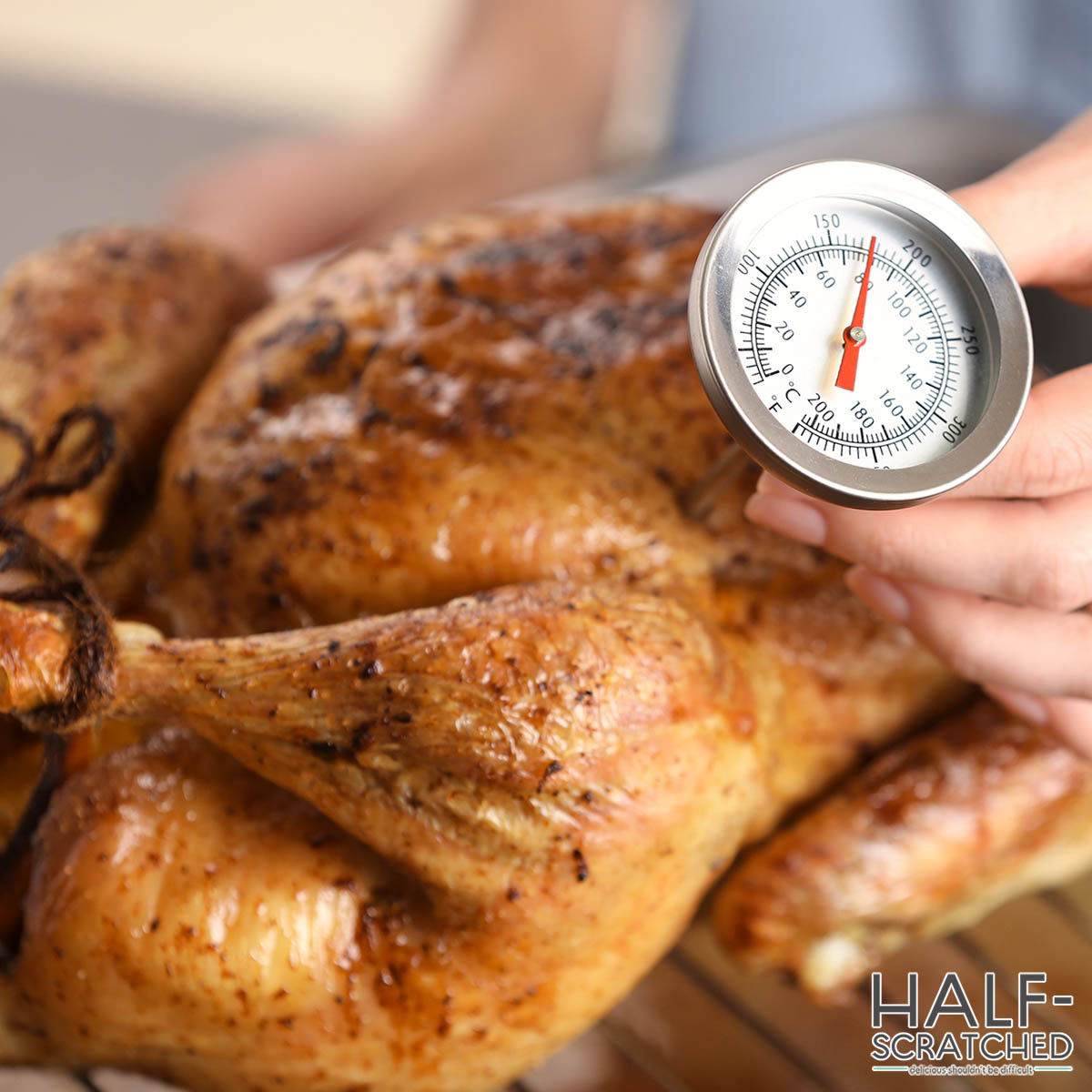 Let the Meat Rest After Baking
An important step to moist turkey is to make sure that you let them rest after taking it out of the oven. This allows the juices to settle and spread throughout the meat. If you cut the turkey right away, then the juices will spill out, so let the bird sit for about 10 minutes before digging in.
Some Common Questions and Answers Cooking Turkey
While you might feel like you're an expert at cooking turkey, there are always ways to improve! Here are some common questions and answers that people have about cooking turkey:
How does turkey compare nutritionally to other meats? 
Compared to other meats such as beef and pork, turkey tends to be healthier. It has more unsaturated fat, so if you're worried about your heart health, it's the better option. When looking at chicken, there's not much difference, although turkey has slightly less calories and fat, and more iron.
Most of the fat and calories from turkey come from the skin, so cutting that off is another easy way to make turkey an even more health-conscious dish.
Can I buy turkey any time of the year? 
Technically turkey is available year-round, but because it's such a big bird, it's not in high demand as chicken or smaller fowl. Because of this, it may be harder to find turkey to cook, but that doesn't mean it's not out there.
It might be beneficial to check out a butcher shop, which tends to have more variety of meat. You could also request turkey from them as it might be easier for them to get their hands on turkey meat.
How long will cooked turkey last in the fridge? 
As many people know, Thanksgiving leftovers can't last forever. Cooked turkey tends to last in the refrigerator for three to four days, so a lot of people will freeze it instead, where it can last for three to four months.
Another popular thing to do with leftover turkey is to add it to soup bases or make a stir fry using the meat. There are a lot of creative ways to make sure your turkey doesn't go to waste!
Easy Browned Lemon Garlic Turkey Recipe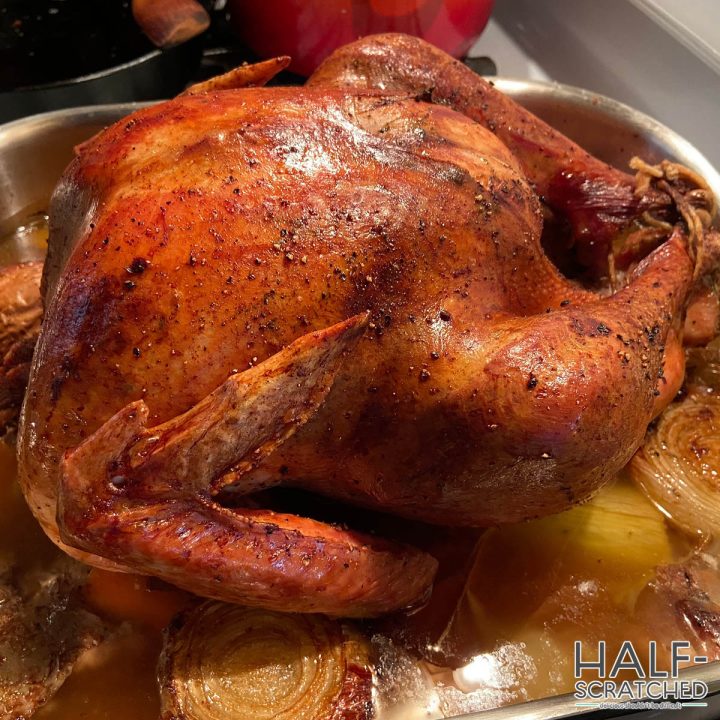 How Long to Cook a Turkey at 325 F
Total Time:
4 hours
20 minutes
Learn how to cook a perfect Thanksgiving turkey. We also teach you to cook smaller parts of turkey for a quick and easy lunch.
Ingredients
1 whole turkey (12-14 pounds), thawed if frozen
4 lemons
6 cloves of garlic
½ cup softened butter
2 tablespoons olive oil
2 tablespoons dried thyme or rosemary (or a mix)
2 onions, quartered
1 cup chicken broth or white wine
Salt and pepper to taste
Instructions
Preheat your oven to 325°F. Ensure the oven rack is low enough to fit the turkey.
Remove the giblets and neck from the turkey if they are included. Rinse the turkey inside and out with cold water, then pat it dry with paper towels.
Zest and juice two of the lemons. Mince the garlic cloves. Combine the lemon zest, lemon juice, minced garlic, melted butter, olive oil, salt, pepper, and herbs in a small bowl.
Rub the turkey inside and out with the lemon-garlic mixture. Don't hesitate to lift the skin and rub the mixture underneath to add more flavor directly to the meat.
Cut the remaining two lemons and the onions into quarters. Stuff the turkey with these quarters, alternating between lemon and onion.
Truss the turkey legs with kitchen twine and tuck the wings underneath the bird to promote even cooking.
Place the turkey on a rack in a roasting pan. Pour the chicken broth or white wine into the bottom of the pan.
Bake the turkey in the oven for three and a half to four hours or until the internal temperature on the thermometer shows 170 degrees. If the turkey is browning too quickly, you can cover it with aluminum foil.
Baste the turkey every 30-45 minutes with the juices from the bottom of the pan.
When the turkey is done, remove it from the oven, cover it loosely with foil, and let it rest for at least 20 minutes before carving. This allows the juices to redistribute throughout the turkey, resulting in moister meat.
Nutrition Information:
Yield:

8
Serving Size:

1
Amount Per Serving:
Calories:

1465
Total Fat:

66g
Saturated Fat:

23g
Trans Fat:

1g
Unsaturated Fat:

39g
Cholesterol:

773mg
Sodium:

952mg
Carbohydrates:

9g
Fiber:

2g
Sugar:

3g
Protein:

196g