If you've invested in a smoker, you probably already know that the best chicken wings are smoked chicken wings.
While baked and fried wings may be more common, smoking gives your wings a definite flavor edge over other cooking methods. It also allows for the perfect balance of crispy skin and juicy meat. Let's get smoking!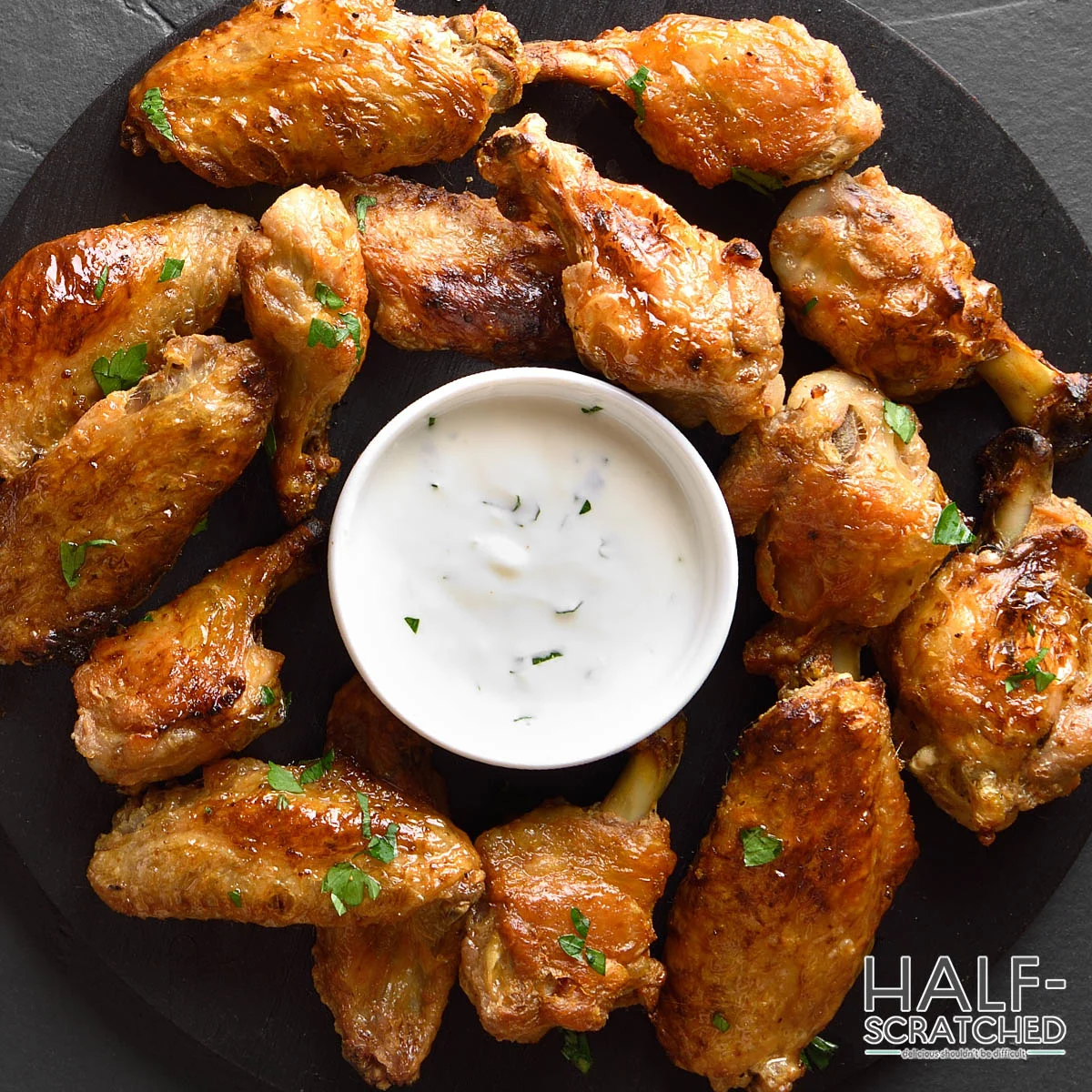 When smoking your chicken wings at 225° Fahrenheit, it will take about an hour (60 min) to reach an internal temperature of 165°, the USDA recommended safe temperature for chicken meat.
You should, of course, be aware that cooking time will be influenced by the size and density of your wings. Thicker wings may take slightly longer. As always, keep a thermometer handy and check the internal temp of your wings. Once they reach 165°, they're done!
Why Smoke Your Chicken Wings?
What's better than a classic fried chicken wing? I'll tell you what: a chicken wing that combines the wing's crispy, crunchy skin and juicy meat with the tangy smokiness of smoked meat! The best reason to smoke chicken wings is simply that they taste better. Smoking also allows you to cook much larger quantities in much less time than frying because there's no need to work in small batches.
Use a Double Stage Cooking Process to Ensure Crispy Skin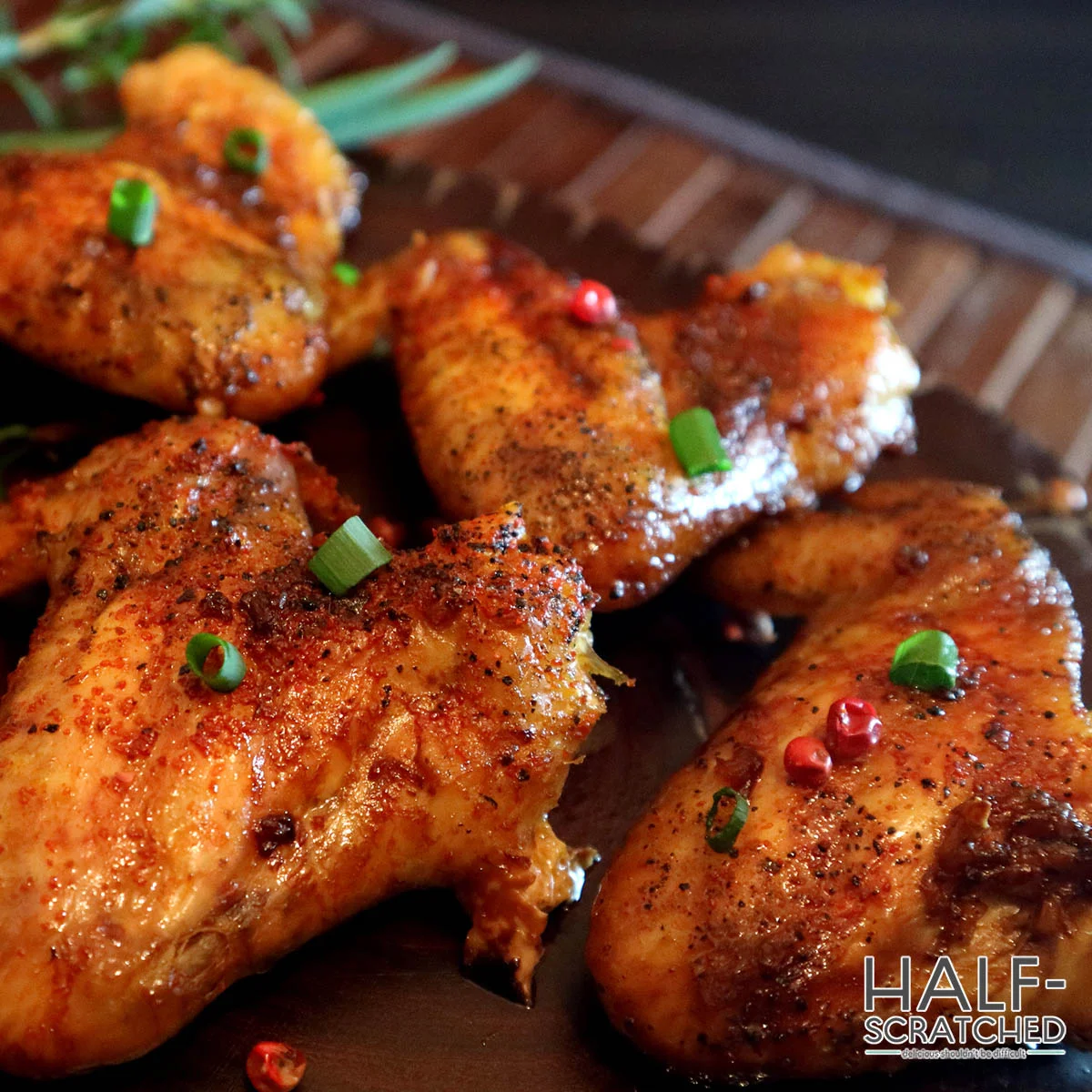 If there's one drawback to smoking your chicken wings, it's that the low temperatures required to impart a smoky flavor that isn't overwhelming might not be high enough to crisp the skin. This occasionally results in leathery or chewy skin.
There's an easy trick to avoid this—begin the smoking process at 225°, then remove the wings after about 50 minutes, once they reach an internal temperature of 160°. Increase your smoker temp to 375° and return your wings to the smoker, allowing them to sear for 10 minutes or until the internal temp registers as 165°. If longer is required to achieve a crisp sear, don't worry. A slightly higher temperature won't harm properly prepared wings.
Brining Keeps Your Meat Moist
Because of the lower cooking temperature and longer exposure to heat, there is a risk that your chicken wings might become dry. Brining, the process of submerging meat in a salty liquid, is the best way to ensure your meat stays moist. It also provides an excellent opportunity to infuse more flavor into your wings.
The simplest brine is just salt and water. If you want to experiment with flavors, you might try adding different spices to the liquid. Something acidic, like vinegar, is an excellent choice. If you are feeling particularly adventurous, other liquids like juice, wine, or beer can be used instead of water. Some people even use a can of Coke!
Rubs Enhance Flavor and Create a Crispier Skin
No smoked meat is complete without a good rub! They add flavor and help to ensure a crispy skin. For wings, a simple rub of salt, pepper, garlic powder, and onion powder is all you really need. But if you really want to ensure the best skin crunch possible, I recommend adding some cornstarch. This will help absorb as much moisture from the exterior surface as possible.
No Chicken Wing is Complete Without a Sauce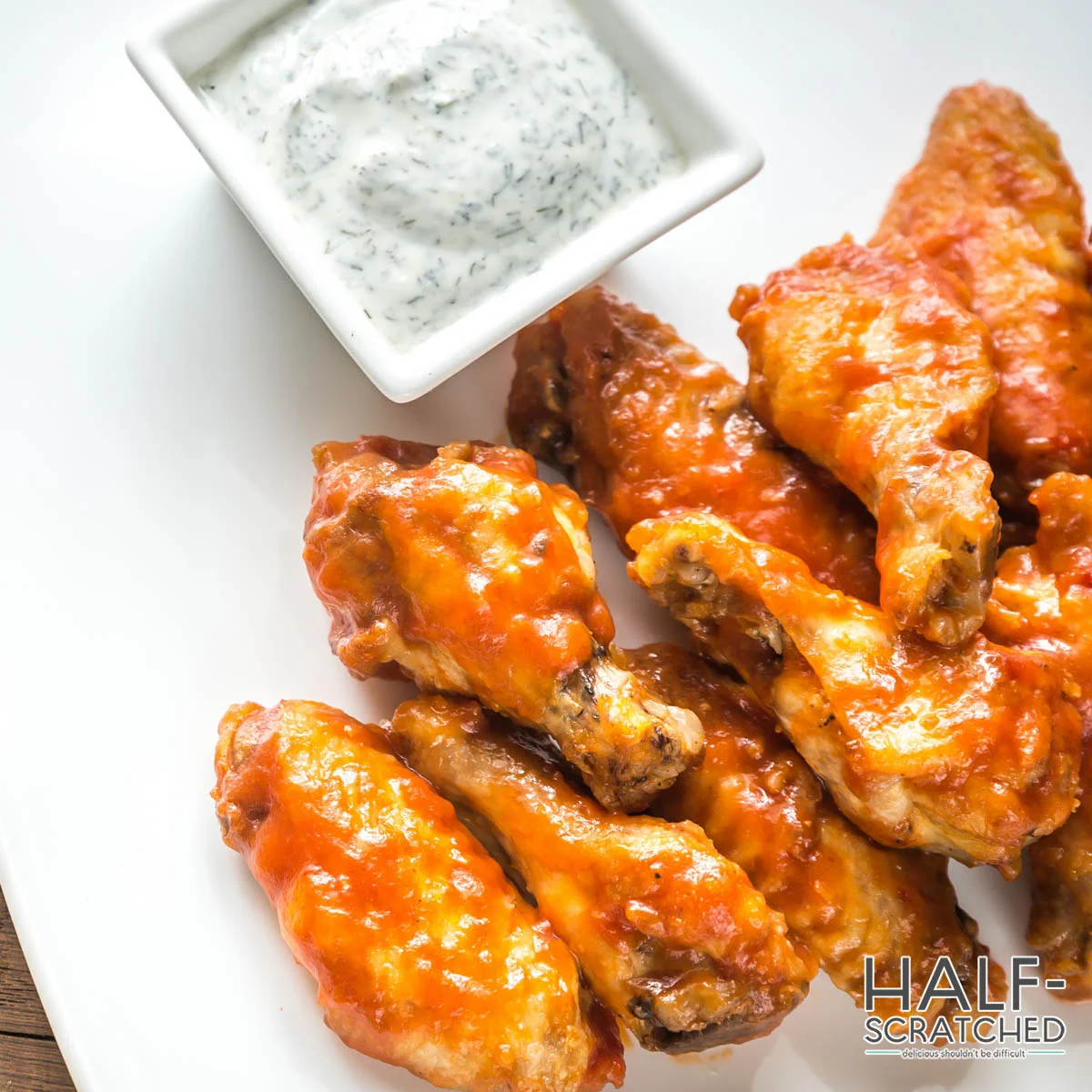 While some true BBQ aficionados prefer their smoked wings served dry, allowing them to dip their wings in a sauce as desired, for most of us, sauces are a chicken wing staple. This is where you can really run wild with your flavors. Of course, you can get as adventurous as you like, but personally, I don't think you can do better than a classic buffalo wing.
Other popular choices include BBQ, honey soy, and sweet chili. You'll find that the smokiness of the wings, when cooked like this, gives an amazing depth to your favorite sauces. When using a sauce, apply it after cooking and allowing the meat to rest for 5 minutes.
Wrap Your Wings to Avoid Dryness
Smoking chicken wings directly in the heat of the smoker will help to infuse the skin and meat with the richness of wood smoke but leaving them exposed for too long will cause the wings to dry out. Not to mention, too much smoke flavor can be quite astringent. To avoid this, remove the wings from the smoker after the first 45 minutes and then wrap them in foil to prevent them from over-smoking.
To Separate Flats and Drumettes or Not?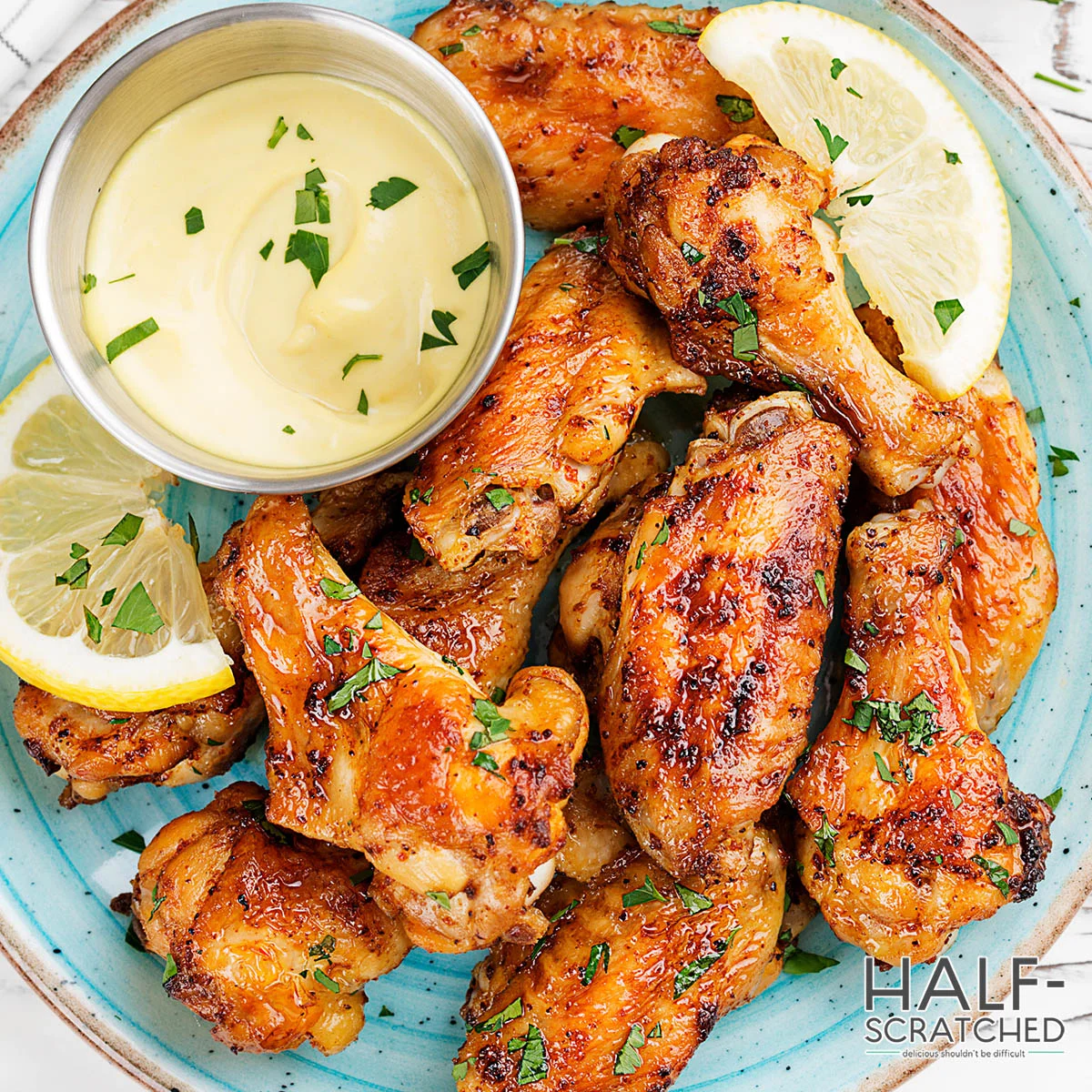 Chicken wings have three parts: the meaty drumette shaped like a mini-drumstick; the falt, which contains two bones with meat in between, and the tip, a mostly meatless part that's rarely consumed. Unlike baked or fried wings, you will often see smoked wings served whole, with all three parts connected.
Whether or not to separate them is a matter of choice. Leaving them intact allows you to turn them more easily while cooking, but separating them may allow you to fit more wings into your smoker. Personally, I like to leave them intact when serving them as a main dish for dinner but separate them if serving them as a Super Bowl Sunday snack.
Tips And Tricks for Smoked Chicken Wings
Here are a few ways to get the most out of your chicken wings!
Add Cornstarch to your Rub
Adding cornstarch to your rub will absorb excess moisture in the skin, preventing the dreaded leathery skin that can sometimes occur with smoked wings. You might see people recommending baking powder instead of cornstarch, but I would stick with the latter. If you've ever tasted baking powder, it's not exactly something I want in large quantities on my wings. Cornstarch is a flavor-neutral alternative that works even better.
Always Measure Temperature with Thicker Pieces
By measuring the internal temperature of your chicken wings with thicker pieces of meat, you can be sure that the smaller pieces have also reached the appropriate temperature. Moreover, the dark meat of chicken wings can take even higher temperatures than we are aiming for without becoming dry. You do not need to worry about smaller pieces drying out while the larger pieces come to temp.
Embrace Salt When Smoking Chicken Wings
I know we're all trying to be heart-healthy, but smoking meat is one area where you really can't skimp on the salt. Adding everyone's favorite seasoning with brines allows the meat to absorb even more liquid before cooking. This means that when it cooks, there will be more moisture left in the meat.
Sweet Ingredients Help Achieve Crispy Skin
Salt isn't the only secret to a perfect chicken wing. Sugar is another necessary component. Sweet ingredients like brown sugar in your brine will caramelize as the wings smoke and promote the Maillard reactions necessary for browning.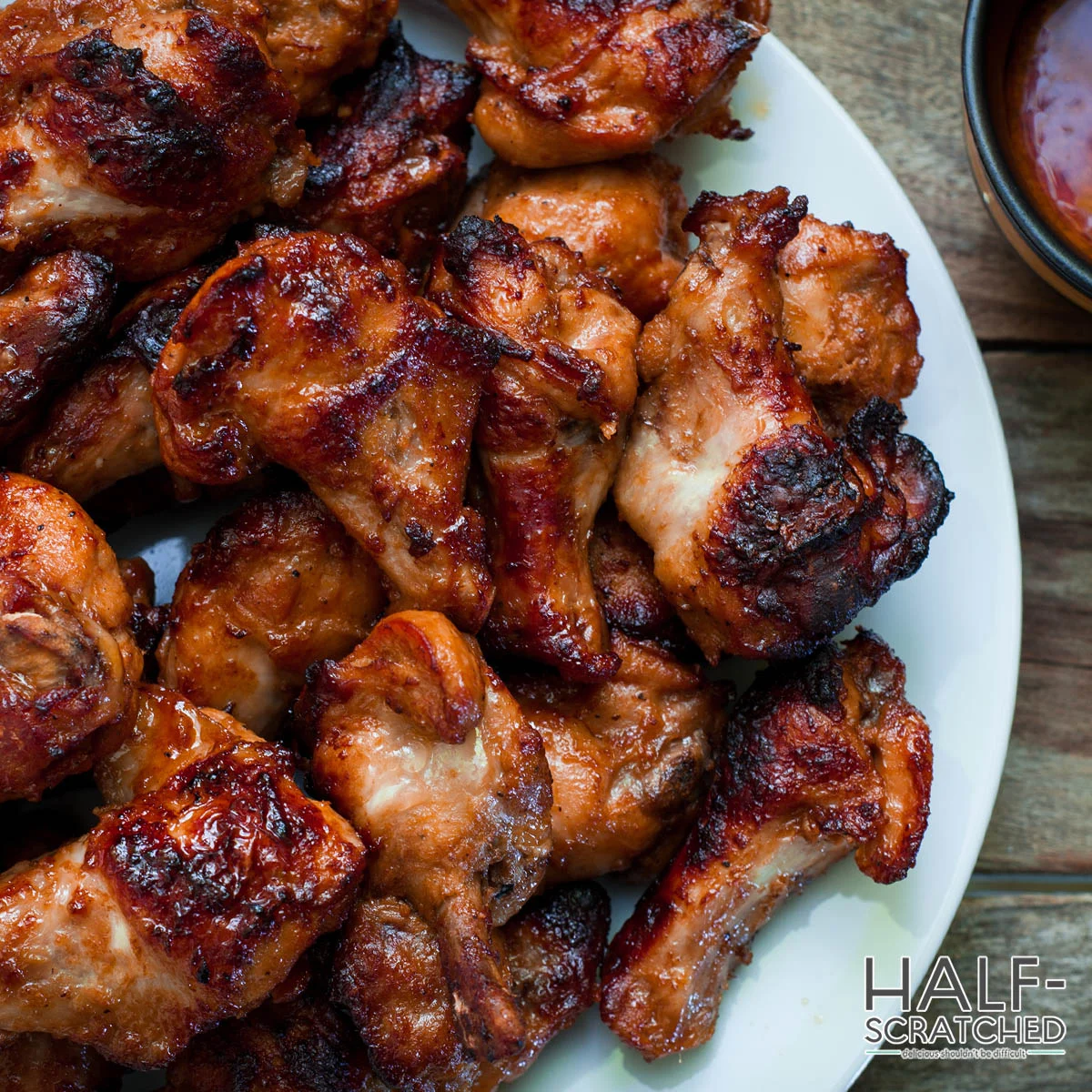 Frequently Asked Questions About Chicken Wings
How do I choose high-quality chicken wings?
High-quality chicken wings are creamy to yellow in color. The skin should be stretched tightly across the meat, and you should be able to see plump, pink flesh beneath it. If the meat appears glossy or greyish in color, they're likely about to go off and should be avoided as best as possible. 
How many chicken wings per person do I need?
I find that more is more with chicken wings, but usually, 6-10 wings or 1.5-2 pounds per person is sufficient. 
What can I do with my leftovers?
If you have leftovers, smoked chicken wings will keep fresh in the fridge for up to 2 weeks. If you need to store them for longer, they can be wrapped in plastic wrap and stored in the freezer for up to one year.
Why are my chicken wings leathery?
This is a common problem when smoking chicken wings. It is happening because excess moisture in the skin doesn't always evaporate at the low temperatures necessary for developing that pleasant smoky flavor. You can avoid this problem by using brines and rubs. Cooking in two stages, first at 225° for 50 minutes, then at 375° for 10 minutes, will allow you to sear the skin while avoiding the acrid flavor of over-smoked meat.
Best Ever Smoked Buffalo Chicken Wings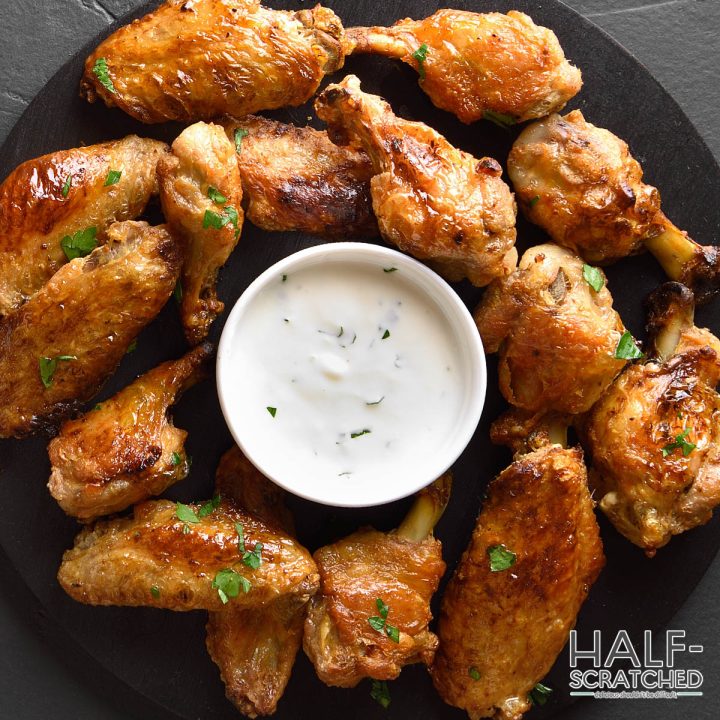 How Long to Smoke a Chicken Wings at 225 F
Prep Time:
12 hours
10 minutes
Cook Time:
1 hour
40 minutes
Total Time:
13 hours
50 minutes
Enjoy delicious and plump smoked chicken wings by smoking them for around 2 hours at 225° Fahrenheit.
Ingredients
Brine
4 cups water
¼ cup apple cider vinegar
¼ cup soy sauce
2 tablespoons hot sauce (Frank's Red Hot Sauce is preferred)
½ cup brown sugar
¼ cup red pepper flakes
3 tablespoons freshly ground black pepper
3 cloves of garlic, crushed
2 sprigs thyme
2 sprigs rosemary
Rub
4 tablespoons cornstarch
4 tablespoons garlic powder
4 tablespoons onion powder
4 tablespoons sea salt
2 tablespoons freshly ground black pepper
Buffalo Sauce
½ cup Frank's Red Hot Sauce
½ cup unsalted butter, room temperature
Main
3 pounds of high-quality chicken wings
1 ½ cups of beef broth
Instructions
If you prefer your wings separated, remove the wing flats from the drumettes with a sharp knife.
Mix the ingredients for the brine together in a sealable plastic bag, then add your chicken wings. Brine the wings for 12-24 hours. Overnight is best.
Remove your wings from the brine and dry them thoroughly using a paper towel. If you have spare time, I recommend leaving them on a cooling rack in the refrigerator for a few hours. This way, all excess moisture will evaporate. Just remember to bring them back up to room temperature before smoking.
Preheat smoker to 225°
Mix all the ingredients for your rub together, then, working generously, use it to coat your dried wings.
Use a meat injector to inject marinade directly into the meat of the chicken wings. Insert the needle about 1 inch into the wing and then fill the wings to keep them plump and flavorful.
Preheat your smoker to 225° Fahrenheit.
Prepare the rub by combining all ingredients in a small bowl.
Once your smoker has come to temperature, place the wings inside and smoke them until they reach an internal temperature of 160° Fahrenheit or about 90 min.
Remove your wings and increase the smoker's temperature to 375° Fahrenheit. Then place the wings back in the smoker to sear for about 10 min, or until they reach an internal temperature of 165°. Turn occasionally.
Remove the wings from the smoker and allow them to rest for 5 minutes.
While the wings rest, mix the ingredients for your buffalo sauce together using an electric mixer or wooden spoon until everything is evenly combined.
Toss the rested wings in your buffalo sauce and serve.
Nutrition Information:
Yield:

3
Serving Size:

1
Amount Per Serving:
Calories:

1086
Total Fat:

70g
Saturated Fat:

33g
Trans Fat:

0g
Unsaturated Fat:

32g
Cholesterol:

205mg
Sodium:

11727mg
Carbohydrates:

87g
Fiber:

9g
Sugar:

33g
Protein:

35g