When you hear turkey, you probably think "Thanksgiving," but the bird can be eaten anytime. Arguably one of the best ways to eat turkey is via smoking.
A whole turkey should be smoked for approximately 30-40 minutes per pound in a smoker at 250 degrees Fahrenheit.
So smoking a 12-pound turkey should take between 6 to 8 hours at 250 degrees Fahrenheit. Always check the internal temperature to ensure it's cooked through. According to the U.S. Department of Agriculture (USDA), the safe internal temperature for cooked turkey is at least 165 degrees Fahrenheit. Personally, I like my turkey best when the internal temperature is just below 180 degrees.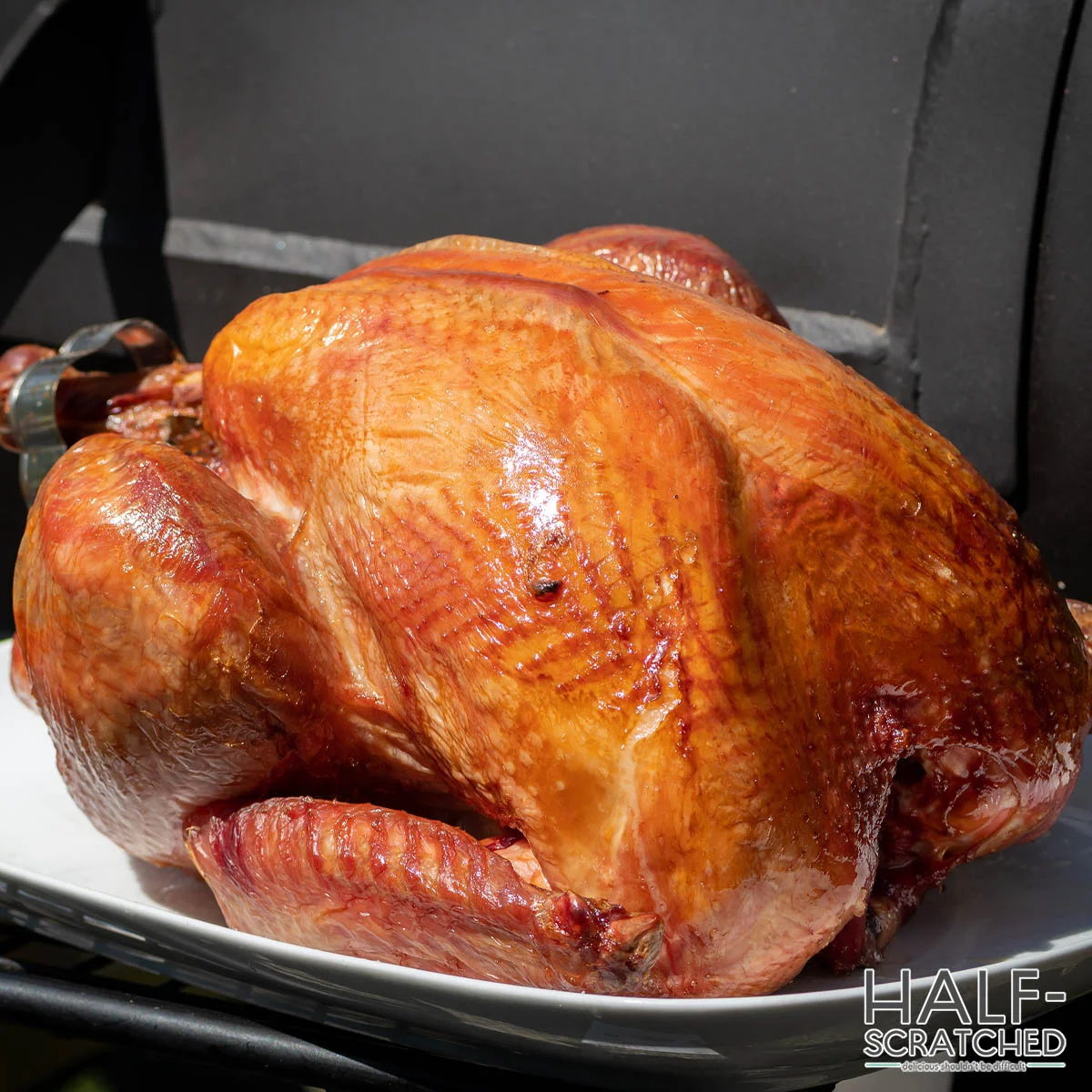 To check this, insert a food thermometer into the thickest part of the turkey, typically the breast or thigh, and make sure it does NOT touch the bone.
Rest the turkey for 15-20 minutes before carving to allow the juices to redistribute throughout the meat.
This article will look at tips and tricks on how to smoke turkey, and provide a delicious smoked turkey recipe.
Why Smoke Turkey?
Many people will tell you their version of how to best cook turkey: bake it, sous vide, or deep fry it. Should smoking be included in this list? Absolutely! It takes more time, but ultimately it's a great option for cooking your turkey.
Flavor
By far, one of the best things about smoking your turkey is the smokey flavor that permeates the meat. You should still use brine and other seasonings on the turkey, but putting it in the smoker adds an additional layer of flavor.
Juicy and Tender Meat
Because smoking is such a slow way of cooking meat, you'll end up with turkey meat that is tender and moist. Instead of cooking the meat at a high temperature that can dry it out, smoking allows the juices to soak into the meat.
Tasty Skin
Smoked turkey skin has a beautiful golden brown tone and an excellent smoked flavor. Granted, the skin won't be crispy, but it'll have a rich depth to it that can only come from smoking it.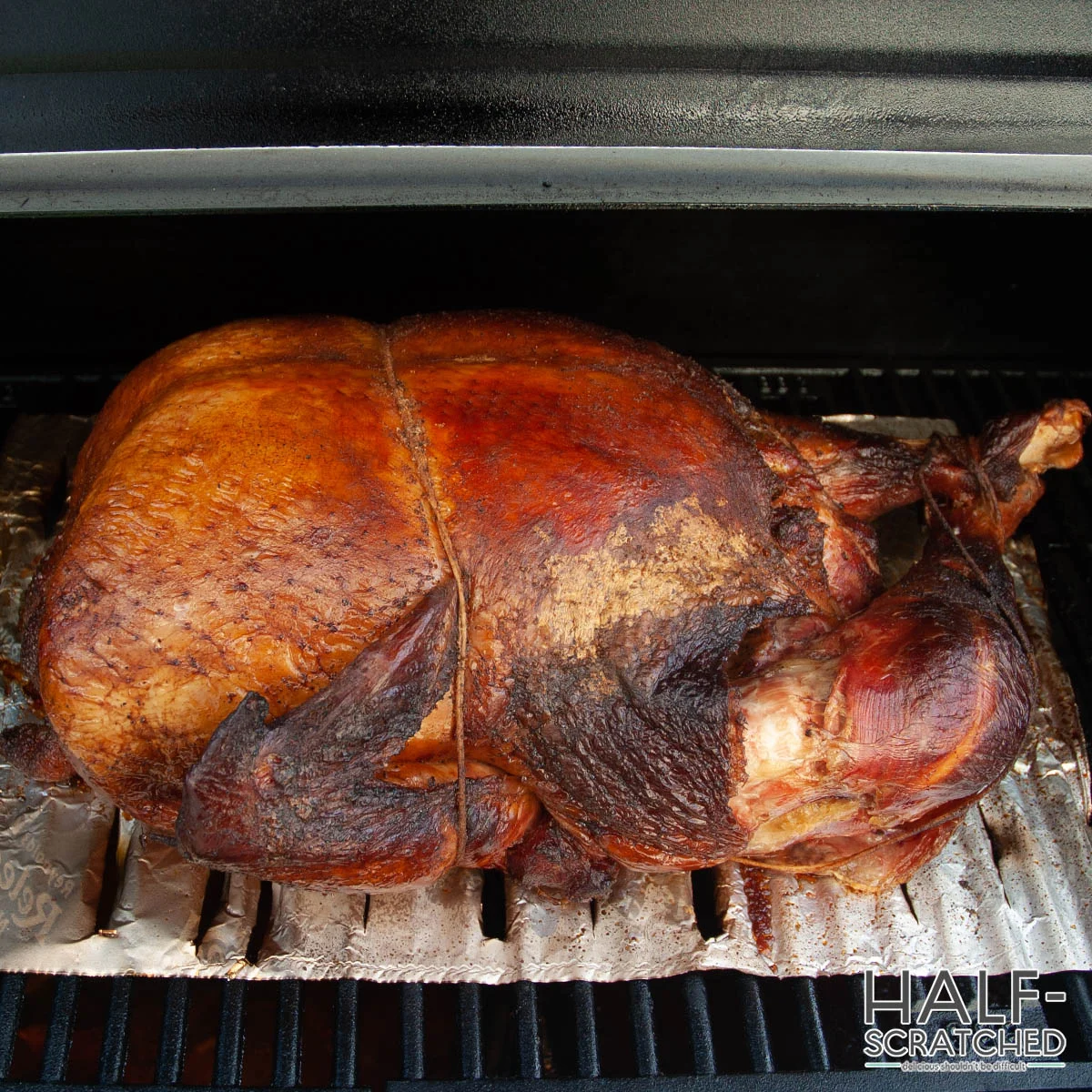 Best Turkey for Smoking
Once you've decided you want to smoke a turkey, there are some things to keep in mind to make sure you buy a good turkey for smoking:
Size: you should look for a 10 to 12-pound turkey to smoke. If it's too big, it might take too long to ensure everything is fully cooked.
Leave turkey wings: when purchasing a turkey, feel free to buy a turkey that still has its wings and legs on. These parts hardly ever burn because the smoking process cooks so slowly that you'll get delicious smokey wings and drumsticks.
Smell: raw turkey meat won't smell amazing, but it shouldn't smell sour or like ammonia. If it does, then it's gone rancid.
Texture: the texture of your whole turkey will be cool and moist. If it feels slimy, that means bacteria has started to grow, and it should be thrown out.
A whole turkey can be bought at grocery stores or a butcher shop, although it may be harder to find when it's not November. That's not to say you can't find it, but it won't be as common as chicken or pork.
Expert Tips for Smoking Turkey
Whether it's your first time smoking turkey or you consider yourself an expert, remember these tips to make the perfect meal!
Experiment with Different Woods
Different woods will give your turkey a slightly different flavor, so why not experiment? Popular ones are hickory, applewood, cherry, or pecan. Try to avoid pine or cedar, as these tend to be treated with chemicals.
Start Smoking Early
Turkeys are huge birds, especially when compared to chickens or ducks. Because of this, it's important to start smoking early since it can take a few more hours to fully cook through. You don't want to have to stay up into the wee hours of the morning because you started too late.
Smoke Turkey as Long as You Deem Necessary
The great thing about smoking meats is that you can keep it in the smoker past the cooking time. For turkey, there's always a risk of overcooking it and the meat becoming tough; with smoking, the turkey will actually benefit from being cooked a little over as it'll become more tender because everything cooks so slowly.
Keep Temperatures Consistent
The important thing about smoking turkey is that the temperature needs to be the same for the entire smoking process. For example, smoking it at 250 degrees Fahrenheit means it should remain 250 degrees for however long it takes to cook the turkey.
If the temperature is inconsistent, some parts of the turkey may end up undercooked while other parts will be fully cooked.
Brine the Turkey
Brining means soaking your meat (in this case, turkey) in a solution of salt and spices for a few hours. This allows the flavoring to soak in and creates more moist meat. Brining complements smoking and adds a nice extra flavor.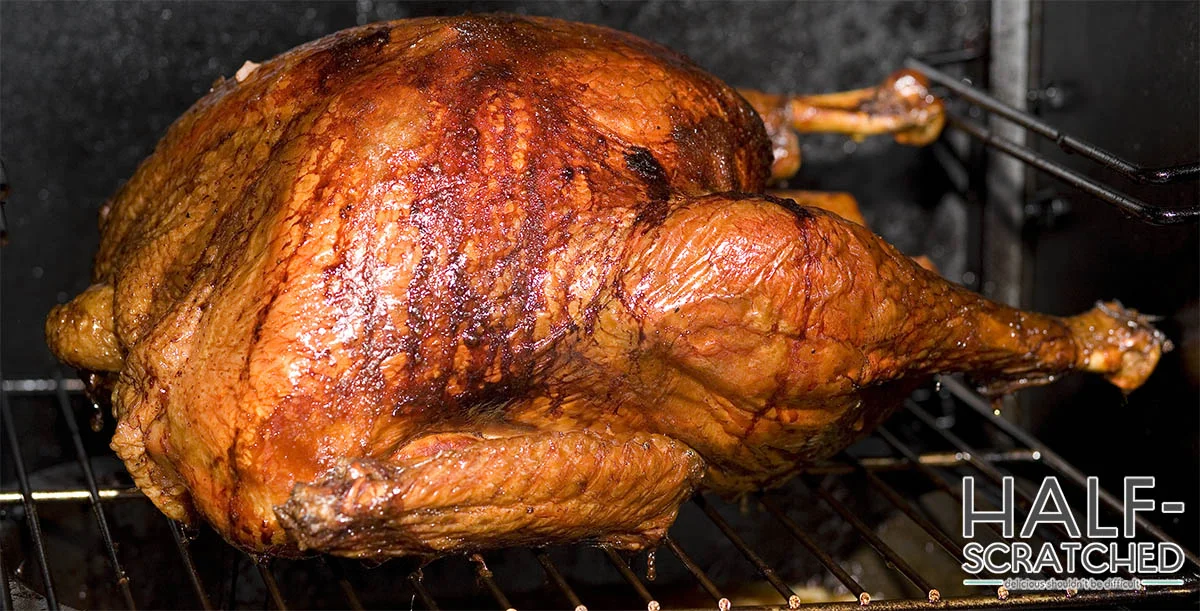 Some Common Questions and Answers for Smoking Turkey
While you might feel like you're an expert at smoking turkey, there are always ways to improve! Here are some common questions and answers that people have about smoking turkey:
What is the best size for a smoked turkey?
The most important thing to ask yourself when thinking about turkey size is: how much time do you have and how big is your smoker? Both of these will determine the right size, although most people typically get a ten to twelve-pound turkey. If you have a lot of time or your smoker is large, get a bigger size.
Do I have to let the turkey rest?
Turkey should rest at least 20 to 40 minutes after taking it out of the smoker. This allows the juices to settle. Turkey is especially susceptible to drying out, so making sure that you don't cut into it immediately is very important.
How long will smoked turkey last in the fridge?
Smoking meat actually helps to preserve it, so while roasted turkey might only last a little over a week, smoked turkey can safely be kept in the refrigerator for two weeks. If you want to make it last longer, freeze it, where it can stay good for months.
Delicious Wood Smoked Turkey Recipe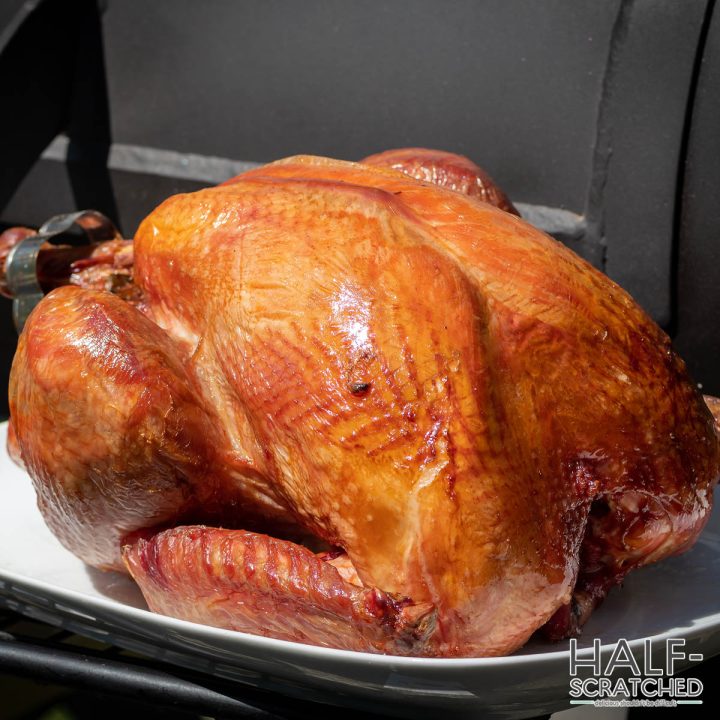 How Long to Smoke a Whole Turkey at 250 F
Total Time:
6 hours
30 minutes
Turkey is delicious year-round and this article will teach you expert tips and tricks on how to smoke a perfect turkey.
Ingredients
10 pounds turkey
3 gallons of water
1½ cups salt
¾ cup maple syrup
12 thyme sprigs
5 dried bay leaves
1 garlic head cut in half
Instructions
Create a brine using the water and all the ingredients besides the turkey. Stir it together and submerge the turkey into it. Refrigerate for a day.
The next day, heat the smoker to 250 degrees Fahrenheit. Place a drip pan on the bottom to catch all the turkey juices.
Remove the turkey from the brine and pat it dry. Put it into the smoker and smoke for about 6 hours, checking on it occasionally and making sure the internal temperature is at least 165 degrees. I prefer just below 180 degrees.
Nutrition Information:
Yield:

6
Serving Size:

1
Amount Per Serving:
Calories:

1544
Total Fat:

56g
Saturated Fat:

16g
Trans Fat:

1g
Unsaturated Fat:

36g
Cholesterol:

824mg
Sodium:

29154mg
Carbohydrates:

30g
Fiber:

0g
Sugar:

25g
Protein:

216g