Turkey might not be the most common food on your table, but once the holidays roll around, you can be sure to enjoy more than your fair share of it. If you're tired of eating the same boring roast turkey, though, you can change things up by slowly smoking a whole bird over a hardwood fire. It may take a little longer but the unique flavor and texture will be a welcome addition to your family feast.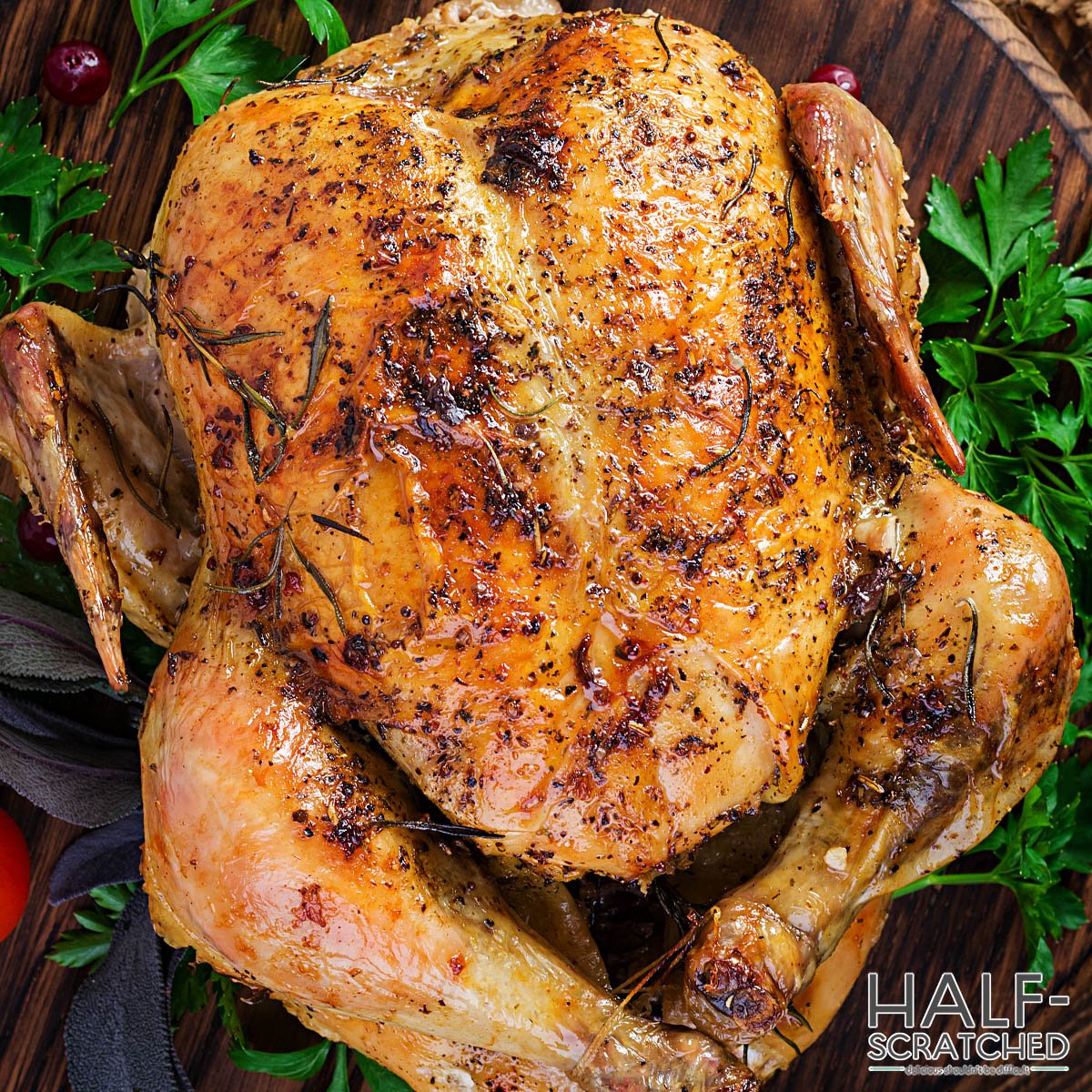 Depending on the size of the bird, a turkey should smoke for between 8 to 12 hours at 225° Fahrenheit. The first four hours are the most important, though, as the bird must heat to at least 140° before bacteria has time to grow within the meat. This shouldn't be an issue, though, as long as you maintain a stable temperature in your smoker.
Smoking turkey isn't the easiest of meats to smoke, though, so if you're a complete beginner, I recommend practicing with smaller cuts before graduating to a whole bird. Nevertheless, if you feel confident in your abilities, take a minute to read through this quick cooking guide and discover how long you should smoke a turkey.
What Makes Smoking Turkey More Challenging?
Compared to smoking a slab of ribs or a Boston butt, a whole turkey requires a little more attention and skill to get right. While it would be easy to blame it on the size of the bird, it more or less comes down to the type of meat.
Pork—although technically white meat—contains more fat than poultry, giving it a little more leeway in the smoker. Turkey, though, is already quite lean, which is why it often comes out dry at Thanksgiving. Without the excess fat or connective tissue to slowly melt into the meat, the turkey will quickly lose moisture in the dry convection environment of a smoker, much like in an oven.
There are ways to work around this, though, chiefly by smoking the meat at a low temperature. This keeps the juices from suddenly evaporating while also allowing the meat to slowly tenderize. Nevertheless, it is common practice to brine a turkey before smoking it to increase the amount of moisture in the meat.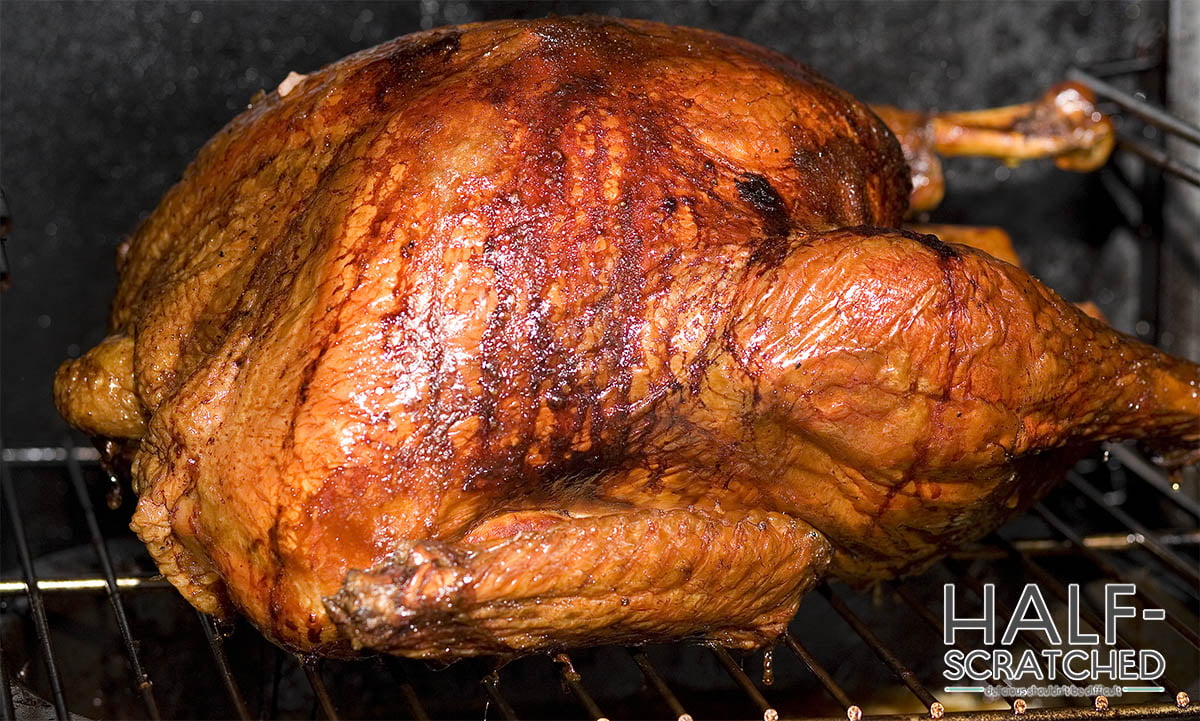 How Long to Smoke a Whole Turkey – Size and Weight
Anyone who has ever planned a Thanksgiving dinner knows just how important it is to buy the right-sized bird. Yet, considering that turkeys can grow anywhere from 4.5 lbs to 14.5 lbs, there's a lot of variation in size and weight that will directly affect the smoking time. This is why it's hard to give an exact smoking time without knowing the weight.
Below, I've provided a chart with all of the possible smoking times according to the size and weight of the bird. Use it to plan ahead and gauge how long it'll take before your Thanksgiving dinner is ready.
| | |
| --- | --- |
| Weight | Smoking Time |
| 2 lbs | 1 hour |
| 4 lbs | 2 hours |
| 6 lbs | 4 hours |
| 8 lbs | 6 hours |
| 10 lbs | 8 hours |
| 12 lbs | 10 hours |
| 14 lbs | 12 hours |
If you're smoking a turkey that's larger than 14 lbs, add an additional 30 minutes for every pound. I recommend chopping the bird into sections, though, to help bring the internal temperature above 140° Fahrenheit within 4 hours.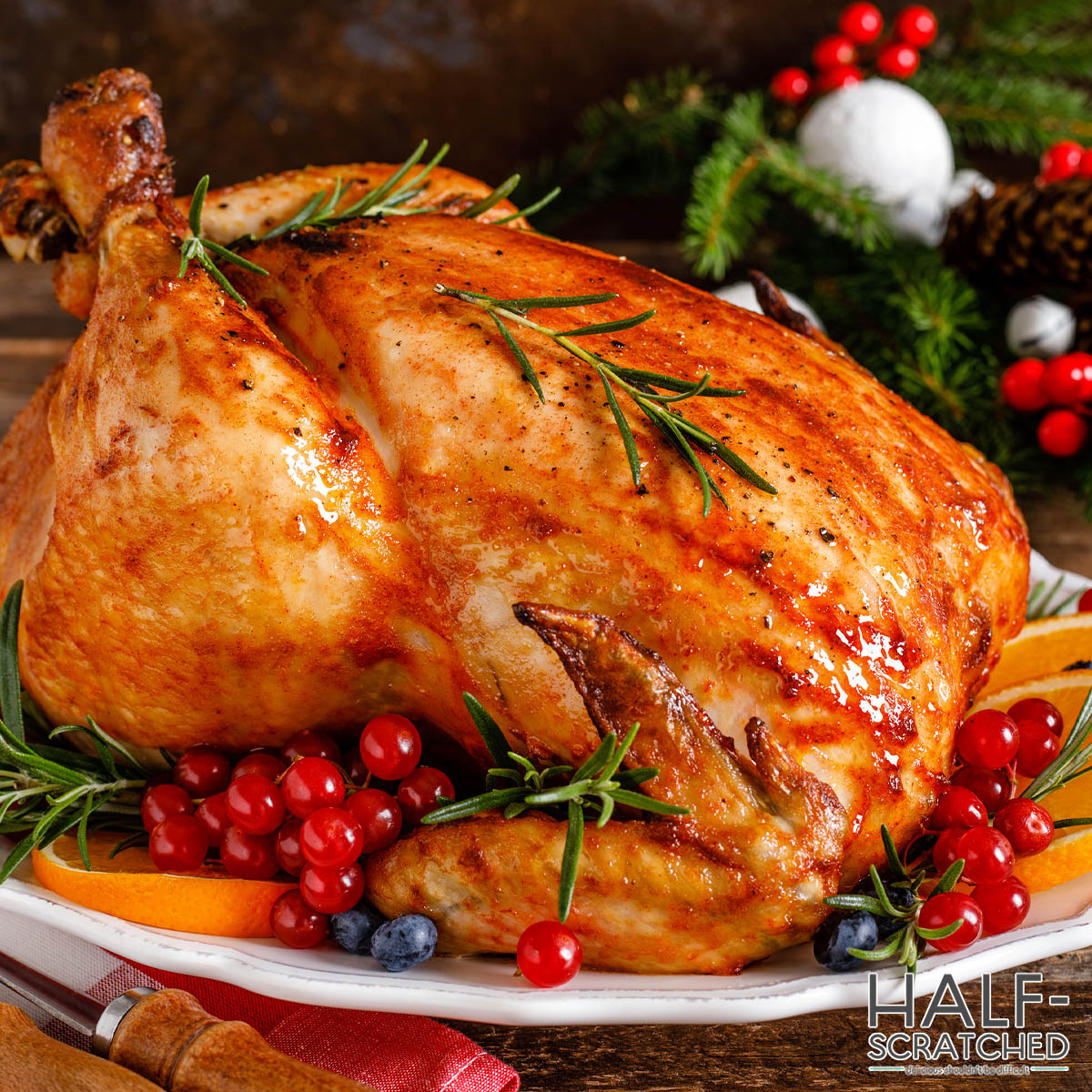 The Turkey "Danger Zone" and How to Avoid It
Turkey is one of my favorite meats, and although I don't eat it often, I've always enjoyed that it's leaner and has more flavor than chicken. Like chicken, though, it is prone to contamination and this is particularly true when you're smoking the meat. If you're not careful to heat it properly, turkey can enter a danger zone between 40° and 140° Fahrenheit.
If you leave it within this danger zone for too long, any bacteria within the meat will rapidly multiply, causing the turkey to go off while it cooks. Even if you manage to cook it past 140°, it still wouldn't be wise to consume the meat. Therefore, you have to be careful to cook the turkey to at least 140° Fahrenheit within four hours.
This can be tricky if you're cooking a large bird, though, which is why I recommend cutting anything greater than 12 lbs into smaller sections. The heat will transfer into the meat more quickly, allowing it to smoke without bacteria growing in the danger zone.
Follow the Internal Temperature, Not the Time
As with most smoked meats, it's generally better to follow the internal temperature as a guideline for when the meat is ready. Since you'll be smoking the turkey well beyond its FDA-recommend internal temperature, you won't really have to worry about it being cooked unless you failed to pass the danger zone in time.
The reason why you continue to cook the meat past its ready-point is that it creates a smoother, softer texture, unlike the dry and gritty texture of an over-roasted turkey from the oven. However, to reach that point, you have to let the bird reach a temperature between 195° and 200° Fahrenheit.
Even if the bird hasn't been in for the full length of time recommended above, as soon as it reaches this temperature range, you can take it out, let it rest, and then serve after 15 minutes. Leaving it any longer can cause the meat to become dry rather than tender.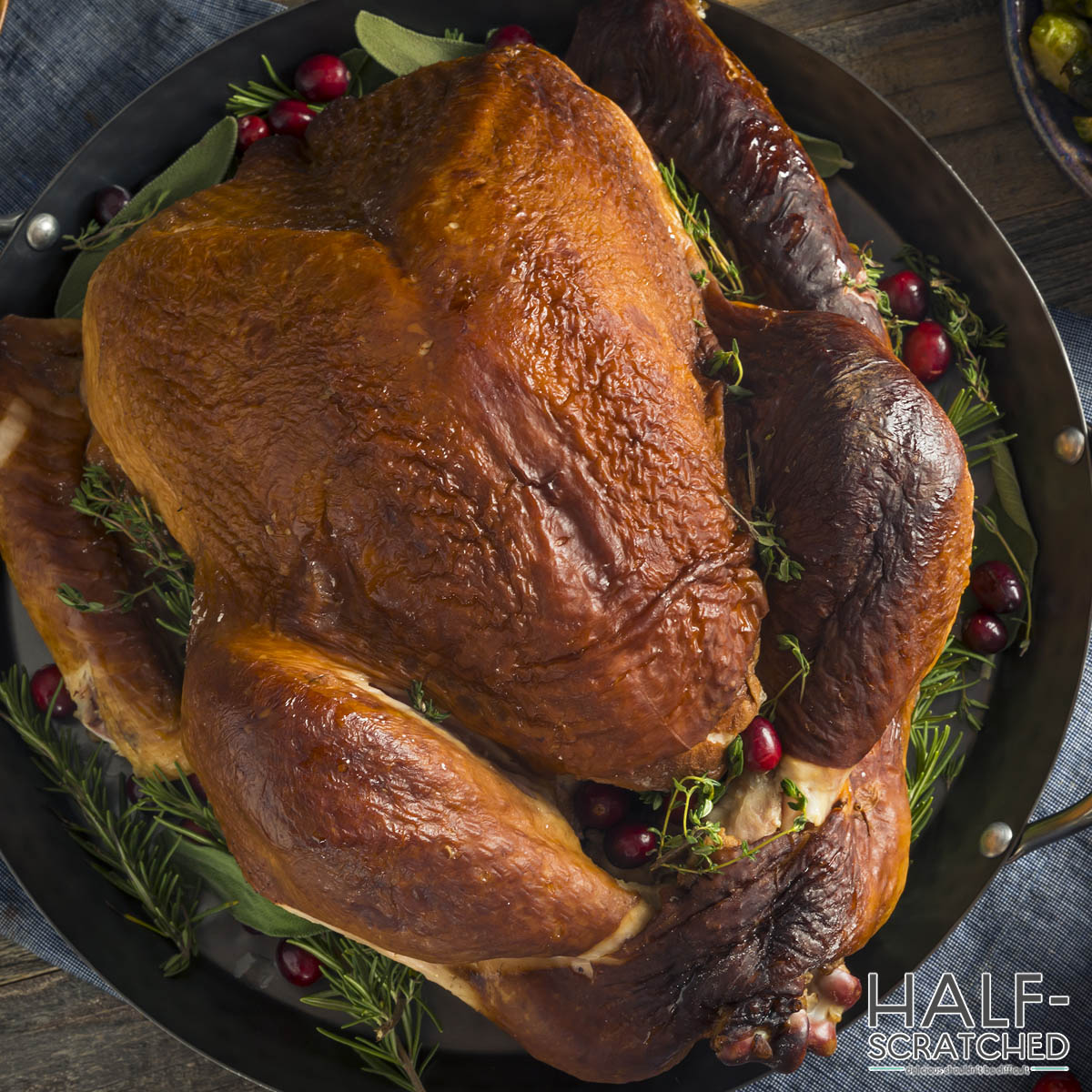 When to Cover the Turkey in Foil?
As delicious as smoked meat can be, there comes a point when too much smoke does more harm than good. This is because smoking deposits small particles of creosote onto the meat. Creosote is a thick, carbon-rich compound that can cause the turkey to taste oily, acrid, and ash-like. The longer the meat is exposed to the open smoke, the worse it will taste.
I generally cover the bird once it reaches 165° Fahrenheit, which should be around the 5-hour mark. This gives it another 4 hours or so to smoke under the foil, which will also capture some of the moisture and help the turkey to cook faster.
Be careful when you remove it when the smoker, though, as it will partially be cooked and you don't want to lose any of the skin or meat while wrapping it. I also would be careful to cover the entire bird, not just the top.
How to Lock In Moisture and Flavor
As challenging as smoking a turkey can be, there are a handful of tricks you should know to make it easier. I recommend following the tips to keep your bird juicy and flavorful rather than dry and over-smoked.
Always Brine the Turkey Before Smoking
Since turkey is naturally leaner than most other meats, it needs a little more help to stay moist in the smoker. Brining introduces more liquid into the cells through the power of osmosis. As salt opens the pores of the cells, water can then flood into the meat, leaving it not only juicier but also more flavorful and saltier.
Use the Right Type of Wood
Compared to pork or beef, turkey has a milder, more subtle flavor that can easily become overpowered by a heavy smokiness. For this reason, I recommend steering clear of mesquite or hickory smoke. Instead, use something a little lighter, such as applewood or white oak. These woods will still leave a faint smokiness without ruining the taste of the turkey.
Don't Stuff the Bird
Thanksgiving without stuffing may sound like a crime against tradition but stuffing the bird and leaving it to smoke for 8 to 12 hours would be a horrible decision. Not only would the stuffing likely burn, but even if it didn't, it would absorb all of the smoke and create a harsh, bitter flavor in the meat. If you want to make stuffing, prepare it on the side in your oven.
Place a Drip Pan Below the Turkey
Turkey skin does contain a surprising amount of fat, which you'll want to stop from dripping down into the fire. This is as easy as placing a drip pan below the bird and then removing it once you've wrapped the turkey in foil. If you allow fat to drip down, it'll burn, causing nasty black smoke to taint the meat, and it can even start a grease fire.
Place a Stick of Butter Underneath the Skin
Last but not least, you can keep the bird moist and tender by cutting open a small section of the skin and stuffing an entire stick of butter against the meat. As the butter melts, it will run down the sides of the turkey, helping to crispen the outer skin while keeping the meat juicy and tender. I personally prefer using salted butter for this, as unsalted can be a bit sweet.
Frequently Asked Questions About Smoking a Turkey
Why is the meat still pink if it's past the recommended temperature?
Turkey meat contains a protein called cytochrome that helps the cells burn fat. This is why turkey is naturally leaner than beef or pork. However, when it's heated, it loses the ability to convert oxygen into energy and takes on a pinkish hue. This is completely normal and as long as you've let the turkey cook to the proper temperature, it should be safe to eat.
Can I smoke turkey using a rotisserie attachment?
If you want the turkey to cook as evenly as possible, I recommend investing in a rotisserie attachment. It will keep the bird moving while it smokes, helping to distribute heat across the skin as perfectly as possible. However, after you cover the turkey with foil, let it rest on the rack instead of on the rotisserie. Otherwise, it may become too smoky and take on a sooty flavor.
How long can I store smoked turkey in my refrigerator?
As a general rule of thumb, never store smoked meats in the fridge for more than 4 days. After that point, they'll start to develop bacteria and you should throw the meat away. If you have quite a lot of leftover turkey, though, you can seal it in a Tupperware container and freeze the meat for up to 6 months without a problem.
How should I cut a large turkey before smoking it?
If you're serving a crowd and have purchased a turkey that weighs more than 14 lbs, you can still safely smoke it by removing the wings and legs. This will allow heat to pass through the meat more quickly, getting you out of the danger zone within the 4-hour deadline. Just be sure to check the internal temperatures for the wings and legs as they cook and remove them once they reach 195°.
How can I check the internal temperature without opening the smoker?
Every time you open your smoker, you'll have to adjust the temperature to account for any heat lost to the environment. This means that you can't keep opening your smoker in the first 4 hours to check whether the turkey has passed the danger zone. I recommend using a digital meat thermometer instead. That way you can track the temperature without constantly opening your smoker.
A Fool-Proof Recipe for Smoked Turkey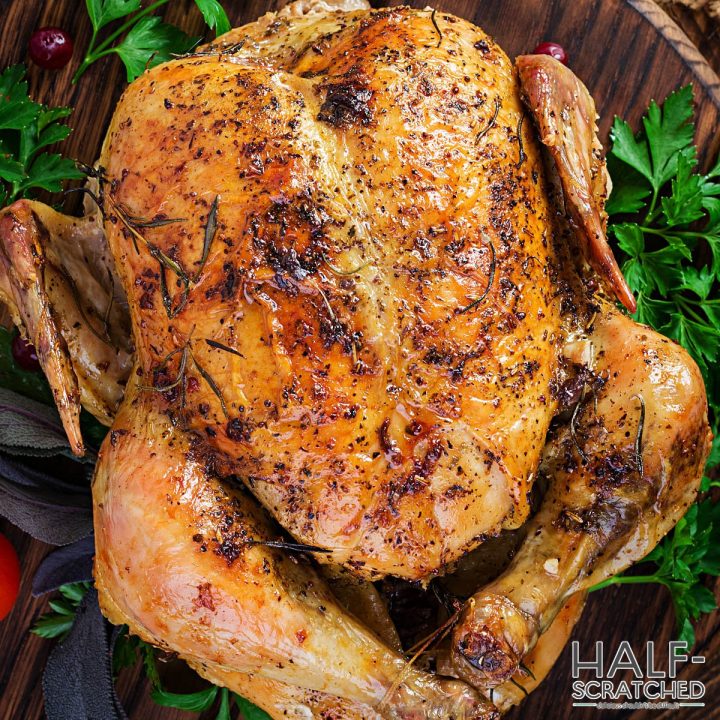 How Long to Smoke a Turkey at 225 F
Prep Time:
6 hours
30 minutes
Total Time:
14 hours
30 minutes
Make the next holiday season one to remember with this fool-proof recipe for a smoked whole turkey.
Ingredients
One 10-lbs turkey
2 tablespoons of kosher salt
2 tablespoons of freshly ground black pepper
2 tablespoons of garlic powder
1 teaspoon of onion powder
2 tablespoons of paprika
1 stick of salted butter
4 cups of kosher salt for brining
Instructions
Start by preparing the turkey for brining. Remove the neck bone, giblets, and any other remaining organs, as well as excess fat deposits and remaining feathers. Then, cut a small slit into the skin around the breasts. This is where you'll later insert the stick of butter.
To brine the turkey, dissolve 4 cups of kosher salt in 2 gallons of warm water. I recommend using a large food-safe bucket or a plastic container that's large enough to hold the turkey. Submerge the turkey in the brining solution and leave it for a full 6 hours.
Combine the remaining salt and spices in a small bowl to create a rub.
After the turkey has finished brining, remove it and pat the skin dry using paper towels. Coat the bird in the rub you've just created. Then, let it sit and marinate in the rub for 30 minutes.
While the rub soaks into the turkey skin, prepare your smoker by layering applewood chips at the bottom of the barrel. Top the chips with charcoal and then light the fire. Adjust the vents until the smoke turns a light blue and your smoker reaches a stable 225° Fahrenheit.
Slide the stick of butter into the slit you cut earlier while prepping the turkey.
Place the turkey in the smoker and let it cook until it reaches 165° Fahrenheit. Be sure to watch it carefully during the first 4 hours to ensure that it passes 145° Fahrenheit in time to escape the danger zone. Then, remove the turkey, wrap it in aluminum foil, and return it to the smoker.
Let the turkey smoke for another 4 hours or until it reaches an internal temperature of 195° Fahrenheit.
Remove the turkey from the smoker and allow it to rest for 15 minutes. Then, carve the bird and enjoy!
Nutrition Information:
Yield:

6
Serving Size:

1
Amount Per Serving:
Calories:

1587
Total Fat:

72g
Saturated Fat:

26g
Trans Fat:

1g
Unsaturated Fat:

41g
Cholesterol:

865mg
Sodium:

42471mg
Carbohydrates:

6g
Fiber:

2g
Sugar:

0g
Protein:

217g