Americans love chicken and chicken thighs are often the go-to parts of the bird to eat. Thighs are the fattier part of the chicken (they're considered dark meat) and thus will have more flavor as opposed to their white meat counterparts.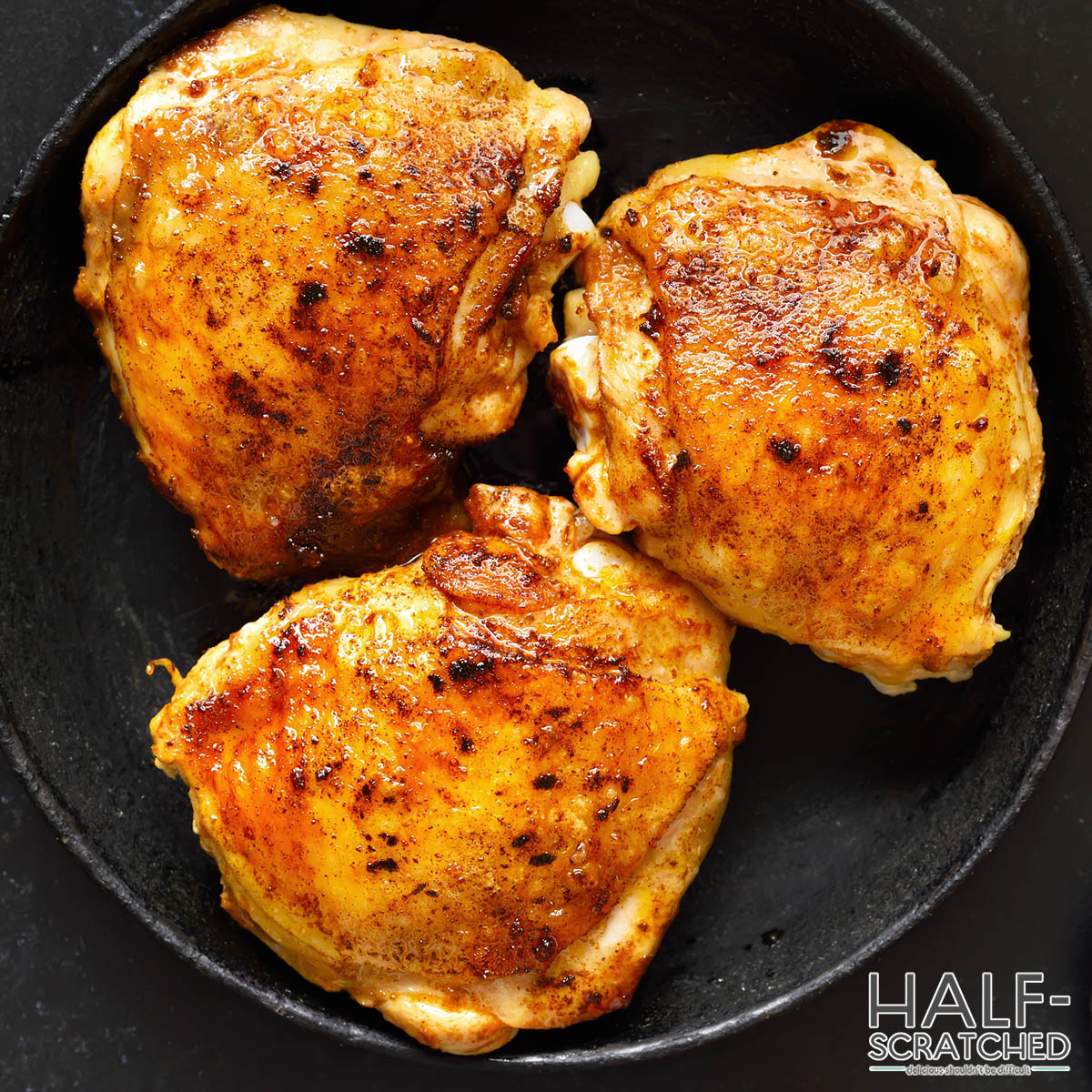 Chicken thighs can be baked in an oven at 375 degrees Fahrenheit. Because it's a thicker cut of meat, be sure to bake them for at least 30 minutes until the meat around the bone is no longer pink and the juices run clear.
We will be investigating the best way to bake chicken thighs so they retain their moisture, whether chicken thigh skin is worth keeping on, and an easy-to-make chicken thigh dish.
Baking Chicken Thighs in the Oven at 375 F
Baking boneless chicken thighs in the oven at 375 F takes around 30 minutes. If you are baking "bone-in" chicken thighs (meaning that it has bones), then cooking time will be double. So baking bone-in chicken thighs will take around 60 minutes.
The chicken bone essentially keeps the meat around it insulated, meaning the area is kept at a lower temperature than if there were no bones. This means a longer cooking time is required to heat the chicken meat to a safe temperature.
Another thing to note is that the temperature inside the chicken thighs should be 165 degrees or higher. Unlike its red meat counterparts, chicken needs to be fully cooked or it can make you very sick.
Should I Include the Chicken Thigh Skin?
Chicken thighs are delicious and a lot of it has to do with the fact that it has more fat than other parts of the bird, such as the breasts or wings. Because it's already higher in fat content and generally has more saturated meat, you may wonder if the chicken thigh skin should be kept on.
Since dark meat e.g. the chicken thighs, are already higher in fat and calories, some people may want to cut out the skin because it'll add calories and fat; however, keeping the skin on adds more flavor and crispiness. Ultimately it will depend on the individual person but know that thigh skin isn't as "bad" as it's been made out to be.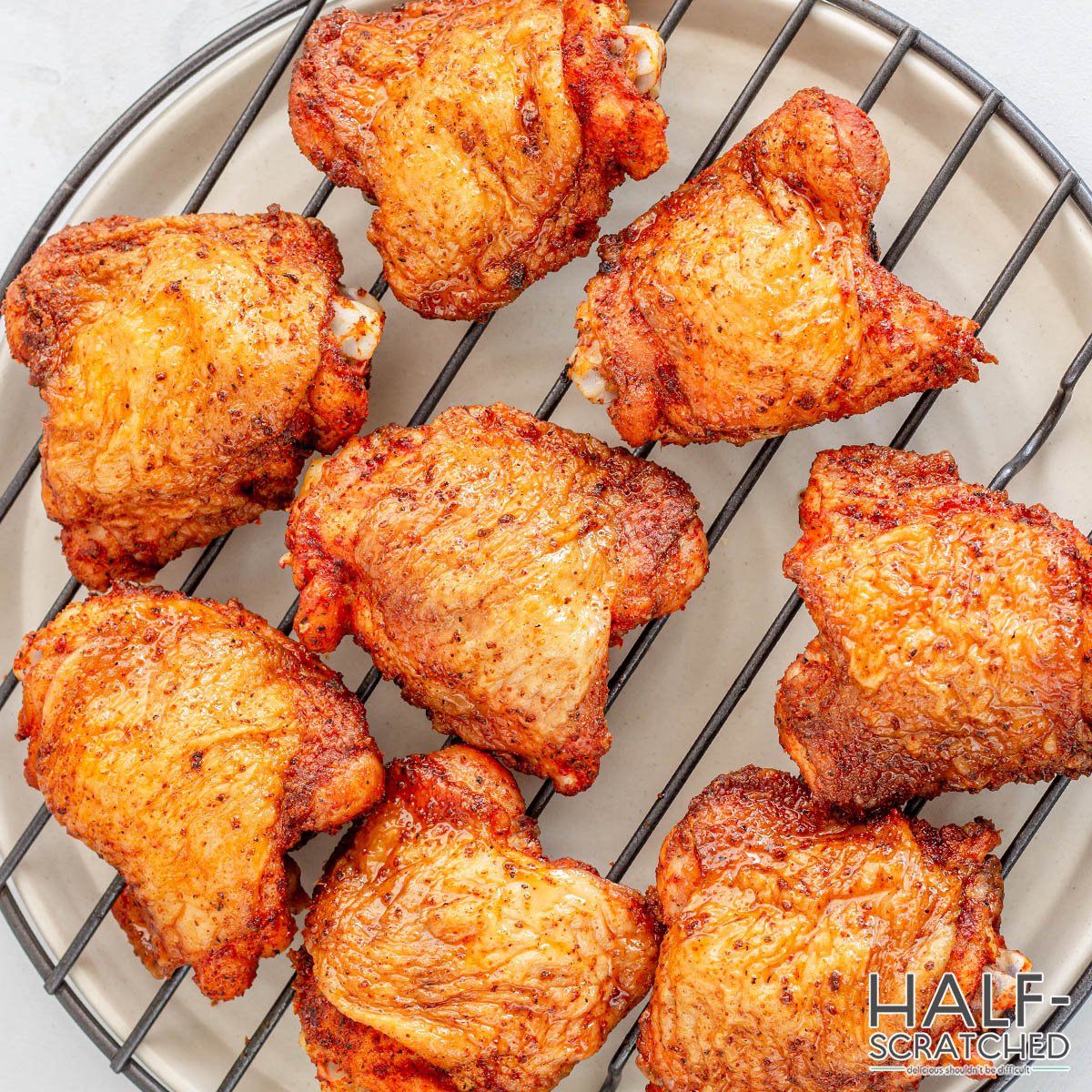 Dark Meat Versus White Meat
Dark meat has high levels of a protein called myoglobin that stores oxygen in the muscles and gives the meat its darker coloring. They tend to contain more muscles than other parts of the chicken, which is why the thigh and drumsticks are considered dark meat. Dark meat is higher in saturated fat but also has more protein and carbs per serving.
White meat has been thought of as "healthier" because it has less fat and calories than dark meat. It includes chicken breasts and wings, but some have argued that eating more white meat isn't necessarily better for you.
How Can I Make Chicken Thigh Skin Crispy?
Cooked chicken thighs in the oven are delicious but they're even better when they develop a crispy outer skin. Below are some tips for getting crispy chicken thighs:
Pat the chicken wings dry: you want as little moisture as possible when crisping chicken skin, so before you start baking, use a paper towel to pat the skin dry.
High heat is your friend: by baking chicken at high temperatures, the skin will crisp up while the inside will retain its juiciness. Temperatures can be as high as 475 degrees Fahrenheit.
Also lower the temperature: don't bake chicken thighs at a high temperature for the entire time. This can result in burned skin and overcooked meat. Instead, lower the temperature after the skin turns a golden color so it'll slowly crisp.
Put the chicken thighs in the fridge before: another tip to help dry out chicken thighs is to put it in the fridge uncovered before you bake it.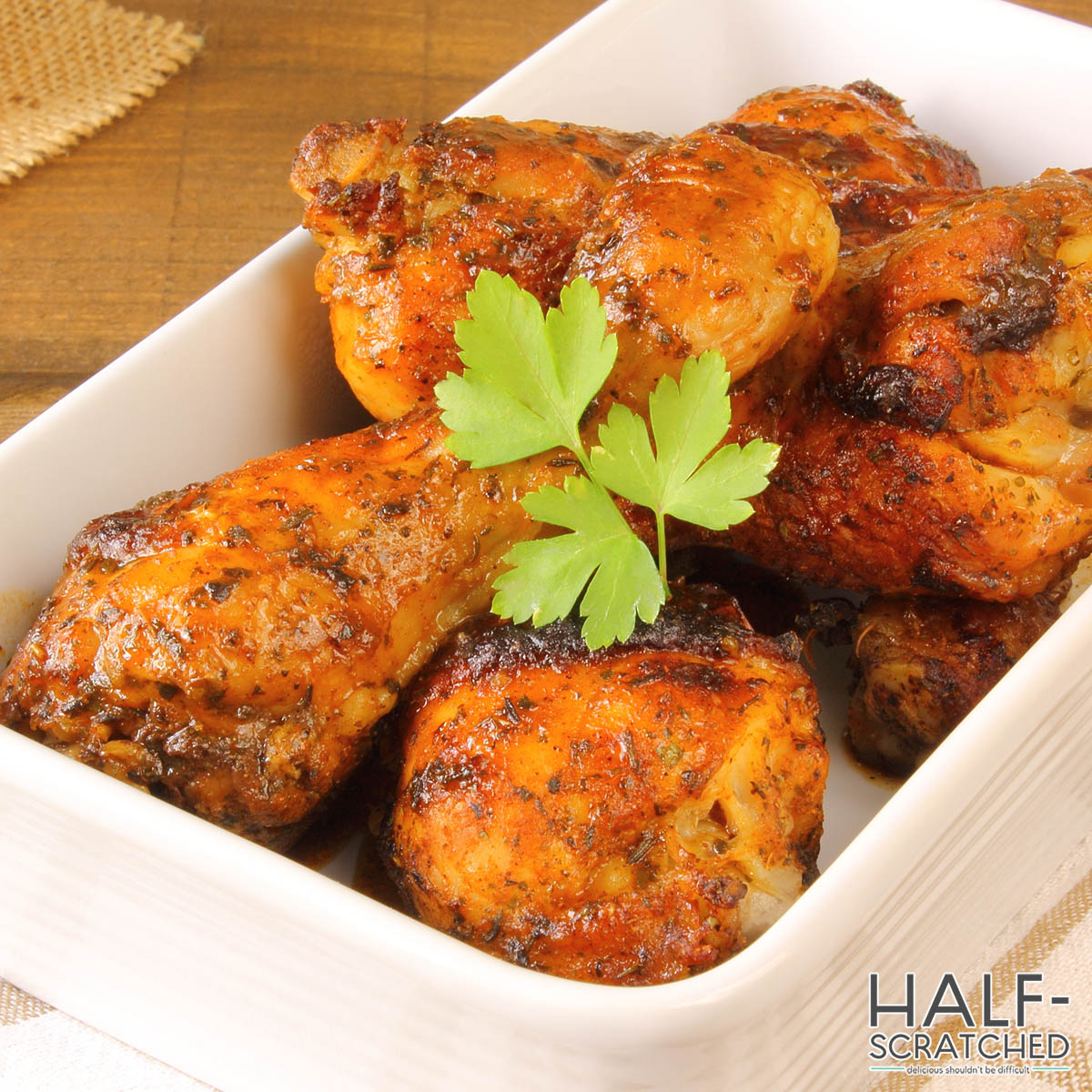 Other Options to Make Chicken Thighs with Crispy Skin
If you don't have a lot of time to bake chicken thighs, there is another option: frying them. You can take a cast iron skillet, add oil, and heat it up until it's smoking. Add the chicken thigh, skin side down, and sear it until it's crispy. Then finish cooking it in an oven at 375 degrees.
How to Prep Chicken Thighs for Cooking in the Oven
Perfectly baked chicken thighs are easy to make if you follow these tips before actually placing them in the oven:
Let chicken thighs warm to room temperature before baking
Putting chicken thighs that come straight out of the fridge into a hot oven is a big no-no. The extreme temperature change means that the thighs will cook unevenly and you'll often be left with partially uncooked sections of the chicken.
A good rule of thumb is to let the chicken get to room temperature by setting it out on the counter for 30 to 60 minutes.
Marinate or season in a bag the day before
While chicken is delicious by itself, it's really the marinades and seasonings that elevate baked chicken thighs. Put the chicken thighs in a ziplock bag with the sauce or seasonings overnight so the flavors can soak into the meat and skin. Let it sit anywhere from six to 24 hours. Any longer than 48 hours and the meat can start to get mushy.
If you want to be more sustainable, let the thighs marinate in a glass container that you can wash. Don't use metal containers since some marinades are too acidic and can result in weird flavoring.
Make sure you have a big enough container to cook in
When baking chicken thighs, you don't want them to overlap. This ensures that all the parts of the chicken thighs cook through and that no part goes unmarinated or seasoned. Try to use a cast iron or stainless steel container, as these retain heat best.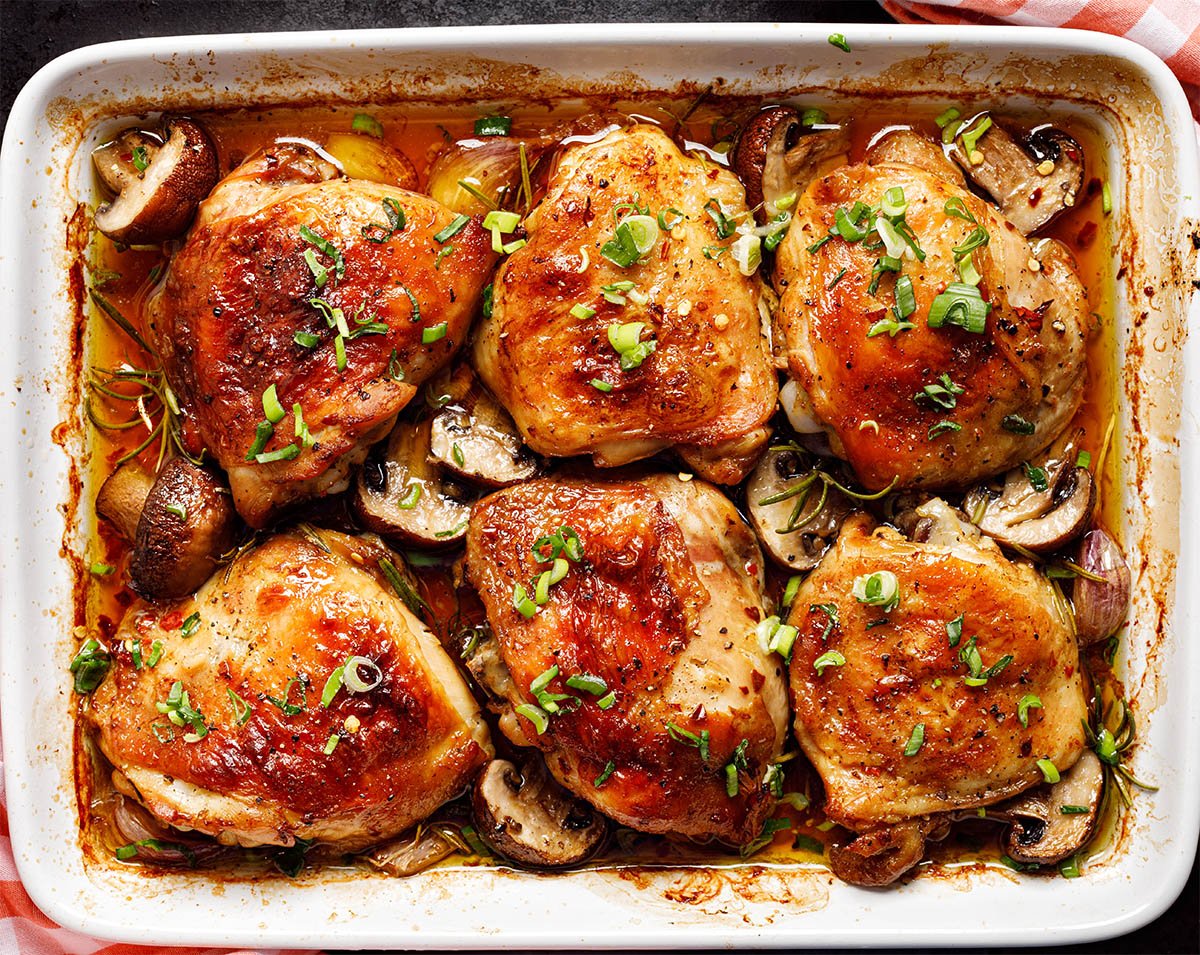 My Tips for Cooking Perfect Chicken Thighs
Oven-cooked chicken thighs are an easy way to create a delicious dish, even if you're a novice chef. Here are some general tips to think about before starting to prepare your chicken wings:
Rub olive oil on the outside of the chicken thighs
Using olive oil will not only help the chicken thigh skin crisp up, but it'll also help any seasonings you add stick better. Olive oil has a nice subtle flavor too, so it won't interfere with the taste. Try to avoid stronger oils like coconut.
Bake uncovered
If you love crispy chicken skin, then bake your chicken thighs uncovered. When you cover your chicken thighs, especially with aluminum foil, it keeps all the moisture in and doesn't allow the skin to crisp up.
Invest in a meat thermometer
It is so important, especially when it comes to meat, to have a thermometer because the internal temperature will determine how cooked your chicken thighs are. Chicken should have an internal temperature of 165 degrees Fahrenheit. Even if it's slightly undercooked, it can make you sick so take care to always check.
Will chicken thighs last in the fridge?
If you cooked a lot of chicken thighs, it's likely you may not be able to finish it all! Luckily, the USDA states that cooked chicken is good for up to four days in the fridge. It slows down bacterial growth but unfortunately doesn't stop it.
How to Season and Marinate Chicken Thighs
While chicken thighs are tasty without marinades or sauces, when you use them, it can really elevate the chicken and dish overall. Here are some popular marinades and seasonings to use for chicken thighs:
Pepper and salt: these might seem like boring spices but using pepper and salt makes a huge difference when added to meat.
Onion or garlic powder: as part of the allium family, garlic and onions can make chicken thighs very flavorful, especially when sprinkled under the skin.
Acidic sauces: juices or sauces that contain vinegar, wine, tomato juice, or citrus juices are great for chicken wings and give them a slightly more pungent taste.
Garden herbs: sometimes, the best chicken thigh toppings can be found in your garden! Herbs like rosemary, thyme, or sage are an easy way to add an extra zing to the meaty taste of chicken thighs.
Chili powder or pepper-based sauces: a little spice never hurts anyone and using chili powder or pepper-based sauces for marinades keeps things exciting for the senses!
Soy sauce and/or sesame oil: for some Asian flavoring, try a marinade that contains soy sauce and/or sesame oil. The salty oiliness is sure to be a hit!
Maple syrup or honey: while both of these are sweet, they pair nicely with savory flavors like salt or spiciness.
How Do I Heat up Chicken Thighs?
The problem with leftover chicken thighs is that they often don't have the crispy skin as when they were fresh out of the oven. Here are some tricks that you can do so your leftover chicken thighs are just as tasty as before:
Let the chicken thighs get to room temperature. This'll help the skin crisp up better.
Chicken thighs can be heated up in the oven, microwave, or air fryer. Another thing you can do is fry it up in a skillet, which will help give it a nice crispy edge.
Don't ever try to cook chicken in a microwave. Only use the kitchen appliance to heat up your chicken thighs. Use the oven, stovetop, or air fryer to cook chicken thighs.
How Do I Keep My Chicken Thighs Moist?
One of the most common complaints about chicken is that it's very easy for it to become dry. How can you keep it moist?
Let the chicken thighs rest: one of the most important steps you can do to keep chicken moist is to let it rest. This means that after the chicken thighs are done cooking, take it out of the oven and let it sit for about 5 minutes. Letting chicken thighs sit allows the juices to distribute itself throughout the meat, keeping everything moist.
Baste: basting is taking the oil or marinade that surrounds the chicken and pouring it over the chicken thighs while it's baking. This evenly distributes the juices and creates more moisture.
Garlic Butter Baked Chicken Thighs Recipe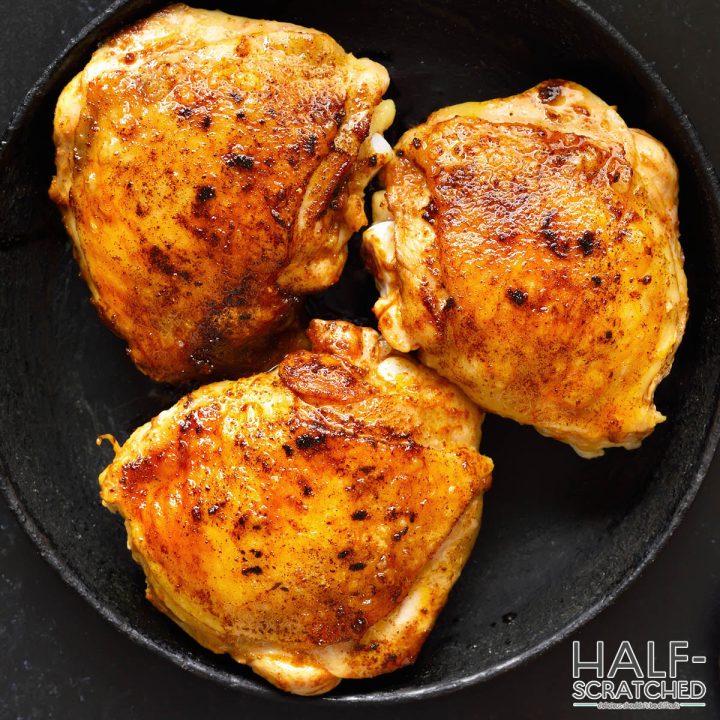 How Long to Bake Chicken Thighs at 375 F
Chicken thighs are one of the best parts of the chicken and this article will show you how to bake them at 375 degrees.
Ingredients
5 chicken thighs with the bones and skin
1 tablespoon olive oil
salt and pepper for seasoning
¼ cup butter
5 cloves of garlic
freshly chopped parsley
Instructions
Preheat oven to 375 degrees Fahrenheit. While the oven is heating up, pat the chicken thighs dry with a paper towel and then use the salt and pepper to season it all over.
Heat olive oil in a skillet and place the thighs skin down and sear it until the skin is golden and crispy. Flip it over.
Add the butter to the same skillet. When it's completely melted, add minced garlic and stir it around the thighs.
Place the whole skillet in the oven and bake it for 45 minutes. Make sure the internal temperature is at least 165 degrees Fahrenheit.
Spoon some of the garlic sauce over the thighs when it's done cooking. Top with fresh parsley.
Nutrition Information:
Yield:

5
Serving Size:

1
Amount Per Serving:
Calories:

391
Total Fat:

30g
Saturated Fat:

12g
Trans Fat:

1g
Unsaturated Fat:

18g
Cholesterol:

191mg
Sodium:

441mg
Carbohydrates:

2g
Fiber:

1g
Sugar:

0g
Protein:

31g