How long should you bake a whole chicken at 350 before serving it? That's a question many home cooks ask themselves each time they prepare a whole bird. Undercooked chicken can be dangerous to eat, and overcooked chicken is dry and unpalatable.
Factors such as the total weight of the chicken and what kind of oven you're using will determine how long a chicken needs to bake at 350 until it's done.
On average, a whole chicken needs to be baked in a 350-degree oven for 20 minutes per one pound of chicken.
How Long to Bake a Whole Chicken at 350 F Based on the Weight of the Chicken:
3-pound chicken: 3 x 20 = 60 minutes
4-pound chicken: 4 x 20 = 80 minutes
5-pound chicken: 5 x 20 = 100 minutes
6-pound chicken: 6 x 20 = 120 minutes
7-pound chicken: 7 x 20 = 140 minutes
8-pound chicken: 8 x 20 = 160 minutes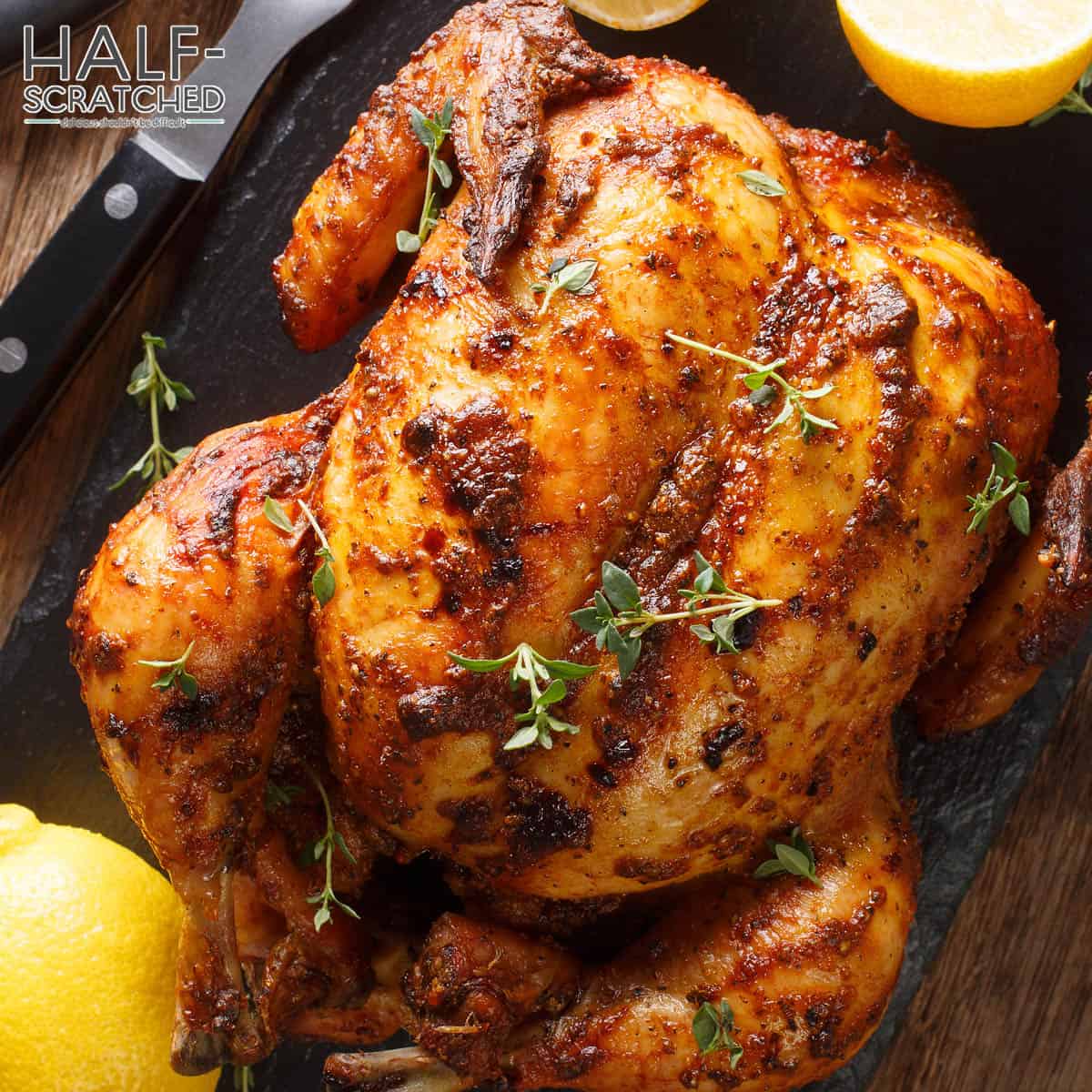 At What Temperature Is a Whole Baked Chicken Done Cooking
A whole chicken needs a long time to bake in the oven, and taking it out too early can lead to undercooked chicken – which is never safe to eat. So how can you tell when a whole chicken is done cooking?
Using a instant read or meat thermometer, figure out the internal temperature by inserting it into the thickest part of the breast. At anywhere between 165- 175 degrees, your whole chicken is fully cooked and ready to devour.
How Long Should You Bake a Whole Frozen Chicken at 350
It's always better to thaw your chicken before you stick it in the oven. However, If baking right from your freezer, a 2 ½ - 3 lbs whole chicken will be cooked entirely after 1 ½ hour to 2 hours. Baking times might vary, depending on the size of the chicken.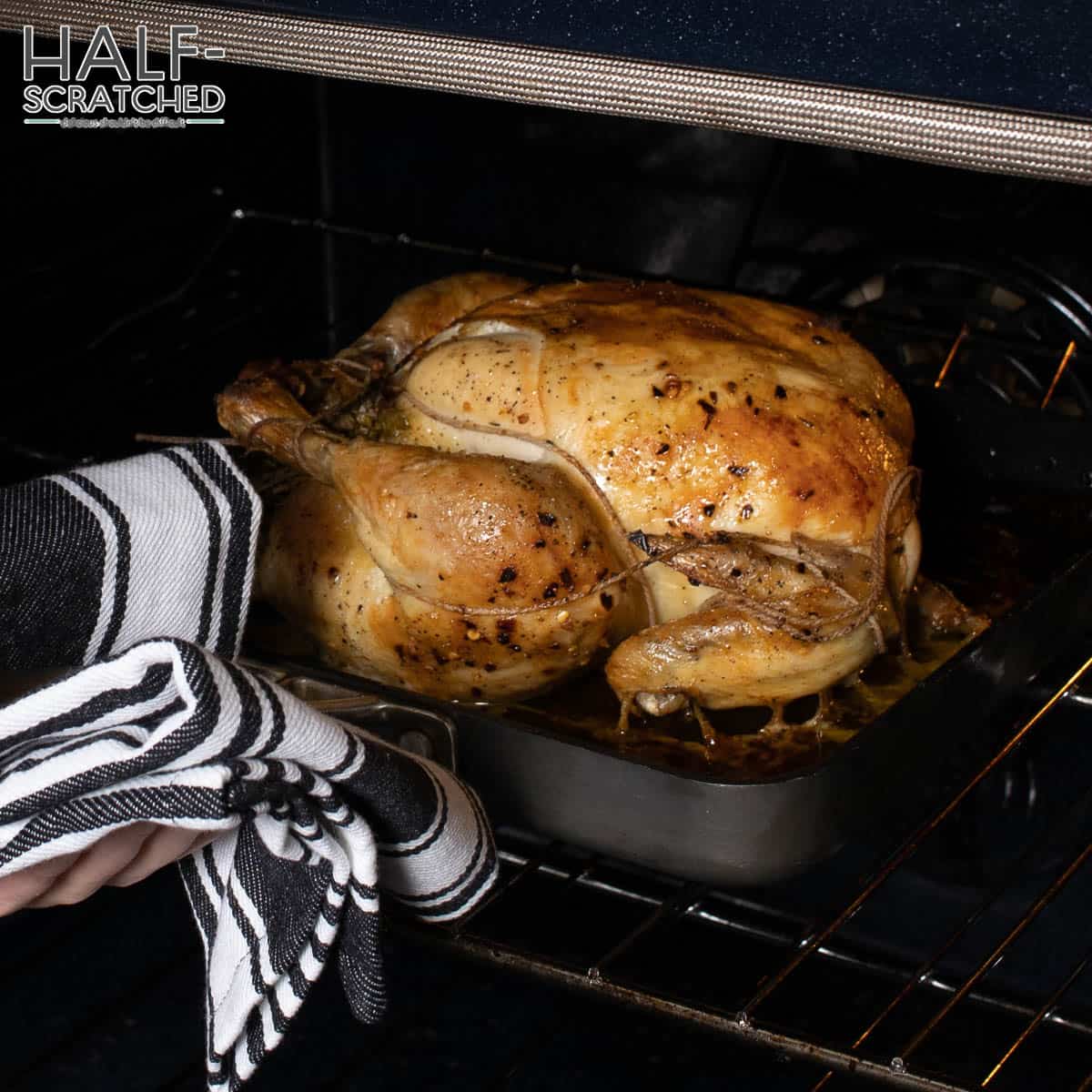 Don't Wash a Whole Chicken Before Cooking
Cleanliness is always essential in the kitchen, and it's usually advised to wash foods before you cook them. Therefore, one could assume you should run your chicken through the sink before cooking it, right?
As it turns out, you should not wash any cuts of raw chicken, whole or otherwise, in the sink. When water hits the surface, it will splatter bacteria throughout your sink and kitchen in general – think of the way water bounces off the back of a spoon. That's not precisely what you want in the place you cook the rest of your food.
Don't worry about the bacteria on the meat for now. Cooking it in a 350-degree oven will kill it as long as it's been brought all the way up to 165 degrees or more, internally.
Should You Bake Whole Chicken Covered
Ideally, it's recommended that you wrap your whole chicken in aluminum foil. At the very least, you should cover it for at least 50% of the entire baking time, removing the foil halfway.
A nice covering of foil assists in trapping heat around the entire chicken. It also encourages the natural fluids to seep out and balance out even cooking.
That's not to say that covering the chicken is the only way to go, though. Leaving the chicken uncovered through the entire bake will make for extra delicious, crispy skin. If you're cooking this way, just make sure to take it out as soon as it is done to keep it from overcooking.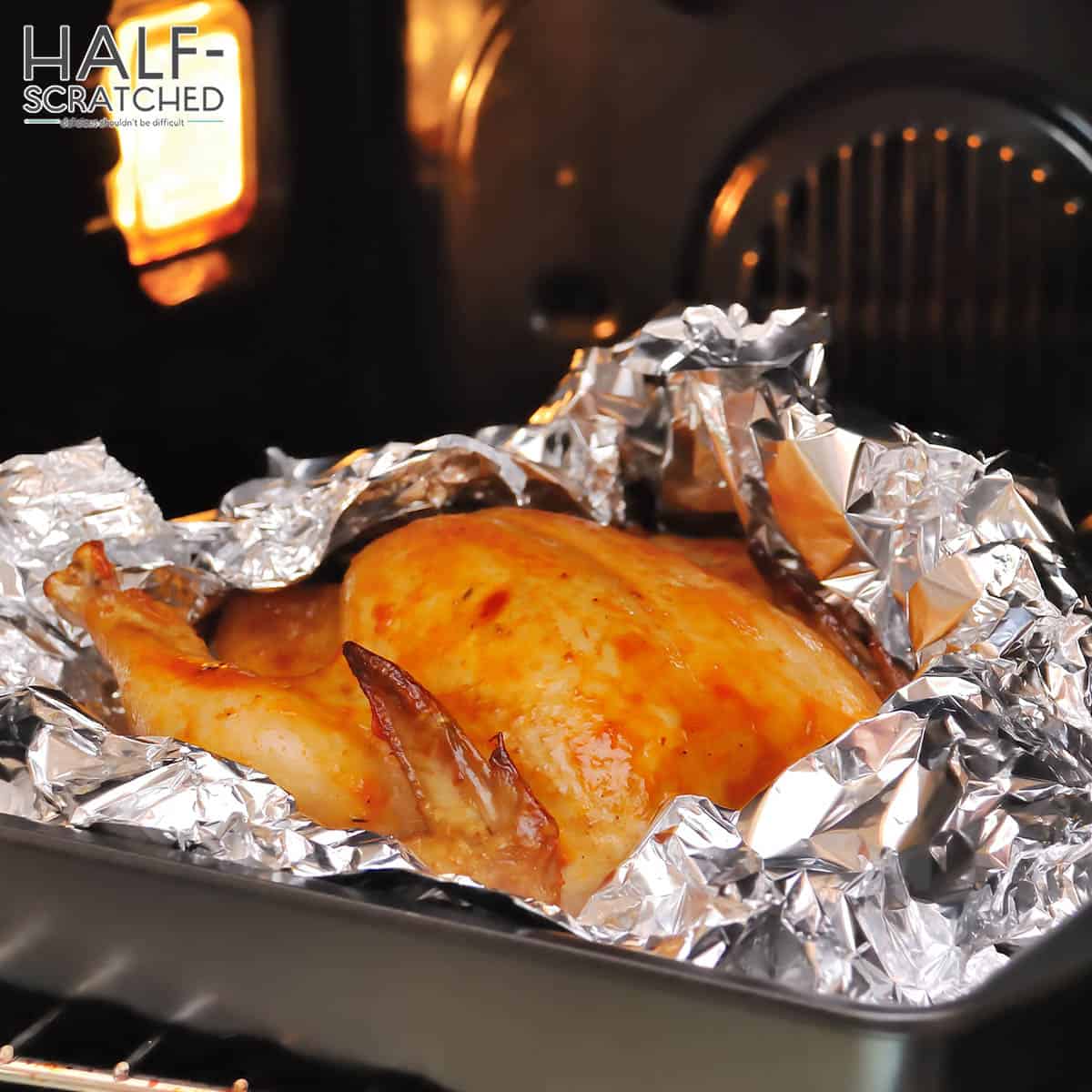 Can You Overbake a Whole Chicken
One of the biggest downfalls of baking chicken is that it will get bone dry and unappetizing if overbaked. Want to avoid a dry, chalky chicken dinner? Keep a watchful eye on the chicken's internal temperature. When it hits that 165 F done point, take it out.
How Do You Keep a Whole Chicken From Drying Out
No one likes a dry chicken, so what can you do to keep things moist? For starters, you can cover your chicken with foil during the first half of the total baking time.
While the chicken is cooking, pop open the oven and baste it with its own drippings to keep the moisture plentiful.
Using moist ingredients like onions, lemons, apples, and minced garlic inside the skin and cavities will help distribute a bit of moisture as well.
Additionally, add a small bath of chicken stock to the bottom of the pan to allow the steam from it to keep the bird moist. However, be careful with this, as it can lead to soggy skin.
Brining the chicken before baking it at 350 is also a good way to retain moisture – and add flavor.
Most importantly, however, you can also make sure that you're not leaving the chicken in a 350-degree oven for too long. If you leave the chicken in too long, no amount of basting or stuffing will be able to save it from getting dry.
How Long Should You Bake Whole Chicken at 350 in an Air Fryer
For a 2-3 pound chicken, it will take 70-75 minutes in a 350-degree air fryer preheated to cook to completion. First, you'll want to let the chicken bake for the first 55-65 minutes. After the first round, turn the whole chicken over and allow it to continue baking for a final 10-20 minutes.
However, this is assuming two things: you have an average-sized chicken and a very large air fryer. As it is, most home chefs don't have an available air fryer that's big enough to tackle an entire chicken.
The kind of chicken you're more likely to be able to fit inside of an air fryer is akin to a cornish game hen. Cornish game hens need about 30 minutes in a 350-degree air fryer to cook to completion.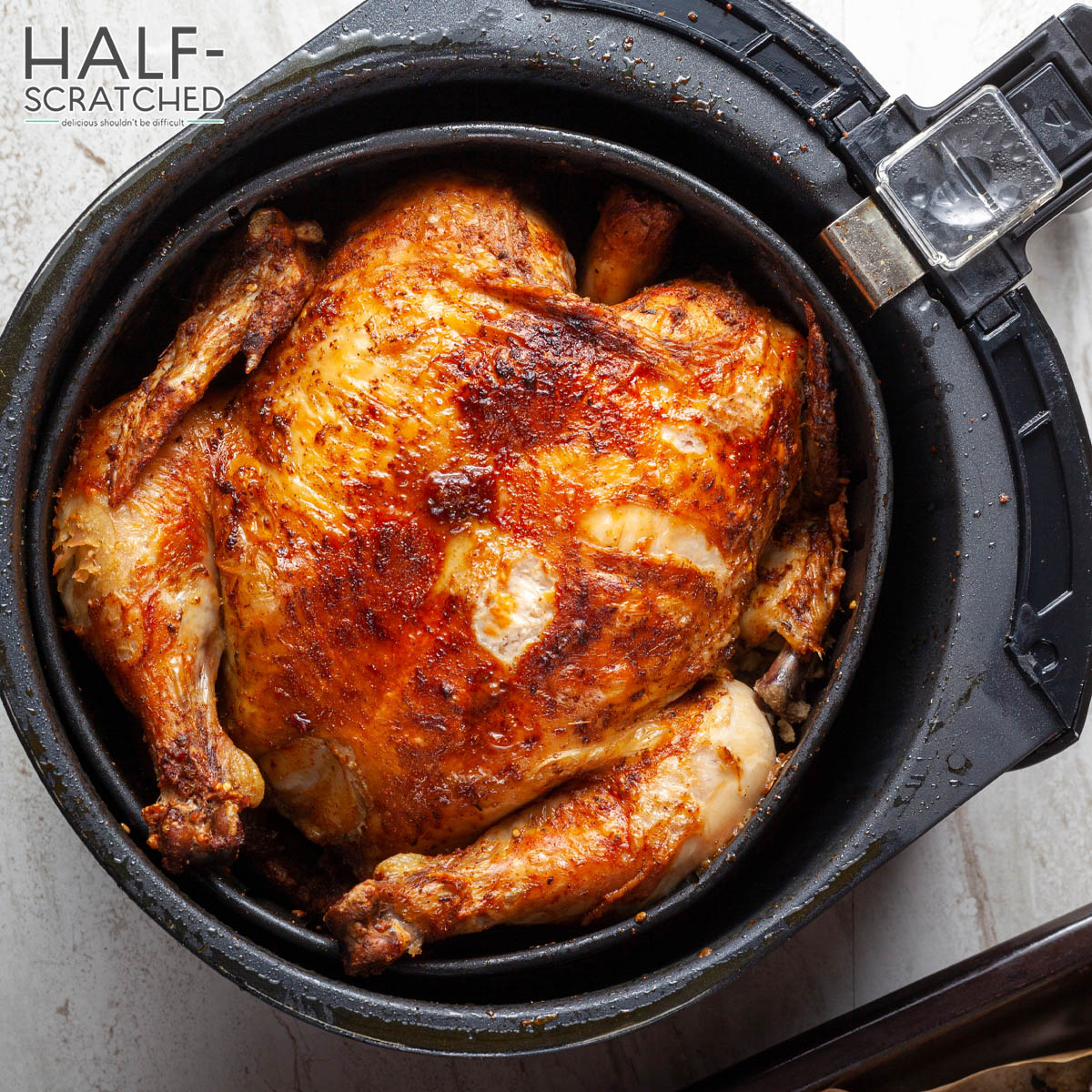 How Do I Thaw Whole Frozen Chicken Before Cooking
The most hands-off method for defrosting a whole frozen chicken is placing it securely in an airtight container and leaving it in the refrigerator. Allowing it to defrost slowly in the fridge overnight should thoroughly and safely thaw the chicken.
Brining the Chicken Prior to Baking
Brining chicken is a great way to add flavor without adding much work - and it can even make it come out that much juicier! You can keep it simple by brining it in a salt solution made with kosher salt and water, or get creative with some fun, flavorful combinations like the ones listed below.
All of these brine mixes are meant to be combined with water.
Apple cider brine – A mixture of apple cider vinegar, brown sugar, spices, and herbs.
Molasses brine – A blend of molasses, soy sauce, garlic powder, onion powder, and black pepper.
Citrus brine – Citrus juices mixed with salt and pepper.
Herb brine – Herbs, salt, and pepper.
Butter brine – Butter, salt, and pepper, plus a few spices.
Do I Need to Rest the Chicken Before Carving?
When you've waited for the 1 ½ to 2 hours for your chicken to fully bake in a 350-degree oven, you're undoubtedly going to be hungry and ready to start carving and eating. While nothing is stopping you from diving in, patience is, as they say, a virtue.
If you want to make the most out of your lovingly baked chicken, give it about ten minutes to rest before you start carving. As with many baked types of meat, letting it rest will redistribute the juices throughout the entire body of the bird. The end result is moist, flavorful meat.
This is especially important in parts like the breasts that are usually drier than the more tender, darker thigh meat.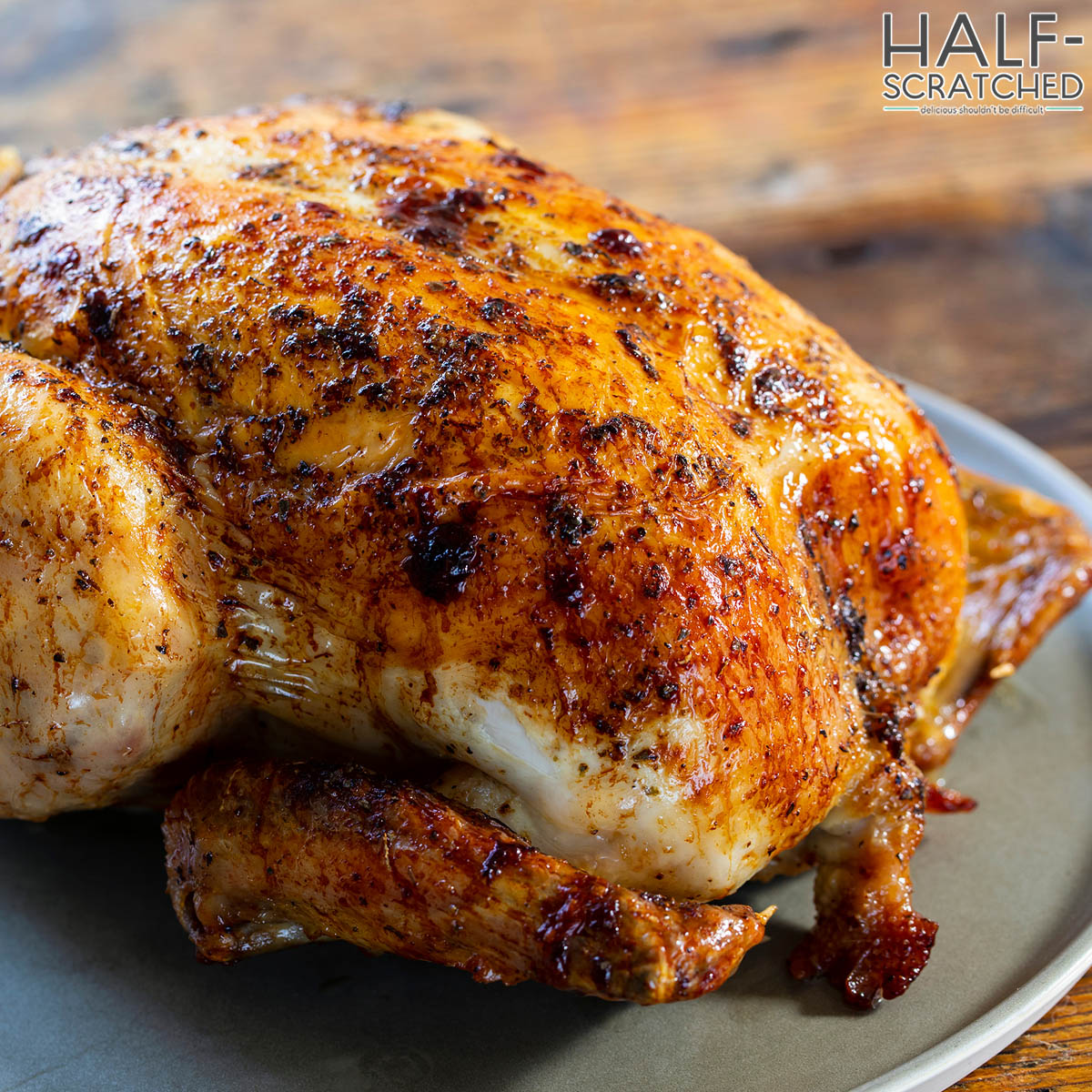 How Do You Store Leftover Baked Whole Chicken in the Fridge?
Unless you're cooking for an entire crowd, you're sure to have a bit of your whole chicken left over after the meal. Storing it in the fridge will keep it safe to eat for at least two more days.
Allow your baked whole chicken to cool off first, ideally to roughly room temperature. Be careful in this process, as you do not want to leave the chicken on the counter for more than two hours.
Then, wrap the chicken in foil or parchment paper before storing it in an airtight container.
How Do You Store Baked Whole Chicken Leftovers in the Freezer?
Like many things, a baked chicken will stand up to freezing if it has been stored properly. After giving the chicken time to come down to room temperature, wrap it in foil or freezer paper before stashing it away in an airtight container.
It will be able to withstand life in the freezer for about three months. After that, it will begin to collect freezer burn and will significantly lose taste and texture.
How Do You Reheat a Whole Chicken Baked at 350?
There are two main ways that you can reheat a baked chicken. If you want to reheat the entire thing at once, the oven is the best way to go – it will also help in terms of keeping things crisp and juicy.
But, if you're in the mood for a little bit of chicken at a time, enough for just a lunch portion, the microwave will be fine.
Another way you can 'reheat' whole chicken is by using it in something else. Shred up your chicken and use it in pasta, as toppings in a salad (or use it to make chicken salad sandwiches), or use it to make pot pies.
In the Oven:
Preheat your oven to 350 degrees F.
Set your chicken into a baking dish with a small layer of chicken stock or broth on the bottom. Allow it to warm in the oven for 15-25 minutes, depending on how much meat is left on the bones.
In the Microwave:
Place the sections of chicken you want to eat on a microwave-safe plate. Drape a damp paper towel over the chicken, then set it in the microwave for around one minute. Continue to heat in intervals of 30 seconds until your chicken is at your desired temperature.
Juicy Baked Whole Chicken Recipe
Here is a basic recipe for a baked whole chicken that you can use as a jumping-off point for endless customizability.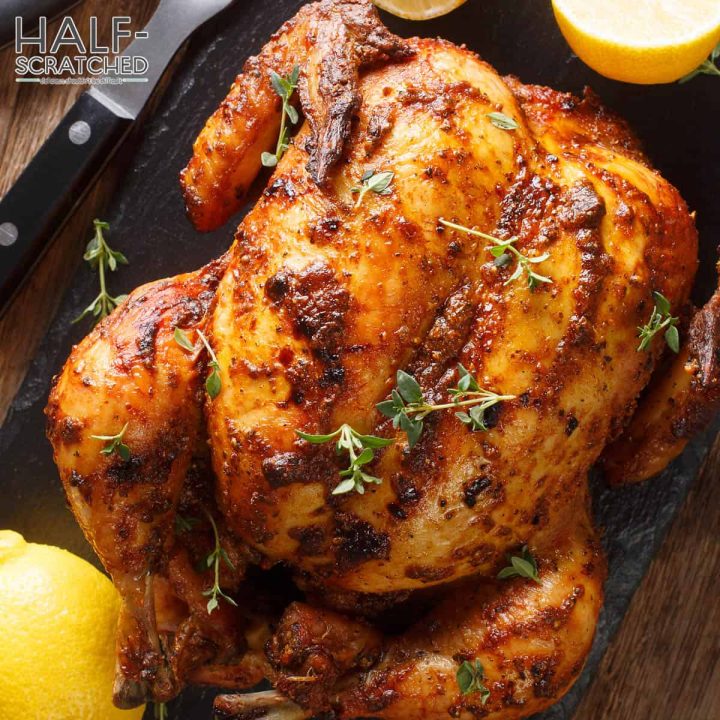 How Long to Bake a Whole Chicken at 350 F
Cook Time:
1 hour
10 minutes
Total Time:
1 hour
30 minutes
A chicken baked at 350 makes for an impressive, hearty dinner that can feed the whole family. While there are ways to make the recipe more complex and showstopping, it is also deceptively easy to do as long as you know how long to bake it.
Ingredients
4 pound whole chicken with the giblets removed.
Four cloves of garlic
Olive oil
Fresh rosemary
½ stick of salted butter, softened
1 lemon
Paprika
Salt and pepper
Other seasonings to taste
Instructions
Preheat your oven to 350 degrees.
Pat the thawed whole chicken down with paper towels, working on all sides to remove excess moisture.
In a small bowl, combine softened butter, seasonings, herbs, minced garlic, and lemon juice.
Using your hands, gently pull the skin away from the flesh and massage the butter mixture into the meat. Rub it everywhere you can reach without removing the skin entirely.
On top of the skin, use a pastry brush to apply a thin coating of olive oil. Then, add a dusting of your herbs and seasonings.
Stuff the rest of the lemon and cloves of garlic into the body cavity.
Bake your chicken in the 350-degree oven for 70 to 85 minutes, or until the internal temperature has reached 165 degrees at the thickest portion of the chicken.
Once removed from the oven, allow the chicken to rest for 10 minutes.
Carve while hot.
Notes
This recipe is just a suggestion – a starting point to discovering how you'd best like to dress up a whole chicken for baking. Try to get creative with glazes, herb mixtures, brines, and stuffings.
Nutrition Information:
Yield:

4
Serving Size:

1
Amount Per Serving:
Calories:

1271
Total Fat:

79g
Saturated Fat:

25g
Trans Fat:

0g
Unsaturated Fat:

45g
Cholesterol:

553mg
Sodium:

571mg
Carbohydrates:

4g
Fiber:

2g
Sugar:

1g
Protein:

131g