Sweet potatoes can be the star of a meal or a hearty side dish. They're versatile and delicious, and will take to oven baking beautifully. How long, then, should you bake sweet potatoes at 350?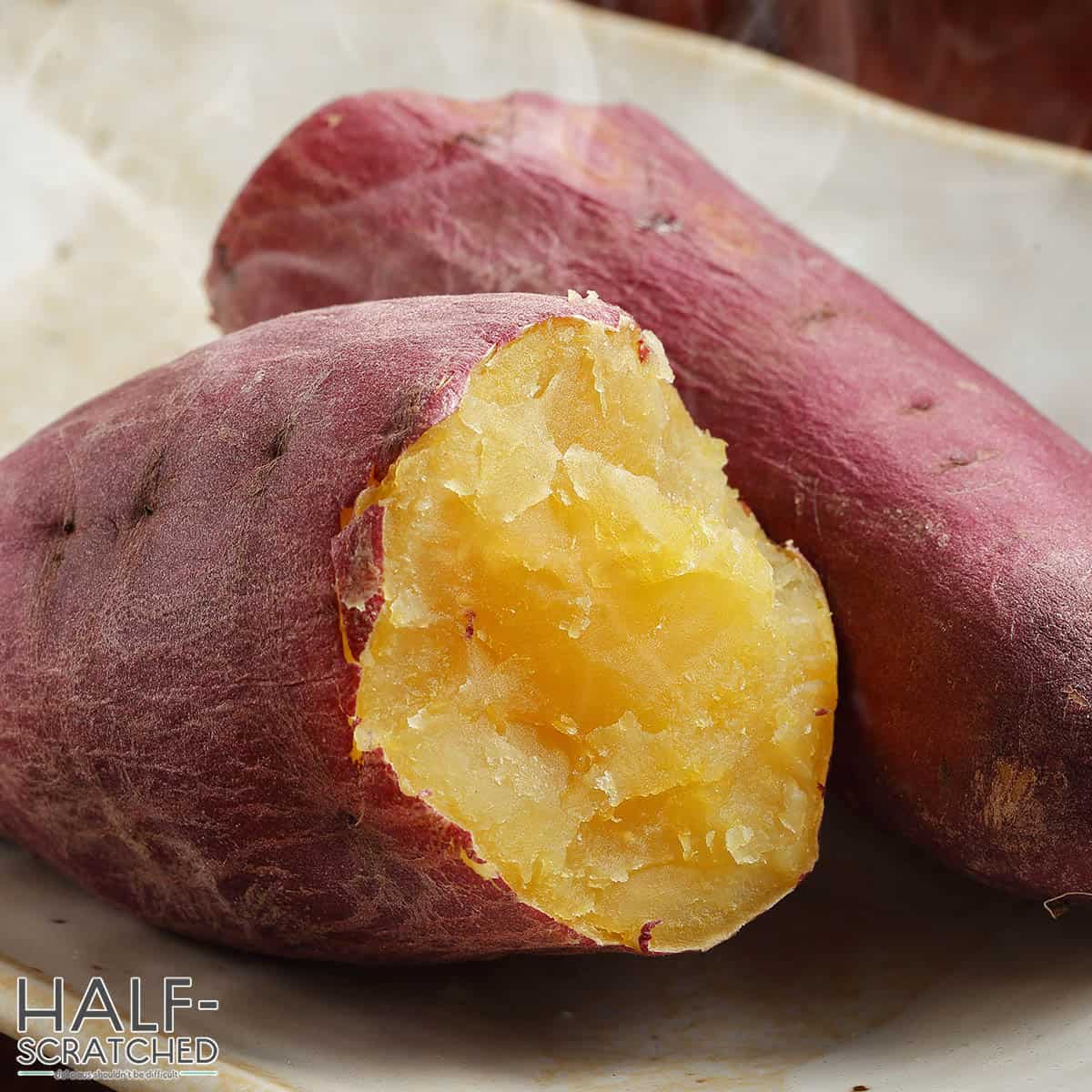 For sweet potatoes between 2 and 3 inches long, bake for 50-70 minutes at 350. The larger the sweet potato, the more time it will take to cook in the oven. At most, a very large sweet potato will bake for 1 hour and 25 minutes.
How Do You Know a Sweet Potato Is Fully Cooked?
A baked sweet potato is soft and slightly fibrous. If you want to test to see if it's done, you need only stick a fork into the center. If the fork can pass through without any resistance, you know your potato is done.
What Temperature Should Sweet Potato Be Cooked To?
Sweet potatoes do not need to be eaten at any particular temperature to be safe, but they tend to taste better cooked than raw. If you want to check to see if your sweet potato is cooked to perfection, you can insert a thermometer – at 205 degrees, it's done.
Should You Cover Sweet Potatoes While Baking Them at 350 F?
If you wrap your sweet potatoes in foil before baking, it will cause them to steam instead of bake. While this can be good for some applications, it's not usually the desired effect. It may change the internal texture.
However, wrapping up a sweet potato after you bake it will do a great job of keeping the skin nice and crispy.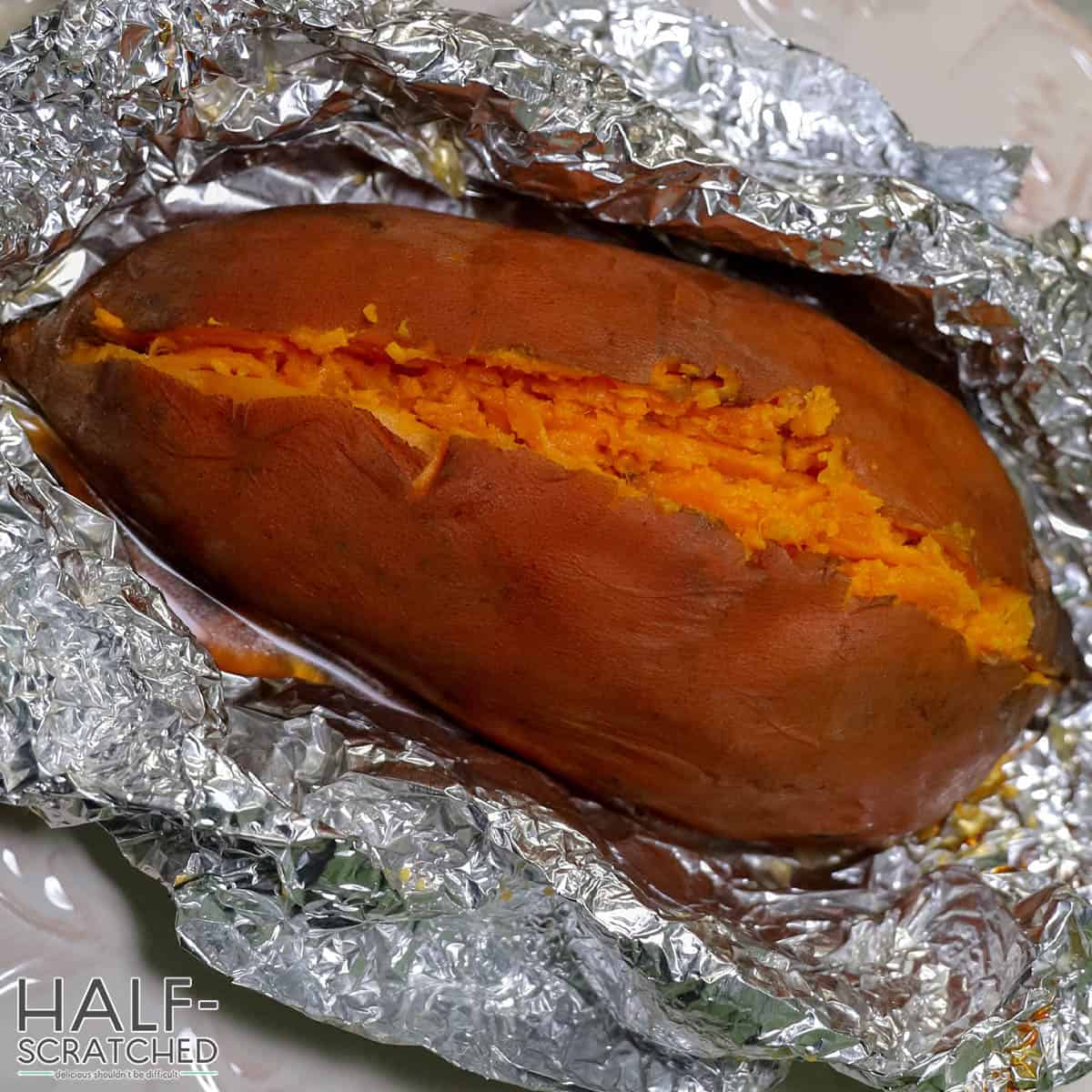 Should You Boil or Bake Sweet Potatoes?
While boiling is usually the recommended method of making tasty mashed or candied sweet potatoes, the winner of the boil vs. bake debate goes to baking. Boiling is effective, but it tends to sap the nutrition out of the sweet potatoes.
Baking the sweet potatoes may change the flavor slightly, as well. If you leave it to cook long enough in a 350-degree oven, it'll take on a nice roasted flavor that will enhance your dish.
How Long Should You Bake a Frozen Sweet Potato at 350 F?
Sweet potatoes can be kept longer in the freezer, enhancing their longevity. If you don't want to thaw it, you can still bake it fresh from the freezer.
In a 350-degree oven, an average-sized sweet potato will need roughly 75-80 minutes to bake. Bear in mind that baking time can vary depending on your oven, as well as the size of the sweet potato you're working with.
Afraid of overbaking? To avoid unevenly cooking your frozen sweet potatoes, you can try to check the internal temperature, just before it finishes cooking. Insert a food thermometer; it should reach 205-212 F.
How Do You Thaw a Frozen Sweet Potato for Baking?
If you do have the time to let your potato thaw, you'll guarantee a shorter cooking time.
In order to thaw your sweet potato, leave it in your refrigerator overnight in a covered container. By morning, the sweet potato will have completely defrosted.
In a hurry? You can pop your sweet potato in the microwave to speed things up. Put it on a lower setting if you have the ability to do so, and thaw it at 30-second intervals.
Are Certain Potatoes Better to Bake at 350?
The best sweet potatoes to pop in a 350-degree oven are ones that will get softer and sweeter as it bakes. To get scientific, you want to look for potatoes that have more enzyme amylase. This enzyme is responsible for breaking down starch into sugar.
How do you know if your sweet potato is rich in amylase? Look for spuds with red or orange skin.
Tan-skinned potatoes are tasty, but they're better for boiling.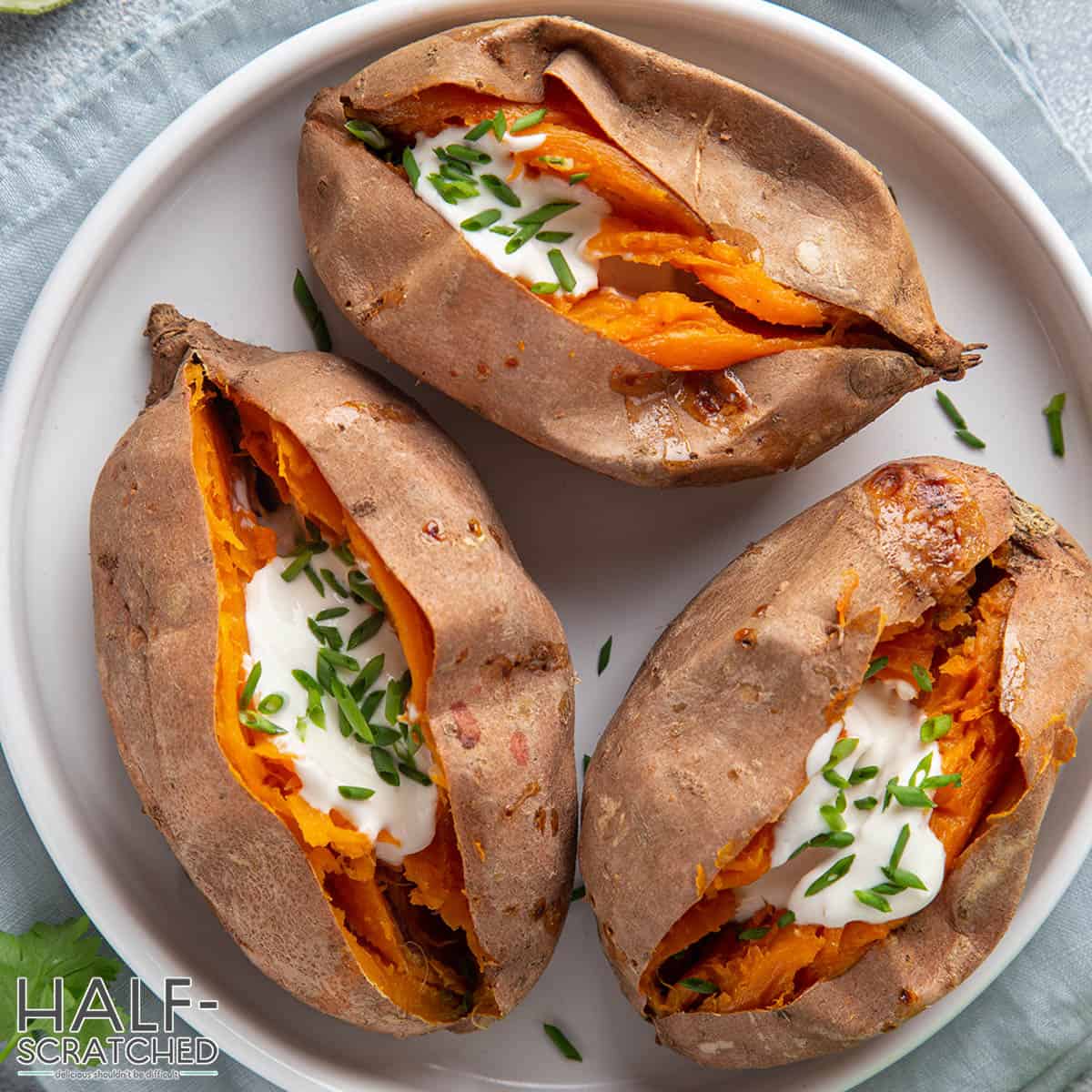 Can You Eat the Skin of Sweet Potatoes?
Curious that there may be dangers associated with eating sweet potato skin? Good news: you absolutely can eat sweet potato skin. The skin is loaded with body-friendly nutrients like fiber and antioxidants.
Besides, they can have a nice nutty, roasted flavor.
Do Sweet Potatoes Need to Be Parboiled Before Baking?
When you cook sweet potatoes, you may wonder if it's necessary to parboil them to get them oven-ready. The answer is no: you don't have to parboil sweet potatoes before baking them at 350.
Doing so may be beneficial, though, as it could make them easier and faster to bake.
If you're freezing sweet potatoes, parboiling may be good to keep them fresher for longer.
My Personal Tips for Baking the Best Sweet Potatoes
350 is usually the best temperature to bake your sweet potatoes at. Getting fluffy, sweet insides and crispy skin takes a little more doing than just throwing it in a hot oven. Here are a few tips for how you can bake the best sweet potatoes.
Poke Holes
Before you bake, poke holes in the sweet potatoes. This allows extra steam to escape. You want that because letting the steam vent out will help achieve an even, consistent texture.
Remember to Flip Them
Like when you bake meat in the oven, you should flip your sweet potatoes halfway through the cooking time. This is especially true if you are baking a few sweet potatoes on one sheet pan!
If you have a convection oven, turning on the convection is a great move if you want to get the heat on all sides of the potato.
Add Olive Oil
Not only does a drizzle of neutral oil (like olive, canola, vegetable, or coconut oil) help the sweet potatoes crisp up, but it also adds an excellent layer of flavor.
Choose Similarly Sized Potatoes
If you've got plans to bake a lot of sweet potatoes at once, pick out a few that are of similar sizes at the supermarket. Doing so will allow the sweet potatoes to bake at the same rate.
If they don't cook at the same rate, you'll end up with some burnt while others are undercooked.
Use Parchment Paper – Or Don't
Parchment paper can be a good idea for a sweet potato bake because it allows for easy-as-pie cleanup. However, having the spuds right on the pan will help them crisp up even better.
Why Do Sweet Potatoes Take So Long to Cook?
Holding a sweet potato in your hand will tell you one thing for certain: they're very dense. The tightly packed, starchy tubers are thick enough that heat takes some time to push through to the center and begin to thoroughly warm the core.
Want to bake your sweet potatoes a little faster? If you cut the potato itself in half, you'll be doing the same thing to the baking time. For example, a sweet potato that took 50 minutes in a 350-degree oven whole will only take 25 in halves.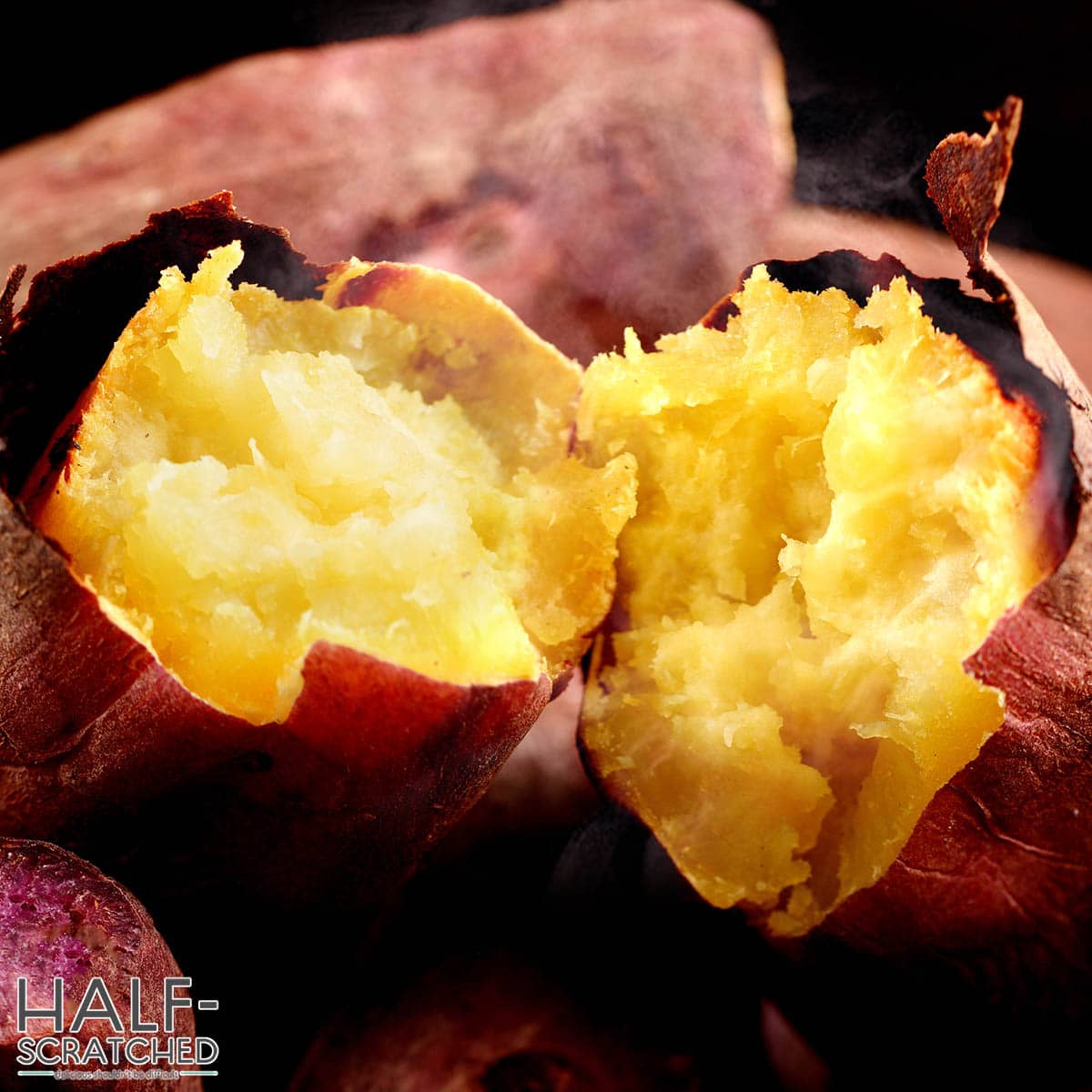 Do Sweet Potatoes Take Longer to Bake at 350 Than Regular Potatoes?
If you're comparing an average sweet potato to a russet or Yukon of similar size and shape, the sweet potato will bake just a little faster at 350 than a regular potato – usually by about 10 minutes.
How Long Should You Bake a Sweet Potato at 350 in the Air Fryer?
Air fryers are convenient for cooking just about anything – and they can sometimes manage the job faster than a conventional oven. However, that's not the case for sweet potatoes.
A sweet potato in a 350-degree oven will be done in 45-50 minutes– only about five minutes sooner than you'd get it out of an oven at the same temperature.
That doesn't mean you should turn your nose up at using the air fryer for your sweet potato baking needs. They can be excellent if you're baking a lot of things at once and want to clear up more room in your oven for main dishes or sides.
Questions and Answers
Why Are My Sweet Potatoes Still Cold in the Center?
If your sweet potatoes didn't spend long enough in a 350-degree oven, there might not have been enough time for the heat to reach the center of the flesh. It will need more time in the oven.
How Do You Store a Baked Sweet Potato in the Fridge?
After you've baked your sweet potatoes at 350, you can stash them in the fridge for up to 5 days before the flavor begins to degrade.
Your best bet is to store the sweet potatoes in a freezer bag. If you've got one that will fit the potato, press down on the bag and roll it to get as much air out as possible before putting it in the fridge.
Once a sweet potato has been baked, it's much more susceptible to going bad. A sweet potato – or most foods, for that matter – should not be left in a room temperature room for more than two hours.
How Do You Freeze a Cooked Sweet Potato?
First, allow your sweet potato to cool down, letting it sit out for about 30 minutes, then stash it, covered, in the fridge for 45 minutes. Once it's totally cool, wrap the potato up in parchment paper and store it in an air-tight container that is not much bigger than the potato itself. The less air in the container, the better.
Keep the sweet potato in the freezer for a maximum of 3 months.
How Do I Reheat a Baked Sweet Potato?
You can reheat a sweet potato in the oven, microwave, or air fryer.
In the oven, allow it to cook at 350 for about 20 minutes. This and the air fryer are the best ways to preserve a crispy skin.
For microwave reheating, wrap the sweet potato in a damp paper towel and place it in a microwave-safe dish. Heat it for 2-3 minutes, depending on the thickness of the sweet potato.
Finally, you can reheat a sweet potato in the air fryer by wrapping it in parchment paper and setting the air fryer to 350. Allow it to cook for about 10-15 minutes.
Simple and Delicious Sweet Potato Recipe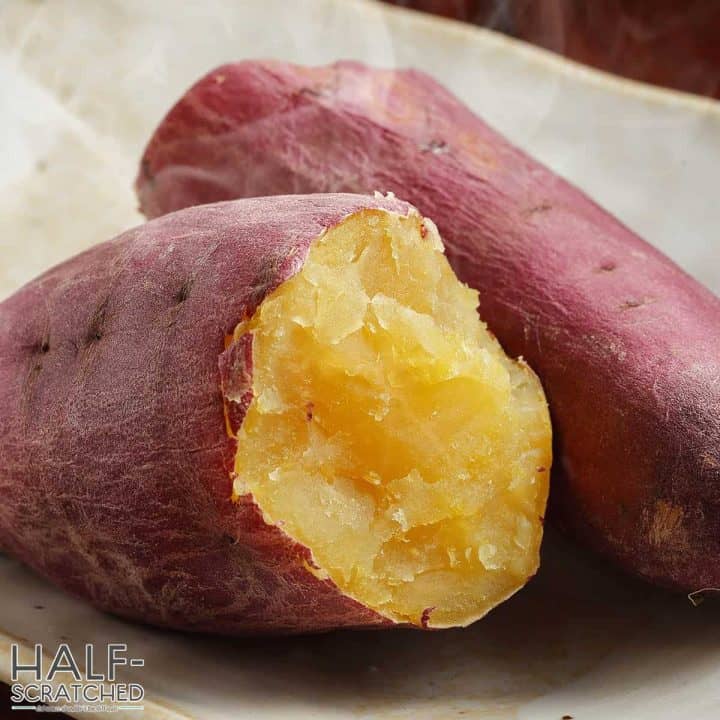 How Long to Bake a Sweet Potato at 350 F
Learn how to bake perfect sweet potatoes in the oven at 350 with this simple recipe. If followed correctly, your potatoes will come out tender and fluffy on the inside - perfect for mashing, adding to casseroles, or eating as is.
Ingredients
1.5 lb sweet potato. If baking more than one potato, adjust oil and salt quantities accordingly.
2 tablespoons of olive oil
A pinch of kosher salt
Instructions
Preheat your oven to 350 degrees and line a baking sheet with parchment paper. If you want your skin extra crispy, do not line the sheet.
In the sink under cold water, scrub the sweet potato completely clean. You want to make sure you're washing away debris or dirt. Use a paring knife to cut off eyes or blemishes.
With a small skewer, fork, or knife, poke a few holes in your sweet potato. Four or five punctures will do the trick. Place the sweet potatoes on your baking sheet.
Drizzle olive oil over your sweet potato and add a sprinkling of kosher salt.
Bake for 50 minutes at 350. Halfway through the cooking time, you can add another brush of neutral oil for added flavor.
When a fork can easily be pushed into the center of your sweet potato, it's done and ready to devour. If you're using a thermometer, make sure the temperature at the thickest part of the potato is 205 degrees.
Allow the sweet potatoes to cool slightly before eating.
Nutrition Information:
Yield:

2
Serving Size:

1
Amount Per Serving:
Calories:

568
Total Fat:

21g
Saturated Fat:

3g
Trans Fat:

0g
Unsaturated Fat:

18g
Cholesterol:

0mg
Sodium:

461mg
Carbohydrates:

89g
Fiber:

13g
Sugar:

23g
Protein:

9g