As delicious as they are, pork ribs are surprisingly easy to cook in the oven. Painting on a marinade or applying a rub is usually all the prep you need before you can set them in the oven to cook up. Overcooking, however, leads to dry, unappetizing meat – not the kind of thing someone wants at their dinner table or backyard barbecue.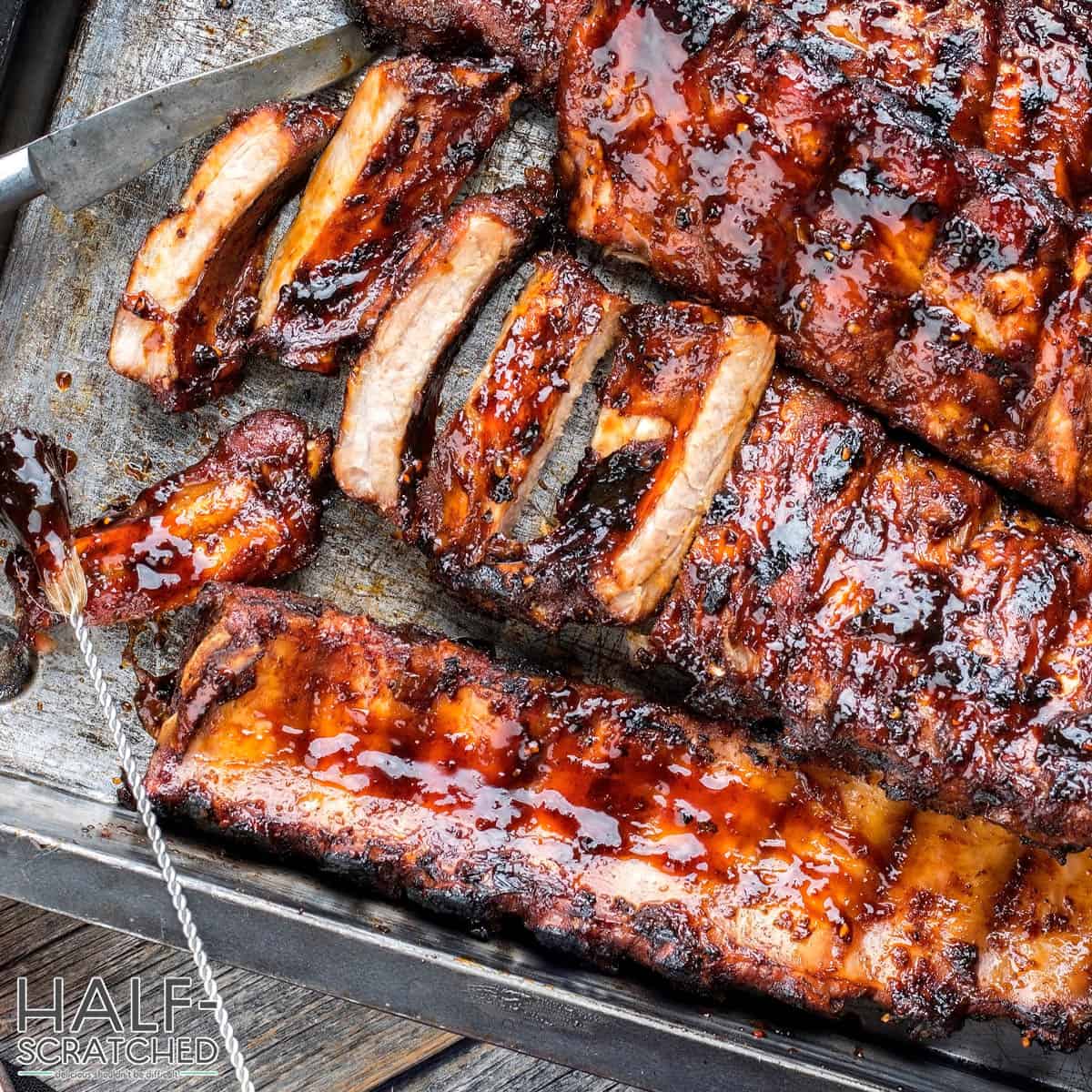 How long you should cook ribs in the oven at 350 depends on the type of rib you're cooking. Back ribs will take 2 hours, spare ribs 2 ½, and country-style ribs only need 20-30 minutes. How big your rack of ribs is will have an impact on the time you need.
Here's our breakdown of how long you should bake your ribs in the oven, and what can make the process even faster.
Ribs are heavy cuts of meat that still have their bones intact. Because of these thick bones, heat needs more time to penetrate through and get those ribs ready to eat. If you want the ribs to not only be ready to eat, but tasty too, you'll need to adjust your baking time.
Large, fatty ribs will, in general, need longer than leaner meats.
What type of rib you're using matters, though. Pork ribs usually come in three styles: back ribs (or baby back ribs), spare ribs, and country-style ribs.
Beef ribs, alternatively, are found as beef 'dino' ribs, short ribs, and flanken-style ribs.
Pork Ribs
How Long to Bake Back Ribs in the Oven at 350 F
Back ribs are characterized as small, fat ribs. They're cut from the upper loin and don't need as much cooking time as their leaner cousins. Usually, you'll find them sold at 1-2 pounds per rack. You might also see these called baby back ribs, loin ribs, or short ribs – they're all the same.
Back ribs should be cooked in the oven for 2 hours at 350. By that time, they'll be juicy and tender.
How Long to Bake Spare Ribs in the Oven at 350 F
When compared to the short, fat back ribs, spare ribs are lean and long. They're cut from the belly, right behind the shoulder. You might see these called St. Louis style ribs when they've had their cartilage, skirt, and breastbone cut away. They're also known as side ribs.
Spare ribs are much heavier than back ribs - doubly so. Spare ribs usually weigh about 2-4 pounds. Because of that extra girth, they need more time to cook.
You should cook spare ribs in the oven at 350 for 2 ½ hours.
How Long to Bake Country Style Ribs in the Oven at 350 F
Cut from the shoulder end of the loin, country-style ribs can be boneless, or with a small hunk of shoulder blade attached. They're also known by the names blade chops or shoulder steaks.
Because they're smaller and boneless, the heat penetrates the meat much faster. In a 350-degree oven, they'll only need to cook for 20-30 minutes.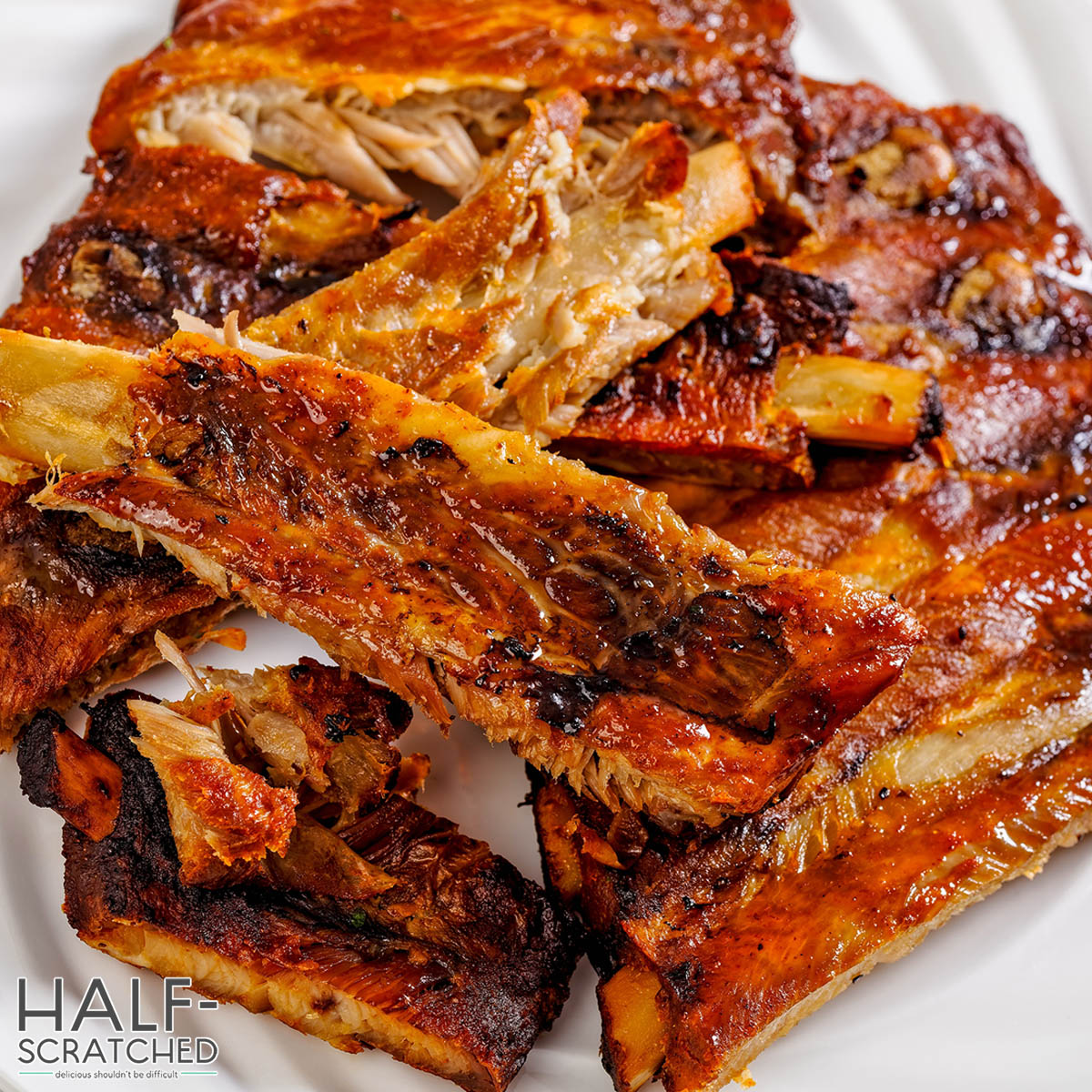 Beef Ribs
How Long to Cook Beef 'Dino' Ribs in a 350 Degree Oven at 350 F
Beef short ribs are also called plate ribs or dino ribs. They're typically large, usually about 12 inches long, and over a pound each. The name 'short ribs' here is deceiving – the name comes from the fact that they're cut from the short plate of the cow. Because of this mass, they need about 4 hours in a 350-degree oven.
How Long to Cook Beef Short Ribs in the Oven at 350 F
These chuck ribs are cut from the section right next to where they butcher the dino ribs. They're cut crosswise and are small - only about 3 inches long, usually. Cook these short ribs in a 350-degree oven for 2 hours, approximately.
How Long to Cook Beef Flanken Ribs in the Oven at 350 F
These are short ribs too, but they're very thin – at most, ½ inch. You'll find these at your favorite Korean barbecue place, referred to as kalbi/galbi. They're done in just five minutes because they're so thin.
There's no need to cover them with foil, it won't make much of a difference when the cooking time is so quick.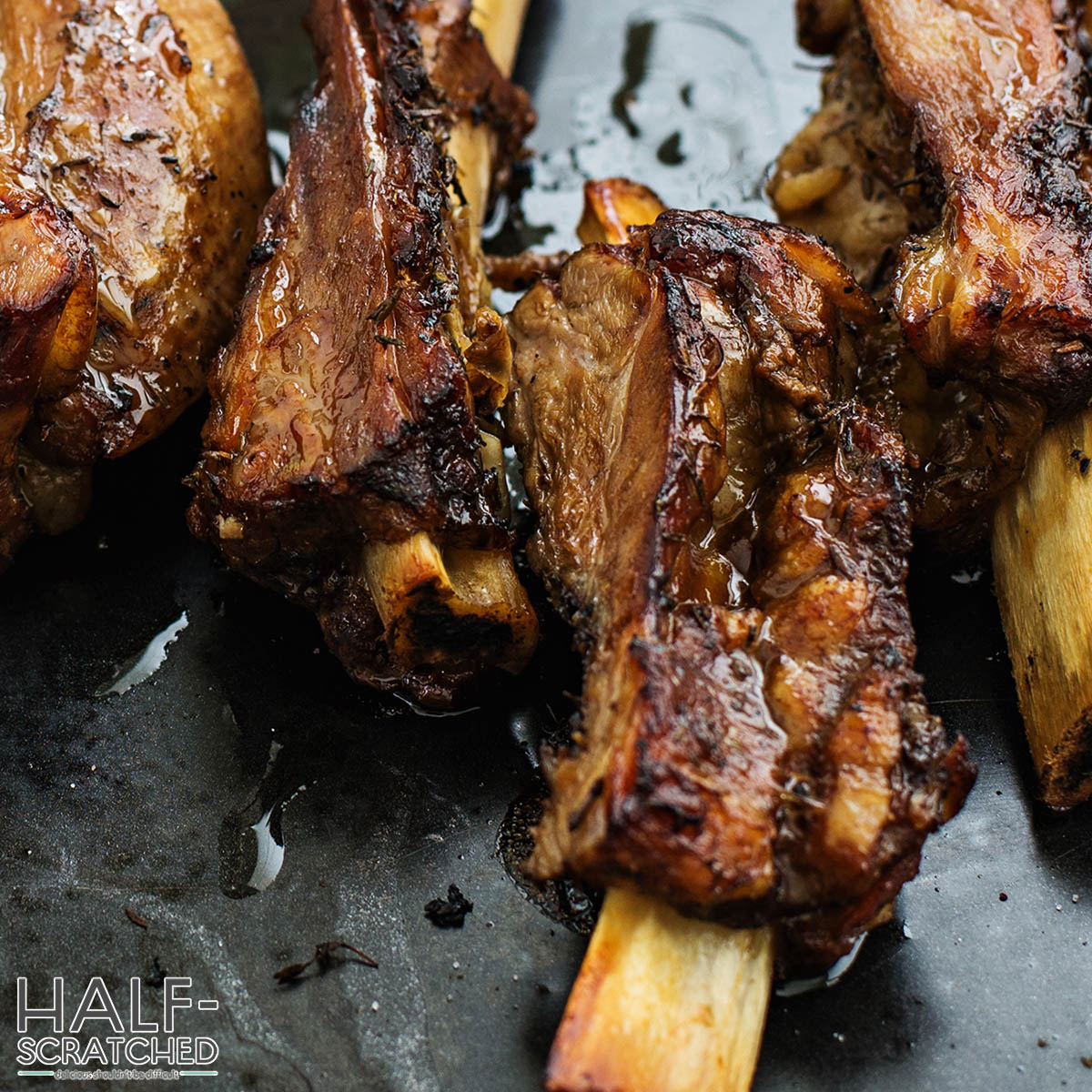 How Can You Tell When Ribs Are Done?
How can you tell when your ribs are safe to dig into? Here are a few ways you can find out.
Visually
As the meat shrinks during cooking, you can use the bones as a visual indicator of doneness. If the bones are exposed about ½ an inch outside of the meat, they're likely done and safe to eat.
With a Thermometer
If you have an instant-read thermometer, you can guarantee that your ribs have cooked long enough in the oven and are at the right temperature to devour. Insert them into the thickest part of your ribs to figure out what temperature they're sitting at.
Country-style ribs, being smaller and more boneless, are safe to eat at 145-160 degrees Fahrenheit.
Back ribs and spare ribs both need to reach 185-200 degrees Fahrenheit because of their thick, dense bones. This is also when they're the most delicious – the collagen will have broken down and become much softer, making them easy to eat and perfectly juicy.
With a Toothpick
If you don't have a thermometer, another way you can gauge doneness is with a toothpick. Insert the toothpick into the meat, right between the meat and the bones. If you don't feel any resistance, or at least very little, they're fully cooked. Feel free to test this in different areas of the meat as well.
By Bending or Twisting
This won't win you any points for presentation, but you can also twist or bend your ribs to see if they're done. Take hold of an exposed bone and give it a twist, watching how the meat interacts with it. If the meat separates fairly easily, with only a little resistance, that means the collagen has gelatinized and is good to eat.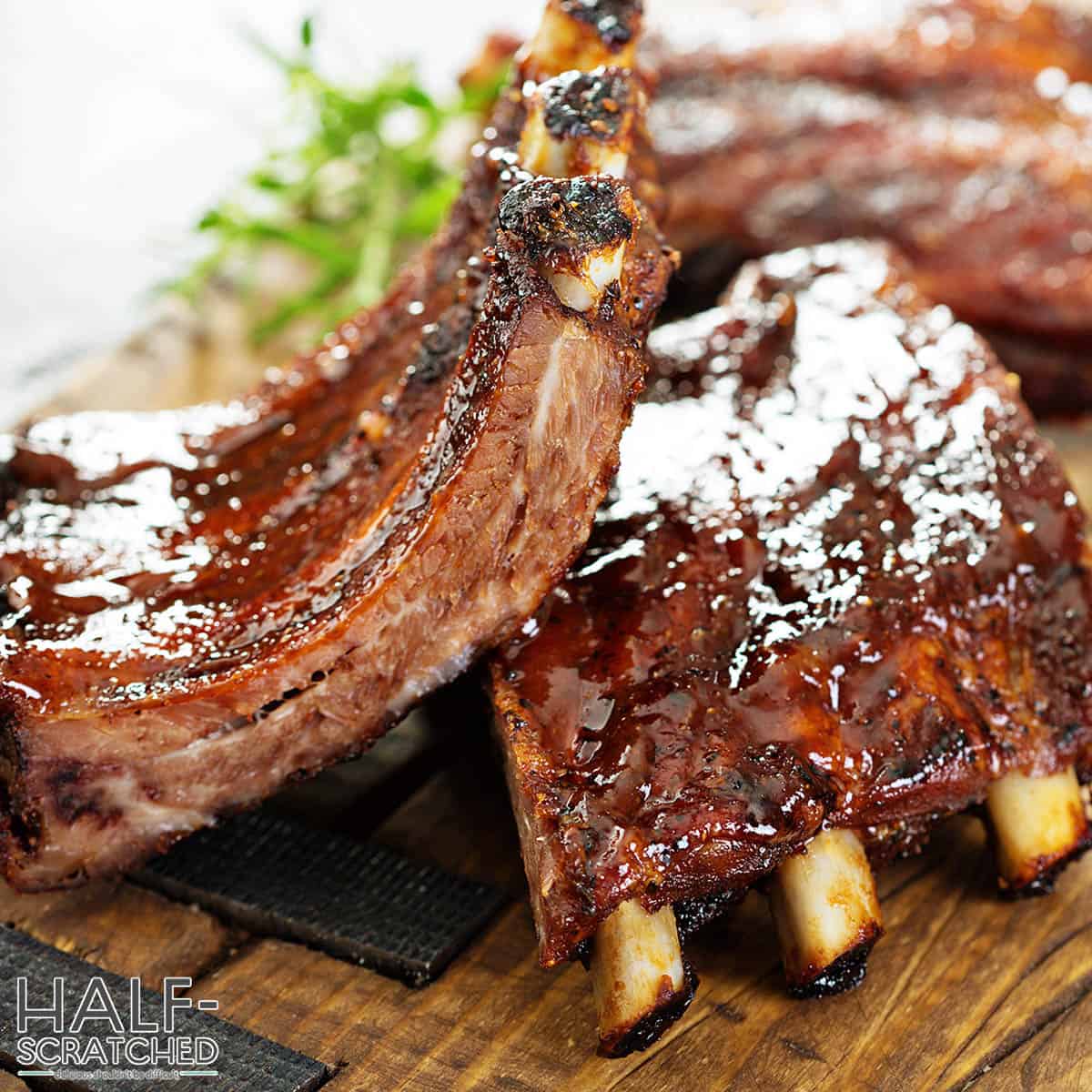 Is 350 Too High for Ribs?
While most celebrate the idea of cooking ribs for several hours over low heat, 350 won't destroy them, and is a perfect temperature for them. It's not advised that you go much higher than 400, however.
If you allow ribs to bake in a 350-degree oven for 2-2 ½ hours (or 20-30 minutes for country-style ribs), they'll be juicy and tender in much less time than if you cooked them lower.
What Makes Ribs Bake in the Oven Faster?
Ribs are usually thought of as a low and slow cooking affair. However, you can manage to reduce oven time with a few tricks.
Let Them Sit at Room Temperature
Taking meat out of the fridge before cooking will allow it to warm up just a little without becoming dangerous to eat. If you let the ribs come to room temperature, you can knock about 30% off of their respective cooking times.
Not only does it make the heat distribute more evenly, but it also kicks the flavor up to eleven.
When you take a rack of ribs out of the oven before baking it and let it sit for an hour, you're maximizing flavor and aroma. If you take the meat right from the cold fridge to the hot oven, the juices and liquids inside can't react fast enough to bring out the very best flavor.
Wrap Them in Foil
Wrapping your spare, back, or country-style ribs in aluminum foil will make the ribs cook up faster as it traps heat directly around the surface. It also makes for especially juicy meat. If you like your ribs with a crisp outer crust, you should start by cooking the ribs bare, and then cover them with foil later.
The foil will make your ribs cook about 10-15% faster.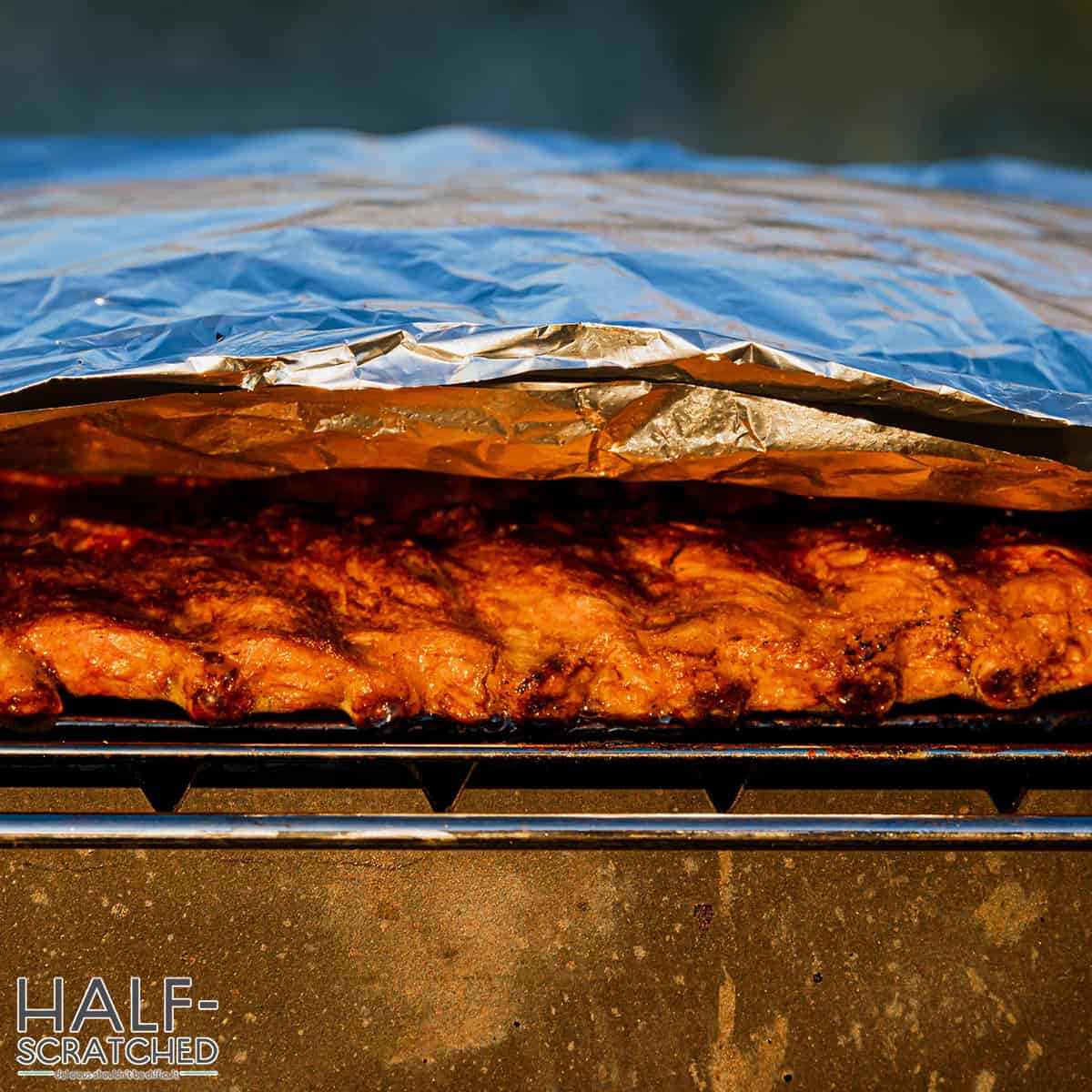 Can You Overcook Ribs?
Like most cuts of meat, ribs are susceptible to drying out when they're overcooked. Overcooked ribs are tough, chewy, and dry. Baking at a lower temperature will allow them to reach that perfect state of doneness faster.
350 is low enough to prevent them from overcooking too fast, but high enough to keep you from waiting for hours for your dinner.
Fall off the Bone Isn't as Good as You Think
Most of the time, the phrase associated with well-done ribs is that it is "fall off the bone". However, when ribs are falling off the bone, they're actually a little mushier in texture than is desirable. They're technically overcooked, believe it or not.
My Personal Tips on How to Bake Your Ribs Better
While baking ribs can be as simple as throwing them in a 350-degree oven, there are a few ways you can make the experience even better.
Brine Them
Brining ribs for at least 30 minutes will ensure that they do not dry out. Keeping them in an airtight container with a mixture of cold water, sugar, and salt (plus some spices, if you'd like), for about two hours will help prevent them from drying out in the oven.
Add a Sauce
When letting ribs cook in the oven at 350, heading in at the last 30 minutes with a flavorful barbecue sauce will bring out the juiciness and keep them from drying out.
Remove the Membrane
The most tender ribs start with the removal of the silverskin membrane on the ribs. If you love ribs that fall off the bone and are perfectly juicy, take a paring knife and slide it under the membrane.
Just Because It's at a Safe Temperature Doesn't Mean It's Done
With most pieces of meat, they're done and ready to eat when they've hit the right temperature. Putting them too far over will lead to overcooking and dryness.
Ribs are a different animal, however. They'll reach a safe eating temperature before they're done, and removing them early is a mistake a lot of amateur cooks make. Ribs are done baking when the connective tissue is breaking down and rendered out. This will happen a little after they reach the recommended internal temperature.
Easy and Delicious Ribs Recipe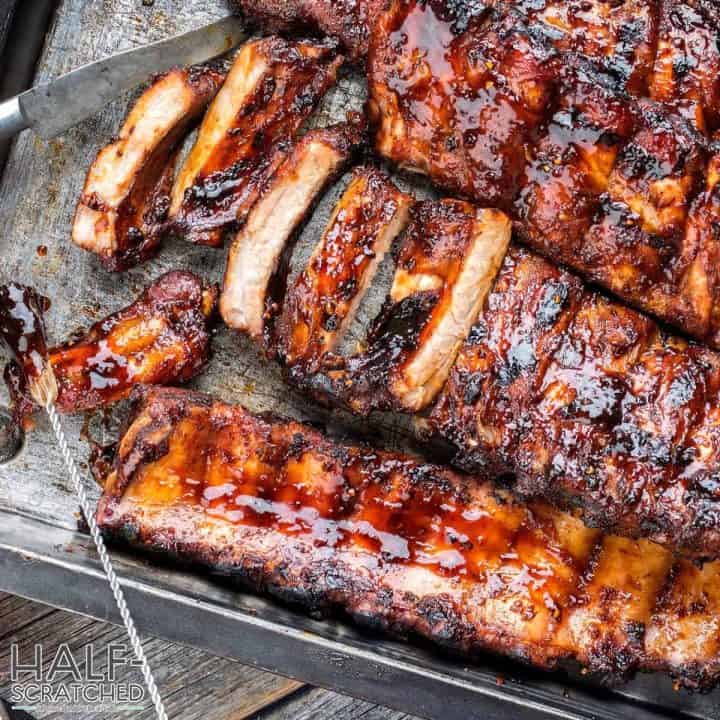 How Long to Cook Ribs in the Oven at 350 F
Cook Time:
2 hours
45 minutes
Total Time:
2 hours
55 minutes
Hungry for succulent, tender ribs? Find out how long to cook ribs in a 350 degree oven with this detailed guide.
Ingredients
1 slab of baby back ribs
1 bottle of your favorite barbecue sauce
BBQ dry rub.
Instructions
Preheat your oven to 350 and set the rack in the middle position.
Remove the membrane from the back of the ribs. You can slide a spoon under the membrane, above the bone, to loosen it up. You can use a napkin in your hand or a paring knife to assist with the removal.
Pat the meat dry with a paper towel. Season with your dry rub of choice.
Wrap the ribs in foil and place them on a shallow-rimmed baking sheet. Bake at 350 for two hours.
Once the two hours are up, remove the baking sheet and wrap the ribs. Drain excess drippings (or, use them to make gravy.)
Flip the ribs and apply a generous layer of barbecue sauce.
Turn on the broiler and allow the sauce to thicken.
Remove the ribs once the sauce is thickened, flip them, and apply sauce to the top.
Put them back in the broiler and continue to cook for 30 more minutes, reapplying sauce occasionally.
Remove the ribs from the oven and allow them to rest for 15 minutes.
Notes
Keep an eye on the ribs while they're in the broiler. It's easy for sauce to burn when they're this close to the heat.
Nutrition Information:
Yield:

1
Serving Size:

1
Amount Per Serving:
Calories:

587
Total Fat:

19g
Saturated Fat:

6g
Trans Fat:

0g
Unsaturated Fat:

11g
Cholesterol:

116mg
Sodium:

2095mg
Carbohydrates:

63g
Fiber:

3g
Sugar:

51g
Protein:

41g