Chicken thighs are juicy, tender, and entirely versatile. As will all poultry parts, though, it's important to cook them through completely to avoid the potential for food poisoning. What is the correct baking time for chicken thighs at 350 degrees?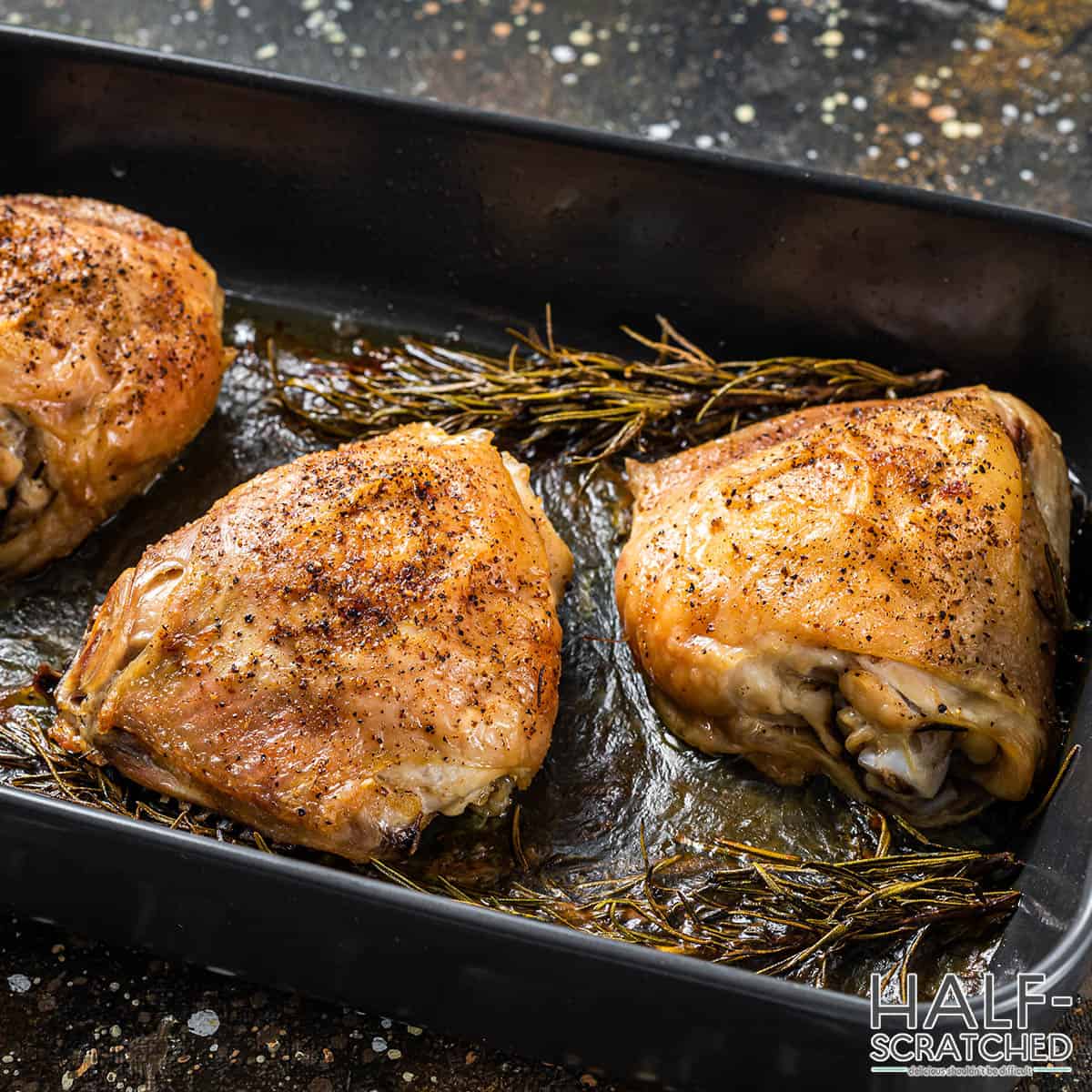 In an oven preheated to 350, boneless chicken thighs should bake for 25-30 minutes. Bone-in chicken thighs will need to bake for 45-50 minutes. However, several factors can alter this heating time, such as the use of foil or the thickness of the thigh.
How Long to Bake Chicken Thighs at 350 F
Chicken thighs come in a litany of different styles and sizes. Some are boneless and skinless, while others have the bone and skin intact. These will need different cooking times to reach that perfect balance of juiciness and doneness.
Boneless, Skinless Chicken Thighs
Boneless, skinless chicken thighs will not need to bake quite as long at 350 F. About 25-35 minutes will be enough to thoroughly and safely cook them.
Bone-In, Skin on Chicken Thighs
Because of the presence of the skin and bone, bone-in, skin-on chicken thighs need longer in the oven. These cuts bake for 45-50 minutes at 350 F.
The chicken should be set in the oven skin-side down and baked without interruption for the full recommended time.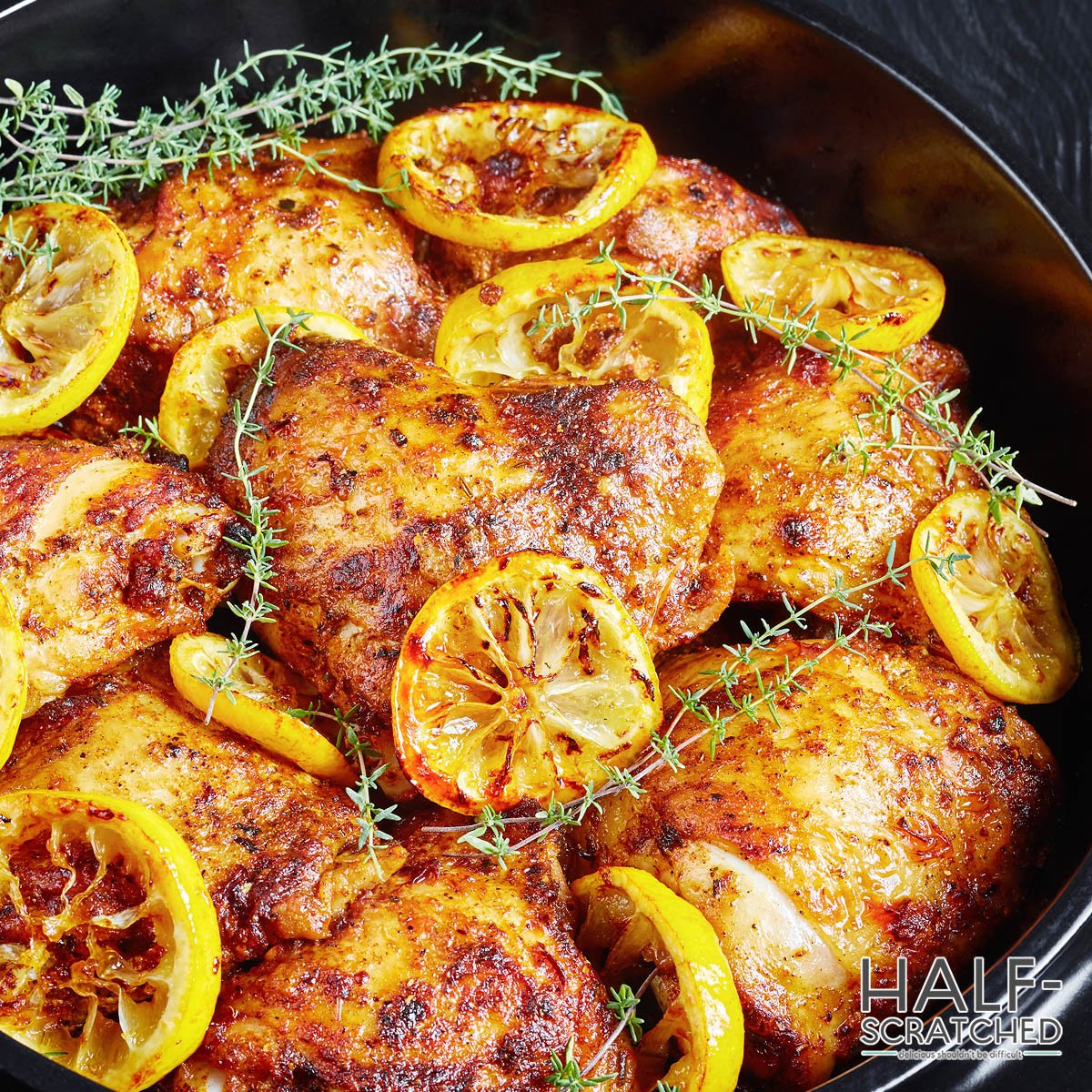 How Long Should You Bake Frozen Chicken Thighs?
Not everyone has the time to thaw their meat before they cook it; thankfully, chicken thighs can cook from a frozen state. They will need a little more time in the oven, though.
Bake frozen chicken thighs in a 350-degree oven for 50-60 minutes. Keep an eye on the internal temperature as it cooks. Be sure to check in multiple places to avoid uneven baking.
How to Defrost Frozen Chicken Thighs
If you want to avoid sticking frosty chicken in the oven, defrosting them overnight is the best way to go.
Chicken thighs thaw very easily in the fridge. Simply set them in the fridge the night before you cook them and allow them to slowly defrost. This is the safest way to defrost chicken thighs before baking them.
Chicken can stay in the fridge for up to two days. Once those two days have passed, discard the uneaten chicken.
Can You Over Bake Chicken Thighs?
While it may seem difficult to overbake tender, juicy chicken thighs, it is not impossible. When overcooked, the meat turns dry and flavorless.
To avoid ruining your dinner, keep a timer and check the status of the chicken thighs once the recommended time is up. If they're not done yet, keep checking the thighs at 5-minute intervals.
Do Smaller Chicken Thighs Cook Faster?
How large or small a chicken thigh is will change how quickly it bakes in a 350-degree oven. While a standard boneless thigh will need about 30 minutes in the oven, thicker ones will need longer to fully cook through.
Smaller thighs will cook in 30 minutes
Average-sized thighs take 40 minutes
Larger chicken thighs will need 45 minutes
Boneless chicken thighs are not generally so large that they'll need more than that in the oven. As always, check on the internal temperature if you're unsure of the doneness of your meat.
Does Foil Make Chicken Thighs Cook Faster?
A layer of foil expedites the process of cooking chicken thighs in the oven. This happens because the foil keeps moisture and heat from escaping. Wrapping chicken thighs in foil cuts down on their cooking time by about 7 minutes.
What Temperature Should You Cook Chicken Thighs To?
According to the USDA, a chicken thigh should reach an internal temperature of 165-175 degrees Fahrenheit. Any colder, and the risk of salmonella and other foodborne pathogens increases greatly. Check the temperature using a thermometer inserted into the thickest part of the thigh.
Is Undercooked Chicken Safe to Eat?
Undercooked chicken thighs, like any poultry, are not safe to eat below 165 degrees Fahrenheit. You should never consume raw or undercooked chicken thighs.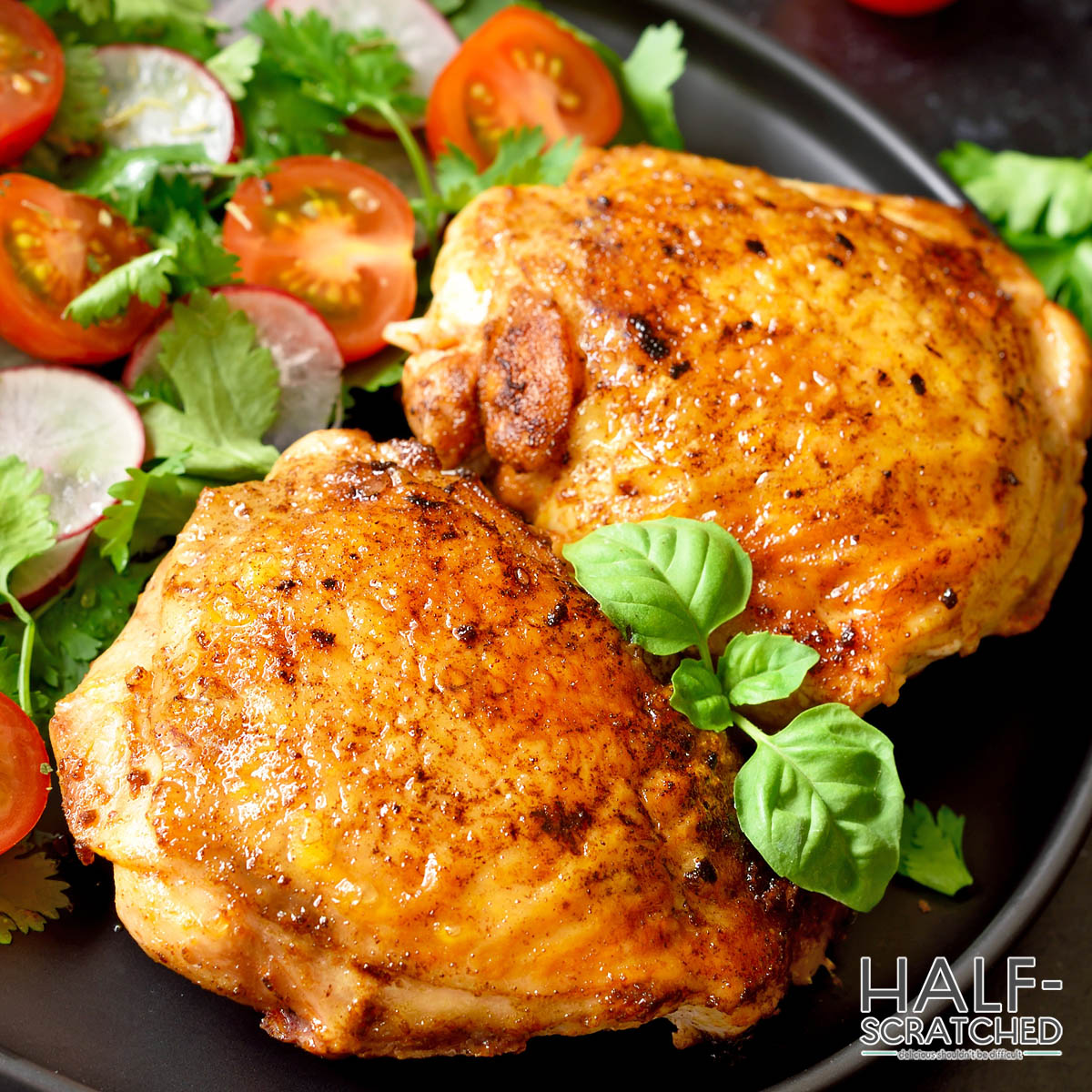 How Can You Check if Chicken Thighs Are Done Without a Thermometer?
If you don't have a thermometer handy, you can still ensure that your chicken thighs are fully cooked and ready to eat. All you'll need is a paring knife.
Safely remove the chicken from the oven and visually locate the bone. Using a paring knife, cut into the meat on the exposed side of the thigh. If the juices that leak out run clear, the chicken is done. If there is still visible pinkness or blood, the thighs need more time in the oven.
You can also use your knife to look at the meat itself. If the flesh inside the thigh is still significantly pink, it is not ready yet.
Bear in mind that chicken thighs are darker meat, and thus will not be the same white tone as a chicken breast when fully cooked.
How Long Should Chicken Thighs Rest After Baking?
Most recipes will recommend that you let chicken thighs rest when they come out of the oven. If you baked your chicken thighs at 350 for 50 minutes, they'll need about 5 minutes of rest time before they're fully ready to eat.
The reason for the rest time is to allow the juices to redistribute themselves through the meat. If they're cut fresh from the oven without resting, their internal liquids will run out everywhere.
If you're using skin-on thighs, do not let them rest too long. Doing so will reduce how crispy the skin is.
How Long Should You Grill Chicken Thighs at 350?
Chicken thighs can bake up perfectly crisp and smokey on a grill, similar to how they will bake in your home oven. When grilling over high heat, it is easy for even the juiciest of chicken thighs to overcook and dry out.
Bone-in chicken thighs can cook on a grill at 350 for 30 to 40 minutes. These cuts grill best over indirect heat. 8-ounce boneless, skinless thighs can cook over direct, medium heat for 15-20 minutes.
If you're marinating your chicken, as many grillers do, there may be a very slight change in how long thighs will need on the grill. A marinade will slow the cooking process, thus upping the time needed by just a few minutes.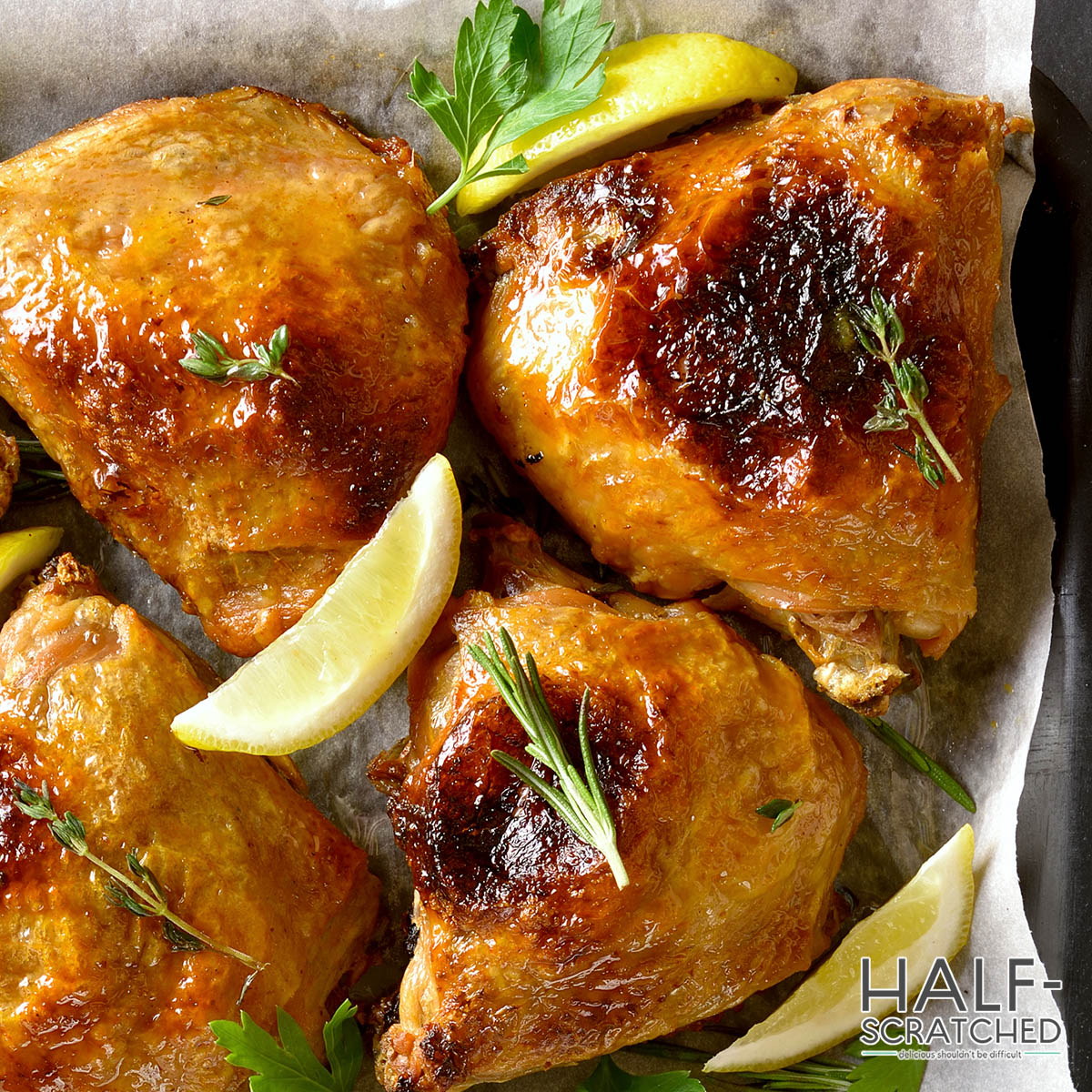 How Long Should You Bake Chicken Thighs in an Air Fryer at 350?
Air fryers can handle chicken thighs much the same way an oven does. The cooking times do not differ significantly from their oven counterparts.
Boneless, Skinless Chicken Thighs in the Air Fryer
Boneless chicken thighs should bake in an air fryer for 30-35 minutes. If you're serving up a large quantity of them, they should be cooked in batches to allow optimal airflow through the cooking basket. Flipping the thighs halfway through cooking will result in full, even heat distribution through the meat.
Bone-In, Skin-on Chicken Thighs in the Air Fryer
Bone-in thighs need a little longer, as they do in a conventional oven. These thicker, fattier cuts will be done after 45-50 minutes in a 350-degree air fryer.
Just as with oven baking, they should be started with the skin facing downward. However, flipping through the cooking time will help the skin crisp up - something an air fryer does beautifully. Spraying the skin with a blitz of cooking oil will make for an even more deliciously crispy texture.
Frozen Chicken Thighs in the Air Fryer
Frozen thighs will take even longer in an air fryer than they do in an oven because of the way heat is distributed. In a 350-degree air fryer, frozen chicken thighs need to bake for 70-75 minutes. As with thawed cuts, flip your frozen thighs halfway through the cooking process to help them heat up thoroughly.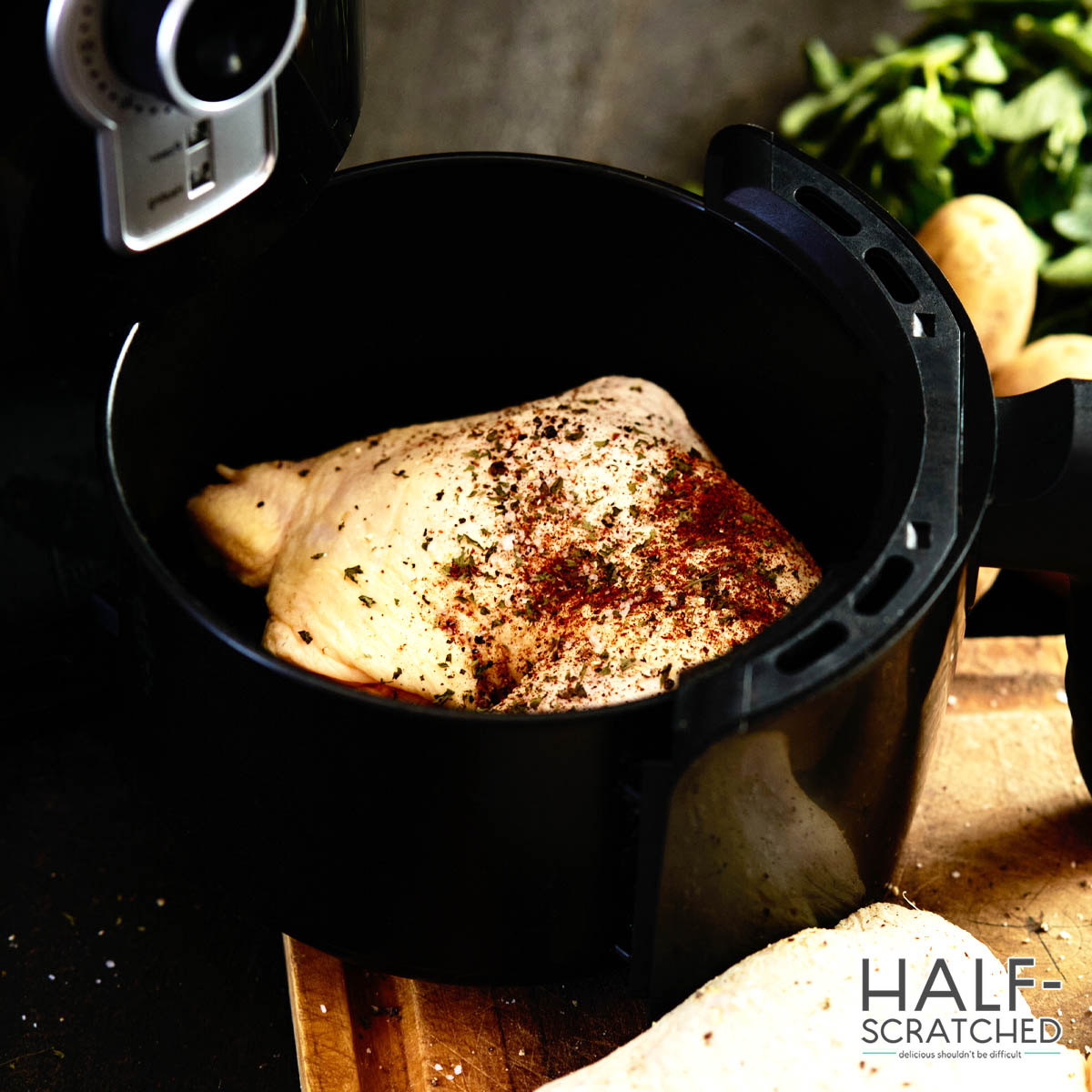 Should You Bake Chicken Thighs in the Oven on a Rack?
If you're baking your boneless chicken thighs in the oven on a cookie sheet, using a rack will elevate the crispiness factor considerably. The rack allows for the airflow in the oven to distribute heat all around the thighs. Exposing every side to 350-degree heat ensures all-around crisping.
My Personal Quick Tips for Baking Chicken Thighs in the Oven
Chicken thighs are as delicious as they are easy to cook, but there are a few tips and tricks you can employ to make them even better.
Pat Your Chicken Thighs Dry
When cooking chicken thighs at 350, take a moment to pat the raw thighs down with a paper towel before you season them and stick them in the oven. Blotting off that extra moisture will prevent the skin from getting soggy on bone-in cuts.
Boneless chicken thighs aren't the only ones who benefit from a pat-down. Boneless thighs should also be baked after the moisture has been wicked away. In the oven, the exterior moisture on a chicken thigh creates a small amount of steam. The steam settles on the meat and leaves the exterior soggy and the meat dry.
Don't Use Too Much Spice Rub
Spice rubs are flavorful, of course, but there can be too much of a good thing. While a dusting of a spice rub can make for an extra crunchy crust, too much will cause the skin to cake up and get soggy.
Don't Use Too Much Oil
Oil is essential for cooking up chicken thighs - bake without one, and you're more susceptible to burning. However, too much will cause splattering in the oven and can turn a rub into a paste.
For 2lbs of chicken, you'll only need 1 tablespoon of oil. A little goes a long way, and you'll only need a thin coat.
Frequently Asked Questions
How Do You Reheat Baked Chicken Thighs?
The best way to reheat baked chicken thighs is to place them on a baking sheet and allow them to reheat at 350 degrees for about 15 minutes or until heated through. This will maintain the best texture for the skin and meat.
If you want your thighs heated up a little faster, you can use the microwave. Bear in mind that skin-on thighs will more likely than not get soggy if reheated this way.
To reheat chicken thighs in the microwave, place your pieces on a microwave-safe plate. Heat the chicken in the microwave for 50 seconds.
Take your baked chicken thigh out of the microwave and check the temperature. If it's heated to your liking, you're ready to enjoy your leftovers. If it needs more time, continue heating in 20-second intervals.
How Do You Store Baked Chicken Thighs?
Baked chicken thighs can be sealed in an airtight container in the fridge for up to three days. They must be cooled down before they're put in the fridge to keep the thighs from getting soggy.
If storing in a container larger than the volume of the thighs, cover the surface with a layer of plastic wrap. This will keep the surface of the chicken from being exposed to too much oxygen.
Easy and Quick Chicken Thighs Recipe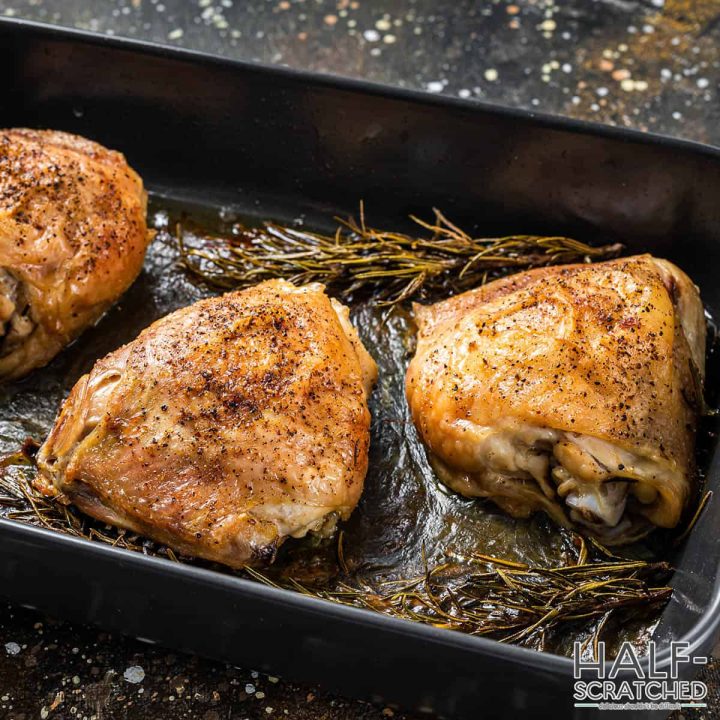 How Long to Bake Chicken Thighs at 350 F
Crispy baked chicken thighs make for an excellent weeknight meal, and can be personalized using your favorite sauces or spice blends.
Ingredients
6-8 bone-in chicken thighs, approximately 5-6 ounces each
1 tablespoon olive oil (or other neutral oil)
3 teaspoons of seasoning blend, like Italian or adobo seasoning
Salt and pepper to taste
Instructions
Preheat the oven to 350 F. Line a pan with foil and place a baking rack on top.
Pat chicken thighs down with paper towels to remove excess moisture.
Lightly drizzle thighs with olive oil. Using a cooking spray here will help distribute an even, light coating.
Sprinkle on seasoning blend, salt, and pepper.
Place on rack and bake for 45-50 minutes or until internal temperature reaches 165 F.
Allow these chicken thighs to rest for 5 minutes after removing them from the oven. Once they've had that time to sit, you're ready to enjoy moist, tender chicken thighs.
Nutrition Information:
Yield:

4
Serving Size:

1
Amount Per Serving:
Calories:

593
Total Fat:

40g
Saturated Fat:

11g
Trans Fat:

0g
Unsaturated Fat:

28g
Cholesterol:

333mg
Sodium:

1779mg
Carbohydrates:

1g
Fiber:

0g
Sugar:

0g
Protein:

61g