While perhaps not as popular as other fish, flounder is easy to prepare and bake and tastes delicious.
In the oven at 375 degrees Fahrenheit, flounder should be baked for around 30 minutes or until the fish is fully cooked through. You'll know when fish is fully cooked when it flakes easily with a fork and doesn't look translucent.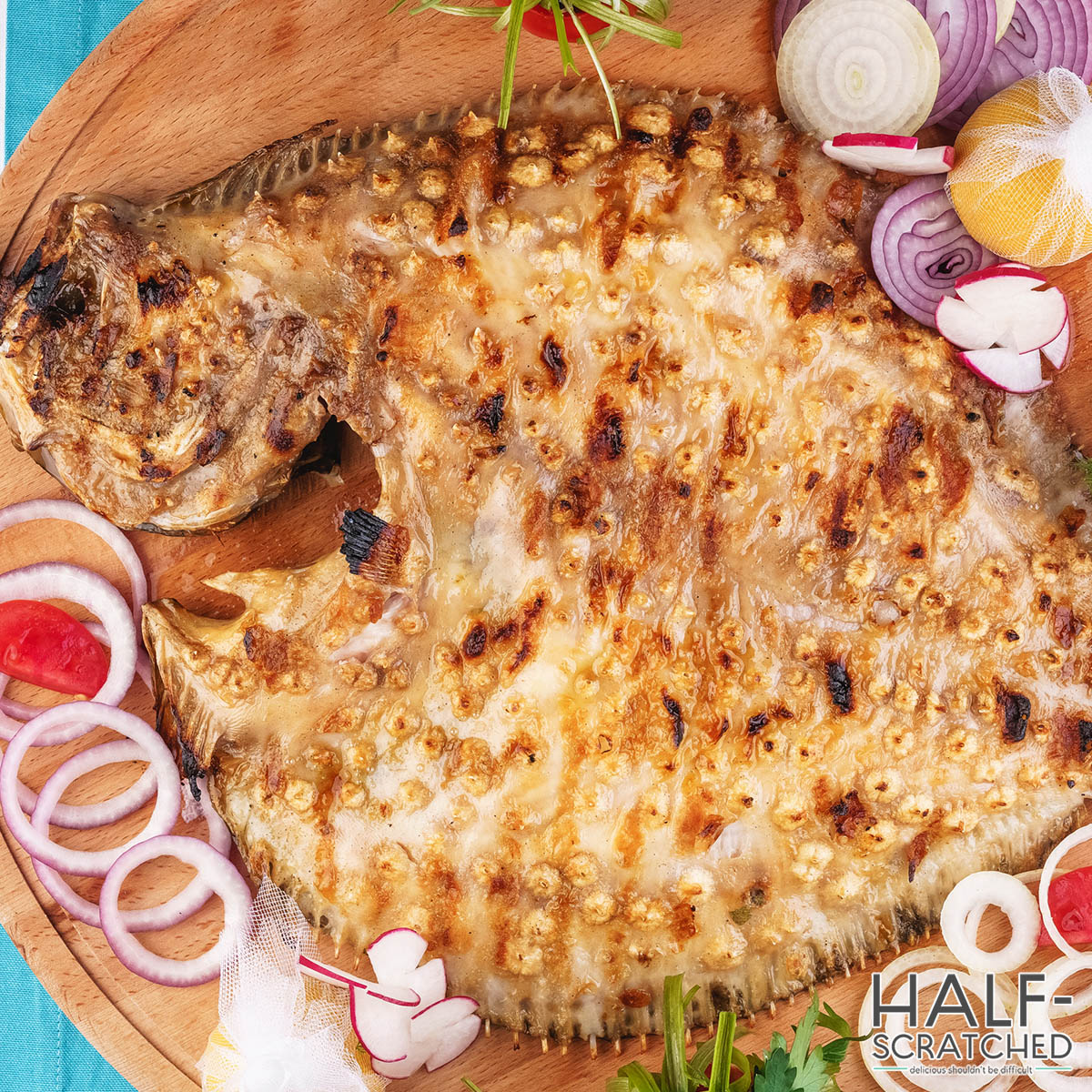 This article will look at tips and tricks to bake flounder, how to choose a high-quality flounder and a delicious recipe that is sure to be a hit for any meal.
What is a Flounder?
The flounder is a flat fish that is found at the bottom of oceans. Some people think they're funny looking because they have two eyes on one side of their body, but they are actually a great fish to eat.
Much like salmon, they have a high amount of omega-3s and also vitamin B12. Unfortunately, they have recently been in danger because of environmental pollution and overfishing. If possible, try to purchase wild-caught flounder as it's more sustainable.
Whole Flounder Versus a Flounder Filet
You can usually buy a whole flounder or get a filet, but it'll depend on what your meal needs are.
Convenience
Buying flounder filets are more convenient and can save you a lot of time, especially if you're busy with other things. If you get a whole flounder, then you might have to descale and debone it, which is tedious.
Cost
Because filets have already been prepared for the consumer, they tend to be more expensive. If cost is an issue, then it might be worth it to get the whole flounder and prepare it yourself. Taking off the scales and taking out the bones are relatively easy to do and usually mean you'll be spending less overall.
Personal Preferences
Flounders have edible skin, so if you get flounder filets, they often won't have the skin on them. So if you're a fan of fish skin, you should probably consider a whole flounder. Similarly, some people like to have fish bones because they'll use them in soups or stews.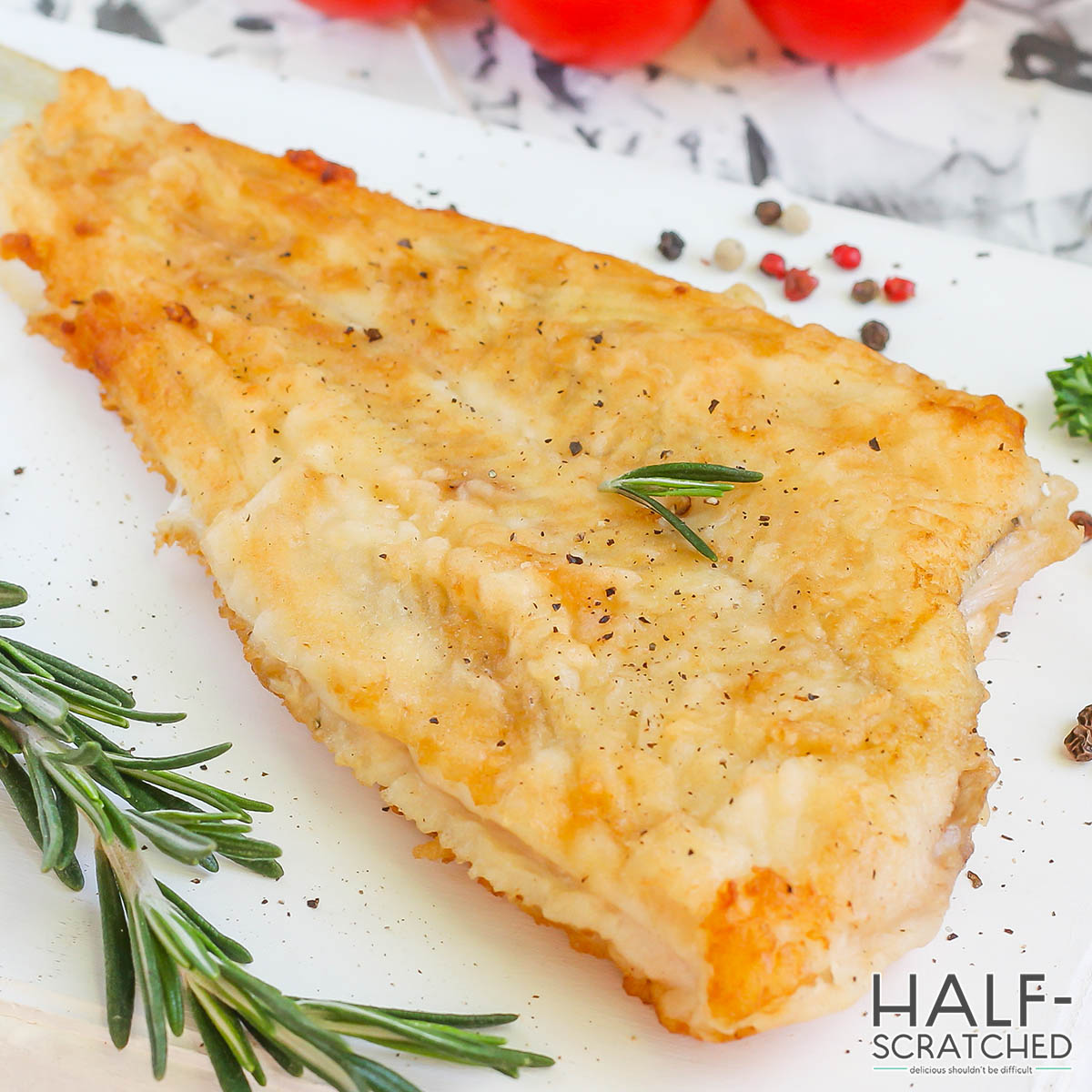 How to Choose a Flounder
You've made the excellent choice of choosing flounder to eat for your meal. Now what? Depending on whether you're buying a whole flounder or flounder filets, here's what to look for.
Choosing a Good Whole Flounder
It can be harder to choose a "good" flounder when you can't see it's insides. Keep these tips in mind when looking at whole flounders.
Look at the eyes: any whole fish should have eyes that are clear and shiny. If the eyes on the flounder look clouded over or are sunken into the fish's head, then it's likely that the whole fish is bad.
Check the skin: fresh flounder will have shiny skin and scales that look tightly fitted together. If the scales feel dry or are loose, then it's probably old.
What do the gills look like: the gills should look reddish and feel damp. If they feel sticky, toss the flounder out!
Smell: if you're able to, smell the flounder. If it smells like musky fish or has an ammonia smell, don't cook it!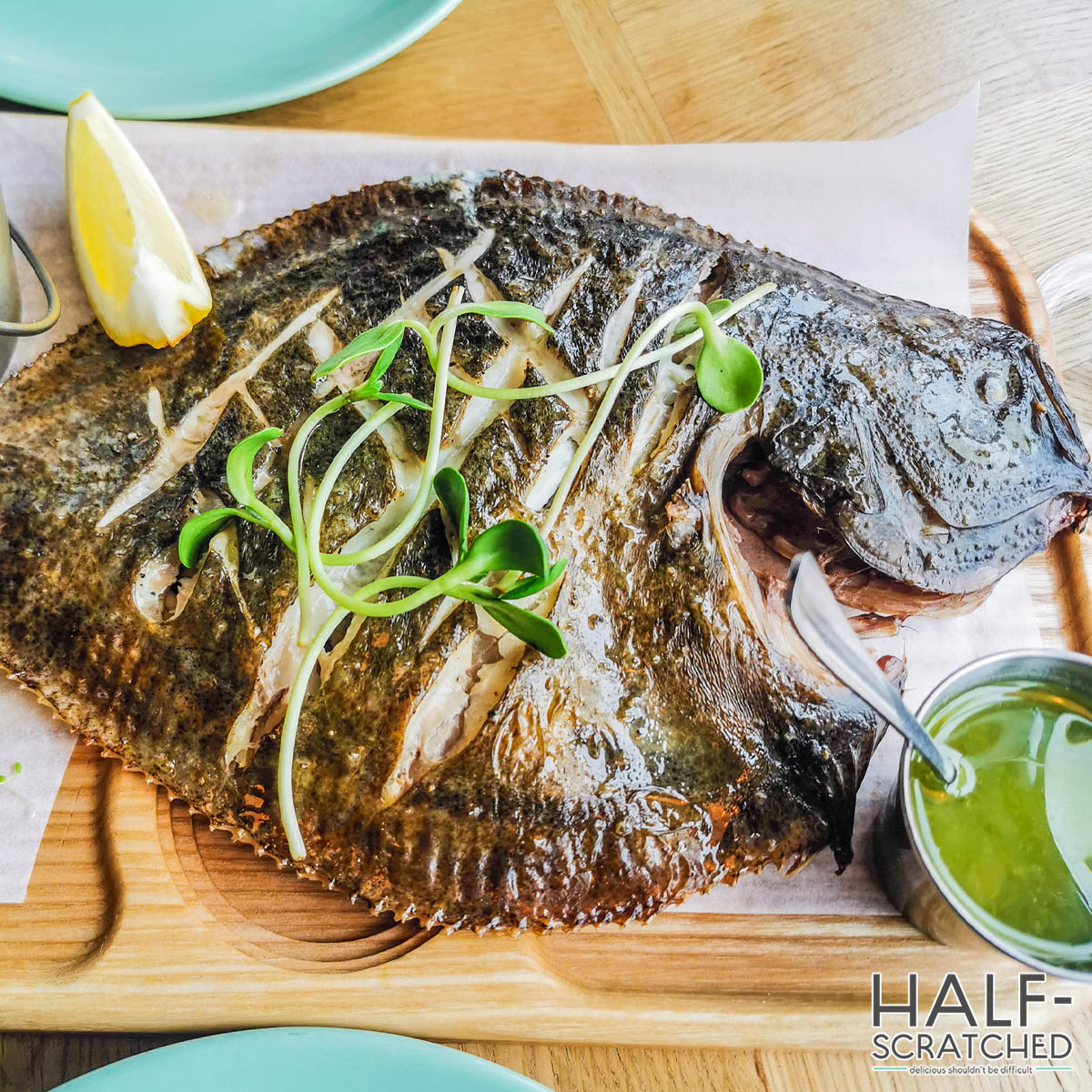 Choosing a Good Flounder Filet
Picking a quality flounder filet requires your five senses. Follow these tips and you'll choose the perfect filet for your meal.
What does the filet look like: a good flounder filet will look bright and shiny, especially because it's a white fish. It shouldn't look oily or have "gapping" in the flesh.
Where is it sitting: any fish filet should be sitting on ice, not laying in a pool of water. The ice keeps the fish cold and fresh. If you see standing water, it likely means it's warm enough to have melted the ice.
Touch the flesh: good flounder filets will have firm flesh. If it feels squishy or soft, that means the filet is no good.
Smell: much like the whole flounder, if a flounder filet smells off, it's likely bad. It should smell slightly like the ocean.
Tips for Baking Flounder
Whether you're preparing a full flounder or a flounder filet, keep these tips in mind to make the perfect meal!
Thaw Fish Correctly
There's nothing wrong with buying frozen flounder; actually, it is arguably just as good as fresh flounder. You just have to make sure that it's defrosted correctly.
The trick with defrosting frozen fish is to cover it and then leave it in the refrigerator. If you're pressed for time, you can also put the frozen flounder in a bag of cold water. Change the water with new cold water every 30 minutes or so.
Pat the Fish Dry Instead of Rinsing
Before, people would recommend rinsing fish off in the sink, but then it was discovered that this was a good way for harmful bacteria to splatter all over the sink. Now, you should only rinse the fish off if you're trying to rinse away loose scales.
The best way to dry the fish is to pat it with a paper towel. This will help the flounder cook faster. If you have skin on it, then the skin will crisp up better too.
Tuck Thin Edges Under the Filet
Flounder filets aren't an even width, so sometimes the thinner parts end up overcooked. A tip that can help with this is to tuck the thinner edges of the filet underneath so they cook slower and are more evenly baked with the thicker parts.
Don't Use a Lot of Fat
Fish is naturally quite fatty, and flounder has a good amount of it already. Go easy on the oil and butter that's used; you don't need to drown the fish or the filet in it since the naturally occurring fats and that'll help to cook it and keep it moist.
Flakiness Means Done
An issue that often comes up with baking fish is that it stays too long in the oven. It's actually better to slightly undercook fish since it continues to cook a little after the heat is turned off. Still, the best way to determine if your flounder is done is to test for flakiness.
Using a fork, stick it into the thickest part of the flounder and twist. It it flakes easily, that means it's done and ready to eat!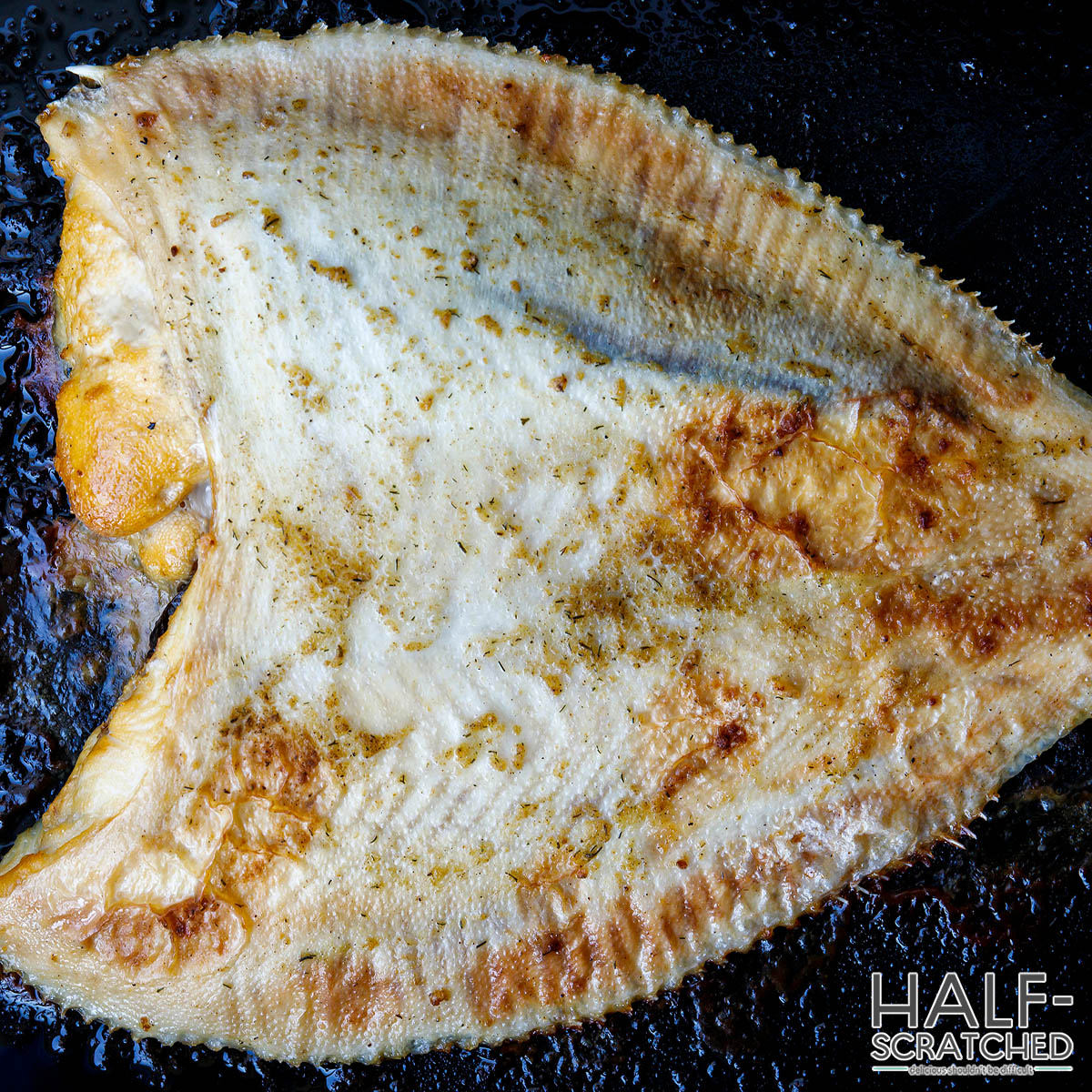 Is Flounder Only Available Certain Times of the Year?
Typically you can get flounder year around, but if you're looking to catch your own flounder, their migration period is from October to December; however, flounder is consistently being overfished, so some state governments have limited the fishing season to help the species continue to survive.
How Long Will Baked Flounder Last in the Fridge?
Flounder can be refrigerated for up to five days, although it's better to eat it within three days because the oils can spoil quickly. If you want the flounder to last longer, put it in the freezer, where it can last for up to three months. After that, the flavor and texture of the flounder will lose its quality.
Delicious Breaded Flounder with Parmesan Recipe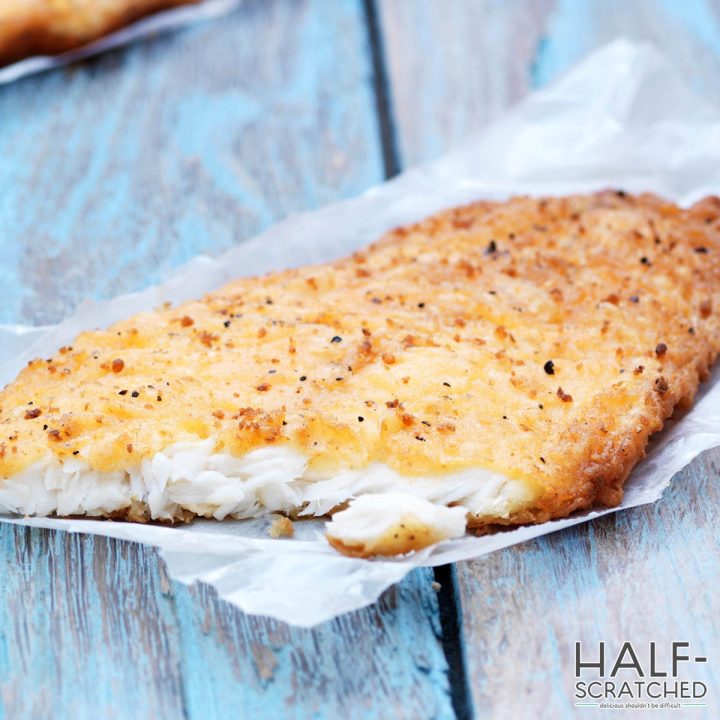 How Long to Bake Flounder at 375 F
If you love eating fish, it's time to try flounder. It's easy to bake thanks to our tips and tricks and tastes absolutely delicious.
Ingredients
4 flounder filets
4 tablespoons of melted butter
1 cup panko bread crumbs
1 cup grated Parmesan cheese
1 pinch dried thyme
½ teaspoon salt
pinch of black pepper to season
Instructions
Preheat the oven to 375 degrees Fahrenheit and lightly grease a baking dish.
Put the filets in the baking dish and brush with one tablespoon of butter.
Combine the remaining butter with the bread crumbs, parmesan cheese, thyme, salt, and pepper. Mix and then sprinkle the mixture over the flounder filets.
Bake until the fish flakes, checking at the 20-minute mark and letting it cook a little more if it's not done.
Nutrition Information:
Yield:

4
Serving Size:

1
Amount Per Serving:
Calories:

480
Total Fat:

27g
Saturated Fat:

14g
Trans Fat:

1g
Unsaturated Fat:

9g
Cholesterol:

144mg
Sodium:

1477mg
Carbohydrates:

23g
Fiber:

1g
Sugar:

2g
Protein:

36g