Cod is a flaky, flavorful fish, but it can also be very particular and easy to overbake, leading to rubbery, dry fish.
Cod should bake in a 350 degree oven for 25-30 minutes, with less time for thin cuts and more for thicker ones. The internal temperature for cooked cod should reach 145 before it is safe to eat.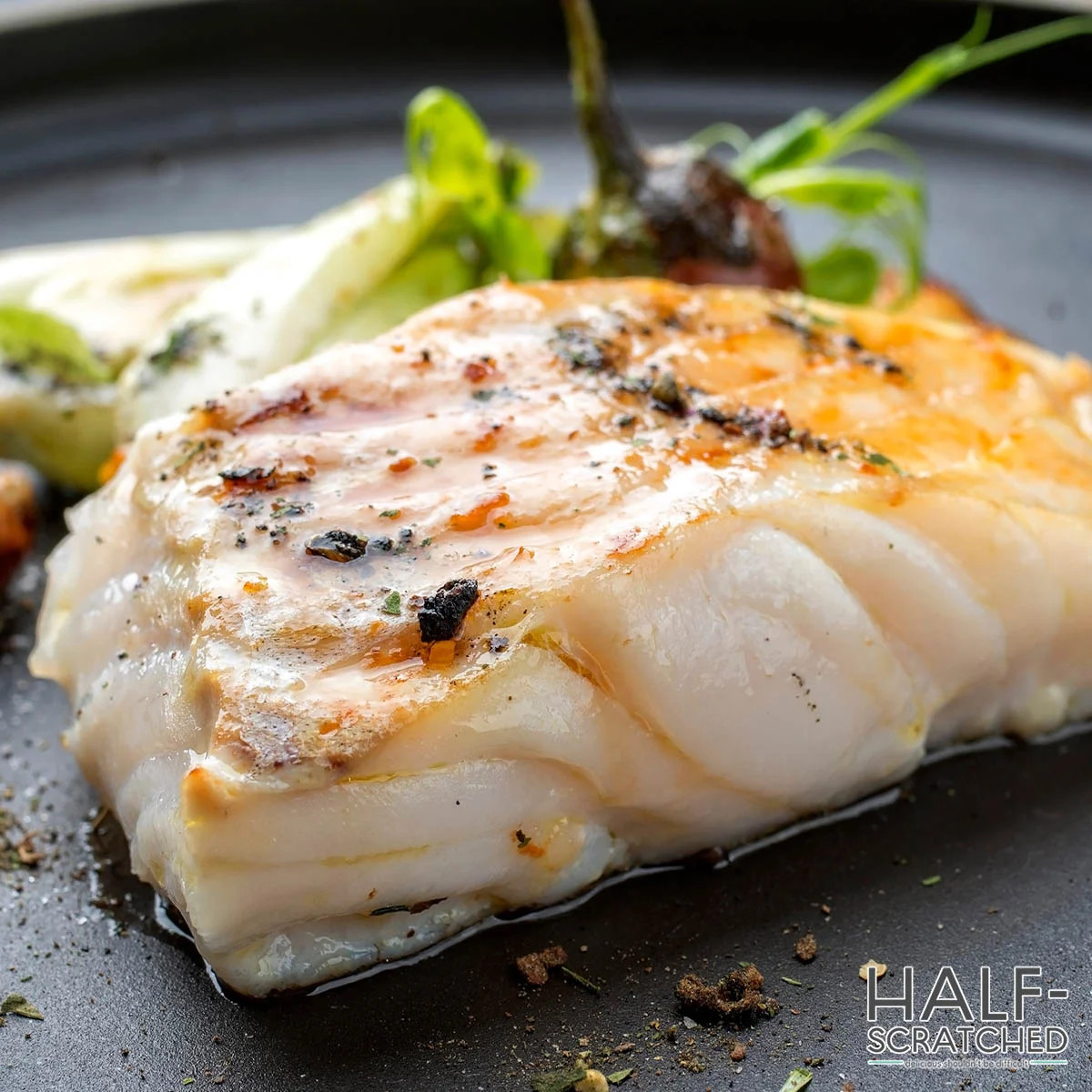 The finished product should be a cut of fish that is tender and succulent, easy to pull apart with the edge of your fork or knife.
When a filet of cod is fully cooked, the flesh inside will be white and opaque. It will flake away easily when you press down with the side of your fork. There should be no pink or gray remaining inside.
At What Temperature Is Cod Done
It's important not to overcook your cod, as it can get tough and chewy when it's been cooked too long. However, undercooking it can be dangerous as well. The USDA recommends that the safe internal temperature for cod is 145 F.
To determine the temperature, a meat thermometer will provide the most accurate results; insert it into the thickest part of the filet.
If you don't have a thermometer, try to press a fork into the flesh of the fish. If it's firm with just a little give, then you can assume it's close to being finished. If it's too firm to put the side of your fork through, it's not done.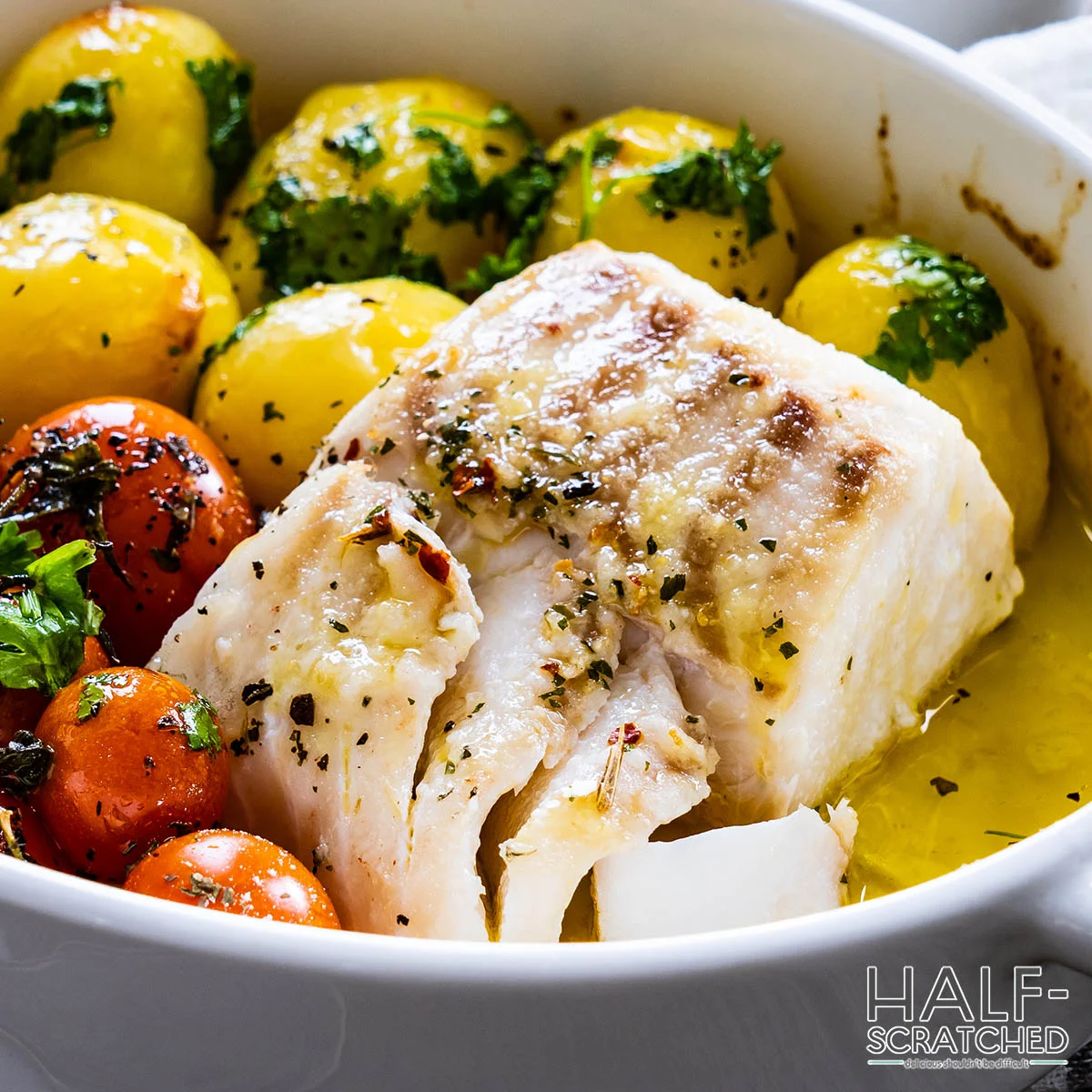 Do You Need to Fully Cook Cod
While it might seem tempting to dig into your cut of cod while it's medium rare or rare, doing so can be potentially hazardous. Most commonly, eating cod that hasn't been cooked enough may carry a cod worm. This is a nematode that can live within the body of the fish that will die when the fillet reaches an internal temperature of145 degrees.
Always ensure that your cod is fully cooked before you dig in. If you're unsure, it's best to let it go slightly over than let it remain undercooked and unsafe.
Do You Cover Cod While Baking It at 350
Whether or not you cover your cod as you bake it is a matter of preference.
If you wrap the cod up in foil, you'll trap in plenty of steam and help the fish cook faster. It will also lock in the delicious flavor of the fish and any sauces or herbs you put on it.
Prefer a nice golden brown crust on your fish – especially if you're baking it with breading? Keeping it uncovered will help it take on a beautiful hue and a tasty coating.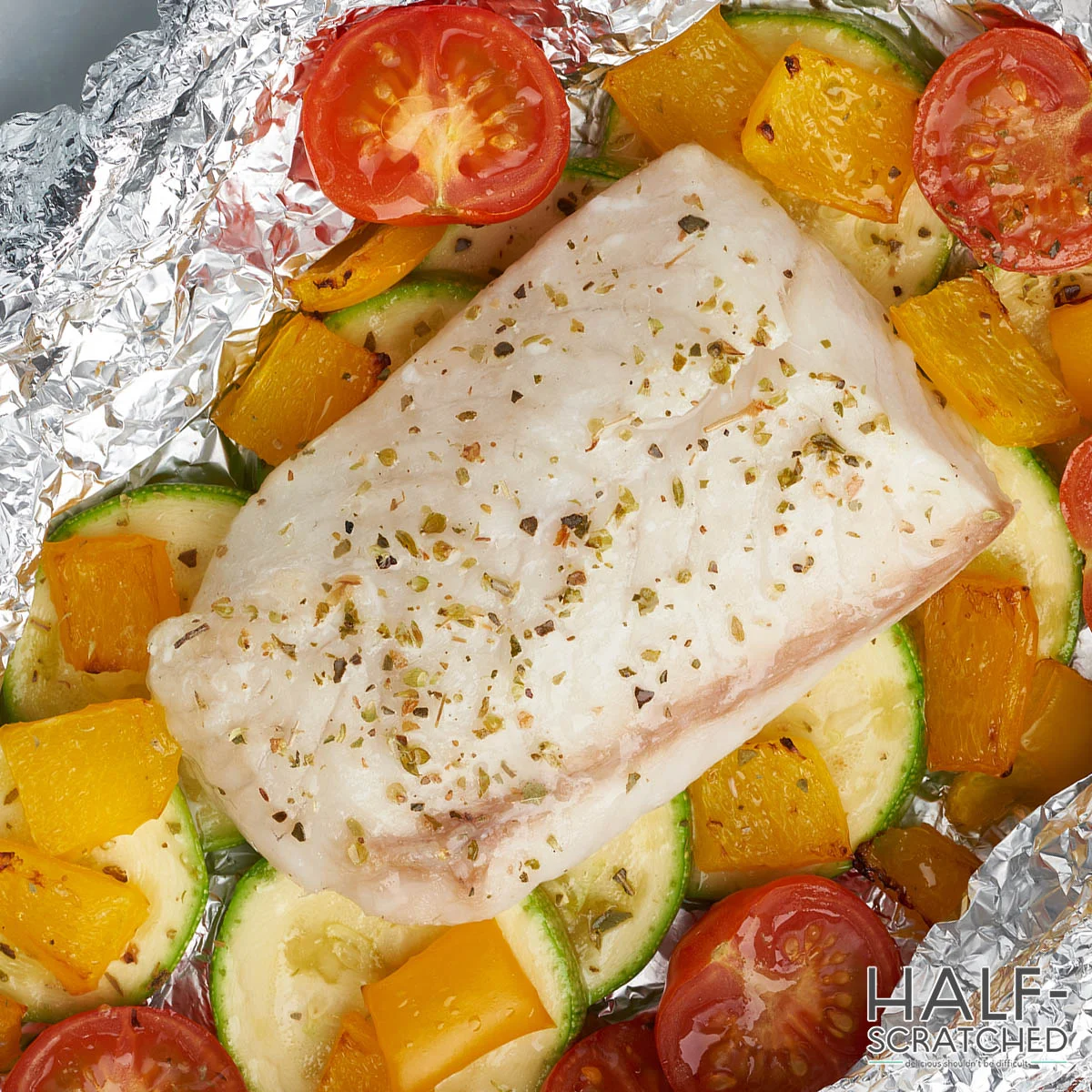 Do You Need to Turn Cod While Baking It at 350
A lot of fish recipes require at least one quick turn while it's baking away in the oven. Cod, however, is not included in that preparation: you should not turn or flip cod while you're baking it at 350.
If you absolutely have to flip your cod, avoid doing it more than once. It won't necessarily ruin your fish, but it will be a waste of your time and may result in slightly uneven cooking. Laying as is in a 350-degree oven will be more than sufficient to cook it to 145.
Can I Bake Frozen Cod
If you don't feel up to letting cod defrost, you certainly can cook it from frozen – though that may not cook up as deliciously tender as you'd like. Allow for extra cooking time if it's going right from freezer to oven – at least an additional 10-15 minutes.
All told, it's highly suggested that you thaw your cuts of cod before you get it ready to cook. That will reduce cooking time and produce a flakier fish with a more appealing texture.
If your cod filet is thicker than an inch, it's heavily suggested that you thaw the fish first. If you don't, it's quite possible that the cod will cook unevenly.
How Do You Defrost Frozen Cod
First, remove the cod from whatever packaging you bought it and brought it home in, whether that's butcher paper or a plastic vacuum-sealed pack – that's important to do, as defrosting it in the pack it came in can lead to botulism.
Place your frozen fish in a new, covered package, and leave it in the fridge for 12-24 hours. This is the best way to defrost cod so that it will stay safe to eat. Do not leave it in the fridge for longer than 48 hours, as it will no longer be safe to eat at that point.
If you forget to take it out of the freezer, you can also place the cod, wrapped, in a bowl of cold water to let it come to temperature a little faster.
How Can You Bake Cod in a 350 Degree Oven Without It Getting Rubbery
Rubbery fish is not what anyone is looking for on their dinner table. For a perfect fish dinner, how do you bake cod without it getting rubbery and unpleasant?
The key to avoiding rubbery fish is minding the internal temperature. Be sure to cook your cod according to the thickness of the filet; a thinner piece needs to cook at 350 for about 25 minutes. A thicker one will be done after 30.
Regardless, it needs to come to an internal temperature of 145 degrees. Around the last five minutes or so of cooking, run a quick temperature check. Take the cod out as soon as it's hit 145. If it bakes much longer, it'll start to get much too chewy.
Your baked cod should have moist, opaque white flesh that flakes without much effort when pressed into with the side of a fork.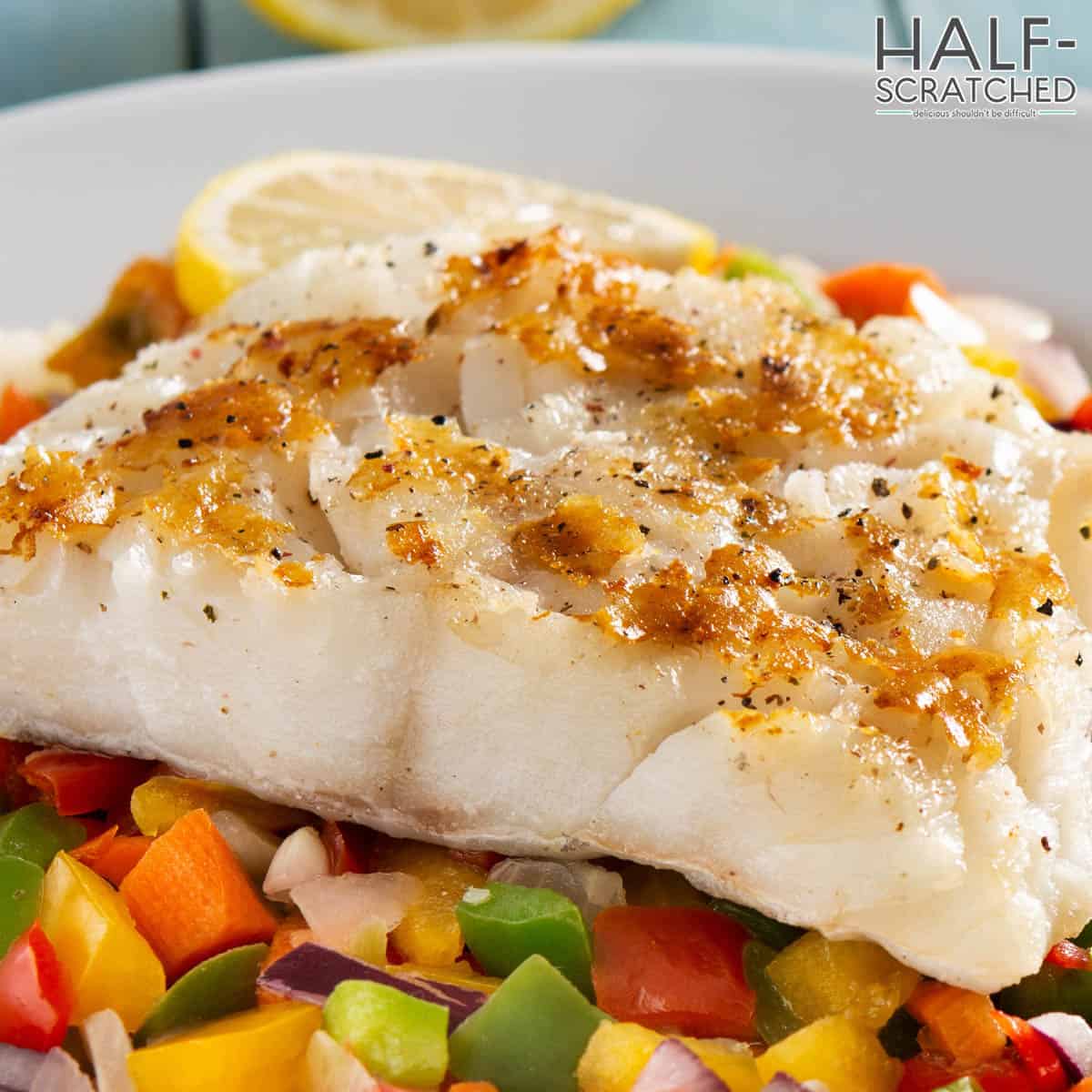 How Long Do You Bake Cod in the Air Fryer at 350
If crispy cod is your favorite, the air fryer should be your first stop. It's the perfect vessel for cooking up a filet of cod with a batter or coating that is golden brown and delicious.
You should bake cod in an air fryer preheated to 350 for about 12 minutes for an average-sized slice. No matter the thickness, check on it near the end of the cooking time to check the internal temperature with an instant-read thermometer.
Do You Need To Let Cod Rest After Baking at 350?
You should let your filet of cod rest after baking for 2 or 3 minutes, but it's best to serve it when it's still very hot. As fish cools, it loses a lot of that succulent texture that makes it so great to eat.
How to Store Cod in the Refrigerator
Once your baked cod has come down to an appropriate room temperature – usually after about 30 minutes to an hour – store it in an airtight container for no more than three days in the fridge.
You can also store your baked cod in a gallon bag that you've squeezed as much air as possible out of. The less oxygen touching the filets, the better, as this will help preserve it and make it better upon reheating.
When waiting for your cod to cool down, do not let it sit out for more than 2 hours. If it is at room temperature for more than 2 hours, it will no longer be safe to eat and should be discarded.
How to Store Cod in the Freezer
Once the fish has been brought down to room temperature, wrap it in freezer paper or foil and store it in a freezer bag or airtight container. Label the bag and keep it in the freezer for a maximum of 3 months. Any longer and it will start to greatly deteriorate in terms of taste and texture.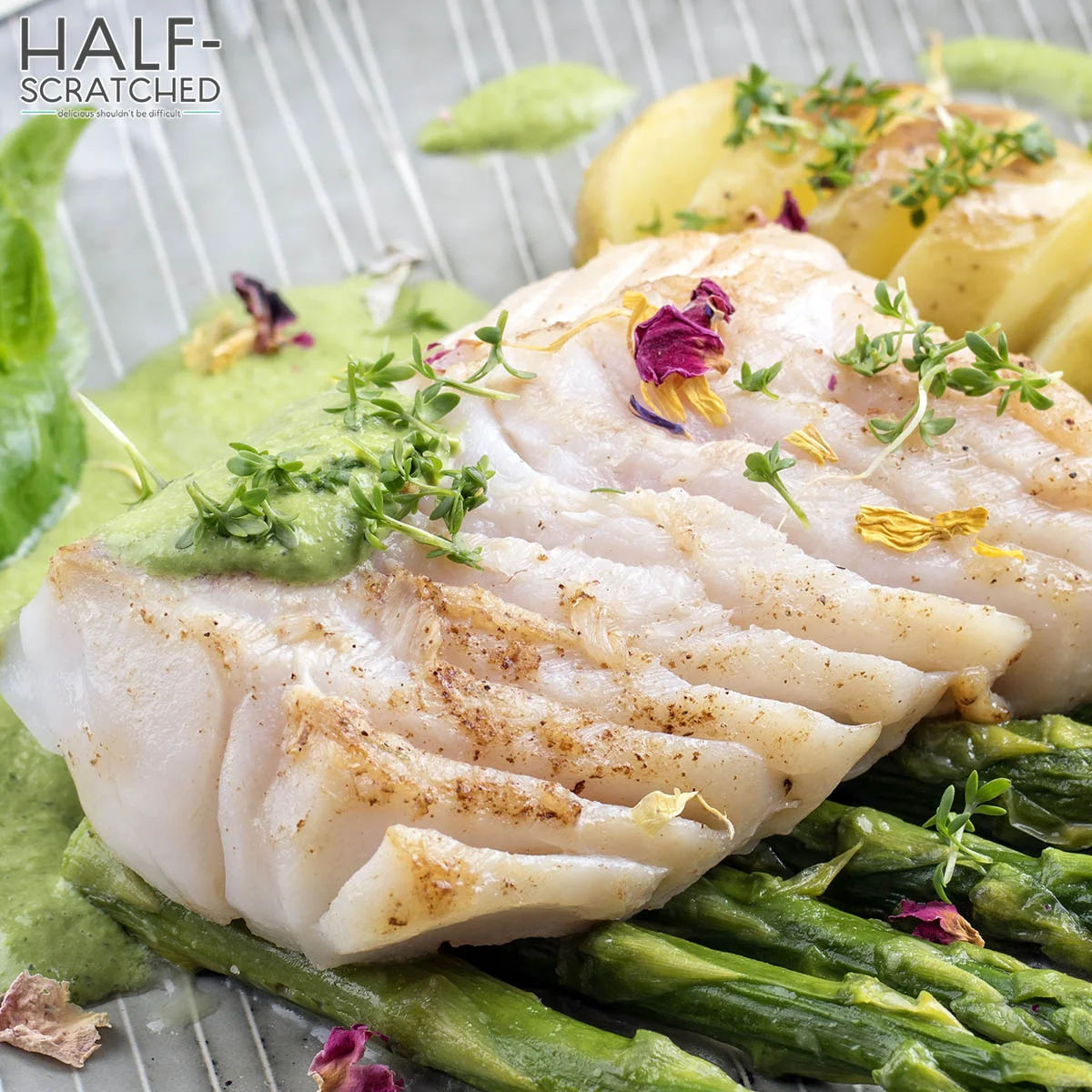 Why Is My Cod Gray
Worried that that slight grayish tint on your cod is an indicator of a bad filet? Worry not; it's perfectly natural.
What color a filet of cod is decided by a number of external environmental factors. A few of those factors include breed, diet, and age of the fish when it was caught. A little gray should be expected; most cod you find commercially bear a slightly darker hue, especially when it's uncooked.
How to Reheat Cod
When reheating any fish, bear in mind that thicker cuts will reheat much better than thinner ones. If your cut of cod is very thin, it's highly recommended that you skip the reheating altogether and enjoy it cold in a sandwich or salad - it's perfectly safe (and tasty) to eat cold baked cod.
Can You Use the Microwave?
Reheating fish can be a dicey procedure. It's not wise to use the microwave despite how convenient it is.
The microwave will heat up the fish much too fast, and the oxidation of the fatty acids in cod will create a smell that's sure to linger for the rest of the day. That's not ideal – especially if you're reheating last night's dinner as today's lunch in the office.
Reheating Cod in the Oven
The oven is the best way to reheat baked cod the next day. Place your baked cod on a cooking sheet with a wire cooking rack and cover it with foil. Then, set it in a preheated 250-degree oven for about 15 minutes or until at the desired temperature.
Reheating Cod in the Air Fryer
Just like the air fryer is a good spot for cooking it, it's also a decent option for reheating cod. Place your cod in the basket with a light coating of oil and cook it at 300 degrees without preheating first. It will take about 15-20 minutes before it is flaky and delicious.
Bear in mind that no matter how slowly it heats up, cod will just not taste quite as fresh as it did the first day.
Simple Yet Delicious Baked Cod Recipe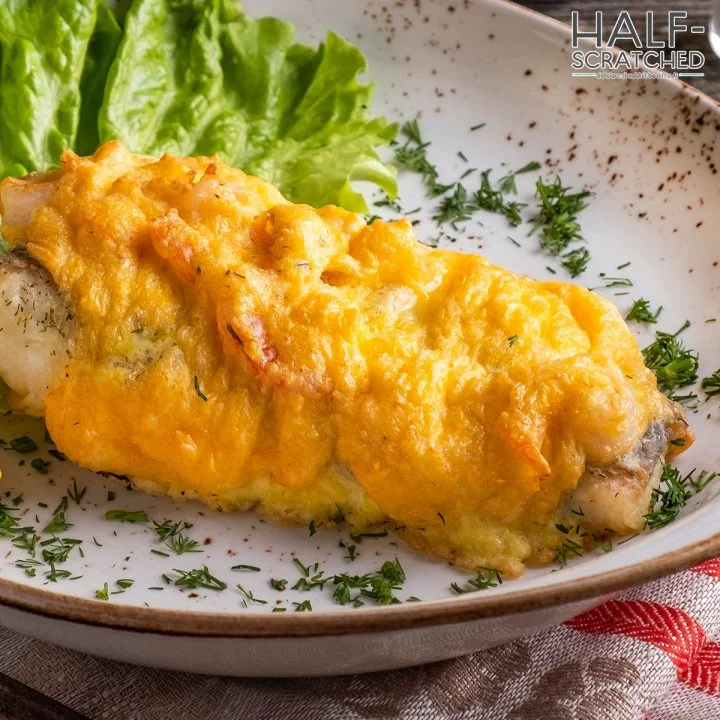 How Long to Bake Cod at 350 F
Cod is a delicious white fish that cooks up fairly easily. Here is a simple cod recipe that can be on your dinner table in short order. This cod recipe is for a lemon and garlic filet with a light coating on it that will brown up in the oven.
Ingredients
4 filets of cod
1 teaspoon of kosher salt
½ teaspoon of ground black pepper
¼ cup salted butter, softened
2 ½ tablespoons of grated parmesan cheese
1 tablespoon of all-purpose flour
4 cloves of minced garlic
Fresh basil, finely chopped
¼ teaspoon of onion powder
1 teaspoon of paprika
1 ½ teaspoons of dijon or honey mustard, depending on preference.
The juice of one lemon. Use additional lemon slices as garnish, if desired.
Instructions
Preheat your oven to 350 and lightly coat a baking dish with butter or cooking spray.
Lay the cod filets in a single layer in your baking dish. Season with kosher salt and freshly ground black pepper.
Combine butter, basil, parmesan cheese, paprika, flour, minced garlic, and onion powder in a small bowl until thoroughly incorporated.
Spread your flour and butter mixture over your cod until each filet has some and there is no mixture remaining.
Bake for 25-30 minutes or until internal temperature reaches 145 degrees Fahrenheit. Fish should flake easily when prodded with a fork.
Notes
Serve this tasty cod recipe with white wine and fresh greens for a dinner that's at home anywhere from weeknights to date nights.
Nutrition Information:
Yield:

4
Serving Size:

1
Amount Per Serving:
Calories:

452
Total Fat:

31g
Saturated Fat:

14g
Trans Fat:

1g
Unsaturated Fat:

13g
Cholesterol:

143mg
Sodium:

646mg
Carbohydrates:

9g
Fiber:

2g
Sugar:

2g
Protein:

35g