Fish lovers have debated whether haddock or cod is the superior meat for centuries. While cod is generally thicker and more affordable, haddock takes the crown for its stronger flavor and better texture. The trick to making it shine, though, is to bake it at a high temperature rather than grilling or frying the meat. Of course, you'll first need to know how long to let it bake.
Haddock fillets should bake for 10 to 12 minutes at 400° Fahrenheit or 12 to 14 minutes if they are breaded. To check whether the meat is done, insert and remove a skewer or fork from the flesh. It should come out cleanly, and the meat should appear flaky rather than dense. If the fillets are breaded, the crust should be crispy rather than soggy.
The beauty of haddock is that it works so well with so many different flavors. It's a delicate fish though, so be careful as you cook it. To help you avoid breaking the fillets, I'll guide you through a few helpful tips, advise you on how long to bake the fish, and offer a few strategies to help you get the most flavor from the meat.
Haddock Should be Handled with Care
Haddock and cod are often compared to each other because they're both mild white fish that goes well with just about any flavor profile. Yet, the main distinction between the two is that cod is generally thicker and meatier. This gives it a bit more resistance than haddock, which can be rather delicate, especially if it's not handled with care.
For this reason, haddock is better suited to baking than cod, which can stand up to grilling and even frying. Haddock, though, is a bit too thin and flaky to be flipped and tossed around while it cooks. Instead, you should either bake, broil, or poach the fish in the oven. This way, you won't have to worry about the fillets breaking apart while they cook.
The only trouble with baking fish, though, is that it can quickly dry out. To prevent this, I recommend turning your oven up to 400° Fahrenheit so that the fillets will quickly sear without losing too much moisture. Additionally, it's wise to bread haddock fillets, but I'll talk a little more about that further down in this guide.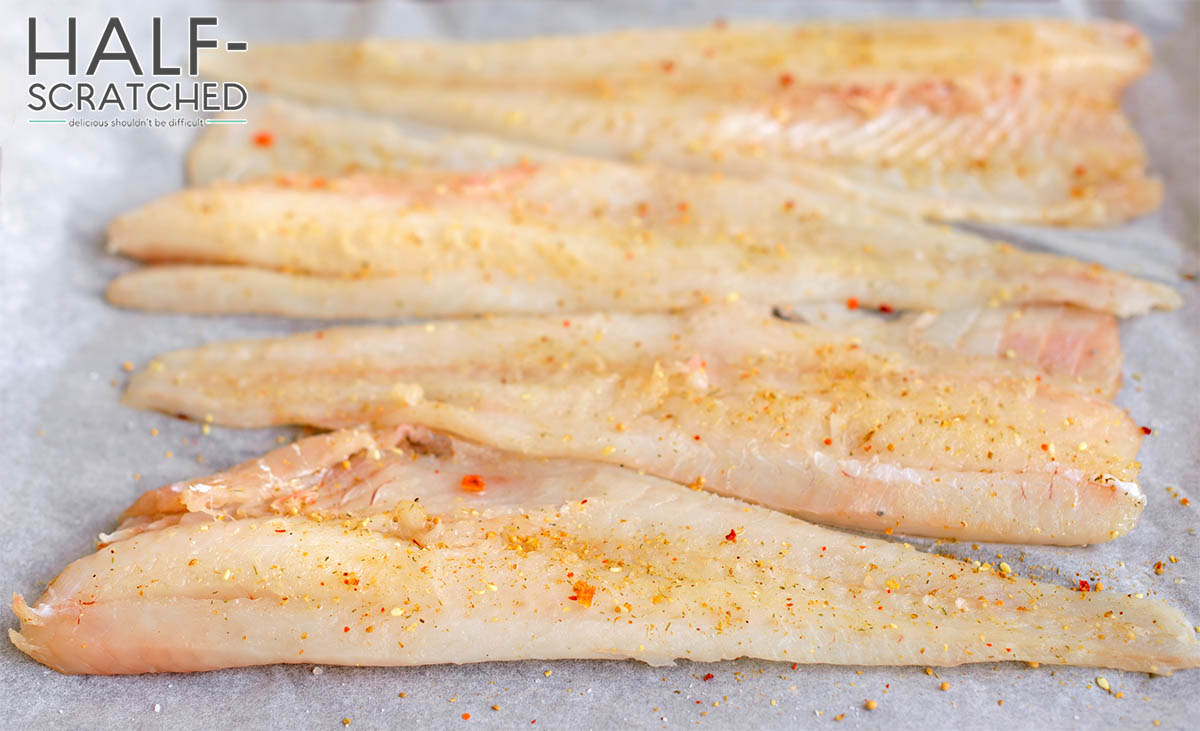 Adjust the Baking Time According to Size and Weight
Larger fillets of haddock will understandably need more time in the oven than smaller fillets. As a general rule, I add another 2 minutes for every additional 2 ounces. So, if a standard haddock fillet weighs 8 ounces, I would bake it for 10 minutes, whereas a 10-ounce fillet would need closer to 12 minutes.
If you're buying haddock from a fishmonger, they may sell you a single large fillet cut straight from the side of the fish. This could weigh up to 24 ounces, which would need between 18 and 20 minutes in the oven. I recommend pre-slicing the meat, though, so that everyone gets an equal portion of meat.
If you're concerned about whether the haddock is safe to eat, you can use a meat thermometer to test the internal temperature. According to the FDA's safety guidelines, haddock is safe to consume once it reaches 145° Fahrenheit. Letting it cook any farther past that point will cause the fish to dry out and become rubbery.
Consider Breading the Fillets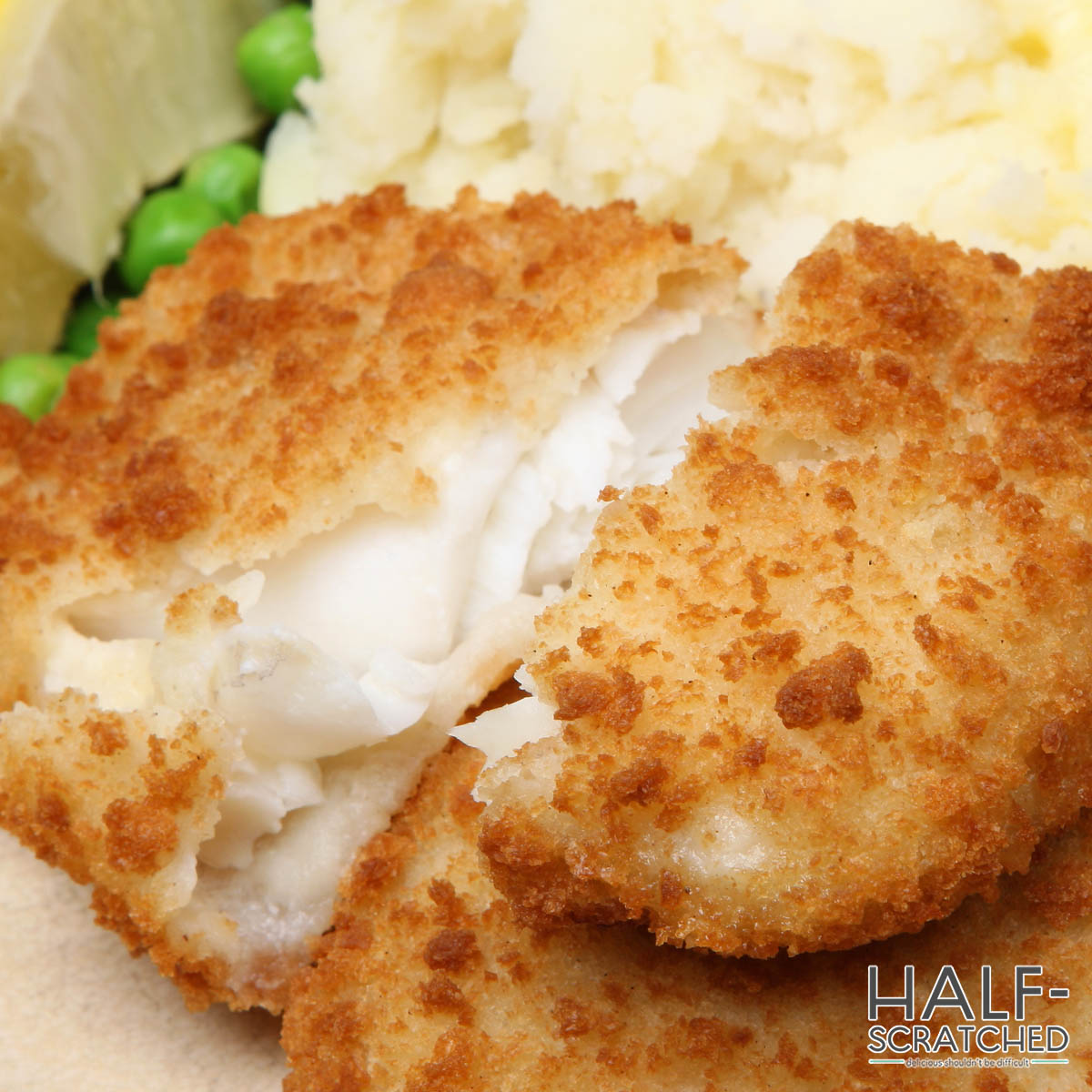 It's rare that I recommend breading meat as a rule, but with haddock, it'll help to hold the flesh together, especially as it becomes flakier. The added crust can also help to lock in flavor while creating more textural contrast against the soft flesh of the white fish. If you don't bread your haddock, the fillets could fall apart as you try scooping them from the baking dish.
Of course, if you're gluten intolerant, you don't have to use breadcrumbs to coat the fish. As an alternative, you can use parmesan cheese, cornflakes, crushed crackers, or even almond flour. The stronger flavor of the fish will blend nicely with any of these substitutes to make for a more memorable meal.
Let the Fillets Bake Uncovered
If you're baking the haddock without breading the fillets, it's perfectly fine to cover the baking dish with aluminum foil. This will trap some of the moisture in the pan and keep the fish from drying out. However, if you do plan to bread the fillets, let them bake uncovered for a full 12 to 14 minutes.
If you cover breaded fillets with foil, it'll trap too much steam within the dish, causing the breading to go soggy rather than crispy. Not only will this be texturally unappetizing, but it'll also make it harder to tell when the fish is done. By leaving the fillets uncovered, you can gauge how close to finished they are by testing the breading. Once it's nice and toasted, you can remove the fillets from the oven.
Air Fry the Fillets to Perfection
Another easy way to create a perfectly crusty layer of breading is to air fry your haddock. Not only will this ensure that the fish comes out like it was fried, but it'll also speed up the cooking time. Air fryers circulate air in a much smaller area than a traditional convection oven, meaning your dinner will be ready within 8 to 10 minutes rather than 12 to 14.
I recommend turning the fillets over halfway through the cooking time, though, to help them cook as evenly as possible. Be careful when you open the air fryer, though, as the fillets will likely be quite warm. Use oven mitts if necessary and a pair of tongs to protect your hands.
How I Flavor and Prepare My Haddock
Being a mild white fish, haddock is pretty receptive to most flavors, but in my opinion, it's best suited to subtlety. Experiment with it as you see fit but don't be afraid to try out some of my own tricks and techniques to improve its flavor.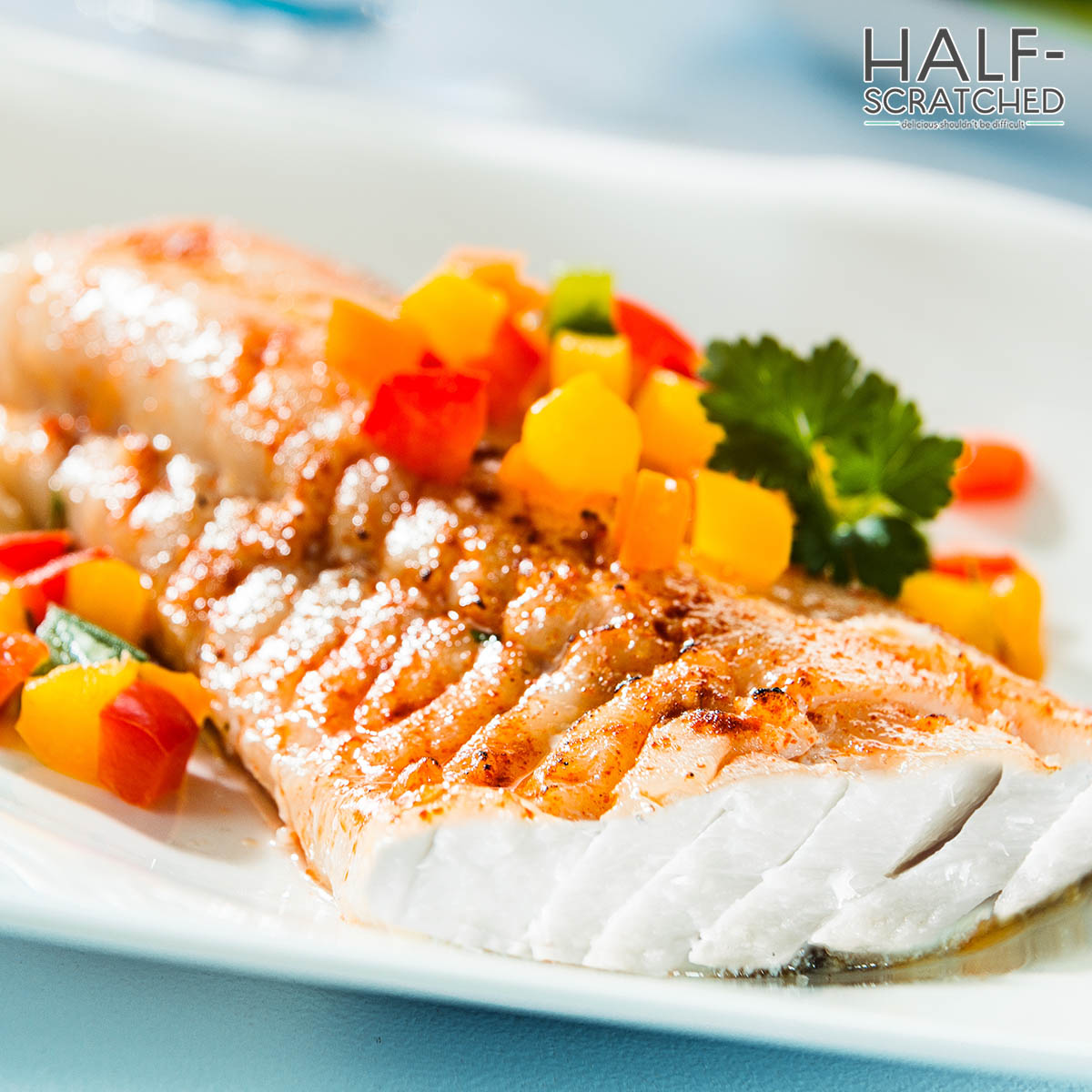 Soak the Fish in Buttermilk
Haddock isn't anywhere near as fishy or muddy as catfish, but it's definitely got a stronger flavor than cod. If you're less keen on fishy flavors, I recommend soaking the fillets in buttermilk for a couple of hours before baking. The mild acidity of the buttermilk will neutralize some of the fishiness while also tenderizing the fillets.
Add Seasonings to the Breading
Rather than applying herbs and spices directly to the fish, I recommend mixing them into both the flour and breadcrumbs that you'll use to coat the fillets. This way, the herbs and spices will be exposed to the heat of the oven and they can express their full flavor. Don't forget to salt and pepper the meat, though, otherwise it'll be bland.
Prepare a Garlic Lemon Sauce
Haddock is the sort of fish that deserves a special sauce. I recommend melting 4 tablespoons of butter in a saucepan over low heat, adding some garlic, and then stirring in the juice of one lemon to create a citrusy emulsion to pour over the fillets. If you prefer the sauce to be a bit thicker, you can also add some flour, making sure to whisk away any lumps.
Wash and Dry the Fish Before Breading
This hopefully isn't much of a secret but you should always wash and dry meat before cooking it. With fish—and particularly haddock—this will help to get rid of any surface bacteria and eliminate the excessive fishiness. Patting dry the fillets will also help the flour stick more evenly to the surface of the meat as you're breading them.
Use More Herbs than Spices
Flavorings are entirely up to you, but in my opinion, the delicate flavor of haddock goes well with light herbaceous notes, such as tarragon, chives, dill, and parsley. Stronger flavors, such as a soy glaze or curry mélange, will overwhelm the fish and drown out any inkling of its true taste.
Questions and Answers
Do haddock fillets have bones?
Fillets should be boneless as long as they were cut by a trained fishmonger. If you find any bones in your fish, I recommend purchasing higher-quality cuts.
How long will haddock last in the fridge?
I don't recommend leaving fish any longer than 2 days in the refrigerator. If you want to freeze the fillets, though, they can last for up to 6 months.
How can I reheat breaded haddock without it going soggy?
There will always be a risk that the breading will go soggy once it's defrosted but your best bet is to reheat the fillets in the oven. The dry heat should help to absorb some of the moisture and put some crispiness back into the breading.
My Recipe for Breaded and Baked Haddock Fillets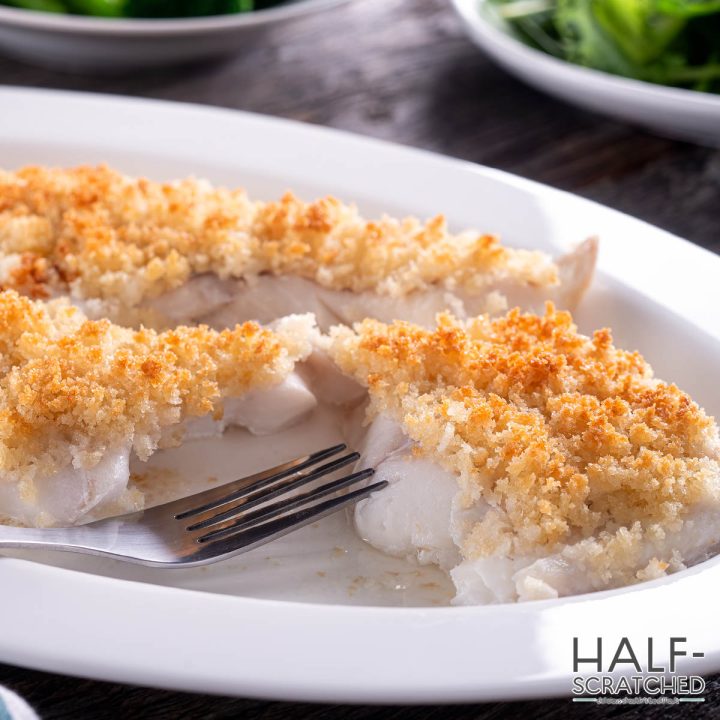 How Long to Bake Haddock at 400° F
Enjoy freshly breaded and baked haddock any night of the week with this simple step-by-step baking guide.
Ingredients
Four 10 oz. fillets of haddock
1 cup of all-purpose flour
1 ½ cups of Panko breadcrumbs
3 large eggs
½ teaspoon of dried tarragon
½ teaspoon of dried dill
½ teaspoon of dried chives
½ teaspoon of dried parsley
Instructions
Preheat your oven to 400° Fahrenheit.
Gently wash the fish fillets in warm water. Pat them dry with some paper towel and lay them on a plate.
Crack the eggs into a medium-sized bowl and whisk them together until evenly smooth.
Pour the flour and breadcrumbs into two individual medium-sized bowls. Combine the herbs into a single dish, mix until homogenous, and then divide them across both the flour and breadcrumbs. Mix until well
combined.
Going one at a time, place the haddock fillets in the flour, flip them over, then dredge them in egg. Continue breading by flipping them back and forth in the breadcrumbs until evenly coated.
Spray a baking dish with non-stick cooking spray and arrange the fillets so that they don't overlap.
Bake the haddock for 7 minutes before flipping the fillets over. Continue baking for another 7 minutes or until the breading has turned crispy.
Remove the fish from the oven and serve immediately.
Nutrition Information:
Yield:

4
Serving Size:

1
Amount Per Serving:
Calories:

583
Total Fat:

8g
Saturated Fat:

2g
Trans Fat:

0g
Unsaturated Fat:

4g
Cholesterol:

327mg
Sodium:

1090mg
Carbohydrates:

53g
Fiber:

3g
Sugar:

3g
Protein:

70g