Chicken wings are a versatile and popular party food that can be prepared in many different ways. Baking chicken wings in the oven at 350°F is a simple and delicious method that allows you to achieve a variety of textures, from crispy and crunchy to tender and juicy.
It will usually take unbreaded chicken wings 20-25 minutes in the oven to cook to moist, delicious perfection. Breaded chicken wings, on the other hand, will need a bit longer - usually 30-35 minutes to allow the heat to penetrate right down to the bone.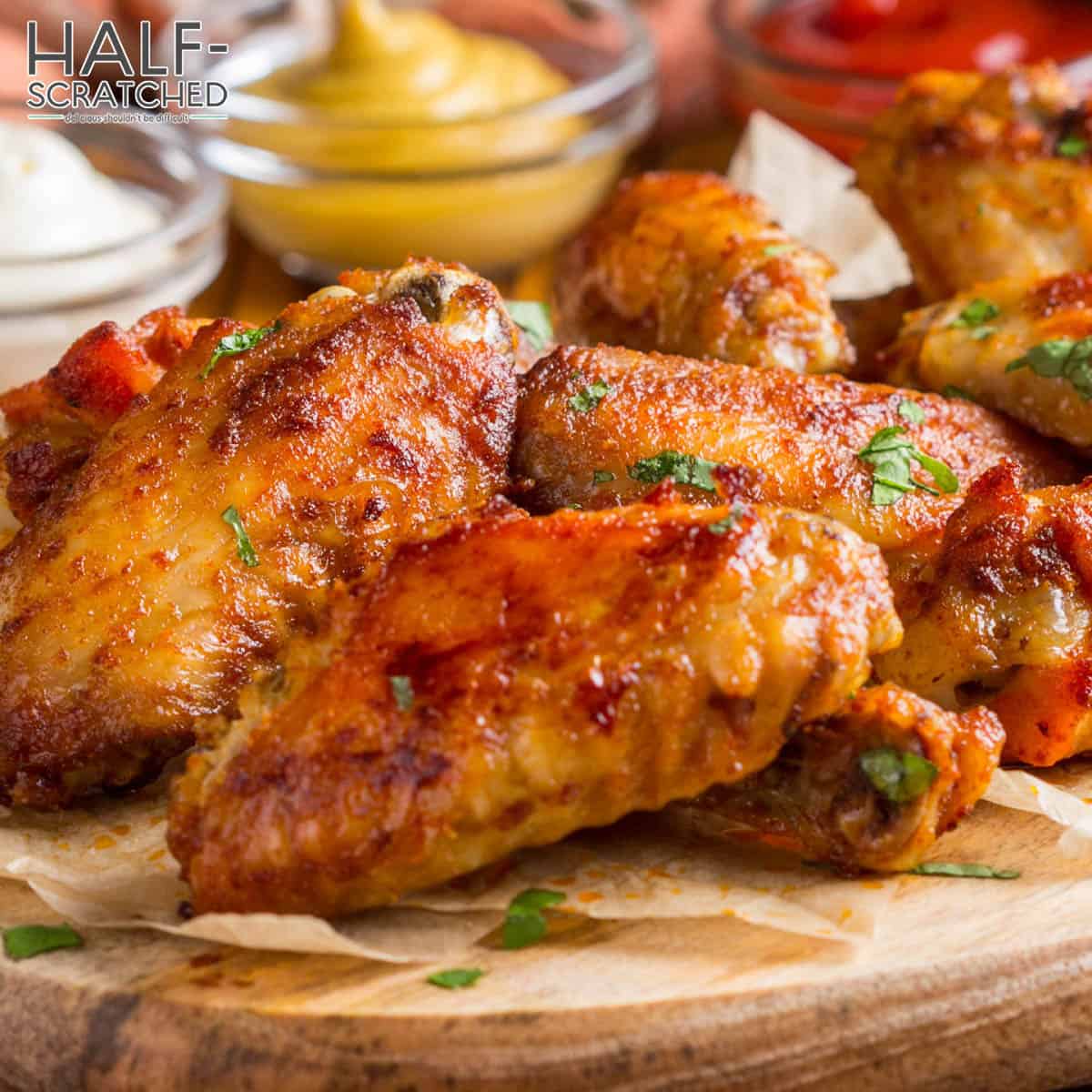 Let's dig into these crowd-pleasing chicken cuts and see how long it takes to bake chicken wings at 350, plus learn a few other chicken wing tips and tricks along the way.
Difference Between Breaded and Unbreaded Chicken Wings
Baking chicken wings in the oven at 350°F will take longer if the wings are breaded, as the breading will need time to cook and become crispy.
Unbreaded chicken wings will cook faster as they have less moisture to evaporate and less surface area to brown. In general, breaded chicken wings will take 30-35 minutes to bake at 350°F, while unbreaded wings will take 20-25 minutes. Breaded wings need more cooking time since it will take heat more time to penetrate down to the bone and ensure that everything's cooked up perfectly.
To bake perfect chicken wings in the oven, it is important to pay attention to temperature and cooking time. For wings that are fully cooked but still moist and tender, a cooking time of 20-25 minutes at 350°F is recommended. For crispier wings, a cooking time of 30-35 minutes is recommended.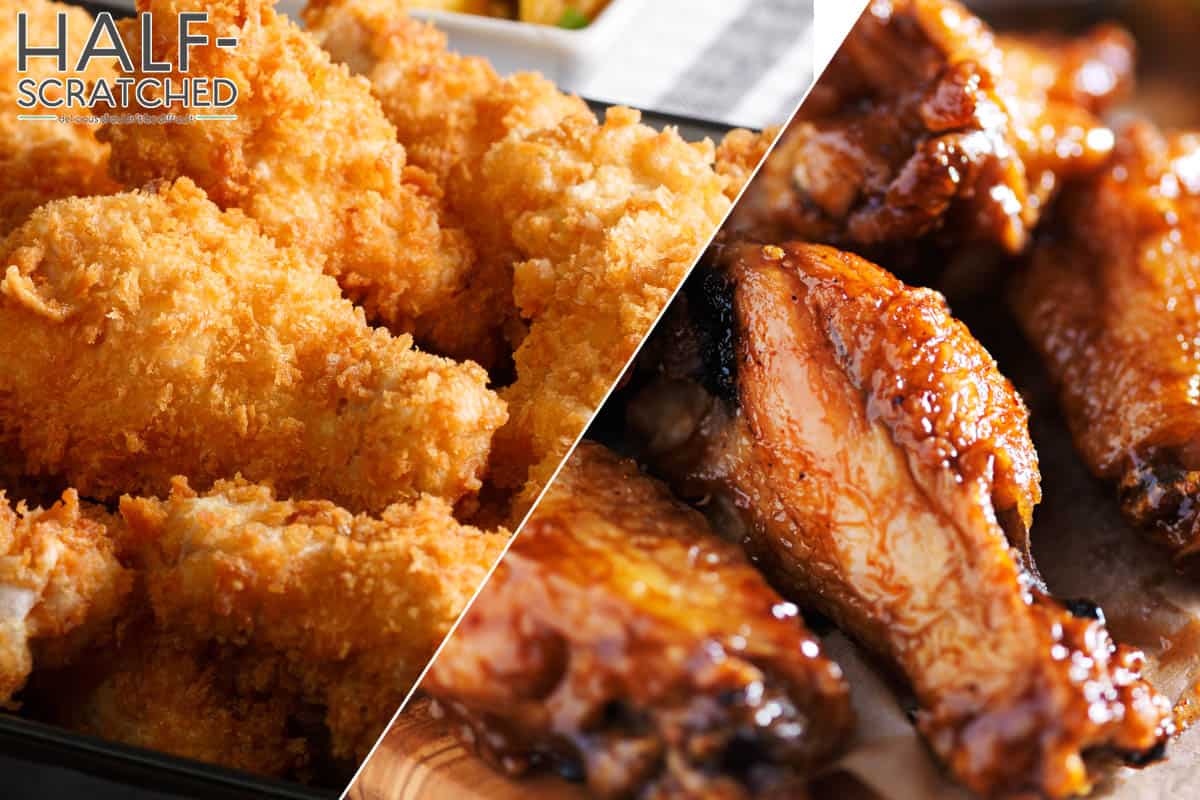 How Can You Tell When Chicken Wings Are Done Baking
One of the most important things to consider when baking chicken wings is doneness. Undercooked chicken wings can be unsafe to eat, while overcooked wings can be dry and tough. Therefore, it is important to know how to tell when chicken wings are fully cooked.
There are two main ways to check for doneness in chicken wings: using a meat thermometer or using visual and tactile clues.
With a Meat Thermometer
To check for doneness with a meat thermometer, insert the thermometer into the thickest part of the wing without touching the bone. The internal temperature of the wing should be at least 165°F to be fully cooked. This is the recommended minimum internal temperature for poultry, according to the US Department of Agriculture (USDA).
Without a Meat Thermometer
If you find yourself without a meat thermometer, you can still get by by using visual and tactile clues. The wings should be deeply browned and crispy on the outside, with no pink or raw-looking areas. When you cut into a fully cooked wing, the meat should be fully cooked and should not be pink or red. The juices should run clear.
Should You Bake Chicken Wings With a Rack
Using a rack to bake chicken wings can be beneficial because it allows the hot air to circulate around the wings, helping them to cook evenly and become crispy on all sides.
When the wings are placed directly on the baking sheet, the bottom of the wings may become soggy as the fat and juices from the chicken collect on the pan. A rack allows the fat and juices to drip away from the wings, resulting in a crispier texture.
Additionally, using a rack can help to prevent the wings from sticking to the pan. This can make the wings easier to handle and can also help to prevent them from falling apart when you are trying to remove them from the pan. Besides, less sticking means easier cleanup, especially if you line the pan below the rack with foil!
Overall, using a rack to bake chicken wings can help to achieve a more desirable texture and can make the cooking and serving process more convenient. It is important to note that the cooking time may be slightly longer when using a rack, as the hot air will need to circulate around the wings to cook them evenly.
However, the benefits of using a rack often totally outweigh the longer cooking time - after all, good things come to those who wait!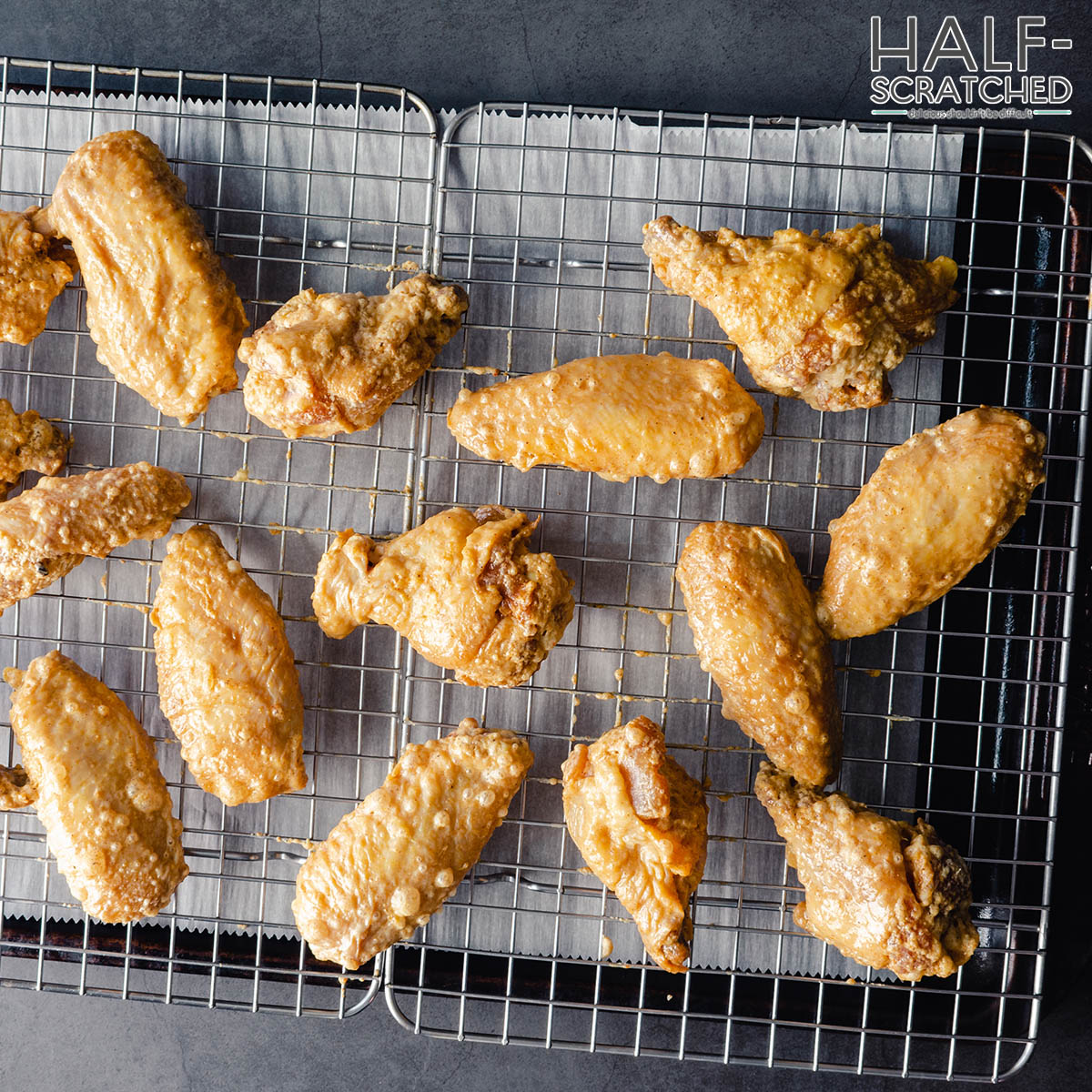 Should You Cover Chicken Wings When You Bake Them in the Oven
When it comes to covering chicken wings with foil or a lid while baking, there are pros and cons to both methods. Covering the wings with foil can help them to retain moisture and become more tender, but it can also prevent the skin from becoming crispy.
On the other hand, leaving the wings uncovered allows the excess moisture to evaporate and the skin to become crispy, but it can also cause the wings to dry out.
One scientific factor to consider is the Maillard reaction, which is the chemical reaction that occurs between amino acids and sugars when food is cooked. This reaction is responsible for the browning and flavor development that occurs when food is cooked.
When chicken wings are covered with foil or a lid, the moisture that is retained can inhibit the Maillard reaction, resulting in a less flavorful and less visually appealing product. However, if you're not concerned with crispiness on your wings, then covering the wings with foil may be a good option.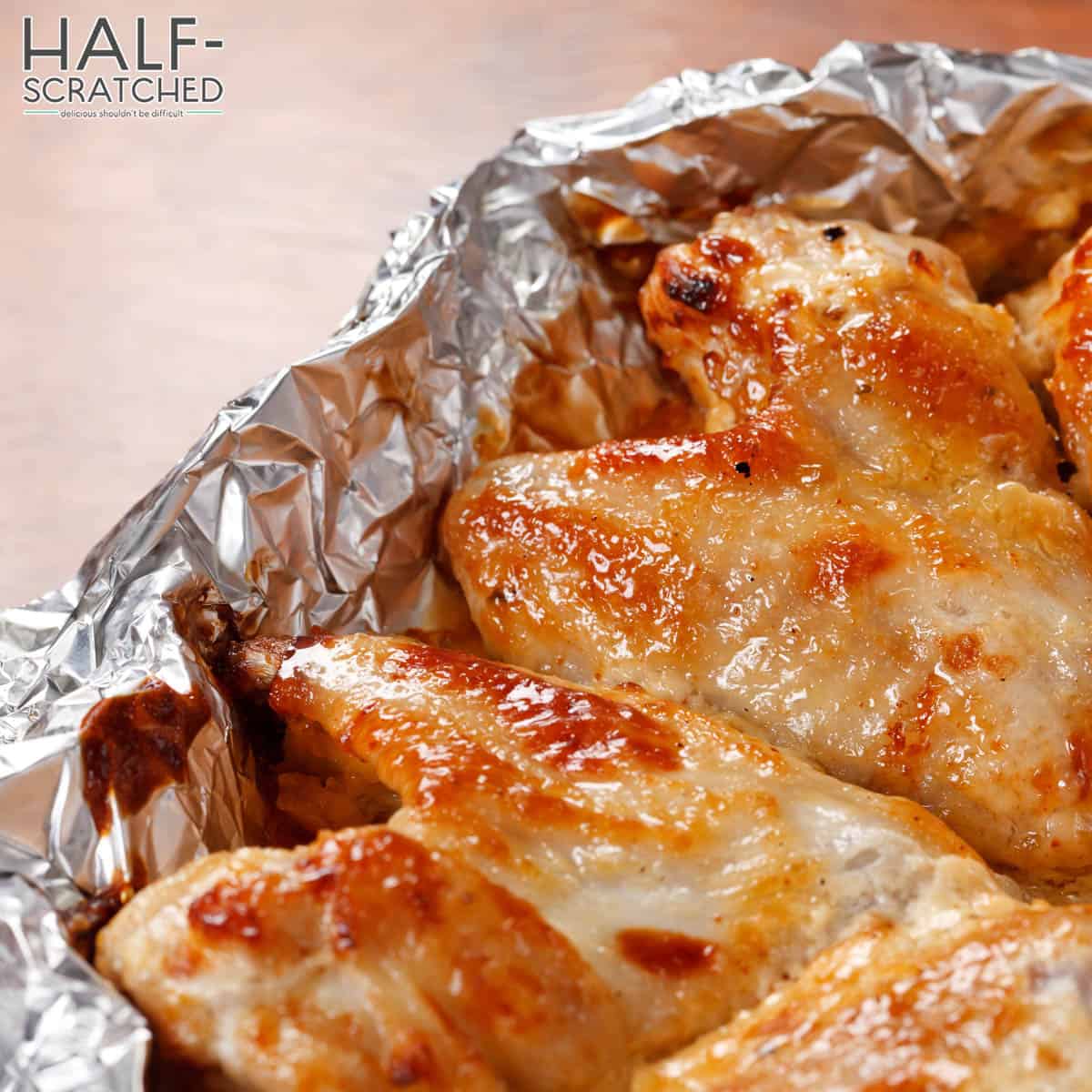 How Long Do You Bake Chicken Wings in the Air Fryer at 350 F
If you want to bake chicken wings in the air fryer at 350°F, the cooking time will be similar to that of the oven. Breaded chicken wings will take about 30-35 minutes to cook in the air fryer, while unbreaded wings will take 20-25 minutes.
The advantage of using an air fryer is that it's the perfect tool for producing a crispier skin than the oven, as the hot air circulates more efficiently around the wings. Conversely, though, it isn't ideal for large party-sized batches of wings, as most conventional home air fryers will have a much smaller capacity than your trusty oven.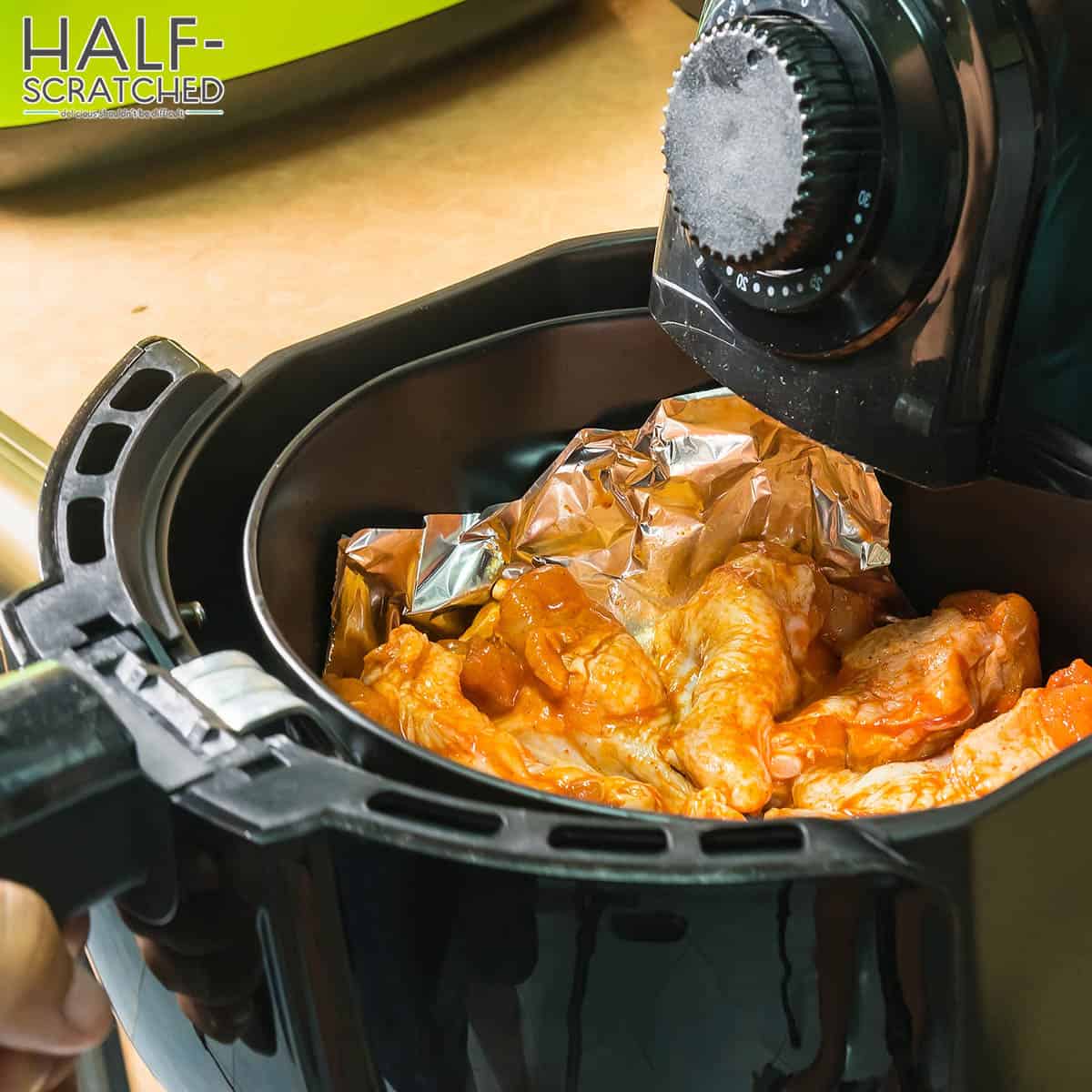 My Personal Tips for Perfect Oven-Baked Chicken Wings
As they're such a crowd-pleaser, it's no wonder that you'd want every batch of wings to be, well, pleasing! While it's easy enough to pop a tray of wings in the oven, there are a few tricks you can keep up your sleeves to help achieve chicken wing perfection every time you bake them at 350.
Preheat your oven to the correct temperature. Preheating the oven ensures that the wings will cook evenly and helps to prevent undercooking or overcooking.
Use a baking rack. Placing the wings on a baking rack allows the hot air to circulate around the wings, helping them to cook evenly and become crispy on all sides.
Season the wings evenly. Use a brush to evenly coat the wings with oil and seasonings, as this will help to ensure that the wings are evenly seasoned and have a consistent texture - and that you'll get plenty of flavor in every delicious bite!
Cook the wings completely. Use a meat thermometer to check the internal temperature of the wings, or use visual and tactile clues to determine when they're ready and safe to dig into.
Let the wings rest. Once the wings are fully cooked, let them rest for a few minutes before serving. This allows the juices to redistribute and the wings to become more tender.
Delicious Chicken Wings Recipe
If you're ready to whip up a batch of these game-day favorites, here's a super simple recipe to get started.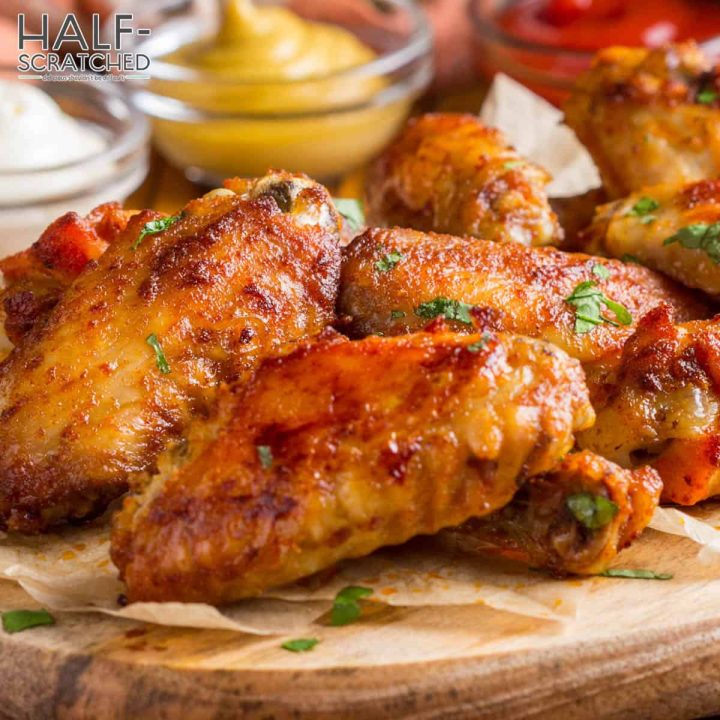 How Long to Bake Chicken Wings at 350 F
There's no need to wing it when it comes to making chicken wings - learn how long to cook chicken wings at 350 in the oven here!
Ingredients
2 lbs chicken wings
1 tablespoon olive oil
2 teaspoons of salt
2 teaspoons of pepper
2 teaspoons of garlic powder
2 teaspoons of paprika
Instructions
Preheat your oven to 350°F (180°C).
Place a baking rack on a baking sheet.
Pat the chicken wings dry with a paper towel.
In a small bowl, combine the olive oil, salt, pepper, and garlic powder.
Brush the seasoning mixture evenly over the chicken wings.
Place the wings on the baking rack and bake for 20-25 minutes.
Check the internal temperature of the wings to ensure that they are fully cooked. The internal temperature should be at least 165°F.
Serve the wings hot with any additional seasonings or dips of your choice. Enjoy!
Notes
Don't be afraid to dress these wings up to your tastes! Adding your favorite buffalo or barbecue sauce is an extremely easy way to get a classic flavor on the table that will get rave reviews. If you want to infuse the wings with flavor, try brushing them with your sauce halfway through the cooking time.
Prefer a dry rub? Why not try to whip up a batch of garlic parmesan or lemon pepper wings? The only limits are your tastes and your imagination when it comes to wings.
Nutrition Information:
Yield:

4
Serving Size:

1
Amount Per Serving:
Calories:

784
Total Fat:

59g
Saturated Fat:

20g
Trans Fat:

1g
Unsaturated Fat:

34g
Cholesterol:

186mg
Sodium:

1951mg
Carbohydrates:

25g
Fiber:

2g
Sugar:

1g
Protein:

39g