Cooking chicken legs (chicken leg quarters) in the oven at 350°F is a simple and flavorful way to prepare this versatile protein. Whether you are an experienced home cook or new to the kitchen, this method is easy to master and yields delicious results every time.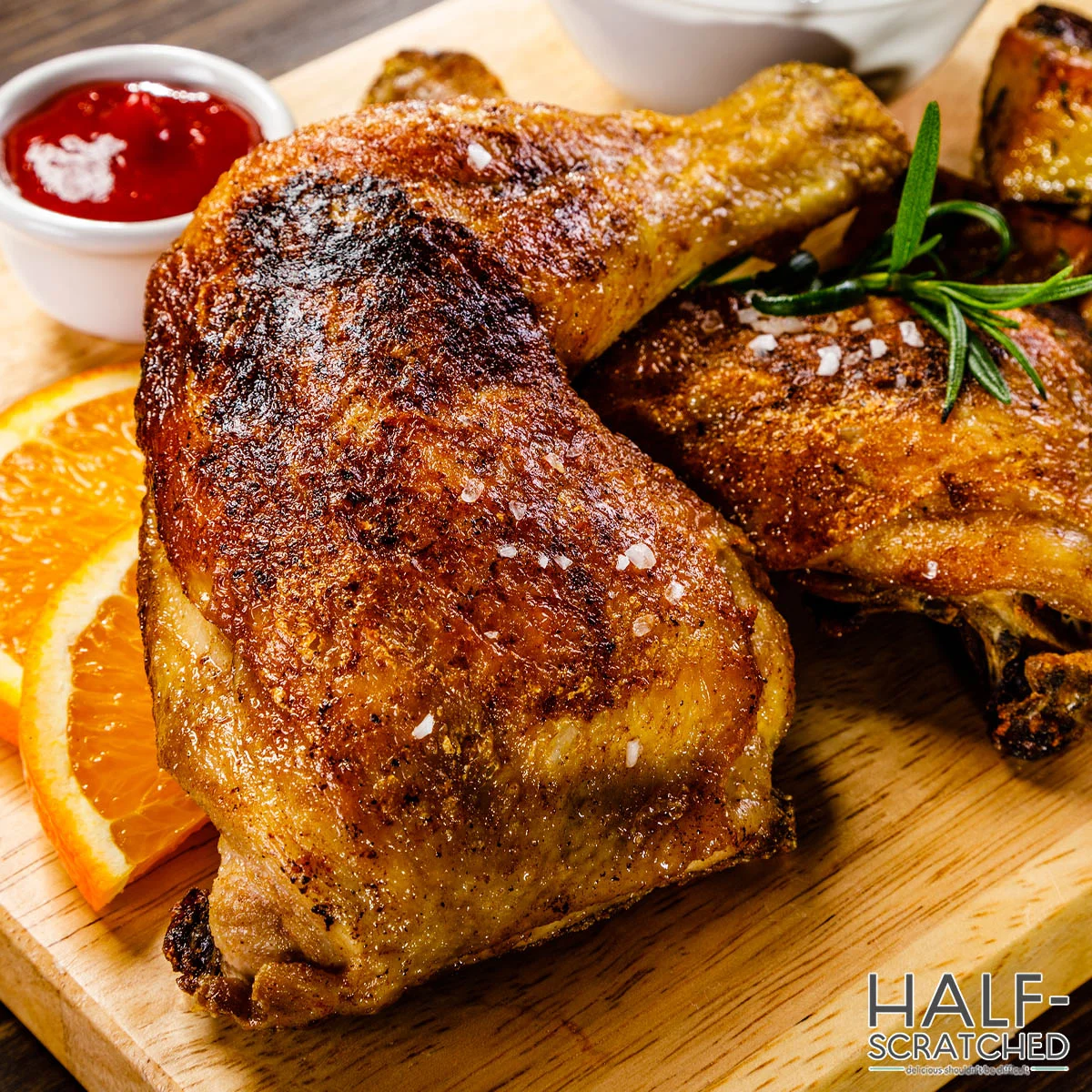 To bake chicken legs in the oven at 350°F, it will generally take 30-40 minutes until they reach an internal temperature of 165°F. Thicker chicken legs will need more time, and smaller ones will be done in 25-30 minutes.
Smaller legs will cook in 30 minutes
Average-sized legs take 40 minutes
Larger chicken legs will need 45 minutes
To ensure that your chicken leg quarters are fully cooked and safe to eat, use a meat thermometer to check their internal temperature. The USDA recommends cooking chicken to an internal temperature of at least 165°F to kill any harmful bacteria that may be present.
Most chicken legs are bone-in and complete with the skin, though you may sometimes find leg meat separated from the bone.
The most common difference you'll encounter with chicken legs is whether they're breaded or unbreaded. Breaded chicken quarter legs take a little bit longer to bake than the unbreaded ones.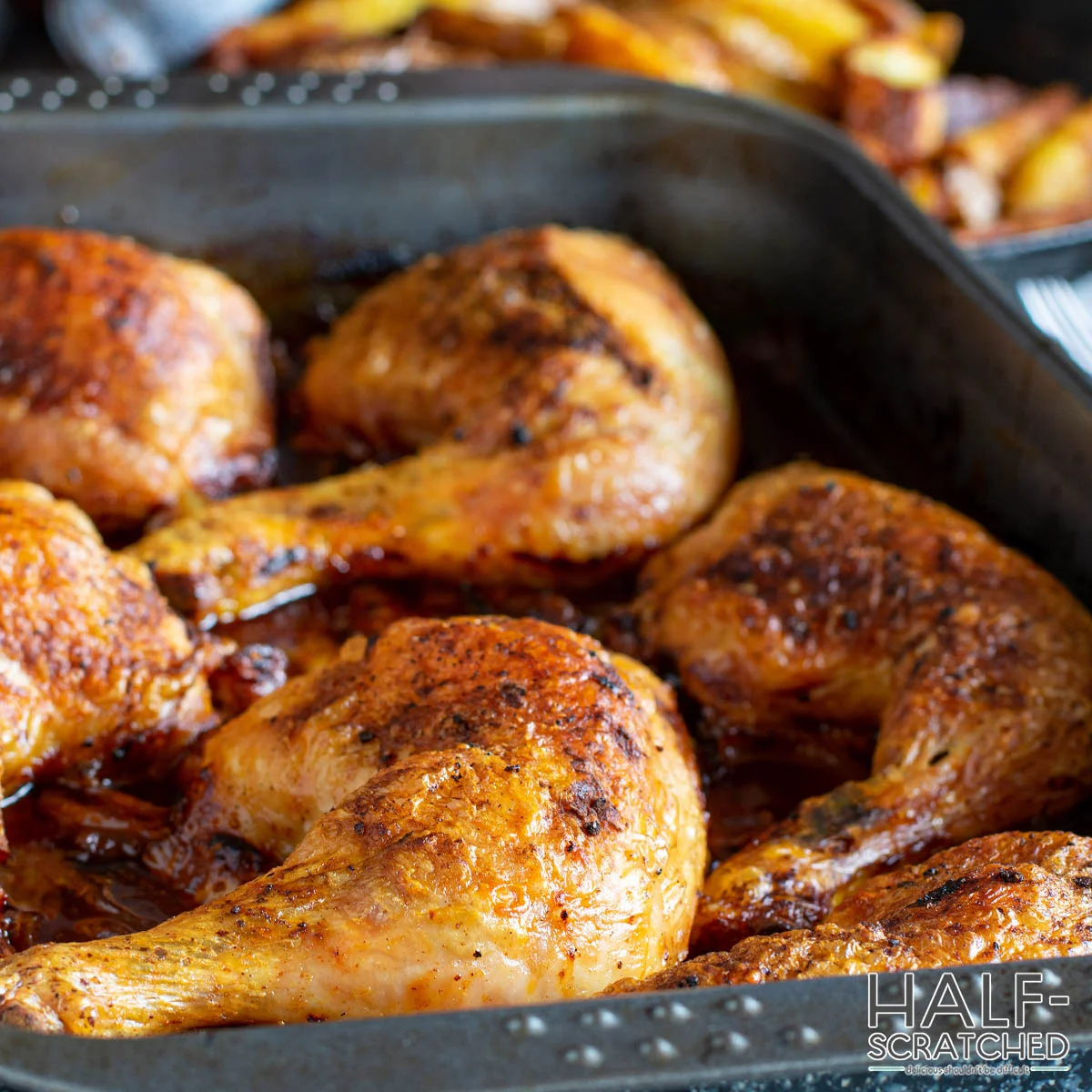 How Long Should You Bake Frozen Chicken Legs
Chicken legs can cook up just fine when they're still frozen. Usually, a batch of frozen chicken legs is going to need about 40-50 minutes to fully cook. Make sure you check the meat with a thermometer in multiple places to make sure it's cooked evenly. Uneven cooking is a common downfall of cooking chicken legs right out of the freezer!
Can You Over Bake Chicken Leg Quarters
So, can you overbake chicken legs? The short answer is yes. It is possible to overbake chicken legs. Like any protein, chicken has a narrow temperature range in which it is fully cooked and safe to eat but not overcooked and dry. If the internal temperature of the chicken legs exceeds this range, the meat can become tough, dry, and unappealing.
Making Chicken Legs Cook Faster With Foil
Using foil to wrap chicken legs while cooking in the oven at 350 can have several benefits, including helping retain moisture and preventing the chicken from drying out. However, using foil does not necessarily make chicken legs cook notably faster.
The heat and moisture retention may speed up the cooking time slightly. This can make the chicken legs cook more evenly and potentially reduce the overall cooking time, but not by an amount you'd likely notice - 5 minutes at best.
At What Temperature Are Chicken Legs Done
To ensure that chicken legs are fully cooked and safe to eat, it's important to cook them to an internal temperature of at least 165°F. This temperature is high enough to kill off any potentially harmful bacteria.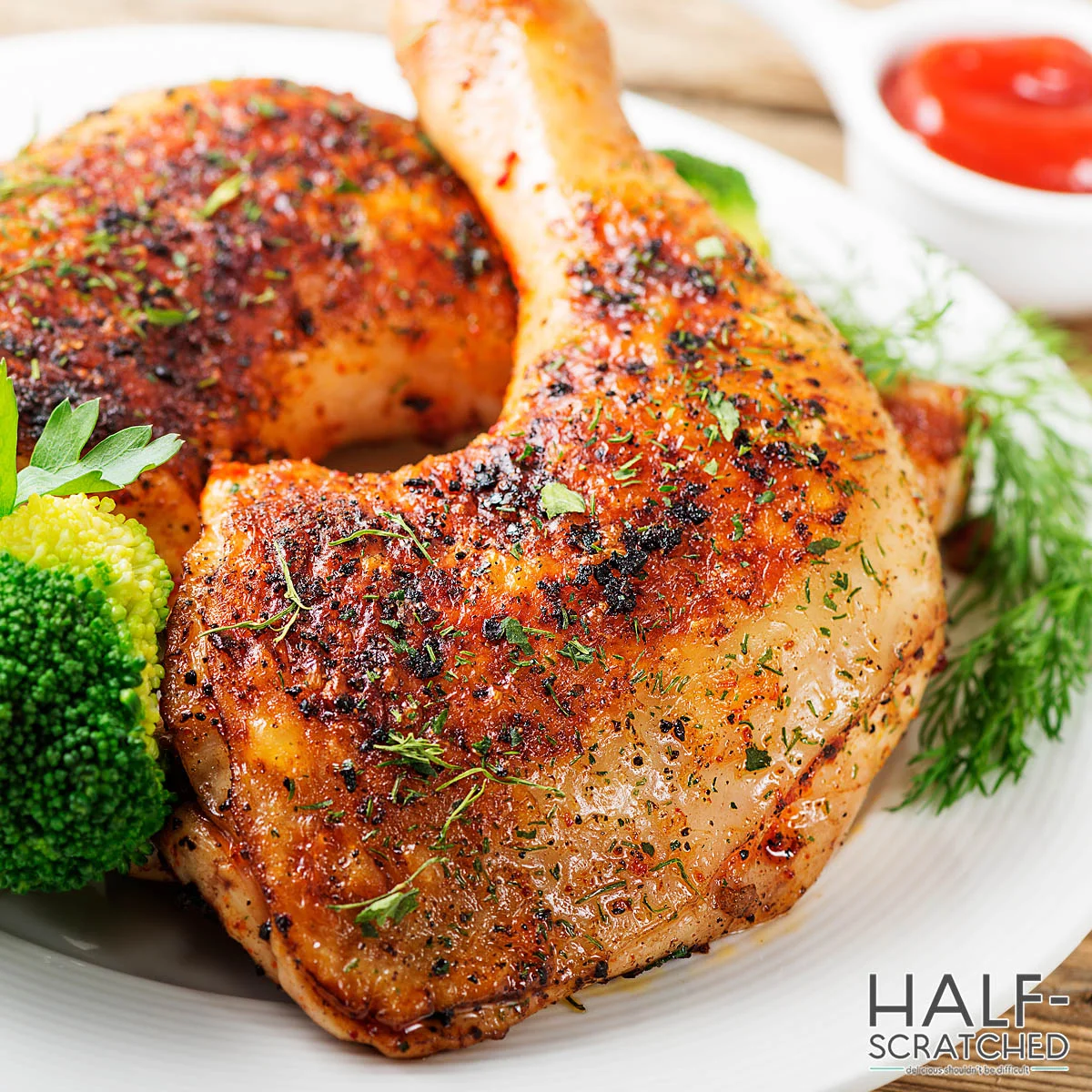 How to Check if Chicken Legs Are Done Without Using a Thermometer
There are a few ways to check if chicken legs are done without using a thermometer:
One way is to use something called the "poke test." To conduct this test, gently press the thickest part of the chicken leg quarter with a paring knife or a fork. Meat that's fully cooked should feel firm with a light amount of bounce. If the meat seems somewhat spongy, it's not ready for you or your family to enjoy yet.
Another way is to cut into the chicken leg and judge the meat's internal color. Fully cooked dark meat chicken legs should be a light grey-brown color, with some of the meat being a creamy white. There should be no pink or red juices visible. If the meat is still pink or red, it may need more time.
You can also check for doneness by looking for clear juices. When fully cooked, the juices from a chicken leg should be clear rather than pink or red. Use a sharp knife to cut into the thickest part of the chicken leg and look at the juices that are released. If they are clear, the chicken is likely done.
It's important to note that these methods are not foolproof, and there is a risk of undercooking the chicken if you rely solely on them.
Let Chicken Legs Rest After Baking
It's generally recommended to let chicken legs rest for a few minutes after baking, as this allows the juices to redistribute and makes the meat more tender and flavorful. The exact amount of time that chicken legs should rest will depend on their size and thickness, but a good rule of thumb is to let them rest for about 5-10 minutes.
To rest chicken legs after baking, remove them from the oven and transfer them to a cutting board or serving platter. Cover them loosely with foil or a clean kitchen towel to keep them warm while they rest.
Avoid cutting into the chicken legs immediately, as this can cause the juices to run out and result in dry, overcooked meat.
It's important to note that letting chicken legs rest after baking is not the same as letting them cool down after cooking. Chicken legs should be served while they are still warm, but they should have had a chance to rest and allow the juices to redistribute. This will help to ensure that the chicken legs are tender and flavorful when you serve them.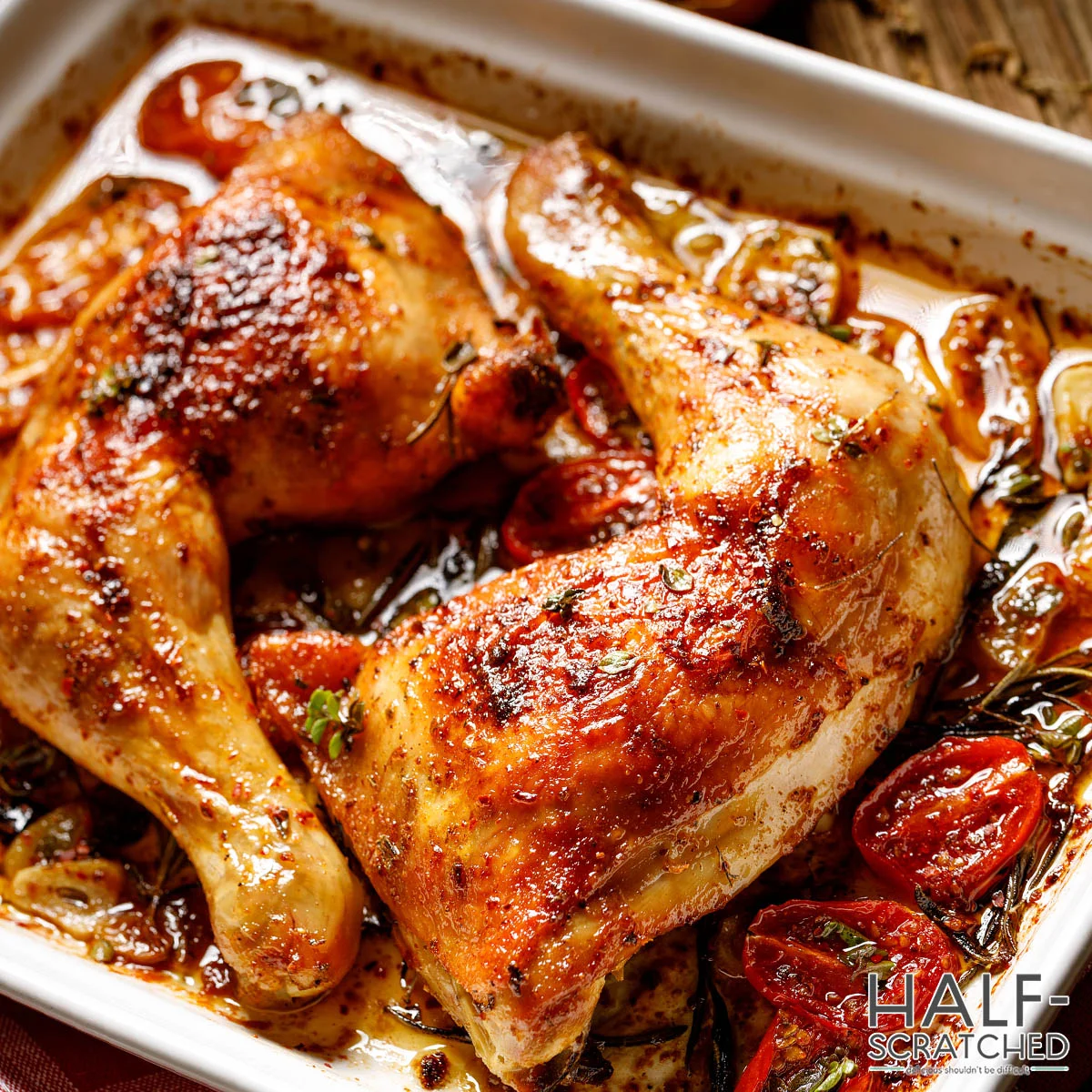 Baking Chicken Legs in an Air Fryer at 350
The cooking time for chicken legs in an air fryer will depend on their size and thickness, as well as the make and model of the air fryer being used. For the most part, chicken legs should be baked in an air fryer at 350°F for 15-25 minutes.
Unbreaded chicken legs in an air fryer preheated to 350°F will take 15-20 minutes.
Breaded chicken legs in an air fryer preheated to 350°F will take 20-25 minutes.
My Personal Tips for Baking Chicken Leg Quarters in the Oven
You can do a few things to bake your chicken legs that will make them even better regardless of your desired recipe.
Pat Your Chicken Legs Dry
When chicken legs are patted dry before baking, the excess moisture on the surface of the chicken is, of course, removed. Patting your chicken legs dry before baking at 350 prevents soggy skin and uneven cooking, as the dry surface allows them to brown and crisp up more evenly in the oven.
Additionally, wicking away that excess moisture can help to concentrate the flavors of the chicken, as there is less liquid to dilute that delicious taste!
Don't Use Too Much Oil
Cooking with oil or some kind of fat is a necessity, but there's always the possibility of overdoing it. If you add too much oil, you'll see the breading on your chicken sog up quickly.
Unbreaded chicken legs can be sullied by too much oil too. Cooking them with an excess of it can leave you with very greasy meat.
Perfect Yet Simple Chicken Leg Quarters Recipe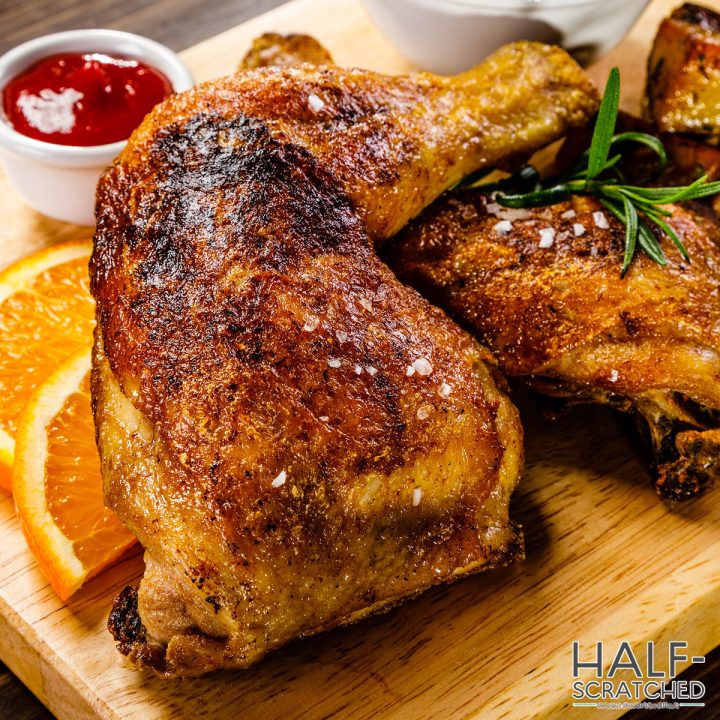 How Long to Cook Chicken Legs in the Oven at 350 F
Ready to bake chicken legs for dinner, but not sure how long they'll need? Find out how long to cook chicken legs in the oven at 350 here.
Ingredients
4 average-sized chicken legs
1 teaspoon olive oil
1 teaspoon paprika
2 teaspoon minced garlic or garlic powder
1 teaspoon onion powder
salt and pepper, to taste
Instructions
Preheat the oven to 350°F.
Place the chicken legs in a baking dish or on a baking sheet lined with parchment paper.
In a small bowl, mix together your spices.
Brush the chicken legs with the spice blend, coating them evenly.
Bake the chicken legs for 45 minutes. The temperature you should shoot for is 165°F.
Once the chicken legs are fully cooked, remove them from the oven. Let them rest before serving.
Nutrition Information:
Yield:

4
Serving Size:

1
Amount Per Serving:
Calories:

493
Total Fat:

24g
Saturated Fat:

6g
Trans Fat:

0g
Unsaturated Fat:

15g
Cholesterol:

328mg
Sodium:

328mg
Carbohydrates:

2g
Fiber:

0g
Sugar:

0g
Protein:

62g
That's all there is to it! With a little bit of planning and some basic kitchen tools, you can easily cook delicious and perfectly moist chicken legs in the oven at 350°F.
Whether you're looking for a simple weeknight dinner or a more impressive main course for a special occasion, this method is sure to become a go-to in your recipe repertoire.
As a bonus, cooking chicken legs in the oven at 350°F is a great way to save time and effort in the kitchen. While the chicken is baking, you can prep any sides or accompaniments you'd like to serve or simply relax and enjoy some time to yourself! When it's time to eat, you'll have a hearty and satisfying meal ready and waiting.