Thank you Karo® Syrup for sponsoring this post. Celebrate sweet moments together with Karo®!
Bring on the peanut-buttery Harvest Chex Mix! Only a handful of ingredients and less than a half-hour to the ultimate festive, fabulously delish fall snack!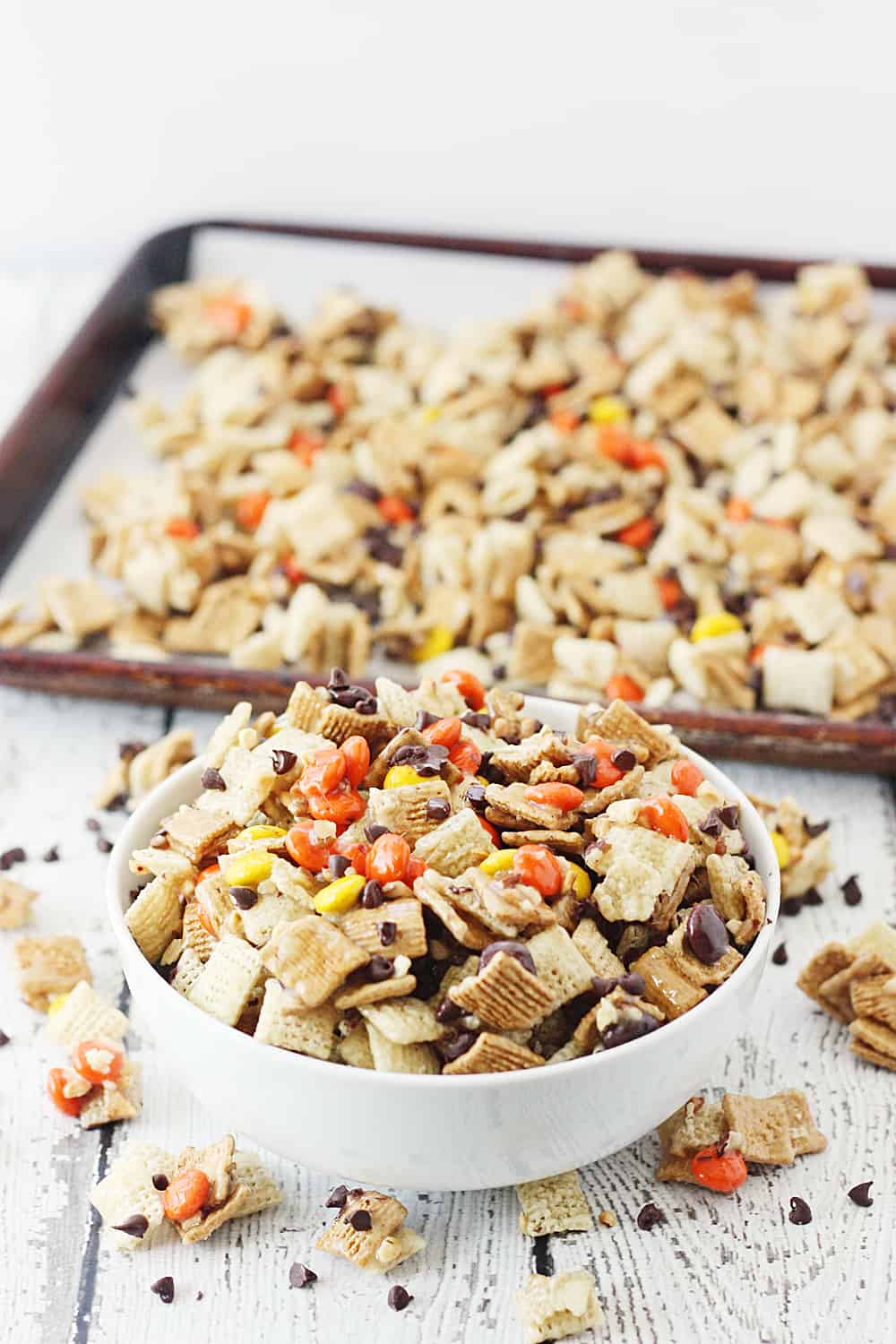 I'm pretty sure whoever came up with the concept of Chex Mix should receive some sort of award. Maybe the "Best Snack Ever" award. Or "Bringing People Together" award. Or maybe the "Once You Start You Can't Stop" award.
Wait. That last one is already reserved for my salted caramel butter bars.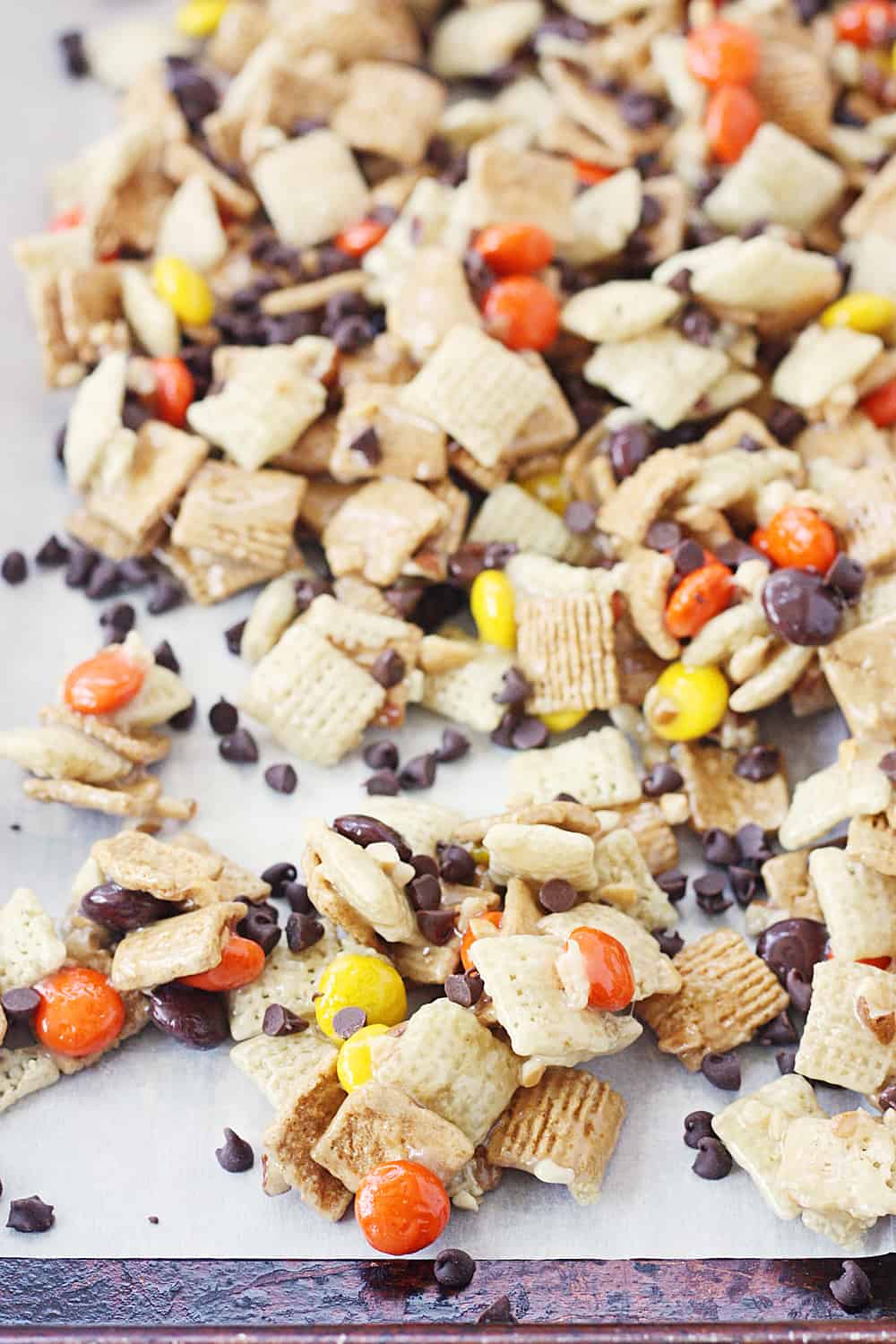 While I'm partial to sweet Chex mixes, like today's easy harvest Chex mix, I've been known to snack on savory mixes as well. Of course, I'll always reach for coconut almond Chex mix if I have it on hand.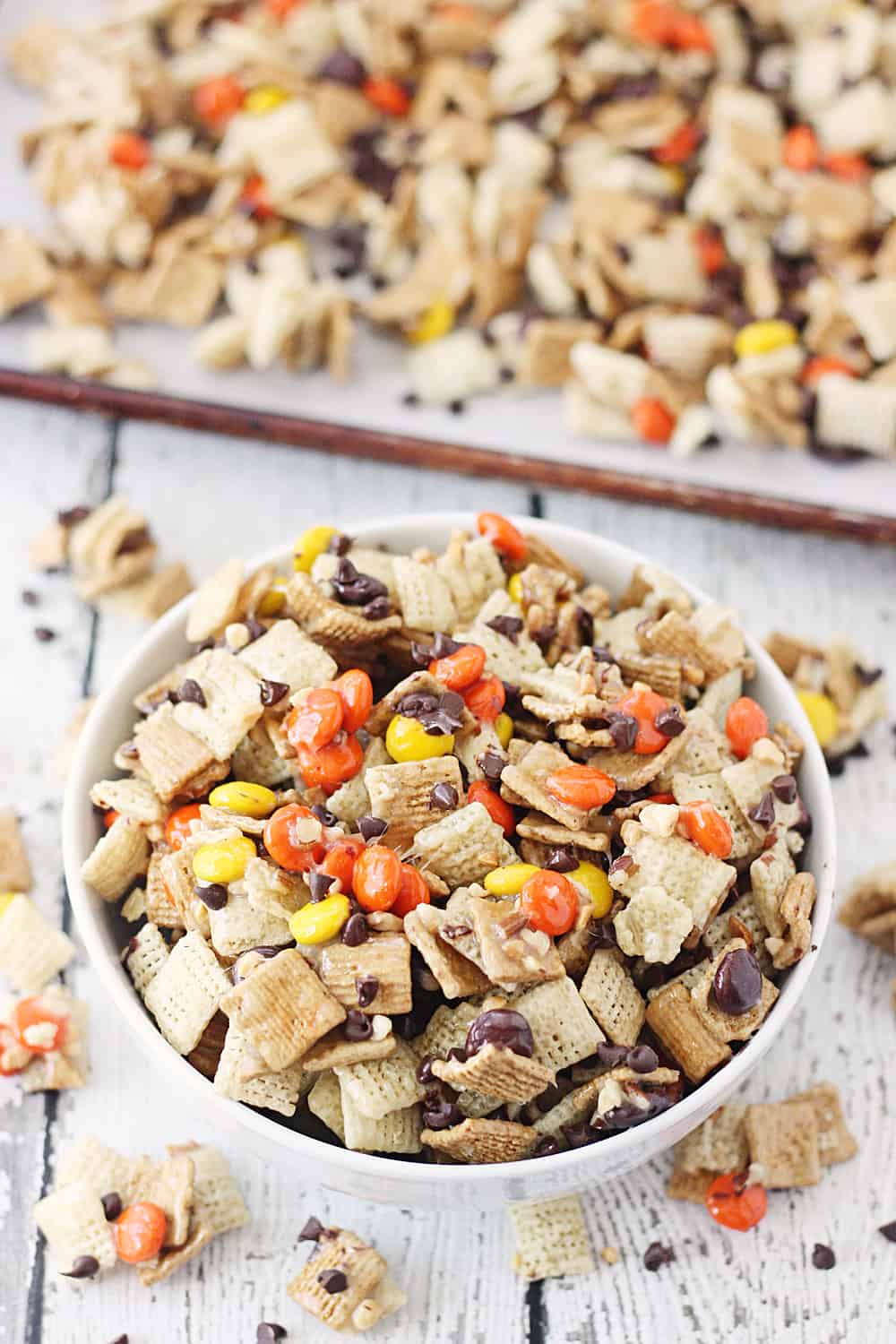 I feel like it's a given that there should be a mix for every holiday and/or season. That's one of the things that makes this harvest Chex Mix so great--you could easily tweak it with your favorite festive candy!
In place of Reese's Pieces, go for Halloween M&Ms in October, Christmas M&Ms in December, coarsely chopped Valentine's Kit-Kats in February, and chopped spring-themed Reese's peanut butter eggs in April!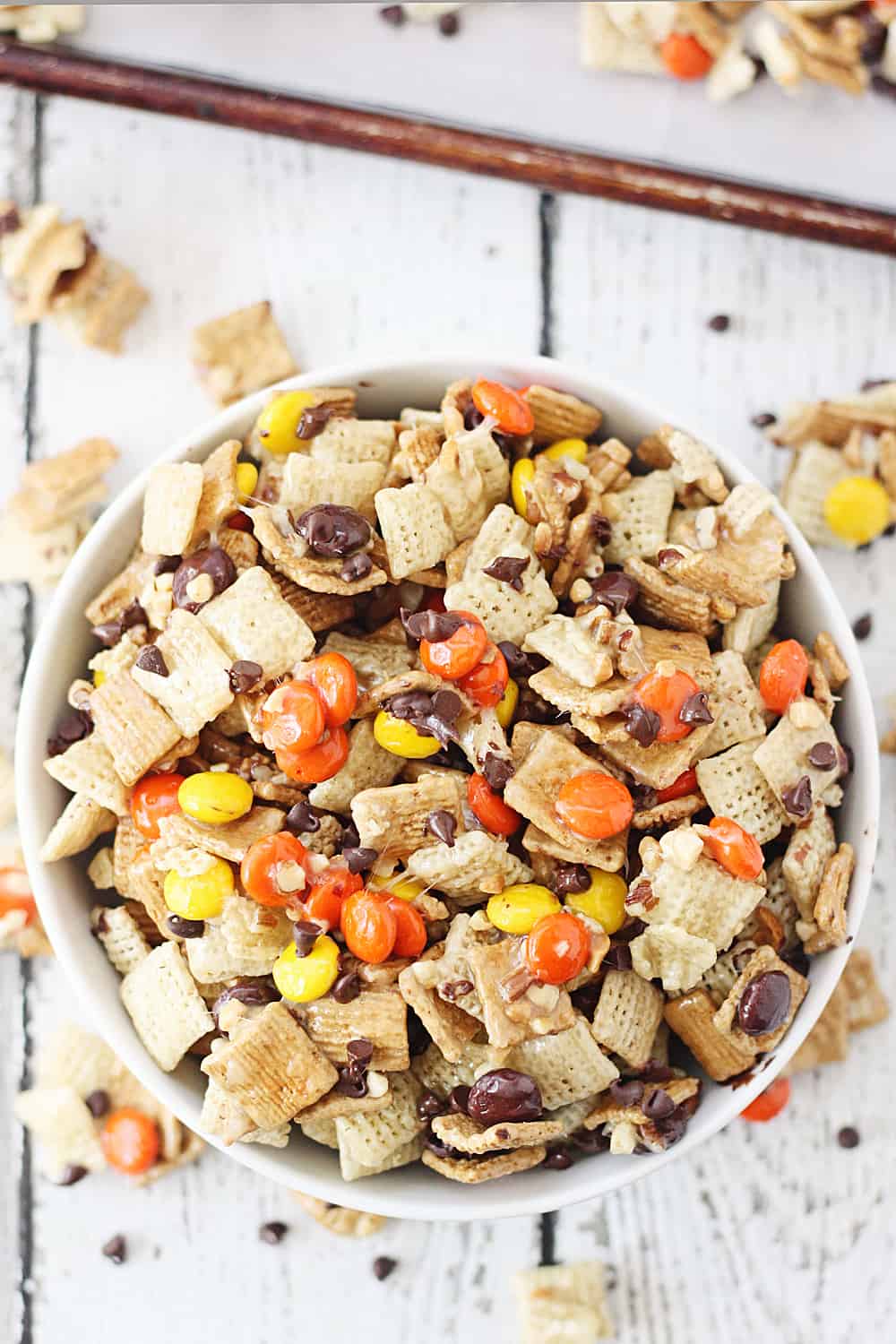 I almost threw some shredded coconut into this fall Chex Mix, but I wasn't sure how the flavor would pair with peanut butter. I also thought about amping up the peanut butter cup goodness with those oh-so-tiny Reese's minis. Pretty sure I'm going to try that next time!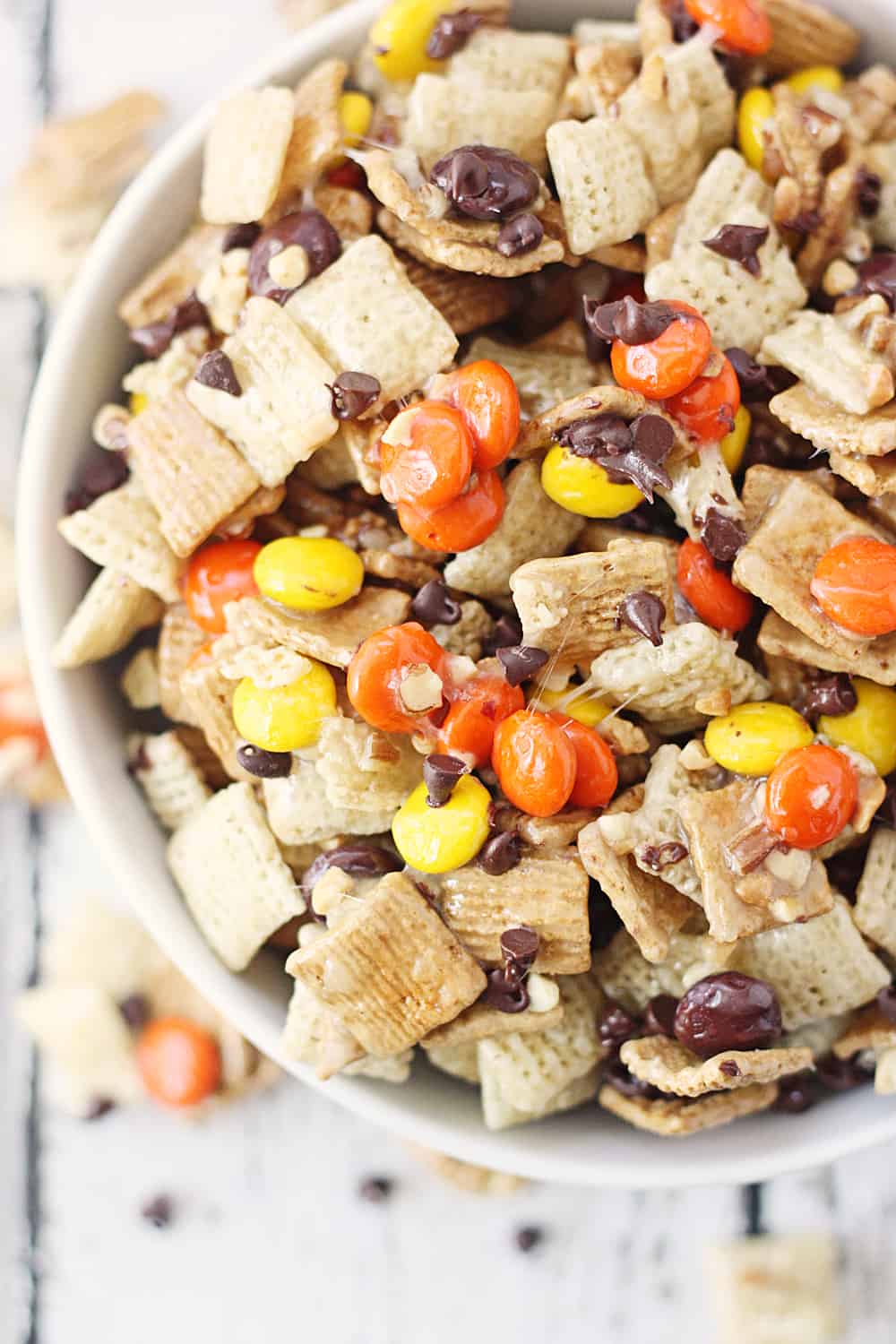 The cereal, nuts, Reese's Pieces, and chopped nuts make this recipe dang delicious, but what really makes it work is the ooey, gooey, bring-all-the-things-together syrup. And for that, you need Karo® Syrup.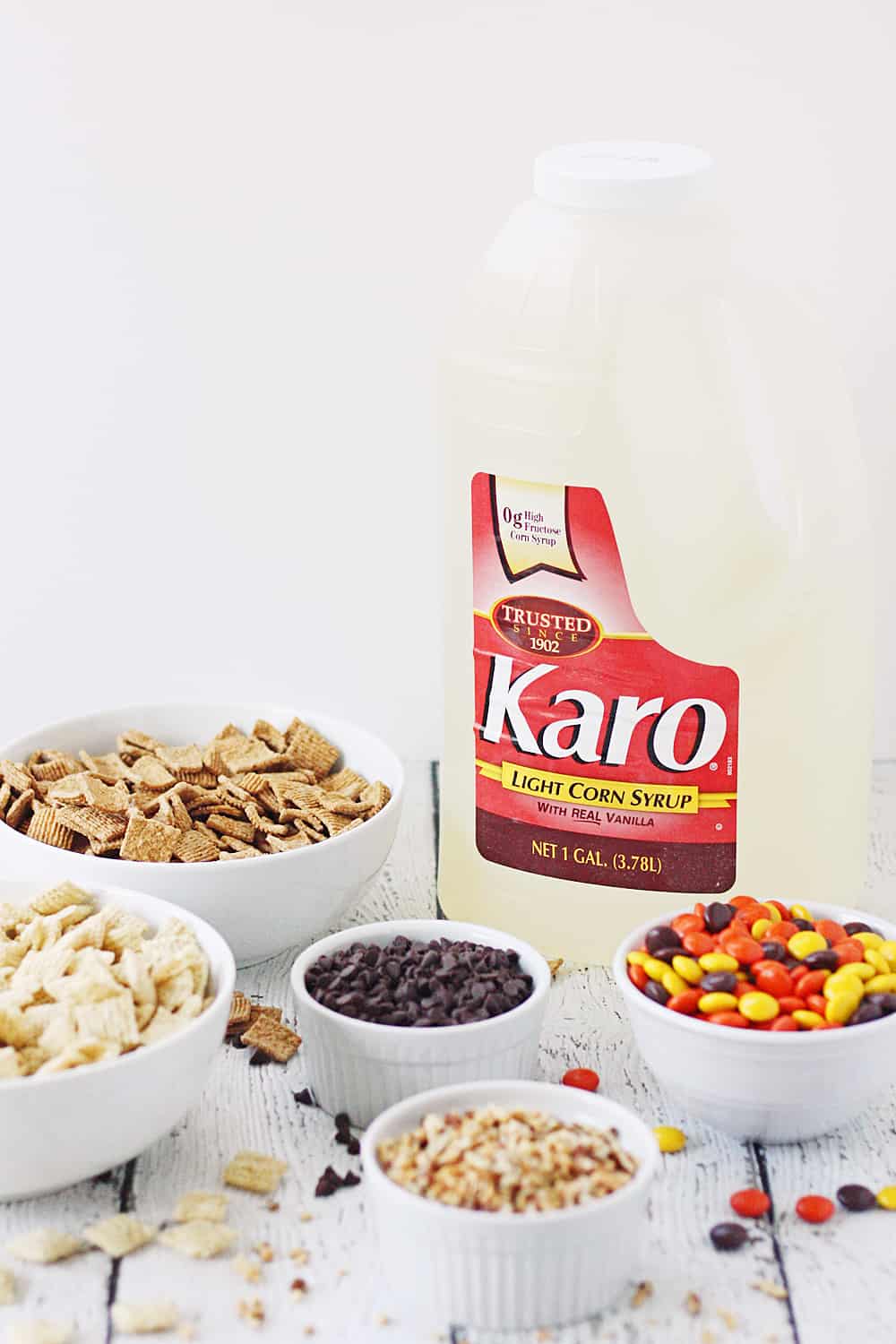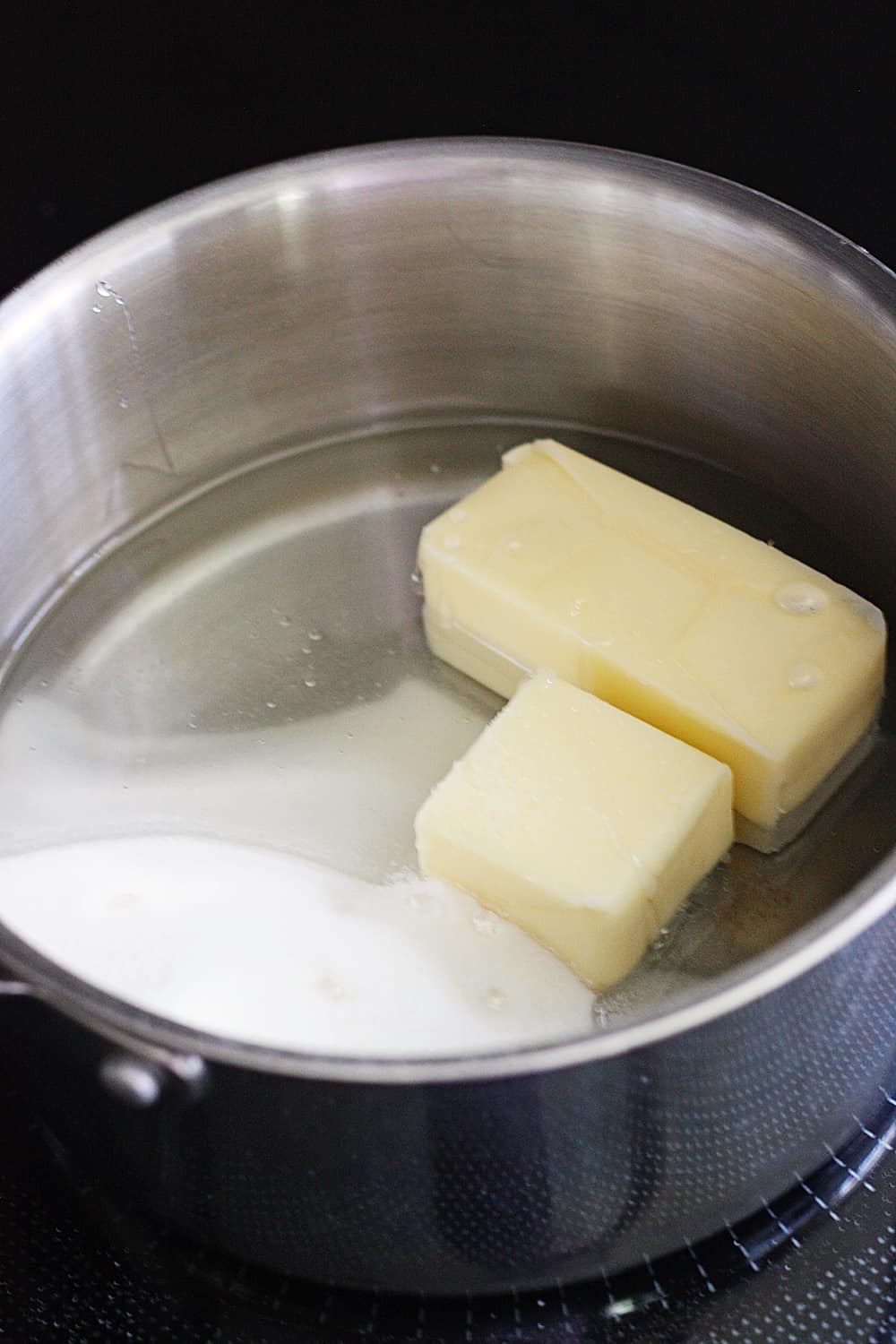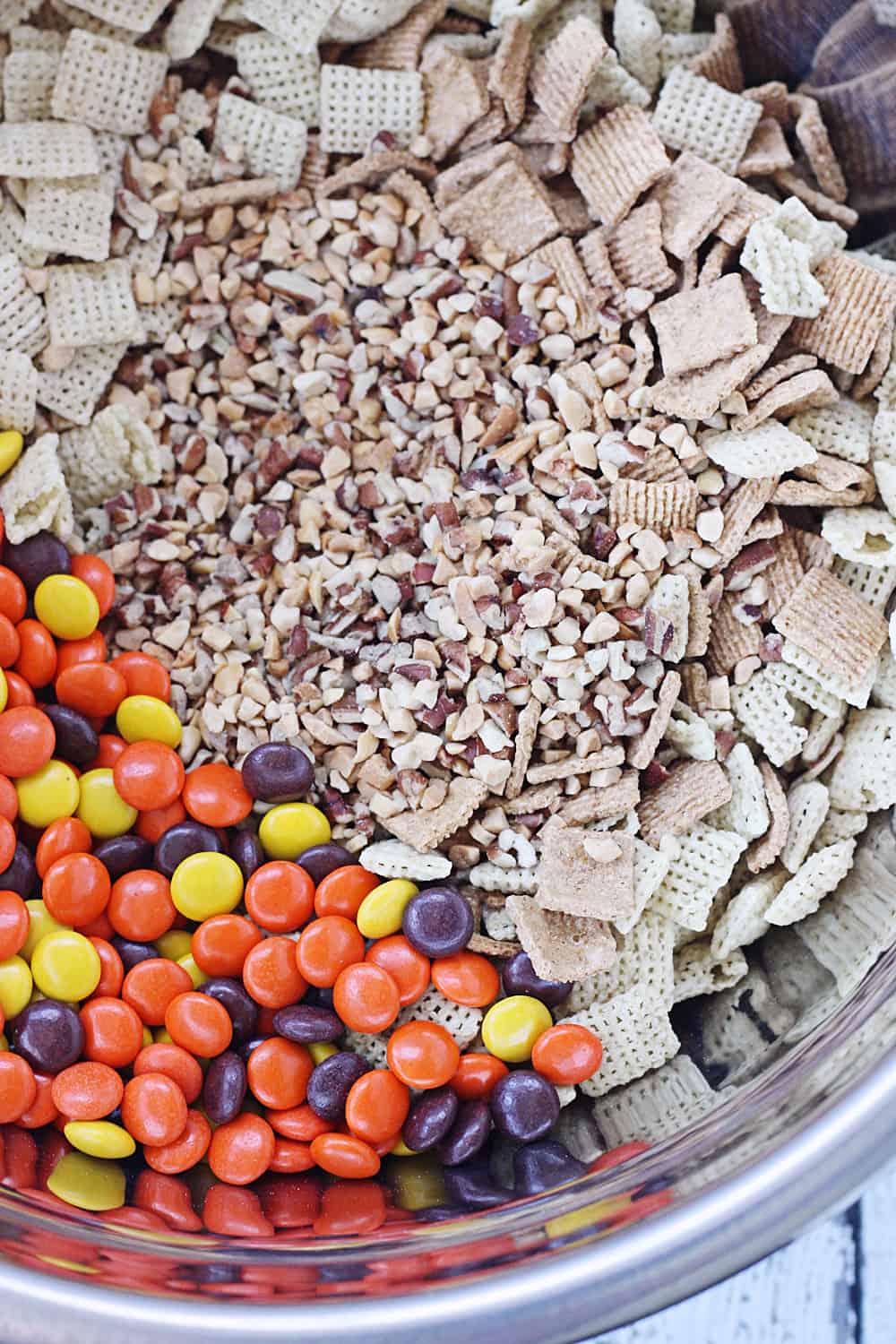 Thanks to Karo® Syrup, your peanut butter Chex Mix will have a smooth, amazing texture with a balanced sweetness that lets the true flavor of other ingredients shine through. Home cooks and professional chefs alike rely on Karo® Syrup for its quality and consistent performance.
It's what I use in those to-drool-for Chex mixes I mentioned earlier. It's always my go-to when making anything scrumptious, from delicious marshmallows, fudges, caramels, pies, and scotcheroos, to sticky cinnamon rolls, sauces, and glazes.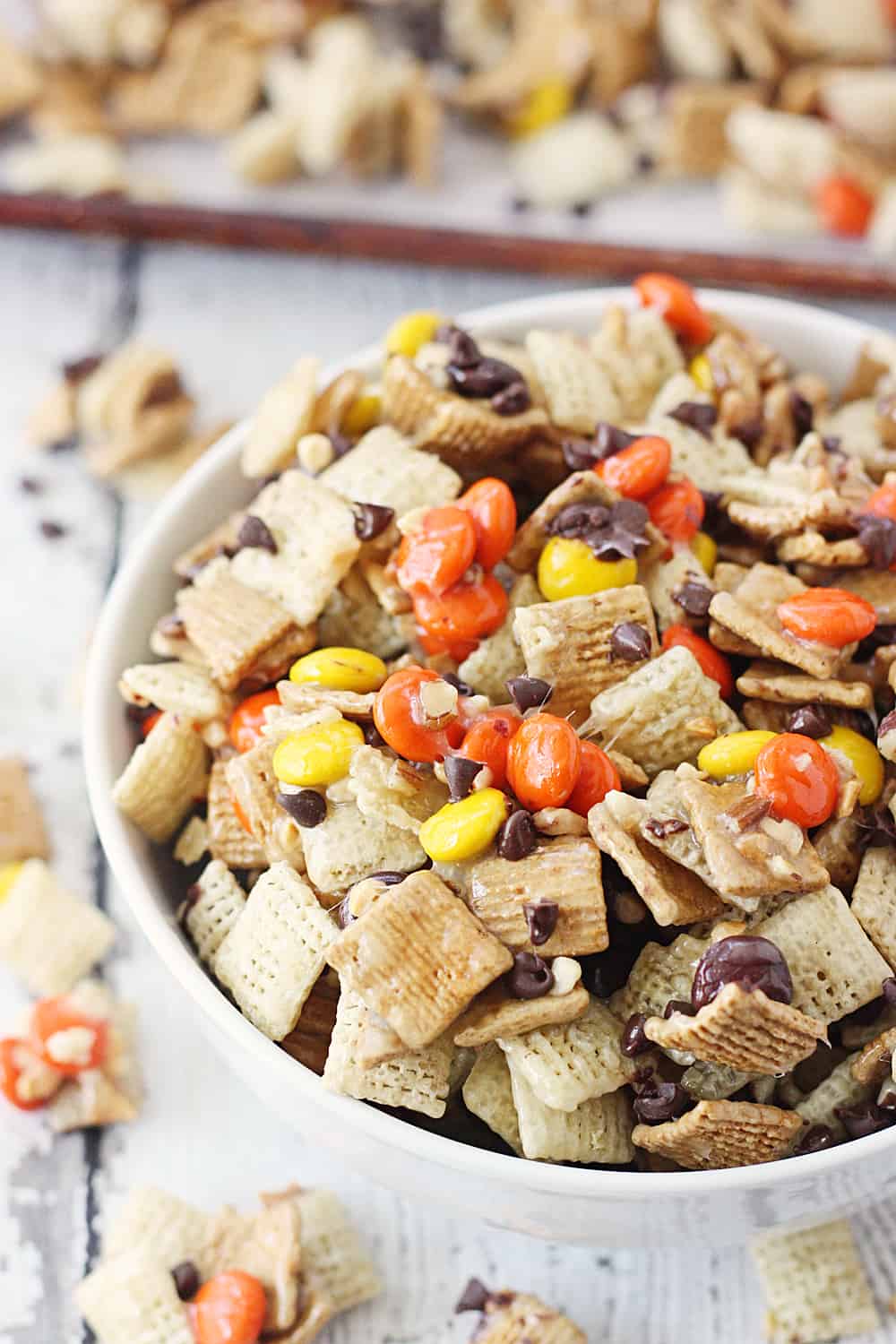 Do I have you shouting, "Harvest Chex mix, here I come!" yet? Because I was for sure shouting it while making the batch for this blog post.
I may have had my entire team at work thinking it once I announced I had a container of it at my desk. (They'd have shouted but they're good at staying professional even when faced with seriously sweet temptation.)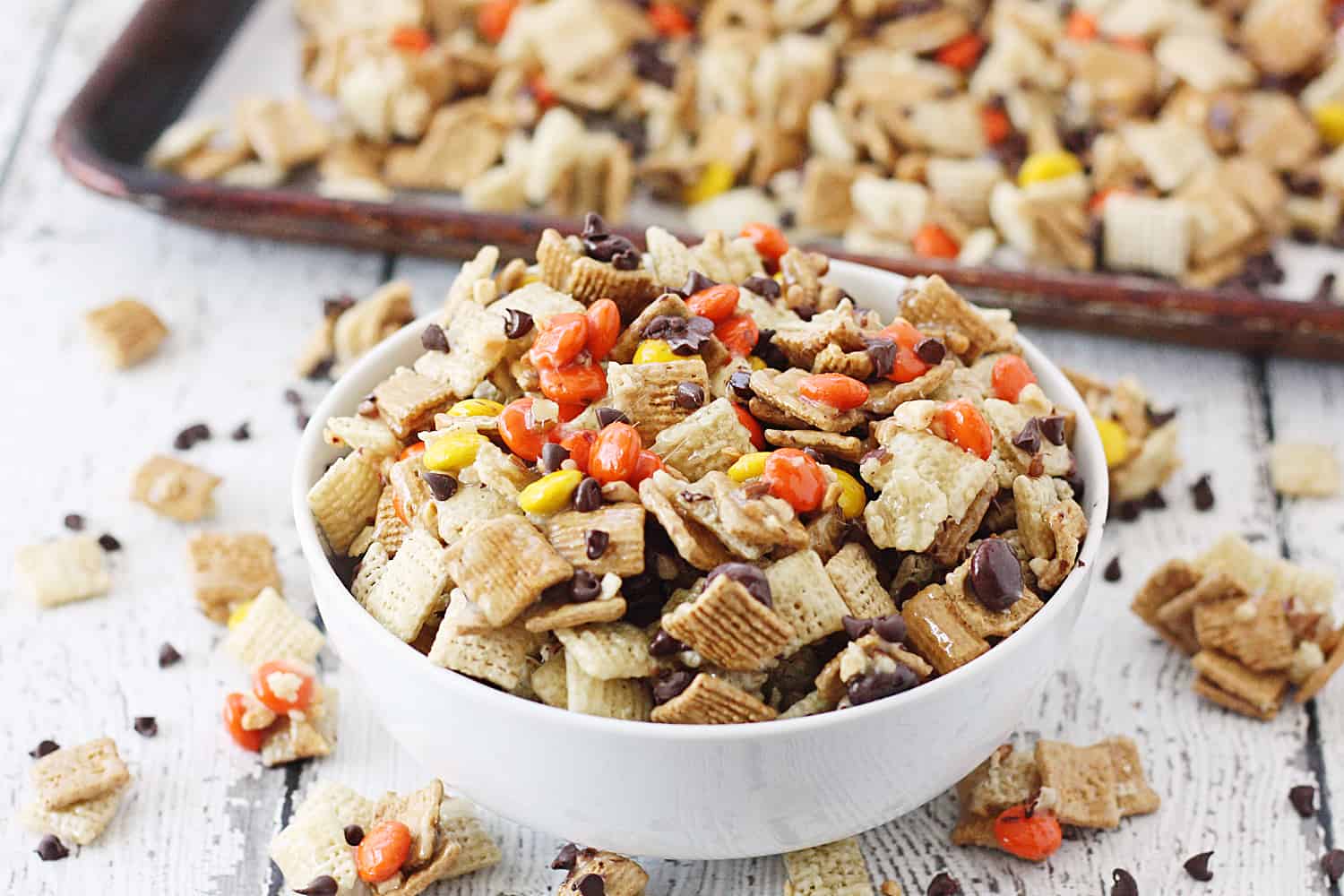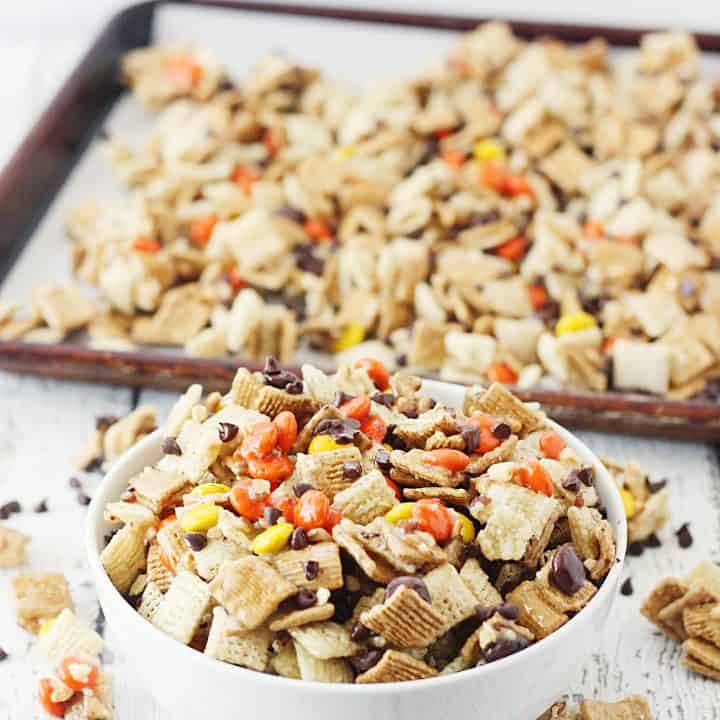 Easy Harvest Chex Mix
Getting your harvest Chex mix fix is easier than you think. Thanks to this quick and easy recipe, that sweet, peanut-buttery fall Chex mix is only a few minutes away!
Ingredients
6 cups Rice Chex cereal
6 cups Golden Grahams cereal
1 (9.9-oz) bag Reese's Pieces (about 1 ½ cups)
½ to 1 cup nut topping (or finely chopped peanuts)
½ cup mini semisweet chocolate chips
1 cup Karo® Syrup
1 cup sugar
¾ cup salted butter
Instructions
Line 2 baking sheets with parchment paper; set aside.
Combine Chex cereal, Golden Grahams cereal, Reese's Pieces, and nuts in a large bowl; set aside.
Combine Karo® Syrup, sugar, and butter in a medium saucepan. Bring to a boil over medium-high heat; boil 2 minutes, stirring frequently. Remove from heat and let cool 2 minutes.
Pour syrup mixture over cereal mixture; gently toss until cereal mixture is evenly coated.
Spread mix on cookie sheets. Allow to cool 2 minutes and then sprinkle with chocolate chips. Don't touch the mixture until completely cool as the chocolate chips get a little soft because of the warm mix.
Once completely cool, store in an airtight container for up to 1 week.
NOTE: Not all the chocolate chips will stick to the mix but enough of them will to make it yummy.
Notes
FOLLOW HALF-SCRATCHED ON INSTAGRAM (@half_scratched) and share the recipes you're whipping up in the kitchen. Don't forget the #HALFSCRATCHED hashtag so we can see what you've made!
Nutrition Information:
Yield:

16
Serving Size:

¾ cup
Amount Per Serving:
Calories:

429
Total Fat:

17g
Saturated Fat:

10g
Trans Fat:

0g
Unsaturated Fat:

3g
Cholesterol:

23mg
Sodium:

332mg
Carbohydrates:

66g
Fiber:

2g
Sugar:

37g
Protein:

4g