This gingerbread cookie cream frappe is creamy, frosty, and full of gingerbread caramel flavor. It's sure to become your favorite holiday drink!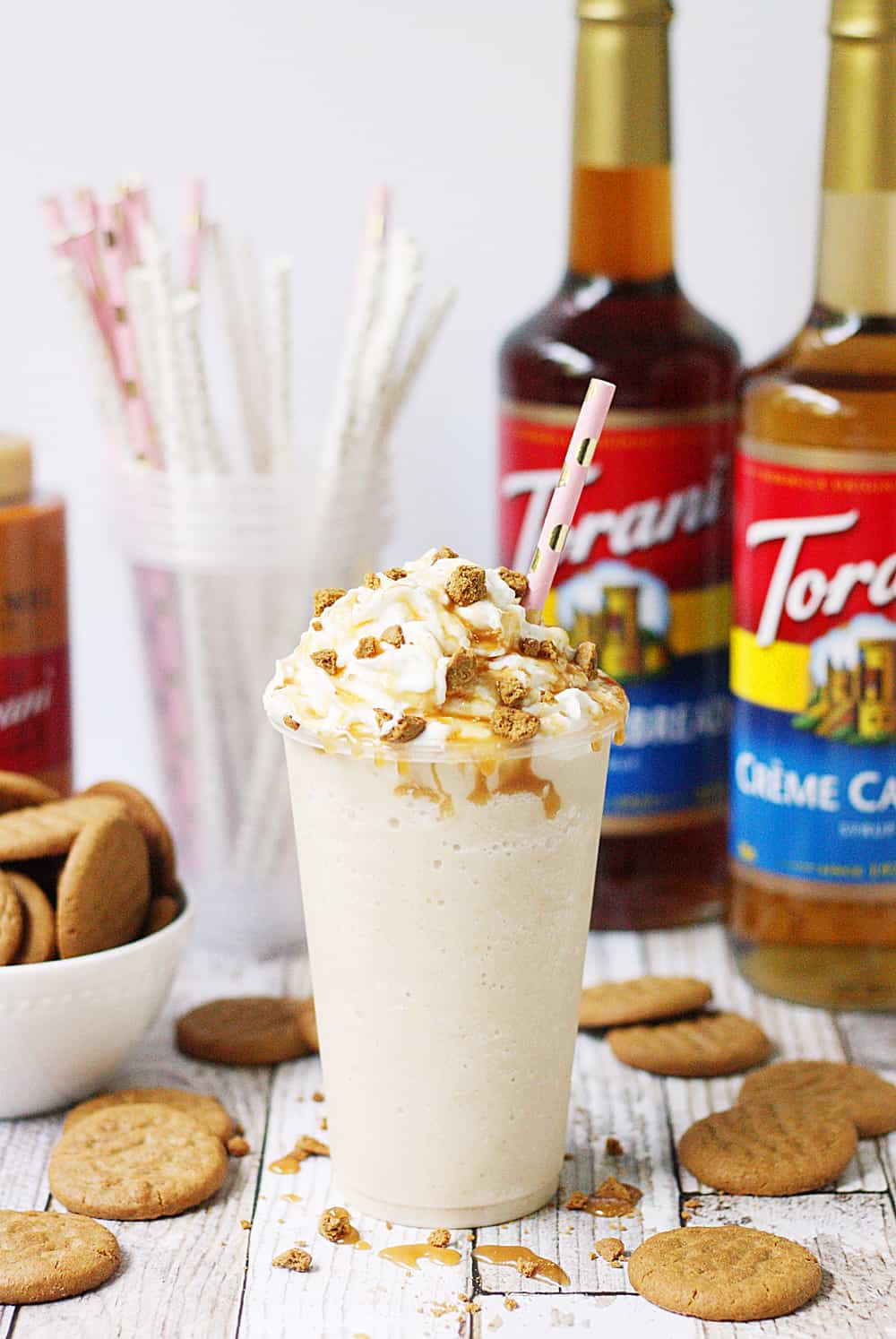 Monetary compensation and product has been provided by Torani; opinions and content are mine.
I get that it's the season of the Pumpkin Spice Latte, but come on. That holiday drink is so old-school.
Fall is all about pumpkin—pumpkin bars with orange butter frosting, fluffy pumpkin dip, pumpkin oatmeal chocolate chip cookies... Do you or your taste buds, really need one more pumpkin thing this season?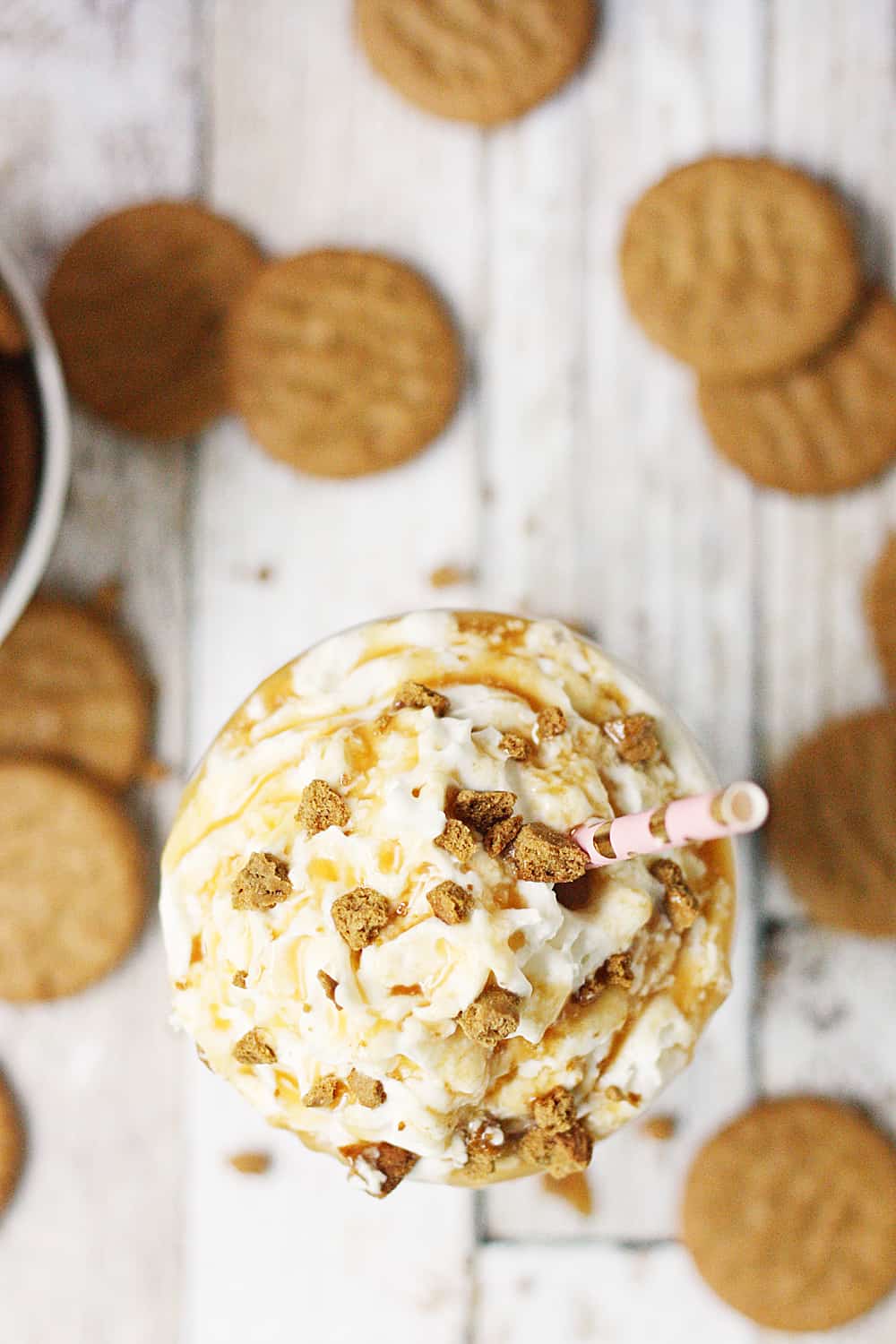 It's time to push that Pumpkin Spice Latte aside to make room for this gingerbread cookie cream frappe in all its gingerbread frappe glory. We're talking only a handful of ingredients and less than a minute in a blender for a cream frappe that tastes like Christmas.
Hopefully you're interested in your Christmas tasting like a creamy, frosty, caramel gingerbread cookie!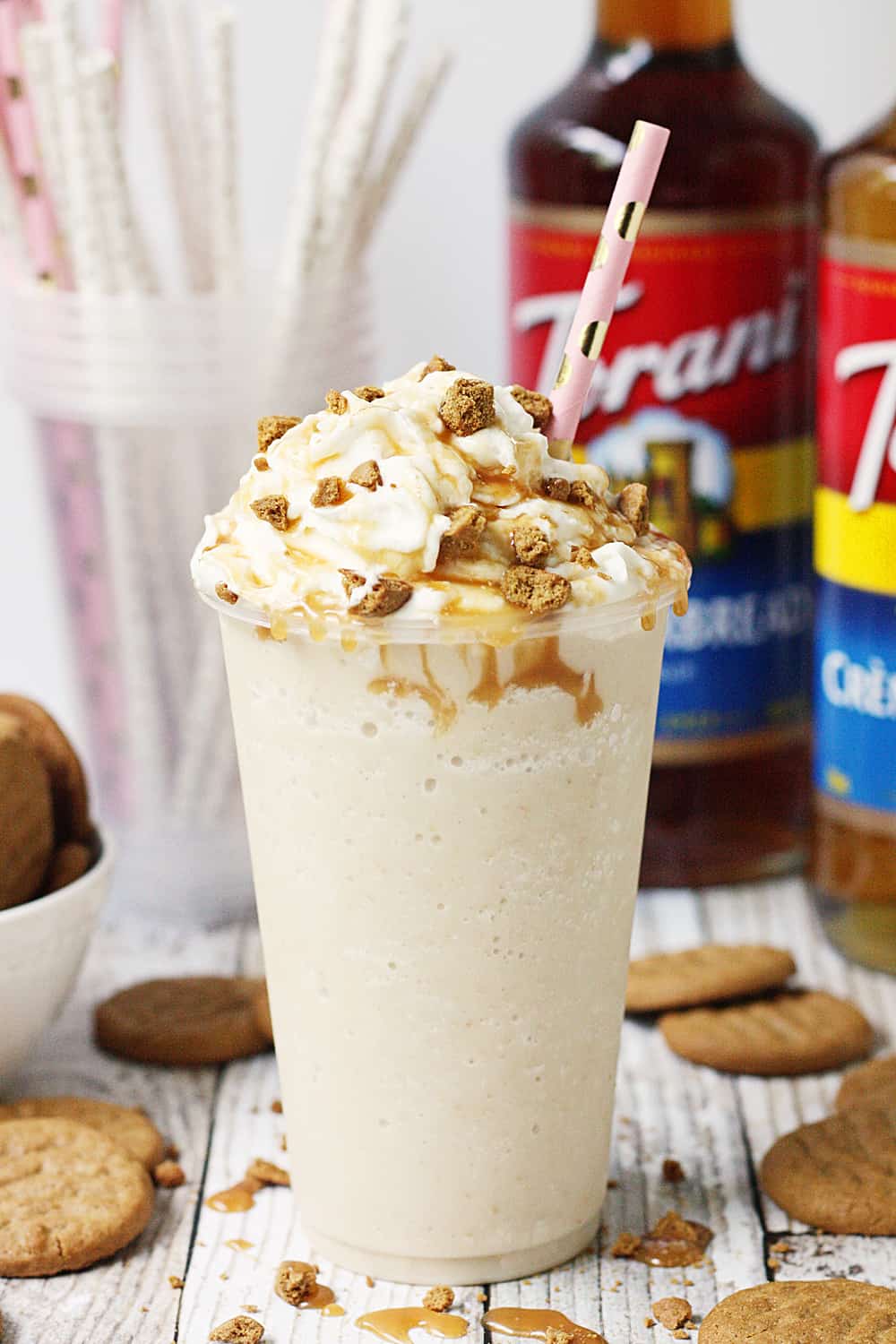 This gingerbread cookie cream frappe has seven ingredients BUT that includes the ice, whipped cream, and caramel drizzle. The gingerbread frappe itself has only four serious ingredients: Torani Real Cream Frappe Base, Torani Gingerbread and Creme Caramel syrups, and crushed ginger snaps.
Don't forget the extra ginger snaps for dipping and dunking!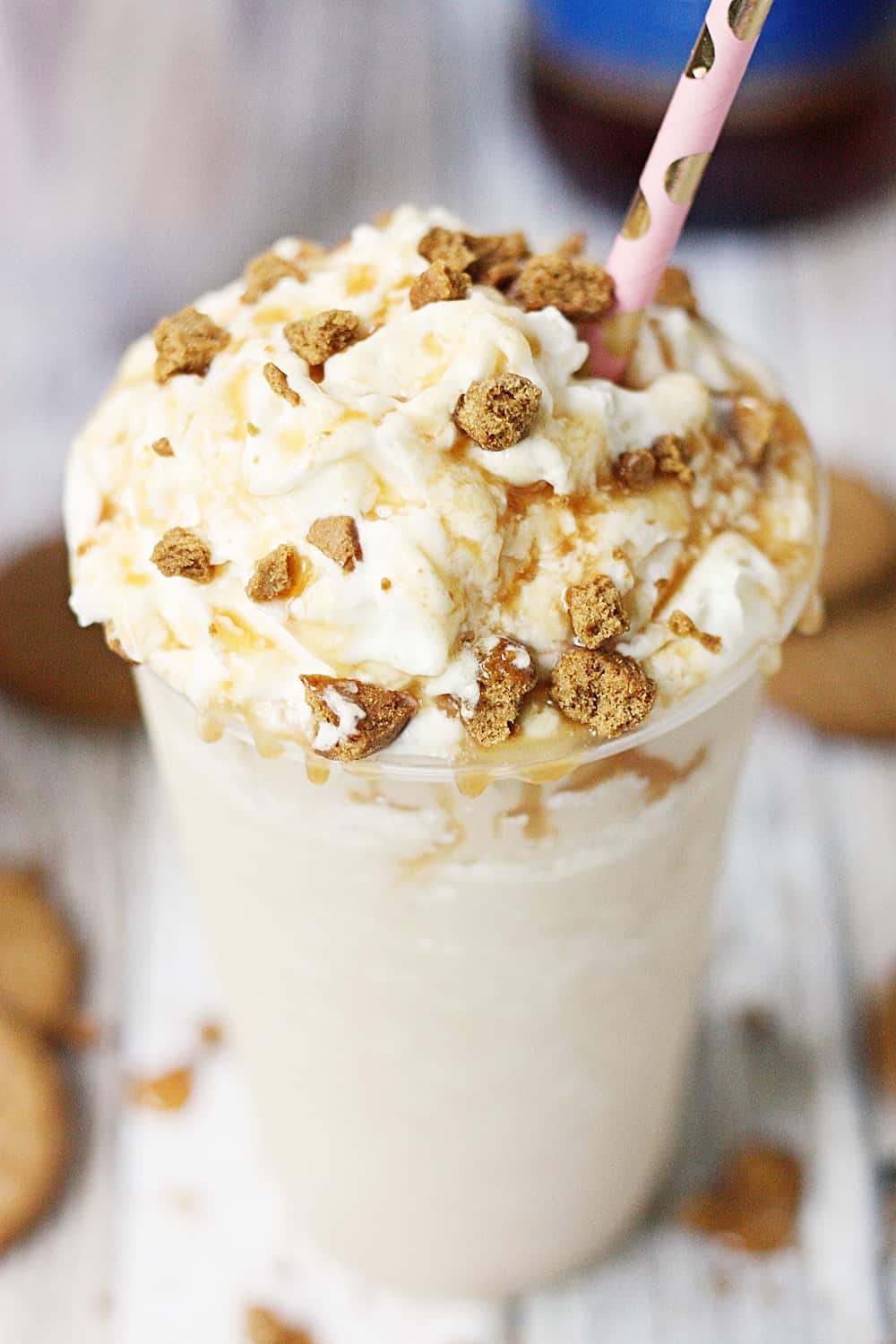 I love serving blended drinks like this gingerbread frappe in 16-oz. plastic cups so they feel more coffeehouse, but you could totally use whatever you'd like.
Also, make sure you have a solid blender when making any blended frozen drinks. It makes the entire process quicker and easier... if you can get any easier than this gingerbread cookie cream frappe!
I love my Blendtec but a Ninja blender is far more budget-friendly and has great reviews.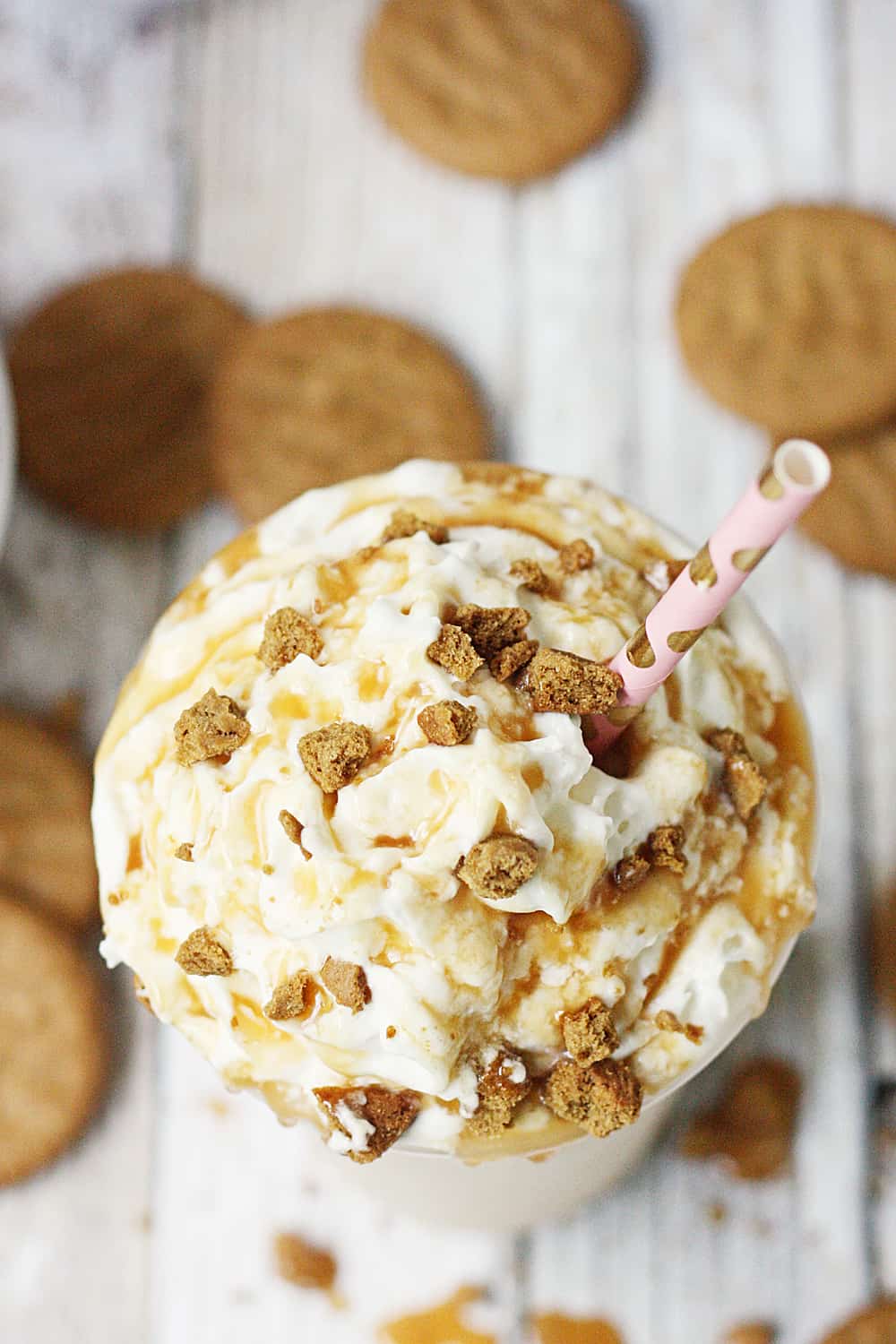 You already know I'm a fan of Torani syrups and sauces. We have an impressive collection of their sugar-free flavored syrups for flavored sodas, lemonades, and hot drinks.
Check out our lightened-up lemonade bar with its gorgeous colors and some of our favorite decadent 3-ingredient hot chocolate recipes.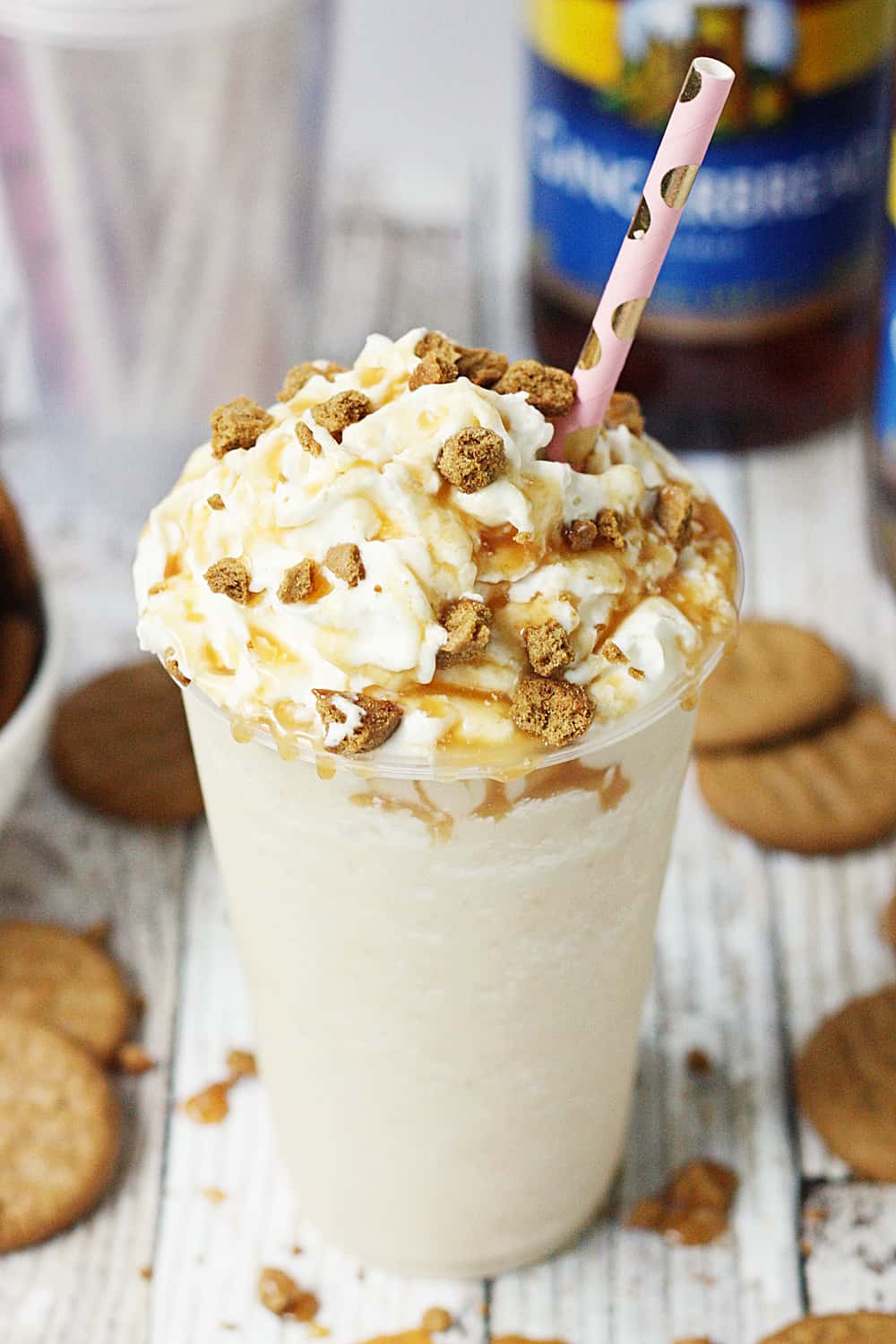 When it comes to fall drinks, the Pumpkin Spice Latte (PSL) was so five years ago. Don't be basic! Start your own fall trend with one of Torani's 100+ flavor options. With over 100 flavors, there's something for everyone.
Torani is made with simple ingredients and their products are easy to use and so versatile. That real cream frappe base is my new favorite Torani product. It's heaven in your blender!
How awesome is it one flavor is all it takes to create a variety of refreshments? Here are some of the recipes you can make using Torani flavors:
Coffeehouse favorites like lattes, iced coffees, and cappuccinos
Main dishes like glazed meats and marinated seafood
Sides like candied nuts and salad dressings
Desserts like cakes, pies, milkshakes, and ice cream toppings
Other drinks like cocktails, mocktails, Italian sodas, and even energy drinks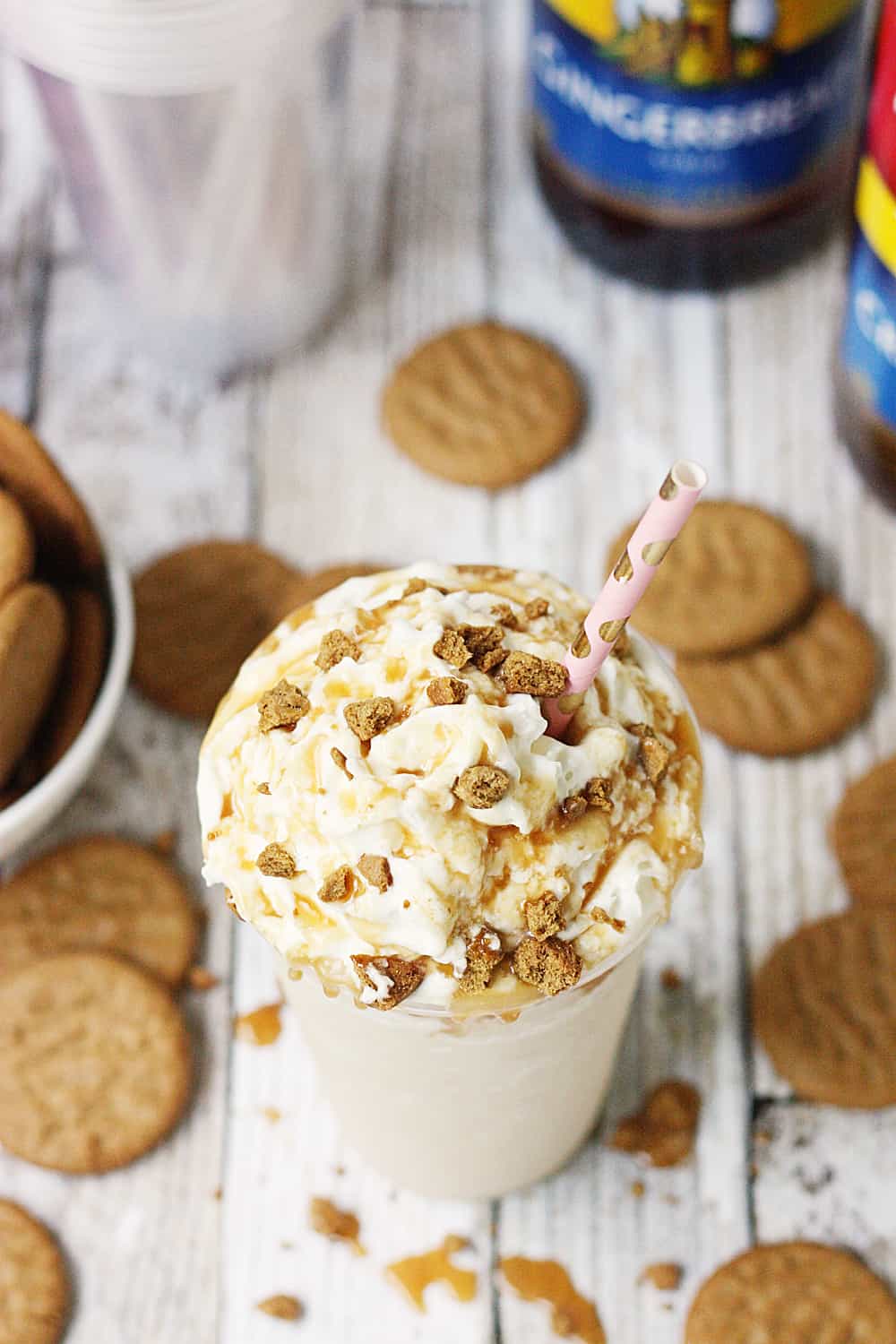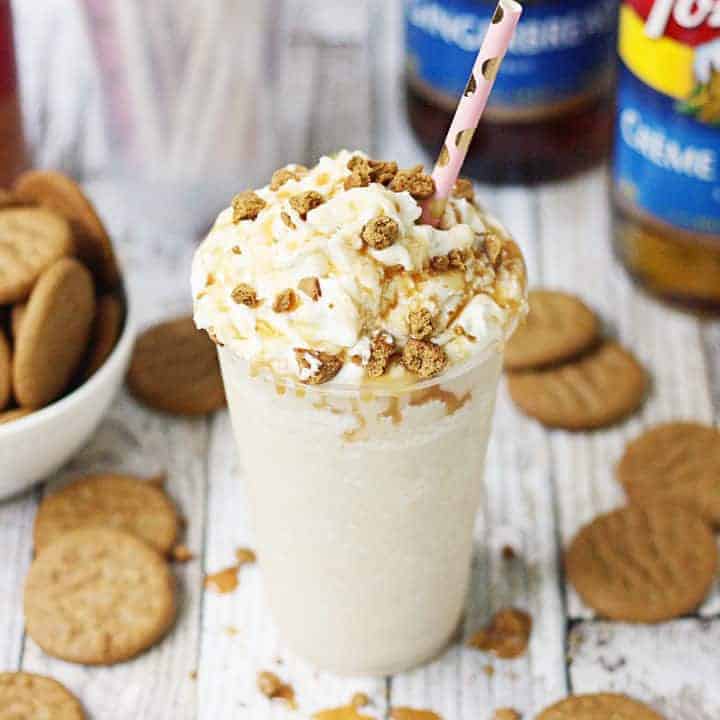 Gingerbread Cookie Cream Frappe
This gingerbread cookie cream frappe is creamy, frosty, and full of gingerbread and caramel flavor. It's sure to become your new favorite holiday drink!
Ingredients
5 oz Torani Signature Real Cream Plain Frappe Base
2 cups ice
3 T Torani Gingerbread syrup
2 T Torani Creme Caramel syrup
¼ cup crushed ginger snap cookies
Whipped cream
Caramel sauce
Instructions
Place frappe base, ice, syrups, and cookies in blender. Blend until smooth.
Pour into clear plastic cups. Top with whipped cream, a drizzle of caramel sauce, and crushed ginger snaps. Serve with cute paper straws.
Notes
FOLLOW HALF-SCRATCHED ON INSTAGRAM (@half_scratched) and share the recipes you're whipping up in the kitchen. Don't forget the #HALFSCRATCHED hashtag so we can see what you've made!
Nutrition Information:
Yield:

2
Serving Size:

1
Amount Per Serving:
Calories:

317
Total Fat:

3g
Saturated Fat:

2g
Unsaturated Fat:

1g
Cholesterol:

8mg
Sodium:

300mg
Carbohydrates:

65g
Sugar:

55g
Protein:

3g