These easy Hawaiian haystacks are a favorite family meal! A creamy chicken mixture is layered over rice and then topped with a variety of ingredients.
I don't remember when I first had Hawaiian haystacks but I remember loving the buffet-style dish with its hot rice, creamy chicken mixture, and layers upon layers of yummy toppings like sliced almonds, pineapple, and coconut. It was a party of flavors for my mouth!
When I introduced these easy Hawaiian haystacks to my family, they were a total hit. I don't know if it was because it's such a non-fancy dish or because they love any meal where they get to choose the toppings. (Sundae bars are their favorite but you can't have ice cream for every meal.)
I've made Hawaiian haystacks where the creamy chicken mixture was totally from scratch, roux and everything, and while it was good, it was a bit too much work for me, especially when my kids can rarely tell the difference (and prefer boxed mac & cheese to homemade).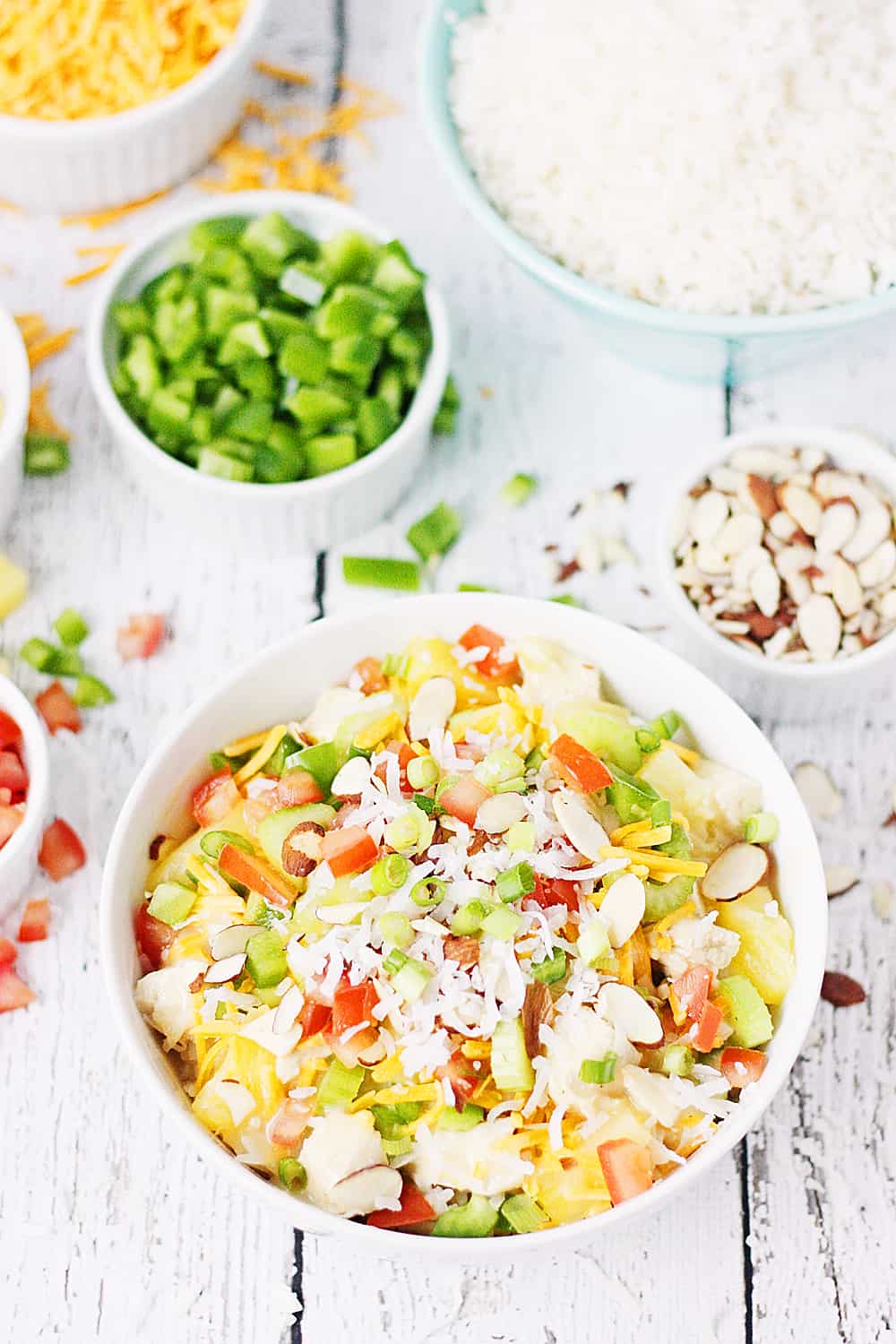 I'm all about canned cream of chicken soup when I'm looking for an easy weeknight meal! Using a rice cooker, especially a programmable rice cooker like mine, makes it all the easier to have this ready the moment everyone is finally in the same room at the same time.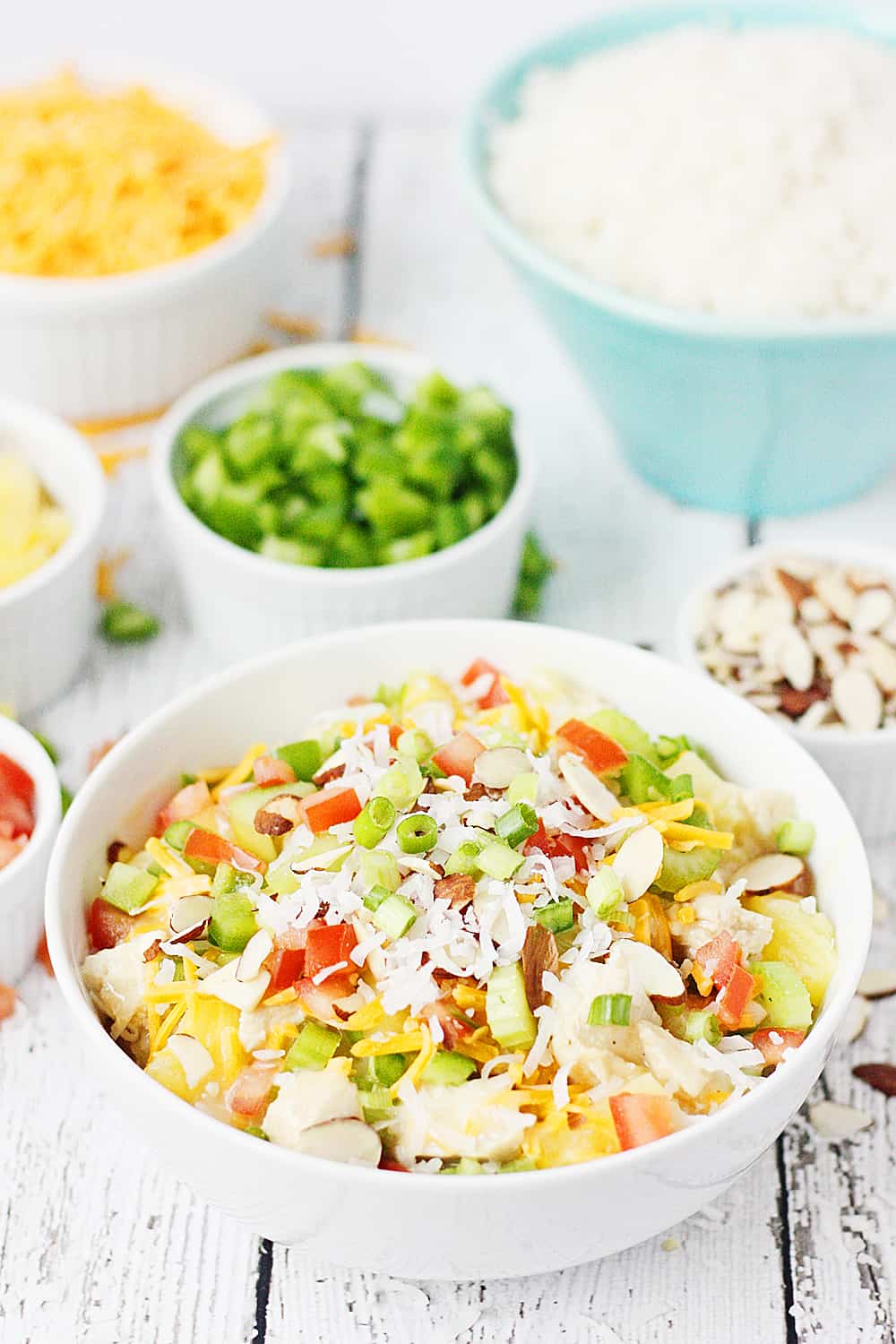 I love how quickly the sauce comes together; plus, you can easily add a little of this or that to spice it up a bit—maybe some Italian seasoning, cayenne pepper, white pepper (my favorite for adding a bit of kick!).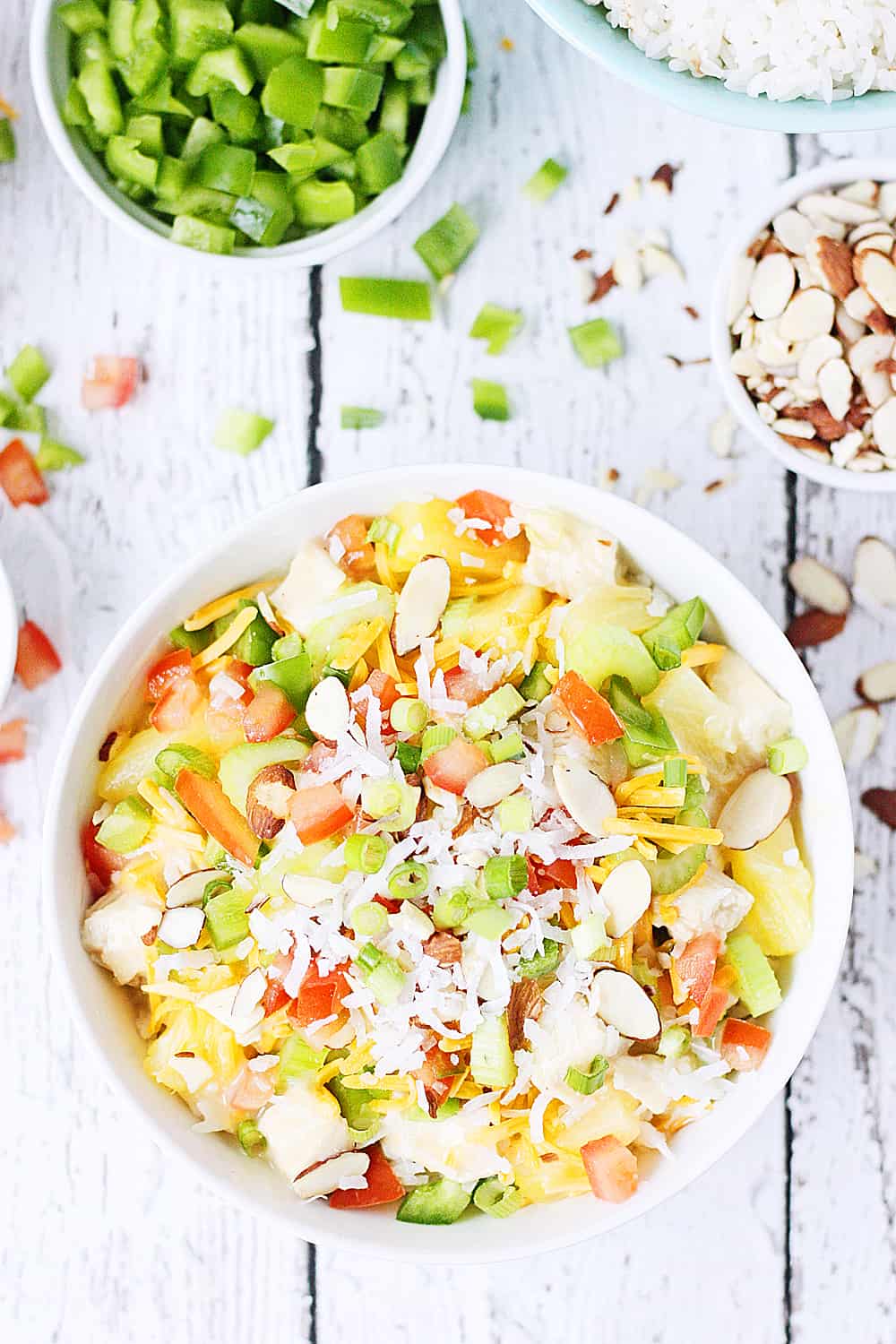 The list of toppings for these easy Hawaiian haystacks is not set in stone. Feel free to tweak it so you're Hawaiian haystacks buffet has ingredients your family loves. Of course, you can include things they don't love but you love because you're the boss!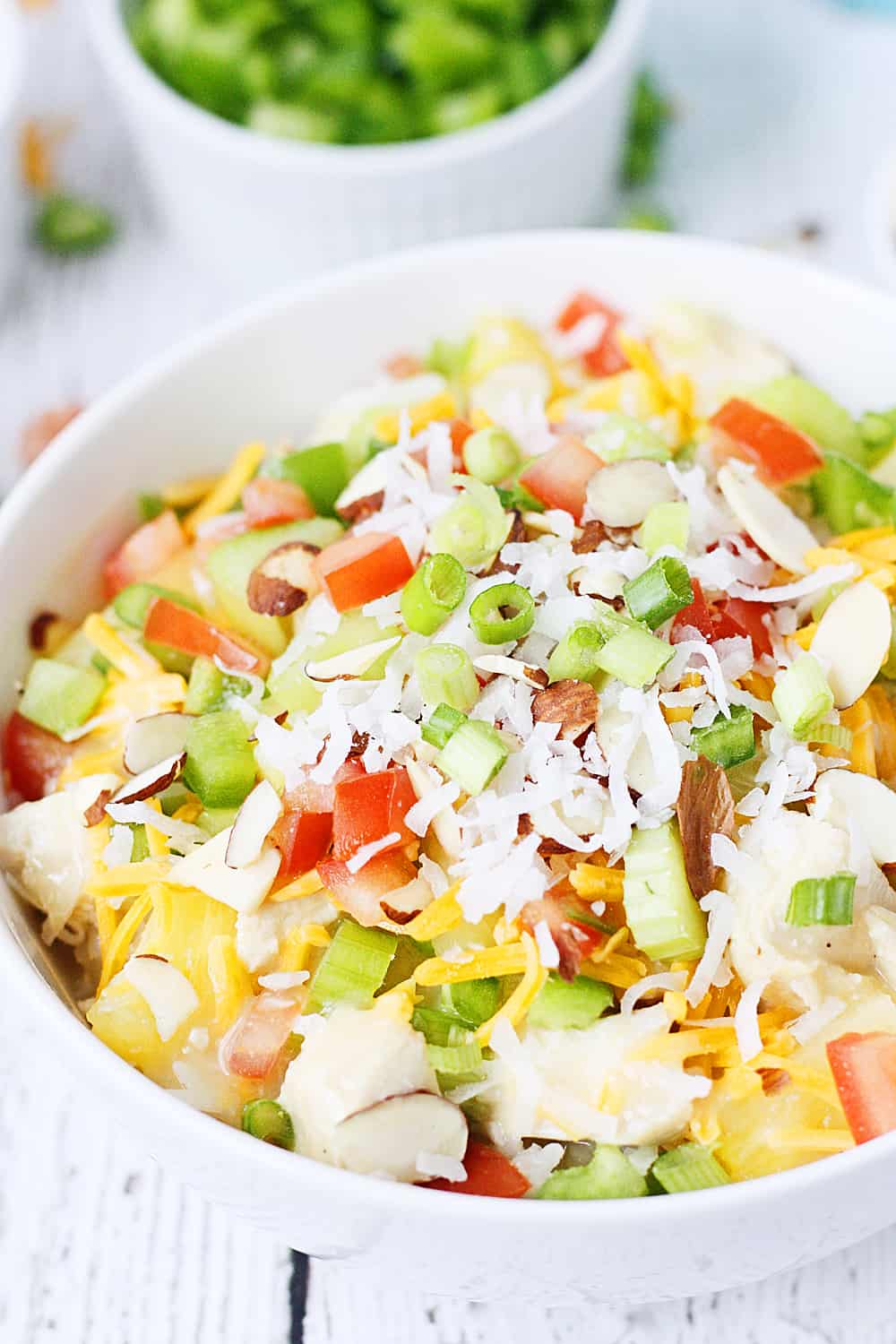 Don't forget to throw in a set of chopsticks when you serve your Hawaiian haystacks. It makes eating them a lot more fun!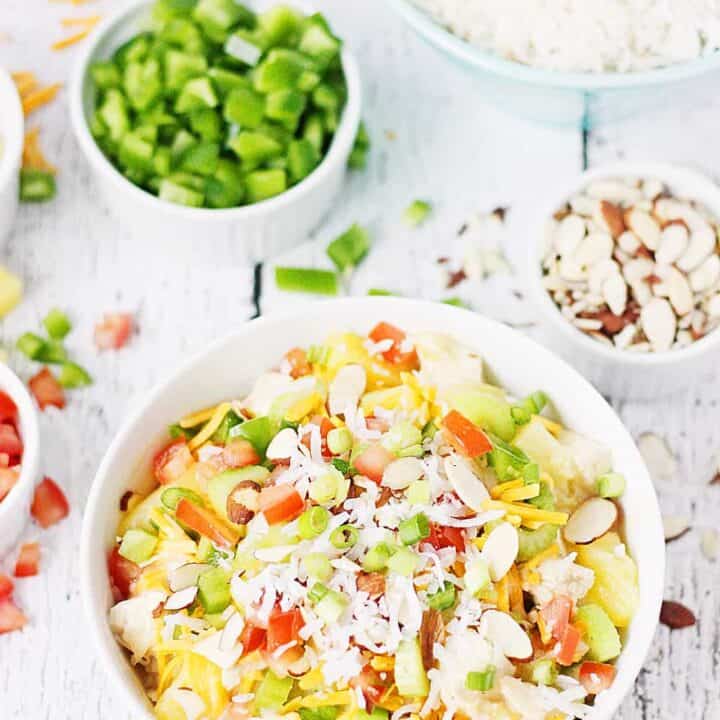 Easy Hawaiian Haystacks
These easy Hawaiian haystacks area a favorite family meal! A creamy chicken mixture is layered over rice and then topped with a variety of ingredients, from cheese and chopped celery to bell peppers and pineapple. NOTE: Calories are without toppings.
Ingredients
2 cans cream of chicken soup, (10-oz.)
4 cups cooked, diced chicken
½ cup skim milk
½ cup light sour cream
½ teaspoon pepper
1 teaspoon garlic powder
1 bay leaf
5 cups cooked rice, warm
Toppings (see below)
Instructions
Combine cream of chicken soup, milk, and sour cream in a medium saucepan. Add chicken, pepper, garlic powder, and bay leaf. Simmer 8 to 10 minutes or until sauce is heated through.
Prepare toppings and place in individual bowls or serving dishes. Serve buffet style; have guests layer plates starting with rice, chow mein noodles, chicken sauce, and other toppings.
Topping ideas: La Choy rice noodles, pineapple tidbits, sliced green onions, chopped bell peppers, chopped celery, grated cheese, sliced almonds, diced tomatoes, shredded coconut.
Notes
FOLLOW HALF-SCRATCHED ON INSTAGRAM (@half_scratched) and share the recipes you're whipping up in the kitchen. Don't forget to tag me and use #halfscratched for a chance to be featured in my stories.
Nutrition Information:
Yield:

8
Serving Size:

1
Amount Per Serving:
Calories:

379
Total Fat:

16g
Saturated Fat:

5g
Trans Fat:

0g
Unsaturated Fat:

9g
Cholesterol:

75mg
Sodium:

601mg
Carbohydrates:

35g
Fiber:

0g
Sugar:

1g
Protein:

22g