Have you noticed most of my recipes start with the word "easy"? I think it's because that's all I have the time (and patience) for these days. Someday I'll post recipes that start with words like "extensive," "gourmet" or "exhausting," but for now I prefer quick, effortless and, well, easy.
Last night I made one of my favorite recipes for leftover chicken. You can chop up the barbecued chicken you had the night before or shred a rotisserie chicken you purchased from Costco on the way home. Better yet, use the leftover chicken from Ethan's Roast Chicken & Gravy recipe because you made two whole chickens and had over half a chicken left.
But before I get to the creamy chicken noodle and rice soup, a few notes if you're planning to try the roast chicken recipe above. (I highly recommend you do—it's scrumptious!)
Prepare the chicken in the sink like the recipe mentions. Pure genius!
Place the chicken breast-side down so the white meat gets all the drippings and is extra moist.
Skim the fat from the drippings before making the gravy. (Common sense told me to do it but my Type-A personality couldn't help but follow the recipe exactly as written. Take it from me…it's a pain in the a** to skim at mid-gravy.)
Use cornstarch and cold water rather than butter and flour to thicken the gravy; it seems to be better for avoiding lumps. (No matter your whisking skills, you're going to get lumps unless you take the time to mix small amounts of the hot gravy liquid into the roux and then whisk that combo back into the original drippings. Way too much work for me!)
Cook more chicken than you'll eat because then you'll have yummy leftovers for recipes like the creamy chicken noodle and rice one I'm about to share with you.
Ethan's Roast Chicken & Gravy really was divine and I plan on making it again for sure!
And now for what to do with those delicious leftovers…  This recipe is courtesy of my good friend Suzanne. I usually double it so I have leftovers for Nathan's lunch and the next evening's dinner. Everyone in our family loves it and it takes very little time and energy to make, which makes it a total winner in my cookbook!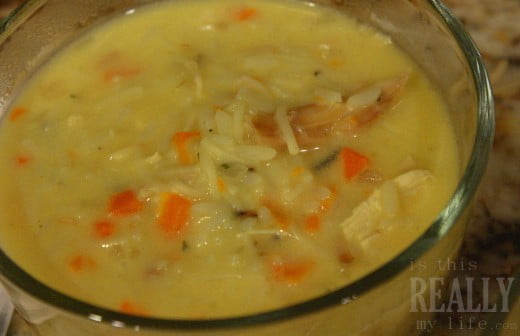 Easy Creamy Chicken Noodle & Rice Soup
1 box Rice-a-Roni long grain and wild rice
1 envelope Lipton's chicken noodle soup mix
5 to 6 cups water
1 cup shredded or chopped cooked chicken breast
1 can cream of chicken soup
1 cup onions, celery, carrots (optional)
Salt and pepper to taste
Bring water to a boil and add rice (not the seasoning packet) and soup mix. Boil for 10 minutes. Add chicken, cream of chicken soup, onion, celery, carrots and salt and pepper. Boil another 10 minutes and serve.
If only getting my kids to clean up their dirty socks were this easy…
P.S. It looks much more appetizing in person. Dang that funky kitchen lighting!