This to-die-for decadent triple chocolate bundt cake is one of my most popular dessert recipes. It's all kinds of rich, chocolaty and yes, super moist.
.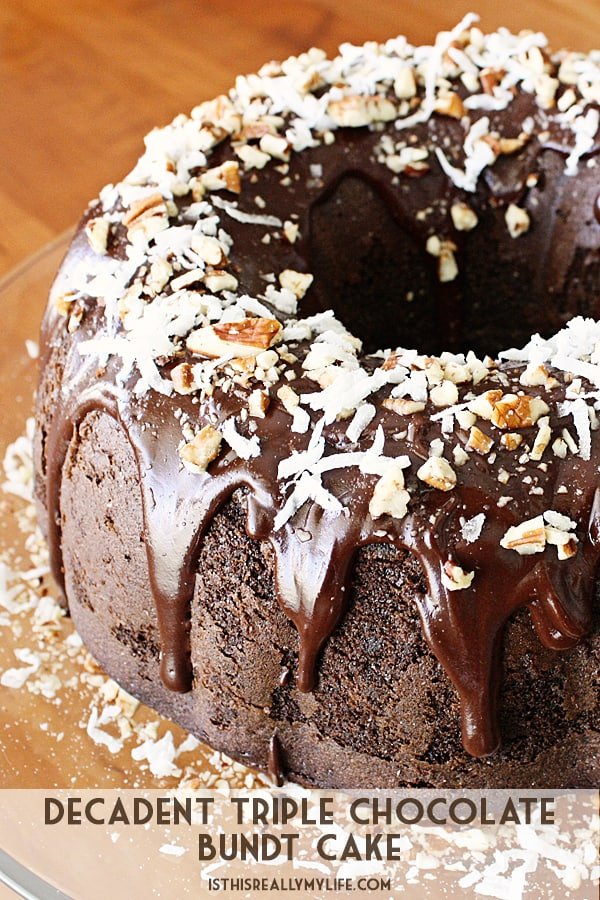 .
This is my go-to recipe when I'm bringing a dessert to a potluck. It is a quick (other than the baking part), easy, to-die-for-delicious chocolate bundt cake and I always have all the ingredients I need on hand. I dare you to make it and not have a nearly orgasmic experience when you taste it. I took it to a family get-together on Sunday and the oohs and aahs were almost as audible as Meg Ryan's.
.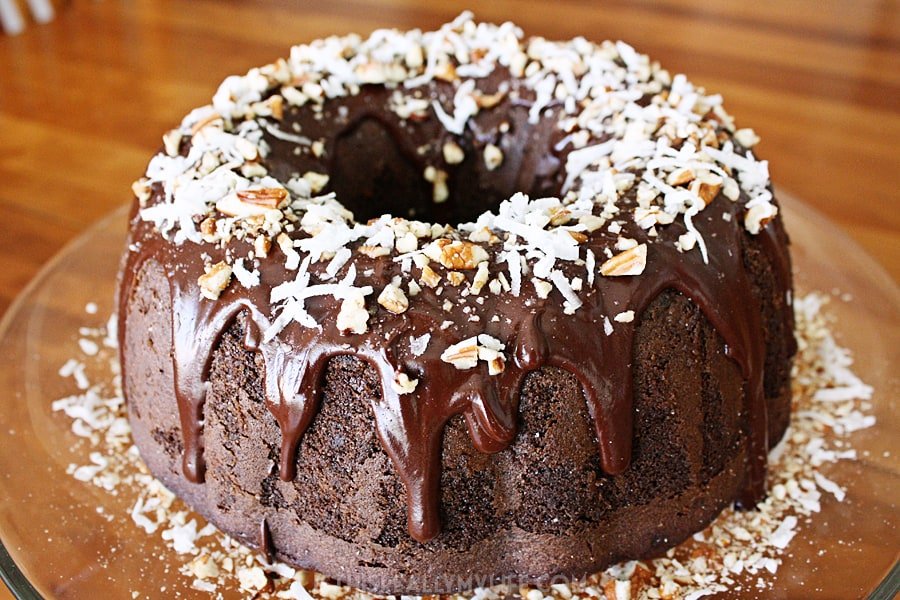 .
Printable recipe for decadent chocolate bundt cake below.
.

Decadent Chocolate Bundt Cake
This is my absolute favorite chocolate bundt cake. It is rich, moist and completely delicious. An easy chocolate glaze is the proverbial icing on the cake!
Author:
Emily ~ isthisREALLYmylife.com
Ingredients
Cake
1 box Betty Crocker Triple Chocolate Fudge cake mix
1 large box instant devil's food pudding mix
1 cup sour cream
1 cup canola oil
4 eggs
½ cup warm water
2 cups mini semisweet chocolate chips
Glaze
¾ cup semisweet chocolate chips
3 T butter
1 T light corn syrup
¼ tsp vanilla extract
Instructions
Cake
Preheat oven to 350 degrees. Grease and flour bundt pan.
In a large bowl combine cake mix, pudding mix, sour cream, oil, eggs and water. Beat on medium speed for 2 minutes.
Stir in chocolate chips and pour into bundt pan.
Bake for 50 to 55 minutes or until top springs back when lightly touched and toothpick inserted in the center comes out clean.
Cool cake thoroughly in pan for a good hour and a half before turning over onto a serving platter.
Glaze
Combine ingredients in a microwaveable bowl. Microwave on high for 30 to 45 seconds, stirring every 15 seconds, until completely melted. Do not overcook!
Spread or pour warm glaze over top of chocolate cake and let drizzle down the sides. Sprinkle with chopped pecans and shredded coconut (optional).
Notes
To make this chocolate cake even better, make it a day ahead. Allow it to cool no more than 45 minutes or so in the pan. Invert onto a plate and cover tightly with plastic wrap. Refrigerate overnight. Trust me on this one.
.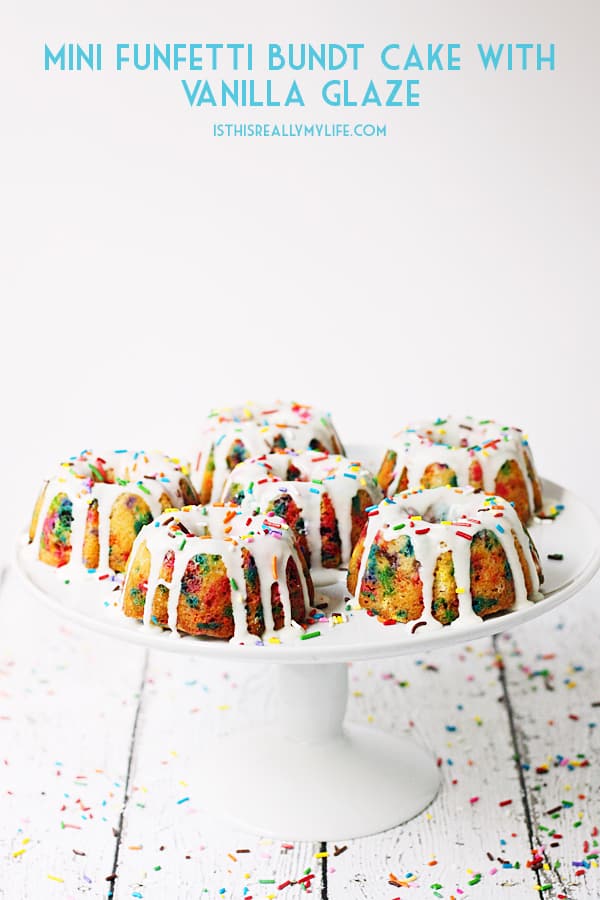 Mini funfetti bundt cake with vanilla glaze
.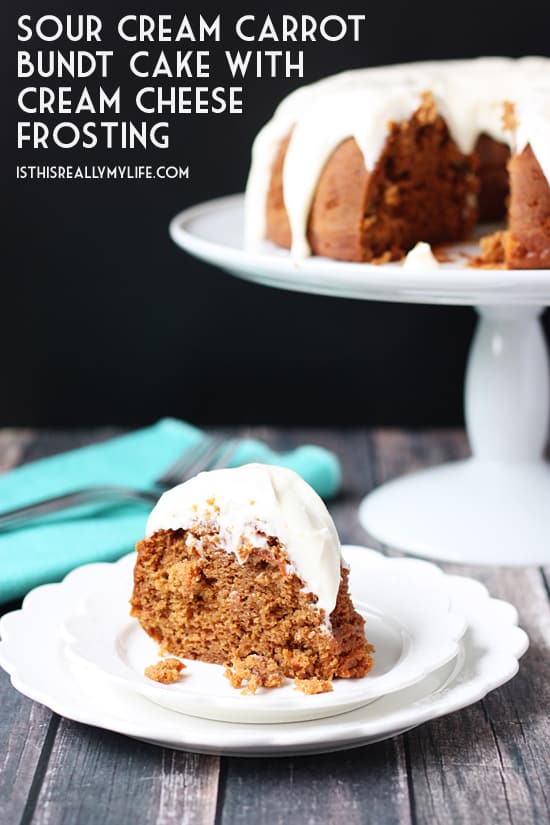 Sour cream carrot bundt cake with cream cheese frosting
.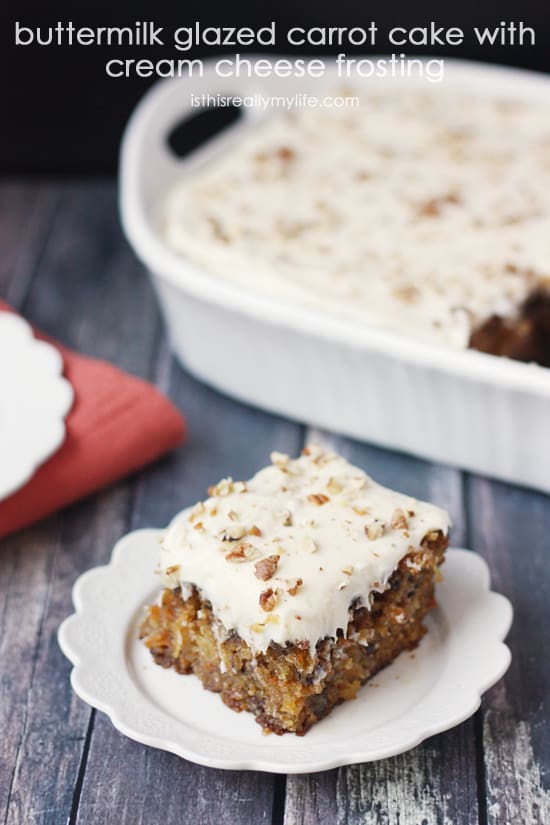 Buttermilk glazed carrot cake with cream cheese frosting
.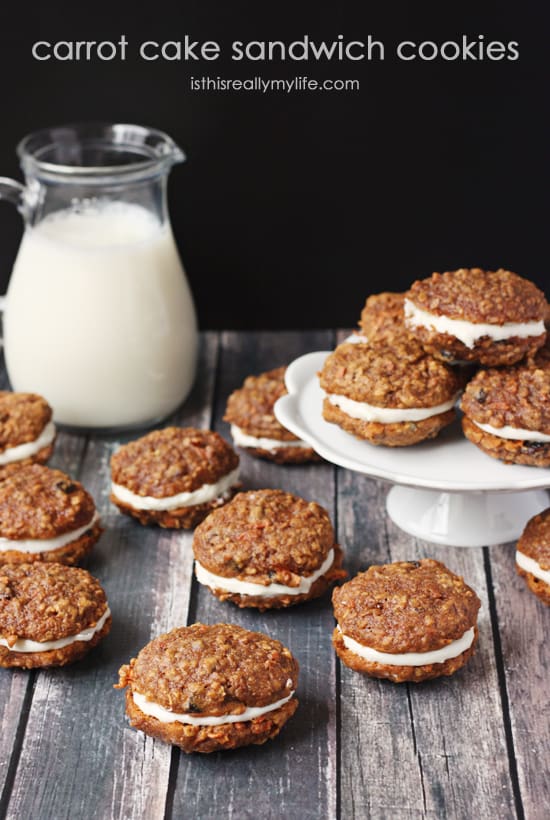 .
.
If you're looking for more yummy recipes, you should browse my bread recipes Pinterest board.
.
.

Feel free to "like" Is This Really My Life on Facebook. It won't earn you an extra entry in a giveaway but it will give you warm fuzzies.
Don't forget to sign up for free Is This Really My Life updates via RSS or email so you don't miss a single awesome post.
.