Post may include affiliate links to support my Diet Coke habit.
This is probably the fourth or fifth homemade mac and cheese recipe I've made but the first crock pot mac and cheese. The others have been stove top with a finishing touch in the oven. Though Lauren and I were fans, especially once you added a touch of Sriracha, the rest of the family had no problem telling me they wished I'd opened a box of Kraft.
How can anyone prefer powdered "cheese" to tons of shredded sharp cheddar and Colby Jack?
...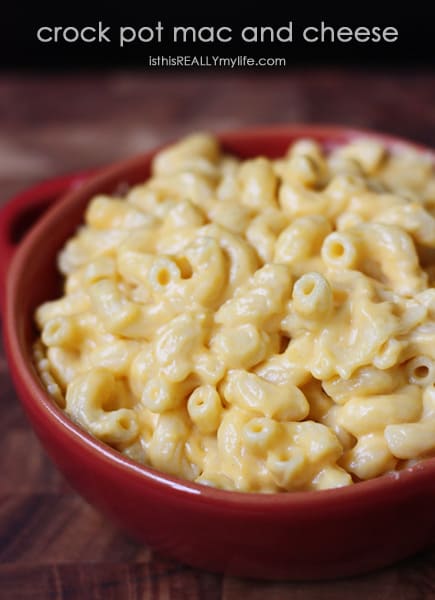 ...
I adapted this recipe from Taste of Home's Easy Slow Cooker Mac & Cheese by using sharp cheddar and switching out the provolone and fontina for Colby Jack. And then I doubled it, which I don't recommend unless you're feeding a dozen people who DON'T prefer Kraft.
Did you know you can get Kraft Macaroni & Cheese for a pretty good deal through Amazon Prime Pantry? Love me some Amazon Prime!
I would totally make this again and take it to a family potluck as a side dish. I don't know what everyone else's problem was, but Lauren and I thought this crock pot mac and cheese rather tasty. Of course, it wasn't as divine is this gourmet macaroni and cheese I posted over two years ago (you can tell by the not-so-awesome food photos). Speaking of which, I think I need to make another batch of that...
Oh, and if you're looking for a new slow cooker, check out "Best Slow Cookers for Every Budget." It gives you a breakdown on the best crock pot depending on budget, size, etc.
Printable recipe for crock pot mac and cheese below. Enjoy!
...

Crock Pot Mac and Cheese
One of the better slow cooker mac and cheese recipes I've tasted. Feel free to substitute other cheese to suit your fancy. Adapted from Taste of Home's Easy Slow Cooker Mac & Cheese.
Author:
Emily ~ isthisREALLYmylife.com
Ingredients
1 box uncooked elbow macaroni
1 can condensed cheddar cheese soup, undiluted
1 cup whole milk
½ cup sour cream
¼ cup butter, cubed
½ tsp onion powder
¼ tsp white pepper
⅛ tsp salt
1 cup (4 oz) shredded sharp cheddar cheese
2 cups (8 oz) shredded Colby Jack
Instructions
In a large pot, cook macaroni al dente according to package directions. Drain (do not rinse) and set aside.
While pasta cooks, combine soup, milk, sour cream, butter and seasonings in a medium saucepan. Cook and stir over medium-low heat until blended. Add cheese and stir until completely melted.
Drain macaroni; transfer to a greased 3-qt. slow cooker. Stir in cheese mixture. Cook, covered, on low 1-2 hours or until heated through.
...
You can find more yummy crock pot recipes in my collection of slow cooker recipes. You'll find everything from my popular chicken tortilla soup to decadent rocky road chocolate cake.
...

Feel free to "like" is this REALLY my life? on Facebook. It won't always earn you an extra entry in a giveaway but it will give you warm fuzzies.
Don't forget to sign up for free is this REALLY my life? updates via RSS or email so you don't miss a single awesome post.
...