can I fry chicken in olive oil? This is one of the most searchable questions online people keep asking about This Topic Frying chicken in olive oil and is not only chicken but using olive oil in the frying process.
To be clear the answer to this question is Yes and No, Why? because it is dependent on what kind of olive oil you will use un frying.
So before getting deeply about this topic, I hope I can cover everything and I hope that I can answer all the big questions But if you did have a question about some specific thing or that is something not clear enough feel free to leave a comment and I will answer you as soon as possible.
NOTE: Guys I just want you to understand me, I told you before am not English native English so you maybe will find a few faults in grammar or something like that so I hope you understand me and am sorry I work on my English every day.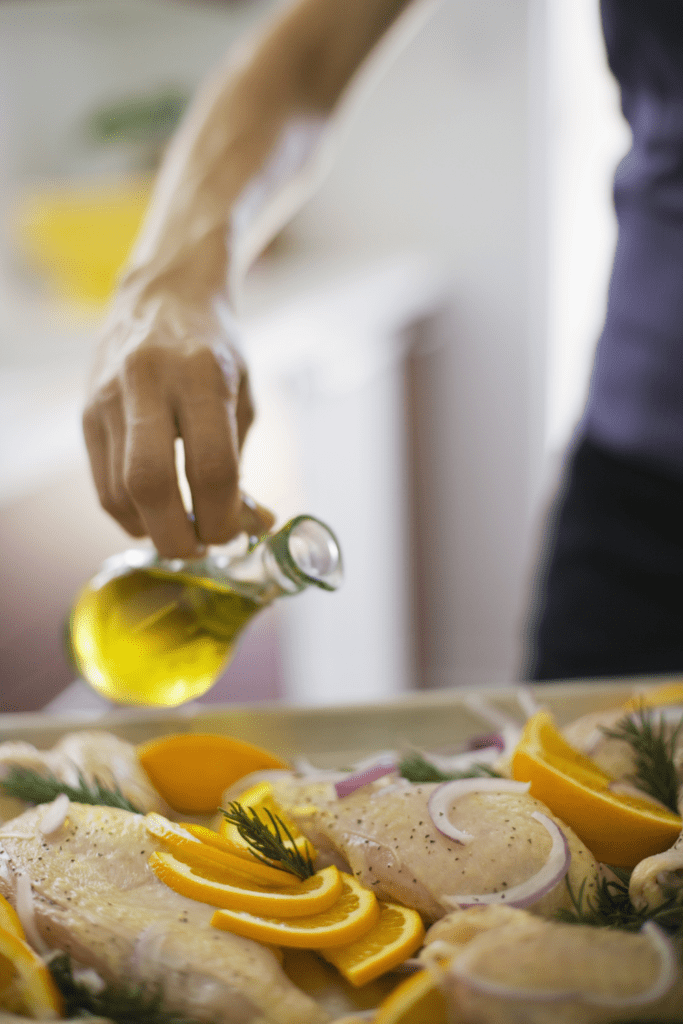 Can You Fry Chicken In Olive Oil
Yes, You can Fry CHicken in olive oil, and not only chicken you can use olive oil to fry almost anything and it's very safe. USDA experts said that it's safe to fry with olive oil (extra virgin olive oil), but they don't recommend frying with butter or coconut oil.
There is a miss understanding about frying food, people believe that frying food is not healthy because of the frying process it's itself but this is wrong in 2012 USDA experts said that the health problems about frying food come from the oil that you use rather than the frying process itself.
In Spain people use olive oil for frying and for cooking in general, Experts said that eating fried food in this country wasn't linked to heart disease or all-cause mortality.
as result you can day That YOu can fry chicken and any food you want in olive oil and is not only fine to do it is also become good for your health so try to make work for your cooking process.
Can You Deep Fry With Olive Oil
Yes, as I said before is it safe to fry in olive oil, So You can also use olive oil for deep frying.
like I told you before I never try to use olive oil in a deep fryer because it will take a big amount of oil and oi is expensive and I don't create money, but I watch many videos that they use olive oil for deep frying and they recommended people to use that.
Is it better to fry chicken in olive oil or vegetable oil?
To fry chicken Olive oil is better than vegetable oil.
generally The best oil for frying ching or any food it's The oil that has a high smoke point at least 390°F to avoid the extraction of the toxic stuff from the oil.
Best Ther is a list of the Oil That You can use for frying chicken and they are completely safe to use:
avocado oil
canola oil
sunflower oil
Olive oil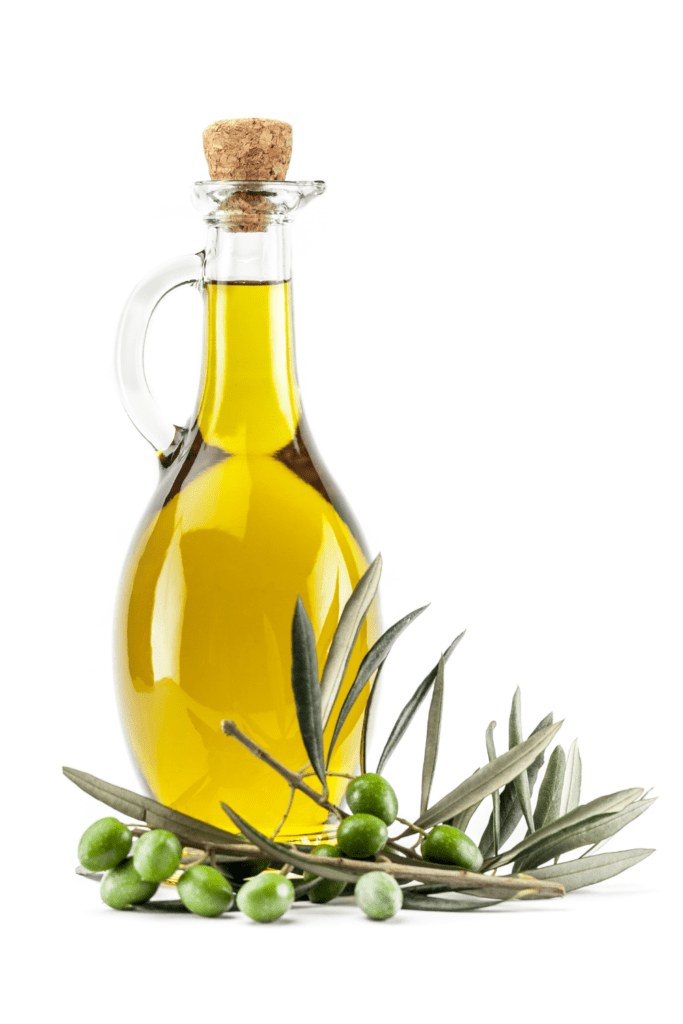 Can you deep-fry with olive oil and vegetable oil mixed
Yes. You can fry by mixing olive and vegetable oil as long as the olive oil has a high enough smoke point to perform your necessary duties.
Most olive oils like extra virgin have a smoke point of at least 390° F, meaning it's safe for the frying process.
Why you should not cook with olive oil?
Many people believe that olive oil is bad for cooking or frying because of the oil its self but this is wrong. any oil has a low smoke point that means when you heat the oil it will extract toxic smoke to a low degree but as long as the oil has a high smoke point it's fine to cook with it.
Is olive oil toxic when heated?
If the olive oil is heated beyond its smoke point, it will give off toxic smoke.
There is some kind of olive oil that has a low smoking point, cooking with olive oil runs the risk of creating smoke that contains compounds that are harmful to human health. You may not even notice that you are breathing in this toxic smoke
That's why experts recommend people to use extra olive oil because it has a high smoked point somewhere around 374–405°F (190–207°C) (17).
Make sure to heat the oil to this temperature. Use a thermometer.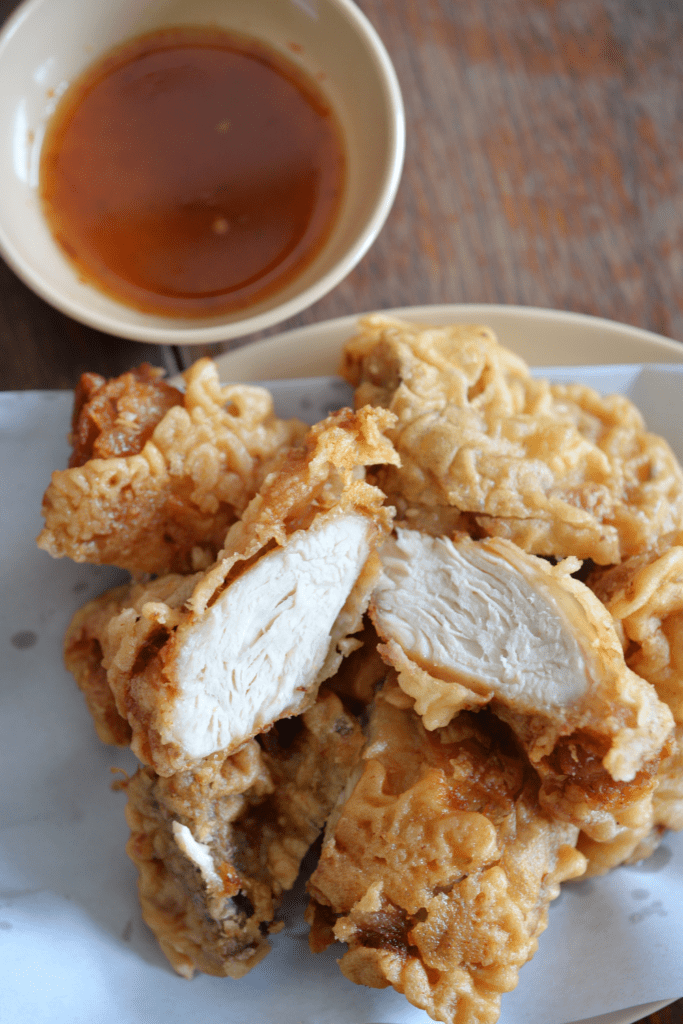 How much olive oil do you use to fry chicken?
well, it depends on your recipe and how do you want your chicken cooked for example if you want just fry chicken breast without any other ingredient like bread crumbs you will need just 2 to 4 tablespoons extra virgin olive oil, but if you want to make chicken breast with crumbs or chicken wings you need about 1 cup olive oil.
That's not an exact amount, just with time and experience, you will know exactly what you will know how much oil you will need to use to fry chicken or to cook any other recipe.
Just like my mom when she cooks something, she just adding ingredients and oil without any measuring and when I ask her how much you add from that she tells me just a little bit of this and a little bit of that.
OMG mom how much that little bit she tells me that she doesn't know exactly but with years of experience, she knows exactly how much with only her eyes.
Is Frying With Olive Oil Causes Cancer?
There is a myth in this topic said that Olive oil produces carcinogens when it's heated, But the truth is when you heat or fry olive oil to the point where it smokes (its smoke point) it breaks down and may produce potentially carcinogenic toxins.
Not only olive oil, any kind of oil when you fry with until it reached the smoked point it will cause cancer.
Can You Fry With Extra Virgin Olive Oil?
Yes, You Can Deep Fry with Extra Virgin Olive Oil. Try French Fries or Churros! frying with extra virgin olive oil is available (Just be sure to don't bypass the smoked point). We know because we hear the myth that it can't be done. Mediterranean cooks, however, have been deep frying foods in extra virgin olive oil for a long time.
Can I Fry Chicken Wings in Olive Oil?
Yes, you can deep fry chicken wings in olive oil. Their many Mediterranean chefs provide a chicken wings recipe that is fried in olive oil. Just heat the extra virgin olive oil in a frying pan. Then add your chicken wings and fry until become golden brown.
Frying chicken wings in olive oil may take between 8-10 min.
Is Frying Chicken in Olive Oil Healthy?
The scientists said that Olive oil actually has a relatively high smoke point and is a safe, reliable option for frying. On top of that, it is one of the healthiest cooking staples around. Olive oil has been named "the top healthiest fat on Earth," in part because of its unique ability to reduce the risk of heart disease.
So frying with olive oil is a healthy option.
Olive oil Nutrition Facts
Amount Per Serving! 1 tablespoon (14g grams).
Calories 119
Calories from Fat 122
Total Fat 14g
Saturated Fat 1.9g
Polyunsaturated Fat 1.4g
Monounsaturated Fat 9.8g
Cholesterol 0mg
Sodium 0.3mg
Potassium 0.1mg
Total Carbohydrates 0g
Dietary Fiber 0g
Sugars 0g
Protein 0g
Can You Fry Chicken in Olive Oil Without Flour?
Yes, you can fry chicken in olive oil without flour and you will get a good result. You can also replace flour with something else such as cornstarch. Using Cornstarch will create a crisper coating that will hold up to sauces better and will absorb less of the frying oil.
Conclusion
So in this article, I share with you that you can fry chicken with olive oil as long you don't pass the smoked point, and the best olive oil for frying and cooking it is extra virgin olive oil because it has a high smoked point it is around 374–405°F (190–207°C) (17). and don't pass this temperature because it will be toxic for your health.
in the end, Keep Calm and Keep cooking.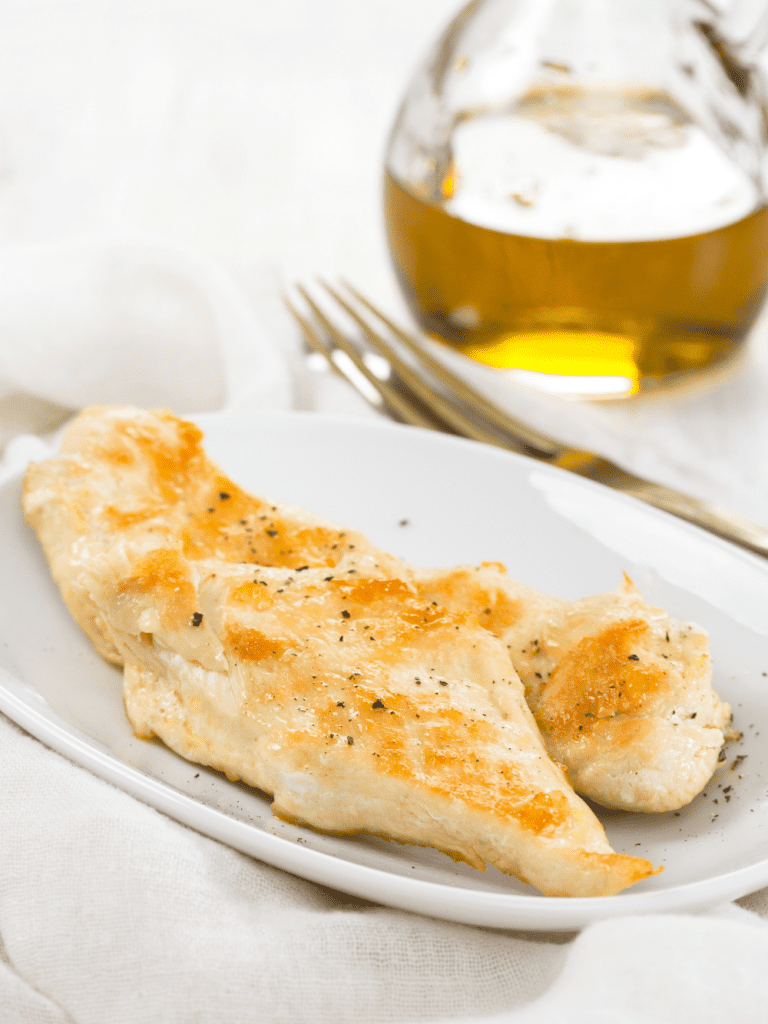 Can You Fry Chicken in Olive Oil
Description
You will learn all about frying chicken with olive oil.
Instructions
Place olive oil on a skillet over medium heat.
Once the oil is heated, place the seasoned chicken breasts in the skillet.
Fry for 5 to 6 min each side until becomes golden brown.
Let them cool for 2 min then serve.
fry chicken in olive oil
Serving Size 1 tbsp (14g)
Servings 2
---
Amount Per Serving

Calories 119

Calories from Fat 112

% Daily Value *

Total Fat 14g

22

%

Saturated Fat 1.9g

10

%

Sodium 0.3mg

1

%

Potassium 0.1mg

1

%
---
* Percent Daily Values are based on a 2,000 calorie diet. Your daily value may be higher or lower depending on your calorie needs.