It's rare to find a food that almost everyone loves, yet chicken wings are one of the most popular dishes around the world. They're perfect for parties, as bar food, or simply as a delicious snack, along with some carrots and celery. Yet, to achieve the balance of crispiness and juiciness that makes wings so delectable, you have to cook them properly.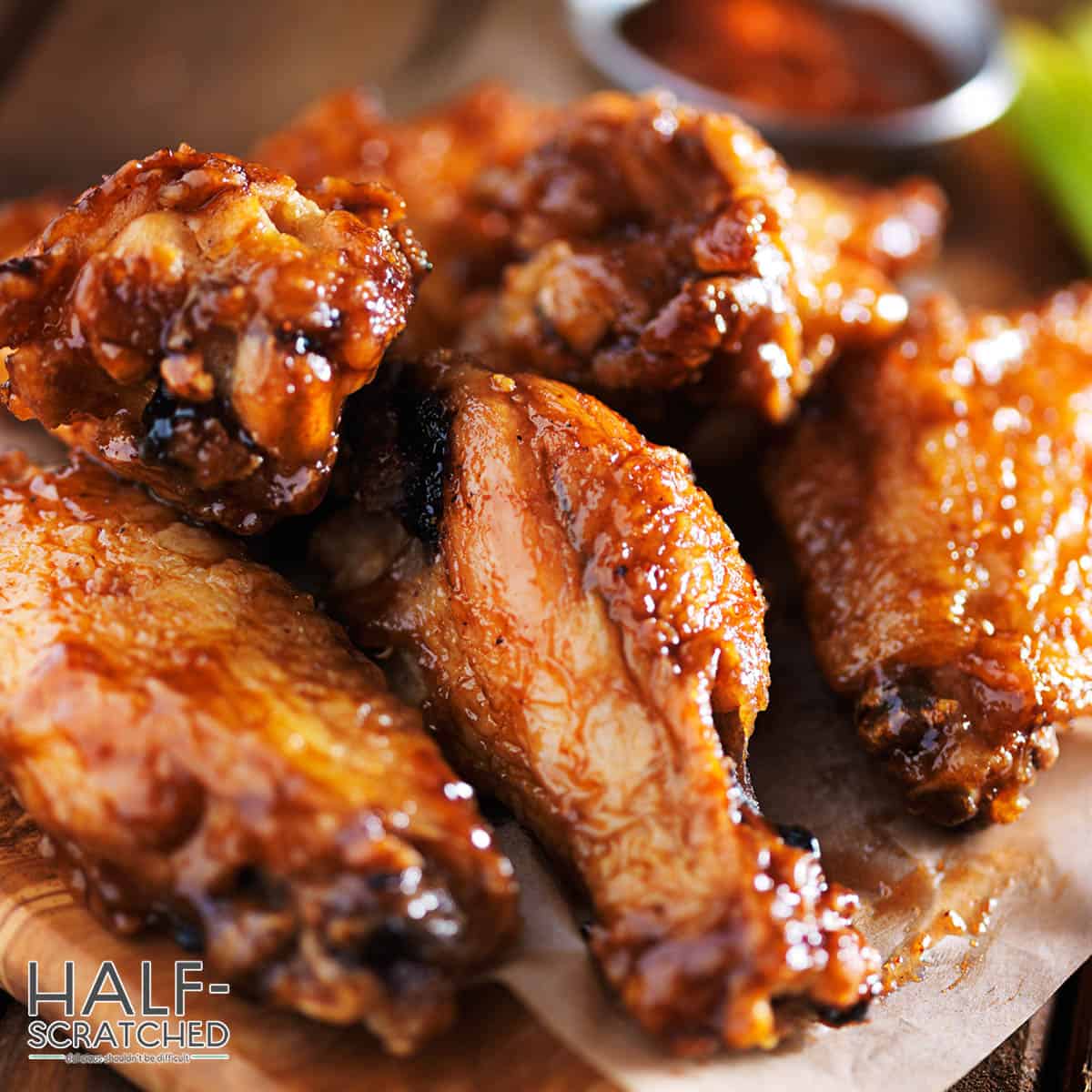 In general, it's best to bake wings between 40 and 50 minutes at 400° Fahrenheit. This will ensure that they're cooked through while also allowing the skin to become crispy. Alternatively, you can fry wings in oil heated to 375° Fahrenheit for about 10 minutes or cook them in an air fryer at 360° Fahrenheit for about 20 minutes. However, different cooking methods will produce different results.
If you have a hankering for perfectly made chicken wings, keep reading below to discover how to properly cook a batch of wings. This guide will explain everything you need to know about baking and frying wings and provide a handful of useful tips to help you create tasty sauces and achieve the balance of crispy skin with juicy meat.
400° Fahrenheit is the Best Temperature for Wings
Compared to cooking other cuts of meat, or even a whole chicken, you'll want to set your oven to a slightly higher temperature of 400° F. This will help the wings cook evenly throughout while also ensuring that the skin gets nice and crispy.
If you cook the wings at too low of a temperature, they'll take forever to cook, and the skin will be rubbery. On the other hand, if you cook them at too high of a temperature, the skin will burn while the meat remains raw or undercooked in the middle. 400° F is the perfect happy medium that will produce wings that are cooked through and have crispy skin.
Assuming you're cooking a standard batch of 12 wings, they should take between 40 and 50 minutes to bake in a 400° F oven. However, it's always a good idea to check on them a few minutes early just to make sure they're not overcooking. The best way to check if they're done is to use a meat thermometer and insert it into the thickest part of the wing.
If the internal temperature is at least 165° F, they're ready to come out of the oven. You can also tell if the wings are done when the meat starts to pull away from the bone. However, this method is not as accurate as using a meat thermometer since chicken can sometimes cook faster or slower depending on the size and shape of the wings.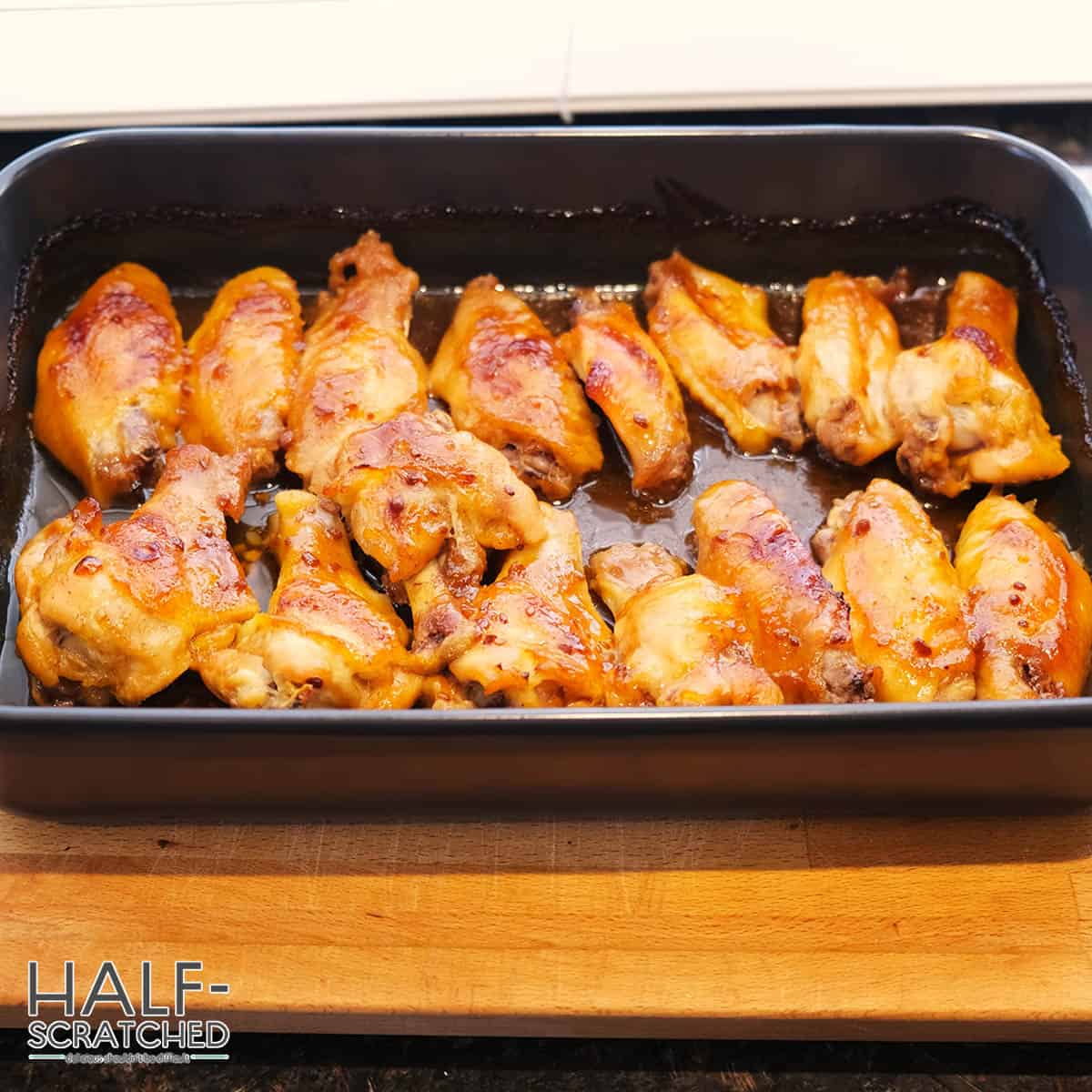 Different Cooking Methods will Produce Different Results
As we mentioned earlier, chicken wings can be baked, fried, or cooked in an air fryer. While all of these methods will result in a delicious batch of wings, they will each produce slightly different results.
For example, if you fry chicken wings, they will cook faster and become extra crispy since they're boiling in hot oil. However, this also means that they will absorb more oil, making them slightly less healthy than wings that are baked or cooked in an air fryer. To fry wings, simply heat frying oil to 375° F and cook for 10 minutes before leaving the wings to sit.
Air fryers work by circulating hot air around the food, helping to create crispier skin without the added oil. This makes air-fried wings a healthier option since they won't absorb as much oil. Additionally, air fryers can cook wings faster than an oven since they heat up quicker and cook at a higher temperature. Simply air fry the wings at 360° F for 20 minutes and then enjoy.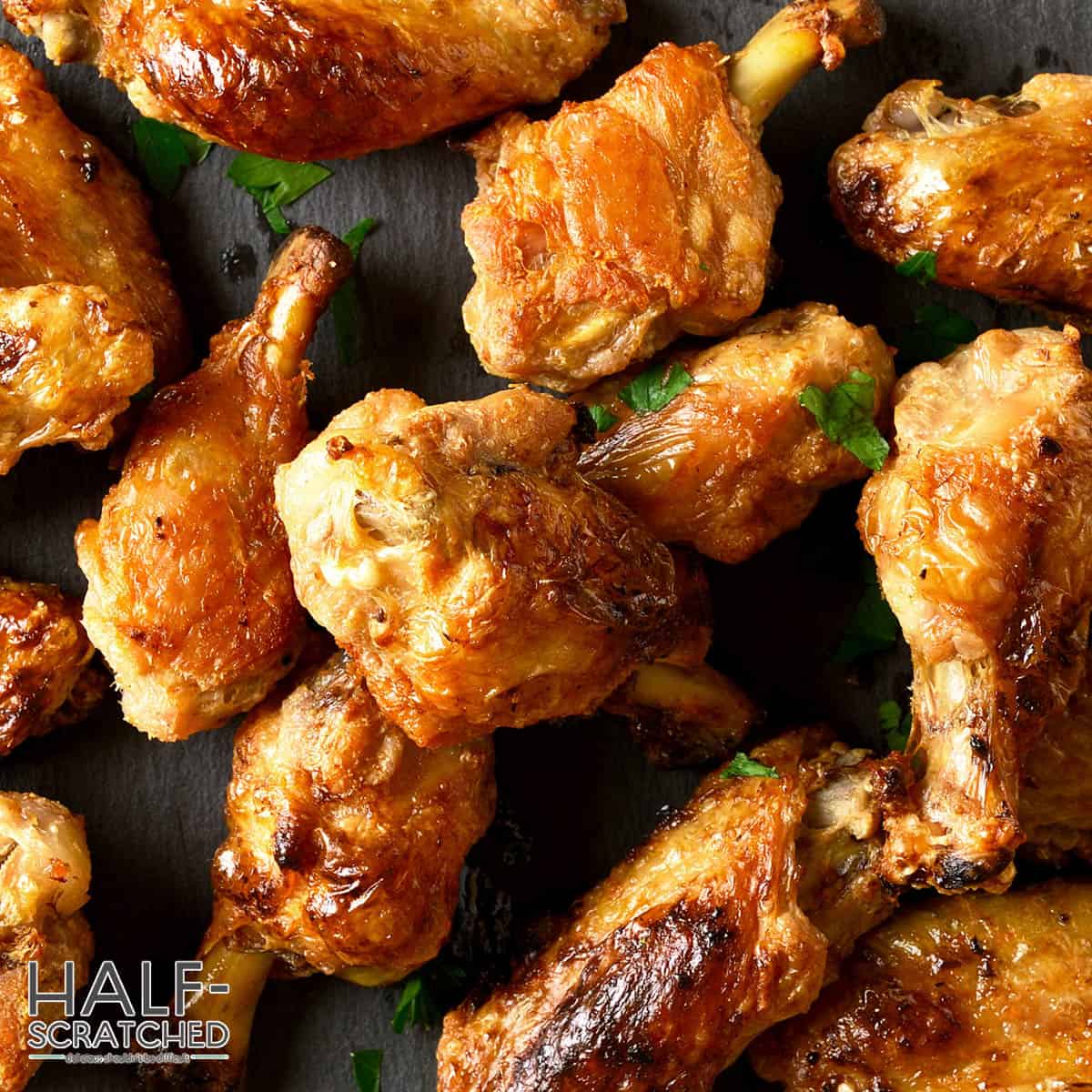 Breading the Wings vs. Cooking Them As-Is
One of the most common questions people have about chicken wings is whether or not they should bread them. While breaded wings are delicious and easily absorb an added sauce, it's not necessary to bread your wings, and the added carbs will make for a heavier, calorie-dense meal.
If you want to bread your wings, simply coat them in a mixture of flour, salt, and pepper before cooking. If you don't want to bread your wings, you can simply cook them as-is. However, we recommend tossing them in a little bit of salt, pepper, and spices before cooking to help the seasoning stick to the wings.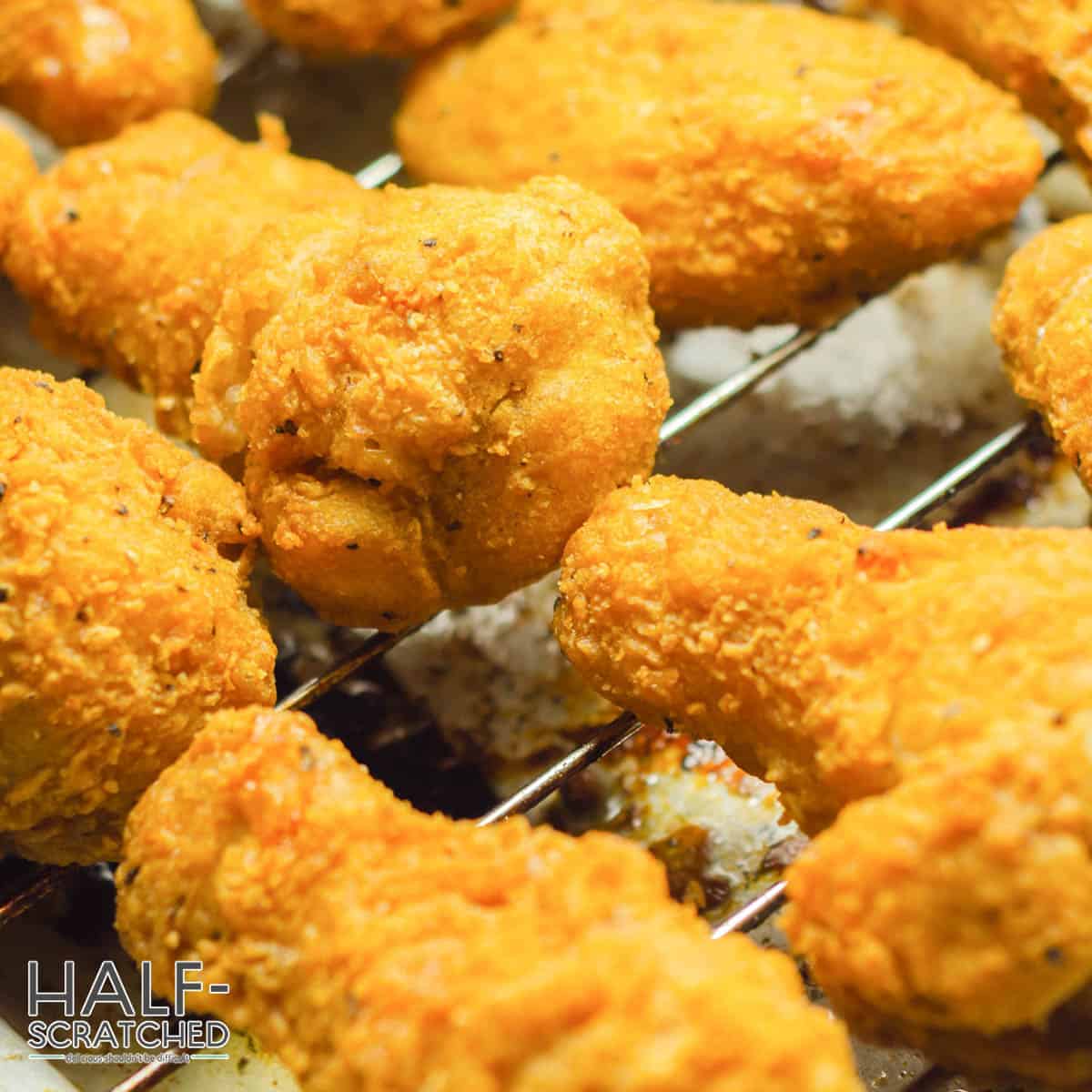 My Personal Tips for Making Perfect Chicken Wings
Now that you know how to cook chicken wings, it's time to learn a few tips and tricks that will help you take your wings to the next level. These tips will teach you how to make the perfect sauce, achieve the perfect balance of crispy skin and juicy meat, and how to cook frozen wings.
Make Sure the Wings are Dry
Whether you're baking, frying, or cooking wings in an air fryer, it's important to make sure that they're dry before cooking. If the wings are wet, they will not get as crispy, and the skin will not be as flavorful.
To dry the wings, simply pat them down with some paper towels or a clean dishcloth. You can also let them sit out on a wire rack for 30 minutes to an hour to allow them to air dry.
Season the Wings Before Cooking
Once the wings are dry, it's time to season them. This step is important because it will help the wings to be more flavorful and the skin to be crispier. To season the wings, simply add your desired seasonings to a large bowl and mix them together. Then, add the wings to the bowl and toss them until they're evenly coated in the seasoning.
Some of the most popular seasonings for wings include salt, pepper, garlic powder, onion powder, and paprika. However, you can really use any seasoning that you like. If you want a bit of heat, you can also add some cayenne pepper or chili powder to the mix.
Create a Tasty Sauce
One of the best things about chicken wings is that they can be served with a variety of sauces. Whether you like them spicy, sweet, or savory, there's a sauce out there that will suit your taste buds. However, if you want to make your own sauce, there are a few things to keep in mind:
First, you'll want to make sure that the sauce is thick enough so that it sticks to the wings. If it's too thin, it will simply run off the wings and make them soggy.
Second, you'll want to make sure that the sauce is properly seasoned. This means that it should have a good balance of salt, sweetness, and acidity.
Finally, you'll want to make sure that the sauce is cooked long enough so that the flavors have a chance to meld together. This will make the sauce more flavorful and prevent it from tasting raw.
Go for traditional buffalo flavor profiles or spice things up with a spicy Korean sauce, Latin lime and chili sauce, or even an Italian garlic and parmesan sauce.
Bake the Wings on a Wire Rack
If you want your wings to be extra crispy, we recommend baking them on a wire rack. This will allow hot air to circulate around the wings and cook them evenly on all sides. Simply place a layer of wings on the rack and bake them according to the recipe instructions. You can also line the wire rack with foil or parchment paper to prevent the wings from sticking.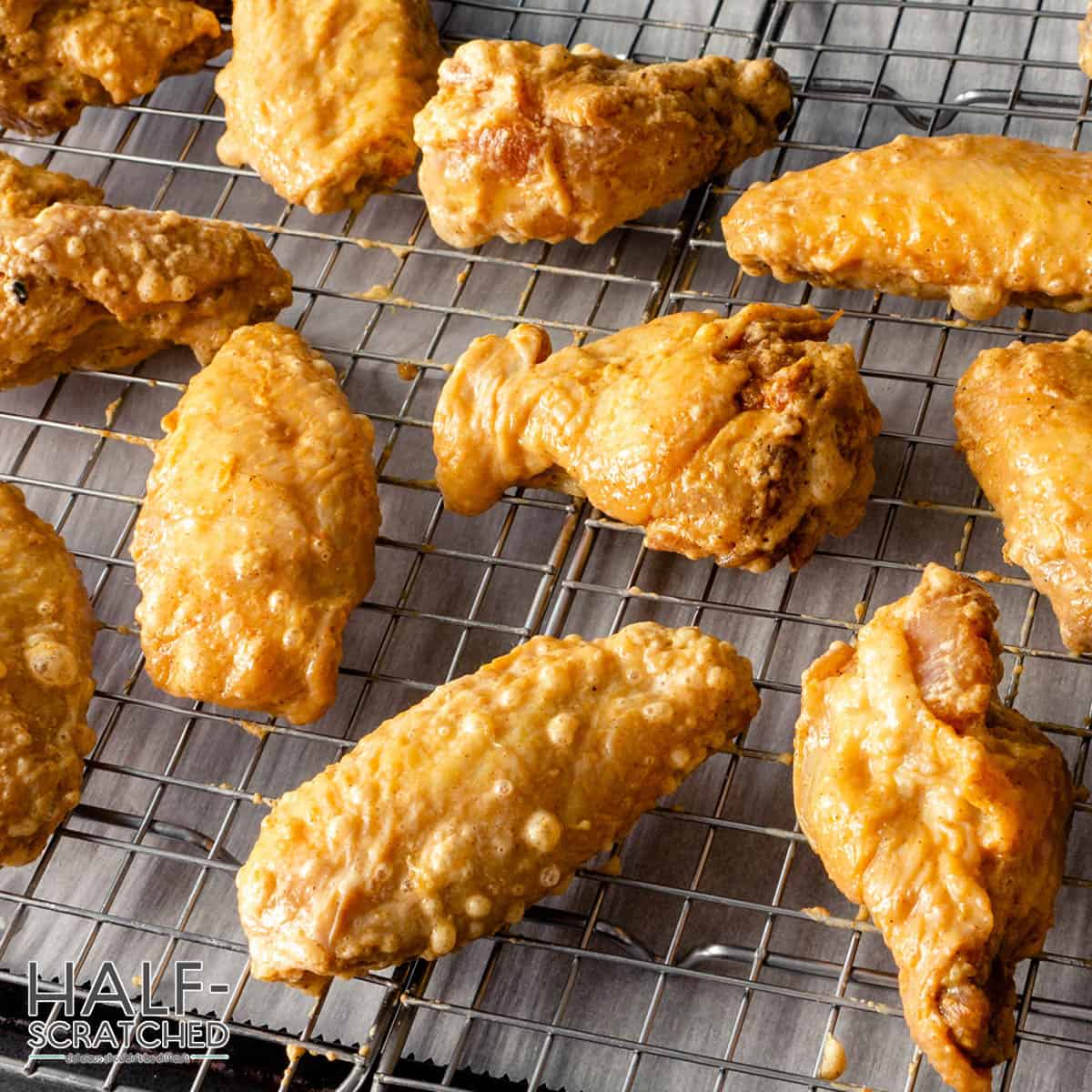 Let the Wings Rest
Once the wings are done cooking, it's important to let them rest for a few minutes before serving. This will allow the juices to settle back into meat and make them more tender. To let the wings rest, simply leave them on a plate and let them sit for 5-10 minutes. Then, add them to a serving platter or serve them directly to your guests.
Cook Frozen Wings
If you're in a pinch and don't have time to thaw out the wings, you can cook them frozen. However, it's important to note that this will add a few minutes to the cooking time. Simply place them on a baking sheet and bake them in the oven according to the recipe instructions. You may need to add a few minutes to ensure that they're cooked through.
Store Leftover Wings
If you have any wings left over, they can be stored in the fridge for up to 3 days. To store them, simply place them in an airtight container or wrap them tightly in foil. You can also freeze wings for up to 3 months.
To freeze them, simply place them in a freezer-safe bag or container and store them in the freezer. When you're ready to eat them, simply thaw them in the fridge overnight and reheat them in the oven, air fryer, or microwave.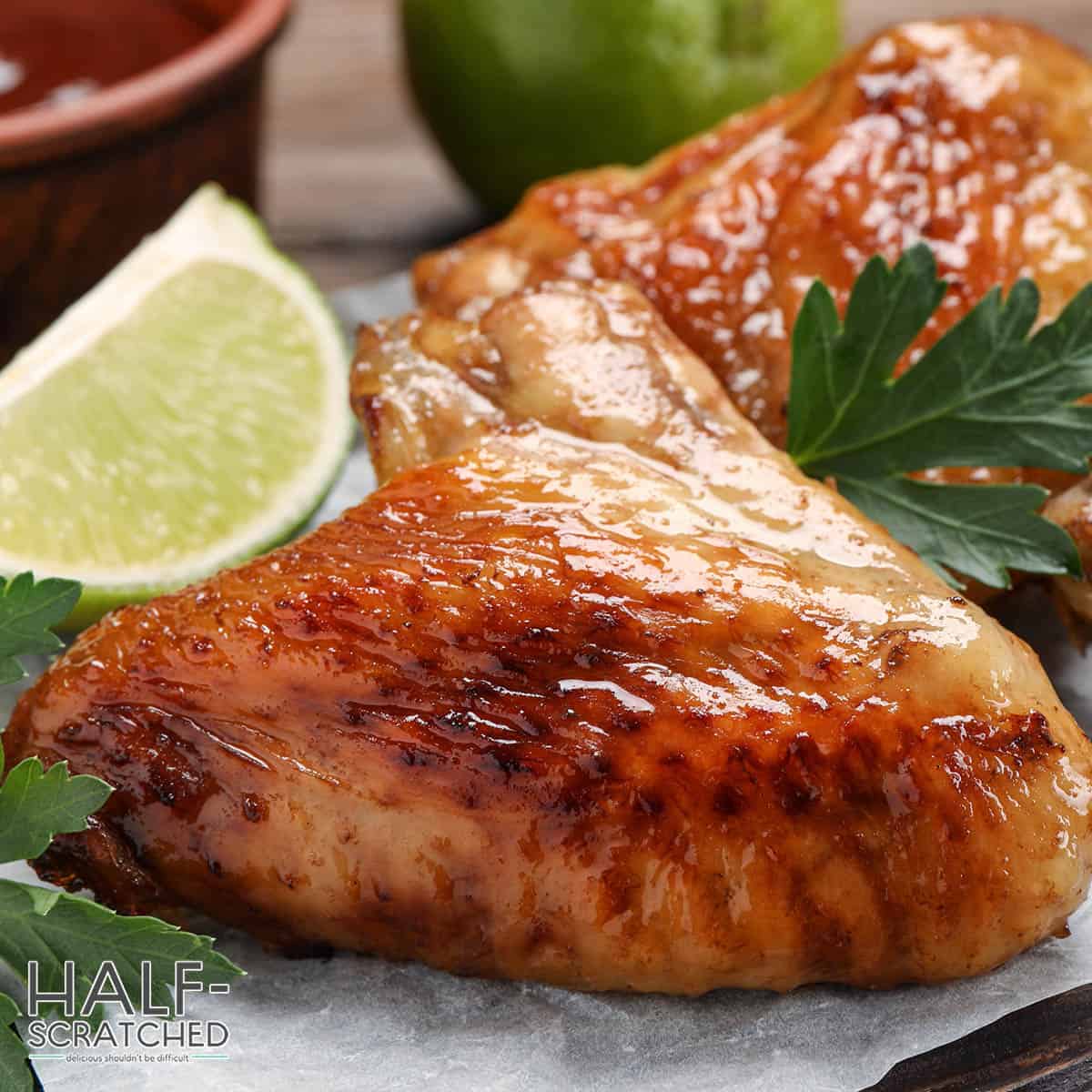 Frequently Asked Questions
Why are buffalo wings called "buffalo" wings if they come from a chicken?
The name "buffalo wings" actually comes from the city of Buffalo, New York, not the animal. The dish was created in the city in the 1960s and has since become a popular bar food and appetizer around the world. It's easily recognizable by its flaming orange color and spicy tang.
How many wings should I eat in one sitting?
There is no right or wrong answer to this question. It really depends on how hungry you are and how many wings you want to eat. However, we generally recommend eating no more than 12 wings in one sitting.
What should I serve with chicken wings?
Chicken wings are typically served with celery and carrot sticks, as well as bleu cheese or ranch dressing. However, you can really serve them with whatever you like. In China, it's not uncommon to serve chicken wings with rice or even a side of fried pork.
Which is better—flats or drumsticks?
One of the oldest and most heated debates in the world of chicken wings is whether flats or drumsticks are the better cut of meat. While it really comes down to personal preference, we generally prefer flats because they're easier to eat and have more surface area for the sauce to stick to.
Do flats and drumsticks cook in the same amount of time?
While both flats and drumsticks need to be cooked until they reach an internal temperature of 165° F, they will actually cook at different rates. This is because flats are thinner and have less meat than drumsticks. As a result, flats will usually cook faster and should be checked a few minutes earlier.
A Fool-Proof Recipe for Chicken Wings and an Added Sauce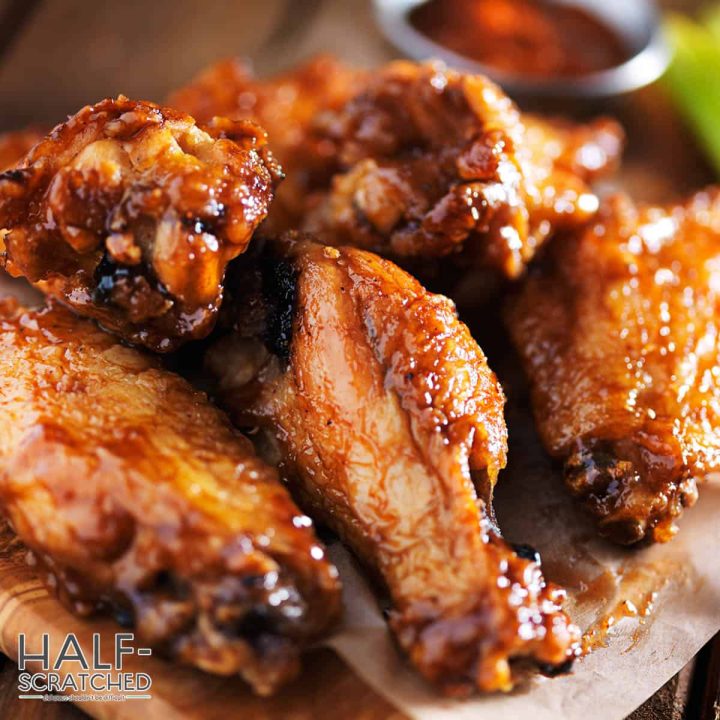 How Long to Bake Chicken Wings at 400 F
To achieve the balance of crispiness and juiciness that makes wings so delectable, you have to cook them properly.
Ingredients
3 pounds of chicken wings
1 teaspoon paprika
1 teaspoon garlic powder
1 teaspoon onion powder
1 teaspoon salt
½ teaspoon black pepper
¼ teaspoon cayenne pepper (optional)
1 tablespoon olive oil
Ingredients for Traditional Buffalo Sauce:
½ cup hot sauce
½ cup cayenne pepper sauce
¼ cup butter
1 tablespoon Worcestershire sauce
¼ teaspoon garlic powder
¼ teaspoon salt
¼ teaspoon black pepper
Instructions
Preheat your oven to 400° F and line a baking sheet with foil or baking paper.
In a large bowl, mix together the paprika, onion powder, salt, garlic powder, black pepper, and cayenne pepper (if you choose to use it).
Add the chicken wings to the bowl and toss them until they are evenly coated in the seasoning.
Drizzle the wings with olive oil and toss them again.
Spread the wings out on the prepared baking sheet and bake them for 40-50 minutes or until they reach an internal temperature of 165° F.
Meanwhile, prepare the buffalo sauce by adding all of the ingredients to a small saucepan over medium heat.
Stir until the butter has completely melted and the sauce is well combined.
Remove the sauce from the heat and set it aside.
Once the wings are cooked through, and you've allowed them to sit for 5 minutes, add them to a large bowl and drizzle them with the buffalo sauce.
Toss everything until the wings are evenly coated and serve immediately.
Nutrition Information:
Yield:

4
Serving Size:

1
Amount Per Serving:
Calories:

1314
Total Fat:

100g
Saturated Fat:

38g
Trans Fat:

1g
Unsaturated Fat:

54g
Cholesterol:

310mg
Sodium:

2288mg
Carbohydrates:

46g
Fiber:

6g
Sugar:

5g
Protein:

60g