Americans love chicken and chicken wings are arguably one of the most popular parts of the bird to eat. There's less meat on the wings but people seem to love the crispiness of the skin and the chewiness of the bones.
Chicken wings can be baked in the oven at 375 degrees Fahrenheit. To create that perfect crispy skin, bake for at least an hour. Keep an eye on them so they don't burn, and toss them around occasionally to prevent sticking.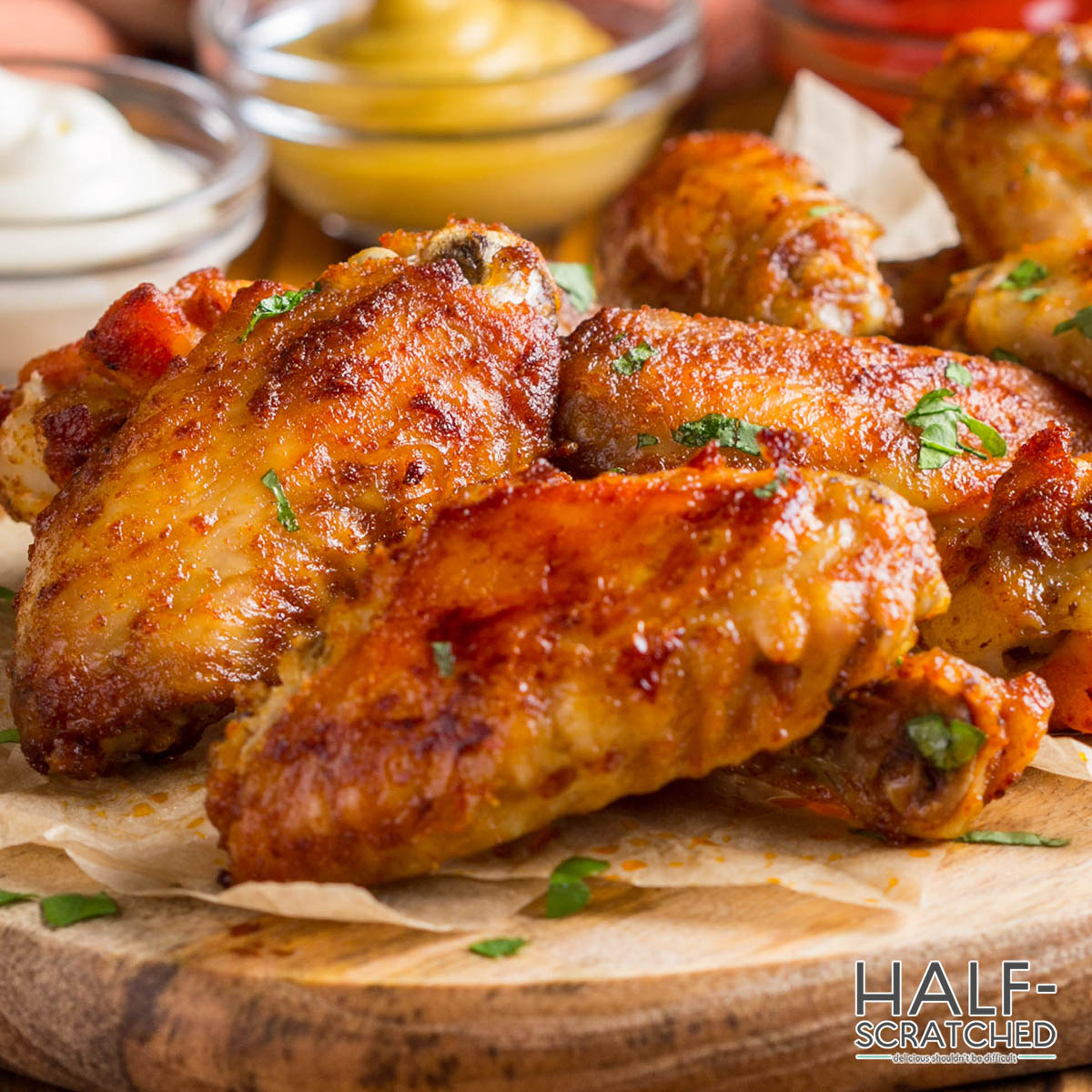 Another thing to note is that the internal temperature of the wings should be 165 degrees or higher. Unlike its red meat counterparts, chicken needs to be fully cooked.
This guide will walk you through some tips and tricks for baking chicken wings, the best marinades and seasonings for chicken wings, and a delicious crispy chicken wing dish. Read on!
How to Make Chicken Wings Crispy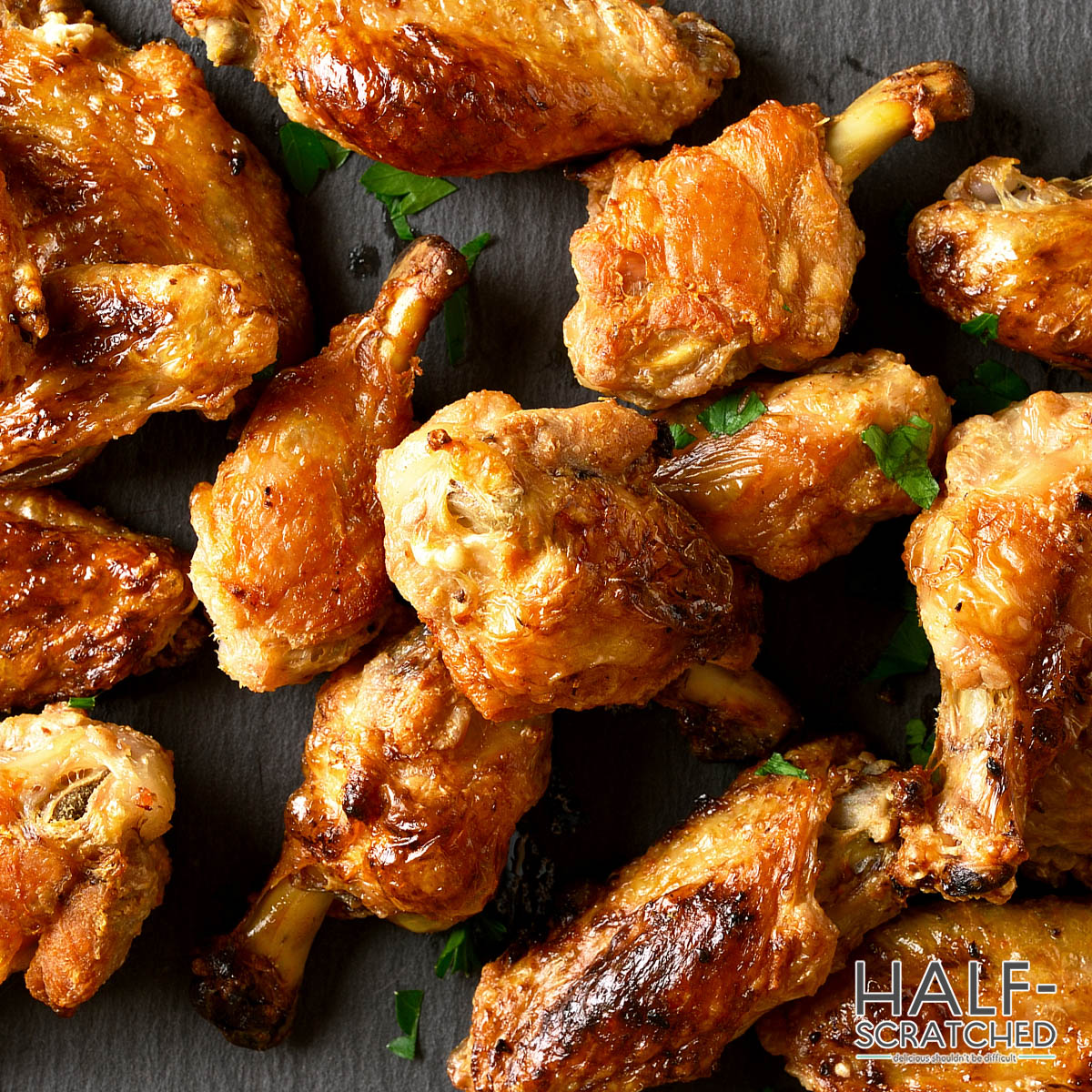 Chicken wings are best when they develop a crispy outer skin. Below are some tips for getting crispy chicken wings:
Pat the chicken wings dry: you want as little moisture as possible when crisping chicken wings, so before you start to prep them, use a paper towel to pat them dry.
Use a wire rack: instead of using a baking sheet, opt for a wire rack. Crispy chicken wings require air above and below them in the oven, so a wire rack frees up the airflow.
High heat is your friend: by baking chicken wings at high temperatures, the skin will crisp up while the inside will retain its juiciness and tenderness. Cooking at 375 is on the lower end of the temperature scale, but as long as you leave it in the oven long enough, it'll turn out perfectly crispy.
Sprinkle with baking powder: baking powder is alkaline, so it raises the chicken skin's pH, which results in crispier and more evenly browned skin. You don't need a lot of baking powder though. Otherwise, it will leave a slightly metallic taste.
How to Prep Chicken Wings for Cooking in the Oven
Perfectly cooked chicken wings are easy to make if you follow these tips before actually placing them in the oven:
Refrigerate the Chicken Wings Beforehand
Putting chicken wings in the fridge before you actually place them in the oven helps to dry them out, which will give the wings a nice, crispy skin while you're baking them. With that being said, don't immediately transfer the wings from the fridge to the oven; rather, you should take the wings out and let them warm to room temperature.
The purpose of letting the wings sit in the fridge before is to lessen the moisture on the skin, which helps with crispy skin. Bringing the wings to room temperature ensures that the oven won't have to do additional work to cook them.
Marinate or Season in a Bag the Day Before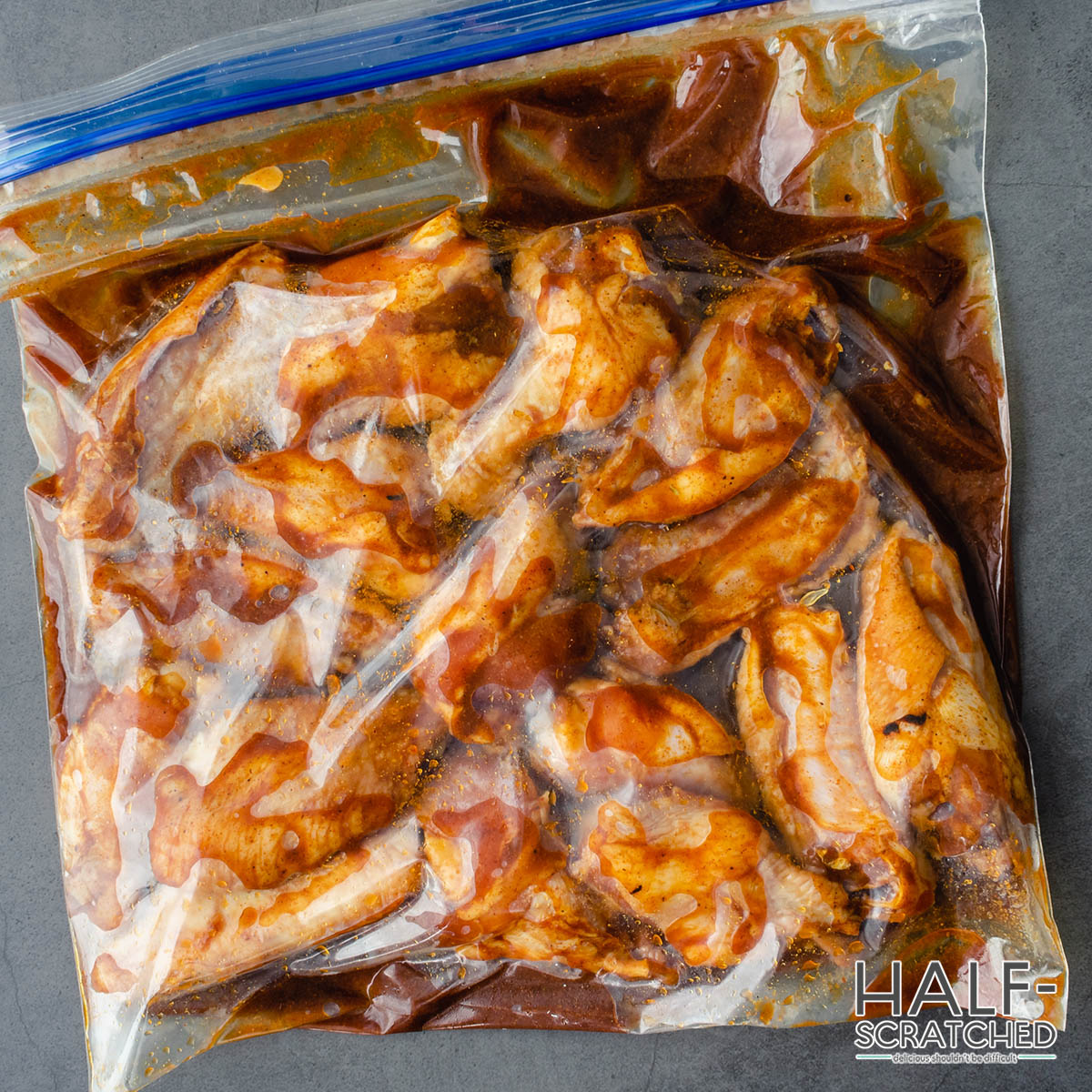 While chicken is delicious by itself, it's really the marinades and seasonings that elevate baked chicken wings. Put the chicken wings in a ziplock bag with the sauce or seasonings overnight so the flavors can soak into the meat and skin. Let it sit anywhere from six to 24 hours; after 48 hours, the meat can start to get mushy.
If you want to be more sustainable, let the wings marinate in a glass container that you can wash. Don't use metal containers since some marinades are too acidic and can result in weird flavoring.
Make Sure You Have a Big Enough Container to Cook In
When baking chicken wings, you want them spread out and not touching so each piece can fully cook. Double-check to make sure you have a container that will allow the chicken wings to be spread out. If you don't, then you should cook the wings in batches.
My Top Tips for Cooking Perfect Chicken Wings
Oven-cooked chicken wings are an easy way to create a delicious dish, even if you're a novice chef. Here are some general tips to think about before starting to prepare your chicken wings:
Toss Chicken Wings in Neutral Oil So They Don't Stick to the Tray
It happens with other food items when baking but tossing anything with oil will prevent sticking. Use a neutral oil like canola oil so it doesn't interfere with the flavoring or marinades. You don't need a lot and remember to do this before adding other flavorings.
Make Sure Chicken Wings Are Fully Cooked Before Adding Sauce
Marinades and seasonings are what are added before cooking the chicken wings and sauces should be added after the wings are fully cooked. The preferable way is to do it right before people will eat them since the wings can get soggy if they are sitting in sauce for too long.
Invest in a Meat Thermometer
It is so important, especially when it comes to meat, to have a thermometer because the internal temperature will determine how cooked it is. Chicken should have an internal temperature of 165 degrees Fahrenheit. Even if it's slightly undercooked, it can make you sick so take caution.
Will Chicken Wings Last in the Fridge?
If you cooked a lot of chicken wings, it's likely you may not be able to finish it all! Luckily, the USDA states that cooked chicken is good for up to four days in the fridge. It slows down bacterial growth but, unfortunately, doesn't stop it.
How Do I Heat up Chicken Wings?
The problem with leftover chicken wings is that they often aren't as crispy as when they were fresh out of the oven. There are some tricks that you can do so your leftover chicken wings are just as tasty as before:
Let the chicken wings get to room temperature. This will help them crisp up better.
Make sure they are spread out on the tray or sheet so they fully warm up.
Heat up on one side and then flip them over after about 5 minutes or so
You can also heat up your chicken wings in an air fryer or in the microwave. It should be noted that the microwave is won't retain the wing's crispiness. If that's what you're aiming for, you can heat the wings up in the microwave and then transfer them to the oven.
Spices and Marinades for Chicken Wings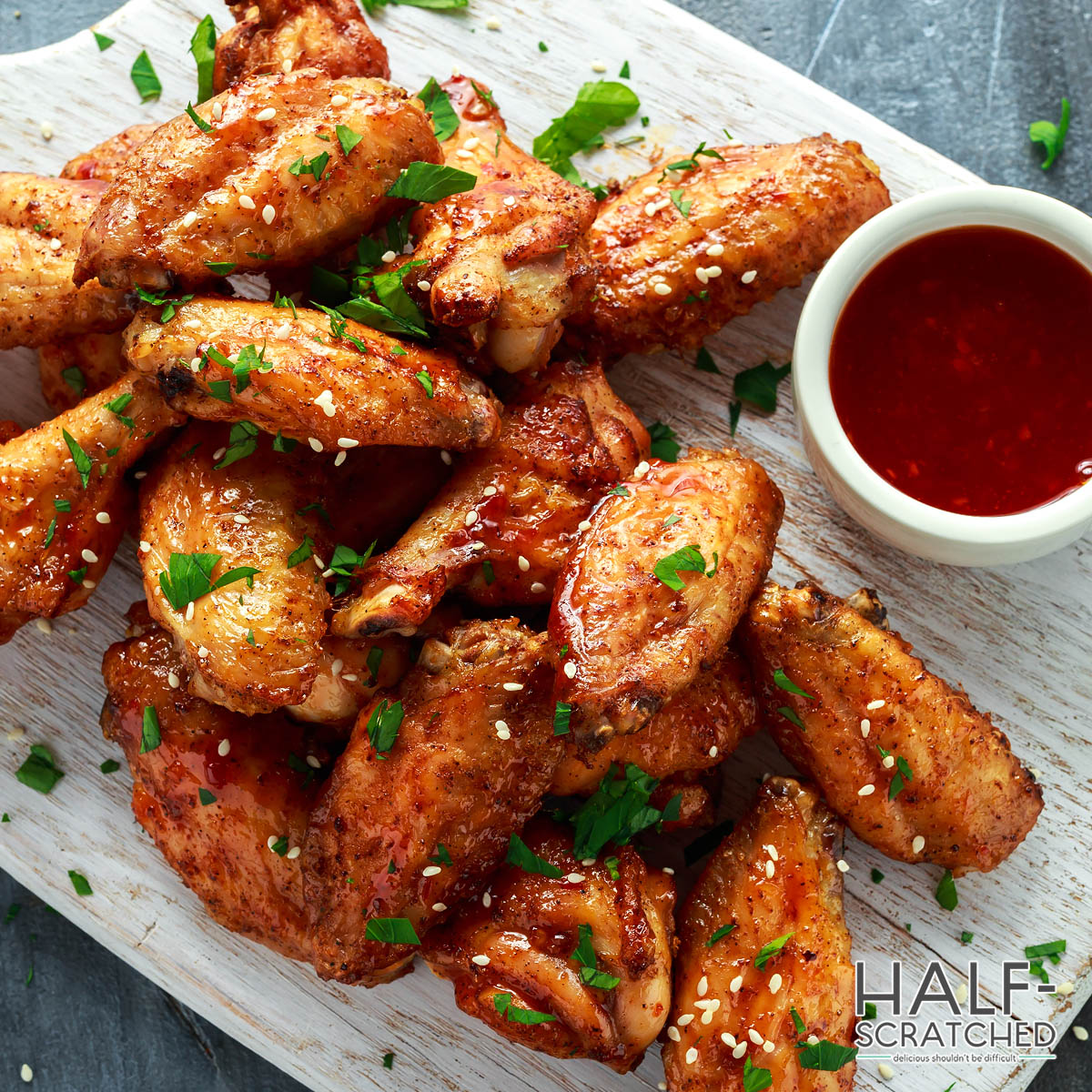 While chicken wings can be delicious without marinades or sauces, it's important to use spices and other toppings to make the chicken wings as flavorful as possible:
Salt and pepper: this is a simple combination, but salt and pepper can really bring out the meaty flavor of chicken wings.
Acidic sauces: juices or sauces that contain vinegar, wine, tomato juice, or citrus juices are great for chicken wings and give them a slightly more pungent taste.
Garden herbs: sometimes, the best toppings can be found in your garden! Herbs like rosemary, thyme, or sage are an easy way to make your chicken wings more flavorful.
Chili powder or pepper-based sauces: if you like things hot, add some chili powder or pepper-based sauces to your chicken wings! The spiciness adds a nice kick to the meat.
Barbecue sauce: similar to chili powder, barbeque sauce gives chicken wings some zing. Whether it's more acidic or sweet, it's sure to make addictive wings.
Perfect Garlic Chili Chicken Wings Recipe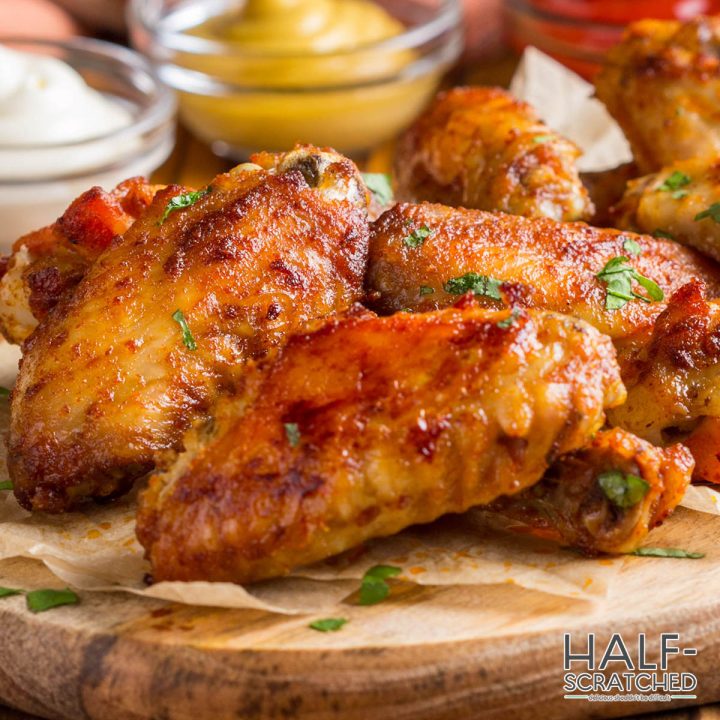 How Long to Cook Chicken Wings in the Oven at 375 F
Total Time:
1 hour
10 minutes
Chicken wings can be prepared in a variety of ways but this article will show how to cook perfect chicken wings in the oven at 375 degrees.
Ingredients
16 chicken wings
3 tablespoon oil
3 pressed garlic cloves
1 teaspoon garlic powder
2 teaspoon chili powder
salt and pepper to taste
Instructions
Preheat oven to 375 degrees Fahrenheit.
Combine all the ingredients (minus the chicken wings) together. Put the mixture plus the chicken wings in a resealable bag and shake it up.
Arrange the chicken wings on a baking tray. Cook for about one hour or until the wings are crisp and cooked through.
Nutrition Information:
Yield:

1
Serving Size:

1
Amount Per Serving:
Calories:

1815
Total Fat:

147g
Saturated Fat:

40g
Trans Fat:

1g
Unsaturated Fat:

96g
Cholesterol:

351mg
Sodium:

2137mg
Carbohydrates:

50g
Fiber:

4g
Sugar:

2g
Protein:

74g