This week Nathan and I are attending the Toscana Saporita cooking school in Tuscany thanks to Colombo Wine and my trip-winning chicken Marsala panini recipe). I had hoped to have a slew of guest posts lined up but at the rate I was going, I was lucky to get childcare lined up (thanks, Mom and Dad!).
Not wanting to leave you without some delicious content, I thought I'd share my top three most pinned recipes...and they're good ones, believe you me. In fact, this sweet onion crack dip is just that—crack.
Heated up. And served with a crunchy baguette.
...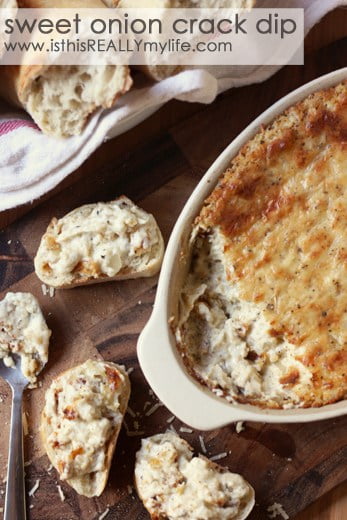 ...
Featured in White on Rice Couple's new cookbook, Bountiful: Recipes Inspired by Our Garden, this sweet onion crack dip must be served at every get-together. Or at least at every get-together at which you want to be the favorite.
It's THAT good.
In fact, I suggest you double it and the bread. It makes for the yummiest late-night snack. And mid-morning snack. And afternoon snack...
You can get your dose of sweet onion crack dip by clicking on the image above or the link here: https://www.halfscratched.com/2013/10/sweet-onion-crack-dip-bountiful-cookbook/.
...


Feel free to "like" is this REALLY my life? on Facebook. It won't always earn you an extra entry in a giveaway but it will give you warm fuzzies.
Don't forget to sign up for free is this REALLY my life? updates via RSS or email so you don't miss a single awesome post.
...