Post may include affiliate links to support my Diet Coke habit.
Very rarely do I find something healthy that also satisfies my sweet tooth. Those Fiber One 90-calorie brownies just don't cut it, so when I stumbled across these no-bake energy bites (and I had all the ingredients on hand), I knew I had to give them a try.
Holy crap, were they good—like, absolutely delicious. In fact, writing this post has me thinking I need to go in the kitchen and make another batch of no-bake energy bites...or peanut butter oatmeal protein bites as I like to call them.
Actually, their proper name is "peanut butter oatmeal honey chocolate chip bites of yumminess."
.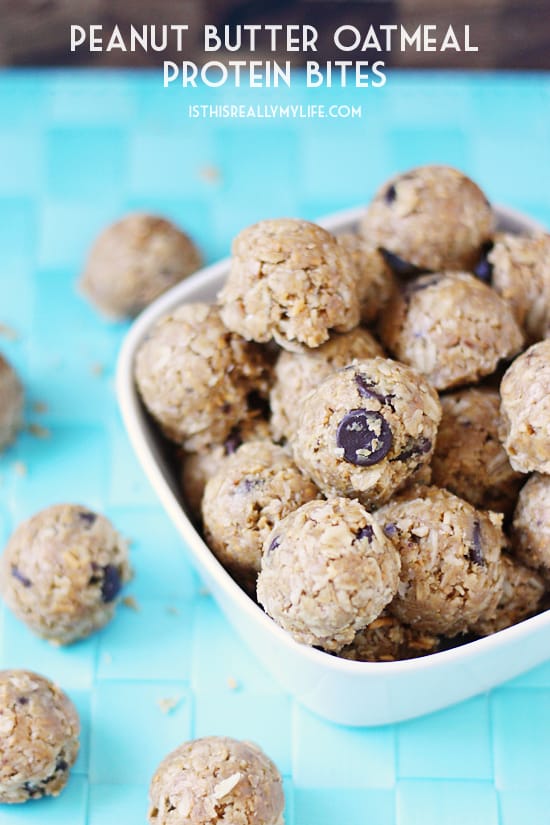 .
I tweaked the original recipe just a little bit, and then tweaked it again. That's what's nice about these no-bake energy bites—you can change up the recipe until your sweet tooth is completely satisfied.
And I've found the absolutely best way to control portion size is to use a small or medium cookie scoop like this OXO cookie scoop. Plus it makes shaping the energy bites that much easier.
Printable recipe for no-bake energy bites (aka peanut butter oatmeal protein bites) below.
...

No-Bake Energy Bites (aka Peanut Butter Oatmeal Protein Bites)
Super easy and healthy snack packed with protein. Change it up by leaving out the chocolate chips and substituting raisins or craisins. Or use toasted coconut instead of shredded. You could even use maple syrup or agave in place of the honey.
Author:
Emily ~ isthisREALLYmylife.com
Ingredients
1 cup old-fashioned rolled oats
1 cup shredded coconut
½ cup all-natural peanut butter
½ cup ground flaxseed
½ cup mini chocolate chips
⅓ cup honey
1 tsp. vanilla extract
Instructions
Stir all ingredients together in a medium bowl until thoroughly mixed.
Let chill in the refrigerator for half an hour.
Once chilled, roll into balls of whatever size you would like. (I used the smallest scoop from Pampered Chef.)
Store in an airtight container and keep refrigerated for up to 1 week.
...

Feel free to "like" is this REALLY my life? on Facebook. It won't always earn you an extra entry in a giveaway but it will give you warm fuzzies.
Don't forget to sign up for free is this REALLY my life? updates via RSS or email so you don't miss a single awesome post.
...