If it weren't for Nathan's birthday, you'd probably never see lemon bars on this blog. I'm not a huge fan of lemon desserts but that doesn't stop me from making them for Nathan. When I went looking for the perfect lemon bar recipe, I found these Meyer lemon bars from FoodieCrush. OF COURSE I was going to make them—anything and everything on Heidi's site is sure to be amazing. These lemon bars were no exception.
…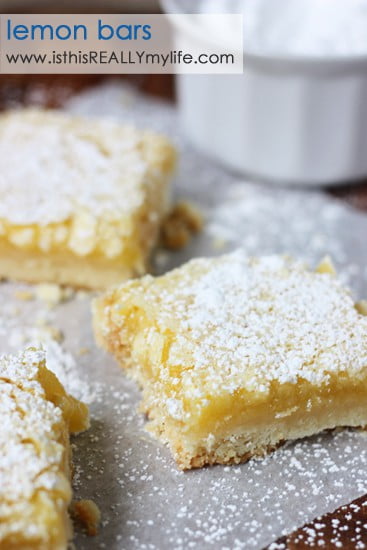 …
Sadly, I didn't have any Meyer lemons (nor did my local grocery store), so I substituted regular lemons when I baked them. And guess what? They were still scrumptious. How do I know? Because I may have sampled the trimmings as I placed the squares on the platter. Yes, even this gal thought they were divine. In fact, this gal may have nibbled on the leftovers the next day.
I paired these lemon bars with my famous key lime pie for Nathan's birthday dessert. Needless to say, I'm still his favorite.
…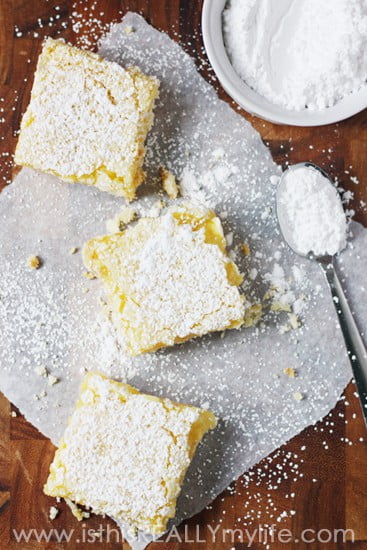 …
Printable recipe for homemade lemon bars below.
…

Lemon Bars
These lemon bars are quite possibly the best lemon bars you'll ever eat in your life. Recipe adapted from FoodieCrush's Meyer Lemon Bars.
Author:
Emily ~ isthisREALLYmylife.com
Ingredients
½ cup powdered sugar
1 cup salted butter, softened
2 cups plus ½ cup flour
4 eggs
2 cups sugar
⅓ cup fresh squeezed lemon juice
1 T grated lemon zest
½ tsp baking powder
Instructions
Preheat oven to 350 degrees. Line a a 9x13-inch pan by criss-crossing pieces of aluminum foil. Allow for an overhang of an inch or two. Generously coat with cooking spray unless using non-stick aluminum foil.
Cream the powdered sugar and butter together until light and fluffy (2 to 3 minutes). Add 2 cups of flour and beat on medium speed until combined. Press into the bottom of the prepared baking pan and bake for 15 to 20 minutes or until edges are golden.
Beat the eggs, sugar, lemon juice and lemon zest in a large bowl. Sift the reserved ½ cup flour and baking powder into the mixture and mix well.
Pour over the hot crust and return to the oven for another 20 to 25 minutes or until set. Check after 20 minutes and add time as needed. (A toothpick should come out mostly clean when stuck in the middle of the custard filling.)
Cool completely before cutting. Dust with powdered sugar and serve.
…

Feel free to "like" is this REALLY my life? on Facebook. It won't always earn you an extra entry in a giveaway but it will give you warm fuzzies.
Don't forget to sign up for free is this REALLY my life? updates via RSS or email so you don't miss a single awesome post.
…