One of the most popular meats to smoke is brisket, a tender part of the cow found on the pectoral muscles.
Brisket is delicious when smoked at 250 degrees Fahrenheit. You should smoke your brisket for approximately 90 minutes per pound. A whole brisket can weigh anywhere between 10-18 pounds, so the total smoking time can be anything between 15 to 27 hours. Your brisket will be ready when the thickest part of the brisket reaches an internal temperature of 195 to 205 degrees Fahrenheit.
This article will teach you tips and tricks on how to smoke a perfect brisket and provide a delicious smoked brisket recipe at the end.
What is Brisket?
Brisket comes from the lower breast or pectoral muscles of a cow. Generally, it's quite tough because these muscles are used often, but by cooking it slowly (e.g., smoking), it can be tender. The term "brisket" encompasses a pretty large cut of meat: the flat, which is thinner, and the point, which is the thicker and fattier section.
The flat usually has a thin layer of fat on one side and tends to be the leaner of the two cuts. It has a uniform shape. The point is the fattier part of the brisket and is more often used for smoking.
Why Smoke Brisket?
Brisket, especially the point part, is fattier, which means that it'll be very tender and flavorful. As mentioned before, the muscles around the brisket are used quite often, so if it's not cooked correctly, it can be tough.
Because smoking is such a slow way to cook, it breaks down the muscle tissue and collagen, resulting in meat that is tender and feels like it melts in your mouth.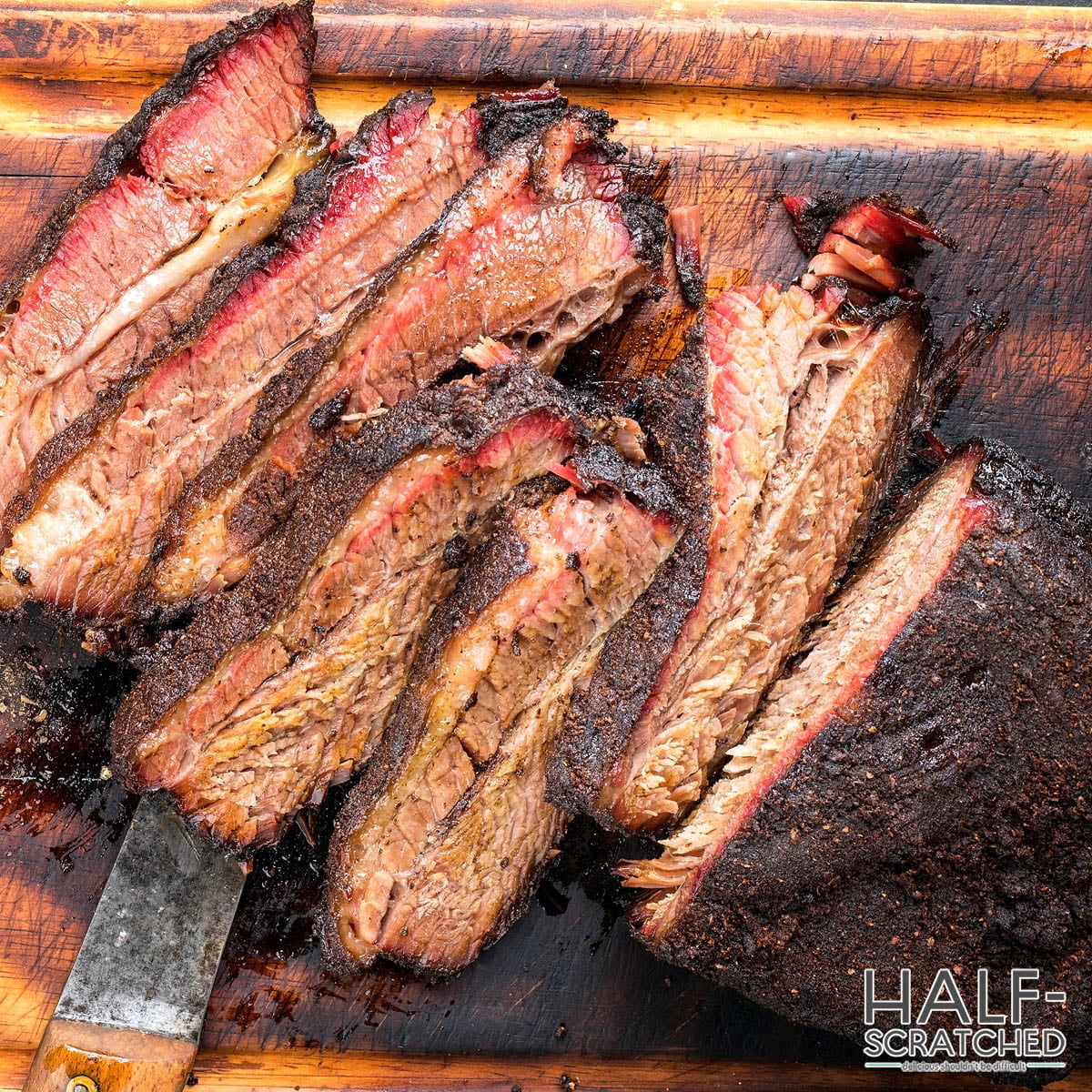 How to Choose a Good Brisket
Once you've decided you want to smoke brisket, there are some things to keep in mind before buying it:
A good amount of fat: when it comes to brisket, fat is good! The brisket that you buy should be about ¼ inch thick to one inch. Whole briskets will have a fat cap, which shouldn't be longer than an inch because you'll end up cutting it off anyway.
Not stiff: quality brisket will be floppy and should not be able to stand up on its own.
Read labels: look for a brisket that is labeled "prime." This means that it'll be the top-most quality. A brisket that is "choice" is also good. Try to avoid anything labeled "select."
Check out the color: a high-quality brisket will be a dark red color, so much so that it will almost look purple. For the fat, it should be a clear white color.
Look for marbling: marbling in meat refers to the intramuscular fat within the cut. It looks like marble, hence the name. If the brisket has a good amount of marbling, it'll taste richer and more tender.
Brisket is best bought at a butcher shop because they'll know exactly how to cut it and help you choose a piece that will be high quality. With that being said, brisket is also available at grocery stores or warehouse stores, but you should be knowledgeable in knowing what to look for in the brisket.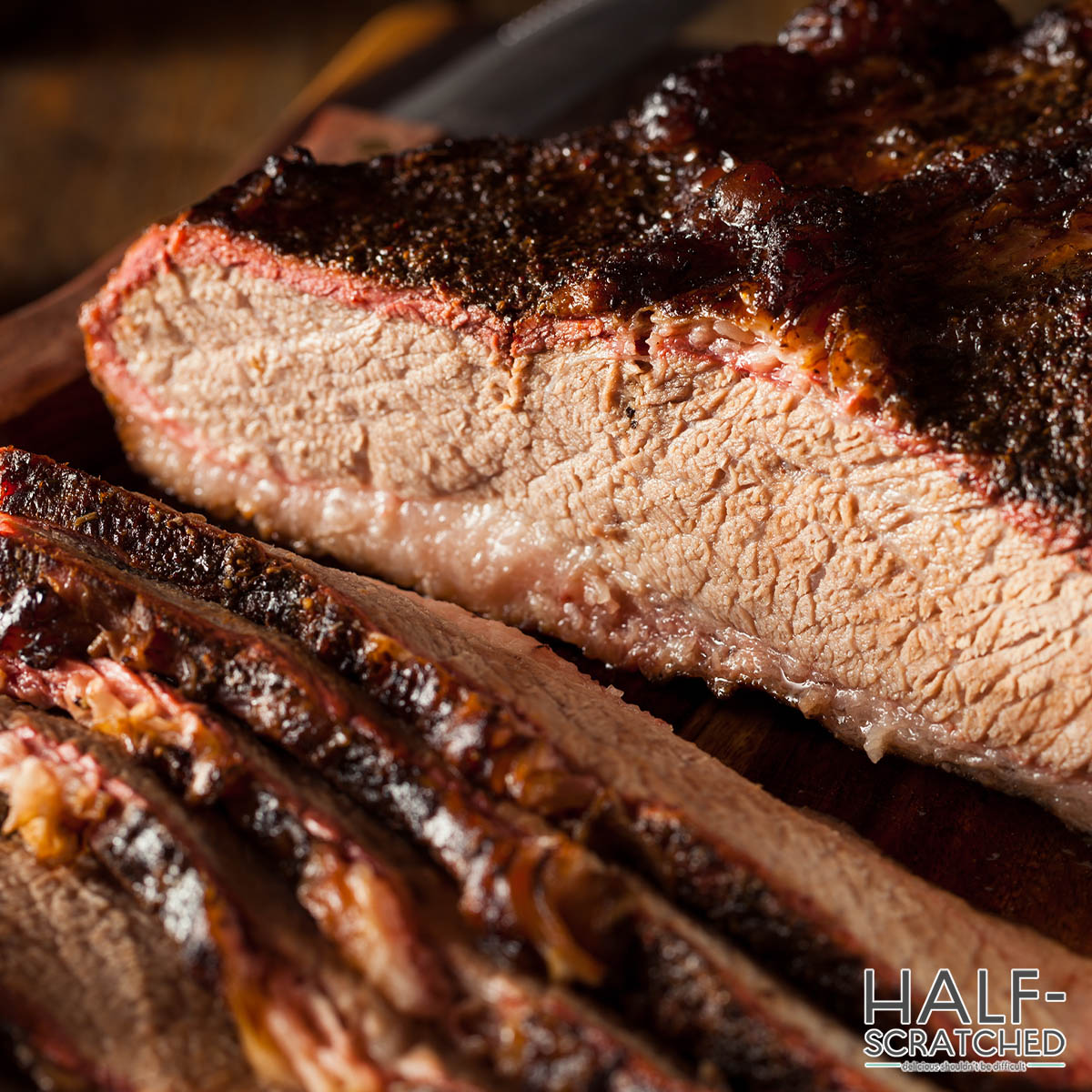 Expert Tips for Smoking Brisket
Whether it's your first time smoking brisket or you consider yourself an expert, remember these tips to make the perfect meal!
Buy the Point
Brisket is a pretty large cut of meat, so unless you're feeding a lot of people, you truly only need one part of the brisket: the point. It's the fattier part. Therefore it's going to be more tender and flavorful.
Smoke Brisket as Long as Necessary
The great thing about smoking brisket is that you can keep it in the smoker past the cooking time. For other meats, there's always a risk of overcooking it and the meat becoming tough; with smoking, the brisket will actually benefit from being cooked a little over as it'll become more tender because everything cooks so slowly.
Keep Temperatures Consistent
The important thing about smoking brisket is that the temperature needs to be the same for the entire duration of the smoking process. For example, smoking it at 250 degrees Fahrenheit means that it should remain 250 degrees for however long it takes to cook the brisket. Therefore, it's important that you have enough fuel that you can add throughout the smoking process.
Is It Ok to Cut Brisket in Half?
Most full-size briskets can be too big for a smoker or provide too much food for the average family. Because of this, many people choose to cut their brisket in half. To do this, find the fat seam and cut down it, which will be easier than cutting the meat.
Do I Have to Let the Brisket Rest?
Brisket should rest at least an hour after taking it out of the smoker. This means that the juices will settle, which won't happen if you cut into the meat immediately. Do not let the brisket sit for more than two hours, though; if you do, the brisket will cool down, and then reheating it might give it a weird texture.
How Long Will Smoked Brisket Last in the Fridge?
Raw brisket can last in the fridge for several days, depending on the temperature. For refrigerators that are between 35 degrees and 40 degrees Fahrenheit, the brisket is typically good for five days. If it's colder than 35 degrees, then up to eight days.
After the brisket is cooked, it can be refrigerated for up to four days, as long as it's done so within two hours of removing it from the smoker.
Texas Style Smoked Brisket Recipe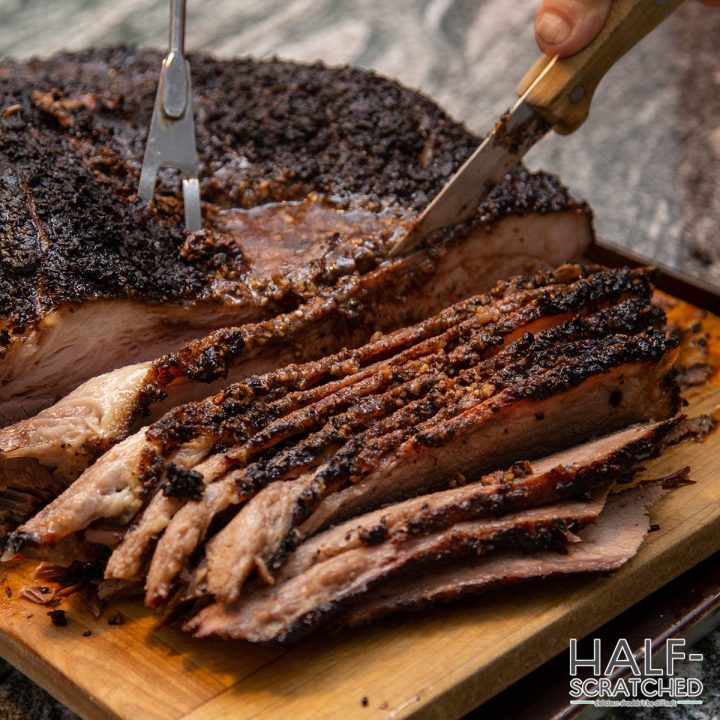 How Long to Smoke a Brisket at 250 F
Total Time:
18 hours
30 minutes
Smoked brisket is a favorite across America and our article shows you how to smoke perfect brisket at 250 degrees Fahrenheit.
Ingredients
12 pound beef brisket
2 tablespoons garlic powder
2 tablespoons salt
2 tablespoons ground pepper
Instructions
Trim the excess skin and fat. Set it aside as your preheat the oven to 250 degrees.
Mix all the spices in a bowl and pour over the entire brisket. Rub it in until everything is evenly distributed.
Smoke for around 18 hours, or until the internal temperature reads 165 degrees.
Nutrition Information:
Yield:

14
Serving Size:

1
Amount Per Serving:
Calories:

1130
Total Fat:

72g
Saturated Fat:

28g
Trans Fat:

0g
Unsaturated Fat:

34g
Cholesterol:

412mg
Sodium:

1094mg
Carbohydrates:

2g
Fiber:

0g
Sugar:

0g
Protein:

112g