Brisket is the crown jewel of any grill master's repertoire. When cooked right, it's crispy and delicious on the outside but tender and juicy on the inside.
Unfortunately, it's also a notoriously tricky cut to work with and easily becomes overcooked and dry. So I've prepared this guide to answer all your questions and provide you with all the resources necessary to smoke brisket like real B-B-Q royalty!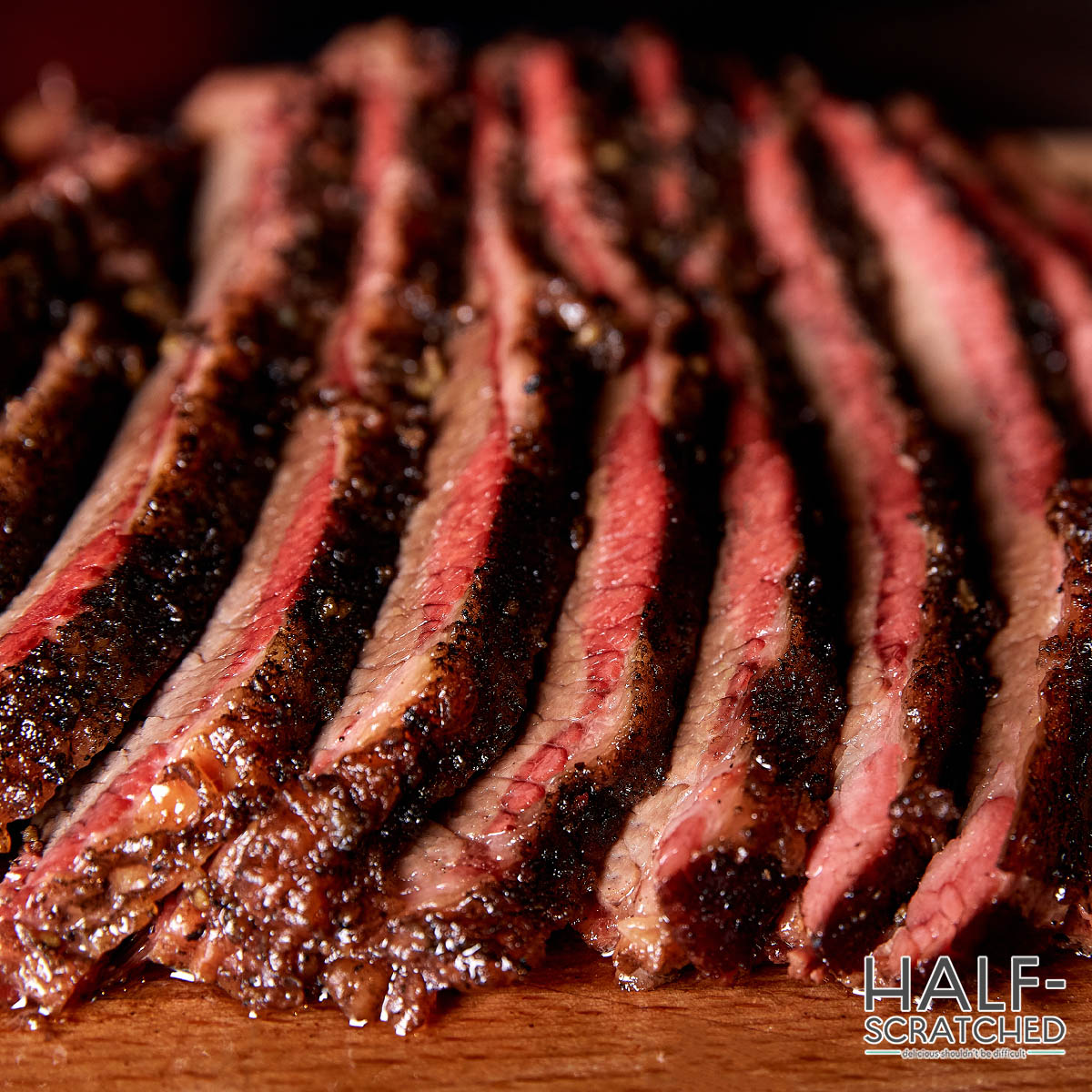 When smoking your brisket at 225 Fahrenheit, allow 1.5-2 hours per pound. A 12-pound brisket would smoke for 18-24 hours, a 15-pound brisket would smoke for 22.5-30 hours, and an 18-pound brisket would smoke for 27-36 hours. Cook time can be influenced by many different variables, and it is, therefore, essential to monitor your brisket's internal temperate. Once it reaches 190°-200° F internally, your brisket is ready to remove from the smoker.
This might all sound like an involved process, but it's worth the time and effort. Smoked brisket is one of the most prestigious and well-loved cuts of barbeque in the world and for a good reason. It's completely delicious! Luckily, I'm here to guide you through the process of smoking a brisket. Keep reading below and learn everything there is to know.
What is Brisket?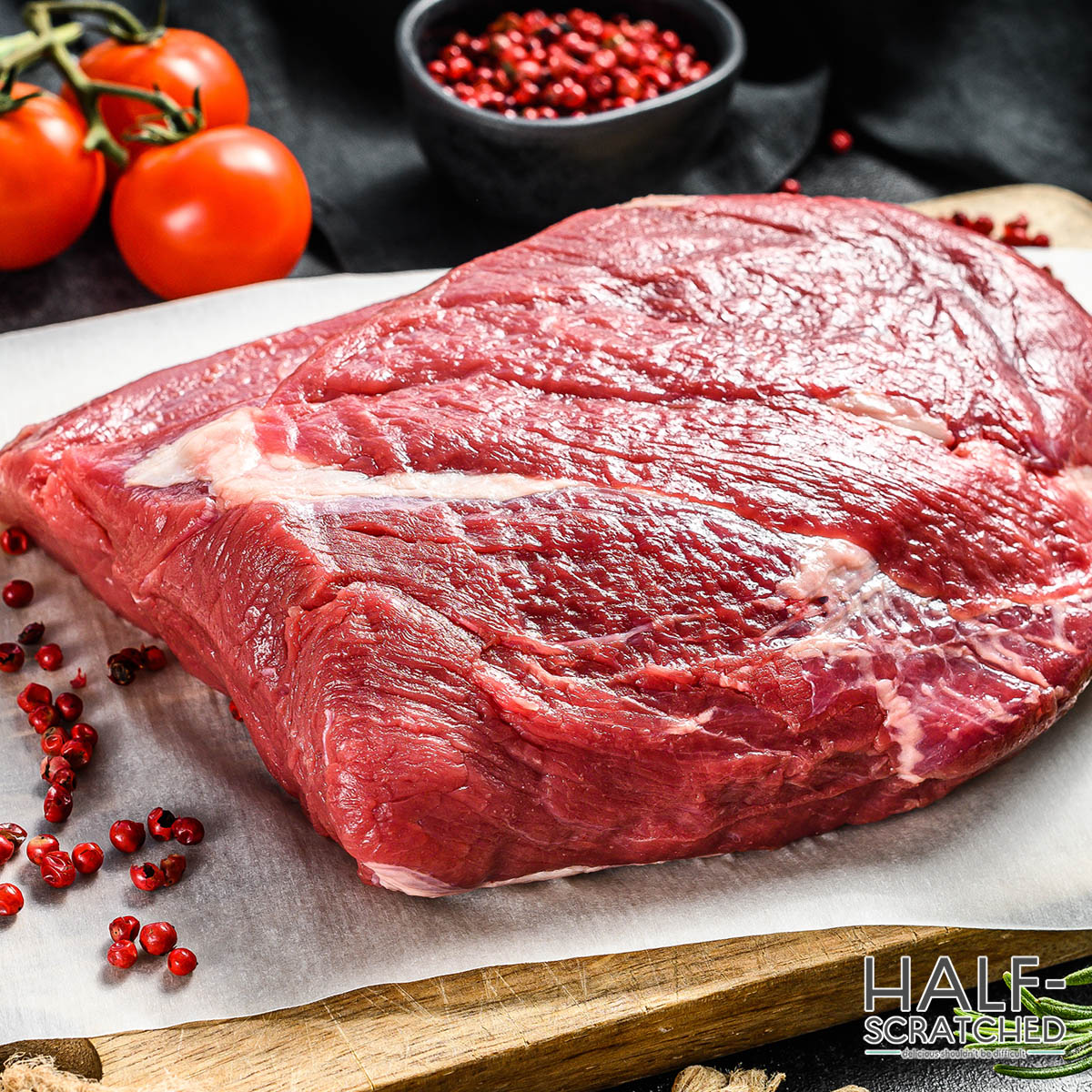 Brisket comes from the lower chest (or breast) of a cow. It has two sections: the point and the flat. The point is thicker and comprised of denser, fattier meat that can take a bit longer to cook than the flat. The flat is mostly meat and connective tissue.
One side of the brisket is coated in a layer of fat called the fat cap. It is typically about 1 inch thick. The side opposite the fat cap is known as the top. Occasionally, you might find brisket sold as flat only—this is called a "flat" or "half" brisket. A "full-packer" is the entire brisket, point and flat together. A full packer typically weighs 12-18 pounds.
Low and Slow is the Way to Go
As you might expect from a muscle responsible for bearing the weight of an entire cow, brisket is full of connective tissue, which can get pretty tough. Therefore, it is essential to slowly cook this cut at a low temperature for a long time. A lower temperature of 225° F prevents the brisket from drying out, while slow cooking gives all that connective tissue plenty of time to fully break down. Higher temperatures may cook the meat faster, but you risk ending up with an overcooked and unpleasant brisket.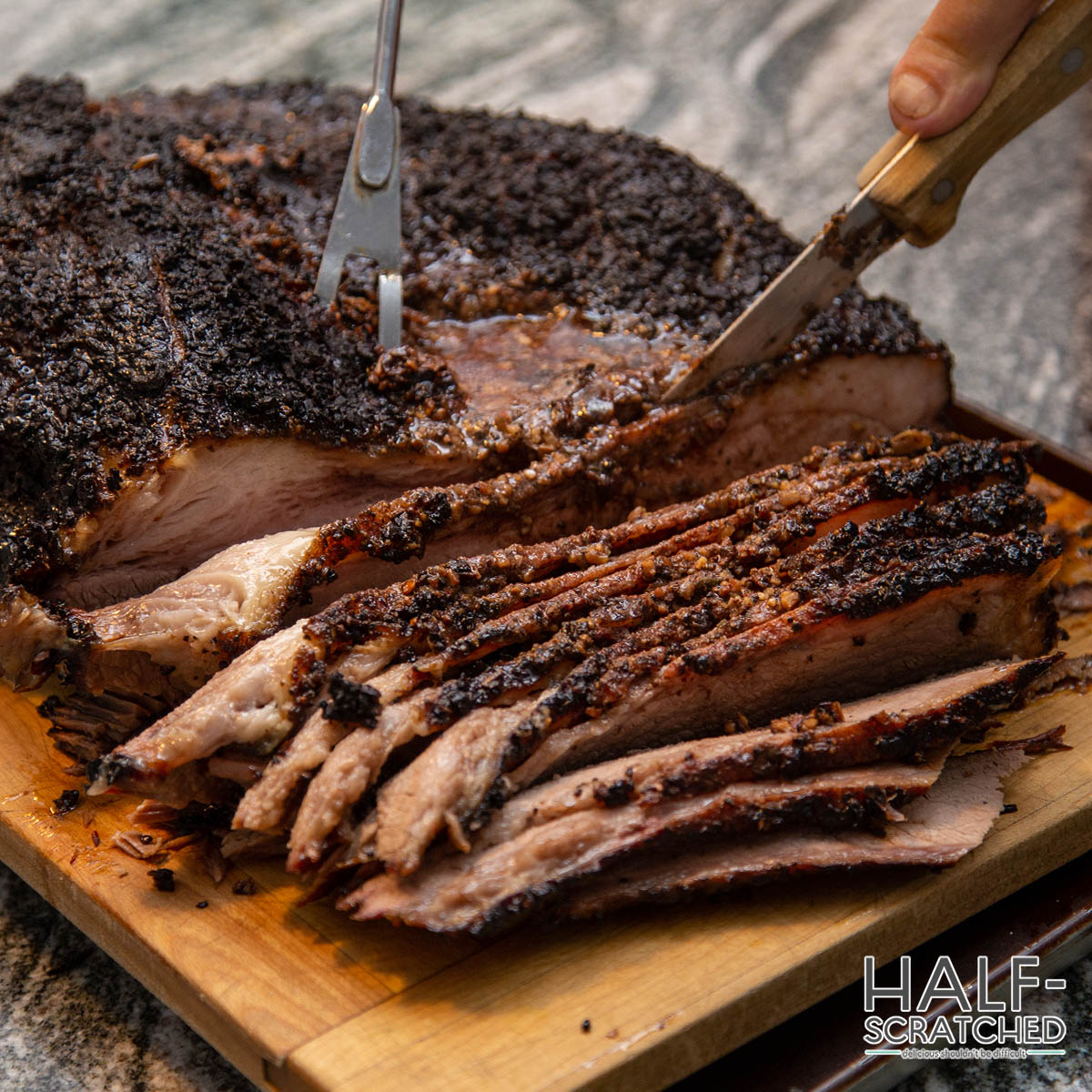 Best to Smoke Brisket in 225° F or 250° F
It is impossible to say which temperature will produce the perfect brisket. Every smoker is slightly different and may perform better at a slightly higher or lower temperature. Some people prefer a deeper smokey flavor and higher levels of doneness. All these things make the perfect temperature a matter of taste.
At 225° Fahrenheit, the meat's proteins will begin to break down without rendering the fat too quickly. The resulting brisket will be soft and moist without becoming mush. It will allow for an evenly cooked brisket with a balanced smokiness. If you are new to smoking or figuring out a new smoker, stick to 225°. This aligns with the low and slow motto and will prevent overcooking.
If you're slightly more experienced and familiar with your smoker, then feel free to experiment with a slightly higher temperature. 250° Fahrenheit will give the brisket a stronger, smokier flavor, but may result in a slightly drier cut of meat. When using a higher temperature adjust the smoking temperature accordingly, and, as always, monitor the internal temperature with a thermometer.
Regardless of what temperature you use, know the internal temperature should be no less than 190° Fahrenheit when finished. Once it reaches this temperature, you can safely remove your brisket from the smoker and allow it to rest. It will continue to rise in temperature for a short period of time and can be carved after about 20 minutes.
Always Trim Your Brisket
Now that you know how long to smoke brisket at 225° Fahrenheit, it's time to trim the meat. This means cutting off any hard, inedible fat and removing unattractive edges. Start by patting the brisket dry, then trimming the fat cap to an even ¼-inch layer. Next, remove any fat and skin from the top side. Where the flat and point connect, there will be a chunk of hard fat. This should be removed entirely. It is possible to ask your butcher to trim your brisket for you.
Use Rubs and Marinades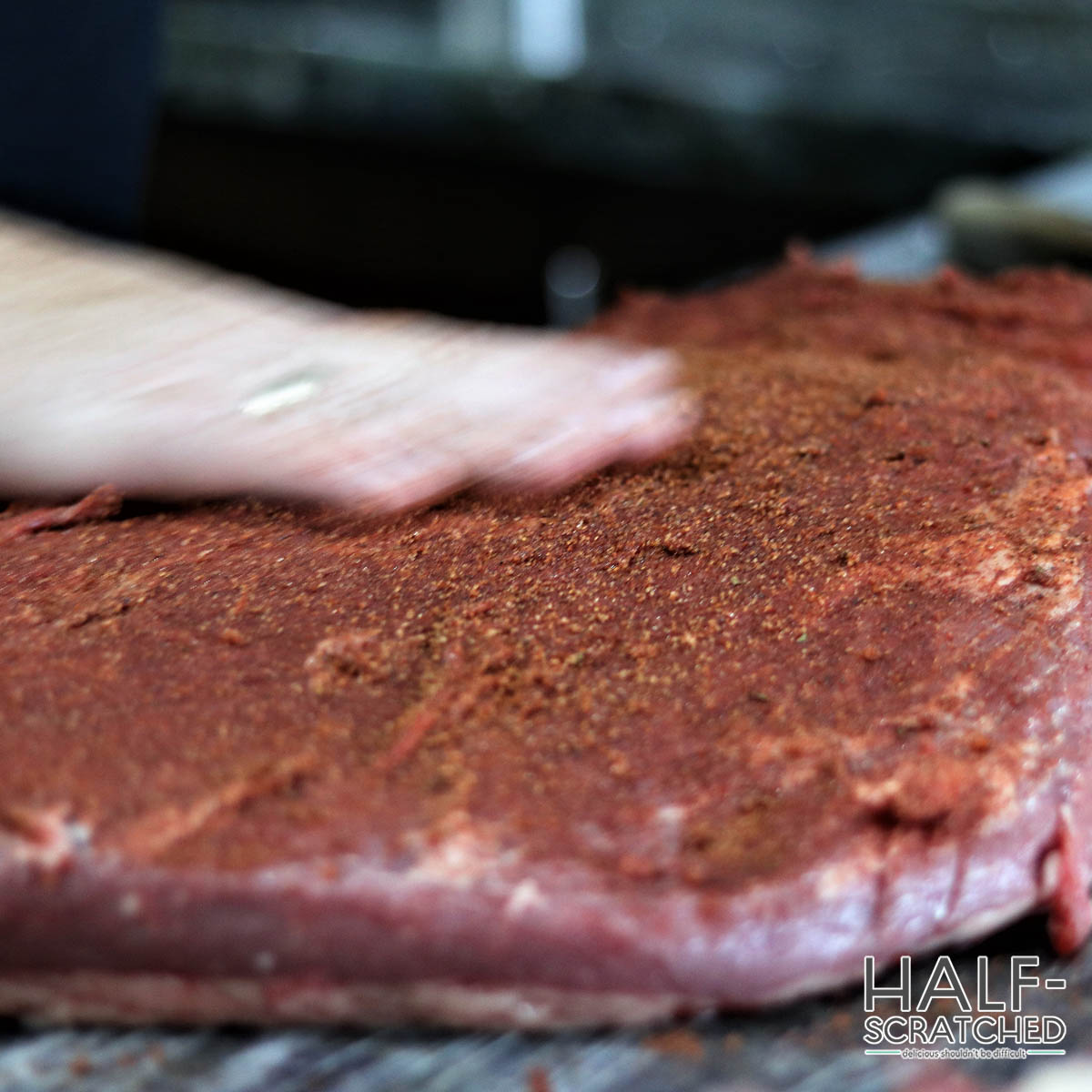 Rubs are essential! Not only do they enhance flavor, but, more importantly, they give smoked brisket its signature bark—the crispy, blackened crust that enfolds a properly cooked brisket. A rub can be as simple as equal parts salt and pepper. I recommend adding some paprika, onion powder, and garlic powder to the mix. To get the most out of your rub, use it generously. After coating your brisket entirely, wrap it in plastic wrap and refrigerate it for 12-24 hours.
If you've got time to spare and really want to go the extra mile, you might try marinading your brisket before applying the rub. When preparing a brisket to be smoked master BBQers often inject their marinades into the meat using a kitchen-grade meat injector. After injecting, you'll want to wrap your brisket in plastic wrap and allow it to marinade overnight. When you're ready to smoke your meat, remove the plastic wrap and apply the rub.
Smoke the Brisket Fat Cap Down
One matter of debate surrounding brisket is whether to cook it top-side down or fat-cap down. Proponents of top-side-down argue that the melting fat will add flavor and moisture to the meat as it drips down the brisket. This has not been my experience. I have found that the fat merely washes away the rub. Moreover, placing the top side down hinders the formation of bark on the brisket. Fat-side down results in a tastier and more presentable brisket.
Wrap Your Brisket to Avoid Dryness
Brisket is notorious for what is known as "the stall." This is when the meat reaches around 165°-170° and surface evaporation prevents the meat from increasing further in temperature. This can lead to dryness if not handled appropriately. To avoid "the stall," wrap your brisket in a packet made from foil or parchment paper once it reaches the danger zone of 165°-170°. Adding a liquid like beef broth to the packet also helps to prevent dryness.
Remove from the Smoker
Once your brisket reaches an internal temperature of 190°-200° it is ready to remove from the smoker. At this point, inserting your thermometer into the thickest part of the point should feel like inserting a knife into room-temperature butter. The exterior should be covered in a beautifully blacked bark and the meat should pull apart easily. Once finished, allow your brisket to rest for about 20 minutes.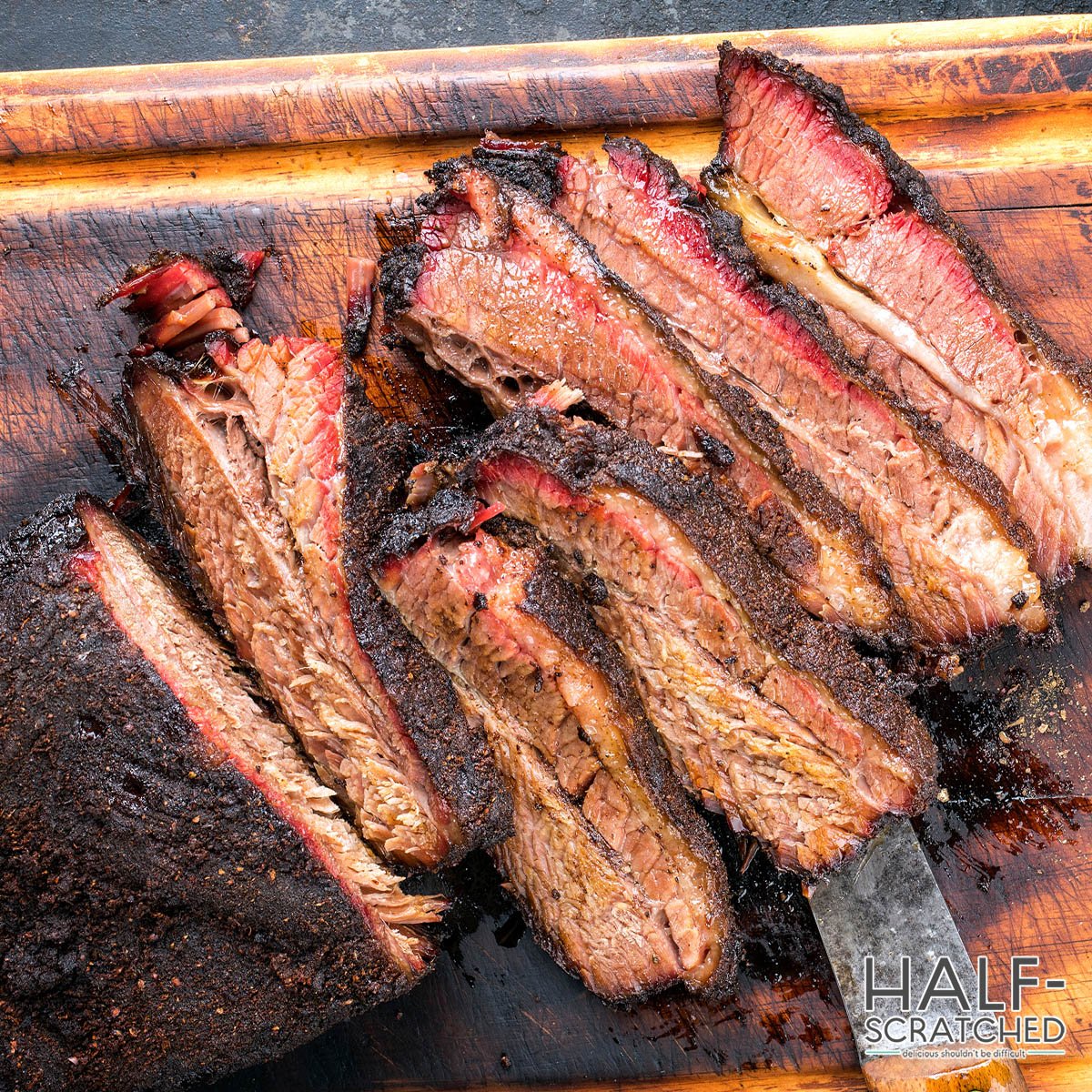 My Personal Tips And Tricks for Smoked Brisket
Here are a few ways to get the most out of your brisket!
Allow it to Rest for About 20 Minutes Before Carving
The brisket will continue to rise in temperature after it is removed from the smoker because of heat trapped in its tissues. By allowing this process to complete, you ensure all the meat's juices are locked in place.
Carve Against the Grain
When you cut into your brisket to serve, cut against the grain. Unlike with steaks, we want to break the brisket's muscle tissues because doing so will allow the meat to become even tenderer. Cutting against the grain breaks the tissues evenly and allows your brisket to truly shine.
Use a thermometer
While smoking brisket for 1.5-2 hours per pound at 225° Fahrenheit should ensure a great brisket, smoker temperatures can be difficult to regulate, and every brisket cooks differently. To control for these variables, you must monitor the internal temperature of your brisket closely.
Save your drippings
All those juices that drip down your brisket can be used again. Make sure you catch them! You've never had an au jus sauce until you've tried one made from the drippings of a perfectly smoked brisket. Or, you could save them to use in your marinade for a future brisket.
Frequently Asked Questions About Brisket
How do I choose a good brisket?
Good brisket can be recognized by the fold test. This is done by folding the brisket in half. With a good brisket, you will be able to touch the flat end to the pointed end.
How much brisket do I need?
Generally, ¾ of a pound of raw brisket is sufficient per person. This may look like too much, but it will shrink considerably while smoking.
My Favorite Smoked Brisket Recipe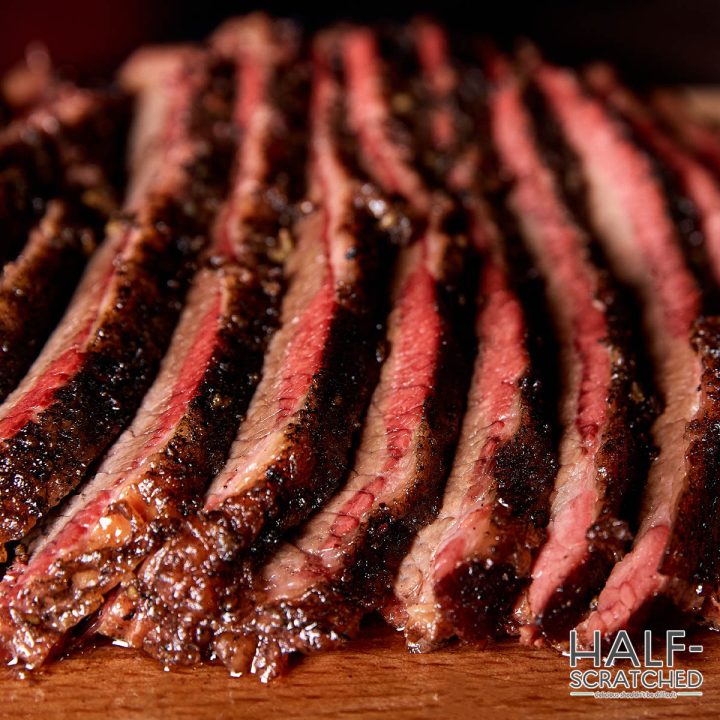 How Long to Smoke a Brisket at 225 F
Total Time:
1 day
4 hours
Smoked brisket is the king of all barbecue. Follow our instructions and discover how to smoke it to perfection.
Ingredients
Marinade
1 cup beef broth
1 tablespoon bourbon
1 tablespoon Worcestershire sauce
1 tablespoon soy sauce
½ tablespoon maple syrup
½ tablespoon molasses
3 cloves of garlic, crushed
salt and black pepper to taste
Rub
2 tablespoons garlic powder
2 tablespoons onion powder
2 tablespoons paprika
⅓ cup sea salt
⅓ cup freshly ground black pepper, coarse
Main
14 pound full packer brisket
1 ½ cups beef broth
Instructions
Trim brisket if not already trimmed.
Prepare the marinade by mixing together all ingredients until dissolved.
Inject the marinade, using a meat injector, into the middle of the brisket at 2-inch intervals. Work consciously, removing the injector as soon as you see marinade seeping out.
Using plastic wrap, cover the brisket tightly, then refrigerate overnight for 7-10 hours.
Remove the brisket from the fridge and bring it up to room temperature.
Preheat smoker to 225°
Prepare the rub by combining all ingredients in a small bowl.
Remove the plastic wrap from the brisket and cover it on all sides with the rub.
Place the brisket fat cap down on the grill grate and cook until it reaches 160° F internally, approximately 5-6 hours. Once 160°F is reached, remove the brisket from the smoker.
Double-wrap the brisket in a packet of aluminum foil, adding the broth to the packet.
Return the brisket to the smoker and cook until an internal temperature of 204°F is reached (~3 hours)
Now you may remove the brisket from the smoker, unwrap the foil, and allow the brisket to rest for about 20 minutes.
Carve into slices by cutting against the grain.
Nutrition Information:
Yield:

16
Serving Size:

1
Amount Per Serving:
Calories:

1172
Total Fat:

73g
Saturated Fat:

29g
Trans Fat:

0g
Unsaturated Fat:

34g
Cholesterol:

421mg
Sodium:

2770mg
Carbohydrates:

5g
Fiber:

1g
Sugar:

1g
Protein:

116g